Are you a WordPress website owner looking to take your call-to-action game to the next level? If so, you've come to the right place. In this blog post, we will be exploring the 11 best WordPress call-to-action plugins, both free and pro versions, to help you optimize your website and increase conversions.
But before we dive into the details, you might be wondering, why do I need call-to-action plugins? How can they benefit my website? These are valid questions that we will address right away.
The blog post title hints at a comprehensive list of the top call-to-action plugins available for WordPress websites. Whether you're new to WordPress or have been using it for years, call-to-action plugins can be a game-changer for your website.
They allow you to create and customize banners, attention-grabbing buttons, pop-ups, and more, all with the goal of enticing your visitors to take a desired action, such as making a purchase, signing up for a newsletter, or filling out a form.
This post isn't just about introducing you to the top 11 WordPress call-to-action plugins, it's about stats and facts about them, too. It will be easier for you to make an informed decision about which plugin is best if you know the features, benefits, and popularity of each plugin.
So, whether you're a seasoned WordPress user looking to upgrade your existing call-to-action plugin or a beginner searching for the perfect solution, you're in for a treat!
We are now taking a look at some of the best WordPress call-to-action plugins on the market, so let us jump right into exploring some of the best call-to-action plugins available at the moment.
It doesn't matter if you're a blogger, a business owner, or a person with a WordPress website: you'll find practical tips and insights that will help you boost your site's performance. Let's get started finding WordPress call-to-action plugins!
Best Call to Action Plugins for WordPress
If you're looking to boost conversions and encourage action on your WordPress website, you'll want to check out these top-notch call-to-action plugins!
With their user-friendly features and customizable options, these plugins are sure to capture your audience's attention and drive them to take the desired action. Take a look at the selection below and see which one suits your needs best.
Mailing List Builder Plugin For WordPress
Thrive Leads is a powerful call-to-action plugin for WordPress that offers a feature-rich solution for both standard calls to action and opt-in forms for email marketing.
With the plugin, you have the ability to choose from many pre-designed templates or create your own, and customize them by dragging and dropping elements, adding text, images, and videos.
One of the standout features of the plugin is its easy combinability and accessibility to options, inspired by the page builder, Thrive Architect. This means you can customize your site in a wide variety of ways to suit your needs.
Compared to the Thrive Ultimum plugin, this plugin has fewer random errors, making it easier to create your own web pages. Investing in this plugin adds great value to your website and offers a seamless user experience.
This plugin isn't just for directing traffic to your product page. It's also great for improving brand awareness, increasing sales, and offering options to your current subscribers that don't overwhelm them. You can grow your mailing list by offering a bunch of offers to your existing email subscribers.
By using this plugin, you will be able to choose the timing of events based on various factors that might be influencing the decision, such as your decision to approve a leave request.
This allows you to create sticky bars, ribbons, inline forms, two-factor opt-in forms, slide-ins, widgets, content lockers, and scroll mats. You can even include Yes/No or multiple-choice forms within scroll boxes.
One of the main features of Thrive Leads is its ability to help you build a mailing list through Calls to Action (CTAs). These CTAs are designed to entice subscribers to join your email list and can be customized to suit your brand and audience.
Key Features:
Advanced A/B testing for optimizing conversions
Simple drag-and-drop editor for perfect opt-in form creation
Popups and overlays that can't be blocked

Comprehensive analytics for tracking crucial metrics

Highly targeted offer displays based on posts, categories, and tags.
eMail Opt-In And Lead Generation Plugin For WordPress
The Bloom plugin makes it easy, convenient, and fun to add a sticky call to action button to your WordPress website. You can integrate their module anywhere with a shortcode, and they even offer gated content.
It's perfect for opt-in boxes in the sidebar and footer, and you can create as many widgets as you want and place them wherever you like. The best part is that you don't need to be a graphic designer to design eye-catching calls to action.
With over 100 customizable templates for pop-ups, inlines, fly-ins, and widgets, you can seamlessly integrate them within seconds of installing the application. Plus, you can choose specific pages for targeted placements.
The It CTA can also be connected to various software solutions, including HubSpot, Salesforce, Constant Contact, and Mailchimp, to collect customer information.
And you can optimize your conversion rate by choosing the button displayed as the call to action based on visitor actions during their visit.
Key Features:
Extensive design settings for customizing templates
Unlock content through opt-in
Automatically trigger pop-ups based on timers
Display unique offers based on location and interactions
Use fly-ins to attract readers.
Social Media Sharing Plugin For WordPress
The Monarch plugin lets WordPress website owners share content easily via social media. By hovering over media elements in your content with their mouse, visitors can share them with their friends. It's super convenient. Users can share your content easily on their favorite social media sites.
One of the standout features of the plugin is its automatic sharing pop-ups. These pop-ups can be configured to appear when a user reaches the bottom of a post or page, or when they leave a page. This not only encourages social sharing but also helps to increase overall engagement on your website.
Besides having an intuitive interface, the plugin has a lot of customization options. It supports LinkedIn, Facebook, Twitter, Reddit, Pinterest, and many other social media platforms. You can place share buttons where you want them and customize them to match your website.
In today's mobile-centric world, it's essential for social sharing tools to be mobile-friendly and versatile. The plugin meets both of these criteria, ensuring that your website's social sharing features are accessible and functional across all devices.
With Monarch, you can optimize your social sharing strategy and drive more traffic to your website. It is supported by expert development and customer service teams, guaranteeing that the plugin will continue to improve and grow in the future.
Key Features:
Comments accompanied by opt-in forms for increased lead generation
Notification prompts readers to opt-in when they reach the bottom of a post or page
Ability to set time delays for pop-ups and fly-ins, ensuring the optimal user experience
Display social profiles and follower counts to showcase your online presence
Opt-in forms appear after visitors scroll a certain percentage of the page.
Ultimate Scarcity Marketing Tool And Sticky Call to Action Button for WordPress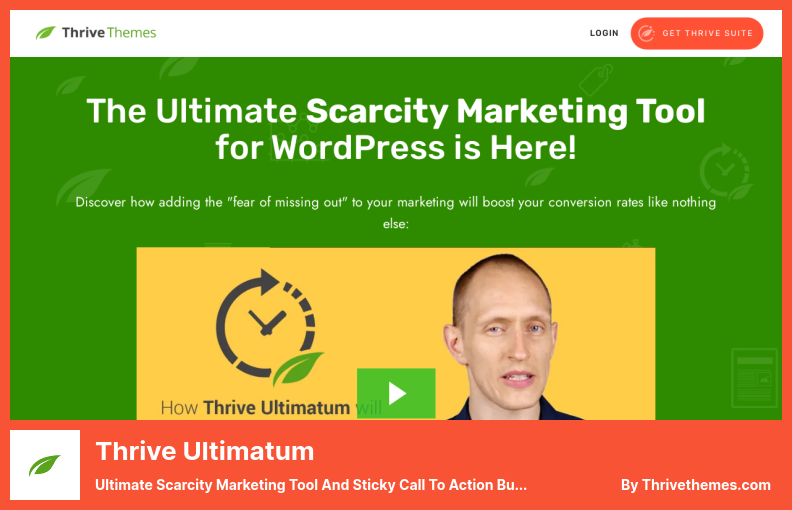 With Thrive Ultimatum, you can make amazing call-to-action campaigns with countdown timers for WordPress. With this plugin, you can create impressive countdown offers with drag-and-drop functionality and a stunning visual interface from the same company that made Thrive Leads.
In addition to displaying countdown timers in the Notification Bar, widgets, and content, this plugin has a bunch of other options as well. Using this toolkit, you can create urgent, persuasive calls to action. For example, you could set up an urgency campaign that starts when someone clicks a link in your email.
One of the standout features of the plugin is its ability to create individual countdown timers for each visitor to your website. Even if they leave and come back later, the plugin will remember their timer. This level of personalization helps to increase conversions and create a sense of urgency.
The plugin doesn't just automate things, it's got other stuff too. You can easily customize your countdown timers while the campaign's going on. You can also link other URLs to your content by creating buttons. Plus, when someone joins your list, you can start a countdown calendar.
One unique feature of Thrive Ultimatum is the ability to differentiate between evergreen countdown timers and real-time countdown timers. This means you can design a sales page that can only be accessed by prospects with expired timers, creating a sense of exclusivity.
Key Features:
Use the Lockdown feature for added security
Promote limited-time offers, sales, or promotions
Easily automate your scarcity campaigns
Create professional-looking campaigns with just a few clicks
Accurate countdown timers ensure urgency.
Create buttons within your content to link to other URLs.
Popups & Optin Forms Maker WordPress Plugin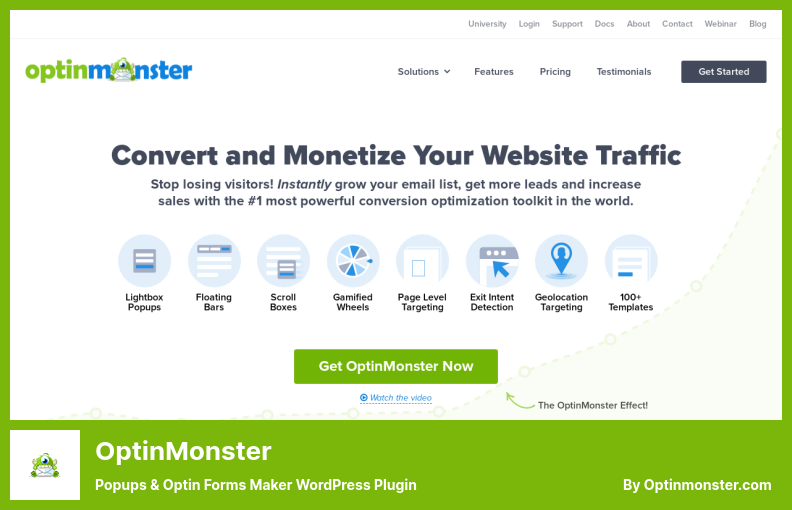 OptinMonster is an incredible WordPress plugin that allows you to add eye-catching call-to-action directly to your posts and pages. It is a powerful conversion optimization software that is highly popular among website owners.
With the plugin, you can significantly improve your conversion rates, reduce shopping cart abandonment, run retargeting campaigns, and enhance your online marketing efforts.
Unlike other plugins like Thrive Leads, the plugin does have some limitations. It does not support multi-choice forms, which may be a drawback for some users. Additionally, it lacks asset delivery capabilities, which can be a significant limitation for customers.
One of the standout features of the plugin is the ability to schedule time-sensitive campaigns. This means you can precisely schedule your campaigns to run at specific dates and time slots, ensuring maximum efficiency. This feature is incredibly useful for promotions and time-limited offers.
This plugin can help you boost conversions in a number of ways. There are a lot of features in this plugin that make it a must-have tool for successful marketing campaigns. From exit-intent pop-ups to slide-ins, you're able to engage your audience.
With OptinMonster, you can find out if someone is inactive on your site and convert them into sales, subscribers, or clients by using the InactiveSensor. You can keep these visitors on your site longer by offering them attractive offers and incentives.
Key Features:
Identify your highest converting pages for increased sales
Discover the most effective headlines, content, and layouts.
Enterprise-grade segmentation rules for hyper-segmenting leads
Conversion optimization based on visitor behavior
Track engagement and customize actions with buttons
Choose from 97+ premade templates and customize them
Sidebar Easy To Call Button WordPress Plugin
Simple Side Tab is a WordPress plugin that allows you to easily create vertical tabs on any page of your website. Whether you want the tabs to appear on the left or right side of the page, it's up to you. By clicking on these tabs, visitors can access specific landing pages that you have chosen.
One of the great things about the plugin is that it is fully responsive, meaning it will look great whether viewed on a desktop screen or a mobile device. You can also customize the tab's appearance by adding your own custom CSS.
As a website owner, you can differentiate your side tabs to match the style of your website. You have the ability to customize the text, links, font, color, and more, ensuring that the tabs seamlessly blend with the overall design of your site.
With a variety of display options available, the plugin gives you flexibility depending on whether your website is viewed on a desktop or mobile device. You can make adjustments to ensure the tabs are optimal for each display size.
Simple Side Tab has customizable design features and a customer contact form option. If you'd like a contact form on your website for free, this plugin is your best bet. You can make your site more visible and effective by designing an appealing one, which will attract more customers and clients.
Key Features:
Optional filter for controlling tab display
Ability to modify tab text output with an added filter
Customizable background for tabs
The adjustable vertical height of the tabs
Different linking options for side tabs
Choose between left or right side placement for the tab.
Social Proof Popups & Skyrocket Conversion Rates WordPress Plugin
NotificationX is a powerful plugin that allows you to display attractive and engaging pop-up notifications on your WordPress website. With this plugin, you can showcase important information such as product orders, sales, and new products to create a sense of urgency and keep your visitors engaged.
You can increase conversions without having to increase traffic to your site by using social-proof CTA notifications to build the trust of your visitors.
One of the standout features of the plugin is its ability to display a header banner or notification bar with a call-to-action button and a countdown timer. This feature is perfect for promoting limited-time offers or creating a sense of urgency for your visitors.
You can also customize various elements, including the CTA button, position, display time, close button, typography, and notification bar position, to match the design of your website.
In addition to the powerful pop-up notifications, the plugin also allows you to showcase recent activities of your visitors, providing social proof and boosting engagement on your site.
Furthermore, the plugin enables you to display the names of your recent subscriber visitors, encouraging more people to subscribe to your database.
In addition to displaying notifications for your products and tracking sales, the plugin integrates with WooCommerce and Easy Digital Download. You can also use the plugin to analyze the results of notifications, so you can tweak and optimize your strategies based on what you see.
With NotificationX, you can keep your website visitors informed about your latest products, sponsorship announcements, and upcoming sales. The plugin also includes features like email notifications, newsletter delivery to customers, and browser pop-ups to ask for reviews.
Popup Solution & Call Now Button WordPress Plugin
In OptiMonk, you can add eye-catching CTA elements to your website without having to learn anything new. You can encourage website visitors to take action with five types of on-site messages, like pop-up ads, interstitials, sidebar buttons, nano bars, and lucky wheel pop-ups.
One of the standout features of the plugin is its ability to provide targeted messages to the right audience at the right time. By adding a call now button to your WordPress website, you can increase the chances of converting visitors into customers.
You can also customize your CTA popups using the drag-and-drop feature, or create a fully custom CTA popup from scratch, ensuring that it matches your store's branding and appearance.
The plain offers a range of targeting options, allowing you to tailor your messages based on location, website history, number of pages visited, and geotargeting. This level of customization enables you to deliver relevant and targeted CTAs to your specific audience.
The plugin isn't just about directing visitors to specific sections of your website; it also has 50 call-to-action templates. They're easy to make. The triggers can be configured in various ways, including exit-intent, timed display, scroll-based, on-click, inactivity monitoring, and mobile.
To summarize, OptiMonk is a versatile and user-friendly WordPress plugin that empowers website owners with the ability to create effective CTAs. It provides a range of customization options and targeting features, ensuring that you can deliver the right message to the right person at the right time.
Key Features:
A

feedback element

is at the bottom of the page

Various methods for customizing variables
Drag and drop interface for building popups
Five different types of website messages and calls to action
Directing visitors to specific sections of your website
Configurable triggers for different display scenarios.
Call To Action & Engaging Sliders Plugin For WordPress
Hello Bar is a WordPress plugin that allows you to create custom top bars, modal popups, full-page calls to action, or even slider boxes based on certain conditions for your website.
It provides a cloud-based platform where you can easily create and customize these bars of notifications. Once you paste the provided code into your plugin, your call-to-action will appear on the selected page.
One of the key features of the plugin is its ability to customize the bar and display it solely on selected pages. This makes it a great choice for time-sensitive campaigns, as you can choose the specific date range for when the bar should appear.
Not only does the plugin allow you to link to items of interest directly from your website, but it also allows you to collect emails for product updates and increase interaction on social networks. The best part is that you don't need to know any programming languages to use it, making it beginner-friendly.
However, it's worth noting that the free plan of the plugin does have some limitations. The number of interactions is restricted, and your bars will carry the its branding. If you want to increase the number of interactions and remove the branding, you'll need to opt for one of the paid plans.
The plugin supports various social media channels, including Facebook, Buffer, LinkedIn, Pinterest, Google Plus, and Twitter. It also offers basic A/B testing, allowing you to test different variations of your call-to-action to see what works best for your audience.
The user interface of Hello Bar is extremely user-friendly and intuitive. It provides access to a variety of settings, including email, social media, and A/B testing. You can easily customize the appearance of your bar with options for colors, size, and layout.
Key Features:
Create custom reports

using your own data

Analyze metrics to identify areas for improvement
Target visitors based on ad, campaign, source, or medium
Target visitors based on city, state, and country
Customize appearance with options for color, size, and layout
Send offers and messages based on time, date, and returning visitors.
Web Creation Platform Plugin for WordPress
Elementor Pro is a WordPress plugin that provides an easy-to-use drag-and-drop functionality for creating stunning and visually appealing pages. You don't need any technical knowledge to use it, as it has an intuitive front-end editor that allows you to design your website effortlessly.
One of the standout features of the plugin is its library of content creation templates designed by top designers. With this, you can create eye-catching pop-ups for your website.
You can also design each section of your page individually using simple templates such as 404 pages, different testimonials, and footers. It gives you the flexibility to customize every aspect of your website.
You can use this plugin to get more out of your marketing efforts. It integrates with MailChimp, ConvertKit, Zapier, and GetResponse. If you'd like to import ready-made templates, Elementor page builder has a ton of options that you can easily import into your theme.
Both a free and paid version of Elementor are available. While the free version is great for basic website design, the paid version unlocks advanced features and functionality. So, if you're looking to take your website to the next level, investing in Elementor Pro is definitely worth it.
Key Features:
Build your entire website, including headers, footers, and content, all in one place
Use templates and media directly in the editor to reduce redundant tasks
Pin your favorite widgets in the favorites section of the Editor's Panel for quick access
Add any element, style, widget, column, or section to your website with just a click
Watch your website come to life as you build it with the live preview feature
Customize all widgets at any time without any additional charges.
Gutenberg Blocks Plugin For WordPress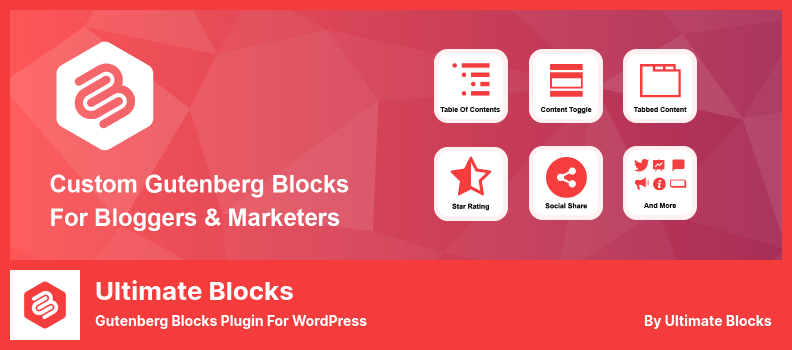 Ultimate Blocks is a powerful Gutenberg blocks plugin that is perfect for bloggers and marketers. It allows you to create engaging content by adding various blocks to your WordPress website.
One of the standout features of the plugin is the testimonial block. You can insert testimonials with the picture, name, and status of the author. This adds credibility to your content and builds trust with your audience.
The review block is another useful feature. It displays the product name, features, description, button, and star rating, all tagged using Schema Markup. This helps search engines understand your content better and can lead to improved visibility in search results.
Tabs are a great way to organize your content, and the plugin makes it easy to add them to your pages and posts. These tabs allow your visitors to navigate between different sections of your content seamlessly.
If you're looking to drive specific actions from your readers, the call-to-action box is perfect for you. You can add a button that guides them towards your business goals. It's a simple and effective way to increase conversions on your website.
Sometimes you may want to hide certain content initially and reveal it only when the user clicks on a "Show More" link. The Expand block in the plugin lets you do just that. It's a great way to keep your pages clean and concise while still providing additional information when needed.
The plugin also offers customizability. You can customize the font, color, and other elements within the blocks to match the style of your website. Accordion blocks allow visitors to expand and enjoy an enlarged view of the content, enhancing user experience.
Another impressive feature is the ability to filter content based on various filters you set. This gives your users more flexibility in navigating through your content and finding what they're looking for.
Social media integration is essential for any website, and the plugin makes it easy. You can insert tweetable content and incorporate social share buttons into your posts and pages. This enables your visitors to easily share your content with their networks.
Styled lists are a handy feature to have, allowing you to create visually appealing lists with customized icons, colors, and sizes. It's a great way to enhance the visual appeal of your posts or pages.
Finally, Ultimate Blocks offers styled boxes that include notification boxes, number boxes, and feature boxes. You have three templates to choose from, with more options coming soon. These boxes allow you to highlight important information or features within your content.
Key Features:
Circle/line progress bars for tracking progress
Call-to-action box with an interactive button for engagement.
Personalize dividers with customizable sizes, colors, and characteristics
Customizable button block with many options and controls
Expandable accordions to make content more accessible
Countdown feature for each posted/updated page
Frequently Asked Questions
What is a call to action (CTA) plugin?
A call-to-action (CTA) plugin is a tool or software that allows website owners to easily create and manage call-to-action buttons or elements on their WordPress site.
These plugins provide a user-friendly interface and a variety of customizable options to help optimize conversions and encourage visitors to take desired actions, such as signing up for a newsletter, making a purchase, or requesting more information.
Why should I use a call-to-action plugin on my WordPress site?
Using a call-to-action plugin on your WordPress site can greatly improve your website's performance in terms of conversions and user engagement. With a well-designed and strategically placed call to action, you can guide your visitors toward specific actions that align with your business goals.
These plugins offer various features and design options to create eye-catching and effective CTAs that grab attention and prompt visitors to take action.
Additionally, many call-to-action plugins provide insights and analytics to track the performance of your CTAs, allowing you to make data-driven improvements.
Are there any free call-to-action plugins available for WordPress?
Yes, there are several free call-to-action plugins available for WordPress. These plugins offer a range of features and customization options to create enticing CTAs without any cost.
While these plugins may have limitations compared to their premium counterparts, they can still be a great starting point for implementing effective CTAs on your WordPress site.
Conclusion
In conclusion, we've explored the top 11 WordPress Call to Action plugins, both free and pro. We've discussed their features, benefits, and how they can help improve conversions on your website. Whether you're a beginner or an experienced WordPress user, these plugins offer various options to suit your needs.
If you want to dive deeper into this topic or learn more about other WordPress tutorials, be sure to check out the BetterStudio blog. They have a wealth of information and resources to help you enhance your website's functionality and design.
To stay up to date with the latest tutorials and tips, make sure to follow BetterStudio on Facebook and Twitter. By doing so, you'll never miss out on their expert insights and helpful content.
Thank you for taking the time to read this article. If you have any questions or encounter any issues while implementing these plugins, please don't hesitate to leave a comment below. We're here to help and address any concerns you may have. Happy optimizing!