Are you looking for an excellent plugin to manage ads for your WordPress website? Many websites make money with advertising, and in fact, advertising is their primary source of income.
Do you need a quick answer? Our recommendation is to use the Better Ads Manager plugin, which provides many advanced features not available in any of the other plugins listed.  
There are many ways to monetize your website and content. Selling advertising space is one of the most effective ways to increase your website revenue. 
Let us take this opportunity and show you our hand-picked list of the best WordPress Ad Management plugins. The features and designs of these plugins will attract your customers and makes more money for your site.
We selected the best plugins which you can use for Ad Management. You are looking for one related to Ad Management, but it isn't what you're looking for exactly? Those plugins may also be used for Advertising, Ads Widget, Google Ads Manager, AdSense, Ads Banner, and Ads Rotating. Choose the WordPress plugin that is most appropriate for your site.
Also, we suggest you check the list of best AdSense optimized WordPress themes that have building features for Ad management that will help you to monetize your site easily.
Why should you use the WordPress Ad Management Plugin on your website?
There are many websites whose primary source of income is advertising, and they make good money from advertising. By default, the WordPress system does not have an ad management mechanism.
The most visited blogs make hundreds of thousands of dollars every year through advertising. They use Google AdSense and other ad management platforms. These websites allow other websites to introduce their business to others, and more people will get to know them.
If you want to put different ads on your website, you must be able to manage them. For this, you must get acquainted with the best WordPress Ad Management Plugin and use them on your website.
An Ad Management Plugin allows you to place an ad anywhere on your website, and you can easily manage them. The ads can be locally on your WordPress hosting or use a third-party ad provider like Google AdSense. This feature will help you use ad placement more efficiently.
Now that you understand the importance of the WordPress advertising plugin, we will introduce you to some of the best plugins in this field. So, you can use them on your WordPress website and manage ads within your website.
Check out our selections of the best Ad Management WordPress plugins for 2022:
Simplified Ad Management For WordPress
AdSanity is a beginner-friendly plugin for managing ads in WordPress. This plugin allows you to use widgets to place various ads anywhere on your website and manage them well.
The AdSanity plugin supports both hosted ads (banner ads managed and sold directly by you) and external ad networks like Google AdSense.
You can create as many ads as you want and add them to your website using custom widgets. There are two ways to add ads. You can either use shortcodes or add your ads to the website using the button added to the post editor.
This plugin is premium, and it is recommended that a website use this plugin that has high traffic and wants to place many ads on its website. But suppose you have a website that is not very popular, and you put a limited number of ads on your website. In that case, it is recommended that you use free plugins. As your traffic increases, you can also use the paid Ad Management Plugin.
💵 Purchasing this plugin is easy, and it is available for a reasonable price.
Key Features:
Ability to insert a single ad or ad group
Having a visual editor, custom widgets, and shortcodes to create ads
A built-in adblocker (prevent ads from appearing on specific pages of your site)
Having the ability to schedule ads
Multi-Purpose WordPress Advertising Manager
Ads Pro Plugin will be a great option if you want complete control over your site ads. This plugin is one of the most comprehensive tools for ad management plugins.
It includes many features and options for complete ad management. For example, this plugin has 25 types of pre-made ad templates, and you can display ads in 20 different formats like sidebar, floating corner peel, and more.
Another exciting feature of the Ads Pro Plugin is the ability to display ads on a specific device. You can specify that a particular ad is displayed only on mobile and not to users who have logged in from the desktop.
Ads Pro Plugin has an easy-to-use admin panel. You can easily use the plugin and its features. This plugin lets you see how many ads are currently on your site and how much you have earned from these ads. You can also use performance metrics such as click-through rate and total impressions for advertising.
It is important to note that the Ads Pro Plugin is designed for experienced users. Suppose you have a website that has not used ad management plugins before, and you want to use ad management plugins. Our recommendation would be to use a plugin that is easy to use instead.
💵 There is a $57 associated with this plugin. You'll receive 12 months of free support with the plugin.
Key Features:
Fully Responsive
Geo-targeted advertising (country, state/province, city, or zip code)
Ads can be shown on specific devices (mobile, tablet, or desktop)
Ads can be shown or closed after a specific period of time
More than 20 different ways to display ads (sidebar, floating, hover, and more)
Excellent backend manager (manages ads efficiently)
More than 25 ready-to-use ad templates
Random Reviews:
Excellent features!

#1 Advertising Manager*

Very well done!
Ad manager & AdSense Ads For WordPress
AdRotate is an ad management plugin for WordPress that can be used by both beginners and professionals. This plugin supports both hosted ads with rotating banner ads and network ads.
AdRotate allows you to create ads and ad groups and embed them in your site posts using shortcodes. In addition, you can place ads in the sidebar of the website using custom widgets.
AdRotate has tools for measuring the status of ads on your website. These tools help you measure the effectiveness and productivity of various ads and place the best type of ads on your website.
This plugin is a great choice for beginners and small blogs. You can download and use it for free from the WordPress directory. The plugin also has a premium version. Premium users have access to the advanced features of this plugin.
💵 Although it's free to use, it charges a premium for upgrades.
Key Features:
You can easily manage ads and group ads
Track clicks, impressions and calculate the Click-Through-Rate (CTR)
Automagically disable Ads after they expire
Use shortcodes
Ads can be displayed individually or in groups
Put ads anywhere on your site by including PHP snippets in your theme files
Advert statistics
Advertisers can add/edit/manage their ads
Geo-Targeting for every country and city
Export statistics to CSV files
Random Reviews:
Definitely not budget-friendly, you have to pay to get useful features.

My use of it goes back over 10 years, and I have never had a problem.
Ads Manager & Ad Inserter
WP AdCenter is a simple and easy-to-use plugin for managing ads on WordPress websites. WP AdCenter supports all types of ads and can display them on the website.
This plugin can display an unlimited number of ads from popular ad networks such as Google AdSense, Amazon Affiliates, Media.net, and more. This plugin also supports third-party advertiser accounts.
Therefore, you can run your advertising using WP AdCenter via affiliate banners, Google AdSense, or any other advertising network you like.
The WP AdCenter plugin has many options. To access all of its features, the premium version must be purchased.
💵 There are two versions: $47 for Premium and #free for Lite.
Key Features:
You can easily set up the plugin in minutes
Displays the ads on your website with flexible ad placements. As a result, you can place ads anywhere on your website using the editor, widget, or shortcode
Create and display ads with custom alignments and styles
Show ads from any advertising network, such as Amazon Shopping Ads
You can schedule ads according to specified timelines with start and end dates
Ability to export your ads reports in CSV format
Use AMP ads on Google AMP pages to improve ad performance
Random Reviews:
Good plugin, easy to use.

Rather than see the banners, let's see the statistics

I can create and manage multiple ads with this plugin. It is extremely easy to use.
Easiest Way to Place Ads in WordPress
If you are looking for a simple ad management plugin, WordPress Ad Widget is one of the most suitable options. You can download and install this plugin for free from the WordPress directory.
With this plugin, you can place ads anywhere on your website. This plugin is an innovative plugin for beginners. It can be used easily and without any problems with the UI plugin. To create an ad, all you have to do is navigate to the widget page and select the type of ad you want.
The only problem with the plugin is that it is not compatible with AdBlockers. If you have an Ad Blocker installed on your website, it will most likely not work correctly. You must disable and remove your AdBlocker before you can use the plugin.
💵 Is FREE to use. No charge is associated with it.
Key Features:
An extremely intuitive interface for beginners
You won't encounter clunky ad management interfaces
Banner ads with images can be easily placed
Easy placement of Google ad tags and other ad code
Random Reviews:
Since using Broadstreet's plugin almost 3 months now I have no idea how I would function without it. It is easy to use, very dependable, and I couldn't imagine using anything else.

I tried checking my site for advertisements incognito, so there would be no ad-blocker that affected my results. I am using the latest version of WordPress.

This plugin looks very nice..
Ad Manager & AdSense Ads For WordPress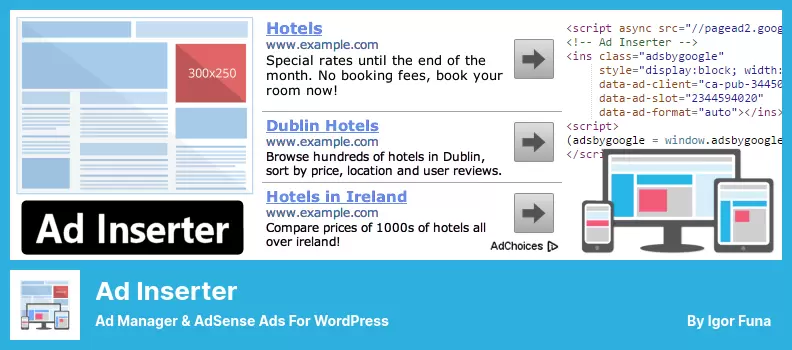 Another good ad management plugin for WordPress is Ad Inserter. This plugin has both free and paid versions. The free version has enough basic features to manage ads, but you should buy the premium plugin if you need advanced features and plan to use them.
The Ad Inserter plugin allows you to create multiple ad blocks and specify how you want each ad block to be displayed.
With this plugin, there are many ways to insert ads on a website. You can add it inside post content, before and after post content, between posts, before or after post excerpt, and more.
This plugin is compatible with AdSense, Google Ads Manager, and Amazon Native Shopping Ads. It also lets you add and create other types of ads via HTML, JavaScript, and CSS.
Another feature of this plugin is to automatically disable the display of ads on pages and posts of the site.
💵 It is available for free in the Lite version and for a price in the Premium version.
Key Features:
Support for Google Ad Manager
Code preview with visual CSS editor
Automatically inserts ads on posts and pages
Insert before or after post
Insert before or after any HTML element using CSS selectors
Disable ads on individual posts or pages
Code generator for banners and placeholders
Adding widgets, shortcodes, and calling PHP functions manually
Sticky (fixed) widgets (sticky sidebar – the sidebar does not move when the page is scrolled)
Insert different ad codes on AMP pages
Use custom fields as defined in posts
Random Reviews:
I really appreciate it, it's very simple and easy to use*

This plugin is my go-to plugin whenever I need to insert ads on my site. The plugin offers a multitude of features, but one of the more interesting ones is the option to insert ads by HTML element in the block. I can now just insert a block, give it a custom class, and choose the insert ad by replacement option in Ad Inserter. YAY!

Contains the best ad insertion plugin.
WordPress Automatic Ad Inserter
Insert Post Ads is a plugin that helps you to insert your ads into your website posts automatically.
You can use Insert Post Ads to create any ad you want and then determine which part of the content the ad will show. You can also display multiple types of ads in an article in different places.
Working with this plugin is simple. You need to create your ad using the ad code and place that ad where you want it. You can add third-party ad code as well as custom HTML for your own hosted ads.
💵 This plugin is FREE.
Key Features:
Setting up and installing the plugin is simple and easy
The plugin supports Google AdSense, and you can use it
Insert post ads using any third-party advertising code, or custom code
You can specify where to place the ad in the posts and pages of the website
Random Reviews:
Greetings. I'm glad you like it. Thanks. This topic was modified 3 years, 9 months ago by

I really appreciate you making it so simple for me

So you think an ad in your posts a few paragraphs down is a great idea? I sure did. Guess what? They agree – and after a few minutes you see not only YOUR AD – but above yours is THEIR GOOGLE ADSENSE AD. I deactivate and deleted immediately!
Ads Management for WordPress
Quick AdSense is a popular plugin for managing ads on WordPress websites. You can download and use this plugin for free from the WordPress repository.
Although this plugin is designed specifically for AdSense, it is compatible with other advertising platforms. It can be used to display any advertising, including hosted ads, third-party ad networks, including Google AdSense.
Plugin installation is simple. You can add ads to the website via code or through the ad block by installing the plugin. In addition, you can specify on which post or page an ad will be placed and for how long.
By installing the plugin, custom ad widgets are added to the site, and you can use them to place ads in the site sidebar.
The most significant limitation of the Quick AdSense plugin is that you can only manage ten ads simultaneously, and it has few customization options. If you want to put many ads on your website, it is recommended that you use other plugins in this area.
💵 Downloading the Lite version is free, but the Pro version costs.
Key Features:
Compatible with most advertising platforms
Ad placement can be determined (before/after content, before/after images, on a specific page, or more)
The plugin has a simple user interface. Anyone can quickly learn how to work with this plugin without coding knowledge
With this plugin, only ten ads can be placed on a website page
Random Reviews:
The template works flawlessly, without any option limitations. It does everything that it should. I like how it has been optimized to integrate with bbpress itp.

Updates reset the settings Also, the ad codes don't work. Such a PITA! I'm moving away from them This topic was modified 2 years, 5 months ago by

This is a terrible thing, man!
Ad-Management Plugin for WordPress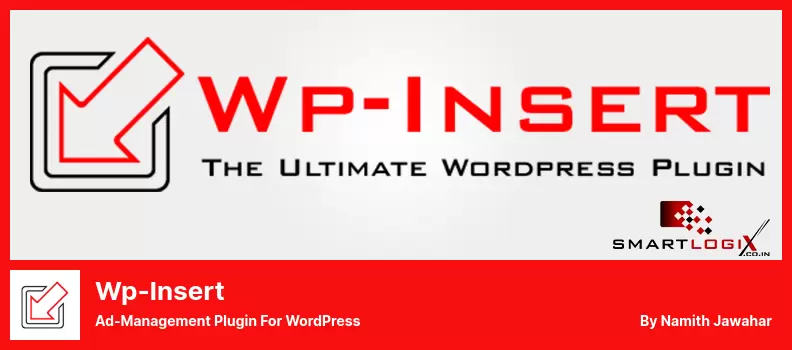 WP Insert is a free plugin that you can download from the WordPress directory. WP Insert provides the basic features you need to manage and handle ads on your website.
The plugin installation process is simple. WP Insert has been well received by WordPress users and has many positive reviews.
This plugin has much AdBlock, and you can use them to prevent certain ads from appearing on your website.
WP Insert plugin has many features, and you can easily manage your ads using them. Because this plugin is available for free to applicants, it has many limitations. It does not have the features of premium plugins.
💵 It is FREE for you to download and install.
Key Features:
It is optimized for Google AdSense
This plugin supports the Gutenberg editor
The plugin supports Google Page-Level Ads and Google AdSense Auto Ads by default
Plugin manually overrides for auto-positioning
Random Reviews:
A very complete application, however, it lacks the ability to segment the inputs according to the tags and to enhance the interface.

It's a good application. Juara1.id likes it. 🙂

I really enjoyed it*br
Professional, All In One Ad Manager for WordPress
Adning Advertising plugin helps you to manage banner ads on your website. This plugin is easy to work with, and you can add ads to the website using Gutenberg, WPBakery, or Elementor.
Adning Advertising plugin has a feature called auto-positioning that automatically adds your banner ads to web pages. You do not need a particular widget or shortcode to use this plugin. You can specify in the plugin settings what type of ad you want to add to the website.
Adning Advertising plugin is fully responsive. As a result, you can ensure that your ads are displayed correctly on users' devices, no matter what device they use.
💵 All the phenomenal options contain this plugin, and you can get all the updates by downloading this plugin for Free.
Key Features:
A large number of ads can be added to the site and managed
It has options for applying filters to Ads
It fully supports the Google AdSense system
The plugin is optimized for desktop, mobile, and tablet and is fully responsive
Adning Advertising fully supports AMP technology
Random Reviews:
Up-to-date*br

Documentation is hard to find, and lacks a lot of information. For example, last time I was able to find it, there was no description of what content filters are. Now I am unable to find the documentation (there are no links to it in the developer's support pages that I can find.)

After I had bought this plugin, I used it for a couple of months. After that, I uninstalled it. Now, I am trying to activate it again, and neither the purchase code nor the license key work. They have no technical support.
Simle WordPress Ad Inserter
The In-Post Ads plugin helps you add your ads as shortcodes to your posts and web pages. With this plugin, you can create shortcodes for your ads and put them in the body of any post or page of your website. With shortcodes, users are more likely to be interested in your ad and click on it.
In short, In-Post Ads allow you to create different types of ads with different sizes and qualities, place them anywhere on the website, and easily manage them. Due to its features, In-Post Ads is a handy plugin for displaying and managing ads on WordPress websites.
💵 There is no charge for using this plugin. It is FREE.
Key Features:
A / B split testing
Built-in statistics
Hide ads for logged users
Ad campaigns
Inline post ads
In-Post Ads is SEO friendly
Random Reviews:
In almost all of my sites, I use Adsense in Post plugin. I have no problems with it for months. I just want the developer to add more than 3 inputs for Adsense code. Please, add at least 5 inputs for Adsense code.

A quick way to include AdSense code in your posts or pages? This is super easy to use. Just a couple clicks and you're done!
Final words
In spite of this, we reviewed the best WordPress Ad Management plugins. However, you should go over your website priorities. To increase your site, you can use these plugins.
We hope you have found this list of Ad Management plugins helpful.
We also suggest you check the best Newspaper WordPress themes and best WordPress blogging themes.
In case you get stuck or unsure, don't worry, we are here to help you. Simply send a comment. Please share this content on your social media channels and follow us on Facebook and Twitter.