Have you ever wondered how to take your WordPress website to the next level? Perhaps you've heard of Elementor, but you're not sure what it is or how it can help. If so, then this blog post is for you!
In this article, we'll explore the 9 best Elementor addons for WordPress that are available in 2023, both free and paid.
Elementor is a popular page builder plugin for WordPress that has over 5 million active installations and counting. It allows users to create custom layouts and designs for their websites without needing knowledge of HTML or CSS.
However, with so many different addons available on the market, it can be challenging to know which ones are worth investing in.
In this article, we'll provide an overview of the 9 best Elementor addons for WordPress in 2023, including some stats and facts about each one. Whether you're looking to improve your website's functionality or enhance its design, these add-ons are sure to help you achieve your goals. So, let's dive in!
Best WordPress Elementor Addons
If you're looking to take your WordPress website to the next level, adding Elementor add-ons can be a game-changer. In this article, we've rounded up the nine best addons for Elementor in 2023 – both free and paid – that you won't want to miss.
So, why not check them out and see how they can enhance your website's functionality and design?
The Complete Elementor Toolkit for New Design Possibilities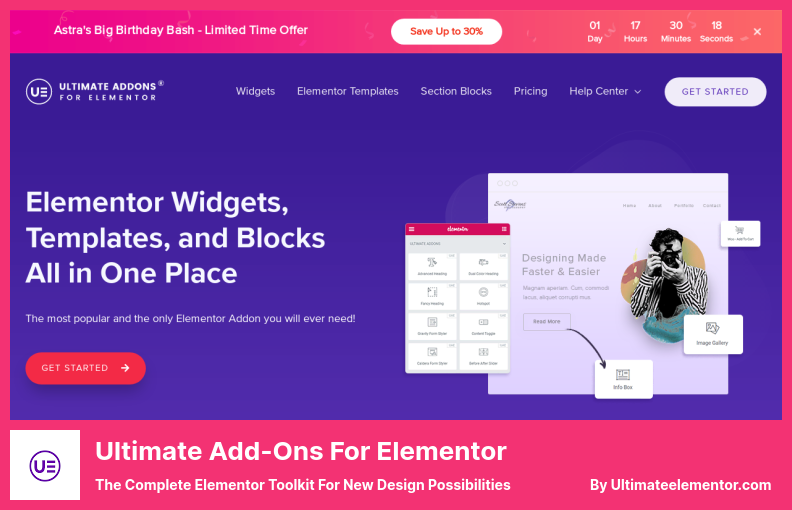 Ultimate Add-Ons for Elementor is a fantastic plugin developed and maintained by the Brainstorm Force team. This plugin provides numerous design options that will take your website to the next level, making it one of the best Elementor plugins available on the market.
The Ultimate Add-Ons for Elementor is designed to work in conjunction with Astra, a fast and lightweight theme also developed by the Ultimate Add-ons for the Elementor.
This amazing plugin contains over 200 section blocks as well as numerous widget extensions that allow for even more design flexibility. The Ultimate Add-Ons for Elementor is optimized to ensure that your website remains lightning-fast and that your site's design takes center stage.
You'll also be able to add designs that you may not have thought possible using this plugin, and they'll be just as beautiful as the original or even better.
Unfortunately, the Ultimate Add-Ons for Elementor is only available in a premium version. However, the price tag is well worth it given the extensive features included.
So if you're looking for an easy-to-use and high-performance plugin that will take your website's design capabilities to the next level, you should definitely consider the Ultimate Add-Ons for Elementor.
Key Features:
Customizable widgets
Cross-domain element copying and pasting
The mobile-friendly and responsive widget access
50+ built-in widgets
Pre-built blocks and templates
Allows You to Create a Layout With Elementor
Elementor Header & Footer Builder is a plugin that enables you to create custom templates to be used as headers, footers, or blocks on your WordPress site. It is an exceptional third-party addon for Elementor with several advantageous features that make website building seamless.
One of the benefits of Elementor Header & Footer Builder is its ability to use shortcodes and select targets where the block will appear, allowing effortless integration with Elementor. Additionally, it offers a plethora of design options, including out-of-the-box headers and footers. This enables you to customize your website further.
The Elementor addon shortcodes added to this plugin enable you to design custom templates that can be placed anywhere on the page, such as in the header or footer. Moreover, the plugin's developer, Brainstorm Force themes, has made it available for free, replacing the need for premium Ultimate Add-ons for Elementor plugin.
In conclusion, the Elementor Header & Footer Builder is a must-have WordPress plugin that provides immense value with its beneficial features. It is highly recommended for anyone looking to build a professional-looking website with ease and without incurring extra costs.
Key Features:
Automatically inherit a customized logo
View existing website menus in a list
Create headers and footers with included widgets
Customize the current post or page title
Choose where headers and footers appear
Add scripts or templates to an area over the footer
Easy-to-use drag-and-drop interface
No coding skills required
Compatible with any WordPress theme
Free version available with basic features
Elementor, WordPress & Beaver Builder Templates
Starter Templates is a powerful WordPress plugin designed to enhance the functionality of Elementor, one of the most popular page builders in the market. It goes beyond widgets and blocks, allowing you to access and use pre-designed templates for your website or individual pages within the Elementor platform.
The best part is that this plugin works with other popular page builders such as Beaver Builder, Brizy, and Gutenberg block templates.
Created by Brainstorm Force, Starter Templates includes an impressive collection of over 280 complete website templates and individual pages for any page builder you prefer. You can even export only specific pages or customization settings, giving you more control over your website's design.
With Starter Templates, designing or editing your web pages has never been easier. You can import specific pages, websites, or content blocks directly from Elementor, saving you time and effort.
This plugin is perfect for anyone who wants to update the content of their website without having to worry about designing or editing the layout.
In conclusion, Starter Templates is an excellent choice for anyone who wants to enhance the functionality of their Elementor page builder.
With its wide range of pre-designed templates and easy-to-use interface, this plugin is a must-have for anyone looking to streamline their website's design process. Whether you're a seasoned web designer or just starting, Starter Templates is definitely worth checking out.
Key Features:
Simple data importation with one-click button
Quick setup for website building
Customizable templates to fit your needs
No coding experience required
Pre-designed templates available
Import multiple templates and pages on a single site
Several beautiful templates to choose from
Directly import page builder elements into website builder
Regular updates and new template releases
User-friendly interface for easy navigation
The Fastest Growing Elementor Addon
PowerPack Addons for Elementor is a comprehensive plugin that offers over 70 widgets to make website building faster and easier. With this plugin, you can add essential widgets to your web page effortlessly in just a few seconds.
In addition, PowerPack Addons for Elementor provides more than 150 templates for customization, designed for various niches such as travel, eCommerce, marketing agencies, real estate, and more. You can easily import these templates and adjust them according to your preferences.
If you're using WooCommerce, PowerPack Addons for Elementor is one of the best addons you can use. It comes with WooCommerce product builder widgets which allow you to create unique eCommerce websites and online stores. From product pages to category pages, you can customize everything to fit your brand's style.
The widget styles and settings are fully adjustable, so you can tailor them to suit your requirements. Moreover, this plugin enables you to customize branding to maintain your clients' brand while building their website.
However, it should be noted that there may be compatibility issues with the Podcast Player plugin. Overall, PowerPack Addons for Elementor is a highly recommended tool for website designers looking to improve their workflow and enhance their websites with ease.
Key Features:
Add animation effects for an engaging experience
Create custom forms and surveys without coding
Design professional pricing tables with ease
Display important information easily
Versatile ways to showcase features and information
Highlight headings with color or variation
Use fancy dividers for stylish text breaks
Faster, more efficient website loading
Show opening and closing hours as needed
Customize typography for unique styles
a Collection of Stunning and Cutting Edged Designed Elementor Addons
Master Addons for Elementor is a trustworthy and secure add-on for Elementor that comes highly recommended by users. This plugin includes templates, Elementor widgets, header and footer builders, and a mega menu, among other features.
The free version offers 31 widgets, while the paid version provides an additional 18 Elementor widgets. With Master Addons for Elementor, you can customize your website to offer a wide range of advanced options and capabilities.
This plugin includes many advanced features like animated headlines, background sliders, particle backgrounds, dual headings, progress bars, tooltips, flip boxes, creative calls to action, a table of contents block, a timeline, an image hotspot, and a place to hyperlink to your Instagram account. These features allow you to create a more comprehensive and attractive website.
Overall, the Master Addons for Elementor plugin is a reliable and secure way to enhance your Elementor experience. It offers a wide range of advanced features that can help you create a customized and engaging website that meets your needs. Plus, with both a free and paid version, it's accessible to all levels of users.
Key Features:
Ability to use customized CSS style sheet
Offers 49 pre-built widgets for selection
Tailored elemental positioning options
Easy to use interface
11 extensions for website enhancement
Integration with Elementor
No coding skills required
Regular updates and improvements
Responsive support team
Both free and paid versions available
Comes With 24+ Widgets and Extensions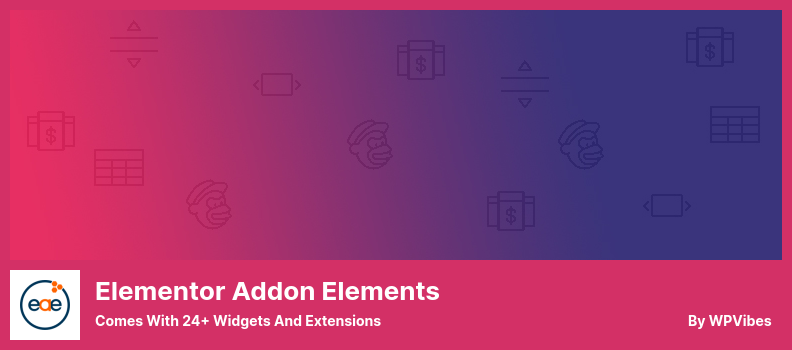 Elementor Addon Elements is a powerful plugin for those using the Elementor Page Builder. It provides you with over 24 widgets and extensions to enhance your website's functionality. This plugin gives you an easy-to-use interface that allows you to customize any design element you want.
One of the most impressive features of this plugin is the ability to add a horizontal timeline to any post, page, or custom post type. The circle layout also offers a visually appealing way to present content, with preset styles that can be customized to suit your preferences.
Another useful feature of Elementor Addon Elements is the ability to create tables for comparing products and services. You can toggle between primary and secondary content to provide your audience with a clear and concise comparison.
In conclusion, Elementor Addon Elements is an excellent tool for anyone looking to improve their WordPress website's functionality.
With its many features and customizable options, you can create a more intuitive and visually appealing website without the need for advanced coding skills. So, if you're looking to take your website to the next level, give this plugin a try!
Key Features:
Create

customizable image galleries

for any content or post

Show before and after images to viewers
Generate graphical data charts with customization options
Add particle backgrounds to website sections
Customize responsive sliders with transition effects and thumbnails
Link specific sections and columns for easy access
Add text animations and effects to website elements
Create custom popups with advanced targeting options
Add Google Maps integration with custom markers and styles
Create pricing tables with customization options
Adds Powers to Your Page Builder
Essential Addons for Elementor is a plugin that can help you improve your website's overall design by providing more than 80 elements and extensions that complement Elementor's page builder. With these features, you can create innovative and visually appealing WordPress pages and posts with ease.
Each element in the collection has at least four customizable options that allow you to tailor it to your preferences and achieve the desired look for your website. Whether you're an experienced web designer or a novice starting out, this plugin makes it easy to unleash your creativity and make your site look exactly how you envision it.
One of the most significant advantages of using Essential Addons for Elementor is the ability to enable or disable specific elements on your website to optimize loading times and ensure smooth performance, resulting in a better user experience. Furthermore, unnecessary widgets can be deactivated to keep your website as lightweight as possible.
In summary, Essential Addons for Elementor is a versatile and user-friendly plugin that provides numerous creative elements and extensions for use in Elementor's page builder. Its customizable options and ability to optimize website performance make it a must-have tool for anyone looking to enhance their website's design.
Key Features:
Live editing and fast loading
Easy website speed optimization
No resource or code overload
Pre-made templates available
Wide range of elements
Responsive support team
Flexible form customization
Customizable widgets
Regular updates and improvements
Advanced JetPlugins for Elementor & Gutenberg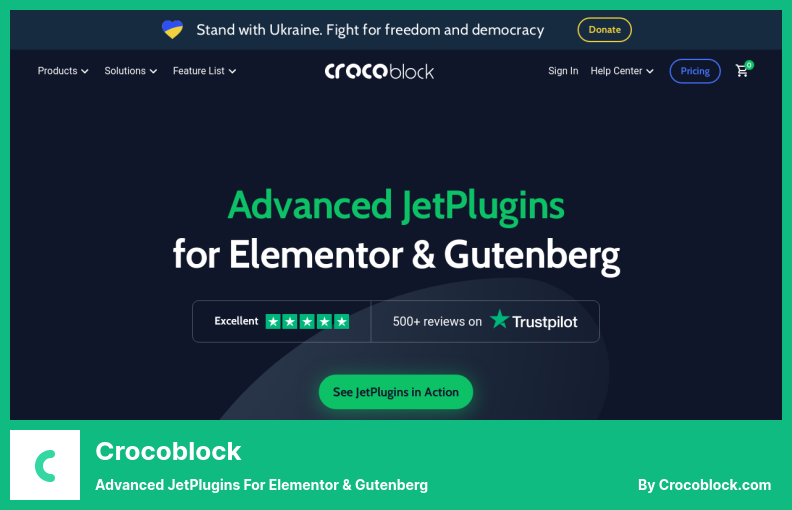 Crocoblock is an all-in-one solution for developing elementary WordPress sites. It offers 15 WordPress plugins designed to enhance the user experience with new features. These plugins can be purchased separately, but it's more advantageous to buy Crocoblock as a bundle.
One of the primary advantages of using Crocoblock is the Kava-pro theme. This theme has been specifically designed to work seamlessly with the Elementor theme and has a series of Elementor templates to help improve the user's WordPress site.
Crocoblock's JetPlugins add even more value by providing features like dynamic functionality, custom post types, advanced search options, and dynamic visibility controls. Additionally, there are several WooCommerce add-ons that allow for easy product display and checkout customization.
Overall, Crocoblock is an excellent choice for those looking to build an attractive and functional Elementary WordPress site. With its powerful suite of plugins and compatible Kava-pro theme, Crocoblock delivers everything needed to create a standout website.
Key Features:
Access to handy tabs, toggles, and accordions
Various web building plugins provided
Profitable WooCommerce site
No coding experience needed for website animation
Tabs, toggles, accordions available
Range of web building plugins included
Rich content can be added to header and footer
Designers can boost site's profitability
Easy website animation without coding
Customizable header/footer with rich content
The Largest Free Library of Custom and Fully Flexible Elementor Widgets
Qi Addons For Elementor is a plugin created by Qode Interactive that offers the most comprehensive collection of Elementor widgets.
It provides over 60 custom widgets in its free version and over 100 in the premium version, all designed to help you achieve your business objectives. The plugin's aesthetics and design have been carefully crafted to enable customization and simplify use.
The Qi Addons For Elementor plugin offers a streamlined interface that allows you to create a stunning website from scratch precisely as you envision it. It is simple to use and offers several features that make it a must-have for anyone looking to design a professional-looking website.
With this plugin, you have access to numerous pre-designed templates and widgets that have been intelligently developed to meet your every need. You can easily drag and drop these elements onto your page and customize them to match your brand image effortlessly.
In addition, the plugin is incredibly flexible, allowing you to add custom CSS and HTML to your site without any coding knowledge. You can also add animations and effects to your website to make it more interactive and engaging.
Overall, the Qi Addons For Elementor plugin is an excellent choice for anyone looking to enhance their website's functionality and appearance. With its wide range of customizable widgets, templates, and effects, it is undoubtedly worth trying out if you're looking for a straightforward way to improve your website's design and functionality.
Key Features:
Versatile styles (

business hours

, infographic, WooCommerce, SEO, and Elementor forms)

Toggles and accordions for easy information display
Promotion and announcement bar display
Customizable website sections
User-friendly interface
On-demand widget loading
Mobile responsive design
Clean code with no bloat
Regular updates
FAQ
What are Elementor addons?
Elementor addons are additional tools or plugins that can be added to the Elementor page builder in WordPress. These add-ons offer new features and functionality to enhance the design and functionality of your website.
Why should I use Elementor addons?
Elementor addons allow you to create custom designs and functionality without needing to know how to code. They can save you time and effort by providing pre-made templates and widgets, as well as extending the capabilities of the Elementor page builder.
What are the benefits of using Elementor addons?
Using Elementor addons can help users create more complex and dynamic designs without having to write code. These addons can also save time and streamline the design process by providing pre-made templates and design elements.
Conclusion
In conclusion, we have discussed the top 9 Elementor addons for WordPress in 2023, both free and paid. These add-ons can significantly enhance the functionality of your website and make it more visually appealing.
If you want to learn more about WordPress, be sure to check out BetterStudio's blog. They offer a wealth of knowledge on everything related to WordPress, including tutorials, how-tos, and reviews.
Don't forget to follow BetterStudio on Facebook and Twitter to stay up-to-date with the latest tutorials, news, and updates.
Thank you for taking the time to read our article. If you have any questions or comments, please feel free to leave them in the comment section below. We'll do our best to address them as quickly as possible.