Are you searching for the best Popup WordPress plugin?
If you don't have enough time or knowledge of WordPress, we created a handpicked list of the best WordPress Popup plugins that will save you time and effort. These WordPress plugins come with plenty of features and support the right plugins so you can revolutionize your WordPress website. we also make sure these plugins are working properly in all modern WordPress themes.
You are looking for a Popup-related plugin, but it's not the same as the exact Popup plugin? Those plugins are also functional for Popup Builders, email subscription popup, and Popup Maker. Choose the WordPress plugin that fits your site and levels it up.
The following are the best WordPress plugins for Popup in 2022:
Email Opt-in And Lead Generation Plugin For WordPress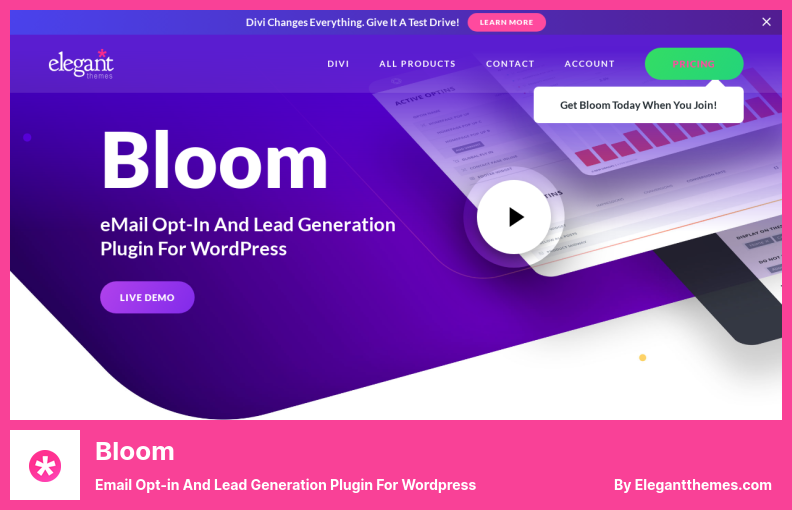 Bloom is a famous and incredibly practical WordPress popup plugin developed by Elegant Themes, which is one of the oldest commercial WordPress theme creators in the world. A WordPress popup creator for website owners that is simple to use and also offers very efficient performance. Bloom is one of the best possible options out there.
It allows you to create visually appealing popup forms directly from your WordPress dashboard. Bloom also has a fantastic demo site where you can try it out.
Bloom offers one of the most visually appealing dashboards you'll come across. As a result, just interacting with your popups is straightforward from that standpoint.
Although it does not have a drag-and-drop builder, it does come pre-loaded with more than hundreds of layouts that you may tweak to meet your specific requirements, as well as some special trigger and targeting features.
Blossom comes with a reasonable range of capabilities that cover the essentials of what you would expect from a competent WordPress popup plugin.
---
💵 Hence, its price is $89.
Key Features:
Pre-designed popup templates that are simple to customize
There are a variety of optin options available, including the sidebar, slide-in, and below post signup forms
Popup lightbox that appears automatically
Targeting at the post or page level is available
Outstanding support and developer team that is always there for you
Integration with common email service providers is available
Time delay, scroll, and form submission are the most fundamental triggers
The Powerful Customer Acquisition & Lead Generation Software
Many websites, at least over thousands of them, make use of OptinMonster, a very effective online lead generation program. Its Exit-Intent technology, which is unique to the company, assists in converting departing users into customers and paying clients. It is, without a doubt, the greatest popup plugin available on the market now.
Additionally, it has the most extensive set of targeting and customization tools available in any WordPress popup builder available. Simply stated, it enables you to optimize your conversion potential in the same way that marketing professionals do.
To get started, there's a new drag-and-drop popup builder that allows you to create popups from scratch or tweak one of the pre-existing template designs.
You'll also get some really comprehensive targeting and triggering rules, which is a really fantastic feature for any product.
OptinMonster also features built-in A/B testing and multivariable testing, which are useful if you want to improve your popups before they appear.
---
💵 Lite is free, but Premium costs money.
Key Features:
With page-level targeting, geo-targeting, and on-site retargeting, you have a lot of possibilities
Trigger popups with exit intent, scrolling, inactivity sensors, time-based triggers, and more are all possible with its mechanism
Using AdBlock recognition, personalized texts may be shown to users
Device-based targeting, among other things
Popups that appear when a visitor is about to abandon your website are outstanding
Hundreds of professionally designed popup templates are ready to use
Lightbox popups that are well crafted and are not annoying
Random Reviews:
With freemium, you can try out the services. We have about 50 leads with it. We appreciate your assistance.

I was looking for a tool to create the concept of a conversation and I found it in OptinMonster
Popup For Opt-ins, Lead Gen, & More
Popup Maker is another super amazing and also free WordPress popup plugin that can be downloaded and used. Optin popups and promotions are available in a variety of formats, including lightbox popups, slide-in popups, sticky popups, notice popups, and more.
The appearance and position of your optin popup will likewise be completely customizable at your discretion.
Particularly strong in the commercial version, WordPress-specific targeting and triggering rules allow Popup Maker to distinguish itself from its competitors. It also contains certain targeting rules that are exclusive to WooCommerce and are excellent for eCommerce shops.
The design is straightforward and based on the ordinary WordPress editor, which makes it super easy to use, even if it is not a drag-and-drop editor like the regular WordPress editor.
With the theme editor, you can design your own popup themes and customize the way they are displayed. In addition to this, cookies allow you to control the frequency with which popup forms display on your website.
💵 It's free to download the Lite version and costs $87 to purchase the Premium version.
Key Features:
Easy integration of your popups with popular contact form plugins like WPForms
Even the free edition provides a multitude of options for you to make use of it
Click-based triggers may be added to your navigation menu and buttons, as well as sidebars, photos, and other elements
Just like any other advanced popup generator, you can set up variable targeting and determine where your popup will appear
Fantastic support and developer team for you that are available anytime
Random Reviews:
Beware of what you wish for!

I've been using this plugin for years and it works flawlessly even after major upgrades. Recently, I encountered my first problem, so I contacted their support team. I got an email within 48 hours and was told that the problem was with my browser. I cleared the cache, and all was well again.
Most Popuplar Popup Plugin For WordPress

Ninja Popups is a prominent and uncomplicated popup plugin for WordPress sites that also includes a large number of integrations with current popular email marketing systems. It allows you to create basic popup forms via the use of a visual drag and drop interface.
You have the option of creating your own popup from the very starting point or using one of the seventy-seven pre-made pop up layouts.
Animation effect choices are one of the areas in which it shines. When creating popups, you have the option to add dozens of various motion effects.
Also included are built-in analytics and A/B testing capabilities, as well as a Google Analytics Event tracking interface that allows you to monitor data in the Google Analytics platform.
This powerful popup plugin solution provides you with high-quality leads and helps you improve the number of people who opt-in to your mailing list. Additionally, you will have complete interoperability with popup plugins and mailing systems.
💵 With the product, you get 12 months of support and updates for free. The price is $24.
Key Features:
Make use of hundreds of effects to make your popups more effective
It is updated on a regular basis to fix any problem concerns and to provide new functionality
Integration of Google Analytics Event Tracking (GAET)
Forms may be graphically constructed using a drag and drop builder
Popups, bars, and sliders are subjected to A/B testing
Make use of their built-in A/B testing capabilities
Popups look great on mobile devices and tablets
Random Reviews:
A/B testing works well and provides useful analytics to help determine how to get the best results for our website*.

Although they have a lot of built-in templates and it is easy to create popups with them, I was not able to use it. I could not control where the popups appear and where they do not appear. I also could not exclude the home page and add product categories.
Leverage The True Power Of Social Proof To Instantly Increase Site Conversions
Popup alerts with social proof are a relatively new trend and popular approach to increase the size of your email list and increase your profit and nothing does it better than TrustPulse.
It was so obvious that it must be on our list of the top WordPress popup plugins since it is the most effective social proof tool available for business websites. It can also be a fantastic email subscription popup to gather data from your users.
It does this by presenting visually appealing social proof alerts on your website, which helps to enhance engagement, conversions, and purchases.
It displays social-proof alerts on your website to aid in the development of user trust, the induction of the FOMO, which stands for fear of missing out effect, and the encouragement of additional people to join up or buy.
If you operate an eCommerce company, then website performance is critical to increasing the number of sales you generate. TrustPulse has no effect on the speed with which your website loads and, at the same time, enhance the user experience.
💵 With $5/m, you get this plugin plus 12 months of support.
Key Features:
Comes with an amazingly simple set-up procedure to get you up and running. The default social proof popup may be used without making any changes
Select the precise location and timing of alerts to increase the number of users who become customers
It is compatible with all common website platforms, including WordPress, Squarespace, Drupal, Shopify, and other similar systems
It constantly displays a map next to each transaction in order to encourage fear of missing out
Keep track of sales, downloads, and registrations made on your site, and then display them as recently completed activities
CRM, Email Marketing, Live Chat, Forms & Analytics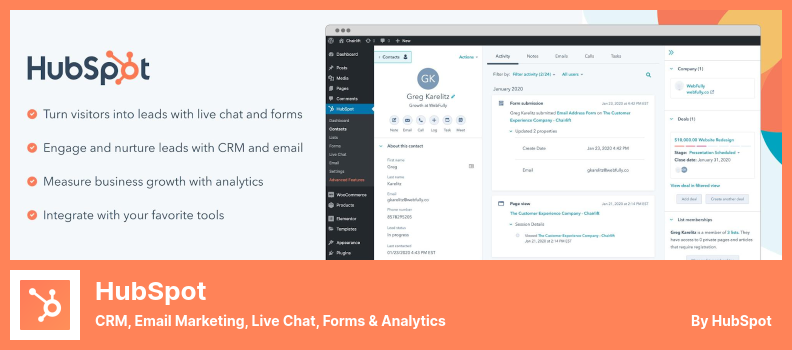 HubSpot has created a WordPress plugin that makes it simple to generate popup forms and integrate them into your WordPress site. Along with the ability to generate popups, the HubSpot plugin also includes functionality such as live chat, analytics, email marketing, customer relationship management, and other similar functions.
Connecting your WordPress website to your HubSpot account with the HubSpot plugin ensures that the two systems work together seamlessly. Your popups will immediately update on your WordPress website whenever you make a change in your HubSpot portal, so you won't have to do anything additional.
It begins by asking which sort of popup you like, such as box, ad banners, or slide-in, after which you are led to the configuration tool, where you may alter the text, add a picture and necessary form fields, and even create your own gratitude message at the end.
---
💵 You can download the Lite version free of charge, but the Pro version costs a few dollars.
Key Features:
Works in conjunction with third-party plugins such as WPForms to link current forms with the HubSpot CRM
There is no need for coding
You have the option of targeting people and specifying whether the action should be triggered by a 50 percent page scroll, an exit intent, or the passage of time
Pre-built form designs are available in a variety of styles and sizes
With built-in monitoring, you can see how well your forms are functioning
Make sure that your popup matches the overall look and feel of your website and brand
Random Reviews:
I like that this plugin does exactly what I need it to, and that the support and development are quick and helpful.

Thank you to the work team and to those who are responsible for creating this plugin. It is easy and uncomplicated for beginners.
Popups, Welcome Bar, Optins and Lead Generation
If you're searching for a more natural solution, Icegram allows you to generate popups directly from the WordPress dashboard, although its text-based interface makes it significantly less intriguing than most of the competitors in this category.
In addition to time on page and exit intent, Icegram also offers clicks and time delay as trigger options. Page targeting, customer retargeting, gadget targeting, and geolocation targeting are all choices.
In addition to building popups and opt-in forms, you can create eye-catching Call To Action (CTA) buttons that will direct users to whatever website you like, including your affiliate connections.
Icegram is available in two versions: a free version and a paid version. When it comes to simple popups, the free version is sufficient; however, the Pro edition includes additional triggers, analytics, and other sophisticated capabilities.
To begin creating popups using Icegram, you'll need to choose one of the templates that are offered. Then you'll use the text-based interface to make changes to the text and graphics in the document. It's not very visually appealing, but it can do the job for you and makes it simple to utilize your own customized CSS as necessary.
---
💵 $97 for the premium version, and free for the lite version.
Key Features:
Action Bars that are both stylish and functional for lead generating
A/B Testing, sometimes known as split testing, is available
Modified CSS and JavaScript may be included in the popup content
Slide-in Messengers that are visually appealing
Analytical and Reporting Services
Advanced targeting such as identifying devices and locations
Toast Notifications are supported
Integrations with almost anything
Pages, posts, and users are some of the more versatile targeting possibilities available
Time-sensitive popups and appropriate lightboxes may be created
Random Reviews:
It is a great plugin that I use on almost every website. It has really evolved over the years.

It seems every time I attempt to create a new campaign and select a template, it returns the message 'the link is no longer valid.

It works for me greatly. Thank you.
Create a Thriving Online Business
Thrive Leads is another cool popular popup plugin that WordPress users usually consider using. It includes gorgeous popup layouts as well as a simple popup builder that anybody can use. Through the use of popups, Thrive Leads is intended to assist you in collecting leads on your WordPress website and growing your email list.
With the help of this product, you can construct an unblockable overlay, also known as a popup, that is shown above your data and is very eye-catching.
It has everything you want to get started right away, including a drag-and-drop editor, powerful targeting options, and reporting, just to mention a few highlights.
Having access to Thrive Leads' layout library saves you the time and effort of creating popups from the ground up. As a result, you may show multiple opt-in appearances on mobile devices since the editor is perfect and does not require you to have some level of coding knowledge.
---
💵 With $99, you will get all the exceptional features of the Thrive Leads plugin as well as 12 months of support.
Key Features:
opt-in forms that are optimized for mobile devices
The one-time purchase for Thrive Leads allows you to download and utilize the plugin without having to worry about making ongoing payments
Editor with drag-and-drop functionality
The use of data reports and form analytics will provide you with thorough information about your list-building efforts and conversion rates
There is no limit to the number of leads connected
Finally, let me mention a few things
We have come to the end of our review of the best Popup plugins. You can use any of these plugins to improve the look and performance of your website.
Our goal is to help you find the best WordPress Popup plugins. We publish articles every month about the best WordPress blog themes for bloggers and the best WordPress plugins for bloggers. You can vote on these posts, refer to them, and share them with your friends.
Let us know in the comments what makes your favorite WordPress plugin unique. Please share this post on social media.