Are you a WordPress website owner in search of the best popup plugin to enhance your website's functionality and engagement? Look no further! In this blog post, we will be exploring the top 8 WordPress popup plugins, both free and pro, that will transform your website and captivate your audience.
If you're wondering how these plugins can benefit your website, let me share some interesting stats with you. According to research, websites that utilize popups effectively have experienced an average conversion rate increase of 2.9%.
Furthermore, these plugins can help you capture leads, grow your email list, promote special offers, increase social media followers, and improve overall user experience.
Now let's look at the best popup plugins available on WordPress. You're sure to find a plugin that suits your needs and takes your site to the next level whether you're a beginner or an experienced website owner. Let's get started exploring WordPress popup plugins!
Best Popup Plugins for WordPress
If you are looking to boost engagement and conversions on your WordPress website, look no further than the best popup plugins for WordPress! These powerful tools allow you to create eye-catching popups that grab your visitor's attention and encourage them to take action.
Whether you're looking for a free option or want to invest in a pro version, we've got you covered. Check out our top picks below and start supercharging your website today!
Email Opt-in And Lead Generation Plugin For WordPress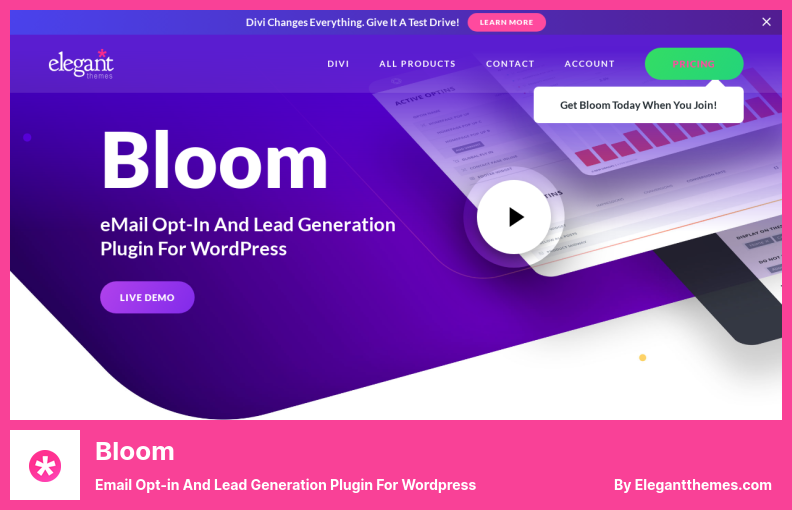 Bloom is a popular and highly practical WordPress popup plugin created by Elegant Themes, a renowned WordPress theme creator. It stands out as one of the best options available, providing both simplicity and efficient performance for website owners.
This plugin lets you create beautiful popup forms right from your WordPress dashboard. It doesn't have a drag-and-drop builder, but it has hundreds of preloaded layouts you can customize easily. It also has triggers and targeting features for making popups more effective.
The dashboard of the plugin is visually stunning and quite user-friendly. This makes interacting with your popups a breeze, even for those who aren't very tech-savvy. The intuitive interface makes it easy to navigate and customize your popups without any hassle.
Basically, the plugin has everything you'd expect from a top-notch WordPress popup plugin in terms of features. You can choose from a range of opt-in options, like sidebar, slide-in, and below post-sign-up forms, or you can customize your own. Plus, it comes with a pop-up lightbox that shows up automatically.
You can target at the post or page level with the plugin. You can choose to show popups only on specific posts or pages, making your outreach more targeted and personal. You can control how and when your popups appear to your visitors with options like time delay, scroll, and form submission triggers.
Another highlight of Bloom is its outstanding support and developer team. They are always ready to assist you and address any inquiries or concerns you may have. In addition, Bloom seamlessly integrates with popular email service providers, making it easy to sync your popups with your email marketing campaigns.
Key Features:
Exceptional support and developer team
Integration with common email service providers
Time delay, scroll, and form submission triggers.
Pre-designed popup templates that are easy to customize
Popup lightbox that appears automatically
Targeting at the post or page level
The Powerful Customer Acquisition & Lead Generation Software
OptinMonster is an incredible online lead-generation program that is widely used by thousands of websites. Its unique Exit-Intent technology is a game-changer, helping to convert visitors who are about to leave into paying customers. It is hands down the best popup plugin currently available on the market.
One of the standout features of the plugin is its built-in A/B testing and multivariable testing capabilities. This allows you to optimize your popups before they even appear, ensuring maximum effectiveness. With this plugin, you can tap into the same conversion potential that marketing professionals use.
The drag-and-drop popup builder is a user-friendly tool that allows you to create popups from scratch or customize the pre-existing templates. This saves you time and effort, while still delivering stunning and impactful popups.
This plugin lets you customize and target popups like never before. With page-level targeting, geo-targeting, and on-site retargeting, you can tailor your popups to your audience's preferences. You can also use AdBlocks, so it's better than before.
The plugin also offers a wide range of triggering options, such as exit intent, scrolling, inactivity sensors, time-based triggers, and more. This ensures that your popups are displayed at the perfect moment to catch your visitors' attention and drive conversions.
With device-based targeting, you can optimize the display of your popups for different devices, ensuring a seamless user experience across desktop, mobile, and tablet. This attention to detail sets OptinMonster apart from its competitors.
One of the standout features of the plugin is its ability to display popups when a visitor is about to abandon your website. This is a powerful way to capture their attention and entice them to stay or make a purchase before leaving.
The plugin also provides you with hundreds of professionally designed popup templates, ready to use right out of the box. This takes the guesswork out of design and allows you to quickly create eye-catching and effective popups.
Last but not least, OptinMonster offers beautifully crafted lightbox popups that are not annoying. These popups are designed to enhance the user experience and provide value, rather than being an intrusive annoyance.
Key Features:
Page-level targeting for precise audience segmentation
Advanced triggering options like exit intent, scrolling, and inactivity sensors
Personalized texts through AdBlock recognition
Device-based targeting for optimal display on different devices
Popups that appear when a visitor is about to abandon your website
Hundreds of professionally designed popup templates.
Popup For Opt-ins, Lead Gen, & More
Popup Maker is a super amazing and free WordPress popup plugin that provides optin popups and promotions in different formats, such as lightbox popups, slide-in popups, sticky popups, and more.
It stands out from its competitors with its WordPress-specific targeting and triggering rules, especially in the commercial version. It also offers exclusive targeting rules for WooCommerce, making it great for eCommerce shops.
One of the best things about the plugin is its customizable appearance and position options. You have complete control over how your optin popup looks and where it is displayed.
The design is simple and based on the ordinary WordPress editor, so it's incredibly easy to use. While it may not have a drag-and-drop editor like some other plugins, the WordPress editor familiarity makes up for it.
With the theme editor, you can create your own popup themes and customize their display. This allows you to match the popup design with the overall look and feel of your website. Additionally, Popup Maker utilizes cookies, which means you can control how often the popup forms appear on your website.
Key Features:
Seamless integration with popular contact form plugins like WPForms
You can easily customize the appearance and position of your opt-in popups
Click-based triggers can be added to your navigation menu, buttons, etc.

Offers fantastic support and has a dedicated developer team available to assist you

WooCommerce-specific targeting rules make it ideal for eCommerce shops
The design is based on the familiar WordPress editor.
Most Popuplar Popup Plugin For WordPress

Ninja Popups is a popular and user-friendly popup plugin for WordPress websites. This plugin offers seamless integration with popular email marketing systems, allowing you to easily create attractive popup forms using a simple drag-and-drop interface. With this plugin, you can generate high-quality leads and increase your mailing list subscribers.
One of the standout features of Ninja Popups is its extensive collection of animation effects. With dozens of options to choose from, you can add eye-catching motion effects to your popups, making them more engaging and attention-grabbing.
Whether you prefer to start from scratch or utilize one of the seventy-seven pre-made popup layouts, Ninja Popups provides you with the flexibility to create customized popups that suit your website's style and branding.
In addition to its design capabilities, Ninja Popups also offers built-in analytics and A/B testing functionality. You can easily track the performance of your popups and optimize their effectiveness by testing different variations.
This plugin also includes Google Analytics Event tracking integration, allowing you to monitor data directly within the Google Analytics platform.
Ninja Popups is regularly updated to fix any issues and introduce new features, ensuring that you have access to the latest functionality and enhancements. With its responsive design, your popups will look great on both mobile devices and tablets, providing a seamless user experience across different screen sizes.
Key Features:
A/B testing capabilities for sliders, popups, and bars
Mobile-responsive popups for a seamless user experience.
Use a wide range of effects to enhance your popups
Regular updates to improve functionality and address any concerns
Integration with Google Analytics Event Tracking (GAET)
Leverage The True Power Of Social Proof To Instantly Increase Site Conversions
TrustPulse is a plugin that helps WordPress website owners increase their email list and boost their profits through popup alerts with social proof. It's a must-have for eCommerce companies looking to improve website performance without impacting loading speed or user experience.
As the most effective social proof tool available, the plugin is perfect for displaying visually appealing alerts that enhance engagement, conversions, and purchases.
One of its standout features is its simple setup procedure, allowing users to get up and running quickly. Its default social proof popup can be used without any changes, making it incredibly user-friendly.
Additionally, the plugin gives the user the opportunity to specify the exact location and timing of the alerts, which ensures that the conversion rate is maximized for each particular campaign.
Compatibility is another area where the plugin shines. It seamlessly integrates with all major website platforms, including WordPress, Squarespace, Drupal, Shopify, and more. This means that no matter which platform you're using, it can easily be incorporated into your website.
One of the unique features of the plugin is its display of a map next to each transaction, creating a fear of missing out (FOMO) effect. This constant reminder of real-time activity encourages users to take action and join in on the action.
By keeping track of sales, downloads, and registrations, TrustPulse can display these recent activities as social proof alerts on your website, further building trust and encouraging conversion.
Key Features:
The easy setup procedure for quick implementation
Precise location and timing selection for maximum conversion rates
Compatible with all major website platforms
Creates fear of missing out (FOMO) effect with real-time activity display
Displays sales, downloads, and registrations as social proof alerts.
CRM, Email Marketing, Live Chat, Forms & Analytics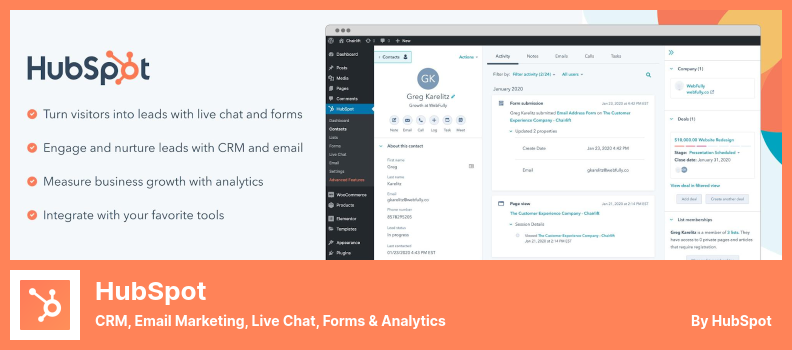 HubSpot is a powerful WordPress plugin that simplifies the process of creating and integrating popup forms on your website. But that's not all it does! This plugin also offers live chat, analytics, email marketing, customer relationship management, and more.
By connecting your WordPress site to your HubSpot account, you can ensure seamless integration between the two systems. Whenever you make changes in your HubSpot portal, your popups will automatically update on your WordPress site.
To get started, the plugin asks you to choose the type of popup you want, whether it's a box, an ad banner, or a slide-in. From there, you can easily customize the text, add images and form fields, and even create a personalized gratitude message.
One of the standout features of the plugin is its compatibility with third-party plugins like WPForms. This allows you to link your existing forms with the HubSpot CRM without any coding required. You'll also have the flexibility to target specific individuals and set triggers based on page scroll, exit intent, or time elapsed.
With pre-built form designs available in various styles and sizes, you can ensure that your popups match the overall look and feel of your website and brand. And with built-in monitoring, you can easily track how well your forms are performing.
Key Features:
Seamless integration with third-party plugins like WPForms.
No coding is required.
Flexible targeting options based on page scroll, exit intent, or time elapsed
Pre-built form designs in various styles and sizes
Built-in monitoring for tracking form performance
Customizable to match your website and brand.
Popups, Welcome Bar, Optins and Lead Generation
Icegram is a WordPress plugin that allows you to create popups, opt-in forms, and Call To Action buttons directly from your WordPress dashboard. While its text-based interface may not be as visually appealing as other options, it still gets the job done and even allows you to use your own customized CSS if needed.
One great feature of the plugin is its ability to create eye-catching Call To Action buttons that can direct users to any website you want, including your affiliate links. This is a fantastic way to increase engagement and drive traffic to your desired destinations.
The plugin comes in two versions: a free version and a paid version. The free version is suitable for simple popups, while the Pro edition offers additional triggers, analytics, and more advanced capabilities. This allows you to tailor your popups to your specific needs and goals.
Speaking of triggers, the plugin offers a variety of options to choose from, including time on page, exit intent, clicks, and time delay. This gives you flexibility in determining when and how your popups appear to your website visitors.
Icegram has a great targeting feature. You can target specific pages, posts, or users. You can also use advanced targeting options like device targeting, location targeting, and retargeting. It's great because you can tailor popups so they're more effective for your audience.
Key Features:
Visually appealing messengers that grab attention
Gain insights into the performance of your popups
Identify devices and locations to target specific audiences.
Stylish and functional bars for lead generation
A/B Testing is included
Custom CSS and JavaScript
Create a Thriving Online Business
Thrive Leads is a popular and user-friendly popup plugin that helps WordPress users collect leads and grow their email list. With its stunning popup layouts and simple popup builder, anyone can easily create eye-catching popups.
The plugin has a drag-and-drop editor, powerful targeting options and reporting tools that help you generate new leads with ease, making it a complete solution for lead generation.
One of the standout features of the plugin is its unblockable overlay, or popup, that grabs the attention of your website visitors. You don't need any coding knowledge to use its editor, and it also provides access to a library of pre-designed layouts, saving you time and effort.
The plugin is optimized for mobile devices, ensuring that your opt-in forms look great and perform well on smartphones and tablets. Plus, with Thrive Leads, you only need to make a one-time purchase, eliminating the need for ongoing payments.
Another great aspect of the plugin is its comprehensive data reports and form analytics. These features give you valuable insights into your list-building efforts and conversion rates, allowing you to optimize your lead generation strategy.
One major advantage of using Thrive Leads is that there are no limits on the number of leads you can connect to the plugin. This means that as your email list grows, you won't face any restrictions.
Key Features:
Drag-and-drop editor for easy customization
Detailed data reports and form analytics
Unlimited leads and connections
Stunning and customizable popup layouts
Targeting options for personalized campaigns
A/B testing for optimization.
Frequently Asked Questions
What are WordPress popup plugins?
WordPress popup plugins are tools that allow website owners to display targeted popups on their WordPress websites. These popups can be used for various purposes, such as capturing email subscribers, promoting special offers, encouraging social media sharing, and more.
Why should I use WordPress popup plugins?
WordPress popup plugins are a great way to engage with your website visitors and drive conversions. By using popups strategically, you can grab the attention of your audience, promote important content or offers, grow your email list, and increase user engagement on your site.
Are WordPress popup plugins easy to install and use?
Yes, most WordPress popup plugins are designed to be user-friendly and require no coding knowledge. You can simply install the plugin from the WordPress dashboard, customize the settings according to your needs, and start creating and displaying your popups in a matter of minutes.
Conclusion
To wrap up, we've covered the 8 best WordPress popup plugins, both free and pro options. We discussed their features, benefits, and how they can enhance your website's user experience.
If you want to delve deeper into WordPress tutorials and related topics, be sure to check out the BetterStudio blog. They offer a wealth of resources and in-depth tutorials to help you optimize your website.
For the latest updates and valuable insights, don't forget to follow BetterStudio on Facebook and Twitter. By staying connected, you'll be the first to know about their new tutorials and helpful tips.
Thank you for taking the time to read this article! I hope it provided you with valuable information and inspiration to improve your WordPress website.
If you have any questions or encounter any issues while implementing these popup plugins, feel free to leave a comment below. We're here to help and support you on your WordPress journey.