Are you a WordPress website owner who is looking for a way to add a sense of urgency to your site? Perhaps, you aim to create a buzz around a new product launch or want to offer a time-limited discount for your services. In that case, you might want to consider using a WordPress countdown timer plugin.
In this blog post, we'll discuss the 8 best WordPress countdown timer plugins, both free and paid, that you can use to add urgency and excitement to your website.
According to a recent survey, 70% of businesses report seeing a positive effect on their conversion rates when using a countdown timer on their website. Therefore, it's no surprise that more and more WordPress website owners are incorporating countdown timers into their marketing strategies.
Before we dive into the countdown timer plugins, let's start with a quick definition of what a "countdown timer" is and how it works. A countdown timer is a tool that displays the time remaining until a particular event, such as the launch of a product or the end of a sale.
This element creates a sense of urgency among visitors and encourages them to take action before time runs out. So without further ado, let's explore the 8 best countdown timer plugins for WordPress sites.
Best Countdown Timer Plugins for WordPress
If you are looking to add excitement to your WordPress website, consider installing a countdown timer plugin to create a sense of urgency for your visitors. Check out our top picks for the best countdown timer plugins, both free and paid, for WordPress websites.
An Elementor Add On ،To Showcase Timer In A Simple And Flexible Way
Countdown Timer for Elementor is a helpful add-on that enables Elementor Page Builder users to incorporate countdown timers into their web pages.
A set of customizable styling options available along with a drag-and-drop interface makes this module very user-friendly and does not require any programming skills on the part of the user.
The plugin also has features that add to its ease of use, such as the ability to add recurring timers and set repeat times. This plugin uses cookies, ensuring compliance even when the viewer deletes or alters their cookies.
This countdown timer plugin can instantly enhance your post by imposing a timer that immediately starts counting down when visitors arrive at your site. If the timer restarts on the following day, it will happen automatically on the designated day.
By placing a timer in your posts, you can significantly increase sales. The plugin is also compatible with updated versions of a wide range of other plugins.
Key Features:
Easy drag-and-drop interface
Compatible with a wide range of other plugins
Includes recurring timers
Customizable with numerous styles
Countdown begins when visitors arrive
The timer restarts automatically on the following day.
A Drag & Drop WordPress Website Builder & Landing Page Builder
SeedProd is an all-in-one plugin that simplifies the building of dynamic landing pages using a drag-and-drop interface. With its numerous built-in page templates, such as coming soon, maintenance, and countdown timers, you can customize any landing page in just a few clicks.
The plugin enables you to display a clock on your website and use a combination of features from different plugins, such as custom login form pages, contact forms, and countdown clocks.
With this countdown and clock plugin, you can create beautiful countdown timers to display on your landing pages with ease. The countdown timer feature is easy to integrate into any landing page, giving you the ability to choose either a time-based countdown or an evergreen countdown.
Various timer labels are available, and you can display a message or redirect the page once the timer expires. Additionally, you can select a time zone, specify the hour, minute, and second of the timer, and align it accordingly.
Key Features:
Customizable timer labels
Display a message or redirect the page once the timer expires
Multi-purpose countdown templates are available
Choose between time-based or evergreen countdown
Specify the hour, minute, and second of the timer
Easily align your timer through the clock alignment feature.
One Of The Leading & Popular Countdown Timer Plugins Available For WordPress
Countdown Timer Ultimate is one of the most popular and inclusive countdown timer plugins currently available, with a free and pro version that offers additional features.
This plugin is perfect for creating simple timers for your WordPress blog, as you can create as many static timers as you want using it. It also permits the use of shortcodes to display countdown timers in multiples.
With this WordPress countdown timer plugin, you can embed a countdown timer on your website quickly and easily. Additionally, it supports the use of countdown timers for auctions on your WordPress site.
The plugin offers various countdown clock designs, including more than 12 different options that can be customized. You can alter the background color, width, and transparency to your liking. It also works seamlessly with WooCommerce store and plugins.
This plugin lets you display a final text message at the end of the countdown and customize the size and color of the rotating circle background. Overall, Countdown Timer Ultimate is an excellent choice for easily creating customized and impressive countdown timers on any website.
Key Features:
Allows for the creation of multiple static timers with the

use of shortcodes
Embed a countdown timer on your website within minutes
Works for auctions on WordPress sites
Contains over 12 different countdown clock designs to choose from
Includes free and pro versions with additional features
Customize the size, background color, and transparency.
A Very Simple Plugin To Add Countdown Timer To Your Website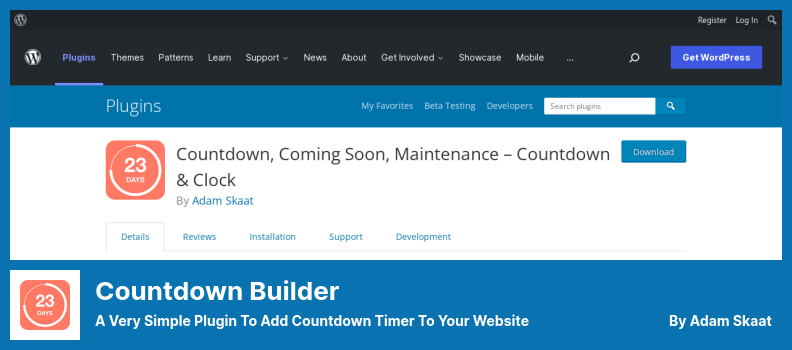 Countdown Builder is an easy-to-use WordPress plugin that allows you to add a countdown timer to your website quickly. With just a few clicks, you can construct an attractive and functional timer that engages your users and boosts urgency.
Besides the standard countdown timer which has a circle countdown, flip clocks, and a coming soon page for you to choose from, this plugin comes with a number of other timer designs as well.
One of the best things about the plugin is that it can be customized using the built-in editor. This feature is especially helpful for beginners as they don't have to write CSS! You can also use shortcodes to display countdown times for your users.
The plugin also offers the ability to schedule timers in advance, and WooCommerce countdowns can now be created. You can also include a signup form that allows users to subscribe by email, and an Android device can display or hide a timer. You may choose either a circle countdown or a popup countdown.
A unique feature of Countdown Builder is Sticky Countdown, which enables you to monitor the countdown. Finally, it should be noted that when using PHP8, some problems may arise when you log in to the backend.
Key Features:
Schedule timers in advance
Flip countdown timer
WooCommerce countdown is included
Signup form integration
Circle countdown or popup countdown
Easy-to-use shortcode display.
Evergreen Countdown Timer is a WordPress plugin that allows you to create countdown clocks on your website that are dynamic or static. By using cookies and IP addresses, the plugin can detect visitors and help you design a website that best fits your needs.
You can also redirect visitors to any page of your choice when the timer expires. Customizable CSS styles can be used for a personalized look and feel. One of the most notable features of the plugin is that it allows you to set an unlimited range of colors, making it easy to match your website's branding.
Additionally, a ticket system is available for counting down the number of seats or tickets sold. For events, you can use the countdown to show how many seats remain.
The program is lightweight, so it won't bog down your website, and it resets the time every time you restart the program. A daily countdown option is also available. Evergreen Countdown Timer is easy to use and can help you create a sense of urgency for time-sensitive offers.
Key Features:
Lightweight and daily countdown option.
Detects visitors using cookies and IP addresses
Customizable CSS styles
Allows an unlimited range of colors
Set up redirection based on timer expiration
Available ticket system
An Scarcity And Urgency Countdown Timer For WordPress & WooCommerce
HurryTimer is a WordPress plugin that creates urgency and scarcity to boost clicks and sales. It's compatible with both WooCommerce and non-WooCommerce sites, and lets you display multiple timers simultaneously. It can even automatically adjust timers based on a visitor's location.
The plugin offers both fixed and evergreen countdown timers that can be easily added to your website. It monitors cookie and IP information to ensure each visitor sees their own unique timer, regardless of time, date, or location. Plus, you can create a timer for a specific date range, such as a flash sale.
With HurryTimer, you have the flexibility to create evergreen campaigns that can detect cookies and IP addresses, or choose a one-time timer for specific events. A countdown timer can appear on product pages, and you can create a sticky announcement bar to promote upcoming deadlines.
Additionally, expiring coupons will automatically disappear once they have passed, and there are plenty of styling options available to match your brand.
Key Features:
Fixed and evergreen countdown timers
Automatic location-based adjustments
Multiple timers on display
Evergreen campaigns with cookie and IP detection
Support for both WooCommerce and non-WooCommerce sites
Expiring coupons disappear automatically.
WordPress Popups For Optins, Email Newsletters and Lead Generation
OptinMonster is a plugin designed to help small businesses create popups and generate leads to increase conversions, subscribers, and paying customers.
In addition to the popup builder, the plugin offers conversion tools that help build your business by converting abandoned visitors into customers.
With this plugin, you can create static and evergreen countdown timers for your website's web pages. You can also customize the timers based on users' location, page position, or origin. However, it may affect page speed negatively.
Using OptinMonster, you can create beautiful popup campaigns, email subscription forms, sticky announcements, gamified opt-in forms, and interactive popups on your website within minutes.
Key Features:
Animation effects

to captivate users

Customizable popup experience using cookies
Display different popups based on shopping cart items
Activation of popups when inactive for a certain period
Option to create multi-step campaigns and opt-in forms.
CircleTimer is a jQuery countdown timer that is responsive and feature-packed. It allows changing the color, size, and font of the plugin, making it easy to customize to your needs. It offers an easy-to-use interface and can be seamlessly integrated into your projects.
With the plugin, you can create countdown timers in a circle format utilizing SVG and even execute a callback function when the countdown reaches zero using jQuery. It offers the option to display either a countdown or a count-up timer using JavaScript.
One of the best features of the plugin is the ability to customize the font and color of the circles, change their color over time, and resize the circle in width and height. You can also change the font size and the thickness of the circles.
Additional features include the ability to run multiple instances simultaneously, display or hide the days, hours, minutes, and seconds, and compatibility with all modern web browsers. It also offers the option to reset the timer automatically every minute, hour, or day.
Key Features:
Responsive and customizable
Create countdown timers in a circle format
Ability to execute a callback function
Compatible with all modern web browsers
Customization options for fonts, colors, and circle sizes
Ability to reset the timer automatically.
Frequently Asked Questions
Are the WordPress countdown timer plugins suitable for all websites?
Yes, the countdown timer plugins can be used for all kinds of WordPress websites. Whether it's a blog, an eCommerce website, or a portfolio website, countdown timers can be used to create a sense of urgency and encourage visitors to take action.
Can the countdown timer plugins be customized to match the website's branding?
Yes, most of the countdown timer plugins come with customization options that allow you to change the color, font, and size of the timer to match your website's branding. Some of the plugins even allow you to add your own custom CSS.
Why are countdown timers effective for increasing conversions?
Countdown timers create a sense of urgency and encourage visitors to take action before the timer runs out. This can be very effective in increasing conversions as it motivates visitors to make a decision quickly.
Additionally, countdown timers can create a fear of missing out (FOMO) which can drive visitors to take action to avoid missing out on a deal or opportunity.
Conclusion
In conclusion, we have discussed the top 8 WordPress countdown timer plugins, both free and paid. Each plugin has its unique features and benefits, making it easier for website owners to choose the one that fits their needs.
For more related tutorials and articles, be sure to check out the BetterStudio blog. We offer a wealth of resources to help website owners improve their WordPress websites and grow their businesses.
Don't forget to follow BetterStudio on Facebook and Twitter to stay up to date on the latest tutorials and tips for WordPress website owners.
Thank you for reading, and if you have any questions or problems relating to this article, please don't hesitate to ask in the comment section below. We are always here to help you!