Do you find it frustrating to search for the best WordPress plugin for Countdown Timer?
Therefore, we will show you the best Countdown Timer WordPress plugin without further delay. You will see that some of them have modern features, while others are easy for novice users! So you're always on top of things! In addition, all WordPress themes are compatible with these plugins.
We chose WordPress plugins that are ideal for the Countdown Timer. However, you can still use these plugins for Time-Based Countdown, Recurring Countdown Timer, jQuery Countdown Timer, Circular Countdown Timers, Insert Timer Into Your Posts, Increases Sales, Display a Clock On Your Site, Countdown & Clock, and Multi-Purpose Countdown Timer.
We're sharing our hand-picked WordPress plugins for Countdown Timer in 2022 in this post:
An Elementor Add On ،To Showcase Timer In A Simple And Flexible Way
Countdown Timer For Elementor is an add-on that allows component builders to easily create new elements and widgets for Elementor Page Builder, including timers.
A countdown timer can be easily added to any post or page by using this plugin. With just a few clicks, you can customize everything without programming knowledge.
Whether a visitor deletes or changes their cookies, using this plugin, the countdown will display the correct time and date. It also can insert a timer into your posts and it increases sales.
Once a countdown timer expires, it restarts automatically for the visitor; for example, if the timer was to start again one day later, the countdown would automatically begin the following day again.
Also, counter-timers can be easily integrated into any webpage with a simple drag-and-drop builder interface. There are numerous styles available for this module.
Unfortunately, there is a possibility that the update of this plugin may conflict with the update of other plugins that are not supported by this one.
💵 It is free to use but charges a fee for upgrades.
Key Features:
There is no need for the user to have any programming skills
You can include a recurring countdown timer within your posts and pages
You can set it to repeat at a specific time or after a particular amount of time
All of our services can be customized to meet your specific needs
Cookies-based timers are available
Random Reviews:
It took about 3 attempts of reinstalling for the installation to show, although it was active. It is now working fine. br>br>This topic was modified 9 months, 2 weeks ago by mumar.

A good plugin, but a bit of a hassle to customize the CSS* This topic was modified 10 months ago by

Simple and efficient, works well with Elementor*
A Drag & Drop WordPress Website Builder & Landing Page Builder
Through the SeedProd plugin, you can quickly create dynamic landing pages using a drag-and-drop interface, then customize them to your needs. It provides many powerful page modes, such as a coming soon page, a maintenance mode page, etc.
As a countdown & clock plugin, It provides a library of landing page templates, making it possible to create landing pages without having any coding knowledge.
With just a few clicks, you can customize any template, and you will be able to see the results instantly as you make the changes. It also can display a clock on your site.
SeedProd's countdown clock is one of the most helpful landing page blocks. It is simple to incorporate a WordPress countdown clock into any landing page within a short period.
SeedProd has an unusual feature in that it allows you to use all the features of multiple plugins simultaneously, such as landing pages, maintenance mode, custom login form pages, contact forms, and countdown clocks.
💵 It is free to download the Lite version and it costs money to download the Premium version.
Key Features:
Various timer labels are available for customizing according to your needs
A message can immediately be displayed, or the page can be redirected once the timer expires
Multi-purpose countdown timer templates are available in a variety of styles to meet your needs
It is possible to choose either a time-based countdown or an evergreen countdown
You can select a time zone from the dropdown menu
You can specify the hour, minute, and second of the timer
You can easily align your timer by aligning your clock
Random Reviews:
My coming soon page works well with the plugin

Love it! Very easy to use.

I'm happy with the SeedProd plugin. The "coming soon" page is very easy to use, and that's probably the most important factor for me. And as a bonus, the pages are beautifully designed and look professional. Works well, too; I haven't noticed any bugs or problems at all.
One Of The Leading & Popular Countdown Timer Plugins Available For WordPress
Countdown Timer Ultimate is likely to be one of the most popular and comprehensive countdown timer plugins in the marketplace today.
This plugin is another excellent choice if you require creating a simple timer for your WordPress blog. While this plugin does not allow you to create evergreen timers, you can create as many static timers as you want using them.
This WordPress countdown timer plugin will let you embed a countdown timer on your website in a matter of minutes. It will allow you to add timers even to auctions on your WordPress site.
You may need a simple product, in which case, you could try the free version of countdown Timer Ultimate. But it is always possible to add additional features with the pro version.
Moreover, shortcodes can be used to display countdown timers created in multiples. This is one of the easiest ways to display customized HTML5 countdown timers.
💵 Download the free Lite version or purchase the Pro version for a fee.
Key Features:
More than 12 different countdown clock designs are available
You can customize the background color, width, and transparency
It is also possible to use it with WooCommerce store and plugins
The final text message can be displayed at the end of the countdown
It is possible to customize the color and size of the rotating circle background
Random Reviews:
It has been an outstanding plugin so far. I had only one question and they answered right away. I would recommend using it. They keep it up-to-date.

Nothing works unless you buy a huge bundle of plugins. $99 is the LEAST you will pay. Basically, these guys wasted a half-hour of my time a href="https://betterstudio.com/wordpress-plugins/best-wordpress-advertising-management-plugins/" target="_blank" rel="noopener">putting up an advertisement/a> in my Plugin admin area. I went out of my way to add this review. This is offensive.

I don't see the point in saying free when everything costs money
A Very Simple Plugin To Add Countdown Timer To Your Website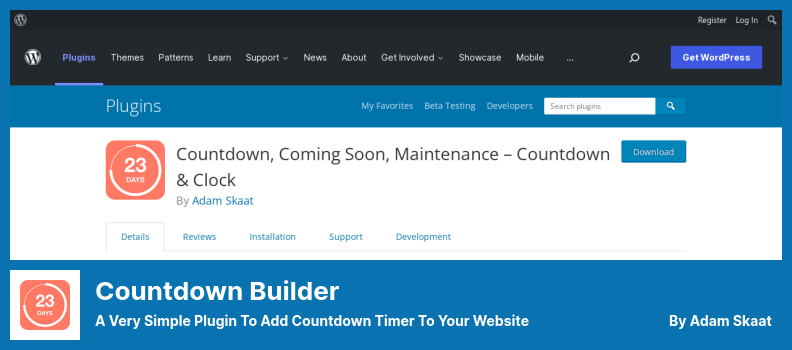 Like OptinMonster, Countdown Builder is a straightforward plugin that will allow you to add a timer to your website in minutes. It will help you construct an attractive Countdown timer with just a few clicks.
This plugin can create circle countdowns, flip clocks, and coming soon pages. The plugin offers the ability to develop circle countdowns, convert clocks, and come quickly pages.
You can add a timer to posts and pages directly from the block editor through this plugin. Based on its settings, it can also be configured to display at the end of each post or page.
You can customize the design of your countdown clock using the built-in editor without having to write CSS, which is especially helpful for beginners with little design experience.
You can use a shortcode like [ycd_countdown id=73] when you write posts or pages to display countdown times for your users. Unfortunately, when using PHP8, some problems may arise when you log in to the backend.
💵 You can download Lite for free, or Pro for $23.
Key Features:
The ability to schedule timers in advance is available
By flipping the time, you can begin a countdown
A WooCommerce countdown has been launched
You can include a signup form that allows users to subscribe by email
An Android device can display or hide a timer
You may choose either a circle countdown or a popup countdown
The Sticky Countdown enables you to monitor the countdown
Random Reviews:
Having used different countdowns on two different websites, I always appreciate how easy it is to set them up even with the free version.

I upgraded the default style for the countdown clock because we wanted more advanced features, and we received excellent customer support for getting the upgrade completed.

The countdown object has so many great functions, thanks to Adam's custom code and specific design elements.
The Evergreen Countdown Timer plugin is a component of the services provided by Data443, which is a publicly-held company providing data security and privacy compliance solutions.
With this free WordPress counter plugin, you can design websites that have evergreen countdown clocks. The same principle applies to static counters, so you can make both dynamic and static counters.
Detecting visitors can be accomplished by various means, including cookies and IP addresses. Additionally, the timer can be easily embedded on your website through a WordPress shortcode.
When your timer expires, you may redirect your visitors to any page of your choice, for example, when you are counting down to launching a new product on your website.
When creating your calendar, you can select how many colors you want to use. You may even set up countdowns to show how many seats remain in each event.
💵 Basic: $0, Premium: $47.
Key Features:
The detection of cookies and IP addresses can be combined
The time has been reset every time the program is restarted since a few days ago
Style sheets may be customized in CSS
You can choose from an unlimited range of colors
A redirection method based on expiration is possible for you
A ticket for the countdown may be purchased, seats, etc
A daily countdown is available
Random Reviews:
Our clients love this plugin. They say it's easy to use and allows for great flexibility! Well done, Intelly!

I would have upgraded to premium if it had worked.

Worked fine. And I bought the PREMIUM version.
An Scarcity And Urgency Countdown Timer For WordPress & WooCommerce
Here, you will learn about the HurryTimer. This countdown timer will create an environment of urgency and scarcity that will drive clicks, increase sales, and alerts you to upcoming events and deadlines.
This plugin enables you to provide each visitor with their own unique countdown timer, regardless of the time, date, or location from which they view your website.
This plugin allows you to easily add a fixed countdown timer and an evergreen countdown timer to your WordPress website. It monitors cookie information and IP information to determine the user's location and display the timer accordingly.
It is possible to set a timer between two dates using this plugin. In other words, you could put it between the start and end dates of a forthcoming sale.
The plugin also is compatible with both WooCommerce and non-WooCommerce platforms. You can display more than one timer at once, according to your needs.
💵 Version Lite is free, and Version Pro is $39.
Key Features:
Evergreen campaigns can detect cookies and IP addresses
A countdown timer will appear on the product page when the product is active
There is a choice between an Evergreen timer and a One-Time timer
WooCommerce can be integrated
you can create a sticky announcement bar
Expiring coupons will disappear once they have passed automatically
You can increase your styling options in several ways
Random Reviews:
Plugin works well, it does the job.

So far so good. Better than the other timer plugins I've tried.

You have created a very useful plugin that works beautifully when used as a short code in other plugins.
WordPress Popups For Optins, Email Newsletters and Lead Generation
Like SeedProd, with the OptinMonster plugin for small businesses, you can create popups and generate leads. The plugin can assist you in increasing conversions, converting abandoned website visitors into subscribers, and paying customers.
Using the plugin, you can create both static and evergreen countdown timers for all web pages of your site. You can create as many timers as desired and use them across any number of web pages of your website.
In addition to the popup builder, it also provides conversion tools that can assist you in gaining subscribers to your email list, increasing sales, and helping you build your business by converting abandoned website visitors into subscribers and customers.
Using a plugin like this can be advantageous for creating beautiful popup campaigns, email subscription forms, sticky announcements like the hello bar, gamified opt-in forms, and other interactive popups on your website within minutes, not hours.
Alternatively, you can also customize the timers based on your users' location, where they are on the page, or where they originated, among dozens of other variables. Unfortunately, there may be adverse effects on a website's page speed.
💵 Lite is free, but Premium is not.
Key Features:
You can customize your popup experience by using cookies
Users can be captivated by animation effects if you wish to do so
You can display different popups based on the items a user has added to their shopping cart when using WooCommerce popups
A popup will appear if you have not been active for a certain period
A multi-step campaign and opt-in forms can be created
Random Reviews:
Replies quickly and very helpful*

Thanks to the freemium, we've got 50 leads.br> Thanks guys.

There is a tool that lets you manage campaigns on single or multiple pages.br> I was looking for a way to create a conversation mechanism and I found it in OptinMonster.
CircleTimer is a jQuery countdown timer that contains many features and is responsive. By changing the color or size of the plugin, you can easily modify it to meet your requirements. It is also straightforward to manage and integrate into your projects.
With this plugin, you may automatically create circular countdown timers in pie format utilizing SVG and execute a callback function when the countdown is completed using jQuery.
Using JavaScript, you can select whether to display a countdown or a countup timer. The program has a straightforward interface and supports Unix timestamps using either server-side or client-side technologies.
Along with resizing the circle in width and height, changing the font size, and changing its thickness, the plugin allows customization of the font and color of the circles and the ability to change their color over time.
💵 This is a progressive plugin built by a powerful author. Its price is $10.
Key Features:
You can choose to display or hide the days, hours, minutes, and seconds
It is possible to run multiple instances simultaneously
All versions of Internet Explorer, Firefox, Chrome, Safari, and Edge are compatible
It is possible to have the timer automatically reset every minute, hour, or day if you so desire
An HTML5 canvas is a technology based on
You can either delete or hide a message or redirect it after it has been counted
Using a parameter, changes can be made to the text
Random Reviews:
This timer is great. Very well coded and easy to use.

Timer with all parameters easy to edit by parameters, and rest of styling easy to add via CSS. Recommend!

I found it easy to customize almost all parameters by parameters, and styling could be added by CSS. I highly recommend it!
The WordPress Countdown Timer: Final thoughts
Thank you for visiting Better Studio and reading the best Countdown Timer WordPress plugins list. Even though they impact your website, they are effortless to use.
It is our want that we've given you enough information. We offer a few posts about the best WordPress blog themes and the best WordPress plugins for your blog. These posts are frequently used, voted for, and shared by our readers.
We appreciate you taking the time to write a comment. Please share this article on Facebook and Twitter as well.