Are you a WordPress website owner seeking to enhance your online presence and improve your conversions? If so, you might have heard about the concept of social proof and how it can make a significant impact on your business.
However, with so many plugins out there, which WordPress social proof plugins are the best for your needs? In this article, we will introduce you to the six best WordPress social proof plugins, both free and paid, to help you choose the most appropriate one for your website.
These plugins allow you to use social proof to demonstrate to your visitors how popular, trustworthy, and credible your business is by using stylish elements that demonstrate your popularity, trustworthiness, and credibility.
We'll provide you with crucial information about the features of each plugin, how they work, and how they can enhance your website's performance. So, without any further ado, let's delve into the top WordPress social proof plugins and discover how they can benefit your business.
Best Social Proof Plugins for WordPress
If you want to increase the credibility and social proof of your WordPress website, then you're going to need some top-notch social proof plugins.
In this article, we've curated a list of the best social-proof plugins for WordPress that are sure to help your website succeed. Make sure to check out these powerful plugins and decide which one is right for you!
Best FOMO, Social Proof Plugin
NotificationX is a powerful WordPress plugin that can effectively increase your conversion rates. This plugin displays notifications on your website regarding the activity of your customers.
With this plugin, you can showcase the latest products and offers through the notification bar and create a sense of urgency with the countdown timer. The plugin comes in two versions, the free and the premium version.
The premium version offers advanced features such as access to WordPress download statistics. It alerts the user about customer information like who made the purchase and the time of the order. The plugin also supports customer reviews and ratings, which can help build trust with your customers and increase your sales.
The NotificationX plugin offers the ability to incorporate pop-ups that display social proof consisting of WordPress reviews and download counts that can be displayed in multiple ways.
The plugin also incorporates an email subscribers alert system that notifies users about new subscribers. The live sales notification feature can help create a sense of urgency among potential customers. Additionally, the blog comment alert system provides real-time notifications for new comments.
Key Features:
Notifications regarding live sales
Blog comment alert system
Popups that demonstrate social proof
Showcase WordPress reviews and download counts
Supports customer reviews and ratings.
a FOMO & Social Proof Notifications plugin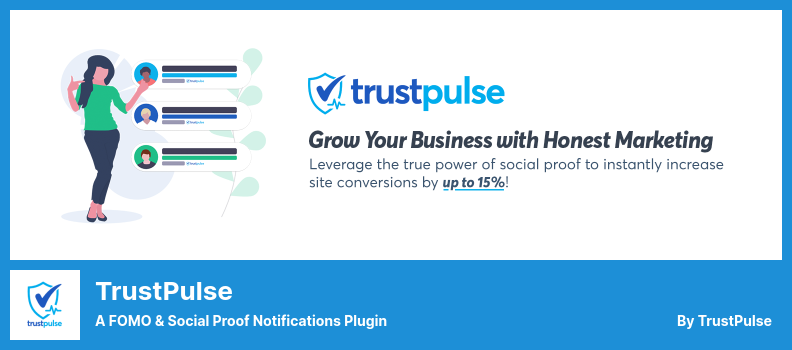 TrustPulse is the ultimate plugin that boosts your business's sales, subscribers, and signups through the power of social proof. By showcasing the actions of previous customers such as purchases or registrations, it convinces visitors to become customers.
The plugin offers analytics tools to monitor and improve your site's content and conversion rates. The smart targeting capability ensures that notifications are displayed to the right users at the right time and tailor-made for specific users.
One of the best features of the plugin is a real-time event tracking system, allowing you to monitor visitor behavior and fine-tune your site's approach to boost engagement and sales.
Fully customizable notifications, various showcase activities, and on-fire notifications also make TrustPulse a must-have plugin for anyone serious about improving their site's performance.
Key Features:
Fully customizable notifications
Real-time event tracking system
Smart targeting capability

Various showcase activities
a WordPress and WooCommerce FOMO Plugin
ProveSource Social Proof is a plugin designed to create a sense of urgency that encourages your visitors to become your customers. The plugin is easy to set up and supports over 22 different languages, which provides you with an opportunity to reach more visitors and potential customers worldwide.
The plugin is highly customizable, which enables you to specify how and where the reviews should appear. This allows you to target your market more specifically with more targeted content and advertising. Moreover, you can display reviews from multiple platforms, including Facebook, Google, etc.
One of the significant advantages of using the plugin is that it allows you to track and monitor visitor activity, which can help improve conversion rates. The plugin allows you to create notifications that link back to an ad for a product, increasing the chances of potential customers making a purchase.
Another feature of ProveSource Social Proof is that it allows you to display your verified conversions, activities, and sales with a notification to your visitors on your site.
The plugin's popup notification for sales generates FOMO notifications that create deadlines and build urgency, encouraging potential customers to make purchases.
Key Features:
Popup notification for sales
FOMO notifications to create urgency
Popup notifications for reviews
Support for 22 different languages
Clickable notifications are provided.
a Set-and-Forget Testimonial Plugin for WordPress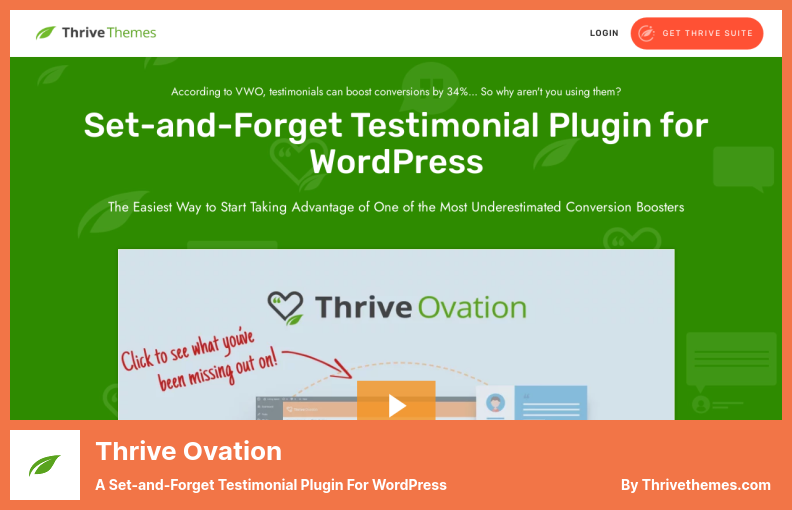 Thrive Ovation is a WordPress plugin that allows users to collect automatic positive testimonials and use them to showcase the quality of their products or services. Testimonials are collected via an online form that can be customized for a personalized touch.
With this plugin, the testimonials can be pulled from various social media platforms like WordPress, Facebook, and Twitter without any effort. The plugin even displays the name and image of the person who left a comment.
Thrive Ovation features automated messaging capabilities and seamlessly integrates with social media platforms. The plugin provides dynamically updated testimonials for a fresh and constantly evolving catalog.
Finally, the user interface is beginner-friendly, making it easy for anyone to create and manage testimonials. Customization options are also available for a more personalized approach.
Key Features:
Automatic messaging capabilities
Seamless social media integration
Dynamically updated testimonials
Customization options are available
Display the name and image of commenters.
Helps You Grow Conversions On Your Website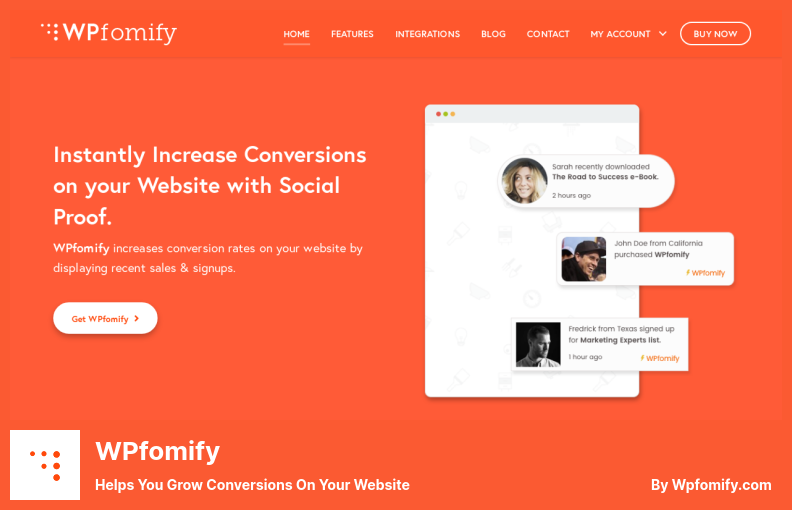 WPfomify is a WordPress plugin that can help improve website conversions by displaying recent sales and signups with customizable notifications to match your company's branding.
In addition to improving your conversions, this plugin boosts your credibility and ultimately increases your revenue. Also, it allows you to display conversion data from GiveWP, CSV files, or any form on your site, so it's perfect for WooCommerce stores.
One of the plugin's key features is that it allows you to display customer reviews and user counts, which can help build trust and establish your business's credibility.
Additionally, the Countdown Bar feature can create a sense of urgency, prompting visitors to take action quickly. It also has the ability to integrate with other popular WordPress plugins, expanding its functionality even further.
Another essential feature of WPfomify is to show recent activities, including the visitor count for each page and the conversion count for each post. This kind of social proof allows potential customers to see that others have previously interacted with your website, encouraging them to do so as well.
With the plugin's integration with FOMO elements, you can boost your conversion rates and help turn visitors into long-term customers by converting them into long-term customers.
Key Features:
The

Countdown Bar feature

creates urgency

Integration with other popular WordPress plugins
Recent activity display includes visitor and conversion counts
Display customer reviews and user counts
FOMO element integration.
a Social Proof, Sales Popup & FOMO Plugin
Nudgify is a plugin that helps you attract visitors to make purchases by displaying real-time product, sale, and review notifications. Its social proof signals, FOMO, and urgency triggers can make visitors feel like they are missing out if they do not make the purchase. This type of notification is far more effective than static alerts.
One of the attributes that make the plugin stand out from the rest is that it offers a variety of live data displays to catch the attention of visitors. With custom nudges, you can ensure that your notifications are unique and not overly professional, which may seem fake to customers.
By checking the conversion rates your nudges have achieved, you can track how well they're working. If you want to learn more, you can check the application's dashboard. This way, you'll be able to make informed and actionable recommendations for future notifications.
With its FOMO and social proof notifications, Nudgify can significantly reduce your website's bounce rate. Visitors will trust the site more after seeing the contents of the notifications, so they'll be more tempted to buy. And it supports over 25 languages, so your visitors won't have any language barriers.
Key Features:
Provides Review Nudges from Trustpilot and Google.
Various Popularity Nudges to choose from
Available in more than 25 languages
Provides different Custom Nudges to use
Features Nudges based on Recent Activity
Frequently Asked Questions
What are social proof plugins?
Social proof plugins are tools that display social proof on your website, such as customer reviews, ratings, and social media followers, to build trust and credibility with your audience.
Why do I need social proof plugins on my website?
Social proof plugins can help increase conversions, build brand trust and loyalty, and improve your website's SEO by providing social signals to search engines.
How do I install and use social proof plugins on my WordPress website?
To install and use social proof plugins on your WordPress website, you need to first select a plugin and download it from the WordPress repository or the plugin's website. Then, you need to install and activate the plugin from your WordPress dashboard.
After activation, you can configure the plugin settings, create social proof notifications, and display them on your website using shortcodes, widgets, or pop-ups. You can also customize the design and behavior of the notifications according to your preferences and goals.
Conclusion
In this post, we discussed our top picks for the six best WordPress social proof plugins, including both free and pro options. These plugins can help increase engagement and conversions on your website by showcasing user feedback and activity.
If you're interested in learning more about WordPress and enhancing your website, be sure to check out the BetterStudio blog for more helpful tutorials and tips. Don't forget to follow us on Facebook and Twitter for the latest updates and tutorials.
Thank you for taking the time to read this post. If you have any questions or comments, please feel free to leave them in the comment section below. We're always happy to hear from our readers and help in any way we can.