How do you find the best WordPress LinkedIn Feed plugins?
In this post, we provide a list of WordPress plugins that extend the LinkedIn Feed to help you. These plugins help your business stand out in the super-competitive market by providing features and aesthetics. We can also assure you that these plugins are compatible with all WordPress themes.
Those plugins we chose are the best available for LinkedIn Feed. However, you can still use them for Linkedin Jobs, Linkedin Social Feed, Linkedin Company Updates, and Linkedin Auto Publish.
You can also check out our list of the best social media plugins for WordPress to learn more about how social media can be integrated into your website
Would you like to find the most effective plugin for LinkedIn Feed in 2022? Let's get started:
Linkedin Social Media Posts Auto Publish Plugin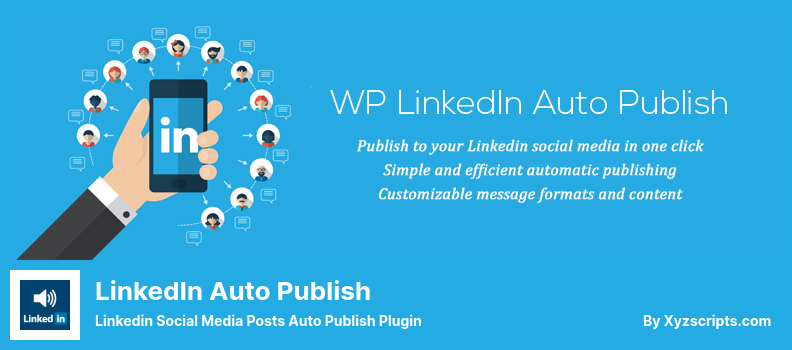 As the name implies, the LinkedIn Auto Publish plugin is a WordPress social media auto-posting plugin that allows you to publish a post from your WordPress blog to your LinkedIn page as a status update.
This Plugin provides different choices for you, including who you want to share your posts with, from which categories your posts are, and many other options.
To get a customer ID and a secret key, you need to create a LinkedIn app. After adding those keys to the plugin page, you must allow your website to access your LinkedIn account information.
The plugin is a simple and lightweight package, which means installation and configuration will not take up a lot of time or resources on the server. There is an option on the settings page to choose who you want to share your LinkedIn posts with, as well as where and how you share them.
Essentially, it filters the content that is published by categories, which includes either the featured image or the post's text only based on those categories. After confirming your data, the Plugin will automatically send your content, including the title, short description, and particular or original image.
The plugin also lets you use the shortcodes available in the plugin to create a default share message that will override the default message in the post meta box for the posts or pages that need one.
---
💵 It's a free plugin. There is no cost associated with it.
Key Features:
Select post categories for auto-publish
Select WordPress custom post types for auto-publish
Customize message formats and writing
Efficient and straightforward automatic publishing
Publish your posts pages to your LinkedIn just by one click
Random Reviews:
Great plugin This topic was modified 1 month ago by

I really like this plugin and it's very useful

An overwhelming, awesome plugin This topic was modified 1 year, 1 month ago by
Linkedin Share And Follow Buttons For WordPress
You can install Best WebSoft's LinkedIn Plugin to increase your LinkedIn traffic and followers and increase your website view. It creates "adds and shares" buttons to your website posts. It is possible to put the button wherever you prefer on your site.
Also, this tool allows you to customize your public profile's look, customize settings, and access advanced options and features. You decide whether to display buttons and share numbers after or before your post content.
Aside from that, this tool offers additional features such as saying LinkedIn buttons for specific post types and/or pages, configuring all subsites on the network, creating custom code, displaying buttons, and positioning buttons.
You can find that it is available in both a free and a pro version. The Plugin is simple and limited to its follow, share, and customization features. If it covers all your needs, you have the benefit of a lightweight plugin that won't slow down your website.
You can use this plugin to make your WordPress website look aesthetically pleasing and to increase user engagement by customizing the placement of buttons.
The whole LinkedIn functionality can be dropped into your website and displayed on your website in order to validate your brand with your consumers. Make your profile stand out by customizing the appearance, configuring options, and enabling advanced features to help promote your public profile.
---
💵 In the Premium version, this plugin costs $23 while in the Free/Lite version it costs $0.
Key Features:
Creating "adds and shares" buttons to your website posts
Creating LinkedIn buttons for specific post types and/or pages
Comprehensive documentation and videos including step-by-step instructions
Supporting follow, share, and customization features
Easy configuration for fast setup without having to modify any code
Supporting different themes that are compatible with your website themes
Ability to support different languages
Random Reviews:
I found it easy to use, and it did exactly what I wanted

Thanks for doing this, it works well

As a plug-in developer, I understand the need to offer paid upgrades, but don't install glaring pesterware on my dashboard without asking my permission. Uninstalled immediately.
Linkedin Personal Profile For WordPress
LinkedIn Master has useful widgets to display your LinkedIn profile in the WordPress sidebar. You will also need to create the LinkedIn Developer Network website code for your members' profile widgets.
Its paid version also provides company details, internal information, available jobs, and alumni widgets. This Plugin allows you to share your LinkedIn pages and gain traffic from your social media profile.
It enables you to simultaneously display your personal profile and LinkedIn company page. This Plugin allows users to publish unique and business LinkedIn profiles on the WordPress site.
As well as embedding LinkedIn company profiles, the premium version includes company insider widgets.
The package consists of a widget template, TechGasp extensions, social sharing buttons, a WordPress LinkedIn widget, follow buttons, LinkedIn basic member profile widget, and pre-built shortcodes and sidebar widgets.
Having a fast website is important for both the Google ranking of a business or professional website and to reduce the dropout rate of visitors to the website. You might want to consider displaying just the LinkedIn share button if you are only interested in that. If this is the case, we recommend Social Master.
This Plugin was created by a marketer programmer. His goal was to develop a plugin to prevent sellers from receiving emails from people who did not buy. This Product provides you the ability to add a salesperson page to your website.
---
💵 Free download and installation of this plugin are included.
Key Features:
Create business LinkedIn profiles on the WordPress site
View both your LinkedIn company page and your personal profile at the same time
Providing information about the company, internal details, available jobs, and alumni widgets
Adding salesperson pages to your website
Random Reviews:
Apparently these guys have gotten a bad rap in the past. So far I'm finding them quite acceptable. Will update if anything changes

Yes, you took $35 away from me, but you also got one star, btw. This plugin does not provide any functionality; it just leads you to a LinkedIn page that generates the embed code you need to put in your WordPress. It does not even scale the LinkedIn plugin to the sidebar, just lame.

The plugin author has also reviewed it with a 5 star rating. TechGasp, stay classy.
Auto Poster For WordPress
FS Poster is a WordPress plugin with which you can automatically share and submit various content of your website on LinkedIn. It also supports other social media. This Plugin includes more than 10 social networks: Facebook Feed, Instagram, LinkedIn, and several others.
This Plugin allows you to personalize posts sent to social networks and fully manage its text and images. It also provides proxy support.
With the help of our social media scheduler, you can reach a wider audience and improve your SEO through increased website traffic by scheduling social media on 15 social networks at one time.
Custom posts can be created for each social network through the use of third-party integration tools. In order to achieve social media marketing goals, you will need to create a consistent online presence with unlimited post sharing.
Analytical tools allow you to track and evaluate your social media performance in real time with platform-based performance comparisons, engagements with posts, and click counts.
FS Poster Plugin With WooCommerce support, you can also share store products automatically and on schedule at any time on social networks.
You can enter your user accounts in this Plugin indefinitely and share your content in these accounts. You can read other features of this Plugin below.
---
💵 $45.00 gives you 12 months of support time.
Key Features:
Supports more than 10 social networks
Ability to enable and disable scheduling submission
Ability to schedule the submission of content
Ability to add an unlimited number of accounts and to manage them easily
Submit posts, tabs, and multimedia content
Ability to support unique and exciting links
Ability to translate in different languages
Ability to personalize the content of submitted posts
Ability to post to Instagram and Instagram stories
Compatible with different Plugins such as WooCommerce
Random Reviews:
A great plugin with very flexible publication schedule settings.

Highly recommended plugin

The best plugin for automating social media posts! Comprehensive features and excellent customer support!
Social Media Plugin For WordPress
Social Snap is a popular WordPress plugin that facilitates the sharing of articles and articles on social media platforms, which in turn helps increase engagement and drive more traffic to websites.
Social Snap can be set up in a matter of minutes, and you can begin using it right away. The ability to share the content of your website like wildfire is a great feature that gives your new and returning visitors.
The UX/UI of our product is an example of our dedication to delivering a high-end user experience. That's why with our user-friendly interface and intuitive design, Social Snap is the perfect choice for users of all skill levels and experience levels when it comes to social media sharing plugins.
We are using vector icons on Social Snap that will not slow down the performance of your website unlike other social sharing plugins since they are loaded asynchronously. Social Snap has been steadily improving its performance during the months since it was first released.
If you use Social Snap yourself and display the Share, Follow, and Share options on your website, you can expect nothing less than the fastest performance. Adding beautiful social sharing buttons is as easy as adding a button to a webpage. Among the options available, you can pick from most popular social networks and actions.
---
💵 Free to download the Lite version and priced at $39 to download the Premium version.
Key Features:
Allows you to display the number of individuals as well as the total shares
Allowing users to easily edit the labels of the sharing buttons
Share via Gmail, Yahoo mail, or any other email application that supports sharing via the web
Allows your visitors to copy the URL of the current page in one click so that they can share it with their friends immediately
Print your content from any of those email services
Different share buttons are displayed depending on the screen size and type of device
Random Reviews:
Branco has been our go-to person for all support needs. He has worked seamlessly with all three of our websites.

Several months ago I purchased this plugin. I was able to get a refund for this plugin.

Hello, thanks a lot, this plugin is phenomenal.
Social Login Integration For WordPress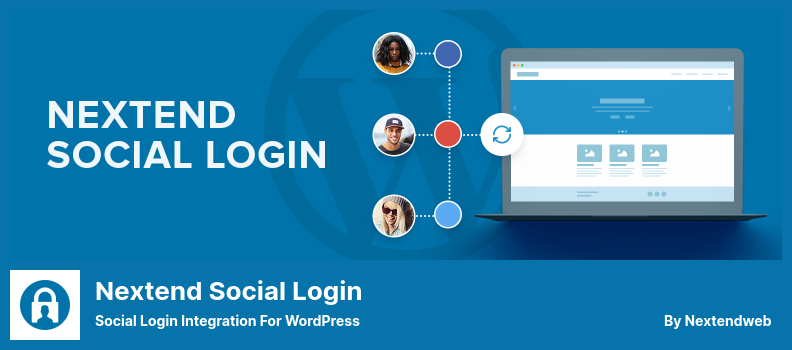 Nextend Social Login is a powerful plugin for WordPress. This Plugin allows your website users to register your name and enter your site using your social network profiles, including LinkedIn. As a result, there is no need for registration forms, which is tedious for many visitors.
This Plugin, integrated with the registration form on your website, can register site visitors by adding their social page account to your site.
Supports social accounts such as Facebook, Google, Twitter, or LinkedIn. This Plugin is straightforward to work with and very user-friendly.
You can use this Plugin to display your profile picture of Google, Facebook, LinkedIn, or Twitter as an avatar. You can translate and edit the text written on the login button.
Offers designs that you can choose according to the design and use of your website to suit the design of your website.
The paid version of this Plugin offers many more various features such as compatibility with WooCommerce, BuddyPress, etc. You can set whether the user must register their email when registering. This eliminates the need for registration forms, which are tedious to fill out for many visitors.
---
💵 Free plugin. No costs involved.
Key Features:
Any of the social accounts can be used to set a custom redirect URL after registration (on the first login)
A variety of designs to fit your site
Register and login using Facebook, Google, and Twitter with just one click
Shortcodes for the login widget
Facebook, Google, and Twitter accounts can be easily connected to users' accounts on the website
ِDisplaying avatars based on Facebook, Google, and Twitter profiles
Random Reviews:
It's awesome that this plugin lets you log in

Setup is easy and it does what it promises…Br>

It's been a free use of this plugin for more than 7 years. Half a year ago, I upgraded to the paid version for 9+ websites. In every way, it beats the competition: documentation, setup, simplicity, integration, hooks/filters, UX, translation, flow, and connecting options (Apple ID, Discord, etc.). I love it! The only regret I have is not getting the premium license sooner.
Social Login For Seamless Checkout For WordPress
Customers can check out as guests when they visit your site for the first time. Customers who want to purchase more than once can encounter friction if implemented. It requires them to create a second username and password.
This process can be made easier and more secure with WooCommerce Social Login, which lets customers log in using their Facebook, Twitter, Google, Amazon, LinkedIn, PayPal, Disqus, Yahoo, or VK accounts, instead of creating a new account. This feature plays a significant role in attracting and retaining customers.
The feature of logging in with a social media account increases both trust and security. Experiences have shown that customers choose more than 77% of logging in with a social media account in such cases. As a result, this solution and feature are more user-friendly.
Logging in with a social media account can also increase your conversion rate. As you know, improving the conversion rate means the success rate of your site design and marketing. Therefore, this Plugin can be considered crucial to improving and achieving your goals.
Users who already have access to the Social Network will also be able to easily connect their accounts to social networks whenever they log in or via the 'My Account' page at any time.
Users who are logged in can even be invited to link their accounts for future purchases by linking their accounts after checkout. The Social Login button can be enabled on the Thank You page to get started.
---
💵 A price is $79.00.
Key Features:
The 'Order Received' page can be linked to an account for easier checking out in the future
Consequently, social login can increase conversion rates
View reporting on linked accounts and see which customers have added accounts from the "Users" list
Integrated Facebook, Twitter, Google, Amazon, LinkedIn, PayPal, Disqus, Yahoo, and VK account for your store's customers
Customers are likely to return to your site with just one click
Provide seamless account and checkout access – customers do not need to remember multiple usernames and passwords
Social Share, Social Login and Social Comments Plugin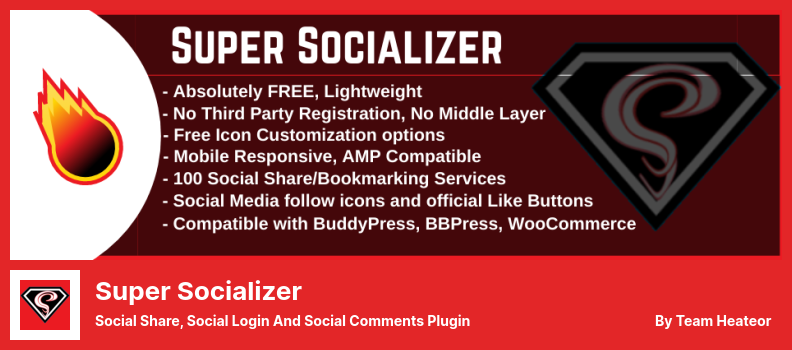 This WordPress Linkedin plugin is free and has all the features you need. Moreover, it has been tested to work with Gutenberg, PHP 8, myCRED, WordPress AMP, Multisite, bbPress, BuddyPress, and WooCommerce.
Also, the sharing interface is mobile-responsive and highly customizable. The Plugin also supports social networking sites like Facebook, Linkedin, Twitter Feed, Windows Live, Yahoo, Instagram Feed, Dropbox, Reddit, Amazon, and 24 more.
The display and plugin setup looks friendly and professional. In the appearance menu, you can easily access the widgets section. When searching for an affordable plugin, consider this one.
This Plugin includes social sharing buttons for 90 social networks. In addition, you can make use of its setup support via email.
The Plugin enables visitors to create accounts on your blog using their LinkedIn profiles, increase referral traffic by adding social sharing buttons, and drive engagement by adding LinkedIn comments.
You will need to download additional plugins to customize this Plugin, such as Heateor Social Login. It provides the ability to control the time between cache refreshes for share count cache will improve performance and allow URL shortening to be used on social media.
The order in which the icons for sharing appear can be rearranged. It is recommended that with respect to content, share icons should be positioned on either the top or bottom and this plugin will enable you to do so.
---
💵 Download this plugin for free.
Key Features:
Supporting different social network sites such as Facebook, Linkedin, Twitter, Windows Live, Yahoo, Instagram, Dropbox, Reddit, Amazon, and 24 more
It provides quick and excellent support for users
Creating account by your social accounts
Providing social sharing button
Compatible with different Plugins such as Gutenberg, PHP 8, myCRED, AMP, Multisite, bbPress, BuddyPress, and WooCommerce
Supporting more than 90 social networks
Random Reviews:
It doesn't allow you to choose your own Social Share buttons. Reverts back to a pre-configured list of social networking sites including sites like MeWe. Sassy Social Share has similar glitches and problems. I wasted a lot of time re-configuring everything, being unable to change the pre-set selections.

*Review of a wrong plugin* This topic was modified 2 months, 3 weeks ago by

Using this plugin simplifies developing. I've used it and I love it. Has been modified 4 months, 2 weeks ago by
The Top LinkedIn Feed WordPress Plugins: Overview
We reviewed the best WordPress LinkedIn Feed plugins in this post. We hope it will help you expand your website. You can also use them.
It is our hope that we have provided you with enough information.
Additionally, you may be interested in reading our article on the best WordPress themes for bloggers or our article on the best WordPress hosting service providers.
Send us a comment if you have any questions or comments. If you liked the list, please tell your friends about it on Facebook and Twitter.