Are you searching for the best WordPress Social Media plugins? But not sure which plugin is the best possible fit for you?
In order to make your life easier, we have gathered the most popular Social Media plugins for WordPress. Each of these WordPress plugins is mobile-friendly and optimized for performance and works properly with WordPress themes.
Those plugins we chose are the best offered for Social Media. It is plugins could also be used for WordPress Social Share Plugin, WordPress Sharing Plugins, Social Media Icons WordPress Plugin, Social Media Widget, Share Buttons, Twitter Feed Widget, or Facebook Feed Widget Plugin.
Best Social Media Plugins for WordPress 🥇
Add a header to begin generating the table of contents
Here is the list of top Social Media WordPress plugins in 2022:
Social Photo Feed for WordPress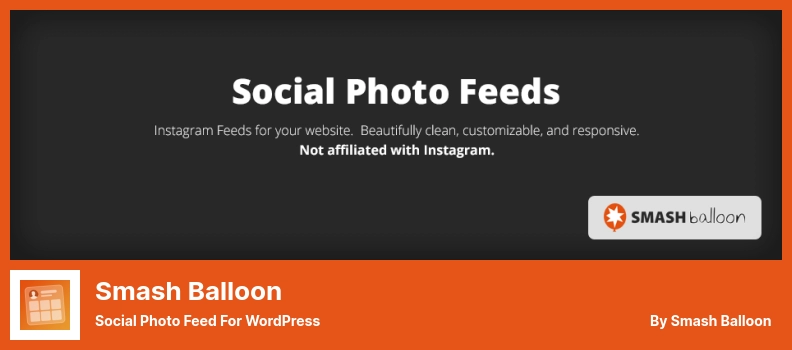 Smash Balloon is one of the best paid WordPress social media plugins to create and display social media feeds on your WordPress site and create a social wall.
It combines 5 WordPress Plugins that allow you to display timelines, events, and hashtag feeds. These plugins support social media accounts such as Facebook, YouTube videos, Twitter, and Instagram and also support popular WordPress page builders.
In conjunction with the built-in moderation system, you can choose selectively display user-generated content on your website as well as choose from several feed layouts, such as hashtag feeds, shoppable feeds, and Instagram stories.
Smash Balloon is one of the best paid and premium WordPress sharing plugins you can install on your website. The plugin has over a million active users and over 6000 5-star reviews.
---
💵 Premium: $49 , Lite: Free.
Key Features:
Setting up custom social feeds in WordPress (without coding) is easy
The design of your social media feed can be customized to match your brand
Providing stable feed backup and intelligent caching to ensure maximum speed
No limits, multiple feeds, and SEO friendly
Get More Subscribers, Engaged, and Sales with Social Proof
Random Reviews:
Easy to use, Works great

A great plug in with excellent support.

Works as expected. Very easy to insert the code.
Social Sharing Buttons for WordPress
The next paid WordPress social media plugin suggestion is Monarch Plugin. This social following and WordPress social share plugin use various sharing integration methods.
It can add share buttons on WordPress sites, share popups, or sidebars. Monarch gives you in-depth design customization statistics and some options to make it easy to link out to your social media accounts.
Using the Monarch dashboard, it is possible to enable or disable a large number of sharing locations. There are five places in this application for sharing social media content, including Inline, Media, Sidebar, Flyin, and Popup. 
You can grab the attention of your visitors with this social media widget WordPress plugin for only 70 dollars. Get yearly access, or catch the lifetime access for only 199 dollars.  
---
💵 The Monarch plugin, created by a powerful author. It costs $89 .
Key Features:
There are over twenty social networks to choose from
Five different locations to add sharing buttons
Including six automatic popups and fly-ins
Shortcodes or Widget Spaces can be used to display the Follow Buttons
Specify your own colors or use the native network colors!
Automaticaly Share Old WordPress Posts
Revive Social is one of the best WordPress social auto-posting plugins to share your posts and pages on Facebook, Linkedin, Twitter, and Tumblr automatically.
Additionally, you are able to import your social networks from Buffer, have complete control over your social media posts, and decide what content to share. You can easily share your titles, your posts, hashtags, and favorite content using this plugin.
In addition to tracking your clicks, this plugin allows you to shorten your URLs and integrate them with Google Analytics Campaign Tracking. Furthermore, you do not have any limitations and can share your posts multiple times.
Furthermore, you are also able to filter tags and categories according to your preferences. By doing this, you are able to post both old and new content on your social media channels.
Revive Social plugin will let you grow your WordPress website's traffic and keep the engagement of your social media followers. It also automates the scheduling of content to do social media marketing professionally.
---
💵 For this plugin, there is a Lite and Premium version. The Premium version costs $75 , whereas the Lite version costs $0.
Key Features:
Sharing of posts, pages, media, and custom post types
Automate the sharing of old and new posts on social media
URL shortener plugins are supported
Random Reviews:
It was already bad enough they limit the free version to posting every 5 hours or more but now it relentlessly duplicates posts. Even when you uncheck "Share More Than Once?" I've tested this thing across several WP blogs. This plugin is clearly done!

Its real very helpful

No matter how many times you press the 'x' or click 'no thanks', the notification just comes straight back. Really hate when plugins take over the admin area on every single screen for no reason.
Social Media Share Buttons for WordPress
The Shared Count WordPress social media plugin Created in 2010, is one of the best API tools for sharing pages and posts, thanks to these share buttons.
This WordPress plugin works well with Facebook, Twitter, Linkedin Posts, and Pinterest. Using Shared Counts, you can count the number of shared pages, contents, or posts.
It will let you add Facebook posts to your site. The Pinterest pin it button will let you pin your photos to your web page and engage your users in your field of activity more and more.
You can share your tweets, LinkedIn posts, and emails via a third-party API. Thanks to the reCAPTCHA support. The protection provided by this plugin prevents your WordPress website from being damaged or exploited by attackers.
Using the shared count, you can find out which content is most popular and retrieve counts from your social media accounts. There is no storing of user information or use of tracking scripts or cookies in this application.
Plugins such as this allow you to share the social button in many different ways, allow for complete customization, are straightforward, and are easy to use.
It is also perfect for developers and allows them to use hooks and filters.
This WordPress social media plugin will ensure maintaining the highest level of privacy and security. So, you will ensure from your site's traffic and protect secure data.
---
💵 There is no charge for this plugin.
Key Features:
In order to ensure you do not lose share counts when upgrading your website to HTTPS, we provide you with a one-click option to retrieve both HTTP and HTTPS shares
The plugin does not store any user data, use cookies or tracking scripts like other social sharing tools
Site performance at a large scale was taken into account when designing Shared Counts
Style options in various formats
Random Reviews:
Works best with my theme. No errors in code or problems with caching. It's a shame that it is no longer being developed and that the last update was some time ago. Thank you!

Good and effective plugin. I use it to simply show the good looking social buttons but don't display counts (to improve page speed). Very easy to configure.

Easy to use and does what it says. Works perfect! Thank you
Share Button Plugin for WordPress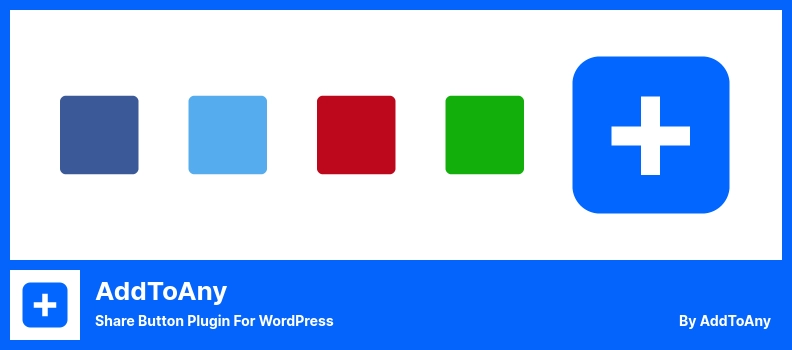 The AddToAny Share Buttons plugin to share any content you wish, save, or share your content from your web page or any native app.
The icons of this WordPress social share plugin have the format of Scalable Vector Graphics. SVG will result in fast loading, being precise, and being scalable at any size.
AddToAny Plugin is mobile responsive with the best menu. It gives users several forms of input and the option of clicks and taps. It has a lightweight code optimized to follow best practices for loading from any location from all around the world.
AddToAny is a WordPress social media plugin that is cross-browser compatible and has graceful fallbacks.
It has an excellent level of accessibility, as well as the ability to integrate Google Analytics. Next, provide a dashboard where users can gather all necessary metrics in order to share their content with this official plugin.
This will be accomplished through floating share bars to encourage users. The plugin is also simple to use and does not require registration in order to help you share your content on websites such as WordPress, Drupal, and other content management systems.
This free WordPress social media plugin is customizable with the option of changing colors and styles. Handle all events, use templates, have customizable integration, shorten your URLs and do much more like them.
---
💵 You can start using this plugin for Free.
Key Features:
The Facebook Like, Twitter Tweet, Pinterest Save, and LinkedIn share buttons are all official buttons
Button positions are available before, after, or both before and after content
Using Bitly and custom URL shorteners, you can track shared links
Syncs asynchronously with your content so that it always appears before or in parallel with AddToAny
Integrated WooCommerce support, multilingual functionality, and multisite networks
Features HTML5 and widgets, infinite scroll, and a variety of post formats
It has been translated into dozens of languages
It is possible to use any icon, no matter where it is located (media upload directory, CDN, etc.)
Random Reviews:
Easy to install and set up. Does exactly what it says.

Congrats…. ONE OF THE BEST PLUGINS (if not the best) FOR YOU SITE. FREE AS ALWAYS…. GO LINUX

Funciona perfectamente además de incluir WhatsApp y Telegram.
Auto Post to Social Media for WordPress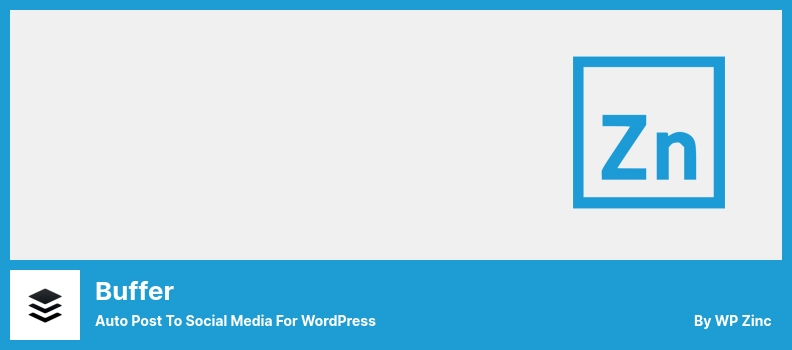 The WordPress to Buffer plugin is another perfect Facebook share plugin. This plugin is very good and excellent for the automatic sharing of your pages, posts, and other content. You can use this WordPress social share plugin to schedule a post and then publish, update, or even share it wherever and whenever you wish.
You can also have the option of managing to post a page to a Buffer account (buffer.com) for posting on your social media account. The buffer queue is intelligent scheduling which was designed to work well with social media accounts. WordPress to Buffer will schedule any post you wish to send at a particular time and ensure you do not send them twice.
So, it provides your account from ever being suspended. As a result, your business will continue growing safely.
Using this social media icons WordPress plugin, you can schedule post sending and automatically update them. You can have automatic posting to your Facebook page and have auto-post to Twitter and LinkedIn.
You can also have the option of activating WordPress to Buffer PRO to have more customization options. You can have conditional sending of status messages and different statuses for each Social media network.
You can even repost or re-share old posts and complete integration for SEO, WooCommerce, and auto-blogging. Using this plugin, you can have Frontend post submission and more options like them.
---
💵 This plugin charges $39 for the Premium version and $0 for the Free/Lite version.
Key Features:
It doesn't require App IDs or authorization tokens and there are no complicated technical steps to follow
Add dynamic status text by incorporating your WordPress posts' Title, Content, Excerpt and more
You can choose to re-share old posts on Facebook for as few as a few days, weeks, or years after it hasn't been updated
Display Product-specific details in status updates for your WooCommerce shop products
Settings can be overridden on individual posts: you can set buffers separately for each post
Random Reviews:
Buffer is a great way to schedule and autopost. Using this plugin makes it super easy.

this is the best auto post plugin to social media in wordpress

Excellent plugin for managing posts/updates to social media channels. Even better support, they helped me set up a filter to post updates to an ACF gallery field
Minimal Share Icons for WordPress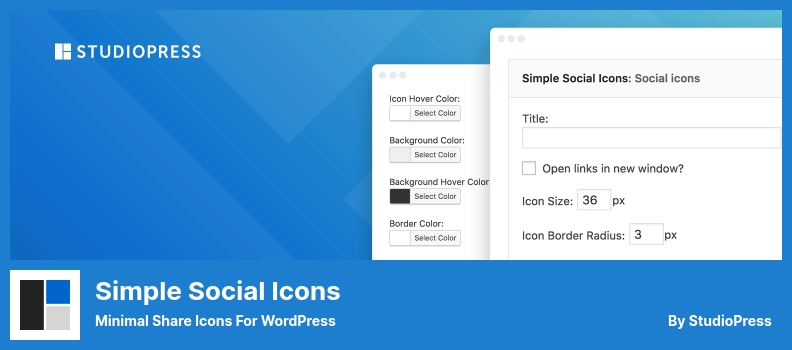 Social Icons plugin is easy-to-use, straightforward, and very customizable. You can easily customize the alignment of icons and change their size and the color of your preferred icons.
It is possible to change the headline above the icons, change the borders' width, or make them colored. You can choose which profiles to link, an excellent option for sharing on social media accounts.
With the Simple Social Icons plugin, you can easily share your posts and content on social media. Only you need to visit your social media pages, copy their URLs at the top of the page, and paste them into the provided box.
This plugin uses Scalable Vector Graphics (SVGs), which is perfect. Web fonts are great for rendering text, but SVGs are perfect for displaying icons and better legibility.
---
💵 It's FREE for download and installation.
Key Features:
SVG Icons
Simple and Easy to Use
Fast and Responsive
The plugin does not consume any extra resources on the page
Random Reviews:
This plugin used to be very good but now it has stopped working on gutenberg

Like but no telegram

When installed in the side bar, it didn't pick up the styling set in the plugin settings per sidebar install. So, I got an unordered list with bullet points and massive SVGs. Probably need to rework some items in this one.
Click to Tweet Plugin for WordPress
Better Click to Tweet is another suggestion for a free WordPress click to tweet plugin and the most popular click to tweet plugin in 2021.
This plugin gives you a wide variety of options and features available in the paid and premium version. The free version can help you alter the username of Twitter, use short URLs, and create unique clicks in your blog posts.
It uses a shortcode that performs efficient tweet sharing. As mentioned, Better Click to Tweet gives you the option of URL shortening. You know, Twitter has its own URL shortening method. The length of these links will truncate to 23 characters. These Links leave you 253 characters to use for composing your tweet. This plugin will give you the most significant number of characters, so tweet with your largest characters while shortening the URLs.
Working with Better Click to Tweet is very simple. Write the message you want others to share, and click on Generate to create a custom link.
It is compatible with both the block editor and the classic editor. It allows you to create beautiful quotable tweets that complement your brand style. In the end, you can share this link with others and track all activities of each association over time.
This elegant service offers the best call-to-action quote boxes to your readers so you can manage your business more professionally. And, at the final, get more traffic from your Twitter account.
---
💵 The premium version of this plugin costs $29 , whereas the Lite version is zero dollars.
Key Features:
Premium styles are now available
It is possible to set nofollow='yes'
Random Reviews:
BCTT never worked as needed and I was never able to get a response to the support question — the tweet call-out area affected the font of the paragraph directly below. Disappointed & was looking forward to using this plugin.

You should get this if you want traffic from twitter

I have been using this plugin for years. This is my go-to plugin for helping to get my content shared on Twitter. Well supported and easy to use. This is a plugin almost everyone should have on their site.
Social Sharing For WordPress
Over 100 bookmarking services and social media sharing are available via the Sassy Social Share plugin. Some instances are Facebook, Instagram, Reddit, Linkedin, Tumblr, Whatsapp, Google, Gab, and Parler.
This is one of the best WordPress social media plugins with a straightforward and easy-to-use manual. It has lots of optimization options and great-looking icons to change the appearance of your WordPress site.
This plugin doesn't save any cookies from the browser of the users. So, the reliability of Sassy Social Share is very high.
---
💵 There are two versions of the program: $29 Pro and Free Lite.
Key Features:
Gutenberg editor compatibility
The myCRED plugin compatibility
An icon for social media followers that redirects the visitors of a website to your social media pages
Around 100 bookmarking and social sharing services
Free customization option for icons
The option of specifying the shape of icons
The option of customizing the share counter
The option of enabling or disabling the floating/vertical sharing interface on a mobile device
The integration option for URL shortening service
Compatibility with Woocommerce, BuddyPress, and BBPress
Support of HTTPS enabled websites
SVG icons
Random Reviews:
I am grateful for this plugin. I work for a non-profit that doesn't have funds for plugins, so I'm always thankful for free plugins that work. Of course I would prefer the paid version, but until someone donates it, this will have to do, and it does quite nicely. Thanks so much for having a free version for those of us working on non-profit budgets!

Estupendo complemento

This plugin truly has it all. As someone who tried 10+ plugins before finding Sassy Social Share – I can confidently state this is the best plugin out there. Also, the support is extremely helpful and willing to make your experience perfect
Social Sharing Widget & Block for WordPress
A WordPress social media plugin called Social Icons Widget helps website owners to add icons to their profiles. This WordPress sharing plugin will let you share from different social networks and a widget for websites.
The application provides several icon sets for connecting to social media accounts. You can use these icons to add anything you like with the help of WPZOOM's Social Icons Widget for various functions.
This can be accomplished by dragging and dropping the icons onto the widget. With this WordPress share buttons plugin, you can customize your brand and website according to your preferences. You need to assign your favorite color, adjust the size to your preference, and rearrange everything.
With SVG icons, give your website a fantastic performance and upload your SVG icons as you wish and intend. With the Social Icon plugin, you can upload your designed icon to your WordPress site and have customization that will apply to your icons.
This plugin has the PRO version, too. In this version of Social Icons Widget, you have the option of Premium support and using read-only icons. You also have the option of inline SVG with no extra resource to display them in the widget or the block, making this plugin shine.
---
💵 You can get Lite for free, but Premium costs $57.
Key Features:
100% Gutenberg Compatible
Performance that is exceptional
It's easy to add icons to menus!
Create and upload your own SVG icons
Random Reviews:
Does what it's supposed to do without a lot of fuss. Best of all, you can create multiple sets of social media blocks if you have multiple stakeholders on your site who each of their own social media. This is probably going to get added to my list of must-have plugins.

Plugin is cool and easy to setup

OK!
Social Login for WordPress
WordPress Social Login will allow your visitors to register, log in, and share. You can also comment on these social media accounts.
Without any need for CSS knowledge, you can use this WordPress sharing plugin and its login button customization. This plugin will be active with one click.
It has a flexible display that catches the eyes of every visitor. You can log in icons anywhere on your WordPress site. Synchronize user data from many social media accounts in a secure and safe authentication protocol.
Thanks to the OpenID and OAuth protocols. It has lots of customization login icons. You can choose your favorite icon from any size and color. You also can take complete control over this social media icons WordPress plugin.
Another good option of this WordPress sharing plugin is the option of profile completion. You can let your visitors use email-ID and username to verify through a verification code.
---
💵 You can get this plugin for Free.
Key Features:
The simple, yet fully customizable and flexible authentication system
Offering a wide range of products and services
The service is free, unlimited, and white-labeled
Random Reviews:
I've tested a couple of other plugins but they simply didn't work or only worked well with their premium versions. This plugin worked great for Google and Facebook login (only tested this two). Easy to style and worked great with minimum effort.

Very bad documentation and don't work at all.

It works just fine now! Thank you!
WordPress Social Media Plugins FAQ
There are a number of FAQs on the most popular WordPress social media plugins that have been submitted by many of our users. In the following sections, you will find answers to some of the most frequently asked questions regarding social media plugins for WordPress. There may be an answer for you in this, so please take a look.
Please let us know if you have not received a solution in the comments. We will respond as quickly as possible.
What's a WordPress Social Media Plugin?
To gain more visitors and traffic to your WordPress site, you need to link your site to your social media accounts. There are many WordPress social media plugins that each plugin will use for a particular purpose.  
 
The WordPress Social Media Plugin is a piece of software or a plugin designed to be used with the WordPress platform. This will allow you to share social media content with users and direct them directly to your social media accounts. 

The plugins have been developed with PHP, which is WordPress' programming language. An example of a social media plugin is a method of communication that allows information to be transferred from social media services to websites or vice versa.   

But, when a user views your web page, a lot will happen, and all visited data will transfer from your website to the social media services. Thus, these plugins will help users to have quick access to their social media accounts.  
How do I integrate social media into WordPress?
It is possible to integrate your social media channels with your WordPress site in the following ways.

1. Integrate a social media stream and social wall into your website

2. Integrate social sharing buttons and follow buttons into your website

3. Add a social login option to your site

4. Add social comment plugins to WordPress, such as Facebook comments and Disqus comments

5. Enable content locking for Socia media share

6. Create a content curation and syndication system for social media
What type of social media is WordPress?
Traditionally, WordPress has been used for blogging rather than social media, however, you can use bbPress and BuddyPress plugins to create social media within WordPress, similar to Medium, which is a social publishing platform.
Brief Summary
Thanks for visiting Better Studio and reading the list of best Social Media WordPress plugins. pick one of these plugins that assist you to boost your website traffic.
We desire this article helped you find the best WordPress plugin for the Social Media website. Additionally, we recommend that you read our article about the top WordPress hosting services.
We're glad you have chosen to leave a comment. Don't forget to share this post!