Have you ever experienced a situation where you have added items to your cart on a WooCommerce website, but for some reason, you end up not completing the purchase? It could be because you got distracted, lost internet connectivity, or simply changed your mind.
As a website owner, this can be frustrating, but did you know that there are plugins that can help you recover these abandoned carts?
In this article, we will be looking at the 7 best WooCommerce recover abandoned cart plugins, both free and pro, that can help increase your revenue by reducing abandoned carts.
According to research, the average cart abandonment rate across all industries is 69.57%. This means that if you are not actively tackling this issue, it could be costing your business a substantial amount of money.
In this article, we will discuss each plugin's features, benefits, and limitations, to help you determine which plugin is right for your business. So, without further ado, let's dive into our top picks for the best WooCommerce to recover abandoned cart plugins.
Best Recover Abandoned Cart Plugins for WooCommerce
Discover the ultimate solutions to recover abandoned carts on your WooCommerce store with these top-rated plugins.
Whether you're looking for a free or pro option, we've got you covered with the 7 best choices on the market. Check them out now to see how you can optimize your sales and increase your revenue.
Email Marketing Automation & eCommerce Sales Increasing Plugin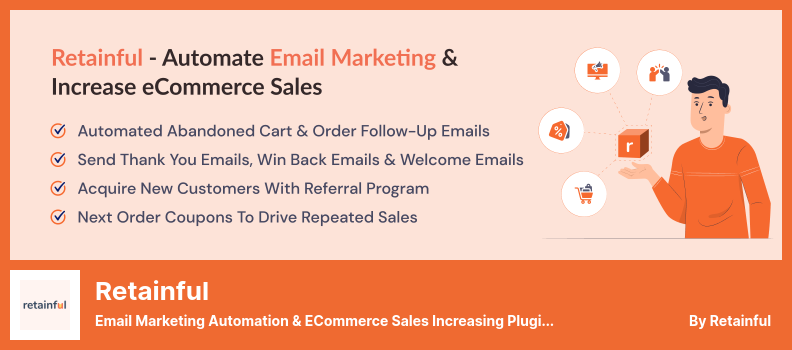 Retainful is an email marketing automation plugin designed to help WooCommerce store owners recover abandoned carts and increase sales. With the Customer Journey Builder, you can create a recovery campaign in seconds.
In the plugin settings, you have the option of setting how many emails will be sent out for abandoned carts, by default three, but you can also customize the number of reminders.
The plugin will run the campaign automatically while you focus on your core business. Setting up the campaign is quick and simple with the pre-designed workflow templates.
Plus, you can customize the recovery emails with Retainful's built-in email editor, which allows you to add your store logo, product images, and more.
To give your customers a nudge, you can add dynamic coupon codes to your recovery emails, which may increase the open rates. Additionally, the use of shortcodes adds more personalization to your emails.
If you would like to offer your custom email templates discount codes for flat rates, percentages, or free shipping, the plugin provides this functionality.
You can also view detailed reports of abandoned carts and send emails to an unlimited number of recipients for cart recovery. Plus, automated workflows based on predefined templates make it easy to create a customer journey for your campaign.
Key Features:
Detailed reports of abandoned carts
Flat-rate, percentage, and free-shipping discount codes
Unlimited recipients for cart recovery emails.
Automated cart recovery campaign
Customizable email templates
Dynamic coupon codes
Abandoned Carts Recover WooCommerce Extention For WordPress
WooCommerce Recover Abandoned Cart is a plugin that collects abandoned cart data and reminds customers of their unfinished transactions. This allows for a chance to make multiple attempts to recover lost sales.
The plugin works for both registered and unregistered users, providing an opportunity to create a sales process that promotes revenue for online stores.
Apart from keeping track of abandoned carts, this plugin maintains a record of purchases made via cart links in user emails. Furthermore, it is compatible with simple and variable products, identifying abandoned cart locations and tracking their movements.
Using the plugin's email templates, you can set up automatic email transmissions at specific times and add several follow-up options to ensure that you get the best results.
Mail templates can also be activated or deactivated, and automated email campaigns can be utilized for recovering abandoned carts. Both members and guests can retrieve their abandoned carts, and clicks on emails are tracked to determine which ones are effective.
Key Features:
Maintains a record of purchases made via cart links in user emails
Compatible with simple and variable products
Identifies abandoned cart locations and tracks their movements
Utilizes automated email campaigns for recovering abandoned carts
Mail templates can be activated or deactivated
Both members and guests can retrieve their abandoned carts.
Recover Purchases Left Unfinished Plugin For WordPress
You can recover lost sales by using YITH WooCommerce Recover Abandoned Cart. It gives you custom offers and emails, which makes it great for converting abandoned carts to sales. If you gave your email address during checkout, you'll get emails about abandoned carts.
This plugin is compatible with WooCommerce Multi-Currency and WPML, and its dashboard provides a detailed breakdown of abandoned and retrieved carts. With this plugin, you can send your customers a professional and personalized abandoned cart message to give them the best shopping experience possible.
Aside from retrieving abandoned carts, users can send emails to other users based on their permissions, and set up email alerts for certain times. You can also make products with variable attributes, purge abandoned shopping carts after a time, and let users who don't register get their carts back.
Customized messages can be sent with a dynamic email that includes information about the users and abandoned carts. Additionally, an email notification can be sent to administrators when the abandoned cart has been converted to a sale.
The plugin provides a timeframe within which the cart will be considered abandoned, and if abandoned carts are not recovered after a given amount of time, the plugin will send out several emails with different content before deleting them.
Key Features:
Retrieve abandoned carts with specific permissions
Differentiate emails sent to users
Automatic email sending after a preset period of time
Creation of products with variable attributes
Recovery of carts by unregistered users
Customizable messages with dynamic email.
CRM, Abandoned Cart, Email Marketing, Marketing Automation & Analytics Plugin
MWB HubSpot for WooCommerce is an indispensable plugin for businesses that rely on e-commerce for their revenue. This plugin allows users to connect data from WooCommerce orders and product data with Hubspot's CRM seamlessly.
Besides that, the plugin also includes an abandoned cart recovery feature that enables users to easily retrieve lost sales which can be extremely useful for a business.
One of the key highlights of the plugin is the abandoned cart detection plugin. This feature allows users to track abandoned products and contacts in their HubSpot account. The plugin generates data that helps businesses make informed decisions on recovering the cart or choosing an alternative product.
Using the plugin, you can use email marketing campaigns to promote your business, which leads to more revenue for your business. For smooth processes and lasting results, it automates abandoned cart sequences, active lists, and workflows. It also gives you analytics, so you can make better decisions.
The plugin seamlessly syncs data from WooCommerce and HubSpot resulting in the creation of smart lists automatically based on the specified criteria. Using WooCommerce contacts, businesses can segment and organize customers in their HubSpot accounts.
With insightful reports on customers and orders, it helps businesses track their growth. It also provides users with an easy-to-use CRM system that allows seamless management of customer orders. The plugin also enables users to create beautiful, responsive emails for leads and customers.
MWB HubSpot for WooCommerce has integrated advertising campaigns such as Facebook, Instagram, LinkedIn, and Google, giving businesses a global reach.
Key Features:
Seamless integration of WooCommerce data with HubSpot CRM
Abandoned cart recovery feature to recover lost sales
Easy navigation dashboard to make informed decisions
Automation of processes and workflows for lasting results
Smart lists are created automatically based on specified criteria
Insightful reports to track business growth.
Email Notifications For Shopping Cart Abondonment WordPress Plugin
Using Abandoned Cart Lite for WooCommerce, you can recover abandoned carts from your store and increase sales by recovering abandoned carts from your store.
This plugin sends a reminder one hour after a cart is abandoned with a pre-written email template and also displays a reminder to customers when they visit your store, giving them the opportunity to receive a reminder both if they are registered and if they are not.
This plugin will allow you to easily analyze the cost of recovering sales and estimate the number of recovered sales you could possibly recover with this data.
This plugin also allows administrators to easily identify details regarding abandoned carts, including information about what products have been abandoned.
In addition to identifying information about abandoned carts, this plugin also makes it possible for customers to easily retrieve abandoned carts by making it easy for them to recover them.
Another benefit of using this plugin is the ability to create unlimited templates with custom variables and edit HTML templates using the rich text editor. You can also disable notifications when a customer completes a purchase using an abandoned cart that was previously enabled by the plugin.
Abandoned Cart Lite for WooCommerce makes it a breeze to provide information about abandoned orders, including abandoned products, which can be found in Abandoned Orders.
With just a single click, customers can recover their abandoned carts, and the guest's cart will be captured on the Checkout page after entering their email address. The administrator receives an email when an order has been recovered, and the default email template comes with the module for instant use.
Key Features:
Sends a reminder after one hour
Easily analyze recovered sales
Easily identify details regarding abandoned carts
Create unlimited templates
Provides information about abandoned orders
One-click recovery for customers.
Solution for Recovering Abandoned Carts With Text Messages Plugin
CartBoss is an automated SMS cart recovery service that integrates with WooCommerce. It helps recover abandoned shopping carts left behind by customers.
It offers an easy-to-use, GDPR-compliant, and very efficient recovery tool. You need to be a member to use its features. The service charges only for SMS messages sent, which makes it very cost-effective.
Sending unlimited messages to follow up with clients is one of its prime benefits. It provides configurable message boards, customizable templates, automatic coupon generation, URL shortening and UTM tracking, auto-language detection, and auto-fill options during the checkout process.
Key features of this tool include analyzing each web page and message based on key marketing factors. It also provides text messages that have been translated into more than 30 languages.
It improves checkout speed by auto-populating checkout fields with the visitors' information. Furthermore, it also creates customized text messages, adds discounts, and schedules delays with just a few clicks. Finally, you may add as many sites as you like to your account.
Key Features:
Analyzes web page performance based on marketing factors
Translates text messages into more than 30 languages
Improves checkout speed by automatically populating checkout fields
Creates customized text messages and schedules delays with discounts
Add unlimited sites to your account.
Text Marketing Plugin for WordPress
Recart is an eCommerce plugin that helps you recover abandoned carts and make more money through remarketing to clients. It offers six features for recovering carts and automates the process of abandoned cart campaigns, push notifications, form auto-fill, payment tracking, SMS messaging, and more.
This plugin also integrates with Facebook Messenger, allowing you to automate your Messenger campaigns and build your Messenger audience without requiring email sign-ups.
One of the most beneficial features of using the plugin is the opt-in pop-up, which can be customized to match your branding and help you build profitable email lists.
This plugin is also a great tool for maintaining contact with your clients and reminding them to use their coupons and follow up with them after their purchase.
In summary, Recart is an excellent plugin that every eCommerce website that is looking to increase revenues and recover abandoned carts must have.
Key Features:
Allows for automated abandoned cart campaigns,
Integrates with Facebook Messenger for automated Messenger campaigns
Offers customizable opt-in pop-ups for building profitable email lists
Great tool for maintaining contact with clients
Provides Flow Editors for creating customized, automated marketing flows.
Frequently Asked Questions
What are WooCommerce recover abandoned cart plugins?
WooCommerce recover abandoned cart plugins are tools designed to help online store owners recover sales that were lost due to customers abandoning their shopping carts.
These plugins work by capturing the details of abandoned carts and sending follow-up emails to customers, reminding them to complete their purchases.
Why are recover abandoned cart plugins important for online stores?
Recover abandoned cart plugins are essential for online stores because they can increase conversion rates, enhance customer experience, and ultimately boost revenue.
By utilizing these plugins, online store owners can recover sales that were likely to be lost and also gain valuable insights into customers' shopping behaviors.
What features should I look for in a WooCommerce recover abandoned cart plugin?
When choosing a WooCommerce recover abandoned cart plugin, you should look for features such as email customization, automatic cart recovery, tracking and reporting capabilities, and integration with other plugins such as payment gateways and email marketing tools.
Additionally, consider the plugin's pricing model and scalability to ensure that it meets your business needs.
Conclusion
To recap, in this article, we discussed the best WooCommerce recover abandoned cart plugins, both free and pro. We explored their features and benefits, as well as their pricing options.
If you're looking for more related tutorials and helpful guides, be sure to visit the BetterStudio blog. We cover a variety of topics related to WordPress and eCommerce, so you'll find plenty of useful articles to help you improve your website.
Don't forget to follow us on Facebook and Twitter to stay up-to-date with the latest tutorials and insights from the BetterStudio team.
Thank you for reading this article, and please feel free to ask any questions or share any comments you have in the section below. We are always here to help and support our readers in any way we can.