What is the best WordPress plugin for WooCommerce Recover Abandoned Cart?
Whether you do not have enough time or knowledge of WordPress, we gathered a list of the best WordPress WooCommerce Recover Abandoned Cart plugins that will save you time and effort.
All of these best WordPress plugins in this collection of WooCommerce Recover Abandoned Cart WordPress plugins are straightforward, have good support, and are fast. Hence, you can use them with all popular WordPress templates.
Listed below is a list of WooCommerce Recover Abandoned Cart plugins we have rounded up to help you find the perfect plugin. What if you're looking for a WooCommerce Recover Abandoned Cart-related plugin, but not the exact one? These plugins work on WooCommerce Cart Abandonment and Recover Shopping Carts.
Below you can find our top picks for top WordPress WooCommerce Recover Abandoned Cart plugins for 2022:
Email Marketing Automation & eCommerce Sales Increasing Plugin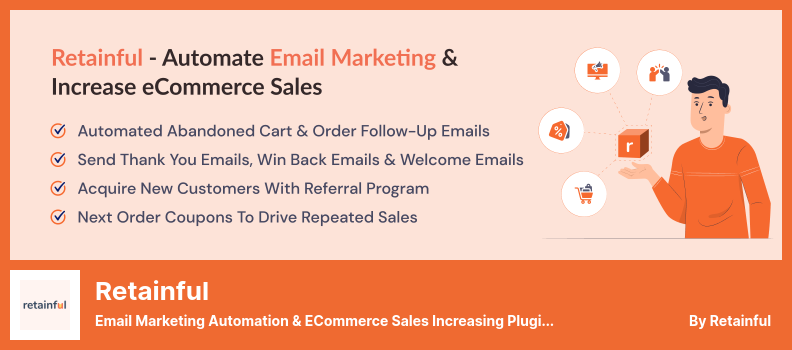 In order for WooCommerce to rise above the competition, Retainful represents the most effective and elegant plugin for email marketing automation, since it automatically sends customers automated messages, solving the problem of abandoned carts and allowing you to increase sales.
As an example, the Customer Journey Builder can allow you to create an abandoned cart recovery campaign within seconds. This campaign includes three emails by default, but the number of abandoned cart reminder messages can be altered to suit your preferences.
As a seller, you can customize the cart recovery emails to your heart's content using Retainful's built-in email editor, which allows you to edit the subject line, the email content, add your store logo, add product images, and more.
You can also use shortcodes for more personalization, which can increase open rates.
There may be times when it is necessary to give your customers a nudge. Include dynamic coupon codes in your cart recovery emails to aid in encouraging the recovery of carts.
Retain runs the cart recovery campaign on its own, while you concentrate on your core business. Launching the campaign with Retainful is automatically accomplished; use the pre-blended workflow template and get started within minutes.
💵 There is a free version of this plugin as well as a premium version that charges a fee.
Key Features:
Send an email notification to store administrators when a cart is recovered
Email customers who abandoned their carts automatically
Provide flat-rate, percentage, and free-shipping discount codes
Detailed reports of abandoned carts are generated
Email templates pre-built for abandoning carts
Emails can be sent to unlimited recipients for cart recovery
Automated workflows based on predefined templates
Create a customer journey for your campaign with ease
Random Reviews:
Retainful has been part of my e-commerce recovery cart flow for a while; it is a great add-on. Their customer support is also outstanding!

It does a lot, it's intuitive, and if used right, it will bring in extra cash! And on top of that, I received some of the best support I've ever received. Quick replies and they will even set up a Zoom call to resolve an issue! Don't be scared to use it, just install it. I wholeheartedly recommend it.
Abandoned Carts Recover WooCommerce Extention For WordPress
The WooCommerce Recover abandoned cart plugin provides a means for your customers to be reminded of their abandoned carts, and it is vital that you remind them to recover abandoned carts regularly.
Customers abandon their carts for a variety of reasons, and it is crucial that you remind your customers to recover abandoned carts frequently.
Both registered as well as unregistered users are being tracked with this plugin. This allows both parties to be notified if one of the users drops out of the cart.
Emails like these are sent to customers when their carts have been abandoned, informing them (along with coupons) that they have abandoned them.
They are meant to take advantage of those abandoned cart emails by making immediate purchases, so they can take advantage of the coupon offer.
WooCommerce Recover Abandoned Cart lets you send multiple emails with different content to various people, including the option to provide coupons so that you can generate revenue for your online store.
Recover Abandoned Cart is one of the easiest plugins for WordPress that will allow you to develop a sales process to recover the lost sales from your abandoned cart.
💵 WooCommerce Recover Abandoned Cart is a price-only offer and includes All Features + 12 Months of Support + All plugins + 1 Year of Lifetime Updates.
Key Features:
A record of purchases made by users via cart links in their email is maintained
Compliant with both simple and variable products
Identify abandoned cart locations and track their movement
Emails can be sent automatically in response to abandoned carts at a specific time
Several follow-up options are included in the email templates
Activating and deactivating the Mail Templates is possible
Utilization of automated email campaigns for recovering abandoned carts
Members and guests can both retrieve abandoned carts
Clicks on emails are tracked in order to determine which emails are effective
Random Reviews:
Great support – my issue was fixed the following day.

Plugin installation and configuration were straightforward, and the plugin performs as expected and advertised. Very pleased.

Great plugin! Everything you need to recover those carts. Excellent support. Congrats!
Recover Purchases Left Unfinished Plugin For WordPress
For conversions from abandoned carts to sales, the YITH WooCommerce Recover Abandoned Cart plugin is one of the most effective tools for this. It includes a wide assortment of custom deals and emails that are specifically designed for abandoned carts.
In addition to letting registered users know about abandoned shopping carts, the system also sends out email notifications to guest users who provided their email addresses during the purchasing process.
If you do not recover your abandoned carts after a given amount of time, the plugin will send out several emails with different content, and if you do not recover your abandoned carts after this period of time, all of them will be deleted.
In addition to WooCommerce Multi-Currency and WPML support, this plugin also includes WooCommerce Multi-Currency compatibility. Finally, the plugin's dashboard provides a detailed breakdown of abandoned and retrieved carts.
In order for you to give your customers the best shopping experience you can send them a professional and tailored abandoned cart message when they abandon their shopping cart, by using the YITH WooCommerce Email Templates and YITH WooCommerce Recover Abandoned Cart.
It is not only possible to recover lost sales with this plugin, but you can also increase the revenue of your WooCommerce store by using this great plugin.
💵 With $79.99, you'll get all the wonderful features plus 12 months of free support.
Key Features:
WordPress users with specific permissions are able to retrieve abandoned carts
Differentiate the kind of emails you send to your users
Sending emails automatically after a preset period of time
Assists in the creation of products with variable attributes
Abandoned shopping carts are purged after a specified period of time
Users who are not registered may also recover their carts
Send the email with a customized message
Send a dynamic email that includes information about the users and abandoned carts
An email notification can be sent to administrators when the abandoned cart has been converted to a sale
Provide a timeframe within which the cart will be considered abandoned
CRM, Abandoned Cart, Email Marketing, Marketing Automation & Analytics Plugin
MWB HubSpot for WooCommerce allows you to automatically connect WooCommerce orders and product data from WooCommerce with data from Hubspot's CRM. In addition to this, a free abandoned cart plugin for WooCommerce is available.
Additionally, this plugin not only offers users and visitors analytics, but it also automates abandoned cart sequences, active lists, and workflows to ensure that they last as long as possible.
If you are not sure what products or contacts in your HubSpot account have been abandoned, a plugin called HubSpot's abandoned cart detection plugin can tell you which of the products in your HubSpot account have been abandoned.
It works with the HubSpot smart list segmentation to create smart lists (groups, properties) automatically based on the criteria you specify. Using your WooCommerce contacts, you can segment and organize them in HubSpot and in your HubSpot account.
A WooCommerce abandonment cart recovery plugin will let you easily generate a list of abandoned carts that you can sell products to, recover abandoned carts, fill up abandoned carts, and automate your process.
Further, the dashboard makes it easy for you to navigate the website and to promote your company through email marketing campaigns, which will lead to an increase in revenue.
💵 It is Free for you to use this plugin.
Key Features:
Track the growth of your business with insightful reports regarding your customers and orders
Stores and analytics data from WooCommerce can be synced with HubSpot
Easy-to-use CRM for managing your customers' orders
Create beautiful, responsive emails for your leads and customers
Recognize and recover abandoned shopping carts
Set up Facebook, Instagram, LinkedIn, and Google advertising campaigns
Random Reviews:
Data is seamlessly added into Hubspot: clients, users, carts, history… Then you can start using Hubspot immediately and take advantage of the features (emails, etc…) Installation is easy.

The help from the support team allowed us to modify the plugin quickly so we could pass specific information to Hubspot.
Email Notifications For Shopping Cart Abondonment WordPress Plugin
In addition to automatically delivering emails, the Abandoned Cart Lite for WooCommerce plugin will also display a reminder to customers for items they have in their shopping carts, giving them the opportunity to receive a reminder both if they are registered and if they are not.
In addition to identifying information regarding abandoned carts, this plugin also makes it possible for customers to easily retrieve abandoned carts by making it easy for them to recover abandoned carts.
This plugin can also be used to easily identify details regarding abandoned carts, including information regarding what the product consists of.
Utilizing the plugin will allow you to analyze the value of recovered sales, which will, in turn, enable you to estimate how many sales can be recovered.
An email reminder will be sent one hour after an abandoned cart has been found. The plugin will send a pre-written email template by default. Store administrators will be notified when the abandonment cart has been recovered.
Using the plugin, you can create unlimited templates with custom variables, and you can also edit HTML templates using the rich text editor. You can also disable notifications when a customer completes a purchase using an abandoned cart that was previously enabled by the plugin.
💵 The plugin is free of charge.
Key Features:
Providing information about abandoned orders, including abandoned products, may be found in Abandoned Orders
With a single click, customers can recover carts that have been abandoned
After entering the guest's email address and abandoning the cart, the guest's cart will be captured on the Checkout page
The administrator receives an email when an order has been recovered
The default email template comes with the module, so it works right out of the box
Random Reviews:
After 6 weeks, they still haven't resolved my issue. I wouldn't recommend them. I recommend WooCommerce Cart Abandonment Recovery by CartFlows Inc instead.

It was installed and activated, but there was no email template.
Solution for Recovering Abandoned Carts With Text Messages Plugin
It is possible for you to stay on top of lead generation automatically with CartBoss, an incredibly powerful SMS cart recovery service, by integrating WooCommerce, a powerful WooCommerce integration, with CartBoss.
We provide the best solution available today for recovering abandoned shopping carts left behind by your customers, based on our easy-to-use, GDPR-compliant, and highly efficient recovery tool, and it is what we offer. There are many features that CartBoss has to offer.
In addition to the complete suite of tools it provides, some of the features that come with it are a configurable message board, customizable templates, automatic coupon generation, URL shortening and UTM tracking, auto-language detection, and auto-fill during the checkout process.
Having an unlimited number of messages is also a wonderful benefit for customers. By being able to send unlimited messages to as many clients as possible, you can follow up with as many customers as you like.
You need to be a CartBoss member to register and begin using the CartBoss plugin. Since it is designed to deliver SMS messages, you will only be charged for the SMS messages that you send, making it a cost-effective and efficient way to deliver SMS messages.
💵 The price of this advanced plugin is $20.00.
Key Features:
Analyze the performance of each web page and message based on key marketing factors
All text messages have been translated into more than 30 languages
Improve checkout speed by automatically populating checkout fields with the visitor's information
Create customized text messages, schedule time delays, and add discounts – all with just a few clicks
Add as many sites as you like to your account
Text Marketing Plugin for WordPress
Recart enables you to make more money by tracking carts, remarketing to clients, and recovering carts. It offers six great features to help you recover carts, and it enables you to make more money by recovering carts and remarketing to clients.
Using Recart's eCommerce Application, you can automate your Facebook Messenger campaigns for the easy recovery of abandoned carts, the sending of receipts, and the sending of shipping notifications with discounts using Facebook Messenger.
A plugin is also a great tool for maintaining contact with your clients and will remind them to use their coupons and to follow up with them following their purchase.
Additionally, this software enables you to build your Messenger audience without requiring your clients to sign up through their email, and this is another great feature.
In order to build very profitable email lists from these prospects, you will need to collect the email addresses of those interested in your product using an opt-in pop-up feature. This pop-up feature can be customized to match your branding.
The program not only allows you to import a complete list of email addresses into different email apps but also automates the process of abandoned cart campaigns, push notifications, form auto-fill, payment tracking, SMS messaging, etc.
Other features include automated abandoned cart campaigns, push notifications, form auto-fill, payment tracking, SMS messaging, etc.
💵 By purchasing this plugin, you'll receive free support for 12 months. The product's price is $29.00.
Key Features:
High-growth brands can generate revenue using Recart Messenger promotions
Providing Facebook Messenger and SMS marketing automation to online retailers worldwide
Building customized, automated marketing flows for thousands of other brands based on behavioral or purchase information
Create Messenger and SMS workflows using Flow Editors
Get more subscribers with Recart's opt-in tools for Messenger, SMS, and email
The last but not the least
We have gathered the best WordPress WooCommerce Recover Abandoned Cart plugins in this article. In just a short time, anyone can have a neat website with a ready-made plugin.
We wish you the best. Regularly, we publish articles about the best WordPress blog themes and the best WordPress plugins for bloggers, and our readers vote for, refer to, and share them with others.
In case of questions, feel free to leave a comment below. Lastly, if you enjoyed this article and think it may be helpful to others, share it on social media!