Are you struggling to find the right WordPress plugin to display client testimonials on your website? Look no further, as we have reviewed and listed the 9 best options for you.
Our article provides the nine best WordPress testimonial plugins designed to provide you with the ultimate guide to choosing the perfect plugin for your website.
With over 60 million websites powered by WordPress, it's no surprise that there are a plethora of testimonial plugins available. However, not all of them are worth your time or money.
We've done the research and testing for you, compiling a list of the top free and paid testimonial plugins for WordPress. Our article includes comprehensive reviews, features, pricing, and the pros and cons of each plugin. Keep reading to discover which plugin suits your needs and budget.
Best Testimonial Plugins for WordPress
In case you have a WordPress website and you want to showcase your brand effectively, you must find engaging content that showcases your brand in an engaging way.
One area that can often be overlooked is testimonials, but fear not – we've rounded up the 9 best WordPress testimonial plugins (both free and pro) to help you add that extra touch of credibility to your site. Check out our top picks below!
Allows Users To Add Testimonials
Easy Testimonials is a WordPress review plugin that lets you effortlessly add testimonials to your blog posts and pages. You can use shortcodes or widgets like Elementor's testimonial widget or other widgets in your sidebar.
Aside from complying with schema.org, this plugin also uses the JSON-LD markup language for optimizing your search engine results and also meets schema.org standards.
You can add more info to your testimonials with this plugin, like names, titles, websites, products or services they've reviewed, and images. In the WordPress Gutenberg editor, you can customize how your testimonials appear within articles, pages, and widgets, so it's more than just an organizational tool.
In addition to being easy to use, it comes with form builders so you can come up with the perfect form to collect all your testimonials. Plus, you've got a bunch of font choices, including Google web fonts. Plus, there are more than 100 new themes for making your app and website look awesome.
The Easy Testimonials plugin includes Google reCAPTCHA support to ensure that your website is free from spam. It provides advances in the import and export of testimonials, allowing you to manage your testimonials effectively. You can effortlessly organize your testimonials using testimonial categories.
Key Features:
Multiple forms of testimonials are available
Wide range of font choices
Over 100 new themes
6Google reCAPTCHA support
Advanced import and export of testimonials.
Easily Collect And Display Testimonials On Website
Strong Testimonials is a plugin that simplifies the process of collecting and displaying customer testimonials and star-rating reviews. The plugin's main features include an easy-to-use testimonial collection form and sliders for showcasing the testimonials.
You can customize the testimonial submission form and distribute it via your website. The plugin also allows you to review the testimonials submitted by your customers and select which ones to publish.
You can share individual testimonials or testimonial sliders with different options such as video testimonials. The plugin also offers different kinds of testimonials, making it possible to display them on various pages of your site.
One of the plugin's notable functions is the ability to integrate testimonials from Facebook Reviews, Google My Business Reviews, Yelp Reviews, Zomato, and WooCommerce with ease.
Strong Testimonials provides multiple ways to submit testimonials and offers protection against spam using a captcha and other measures. You can also edit views at an advanced level and enjoy professional template design.
Key Features:
Collect and display customer testimonials easily
Customizable testimonial submission form
Share individual testimonials or testimonial sliders
Multiple ways to submit testimonials
Advanced-level view editing
Professional template design.
Free Testimonials Slider Plugin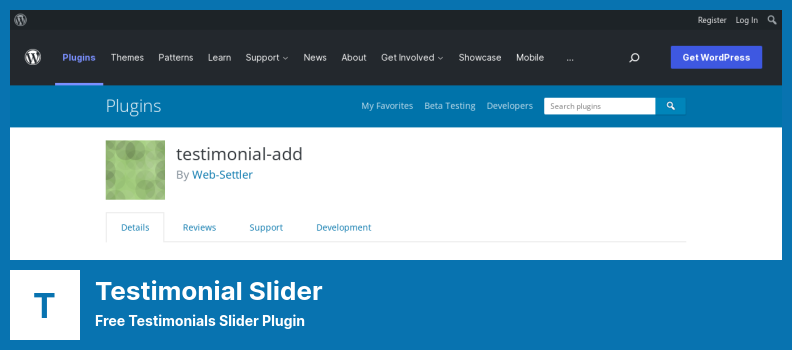 Testimonial Slider is a plugin that empowers you to showcase client testimonials with ease. The plugin has a modern, visually appealing interface that makes your website look attractive and enhances the user experience.
Additionally, the plugin allows clients to provide feedback and testimonials directly from your website's front-end. The plugin's five slider designs cater to all tastes, enabling you to showcase your testimonials in a beautiful format.
One of the standout features of the plugin is its ability to customize the colors of the slider. You can use this feature to reflect your company's brand colors and maintain uniformity throughout your website.
The plugin is designed to be responsive, allowing it to function effectively on various screen sizes and devices. It also comes with a visual editor integrated into the platform that allows you to create visually appealing testimonials.
Testimonial Slider provides two different testimonial display options: carousel and single-sided slider. The plugin also includes a customizable list of testimonials that can be modified to meet your specific needs.
Additionally, the plugin comes equipped with options for adding, deleting, and editing testimonials, making it a versatile and practical tool.
Key Features:
Carousel and single-sided slider for testimonials
Customizable slider colors that match your brand identity
Visual editor built into the platform for stunning testimonials
Customizable list of testimonials
Add, delete, and edit testimonials with ease
Five slider designs that cater to various tastes and preferences.
Very Helpful To Add Interesting Testimonials Of Your Client's
The WP Testimonials plugin makes it easy for WordPress website owners to showcase testimonials on their websites. With the plugin, you can create a widget that displays a bunch of testimonials, along with info about the author, job title, and pictures. Use a shortcode to display testimonials, categorize them or tag them.
This easy-to-use plugin allows users to display the testimonials in various formats including grid, slider, or list view. It is Gutenberg's shortcode widget compatible, which means that it contains input fields to customize how you want testimonials to appear on your website.
One of the plugin's best features is its compatibility with Visual Composer/WPBakery Page Builder, which gives you even more options to customize the widget's appearance. The star rating system is another great feature that has been added to the plugin recently.
The premium version adds an extra 15 designs to choose from, giving users even more customization options. Additionally, with the testimonial form feature on the front-end, it enables users to capture testimonials from customers and clients.
Lastly, WP Testimonials provides support for template override, allowing users to create their own templates in case they want to showcase testimonials in a way that's not covered by the pre-built designs.
Key Features:
Visual Composer/WPBakery Page Builder compatibility
Star rating system
Front-end testimonial submission form
Multiple display options (grid, slider, list view)
Compatible with Gutenberg's shortcode widget
Template override support.
Add Unlimited Testimonials With Unlimited Color Scheme
Testimonial Builder is a WordPress plugin that brings a powerful and fully-customizable testimonial section to your website. This easy-to-use plugin allows you to showcase unlimited testimonials, reviews, or quotes on any page, post, or widget area.
The more you customize it, the more you will be able to make your site's design match the style of the meta options, colors, fonts, font sizes, font families, image layouts, and so forth that you choose for your site.
With two pre-designed templates and a shortcode, you can easily publish multiple testimonials as a single element. Also, each testimonial has its own CSS, making it highly responsive and eye-catching.
The backend and frontend UIs are also very intuitive and visually appealing, while drag-and-drop functionality adds another layer of flexibility to the builder API.
The plugin supports all web browsers and integrates seamlessly with WordPress, allowing you to focus on creating an engaging testimonial section rather than worrying about technical glitches.
Whether you're showcasing customer reviews or personal testimonials, Testimonial Builder is the perfect tool to leverage the power of social proof on your website.
Key Features:
Unlimited testimonials, reviews, or quotes
Full customization with various meta options
Two pre-designed templates and a shortcode
Responsive and eye-catching design with individual CSS for each testimonial
Intuitive backend and frontend UIs with drag-and-drop functionality
Supports all web browsers and integrates seamlessly with WordPress.
Makes It Easy To Add Testimonials And Reviews
BNE Testimonials is a must-have WordPress plugin for website owners who wish to display their satisfied customer feedback publicly. With its simple interface, users can easily organize their testimonials using various categories and customize the slider's style according to their theme's design.
The plugin supports testimonials that include a title, message, tagline, URL, and image. The plugin allows users to add testimonials to any page by using a shortcode or widget on the sidebar.
The plugin offers API access, which is handy for retrieving reviews from Yelp, Google Places, and Facebook, making it simple to display feedback directly on the website.
The plugin provides two premium themes that are customizable, Bubble and Cards, in addition to free and premium layouts that include a slider and a list, as well as masonry grids and thumbnail sliders.
Key Features:
Retrieve reviews from Yelp, Google Places, and Facebook through APIs
API access to display testimonials on multiple WordPress sites
Two premium themes: Bubble and Cards available
Free and premium layouts are available
Testimonials can be categorized
Customizable slider style according to the theme's design.
Allows Users To Add Testimonials To The Sidebar Or As A Widget
Super Testimonial is a WordPress plugin that enables you to add testimonials to your site in the form of customizable widgets or embedded via shortcodes.
This plugin is completely responsive and works with any platform, providing an appealing design and clean code so that you can add unlimited testimonials for various purposes.
With the plugin, you can display unlimited testimonials on your website. Each testimonial can include a rating, featured image, company information, and other elements.
There are also options for categorizing your testimonials by theme, sorting them by category, and displaying only those testimonials that associate with specific categories on one screen.
It offers various features, with the most useful pro-version-only features including twenty slider types and sixty skin options. It includes 100+ ready-to-use shortcodes, and you can display testimonials on any page, post, or text widget. Plus, there is no limit on the number of testimonials you can add to your site per page.
Finally, Super Testimonial includes four different testimonial types and ten list-style skins in addition to thirty pre-made skins that are ready for you to use. With these features, you will be able to create dynamic and aesthetically pleasing testimonials for your website.
Key Features:
20 slider types are available
60 skin options are available
100+ ready-to-use shortcodes
Display testimonials on any page/post/text widget
No limit to the number of testimonials per page
Four different testimonial types.
Provides A Quick And Easy Way To Add Testimonials
Quick and Easy Testimonials is an effortless and straightforward testimonial plugin for WordPress. This plugin enables users to showcase their testimonials quickly and easily by displaying them in a custom post type.
Additionally, the plugin supports RTL languages and center-aligned styles. Even better, the plugin is compatible with Visual Composer, one of the most popular WordPress page builders.
One of the key features of the plugin is its right-to-left language support. This feature furthers accessibility and allows users to display testimonials in a language that reads right-to-left. Moreover, adding testimonials with this plugin is uncomplicated and straightforward with its custom post type option.
Another advantage of Quick and Easy Testimonials is that the testimonials adopt the theme's styling, including links and text. This feature ensures that the testimonials blend seamlessly with the website's overall design.
Key Features:
Supports right-to-left languages
Compatible with Visual Composer
Simple and easy-to-use custom post type for testimonials
Testimonials adopt the theme's styling.
WordPress Contact Form Builder Plugin
The WPForms WordPress plugin is something that can help you build surveys and reports that will enable you to better understand your customers and enhance their overall experience on your site.
It also provides you with a platform to collect your customers' reviews in one central location. With its pre-designed templates, you can easily create a Testimonial Form that is customizable and includes editable fields. Additionally, the plugin allows your customers to upload media files as part of their testimonials.
The plugin provides various features that enable you to excel in your field. Donation, booking forms, and payment forms are some of the forms included in the plugin. Its forms are optimized to improve conversion rates and obtain better results.
WPForms offers various forms related to memberships and default WordPress settings that are fully customizable and extensible. Moreover, the plugin is mobile-friendly, SEO-friendly, and speed-optimized.
Key Features:
Donation form, booking form, and payment form options
Optimized forms to improve conversion rates and results
Customizable forms related to memberships and default WordPress settings
Mobile-friendly, SEO-friendly, and speed-optimized.
Frequently Asked Questions
What are WordPress testimonial plugins?
WordPress testimonial plugins are tools that allow you to display customer or user feedback on your website. These plugins provide a user-friendly interface, where you can collect, moderate, and display testimonials on your website in various formats including text or video.
What are the benefits of using a WordPress testimonial plugin?
WordPress testimonial plugins provide social proof, which can increase consumer trust and encourage them to take action. They also offer an organized and professional way to display testimonials on your website.
Can I use a WordPress testimonial plugin on my free WordPress site?
Yes, there are many free WordPress testimonial plugins available on the WordPress plugin repository. These plugins offer great functionality and can help you display testimonials on your site even if you don't have a budget for paid plugins.
Conclusion
In conclusion, we have discussed the 9 best WordPress testimonial plugins for 2023 that are both free and pro options. These plugins can be a powerful tool for any website owner looking to showcase their clients' positive feedback.
For more related tutorials and helpful insights on how to optimize your WordPress site, be sure to check out BetterStudio's blog.
Additionally, don't forget to follow us on Facebook and Twitter to stay up-to-date with the latest WordPress tutorials and news.
Thank you for taking the time to read our article. If you have any questions or encounter any issues, please do not hesitate to leave us a comment below. We're here to help!