In search of the best WordPress testimonial plugins?
As we have discussed, we will be discussing the best WordPress plugins for testimonies. These WordPress plugins are mobile-friendly and speed-optimized. Moreover, the plugins will integrate well with all WordPress themes.
Following is a list of Testimonial plugins we hand-selected to assist you in selecting the inclusive plugin. Also, you can use the following plugins for Testimonial Categories, Single-Sided Testimonial, Elementor Testimonial Widget, Video Testimonial, and Simple Testimonial.
Let's dive into the list of the best WordPress plugins for Testimonials in 2022:
Allows Users To Add Testimonials
The Easy Testimonials plugin makes is a WordPress review plugin that makes it easy to insert testimonials into blog posts and pages with the help of shortcodes or as an Elementor testimonial widget or other widgets in your sidebar.
The plugin is schema.org compliant and uses the JSON-LD markup language to enhance search engine optimization.
Using this plugin, you can include more information in your testimonials, such as the recipient's name, the website on which they are posting as well as their position, images, and the product or service that they reviewed.
In addition to keeping your testimonials organized, it allows you to customize how they are displayed in your articles, pages, and widgets within the WordPress Gutenberg editor.
---
💵 Free, premium: $99.
Key Features:
An interface that is intuitive to use
Contains form builders
Forms of testimonials available
New themes in excess of 100
Contains Google reCAPTCHA support
wide range of font choices, including Google web fonts
Advances in the import and export of testimonials
Organization of testimonials using testimonial categories
Random Reviews:
Unresponsive support team even in the paid version. This is for me a KO criteria. After no response from the support I will need to callback the charge. This topic was modified 10 months, 3 weeks ago by

I wish I had read the reviews before buying this! The author is AWOL, the plugin doesn't work, and I can't get my money back.

Read these reviews to late. Pro Upgrade does not work Wasted two days in work No contact from support WP should remove this scamming plugin and all other plugins From Gold Plugins This topic was modified 1 year, 9 months ago by
Easily Collect And Display Testimonials On Website
With the Strong Testimonials plugin, like Easy Testimonials, you are able to easily collect and display customer testimonials and star rating reviews. It has a number of great features, such as an instant testimonial collection form as well as sliders for displaying testimonials.
The plugin enables you to create custom testimonial submission forms and distribute them via your website. It allows you to review testimonials submitted by your customers and select which ones to publish.
With this plugin, you can share individual testimonials or testimonial sliders with different options such as video testimonials. You can also set up different kinds of testimonials so they can be displayed on various pages of your site.
---
💵 Lite is free, but premium costs money.
Key Features:
Shortcodes and widgets for adding testimonials
There are multiple ways to submit testimonials
Integrate testimonials from Facebook Reviews, Google My Business Reviews, Yelp Reviews, Zomato, and WooCommerce with ease
Editing views at an advanced level
Professional template design
Random Reviews:
Strong Testimonials plugin offers all the features I wanted. There are many options to fine tune the plugin. I like the Pause-Play button. Very happy with its performance.

This worked perfectly as expected, thank you.

This is a great plugin. The free version offers much more than some paid plugins, like AP Custom Testimonial Pro, which I bought, tested, and removed again. Strong testimonials really offers the best functionality.
Free Testimonials Slider Plugin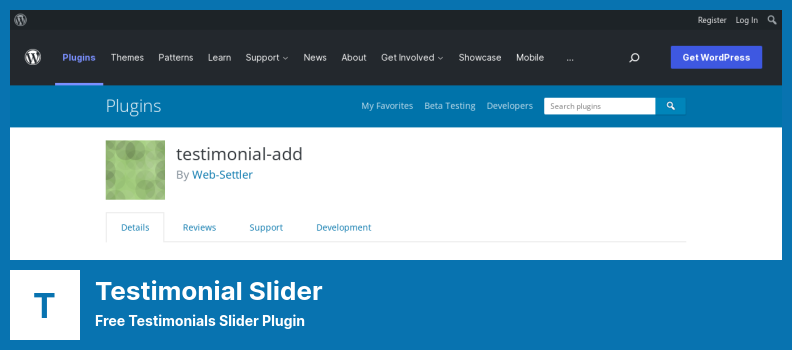 You can easily display the client testimonials for your company in a visually appealing, modern manner using the Testimonials Slider plugin. This easy-to-use plugin improves the overall appearance of your website and aids in enhancing your user experience as well.
With this plugin, you will be able to display your testimonials in a beautiful slider. You may select from five different designs for your slider. Furthermore, your testimonials can also be displayed in a gorgeous list that can be customized to suit your specific needs.
Your clients will be able to submit testimonials directly through the plugin's front-end, allowing them to complete the process from your website.
---
💵 For a small fee, a premium version of this plugin is available, and a free version can be downloaded.
Key Features:
Carousel of testimonials and single-sided testimonial slider
You can customize the colors of the testimonial slider
Designing for responsiveness
Visual editor integrated into the platform
The slider and list of testimonials have been integrated
There are options for adding, deleting and editing testimonials
Random Reviews:
Warning: include(): Failed opening '.php' for inclusion (include_path='.:/usr/lib/php7.1′) in /homepages/12/x/htdocs/escape/wp-content/plugins/testimonial-add/mpsp_shortcode_gen.php on line 15

It appears that testimonials are cut off when displaying more than one per page when using the slider. When notifying the author, I was immediately rejected because I was testing it (using the free version) and hadn't paid for it. I will use another plugin which works.

Fantastic work, thank you very much for this plugin.
Very Helpful To Add Interesting Testimonials Of Your Client's
You can easily include testimonials on your WordPress website by using the WP Testimonials plugin.
Using this plugin, you can create a widget that will allow you to display multiple testimonials as well as author information, images, pictures, URLs, jobs, and positions on your site.
Most testimonials can be sorted using categories and tags. However, testimonials can also be displayed with the simple use of a shortcode. This contains several parameters that can be used to enhance the appearance of testimonials.
Using this plugin, users are able to display testimonials with a variety of designs and view them in a grid, slider, or list view. It is compatible with Gutenberg's shortcode widget which contains input fields.
---
💵 You can download the Lite version for free and the Premium version for a fee.
Key Features:
Easily accessible and responsive
Features Visual Composer/WPBakery Page Builder support
The premium version includes 15 new designs
The testimonial submission form on the front-end
A star rating has been added
Provides support for template override
Random Reviews:
It has been a pleasure working with you. You are a very good company.

I was so tired of testing out block plugin packages to find a usable, intuitive, flexible testimonials slider. This is a lightweight plugin that works like I want it to. I especially like that it's a CPT implemented through a shortcode and that it has so many customization parameters. Thanks for this.

Maharshi did an amazing job of fixing the glitch with the plugin. I gave him admin rights to my website, and he fixed the glitch instantly. I'm extremely happy with the customer service as well as the plugin itself. Anyway, thanks so much! This topic was modified 8 months, 2 weeks ago by
Add Unlimited Testimonials With Unlimited Color Scheme
In addition to adding testimonials to any WordPress site page, post, or widget area, the Testimonial Builder plugin, like Testimonial Slider, provides unlimited testimonials.
The plugin allows you to display testimonials, reviews, or quotes in unlimited colors and is a simple and quick way to add such content to your site.
In addition, this plugin features two pre-designed templates and allows you to easily customize all elements. You can also publish multiple testimonials as part of a single element by using a shortcode. Each testimonial also has its own CSS.
It features full customization capabilities. You can include various meta options in the testimonial builder, such as colors, fonts, font sizes, families, image layouts, and more. Additionally, it includes an attractive design that is fully responsive.
---
💵 In the Lite version, it's free, but in the Premium version, it costs money.
Key Features:
Front-end and back-end UIs are appealing
Layout integration with three columns
Integration of drag and drop functionality into the builder API
Compatible with all web browsers
A responsive design that is simple and elegant
Random Reviews:
Plugin is very easy to use, thanks. I'm just using the free version right now, but I'm thinking about upgrading to the Pro version.

Thanks for the free version. This is an excellent plugin.

The free version surprised me by having every feature that was important to me.. particularly being able to create separate sets of testimonials for different services/products I can put on the different pages on my site. It's so easy to use and there are plenty of colour and font options too, thank you very much!
Makes It Easy To Add Testimonials And Reviews
It has many free testimonial plugins for WordPress, but BNE Testimonials is one of the easiest testimonial plugins available.
It allows users to add reviews and testimonials to any page by using a shortcode or widget on the sidebar. It supports testimonials that include a title, image, tagline, URL, and message.
By using this plugin, you are able to separate your testimonials into categories, as well as show plain text testimonials and a slider that are customized according to the theme's style.
For access to the plugin's advanced features, you have to upgrade to the pro account. The pro account comes with API access that allows you to display testimonials on multiple WordPress sites.
---
💵 The premium version of this plugin charges a premium price. A free version is also available.
Key Features:
Retrieving reviews from Yelp, Google Places, and Facebook is simple through APIs, which can be displayed on the website
An API is accessed
Additionally, two premium themes are available: Bubble and Cards
Free and premium layouts include a slider and a list, as well as masonry grids and thumbnail sliders
Random Reviews:
It really deserves 5 stars. It's very well-designed and very smart. Thanks for your work!

This is a great product. It's very customizable and reliable. Thanks.

I have had issues with this plugin a few times, however it has always provided quick and helpful customer support. I wish all plugins had this level of customer support!
Allows Users To Add Testimonials To The Sidebar Or As A Widget
By adding the Super Testimonial plugin to your website, you will be able to add testimonials to your site in the form of widgets or embed testimonials directly into your website using the shortcode. This is a perfectly responsive plugin that works from any platform.
By using this WordPress plugin, you can display unlimited testimonials on your website. You can include a rating, featured image, company information, and other elements to each testimonial.
It features an attractive design and clean code and will enable you to use unlimited testimonials for various purposes.
As a part of the plugin, you are able to categorize your testimonials and assign them a theme, as well as sort them and display testimonials that fall within a specific category. However, the most useful features of this plugin include in the pro version.
---
💵 There is a premium version of this plugin that costs $price, whereas there is a free version that costs zero dollars.
Key Features:
Twenty types of sliders and sixty skins are available
100+ ready shortcodes at your disposal
Testimonials can be displayed on any page, post, or text widget
No limit to the number of testimonials per page
There are four different types of testimonials
There are ten list-style and thirty ready-to-use skins
Random Reviews:
It seems that none of the samples in the documentation are available in the free version. In fact, the documentation references the paid version, so if you are assessing via the documentation or demo, you are not getting what you see. Still, the free version does show testimonials – albeit one at a time. I will keep looking.

There are no options for navigation or auto scrolling in the free version*

My experience with the free version of Super Testimonials was good, but I went for the Pro version immediately afterward. I had a few issues with the plugin, but the support team was prompt and fast to resolve those issues for me. Love the plugin! Highly recommended!
Provides A Quick And Easy Way To Add Testimonials
This Quick and Easy Testimonials is a simple testimonial plugin that provides a rapid and easy method of displaying testimonials on a WordPress site. Your testimonials will be displayed within a custom post type.
Using this plugin, testimonials will appear in a simple, center-aligned format that will inherit the theme's styling, including the text and links displayed. It is also compatible with the Visual Composer plugin (one of the most used WordPress page builders).
The plugin comes with shortcodes so that testimonials can be displayed, as well as .pot and .po files for the translation of the languages. The plugin supports RTL languages, as the styles are center-aligned. However, this plugin is in the first step of its development.
---
💵 With all the features and possibilities listed above, it is Free!
Key Features:
Features support for right-to-left languages
RTL styles are not included
The testimonials style is inherited from the active theme
Adding testimonials using a custom post type is easy
Random Reviews:
In my opinion, there are better options than this one with developers that are involved in their plugins and interested in their work. There is no customization option and there are requests to allow random testimonials that have not been addressed for 3 years. I think there are better options with developers that are actually interested in their plugins and are involved in the project.

It's easy to use and does what it's supposed to do

Very nice plugins.. Easy to use,, can we give Asc or Desc orders on this plugins. it is urgent.
WordPress Contact Form Builder Plugin
With WPForms, you can also collect customer testimonials so that all testimonials can be stored in a central location. This is one of the most popular WordPress form plugins.
The WPForms Form Templates Pack lets you quickly install and use a Testimonial Form Template. The form includes editable fields, allowing you to customize it as required.
In addition, WPForms allows you to add file upload options to your testimonial form, so your customers can upload pictures, videos, or even short testimonials.
In addition to creating surveys, WPForms can also be used for creating beautiful reports that will provide you with insights into what your customers like, how they use your products, and whether or not they are satisfied. However, this plugin is not specialized as a testimonial plugin.
---
💵 Lite is free, Pro is priced.
Random Reviews:
Good app, it does everything I need it to quickly and easily. Others may want more features, but for me, being able to add the fields I want and design the form was a plus. Good work!

It's very helpful, and it works perfectly

Plugin works great for our website.
Review
This was the list of the best WordPress plugins for you in 2022. Choose one of them. They will help you to extend your website.
We hope you found the best match amongst these Testimonial WordPress plugins for your website. Furthermore, we encourage you to refer to the links below to blog posts on the most popular WordPress blog themes, as well as the most popular WordPress blog plugins, that our subscribers frequently use, vote for, and share.
We are glad you chose to leave a comment. Let your friends know about it on Facebook or Twitter if you enjoyed the list. Please come back and share this post!