Are you searching for the Best WordPress Coming Soon plugins?
We have made the entire process simpler for you by listing the Best WordPress plugins for the Coming Soon to save your time and effort. All of them are provides features and preferences useful and also we make sure these plugins are working properly with all WordPress themes.
Further, all of the plugins listed below are for coming soon. Nevertheless, these plugins work well for under construction, maintenance, coming soon countdown, and landing page.
Let's check our selections for the best WordPress Coming Soon plugins in 2022:
Maintenance Mode & Landing Pages
SeedProd is one of the best WordPress page builders with good options if you need a WordPress plugin while your site is still under development. With this landing page builder, you can generate 'coming soon,' and maintenance mode pages for your site and boost your SEO even earlier.
Due to the social media widget and sharing buttons that you can add to your site and coming soon page, your site or product may become viral before it even launches. Using SeedProd to create a WordPress landing page is the best option. If you're looking to increase your site's search engine rankings, this is a great tool to use.
Overall, we can claim that SeedProd is the finest WordPress landing page plugin that also produces the greatest coming soon pages. The good news is that you can use this plugin to generate landing pages once your site goes online and also it supports RTL style languages.
💵 This plugin costs $39 for the Premium version and $0 for the Free/Lite version.
Key Features:
Mailchimp, AWeber, and Constant Contact are just a few of the prominent email marketing services that can be integrated
The animated countdown timer is integrated to add FOMO
Optimized for search engines
In compliance with GDPR (General Data Protection Regulation)
Allows you to add forms to your site before it goes live, so you can start building your email list
When the Coming Soon pages are accessible, your site could be automatically hidden
Full-screen video backdrops are available
Random Reviews:
I found this plugin to really serve the purpose it's for and what I need it for. Great downtime / maintenance / coming soon / under construction plugin

highly recommended, beginner friendly app.

Intuitive, Stable and top notch, cant say enough good!!!
Coming Soon And Maintenance
IgniteUp is a WordPress plugin that works in both the coming soon and maintenance modes. It comes with seven different themes to select from. You may quickly and simply alter a template to have your page up and running in a matter of minutes.
It Ensures that your site's Coming Soon, Maintenance Mode, or Under Construction pages are visually appealing and informative to visitors. IgniteUp provides templates that are simple yet very configurable. Everything in the theme may be customized to meet your specific requirements.
It also offers a responsive customer service staff to respond to your inquiries. In contrast to other plugins, it does not charge for the premium function that it offers to users.
💵 The price of the IgniteUp plugin is Free!
Key Features:
Includes Business Location Map Widget
Almost all WordPress themes are supported by this plugin
Integration with the MailChimp API v2
Templates that are completely customizable
Visitors to the site will only see it if they have the secret URL
Using a 503 response code, you may alert search engines that your site is unavailable for maintenance
may use YouTube videos as your desktop page background
Support for contact forms, as well as email subscription forms
Snow and particleground animation effects are available
Random Reviews:
This plugin comes with all the possible options needed. Actually, this plugin is my first choice when it comes to set protection for my developing website. Great thanks for this great plugin.

It took me HOURS to find why this plugin broke all the icons of other plugins. Turns out it uses this css rule : font-family: "rockyton" !important On the whole admin backend. This topic was modified 1 year, 9 months ago by

I checked this plugin just to try something new, and found my new default – very good, easy, and quick to setup.
Coming Soon And Maintenance Mode Plugin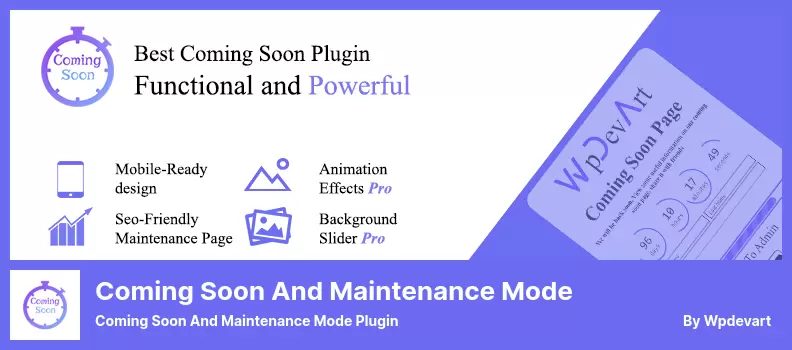 When it comes to creating a coming soon or maintenance mode page, the Coming Soon and Maintenance Mode plugin for WordPress allows you to use a picture or video as a background.
The Coming Soon and Maintenance Mode plugins are fantastic tools for displaying to your website visitors that you are actively working on improving your website's performance.
Users who are not signed in to your website will see the Maintenance mode; however, users who are signed in will have access to your website. This is an excellent option for web developers who want to demonstrate to their customers that their website is in maintenance mode while they are working on it themselves.
It is difficult to design a WordPress under construction page without having prior programming skills. So using this plugin may really help you achieve your goal without working too hard.
💵 Its $30 for the Premium version and free for the Lite version.
Key Features:
works flawlessly with all versions of WordPress
Back-end that is easy to use
Equipped for Social Media (Facebook, Twitter, Google Plus, YouTube, Instagram)
The ability to customize your Meta description and keywords
Possibility of customizing the background picture and color
Under development page that is very customizable
It is possible to deactivate it for certain IP addresses
Option of opening social media websites in a new tab or window
Ability to utilize the WordPress post editor for Messages with a customized logo
Random Reviews:
Love the plugin… Best out there. Support team is Outstanding. Very quick reply's to emails. The support team also offered to login into my admin to fix issue which they did. Truly Great Developers!!

The plugin is trying to do so many things that it fails to do basic things. Didnt work for me.

Love the Coming Soon plugin, very versatile, worth getting the PRO version. Had something that I needed adding (our own font) and this was sorted out for me within 24 hours. Very recommended and would purchase other plugins when needed.
Maintenance Plugin for WordPress
CMP is a simple to use 'maintenance mode' and 'coming soon' WordPress plugin that any WordPress user may utilize. It works flawlessly on all devices and is compatible with all WordPress themes. With a simple click, you can activate the coming soon or WordPress under development pages.
CMP – Coming Soon & Maintenance is a free plugin with all the premium features you've ever wanted. It's also really quick and simple to use.
You may choose from a variety of layouts, add a custom logo, background graphics (including YouTube videos or Unsplash photos), newsletter subscribe form, unique text or graphic content, social network icons, modify font, colors, SEO, and much more.
💵 No charge is associated with it. Its FREE.
Key Features:
You may choose from three bundled free themes and more than 20 downloadable themes – both free and paid – each with a unique design. Every 1-2 months, a new CMP Theme is introduced!
compatible with any WordPress theme and works on both desktop and mobile platforms
Custom Subscribe Form to gather email addresses for storage in a local database, MailChimp, MailPoet, or Mailster
You can create a personalized logo, choose from 100 Google fonts, and adjust Font Weight, Letter Spacing, and Line Height
The built-in search API allows you to search from over 1.000.000+ free stunning professional photographs from the most popular Unsplash source (random images, search by keyword, category, etc.)
Random Reviews:
I'm was searching and searching and searching for "under construction"/coming soon" plugins. They were many out there, but all of these were either paid or had some limited capabilities. BUT, finally, I found this! FREE with many options! So, I use this for my "coming soon/pre-launch" page!

After some research the best plugin of its kind that I could find. Flexible and clean and not unnecessarily complex.

Very Useful very user friendly plugin, Thank You
Maintenance Page To Your Blog When It Is Down
WP Maintenance Mode is a WordPress maintenance mode and 'coming soon' plugin that is available for free. What's great about this plugin is that it gives you access to capabilities that many other plugins charge for.
In the WordPress dashboard, though, you may see a lot of advertisements for other Designmodo products.
After activating the plugin, your blog will be in maintenance mode, which means it will continue to function, but only registered users with sufficient permissions will be able to access the front end. For visitor information, you may use a date with a countdown timer or provide a value and unit.
Also compatible with WordPress Multisite installations (each network blog has its own maintenance configuration).
💵 You can get all features and functions listed for Free.
Key Features:
Colors, text, and background may all be changed to fit your requirements
To collect emails in an easy and efficient way, you can use the automated email collecting tool
For landing pages, there are a variety of page layouts to choose from
Email subscription form (which outputs emails to a.csv file)
Contact form (for receiving emails from visitors to the site)
Search engine optimization features
Random Reviews:
I like this plugin

I'm very happy with this plugin. Does exactly what I need when I take the site down for maintenance.

Very useful and practical plugin.
FAQ on WordPress Plugins Coming Soon
Following are some frequently asked questions about the WordPress coming soon plugin that may be helpful to you.
Please write down any issues that have not been resolved in the comments, and we will resolve them as soon as possible.
Is it necessary to use WordPress plugins for coming soon?
You may choose to use a coming soon plugin when developing a website if you already own a domain, or if you already have a website that needs to be adjusted for some time without people being able to see it, you may use an under construction plugin. Additionally, you may wish to collect email addresses and notify users when the website is complete.
A WordPress website can temporarily be disabled, is that possible?
If you wish to do this, you can install one or more of the Coming Soon WordPress plugins and activate them. Following that, all you have to do is create a page on your website using an intuitive builder and post it. This will signal to your clients or readers that you will be back soon.
Where can I find instructions for putting my WordPress website in maintenance mode?
The only thing you need to do is activate any WordPress plugin that allows you to manage coming soon pages in your website's admin panel, and you can provide visitors with a professional-looking landing page. This will take you no more than one hour.
Overview
It was the list of best WordPress plugins for the Coming Soon. make your website advanced by using these plugins.
We desire this article was handy. We recommend that you read our article on the best WordPress blogging themes.
Any questions? Just ask. Please share this post on Twitter and Facebook if you enjoyed it.