Are you tired of searching for the best WordPress plugin for Banner? Have you had trouble deciding the most usable WordPress Banner plugin?
Do you need a quick answer? Our recommendation is to use the Better Ads Manager plugin, which offers a number of advanced features that none of the other plugins listed offer.
This article will compare some of the best Banner plugins for WordPress with comprehensive information and screenshots. The following list of WordPress plugins will help you find something that precisely suits your preconditions.
These topics are all meant to be used for Ad Banner. Nonetheless, these plugins also can be used for Announcement Banner, Banner Widget, Banner Slider, Notification Bar, and Image Banner.
Meanwhile, if you wish to earn more revenue from your blog, we recommend that you use the Google Adsense optimized theme.
Let's check the rounded up list of the best Banner WordPress plugins in 2022:
Ad Manager & AdSense Banner Ads for WordPress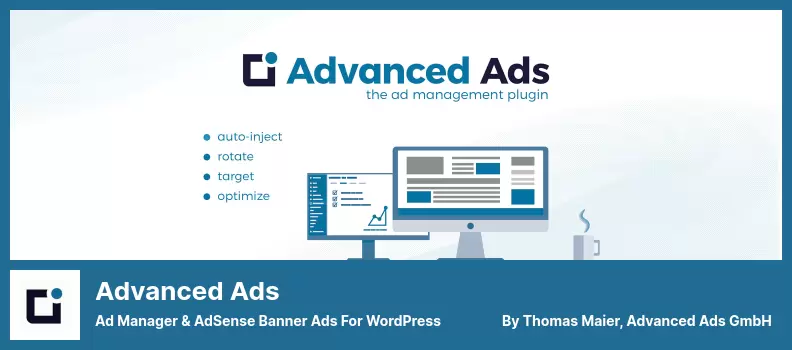 Advanced Ads plugin, as a Google Partner, offers a robust range of plugin features that enable you to test, optimize, and add to your campaigns without any difficulty.
As an advertisement management plugin, it is an excellent solution if you want a product that works with all ad types and networks, such as Google AdSense, Google Ad Manager (DFP), Amazon ads, and Media.net.
In the support forums for this plugin, the developer has been very active for quite some time. A free version of the plugin is available, as well as additional premium features. In addition to rotation ads, ad injections, and Ad widgets, the plugin supports all types of ads.
Furthermore, you can decide when to display advertisements. If you wish, you can display advertisements only in certain categories, tags, pages, and posts. In addition, this plugin has widgets and support for the WordPress page builders.
You may also enable/disable ads for particular user roles and devices, which is a very useful feature.
---
💵 It costs $49 for the Premium version of this plugin. You can also download the Free version.
Key Features:
Ads like popups, sticky ads, etc… can also be purchased as premium add-ons
Copy the ad code from any advertising network or affiliate
Create duplicate ads, schedule them, and decide when they expire
Display and manage unlimited ads
Random Reviews:
5* for a configuration options and 10* (if was possible :D) for a very quick free support reply

I just installed this and will probably purchase add-ons once I have tested this for a while. I have a large site so this really helps with ad management. I tried a different plugin but found this one much easier to get started and it appears to work well. Thank you!

merci pour cet outil tres pratique
Ad Banner Manager & AdSense Ads Banner Widget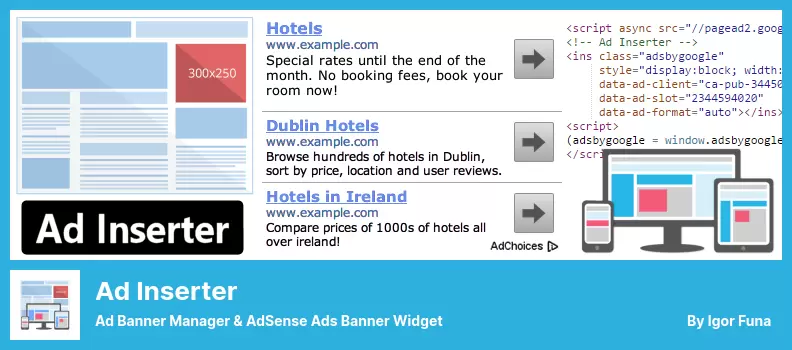 Ad Inserter integrates advanced advertising features that make it the perfect solution for those who wish to create professional-looking ads and promotional banners on their magazine and blogging sites.
It is unlike other plugins in that it includes multiple ad networks, including Google AdSense, Google Ad Manager, Amazon Native Shopping Ads, Media.net, and Infolinks, as well as rotating banner ads.
You can insert ad codes or HTML/Javascript/PHP code into your website through this WordPress plugin. All types of advertisements can be used with this plugin, including Adsense and Affiliate marketing Ads.
When it comes to analyzing the insertion of code, Ad Inserter Pro stands out. There are several features in the program that can assist you in finding out why the code was not inserted. There is an option to insert either HTML tags or ad code blocks (ads) for easy configuration on each of the pages.
---
💵 The Lite version is free to download, and the Premium version charges $20.
Key Features:
An interactive CSS editor for previewing code
Easily preview code with a visual editor
Manual insertion: widgets, shortcodes, PHP functions
Editor with syntax highlighting
Adding custom labels to advertisements
Keeping insertions away from images and headers
Float left, float right, with custom CSS, no wrapping
Random Reviews:
gayet güzel This topic was modified 23 hours, 58 minutes ago by

Very easy to use and provides lots of options!

Good plugin help increase CTR adsense
WordPress Simple Ad Banner Widget
It is a user-friendly WordPress Banner Ad Plugin that lets you show a stunning banner or bar at the top of your site. In a few simple steps, you can add a banner to your WordPress site with this plugin.
The Simple Banner plugin is an easy-to-use, simple-to-install, and easy-to-customize widget that allows users to take advantage of its full potential. When it comes to adding a discount or promotion banner to your website, it will provide you with all the tools you need.
The banner can also be set to expire automatically at set intervals so that it disappears as soon as it reaches the expiration date. By adding this plugin, you will be able to preview banners before applying them to your website.
It is possible to completely customize your banner design, including adding your own CSS.
---
💵 There are no charges associated with this plugin. You can download it for FREE.
Key Features:
Changing font size, color, text, and link
Customizable banner backgrounds
Simple Banner can easily be hidden with one click
Typography adaptation features
With an auto-expire close button for GDPR compliance
Random Reviews:
I thought I was going to have to switch WordPress themes to get the banner I wanted at the top of my site, but this simple and easy-to-use plugin gave me exactly what I was looking for. I had my banner, customized to fit my site's colors and theme, within minutes.

The banners created are embedded within the html of the page, so if you enter your html correctly they will be tab-navigable and placed nicely in the content flow. Very easy to use, instructions were clear, did what my client needed with no extra bells & whistles.

Easy to install and customize. Does exactly what I want it to do. Thank you
WooCommerce Banner and Carousel Slider for Category, Page
Using Dorstore Banners, you can display banners and banner sliders within WooCommerce. A banner may be placed on the shop page, a user page, a thank you page, and a cart page.
Personalized banner ads can be displayed on product pages, checkout pages, shopping cart pages, thank-you pages, etc. of your online store.
Additionally, the pro version of this extension provides scheduling functionality, which allows you to set the dates on which your banner advertising campaign will begin and end.
---
💵 The Premium version charges $99, while the Lite version is free.
Key Features:
Display a banner on the cart page
You can provide a banner URL/LINK for a specific banner
Add a banner to the thank you page
Display a banner on the check-out page
Add a banner to the product page
Add a banner to the category archive page
Banners can be enabled and disabled for individual pages, categories, or products
Supports the most recent WooCommerce version
Display a banner on the shop page
Supports all WooCommerce themes
Random Reviews:
Muy buen plugin

It is so useful plugin.

Hello Excellent Very good Thanks
Simple Ads Widget for WordPress
When you want to create an unlimited number of banner advertisements within the widget area of your site, Meks Easy Ads is the right plugin to use.
Using this tool, you can choose from a range of standard classified banner sizes or specify a customized size based on your design and campaign objectives.
Moreover, you can randomly select advertising orders, which can be very useful when testing different versions of an advertisement.
Furthermore, you are able to restrict the types of ads that people may see.
---
💵 You can download and install it for FREE.
Key Features:
Order of ads can be randomized
Ads can be created in an unlimited number of widgets
A limit can be set on the number of ads to be displayed per page load
using predefined ad banner sizes or by defining your own
Script ads and image ads can be supported
using automatic rotating ads
Random Reviews:
Tried many different ad plugins until I found this one, super easy to configure and it works a treat … thank you.

it works fine, simple installation, fast support

The 125 X 125 feature just lined them up vertically in the sidebar, cutting off the top of the ad. I tried resizing still cropped off top. Then I tried the single larger ad feature which did not rotate it stayed fixed on the first ad and continued to blink as though it was rotating…but nothing.
Top Bar Notification Message On Your Site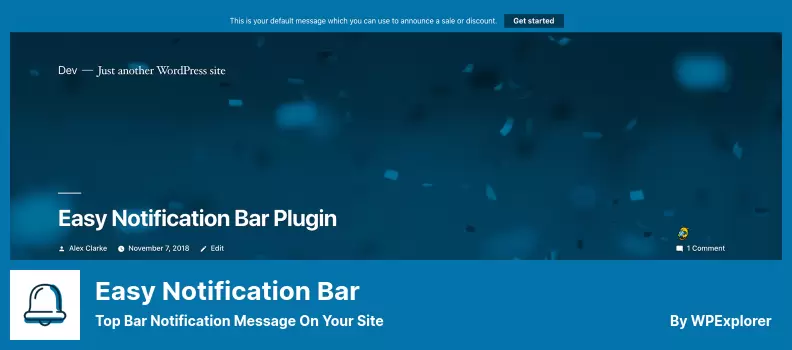 One of the best WordPress notification banner plugins on the list and super simple-to-use is Easy Notification Bar.
This plugin makes it simple to insert a banner into your website in order to meet your business goals. To make the ideal hovering bars for your business, you can add CTA buttons, alter the wording, tweak the colors, and so much more.
It now has a fixed option, which allows the bar to trailing the client as they scroll. You may also enhance UX by adding a closing button to your banners and ads.
The banners may be positioned across your website or on specified URLs. It features a dynamic design that looks fantastic on mobile devices, and it has minimum coding lines, so it won't slow down your site.
Easy Notification Bar is a basic WordPress banner plugin worth trying out if you're searching for something straightforward.
---
💵 The Easy Notification Bar is a Free plugin.
Key Features:
Background, color, text orientation, and font size may all be customized
The close icon is optional and also an amazing feature
Coding lines that are as light as possible
The close icon was created using Vanilla Javascript
The WordPress customizer makes it simple to set up
Persistent appearance is a nice choice
Top notification bar for the whole site or just the homepage
A callout button is available as an option
Random Reviews:
Title should say everything. Thanks or the good work!

Easy to use and customize. Kudos to the developer!

It works as advertised. Support is great!
Custom Notification And Alert Bar Plugin
WP Notification Bars is a basic yet very effective WordPress banner plugin. Simple to configure, it can be tweaked to your website, and it is completely free to use after you've signed up.
For those who are adept at debugging and fixing problems on their own, this may be a fantastic alternative for quickly creating a WordPress banner.
This is due to the fact that all help is provided via the community forums. However, as a trade-off, you get a compact plugin for free that displays a WordPress banner on your website.
You won't receive any complex capabilities with this product, but it's a smart choice if you're working with a limited financial budget.
---
💵 The price of the WP Notification Bars plugin is $0. It is Free!
Key Features:
Custom Code Can Be Added
Font Size Can Be Controlled
Create an infinite number of Notification Bars
May only be shown to Facebook users if needed
The position that is fixed or absolute
Prepared for Translation
Colors are almost limitless
super compact and light
Only Google visitors may see this if you want
Display on the HomePage, in Posts, and in Pages
Support is available 24 hours a day, seven days a week
Add a Call-to-Action Button
very simple to work with
Random Reviews:
Forced to buy the Pro version if you want to add it to the button, or even to avoid the bar to appear again and again. Lots of better alternatives, especially if you only need one simple bar, although the pro version does a good job.

Easy to setup and works like a charm; thank developers.

.
Finally, We would like to mention.
We have handpicked a set of advanced and functional best Ad Banner WordPress plugins. Keep in mind, these plugins will help you to improve your site.
We hope you enjoyed reading this article. In addition, we suggest that you review our expert-selected list of the best WordPress hosting providers.
If you have some other Ad Banner WordPress plugin in mind, even then – leave a comment. You will be helping expand the scope of this read.
Experienced readers are welcome to share their take on any of the plugins mentioned above if they have used them (or currently using them).