Are you a WordPress website owner looking for the best mobile plugins to enhance your site's user experience? Look no further! In this blog post, we will explore the top 8 WordPress mobile plugins for 2023, both free and pro options, to help you optimize your site for mobile devices.
Nowadays, having a mobile-friendly website is more important than ever. Did you know that mobile devices account for more than half of all website traffic globally? In fact, a study found that 61% of users are unlikely to revisit a mobile site they had trouble accessing.
With these statistics in mind, it's clear that ensuring your website is mobile-responsive is crucial for retaining visitors and driving conversions.
In this article, we will delve into the best WordPress mobile plugins available in 2023. Whether you're a beginner or an experienced WordPress user, we've got you covered.
We'll discuss both free and pro plugins, providing you with various options to suit your needs and budget. So, let's get started on transforming your website into a mobile-friendly powerhouse.
Best Mobile Plugins for WordPress
Looking to optimize your WordPress website for mobile users? Check out these top-rated mobile plugins for WordPress that will help you create a seamless mobile experience for your visitors.
The Best Mobile Friendly WordPress Plugin
WPtouch is a WordPress plugin that transforms your website into a mobile-friendly interface. It optimizes your existing theme to enhance the appearance and load times on mobile devices.
This popular plugin allows users to quickly switch any installed theme to a mobile-friendly version, making it easier to use on smartphones and tablets. An interesting feature of WPtouch is that it takes into account the Google Mobile Test to ensure your site passes the test.
Key Features:
Easy page and menu control and customization.
Mobile theme switcher provided.
Option to include or exclude specific pages from the mobile-friendly version.
Ability to customize the mobile browsing experience.
Wide selection of mobile-optimized themes.
No coding knowledge is required.

Recommended by Google.

Caching options available in the Pro version.
WordPress Plugin to Add Accelerated Mobile Pages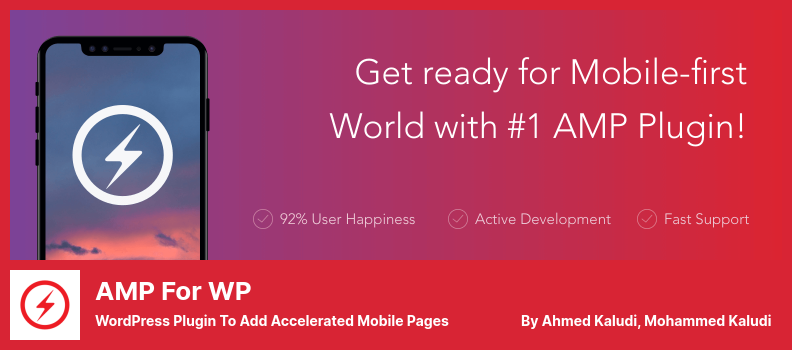 AMP for WP is a WordPress plugin that creates a mobile-friendly version of your website. With AMP, which stands for accelerated mobile pages, you can ensure that your site loads quickly and seamlessly on mobile devices. It's an open-source platform that offers a range of features to optimize your site for mobile.
The free version of AMP for WP comes with one design option, giving you a taste of what the plugin can do before considering the full version.
It's a great way to get familiar with AMP and its integration with WordPress. But if you're looking for more design options, the full version offers four ready-to-use designs that you can implement with minimal effort.
One of the key advantages of AMP for WP is that each feature is contained in a single file, which can be easily downloaded from the WordPress plugin repository. This makes it simple to add features like advertisements and responsive mobile menus to your posts.
It also offers compatibility with popular plugins such as Gravity Forms, Contact Form 7, and Yoast SEO, ensuring seamless integration with your existing tools.
AMP for WP also caters to users who prefer visual page builders. The plugin supports popular builders like Divi and Elementor page builder, allowing you to create stunning web pages with a drag-and-drop interface. It even includes Gutenberg's block editing capabilities for seamless content creation.
The plugin also offers additional features like Facebook comments support, Google Analytics tracking, and integration with SEO plugins. This ensures that you have all the necessary tools to optimize your website for mobile and track its performance.
Key Features:
Facebook comments support
Compatible with Gravity Forms, Contact Form 7, and Yoast SEO
Support for Divi and Elementor page builders
Drag-and-drop page builder included
Gutenberg's block editing capabilities
Accelerated mobile pages for WooCommerce
Integration with SEO plugins.
A Mobile Responsivee WordPress Plugin
Elementor Website Builder is a game-changer for WordPress website owners. As the first open-source and free page builder, it has gained immense popularity among website builders. What sets Elementor apart is its ability to offer beautiful page designs and unique functions that were never available before.
One of its standout features is the ability to see how the front end of your website looks as you edit the contents on the back end. No more guessing or constant previewing – you have full control over your website's appearance.
With Elementor, creating a stunning website becomes a breeze. The builder provides you with hundreds of professionally-designed templates that you can easily import into your website. There's no need to start from scratch or hire a professional designer – Elementor has got you covered.
But that's not all. Elementor also offers a wide range of features and options to enhance your website-building experience. It allows you to connect your favorite apps seamlessly, thanks to its easy integration feature.
Whether you want to use Gutenberg or not, Elementor gives you the power to choose. It also provides many elements and widgets to customize your website just the way you want it.
The best part? You don't need any coding knowledge to use Elementor. It's designed for everyone, from beginners to experts. The builder empowers you to build your own layout, giving you complete freedom and control over your website's design.
Another standout feature of Elementor is its brilliant Canvas mode. This feature is perfect for creating attractive landing pages with high conversion rates. It allows you to focus on the content and design without any distractions.
Additionally, Elementor offers a maintenance mode, which allows you to take your website offline temporarily while you make updates or changes behind the scenes. It's a handy feature that ensures your website stays professional and functional even during maintenance periods.
Key Features:
Seamless app integration
Option to use or not use Gutenberg
Easy-to-use elements and widgets
No coding knowledge required
Customize your own layout
Restrictive license options
Brilliant Canvas mode for landing pages
Extensive collection of free templates.
Mobile Plugin for Progressive Web Apps & Hybrid Mobile Apps
WordPress Mobile Pack is a plugin that allows you to create progressive web apps, which are fast and reliable. It's easy to build mobile websites using this plugin, and the multiple features make it even easier. You can even customize logos, fonts, and colors to make your mobile website unique.
One of the great things about WordPress Mobile Pack is that it offers unlimited push notifications to keep your users informed.
Users can also add your mobile website to their phone's home screen for easy access. On top of that, the plugin integrates with Google Analytics, allowing you to track and analyze your mobile website's performance.
This plugin is compatible with both Apple iOS and Android devices, so you don't have to worry about compatibility issues.
It also provides various monetization options, allowing you to make money from your mobile website. And if you're not sure where to start, WordPress Mobile Pack provides you with a default theme and six cover pages to choose from.
The best part is that the primary features are free with the core plugin. However, if you're looking for more options, you can purchase individual mobile app themes or even bundles to save time and money.
Key Features:
Unlimited push notifications
Add your mobile website to phone's home screen
Integration with Google Analytics
Compatible with Apple iOS and Android devices
Various monetization options
Default theme with six cover pages
Free primary features
Purchase individual mobile app themes and bundles.
The Mobile-Friendly Responsive Menu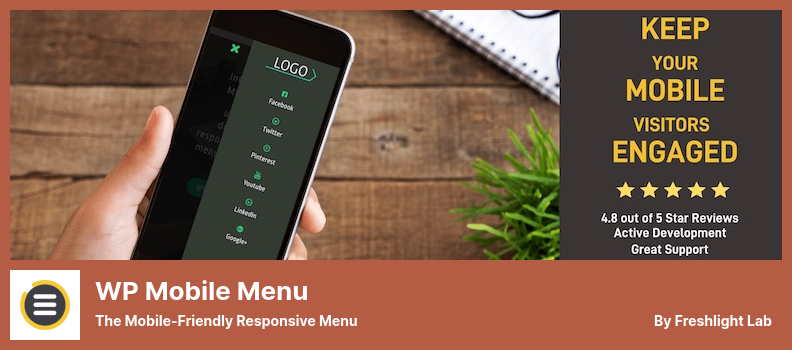 WP Mobile Menu is a WordPress plugin that allows you to easily add and customize mobile menus on your website. It is a great solution for anyone looking to enhance the visibility and functionality of their mobile menus.
With a premium version available, you have even more features at your fingertips, such as disabling mobile menus on specific pages, adding multiple menu levels, and creating animations.
One of the best things about this plugin is its ease of use. You don't need any coding knowledge or need to use third-party code to configure and use it.
Simply install the plugin, and you're ready to go. It seamlessly integrates with any responsive WordPress theme, ensuring a great user experience for your visitors.
The mobile menu offers a wide range of appealing functions. You have full control over fonts, background images, and naked headers. You can also utilize Google Fonts to personalize your menu even further.
What's great is that you can customize your mobile menu without making any changes to your mobile site's original design.
Key Features:
Menu cart icon & sliding cart: Easily add a cart icon and sliding cart to your mobile menu.
Multiple website compatibility: Use the mobile menu plugin across multiple websites without any hassle.
Naked header or image background: Choose between a clean, minimalistic header or a menu with a captivating image background.

Google Fonts & icons: Access a wide range of Google Fonts and thousands of icons to stylize your menu.

Menu branding: Add your logo to the menu for a branded look and feel.
Hide menu options: Hide the mobile menu in various ways, giving you full control over its visibility.
Configurable depth menu: Customize the depth levels of your menu to ensure a seamless user experience.
Number One WordPress Page Builder Plugin
Beaver Builder is a WordPress page builder addon plugin that allows you to easily create and customize landing pages. It is known for its simplicity and popularity among WordPress users.
With Beaver Builder, you can drag and drop content modules to quickly create your webpage. It offers a front-end visual editor, allowing you to see real-time changes as you make them. This plugin also provides mobile-friendly and responsive layouts, ensuring your website looks great on any device.
One of the standout features of Beaver Builder is its focus on performance and stability. While it may not have the extensive functionality of other page builder plugins, it delivers reliable results without sacrificing speed.
When using Beaver Builder, you have the option to keep your layouts even after uninstalling the plugin. This is a useful feature, as it allows you to switch between different page builders without losing your hard work.
Another advantage of Beaver Builder is its compatibility with widgets and WooCommerce. You can easily integrate these elements into your webpage, enhancing its functionality.
Customization is made easy with Beaver Builder's toolbar. Each module can be customized to your liking, giving you full control over your webpage's design.
To help you get started, Beaver Builder offers over 30 professionally-designed templates. These templates serve as a great starting point for your website, saving you time and effort.
Beaver Builder is also Gutenberg-ready, meaning it seamlessly integrates with the new WordPress block editor. You can easily incorporate Beaver Builder's drag-and-drop feature into your Gutenberg-powered website.
With plenty of powerful, ready-to-use content modules, Beaver Builder empowers you to create a website that stands out from the competition. It provides a wide range of options to customize your webpage and meet your specific needs.
Key Features:
Live and front-end editing
Retain layouts after uninstallation
Integration with widgets & WooCommerce
Direct layout editing via HTML and CSS
Customizable modules with an easy-to-use toolbar
Access to over 30 professionally-designed templates
Gutenberg-ready integration
Drag-and-drop functionality
Powerful ready-to-use content modules
Editor Mode for enhanced control.
The Live WordPress Theme Editor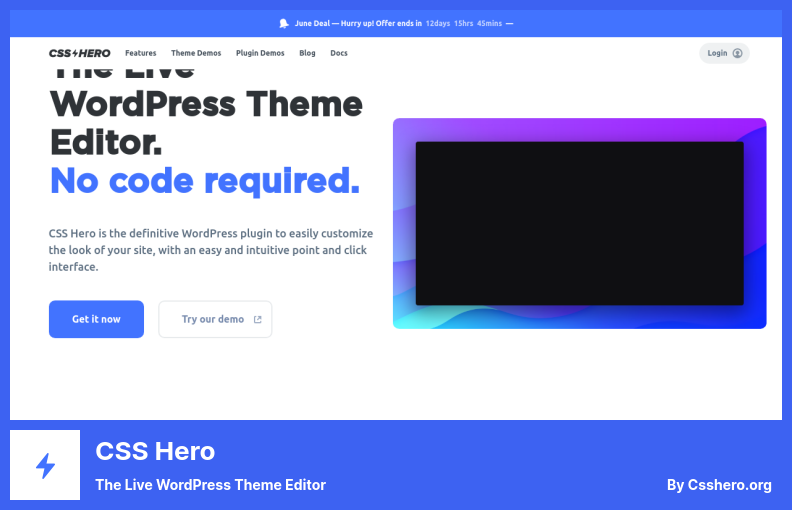 CSS Hero is a paid, live CSS editor specifically designed for WordPress websites. It allows users to easily customize their website's appearance without the need for coding changes.
One of its standout features is the intuitive dashboard, which offers various tools, including CSS Classes, allowing users to create stylesheets without any knowledge of CSS coding.
With CSS Hero, you can conveniently preview the changes you make on your mobile device before publishing them to your website. This ensures that the website looks and functions flawlessly on mobile devices, providing users with a seamless experience.
It's like having a real-time preview of your website on your phone, making it easier to see and adjust the changes you're making.
An impressive feature of CSS Hero is the ability to transfer your WordPress settings to another WordPress site, whether it's your own or a client's. This makes it incredibly convenient for developers and website owners who frequently work on multiple projects or need to replicate their existing settings onto a new site.
One of the key advantages of CSS Hero is that it allows beginners to upgrade their WordPress theme without the risk of causing any damage. With the undo and redo functionality, users can experiment with customizations and easily revert back to previous versions if needed.
This provides peace of mind and encourages users to explore their creativity without the fear of irreversible mistakes.
Key Features:
Color management function available, making it simple to customize the colors of your website elements.
Live editing features provided, allowing you to see the changes you make in real-time.
An inbuilt color picker is provided to users, making it easy to select and apply colors to your website.
CSS Hero inspector & complex CSS styles are available for advanced customization options.
All codes are automatically organized in a separate file, making it cleaner and easier to manage.
Comes with a great font & typography kit, allowing you to choose from a wide range of fonts and styles.
Offers lots of customization options, giving you the freedom to personalize your website to your liking.
Background images can be easily added and customized to enhance the visual appeal of your website.
CSS Hero has a light footprint, meaning it won't slow down your website's performance.
A Lightweight Plugin That Lets You Write Different CSS Code
Advanced CSS Editor is a WordPress plugin that offers a user-friendly interface for editing CSS code. With this plugin, you can easily customize your website's appearance and make it stand out. Unlike other CSS editing plugins, Advanced CSS Editor allows you to edit CSS code directly from its live editing interface.
One of the key features of this plugin is its ability to edit CSS code for individual elements as well as the entire theme's code.
This means that you have full control over the design and layout of your website. Whether you want to change the font style, adjust the colors, or add custom animations, Advanced CSS Editor makes it easy to do so.
Another advantage of using Advanced CSS Editor is its compatibility with other popular plugins. You don't have to worry about any conflicts or issues when using this plugin alongside other plugins on your WordPress website. It seamlessly integrates with your existing plugins, allowing you to enhance your website's functionality without any hassle.
In addition, Advanced CSS Editor is compatible with all modern browsers. This ensures that your CSS changes will be displayed correctly across different browsers, ensuring a consistent user experience for your visitors.
One of the standout features of this plugin is its ability to customize CSS for different devices and screen sizes. Whether your visitors are using iPhones, Android phones, or tablets, you can tailor the CSS code to suit their specific needs.
This allows for a responsive design that adapts to different devices, ensuring your website looks great on any screen.
Key Features:
Supports SEO ranking by allowing you to create CSS that is optimized for search engines.
Provides a real-time preview so you can see the changes you make instantly.
Compatible with other popular plugins, ensuring seamless integration.
Compatible with all modern browsers, ensuring consistent display across different platforms.
Doesn't slow down your website's speed, keeping it fast and responsive.
Provides a live preview, allowing you to see the changes as you make them.
Allows you to use the visual editor to easily edit your CSS style.
Enables you to write different CSS codes for each device, ensuring a responsive design.
Helps you code more efficiently, saving you time and effort.
Frequently Asked Questions
Do these WordPress mobile plugins require coding skills to use?
No, you don't need coding skills to use these WordPress mobile plugins. They are designed to be user-friendly and can be easily installed and configured using their respective settings. You can customize the appearance and functionality of your mobile site without any coding knowledge, making it accessible for all WordPress users.
Can these WordPress mobile plugins improve website speed?
Yes, many of these WordPress mobile plugins can help improve website speed. Plugins like WP Super Cache and AMP for WP – Accelerated Mobile Pages optimize your site's performance, reducing page load times and ensuring a faster mobile browsing experience.

It's important to choose plugins that prioritize speed and efficiency to enhance your website's overall performance on mobile devices.
What features should I look for in WordPress mobile plugins?
When choosing WordPress mobile plugins, look for features such as responsive design, mobile-specific themes or templates, easy customization options, touch-friendly navigation, mobile caching for faster load times, image optimization for mobile screens, support for AMP (Accelerated Mobile Pages), and compatibility with popular mobile browsers. It's also beneficial to consider plugins that offer analytics and reporting to track mobile performance and user engagement.
Conclusion
In conclusion, we've covered the 8 best WordPress mobile plugins for 2023, both free and pro options. We discussed the benefits of using mobile plugins to optimize your website for mobile users and highlighted the features of each recommended plugin.
Whether you're looking for responsive design, mobile menu customization, or mobile-specific features like push notifications, there's a plugin on this list that will suit your needs.
For more in-depth tutorials and guides on WordPress and website optimization, be sure to check out the BetterStudio blog. We regularly publish informative articles that will help you make the most out of your WordPress website and ensure a seamless mobile experience for your visitors.
To stay updated with the latest tutorials and tips, consider following BetterStudio on Facebook and Twitter. We share valuable insights, news, and updates on our social media platforms, so you can stay ahead of the game and implement the latest strategies for your WordPress website.
Thank you for taking the time to read this article. We hope you found it helpful in selecting the right mobile plugin for your WordPress site.
If you have any questions or encounter any issues while implementing these plugins, feel free to leave a comment below. Our team and fellow readers will be more than happy to assist you. Happy mobile optimization!