Have you ever wondered how to enhance the functionality and design of your WordPress website? Are you searching for an easy and effective way to add custom elements and features without the need for coding?
Well, look no further because, in this blog post, we will introduce you to the 7 best WordPress shortcode plugins for 2023, both free and pro.
When it comes to WordPress websites, shortcodes are game-changers. They allow you to quickly and effortlessly add complex functionalities, design elements, and dynamic content with just a simple line of code.
With the right shortcode plugin, you can easily create stunning galleries, interactive forms, sliders, pricing tables, and much more, all without any technical knowledge.
Now, let's dive into this article where we will explore the top shortcode plugins that will take your WordPress website to the next level.
We'll provide you with valuable insights, comparisons, and recommendations, so you can make an informed decision and choose the perfect plugin for your specific needs. So, let's get started and unleash the hidden potential of your WordPress website!
Best Shortcode Plugins for WordPress
In this section of the article, we're going to explore the best shortcode plugins available for WordPress. These plugins can greatly enhance the functionality and design of your website, allowing you to easily add various elements and features with just a few simple lines of code.
So, if you're looking to step up your WordPress game and make your website stand out, be sure to check out the following products in this article!
The Best WordPress Shortcodes Plugin
Shortcodes Ultimate is a free WordPress plugin that offers users an extensive collection of over 50 shortcodes. These shortcodes serve as building blocks for creating accordions, columns, carousels, sliders, and tables.
With easily identifiable names, these shortcodes make it simple to enhance the appearance of your content. However, be mindful that customizing the shortcodes may result in modified HTML.
One standout feature of Shortcodes Ultimate is its shortcode editor, which provides a wide range of powerful options for every type of shortcode you could desire. The editor is designed in an intuitive and user-friendly manner, making it effortless to utilize.
Another notable feature is the ability to highlight identical posts and pages within different categories. This feature comes in handy when you want to draw attention to specific content or organize your website more efficiently.
Shortcodes Ultimate also allows you to add customized content to your posts and pages with ease. The plugin's shortcode builder enables you to create shortcodes for various types of content, including boxes, data, media galleries, and more.
Key Features:
. Integrated with Gutenberg editor for seamless compatibility.
Easy customization of the shortcodes to match your website's design.
Multilingual and translation ready, ensuring your content can reach a wider audience.

Provides additional shortcodes beyond the standard WordPress offerings.

Offers additional skins to apply to the plugin's shortcodes for a more personalized look.
Includes a custom CSS editor for advanced customization options.
Access to custom widgets to enhance your website's functionality.
One-click insertion option to swiftly add shortcodes to your content.
Offers over 50 professional-looking shortcodes to elevate the visual appeal of your website.
Allows the creation of custom shortcodes for unique content needs.
Presenting The #1 WordPress Shortcode Plugin
WP Shortcode is a powerful WordPress plugin that allows you to enhance your website by adding interactive buttons, column layouts, and other exciting features.
This plugin is perfect for any website, thanks to its minimalistic design that ensures a sleek and professional look, even if you don't have any coding experience.
With WP Shortcode, you have a range of options at your fingertips. It offers a limited number of features and settings, which is great if you prefer a straightforward and easy-to-use plugin.
However, it also provides 24 different functionalities, giving you the flexibility to add extra features without making things overly complicated.
One of the standout features of this plugin is the ability to add basic parameters to your shortcodes. This means you can easily customize your shortcodes to match your specific requirements. Whether you want to integrate Google Maps, alerts, tabs, accordions, or more, this plugin has got you covered.
In terms of user experience, WP Shortcode offers free support, ensuring that you have assistance whenever you need it.
It also comes with a one-click insertion option, making it incredibly convenient to add shortcodes to your website. Plus, with its responsive design, you can trust that your shortcodes will look great on any device.
Customization is made easy with WP Shortcode. It includes custom CSS options, allowing you to tailor the appearance of your shortcodes to match your website's overall design. Additionally, the live shortcode preview function lets you see exactly how your shortcodes will look before publishing them.
One of the highlights of this plugin is its lightweight and quick loading nature. It won't bog down your website, ensuring fast load times and an optimal user experience. Plus, you don't need any coding knowledge to work with WP Shortcode, making it accessible to beginners and experienced users alike.
Key Features:
Lightweight and quick loading for optimal performance.
No coding knowledge required to use the plugin.
Free support for users.
24+ pre-built shortcodes to choose from.
One-click insertion option for easy integration.
Minimalist customization options for each shortcode.
Fully responsive design for a seamless experience across devices.
Custom CSS functionality included for advanced customization.
Live shortcode preview function for easy visual editing.
Create Shortcodes for Anything
Shortcoder is a fantastic WordPress plugin that allows you to create custom shortcodes with ease. With this plugin, you can place the shortcode anywhere on your website and give it any name you want. It gives you complete control over how and where your content is displayed.
One of the key features of Shortcoder is its ability to limit the range of shortcodes to selected devices. This means you can choose to have certain shortcodes appear only on mobile devices or desktops, depending on your preferences. It's a great way to customize the user experience for different devices.
Another great feature of Shortcoder is its ability to disable shortcodes throughout your website. If you no longer want a certain shortcode to appear, you can simply disable it with a few clicks. This flexibility allows you to easily manage and organize your shortcodes.
Shortcoder also offers support for Gutenberg, the new block editor in WordPress. This means you can easily create and insert shortcodes using the block editor, giving you more options for customization and design.
With Shortcoder, you can easily embed advertisements, videos, and other content in widgets and other areas of your website. You're no longer limited to using embed codes, as you can simply create a shortcode for the content you want to display.
One of the standout features of Shortcoder is its ability to create custom parameters for your shortcodes. This means you can easily add customizable options to your shortcodes, giving you even more control over how your content is displayed.
Shortcoder also supports HTML, JavaScript, and CSS, making it a versatile and powerful tool for developers. Whether you're an expert developer or just starting out, Shortcoder provides a user-friendly interface that makes it easy to create and manage shortcodes.
If you find yourself needing to insert the same content in multiple places on your website, Shortcoder is especially handy. It allows you to create a shortcode for the content and then easily insert it wherever you need it. It's a time-saving feature that streamlines your workflow.
Another useful feature of Shortcoder is the ability to globally disable shortcodes when you don't need them. This can be helpful if you have seasonal or temporary content that you want to disable without removing it completely.
Lastly, Shortcoder allows you to insert WordPress parameters into your shortcodes. This means you can dynamically include information from your WordPress site, such as post titles or author names, within your shortcodes. It's a powerful feature that adds flexibility and customization to your content.
Key Features:
Ideal option for expert developers.
Global shortcode disabling for temporary or seasonal content.
Custom parameters for customizable shortcodes.
Easy integration of any type of HTML.
Multiple editors available for ease of use.
Gutenberg integration for seamless shortcode creation.
Ability to create custom shortcodes.
Handy for inserting the same content in multiple places.
Supports HTML, JavaScript, and CSS for versatile functionality.
Integration of WordPress parameters within shortcodes.
Expand the Possibilities of Your WooCommerce Store
Woo Shortcodes Kit is a shortcode library designed specifically for the WooCommerce plugin. Its main purpose is to enhance the shopping experience on your WooCommerce checkout, account, and thank-you pages. With dozens of shortcodes at your disposal, you can easily customize and improve these pages for your customers.
The latest version of Woo Shortcodes Kit comes with even more features and improvements. It offers enhanced security and safety measures, ensuring that your customer's data is protected.
It also complies with new data protection regulations and uses an SSL-encrypted connection, giving you peace of mind.
One of the standout features of Woo Shortcodes Kit is its content restriction and user alert capabilities. You can easily control who can access certain content on your website and send alerts to users based on their actions or order history. This helps you personalize the user experience and provide relevant information to your customers.
Woo Shortcodes Kit is a comprehensive solution for all your WooCommerce needs. It integrates seamlessly with the WooCommerce WordPress interface, making it user-friendly and easy to navigate. With its wide range of features and shortcodes, you'll have everything you need to create a successful eCommerce website.
Key Features:
Compliance with GDPR laws for data protection.
Pre-made page templates for quick and convenient customization.
Customizable messages based on the number of orders.
Integration of useful WooCommerce functions.
All-in-one solution for your eCommerce needs.
Translation ready for multiple language support.
Access to a large library of tutorials for easy implementation.
Advanced user data for better marketing strategies.
Over 60 shortcodes and features for enhanced website functionality.
Seamless integration with the WooCommerce WordPress interface.
Adds Shortcodes to Easily Create Columns
Column Shortcodes is a WordPress plugin that allows you to easily divide the content area into multiple columns without having to manually specify their sizes. This plugin is particularly useful for magazine-style templates where visually appealing presentations are important.
One of the great things about Column Shortcodes is that it works with most WordPress themes and can be customized with custom CSS or theme styles. This means you can tailor the columns to suit your specific design needs.
With Column Shortcodes, you have the flexibility to choose from ten different column widths, giving you the ability to create columns that best fit your content.
You also have the option to configure padding, ensuring that your content has enough breathing space and looks visually balanced.
Another advantage of using Column Shortcodes is that you can create up to six columns and even combine columns of different widths. This gives you even more options for organizing and presenting your content.
Key Features:
Admin can configure the padding for content.
Add preset shortcodes to specify your column size.
Multiple column shortcodes are available.
Works smoothly with most WordPress themes.
Able to create up to 6 columns.
Offers a choice of 10 different column widths.
Shortcodes can be used multiple times on the same page.
Can combine columns of different widths for added flexibility.
Shortcode Builder WordPress Plugin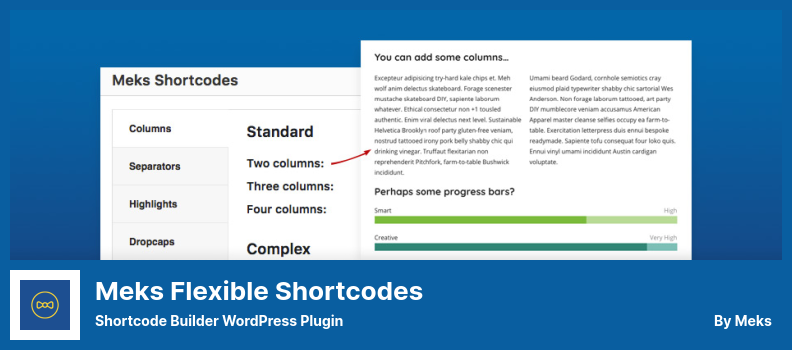 Meks Flexible Shortcodes is a handy WordPress plugin that allows you to effortlessly add elements to your posts and pages. With this plugin, you can incorporate customizable shortcodes into your website, giving it a unique and aesthetically pleasing look.
This plugin offers 12 different shortcodes that you can easily add to your web pages. These include columns, buttons, icons, social icons, highlights, drop caps, and separators. Whether you're looking to create a professional website or add a touch of creativity, these shortcodes have got you covered.
One of the standout features of Meks Flexible Shortcodes is its user-friendly interface. The shortcode generator panel makes it incredibly simple to insert these elements into your website, regardless of the language you're using. You don't need to be a tech expert to make your website visually appealing and engaging.
Not only does this plugin offer a wide range of styling options for each shortcode, but it also allows you to customize them to match your website's theme and design. Whether you have a yellow, white mode, or green theme, these shortcodes can seamlessly blend in with your existing color palette.
Key Features:
Adds progress bars, icons, toggles, and more to your website, allowing you to enhance the user experience.
Smart styling options are available, giving you the flexibility to customize the appearance of each shortcode.
Easily incorporate various types of page elements using shortcodes, such as columns and buttons, adding depth and visual interest to your content.
Provides a completely user-friendly interface, making it easy for anyone to use and navigate.
Offers 12 shortcode elements to users, allowing for endless creative possibilities.
Able to split your content into columns, giving your website a sleek and organized appearance.
Add a colored background to specific parts of your text, drawing attention to important information.
Highlight texts to make them stand out and grab the reader's attention.
Point out important parts of your page content, ensuring that no key details go unnoticed.
Plugin for Creating & Embedding Shortcodes in WordPress
Smart Market Shortcodes is a powerful WordPress plugin that allows you to easily insert products into articles and create one-page websites. With just a click of a button in the TinyMCE editor, you can access a dialog box that lets you create and insert customized shortcodes directly into your content.
One of the standout features of this plugin is the ability to embed gadgets and author information from various Envato marketplaces into your WordPress website using specially designed shortcodes. This opens up a whole new world of possibilities for showcasing products and earning affiliate commissions.
In addition, Smart Market Shortcodes offer the option to log errors caused by problems with Envato API requests, ensuring seamless integration with the platform.
You can also sort marketplace items based on criteria such as random, new, old, and last updated, giving you full control over how your products are displayed.
With 12-item rendering methods and the ability to search for items using marketplace, categories, and search queries, the plugin offers flexibility and customization options to suit your needs. It even comes with three predefined styles, making it easy to match the look and feel of your website.
One of the unique features of this plugin is the tooltip hover function, which allows you to display an Envato-like item preview when users hover over a specific item. This interactive element adds an extra layer of engagement and enhances the user experience.
Key Features:
Control cache data and timeouts for optimal performance.
Log errors caused by Envato API requests.
Embed gadgets and author information from various marketplaces.
Sort marketplace items based on random, new, old, and last updated.
Choose from 12-item rendering methods.
Search for items using marketplace, categories, and search queries.
Three predefined styles included.
Use tooltip hover to show Envato-like item preview.
Display items using different methods.
Supports Envato's new API and personal tokens.
Frequently Asked Questions
What are WordPress shortcode plugins?
WordPress shortcode plugins are tools that allow users to easily add custom functionality and design elements to their WordPress websites without the need for coding. Shortcodes are simple codes wrapped in square brackets that can be placed in the content area of a WordPress page or post to trigger a specific action or display specific content.
Why should I use WordPress shortcode plugins?
WordPress shortcode plugins provide a convenient way to enhance the functionality and appearance of your website without the need for advanced technical skills. They allow you to easily add things like contact forms, sliders, buttons, testimonials, and more, saving you time and effort.

With shortcode plugins, you can create a professional-looking website that meets your specific needs and engages your audience.
What are the advantages of using premium WordPress shortcode plugins?
Premium WordPress shortcode plugins usually offer more advanced features, customization options, and dedicated support. They are often developed and maintained by professional developers, ensuring regular updates and compatibility with the latest WordPress versions.

Premium plugins also tend to have better documentation, tutorials, and user-friendly interfaces, making it easier for users to create unique and high-quality designs on their websites.
Conclusion
In conclusion, we've explored the top 7 WordPress shortcode plugins for 2023, both free and pro options. These plugins offer enhanced functionality and customization capabilities to make your WordPress website even more dynamic and efficient.
From creating beautiful galleries to easily formatting content, these plugins are sure to help you take your website to the next level.
If you're interested in discovering more useful tutorials and tips related to WordPress and website optimization, make sure to check out the BetterStudio blog. We regularly cover a wide range of topics to help you make the most out of your WordPress experience.
To stay updated with the latest tutorials and helpful resources, we encourage you to follow BetterStudio on Facebook and Twitter. By doing so, you'll never miss out on any valuable information that can enhance your website and boost your online presence.
Thank you for taking the time to read this article. If you have any questions or encounter any issues related to the content discussed, please don't hesitate to leave a comment below. We're here to assist you and address any concerns you may have. Happy plugin hunting and happy website building!