Are you looking for the best WordPress plugins for Pinterest sharing buttons? Are you having trouble selecting the best WordPress Pinterest share buttons plugin?
This WordPress plugins list was compiled by going through and testing the most well-known Pinterest share buttons WordPress plugins to help you discover the best WordPress plugin for the Pinterest share buttons. 
We cut the list to a small number of items so you could only use what is the best. This WordPress plugins list will help you to use it for your qualifications incredible and are working properly with WordPress themes.
The plugins we selected are the best option for Pinterest sharing buttons. However, you can also use the following plugins for Pinterest pin-it buttons for images.
For more general social media-related plugins you can check our best social media plugins for WordPress and also best social sharing button plugins.
Best Pinterest and Pin It Plugins for WordPress 🥇
In this article, we'll share our hand-selected WordPress plugins for Pinterest share buttons in 2022:
Automatic WordPress Posts for Pinterest

The Pinterest Automatic Pin plugin automatically pins your blog photos to your Pinterest account with minimal hassle.
A feature that makes this plugin interesting is that it can automatically detect your blog's photos when you publish blog posts. You can choose which pictures in the post to be shared on Pinterest.
All pinned photos are automatically linked to your posts and act as backlinks for your website.
As a result, they can both increase website traffic and ranking in search engines.
With this plugin, you will not limit the number of pinned photos, and you can pin as many pictures as you want to your Pinterest account.
This plugin is one of the best and most effective tools for a successful marketing strategy on Pinterest. It is helpful for both WordPress website owners and marketers. Also, they use this tool to have more effective and efficient marketing.
---
💵 The plugin charges $21 and offers 1 year of free support.
Key Features:
It will pin the entire post to your Pinterest account regardless of how many images are in it
It will automatically identify images in your posts and then determine which ones should be pinned
It will automatically detect the boards in your Pinterest account so that you can choose which boards to pin images to
It allows the pinning of unlimited images with no problems due to the queueing system in which images are queued and pinned
Random Reviews:
I like this plugin so much that I will buy it for other sites.

It simplifies a lot of our work and works as expected.

Hands down, this is the best plugin I have ever purchased for my website
Pin It Button On Image Hover And Post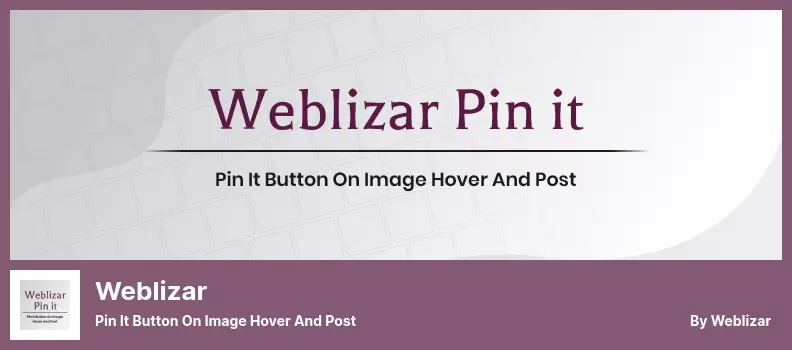 The Weblizar Pin it plugin is a quick and easy way to share your articles, pages, and images on Pinterest.
By installing the plugin on your website, a Pinterest share button called 'Pin It' will be activated in posts and blogs to share them on Pinterest.
You can use this button to share in various posts and pages, and you can even hide this button using the plugin settings.
With this plugin, you can view various statistics of pinned content on Pinterest. Including how many people liked your content or shared it with other people.
This plugin is fully responsive, which means that it displays well on different devices and will work without any problems.
The plugin is multilingual, and you can translate it to any language you need.
---
💵 It is FREE. There is no charge.
Key Features:
This plugin is fast and lightweight
Display your Pinterest gallery most efficiently to get more traffic by viewing all of the relevant outputs of your Pinterest profile
With beautiful templates, choose which stats you want to display on your user's Pinterest profile, including boards, pins, following, followers, likes, and follow button
The Pinterest Profile widget displays your Pinterest profile as it appears on Pinterest
Pinterest Pins – Share all your Pinterest pins on your website
It is multilingual and translation-ready to make sure that no user faces problems using it
Random Reviews:
Using the plugin is just as easy, but I would appreciate more options if the button also showed on my Instagram widget images instead of the text. I can hide it using CSS, but it would be much easier if the plugin came with more options.

-Thanks wbizar This topic was modified 3 months, 1 week ago by wbizar

Could you add alt text to the 'Pin It' button images please? I cannot find it in the settings. Otherwise, this plugin works fine.
Pinterest Share Buttons for WordPress

Suppose you are looking for the best content-sharing plugin on social networks. In that case, the Easy Social Share Buttons plugin is one of the best plugins on the market.
This plugin has unique options and features. It allows your users to interact more with your website and share your content directly from your website on social media channels.
This plugin supports all popular social networks such as Facebook, Twitter, Tumblr, Pinterest, etc.
With this plugin, you can share your published content on all these social networks.
A Pinterest share button called 'Pin It' will be added to your posts and pages by installing this plugin.
You can share your content with others on popular social networks, including Pinterest, by clicking on the button.
---
💵 $22 price gives You a plugin with 12 months of support.
Key Features:
Supports over 50 social networks
Over 55 widget template options
Easy URL shortening
Integration with WooCommerce
Pin it buttons that are optimized for mobile
Random Reviews:
The plugin seems to work well

You've done a good job!

My rating is 'other' because there was no option to select 'ALL OF THE ABOVE'. But I gave 5 stars since there was no option to pick a 10.
Pinterest Share Buttons for WordPress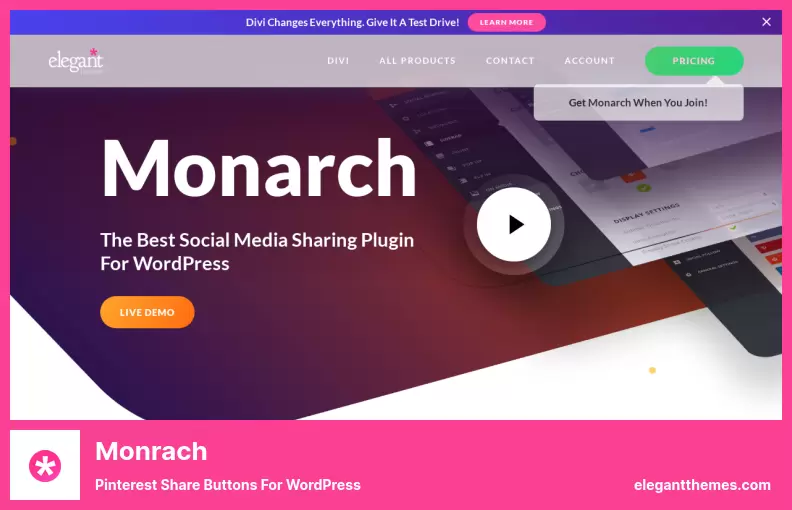 Monarch Plugin is a powerful plugin for sharing your website content on social networks. This plugin supports 20 social networking platforms, including Pinterest.
By installing the Monarch plugin, a button is added to the website content. It can be used to share website content on social networks.
You can specify the location of the button that is added to the website to share your content.
There are many important things about using the Monarch plugin to share post images on Pinterest. For example, the share button on
Pinterest will not be displayed until the user moves the mouse over the content photos.
This plugin has options for customization and allows you to choose the shape, color, and effect of the share button according to your need. Using shortcodes that the plugin provides you, you can determine the 'Share on Pinterest' button anywhere in the content.
---
💵 This Monrach plugin was written by a professional author. It costs @price.
Key Features:
You can choose from more than 20 social networks
Social sharing icons can be added to any page of your website using a floating sidebar, a very common, sophisticated, and effective method
Monarch allows you to place sharing buttons above or below content, in addition to both. This is perfect for blog posts and content-rich pages
When visitors reach the bottom of a post or page or leave a page, Monarch can display automatic sharing pop-ups
Automated fly-ins are another excellent tool for grabbing your readers' attention when they are most engaged, similar to triggered pop-ups
6 Automatic Pop-Ups & Fly-Ins
WordPress Social Sharing Plugin
WordPress Pinterest plugin Social Warfare is a popular plugin for sharing content on social networks. This plugin is free, and you can use it freely.
The Social Warfare plugin supports popular social networks, including Pinterest. You can determine the location of the shared button using the shortcodes provided by the plugin.
Of course, you will also select a fixed location for the share button, and users can click on it to share content on social networks.
Using Social Warfare to share photos on Pinterest will increase the website users' engagement with the content. It helps you to improve the website's position.
There is a point about Social Warfare, and it is a free version of the plugin that lacks customization. If you want more customization or features, you should get the premium version of the plugin.
---
💵 No matter what your needs are, the Social Warfare is sure to meet them.
Key Features:
Floating share buttons follow your readers down the screen when static (non-floating) buttons are not visible
Show the number of share attempts – even the number of tweets
The most accurate share counts can be displayed by using API endpoints from social networks
The most popular posts can even be displayed based on the social network on which they were popular!
A practical and simple way to build tweetable quotes right inside your posts and pages has demonstrated a significant increase in the number of tweets per article
Random Reviews:
I'm pretty pleased with the plugin. It's lightweight and has all the features that I need. I'm having some trouble with the share recovery (I changed both the domain and permalink), but all in all, I got what I wanted.

I have both versions of this plugin, but the share counter doesn't work, and your developers are unable to fix the issue.

i have tried other social sharing buttons, but this is the best. Easy to use!
Social Sharing Buttons for WordPress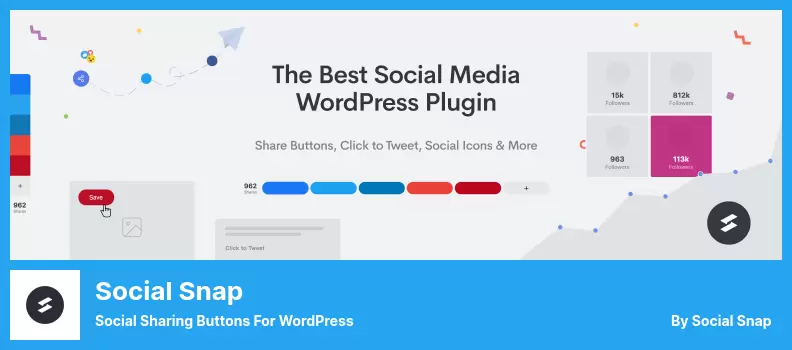 Social Snap is one of the top plugins for sharing WordPress website content on the market.
This plugin will help you increase your website's traffic and conversion rate and have a more visited website.
Social Snap supports many social networks such as Facebook, Twitter, Linked In, Pinterest, etc. . You can use it to share content on these social networks.
Installing and activating the Social Snap plugin is easy. This plugin will be installed and activated on your website with just a few clicks.
The plugin has a user-friendly interface. All users can easily use the plugin to share content on social networks.
Like other paid plugins, Social Snap has customization options. You can pick the size, colors, and design that you prefer, and you can change it anytime you want.
---
💵 Version Lite is free, Version Pro is $.
Key Features:
Adding social sharing to your posts and pages can increase traffic & engagement
Adding a social follower counter to your social links can increase engagement
Automatically post new content to Facebook, Twitter, and LinkedIn
Boost your website's traffic by analyzing your audience's behavior and how they engage with your content
You can automatically share your old posts on social networks to boost their visibility
Use social login to connect your website to your visitors' favorite social networks
You can control how your posts appear on social networks, improving SEO and engagement using social meta tags!
Use click-to-Tweet boxes to influence users to share your quotes on social media
Random Reviews:
This plugin works seamlessly on all our websites and the support team has been super responsive when we have needed them Special thanks to Branco for all his assistance!

We can't ignore the irritating notice asking for a rating. Get one.

The plugin I purchased one year ago was refunded after I made a refund request for it This topic was modified 1 day, 11 hours ago by
Now, Let's Wrap Up
Here we reviewed and revised the best Pinterest share button plugins for WordPress. Anyone can integrate Pinterest into their sites using these plugins.
So, that's it from our side. I hope the list of Pinterest share buttons WordPress plugins was helpful. Our expert pick of the WordPress blogging themes and WordPress hostings comparison also can be helpful for you.
To conclude, if you find anything unclear, you are welcome to ask your questions in the comments section below. We would be grateful if you shared this post on your social media in the future.