Are you searching for the best WordPress Graphic Designers theme for your website? Did you find it hard to figure out the best Graphic Designers WordPress themes?
If so, then you are on the right blog post.
As a way to assist you in finding a website template that suits your Graphic Designers company, we researched and reviewed hundreds of the most popular Graphic Designers WordPress themes and then selected only a few items to give you the finest.
All these themes are mobile-friendly and speed-optimized to appeal to a large group of consumers. While these themes were designed for creating a graphic designers' website, they can also be used for design portfolio websites, graphic design agencies, art galleries, product design, art schools, businesses sites, etc.
Thus, let's take a look at some of the best WordPress themes for graphic designer's sites in 2022:
Portfolio Agency WordPress Theme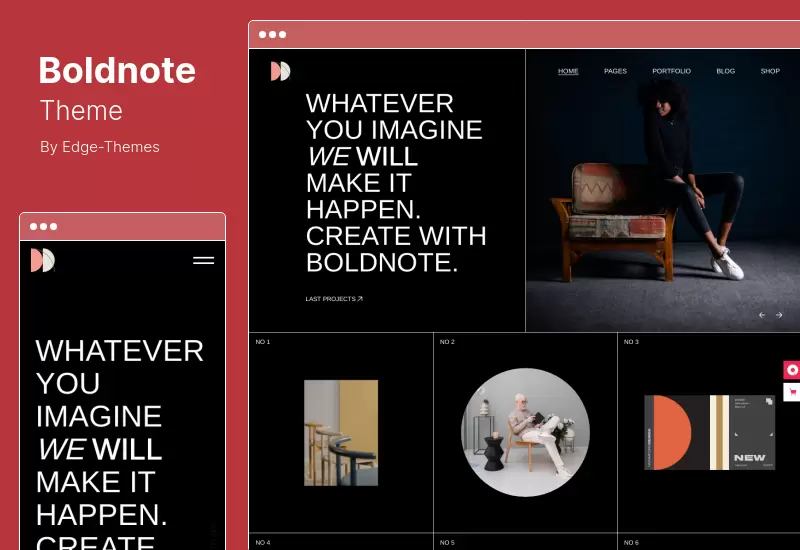 ---
The Boldnote is a beautifully designed theme suitable for Architecture Portfolios, Agency Portfolios, Design Portfolios, Graphic Design websites, and Web Design sites. It also provides 10 front page settings and pre-design layout capabilities.
Several portfolio formats provide professionals with a sleek, professional platform. It allows experts to demonstrate their skills to potential customers.
It provides you with 5 header presets, and there are many options for personalizing them. It offers sticky navigation that makes it easy to take control of your website's navigation precisely as you like it. It offers a Mega Menu Builder.
Boldnote supports Elementor page builder plugin. You can create any website with ease.
Check out this modern WordPress theme that costs $79.
Key Features:
Features of 4 Footer Layouts
5 Header Templates are ready
Optimized with elementor page builder
This theme comes with Mega Menu functionality
With 10 Homepage Variations
Portfolio Post Type With Multiple Layout Options
Compatible with multi-language plugins
3 Pagination Designs bundled
You can add social network links with sharing buttons
More Pagination with AJAX
Load More Button Technologies in Ajax
More than 1000 Google Fonts Supported
Architecture and Design Portfolio Theme
---
The Grafik theme is a sleek and advanced WordPress theme. Portfolio posts have several layout options. There is a one-click demo content installer. You can create a site that looks similar to the demo.
Its integration with WP Bakery and Gutenberg page builders makes it easy to build well-crafted websites in no time.
There will be sticky navigation for simple access to navigation. It's not as if you can only create a Mega Menu-like demo. You can blend your thoughts with reality with the Grafik Mega Menu builder.
Create an online store for your work of choice with the WooCommerce plugin. One of the many valuable features of this progressive and handsome WordPress theme is a custom post format.
A Grafik theme costs $75 and comes with free support for 6 months.
Key Features:
Compatible with the WP Bakery page builder
Complete Gutenberg block editing compatibility
A Mega Menu setting has been integrated
Portfolio Posts come in different layouts
Providing video background support
Animated effects and smooth scrolling
Upload custom fonts
Social Sharing Buttons are available
You Import your demo sample data with just 1-click
It works perfectly with Google Fonts
Modified tutorial video
Included a sticky header
Random Reviews:
*Excellent Template, fantastic support!

Great customization and design!

Many possibilities and great design
Design Portfolio WordPress Theme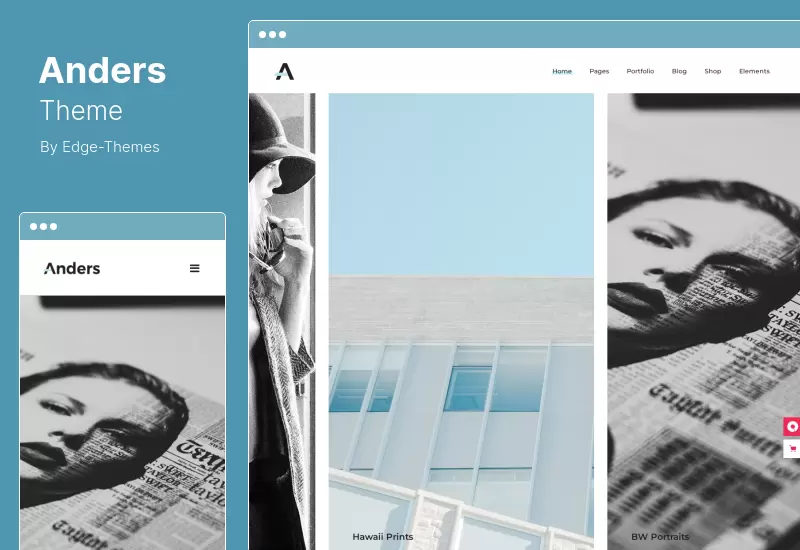 ---
With Anders, you get an all-purpose WordPress theme that offers super-flexible preferences, as well as excellent versions that look attractive.
Anders is programmed to introduce your portfolio and blog with diverse themes and layouts. It is possible to display sidebars everywhere with this theme.
There are also 5 header options, which ensure you can get the right look for your website. The Anders theme displays your menu and header even when you scroll down. This template also lets you add Mega Menus to your WordPress website.
There is also a Gutenberg and WPBakery page builder available. This is where you can build pages and sites with drag-and-drop functionality.
Anders template price is $75, which includes: All features, 6 months of support, All offers plugins and Free lifetime updates.
Key Features:
You can choose from 4 pre-made footers
Provide 5 header options
It is compatible with the WordPress WP Bakery page builder
Powerful Mega Menu option
Integrated with Portfolio Variants
You can upload fonts in .eot or .ttf formats
There are two multilingual plugins: WPML and Polylang
3 Pagination Variants
Integrated with social network
Support 1000 Google Fonts
Static/fixed headers
Random Reviews:
Our support team was excellent! They were patient with us and provided us with everything we needed.

An awesome theme with a trendy design that is easy to customize.

Quite a few bugs and not responsive. There are a lot of random layout breaks.
MultiConcept Design Portfolio WordPress Theme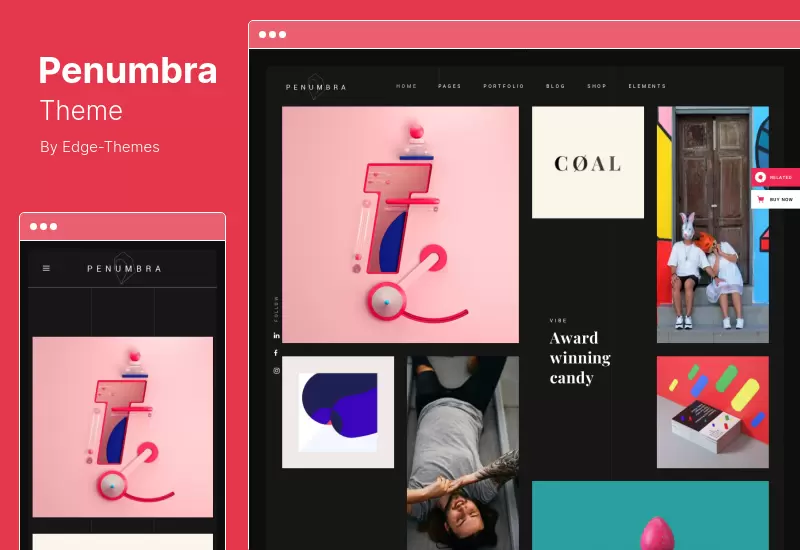 ---
Penumbra is one of the most popular WordPress themes. A portfolio looks good with a mass of widgets and thumbnails in various designs. It is possible to add the sticky sidebar to any layout in the template.
In the Penumbra template, you have access to Gutenberg and Visual Composer page builders. You can drag-and-drop, resize and shuffle content blocks anywhere you like.
Aside from its 5 premade header styles, it also features a sticky menu for effortless access to navigation. With the Mega Menu included in this theme, you can stand out categories and have your audience's attention immediately drawn to it.
It includes 6 months of support and auto-updates. You can buy it for $79 per year.
Key Features:
You Get 54 Footer Layouts
5 different header behavior
This page is compatible with the WP Bakery page builder
Compatible with The Gutenberg Block Editor
Multiple-Layout Mega Menu Builder
Having portfolio's capabilities
A smooth scrolling capability
Give Custom Fonts
Multilingual WordPress & Polylang Plugin
There are 3 pagination style options available
Integrated with social media buttons
Infinity Page Loading feature provided
Random Reviews:
I am extremely pleased with the theme. The design quality is excellent and the customer service is excellent.

Customer support is awesome! Fast and helpful! Couldn't ask for anything better. Very satisfied with the theme

Thanks for a great theme that is user-friendly, elegant, and extremely responsive and helpful. Really worth every penny. Thanks again!
Creative Agency WordPress Theme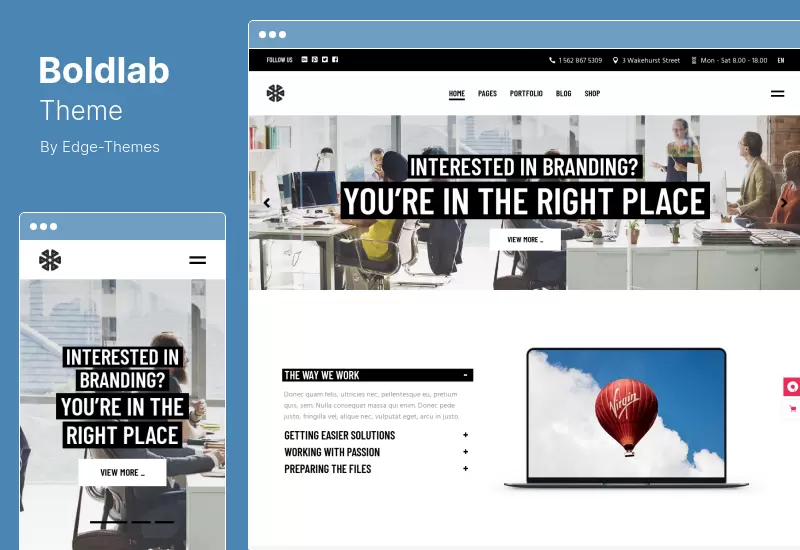 ---
With a modular approach, Boldlab is an excellent WordPress template. With the Boldlab theme, you will find several portfolio versions, templates, and widgets. There is infinite scrolling for posts and categories in this template.
It has 3 header styles with many different options and functionalities. You can design your mega-menus and sticky headers. You can take control over your site's navigation and design it exactly. It has the Mega Menu Builder.
The Boldlab theme supports both Elementor and WPBakery. It means you can use this theme for any type of website. The WooCommerce plugin is also available.
The Boldlab can display Back to Top button capabilities. It comes with an Instagram widget to bring the best of your Instagram posts to your website. The Boldlab also supports post formats, making it a multimedia theme to publish audio and video content.
If you spend $75, you can get a modern template with many documents and 6 months of free support.
Key Features:
4 Footers produced with 4 Footer functionality
Featuring 3 modern header templates
Supports the WP Bakery page builder
It works perfectly with Elementor's page builder
Multi-Menu Supported Theme
There are several portfolio layout templates included
Boldlab is also capable of supporting WPML
Pagination Templates – 3 provided in Boldlab
Social network buttons fully integrated
Endless Scrolling Available
Angus Load more Post
Works well with Google Fonts
Random Reviews:
What a great support: fast, accurate and very friendly!

This theme is just incredible, from theme to support. These guys are just amazing.

Good design and service. The theme fits my needs perfectly.
? Theme
?
---
? is an attractive WordPress theme with tons of features that attract buyers. If you want prepared features like single-click import of demos, you should go for it. Last but not least, dedicated 13 front pages will be available.
There are unlimited styles that can be set in both full width/wide and boxed formats. You can also add unlimited sidebars anywhere you want. Its mobile responsiveness and cross-platform compatibility make the ? a truly universal theme.
It is a fantastic choice for those site owners who wish to expand the navigation areas of their websites with Mega Menus. This theme comes preconfigured with 4 unique footer styles.
The plugin includes the WP Bakery page builder plugin, which lets you create high-quality landing pages using drag-and-drop. You can also use the Back to Top button.
Purchasing this theme will give you 6 months of free support from this awesome team. It will cost you .
Key Features:
4 Footer Templates can be loaded in ?
It works perfectly with the WP Bakery page builder
A Mega Menu setting is included
The homepage layouts include 13 designs
Various Portfolio Layout features
Supports pictures and videos as backgrounds
Smooth Transitions
Translated and WPML compatible
Ready-to-use social sharing buttons
Easy Setup with demo content
More than 1000 Google Fonts are supported and available
Video Tutorials are provided
Random Reviews:
Good morning,

Mikado's designs are fantastic, however it has to be the least user-friendly themes for Visual Composer. VC is supposed to simplify things, however the ways in which they have their themes structured within VC is absolutely horrible. For that reason – I cannot recommend their themes – especially if you are new to WordPress and VC.

This is a beautiful theme. I love it*
Creative Design Agency WordPress Theme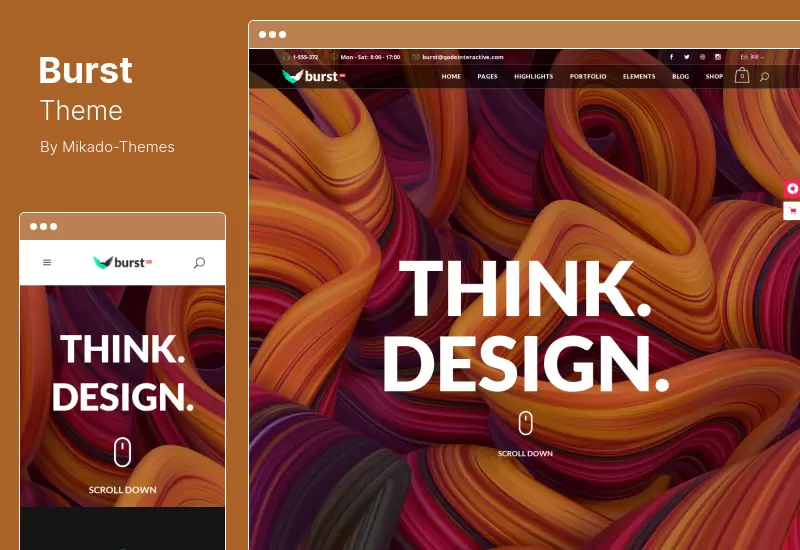 ---
Burst is a free and powerful WordPress theme with full WooCommerce support. In addition, it has numerous settings that allow it to be customized.
A variety of Portfolio styles are provided. These Portfolios help you show off each piece of content within Burst. Using the demo installer makes it very easy to create pre-design variations and contents.
The Megamenu widget allows you to display navigation links into columns, and it supports a large number of menu items. You can choose from 4 footer variants in the Burst template.
It also supports Gutenberg Block Editor and Visual Composer page builders. It is among the fastest and easiest page builders to use.
Developers of this theme made the WooCommerce plugin available for startups and small businesses.
Purchasing this template will give you all the updates and 6 months of support. It Costs $69.
Key Features:
Responsive Design with 4 Footer Versions
Compatible with The WP Bakery page builder
It supports Gutenberg Block Editor support
This theme comes with Mega Menu functionality
Various Portfolio Design options are available
Providing a picture background or a video background
An extremely smooth transition effect
The use of custom and self-hosted Google Fonts
A multi-lingual WPML & Translation-ready theme
Built-in social share buttons
Ajax ready to load more pagination
One-click download of the entire demo content Importer included
Random Reviews:
This is a very straightforward topic that is not confusing at all

Great theme worke like a charm

I can't seem to figure out how to use WP Bakery.
Creative Design Agency WordPress Theme
---
The Aoki theme is a WordPress theme suitable for creative design agencies, architecture studios, web design companies, and designer websites.
The template has thumbnails and widgets in varied versions ideal for a portfolio format. The Aoki home page offers 20 widgets and elements.
With the Aoki, you can use WordPress Gutenberg and the WP Bakery page builder. It allows you to make your site with just drag and drop visual edits without coding knowledge or touching a line of code!
Using this isn't just like creating a Mega Menu-like demo. It's like mixing your thoughts with reality – and this is all achieved with Aoki Mega Menu builder.
Currently, the price of this WordPress theme is $75.
Key Features:
A simple setup with 4 footer variations
Easily Work with WP Bakery page builder
Compatible with Gutenberg Block Editor New Version
Included Columns Mega Menu
A pre-built portfolio layout
A total of 20 widgets are provided
The video background
Smooth scrolling provided
Uploading custom fonts
Multiple Languages Supported Through WPML Compatibility
You can add social network links and sharing buttons
With Infinity Page Loading
Random Reviews:
Awesome theme + excellent support! Buy it and use it! 🙂

Great theme and great support. I will definitely recommend.

Customer support is excellent. Fast responses and helpful advice. Much better than I've experienced with other theme developers.
Web Design Company WordPress Theme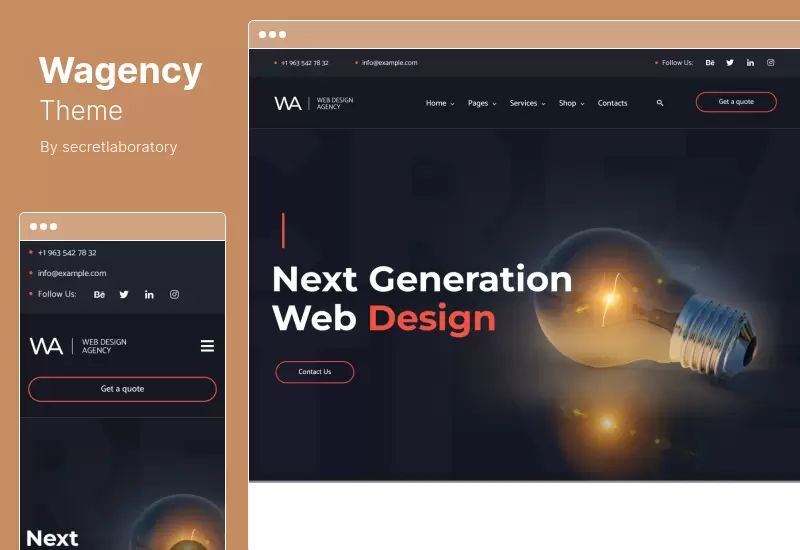 ---
Wagency is a beautiful WordPress theme tailored for Creative Agency, Design Company, Design Agency, Design Studio, and Web Design sites. It lets you choose from 3 dedicated home page design presets to create several Graphic Designers styles while offering quick loading times.
You can easily design your website using 300 widgets and plenty of features. There are 2 header layouts to get the right look and feel for your website. Wagency theme is packed with a header and footer builder, so you don't need to rely on third-party plugins.
The Wagency theme integrates with the WooCommerce plugin. Activate the Lazy Load image functionality in the Wagency settings panel if you need to improve website performance.
With all the features and preferences above, it costs $69, and if it is not enough for you, you will receive 6 months of free support.
Key Features:
A total of 2 Header Templates are available
Build headers and footers with the Elementor Builder
A collection of 3 home page templates for designers
Delivered 300 widgets and modules
Rapid Lazy Load of photos
The schema markup is ready
The Google Web Fonts
Fully Responsive for All Devices
Smooth integrates with Slider Revolution
Its a one-time purchase that comes with lifetime updates
Support for six months
Exceptional theme customizations
Random Reviews:
This is the best theme for agencies I have found on Themeforest. Super clean, superfast, I use it for my main site ( ) Great job!

It was Jov who resolved my issue with the demo data not importing. One of the best support teams on Themeforest.

The theme is one of the best I have ever seen, the features they've added make editing very simple, and the customer service is fantastic.
Design Portfolio WordPress Theme
---
The UltraViolette theme is perfect for Creative Portfolio, Designer Portfolio, Agency Portfolio, Design Agency, and Designer website.
Hundreds of theme options with varying design variations and preset portfolio pages are available. With the demo importer, you can install your website with just one click.
The theme is extremely responsive, so users will see it well on any device, no matter if they use full-width or boxed. Readers who scroll to the end of a post will see another post automatically loaded by AJAX.
It also offers you 3 header variations.
$79 gets you all the demos and features of the theme.
Key Features:
Provides 3 headers inside
WP Bakery page builder compatibility
Fine-tune Mega Menu integration
Portfolio Variants are available
Choosing a picture background or video background is possible
You can upload fonts in .eot or .ttf formats
The social share option (on or off)
Support for endless scrolling
AJAX Load More Button is available
Demo Import with ease using Demo Importer
Configurable Fonts With Over 1000 Google Fonts
Random Reviews:
Support is amazing, theme is great, overall I am very satisfied!

Fast support, amazing theme, overall very pleased!
WordPress Theme for Designers and Creative Businesses
---
The Imogen theme was designed for the WordPress block editor. A multitude of variations and designs are available in the theme to demonstrate your portfolio, projects, and works. Demo importer enables you to upload a stunning demo to your site without having to recreate the pages yourself.
With this template, you'll be able to work with Gutenberg and Visual Composer page builders. The drag and drop functionality enables you to see changes as you make them.
It has a Mega Menu Builder. With 4 header versions, you are able to design your own mega-menus and sticky headers. You can take the control of your website navigation in your hands and design it precisely.
This advanced and fully documented template is available for only $75.
Key Features:
There are 4 customizable header templates
Built-in WP Bakery page builder
Creates the Gutenberg Block Editor
Mega Menu Support
A Portfolio Layout included
With ease, Video Background can be integrated
Provides Smooth Transition Effects
Online custom font uploader
Integrated Social Share Tools and Buttons
Infinite Page Loading setting
One-click demo data Importer provided
Over 1000 Google Fonts are supported
Random Reviews:
Amazing Customer Support! I am very happy with the service.

Design quality is high and it is easy to use*

Excellent theme. Great support!
Creative Design Agency WordPress Theme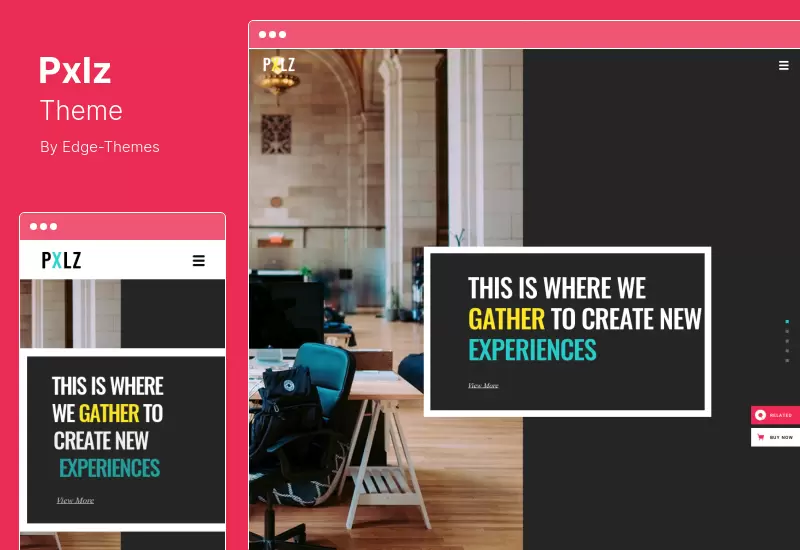 ---
The Pxlz template is for creating a Graphic Design Company's website. Different Portfolio layout designs are incorporated into the theme. Sticky sidebars at the top of the theme highlight important details.
It comes with 3 header presets that have many options. It features sticky navigation that enhances the theme's navigation and ease of access. The theme allows you to create modified Mega Menus for your WordPress site.
The template brings many components for Gutenberg and Visual Composer page builder plugins. You can drag and drop site modules to create a powerful website. Moreover, you can construct your presets to create a pure and sophisticated look.
Pxlz is WooCommerce plugin ready. It will allow you to build your own online store and display the pieces of your works you are so proud of in a professional manner.
The cost of this template is just $75.
Key Features:
Editable footer presets (4 included)
There are 3 header versions
Fully compatible with WP Bakery page builder
The theme for Gutenberg's Block Editor has been optimized
It includes Mega Menu Support
Portfolio Layouts Are Included
An elegant scrolling theme
The theme is WPML compatible and multilingual
Pagination Versions include 3 pages
Integrated Social Share Tools and Buttons
An Ajax-based loading function
AJAX Support for Load More Buttons
Random Reviews:
Nice theme and great support!

WordPress theme for the present on themeforest*

Theme is pretty and has great support!
The Best WordPress Graphic Designers Templates FAQs
There are many questions unsolved from audiences of WordPress themes. Please find below the frequently asked questions we provide to help our visitors regarding our Graphic Designers WordPress themes.
It is always best to post any issues in the comments if they haven't been resolved yet. We will answer them as soon as possible.
A Brief Summary
In summary, we analyzed the best WordPress Graphic Designers themes in the above text. These themes will help you to boost your website's performance.
Choosing the Publisher template may be the best choice if you hope to build your website visually, and do not mind purchasing and adding plugins for more features. Publisher theme is a high-speed theme. Its free plugins and SEO-optimized settings are also of critical importance to this theme.
Thanks for reading this list of the best WordPress templates for Graphic Designers. We hope you find this read helpful.
Please let us know if you decide to use any of the above themes. Keep up with our recent posts on Facebook and Twitter, and don't forget to share this post!