Tired of trying to find the best WordPress plugin for caching?
We tested many different Caching WordPress plug-ins to help you figure out the best WordPress plugin for your Caching website. We cut the list to a small number of items in order to give you only the best. All these plugins are clean and professional and they also work with all WordPress templates you desire.
We hand-picked the following Caching plugins so that you can select the most suitable advanced plugin. Of course, you can also use these plugins for Cache Cleaner, Speed, or Speed Optimization.
Listed below are the top WordPress plugins for caching in 2022:
Advanced Caching Plugin for WordPress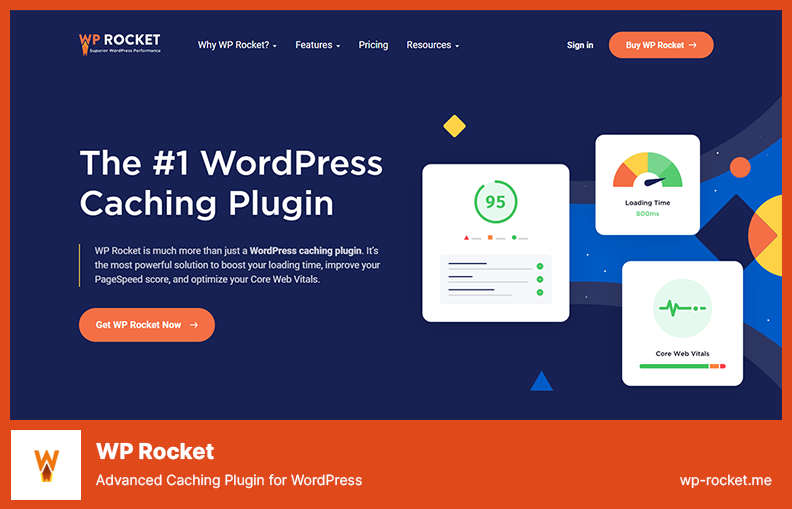 The popular WP Rocket plugin or WordPress rocket has a straightforward user interface. If I want to introduce you to some great plugins for WordPress cache, I will mention WP Rocket. As soon as you install this plugin, your site cache will be activated.
The WP Rocket plugin has a variety of features. The downside of this plugin is the lack of a free version. However, more than one million users have installed and activated it so far.
The WP Rocket plugin integrates well with the Cloudflare service and supports CDN. Cloudflare service is one of the best CDNs in the world and has the strongest possible effect on the security and speed of the site and prevents DDOS attacks.
If you have an e-commerce website, you should know that the 'WP Rocket' plugin is the best choice for you. This plugin works well with these types of websites and works without any problems.
WP Rocket minifies your website code like an expert and ultimately speeds up your site like a rocket. In short, the reason for naming 'WP Rocket' on this plugin was not without reason.
---
💵 The plugin has 1 year of free updates and support.
Key Features:
GZIP compression capability
CDN support
Lazy loading
Activate the site cache as soon as you install the plugin
Ability to integrate with Cloudflare service
Possibility of cache preloading
Integrate and Minify HTML, CSS, and JavaScript codes
Optimize Google fonts
WordPress Minify and Caching Manager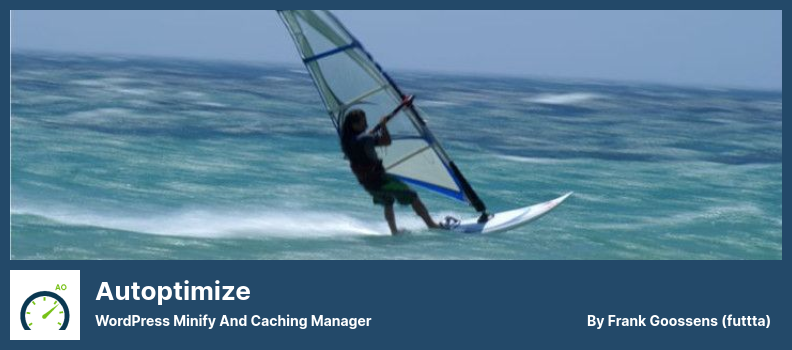 The Autoptimize plugin can optimize your website with very simple methods and examine everything from the template to WordPress code.
This plugin optimizes your website well and shows it to users at a good speed. By default, the Autoptimize plugin minimizes and caches site code and scripts and injects CSS code into the page tag. You can also inline critical CSS and defer the aggregated full CSS, move and defer scripts to the footer, and modify HTML.
Autoptimize supports images in WebP and AVIF format. This plugin optimizes images using lazy-load and does not view website images until the user reaches them.
In addition to the above features, the plugin also optimizes Google fonts and asyncs non-aggregated JavaScript.
If website speed and caching are important for you (which they should be), you should use caching plugins in WordPress. For this purpose, the Autoptimize plugin is one of the good plugins in this field.
One of the most important features of the Autoptimize plugin is that it significantly reduces the initial load time by delaying JavaScript files and transferring them to the footer.
---
💵 The Premium version of the Autoptimize plugin costs $price, and the Lite version is free.
Random Reviews:
A freelance web designer and developer, I love this plugin. It takes my Google pagespeed score to 90+ in most cases, even on elementor sites. It works like a charm.

Great plugin and excellent support! I have used it for more than 10 years without a problem.

This is a great plugin for speed and optimization. Thanks a lot to Frank Goossen (futtta) for creating this.
Advanced WordPress Caching Plugin
Hummingbird plugin speeds up your website by using methods such as compressing CSS and JavaScript files, merging small files into one file, and using lazy loading and caching.
The Hummingbird plugin was developed by experts who created the Smush plugin to optimize images. Smush is very popular among WordPress websites, and more than one million websites use this plugin to optimize images. Using Hummingbird and Smush, you will keep your site as fast as possible.
Hummingbird scans your website, allowing you to solve all speed problems with one click.
You can always keep your website up to date with Hummingbird. This will allow your website to load faster in search engine results, and users will access your website quickly.
These factors increase your website's ranking in search engines and the number of users and customers of your website.
Hummingbird plugin has global caching and includes a full-page, browser, and Gravatar cache. With this feature, your website is quickly displayed to users. It makes them have a good user experience working with your site.
Hummingbird integrates well with Claude Flair. You can use Hummingbird to control browser cache and Automatic Platform Optimization (APO) settings.
---
💵 It is Free for Lite, but it costs $190 for Pro.
Key Features:
A higher ranking will result from improving your performance on Google PageSpeed Insights (a ranking factor for SEO), YSlow, Pingdom, and GTmetrix
Find out what's slowing down your site, and then make critical speed improvements with one-click performance improvements
You can increase your conversion rate
You can compress your files with GZIP
Including full-page caching, Gravatar, and browser cache tools to load pages faster
Site Performance Report – Pro tips for running your site faster
Random Reviews:
It is one of the best plugins for caching WordPress sites and is very easy to use. I use it whenever I create a new site. Keep up the good work!

Well, that was pretty simple. I installed it and a little while later my site was running much faster. And Google really likes my site.

It offers many features such as page caching, lazy loading, image optimisation, and more all in one place. It is really a wonderful tool that helps those of us using WordPress and who cannot write any code to perform such tasks. Thanks a lot, Hummingbird team!
WordPress Caching Plugin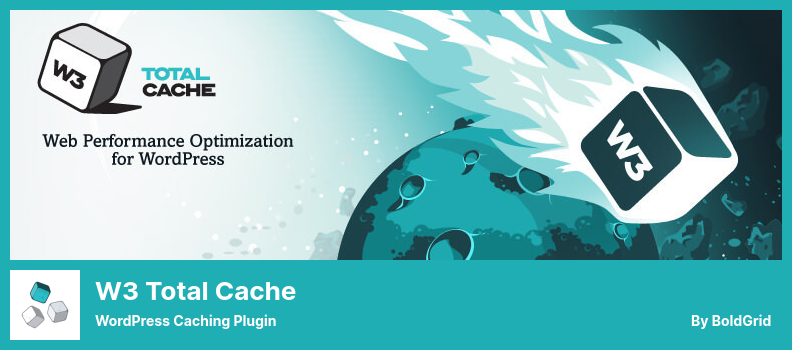 One of the most advanced site cache plugins is the W3 total cache. This plugin has outstanding performance and more than one million active installs. If you are a beginner, the settings of this plugin may confuse you a bit, but W3 Total Cache is one of the most advanced caching plugins.
If your site is responsive and uses SSL certificate protocol, wait to see the positive effects on your SEO after installing this plugin. Coding compression is one of the things that Total Cache handles well, and you can easily improve your website speed.
Lazy load is one of the exciting features that W3 Total Cache provides to its users. The lazy loading feature is very useful. By activating lazy load, all the photos and videos on the page will not be loaded as soon as the page is opened. Their loading will be postponed until the user scrolls closer to the content.
Suppose you are looking for a free and good plugin for WordPress website cache. In that case, W3 Total Cache is one of the best plugins. But the configuration and settings of this plugin have their complexities.
---
💵 $99 for Pro version, free for Lite version.
Key Features:
Multiple security features
Ability to export settings for future use
Cache different parts of the site on memory, disk, or CDN
Has browser cache capability
Unlimited options for personalization
Direct import of attachments to the WordPress media library
Minify different parts of the site (including code)
Support Lazy Loading
AMP support and SSL support
Support CDN, GZIP minimization, and compression
Random Reviews:
In my usual reviews, I rarely review plugins, but W3 Total Cache is beyond praise! I wanted to increase my website speed (after testing around 50-60%). They suggested WP Rocket, which is quite expensive! I installed W3 Total Cache and followed the set up process and my site went from a 50-60% score to a 93% score in a few minutes! I HIGHLY RECOMMEND THIS PLUGIN!

Using w3cache for 10 years and I love the database caching. Makes wordpress go faster and faster

I noticed a significant difference on my site in the speed of loading after installing this plug-in.
Caching Plugin For WordPress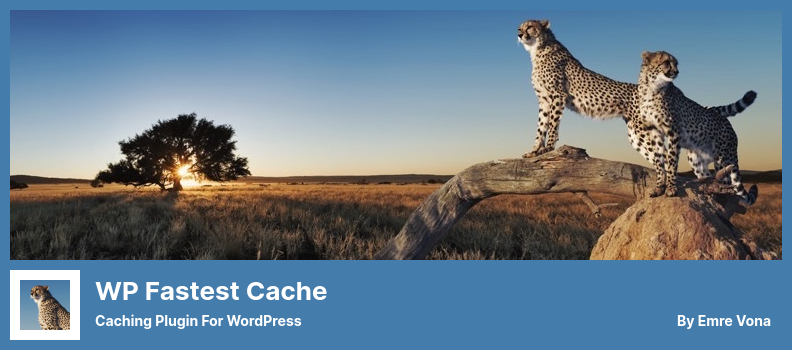 WP Fastest Cache is a WordPress cache plugin that has all the features that a user expects. So far, more than one million users have installed and activated this plugin and use the capabilities of caching and minimizing website code in this plugin.
You can use the WP Fastest Cache plugin in both free and premium versions. Good features in the free version of this plugin will be available to you.
For example, in online speed testing tools such as GT Metrix, you will most likely see the error of minifying site code such as JS. Minimizing code and combining them is one of the features offered in the free version of WP Fastest Cache.
---
💵 Lite and Premium versions of the plugin are available. The Premium version costs $price, while the Lite version is free.
Key Features:
Use the Mod_Rewrite method as the fastest cache delivery method
Clear the cache while waiting for a tab or post
Ability to enable or disable the cache option for logged-in or mobile users
Image optimization (premium)
WP Fastest Cache plugin does not support CND
Minimize strong JS, HTML and CSS code (premium)
CDN and SSL support
Lazy loading of web pages (premium)
Combine or combination of JS and CSS codes (premium)
Possibility of cache preloading Minify JS, HTML, and CSS code
Cache scheduling for specific pages
Random Reviews:
It is the best cache plugin I have ever used

Since being with them for many years, I have not often needed help. However, when I do, they are fast and helpful!

Great customer service. Had an issue on Easter Sunday. The problem was resolved within literally one hour.
Free WordPress Caching Plugin
The WP Super Cache plugin deserves to be on the list of the best WordPress cache plugins. This plugin does not have any premium version and, at the same time, offers excellent features.
After installing this plugin, instead of running the heavy PHP scripts of the site every time, a static HTML file of your site is displayed to 99% of visitors. Of course, if the site is not always updated and you do not update the entire new content every day, you can use the cache preload feature.
One of the main advantages of the WP Super Cache plugin is that it uses three methods to provide cache files. The performance of each of these cache presentation methods is as follows:
Advanced method: uses the mod_rewrite method on the Apache server and is extremely fast. So, if your site is affected by high traffic, use this method. But you need to make some modifications to the .htaccess file, which can be a sensitive task.
Simple method: In this method, the plugin uses PHP to deliver the cache, and if it is not as fast as the advanced method, it has good speed. So, select this method by default. One of the advantages of simple caching is that it can keep parts of the site dynamic so that a static HTML file is not always delivered to users.
WP-Cache method: This method is always active and is used to cache the site for known users (such as those who logged in), website feeds, and URLs with parameters.
So, if you are looking for a cache plugin for WordPress with good features and free, do not forget WP Super Cache with more than 2 million active installs.
---
💵 This plugin was created by a powerful author, and Its Free.
Key Features:
Free API service to access settings
Frequent updates
Dynamic cache capability
Clear WordPress cache according to the desired schedule and interruption
Site cache for mobile users
Ability to compress site pages
CDN support
Possibility of no-cache for known users
Simple cache
Possibility of cache preloading
Random Reviews:
When compared with other plugins, this one is the best.

There is an issue with the plugin: it hasn't been updated in 2 months, and

malware can easily be introduced

. Wordfence found a malware in the cache folder, and I had to go to public_html to remove it. Please make this plugin more secure, so hackers can't enter.

The WP Super Cache is simple to use. Just add it to the website and run the speed test. I did not modify any of the advanced features. I used it on several installations with no issues.
Advanced WordPress Caching Plugin
WP-Optimize plugin is one of the best plugins for optimizing WordPress websites. This plugin keeps website performance at the highest level through image compression, database cleansing, and website caching.
WP-Optimize allows you to merge and minify small CSS and JavaScript files. As a result, your website will be seen faster in users' browsers.
Numerous tests performed on this plugin show that the cache feature of this plugin works better than any other plugin that works in this field and uses caching better and more favorably.
As mentioned, this plugin has other features in addition to caching. When these features are combined, your website will speed up more than any other plugin.
---
💵 Along with the premium version, there is a free version.
Key Features:
Multisite Support: If you manage more than one website, you will need WP-Optimize Cache Premium
Using lazy loading allows you to see content very quickly, loading only the images and part of a web page that is visible to the user
In Google PageSpeed Insights, preload assets such as web fonts and icon fonts
Scheduling Automation: provides a wide range of options for optimizing the scheduling process automatically
Removing orphaned images from your WordPress site is done by deleting unused and unwanted images
Flexible and controllable: This plugin lets you optimize specific tables or a combination of tables on one or more WordPress websites, rather than optimizing all database tables
Preview of Optimization: This plugin enables users to view, select and remove data from the database that are available for optimization
Random Reviews:
* This plugin does what it says and there is an added bonus**

Currently, all items aren't free

This plugin is awesome
Powerful WordPress Caching Plugin
Cache Enabler is a free and open-source cache plugin for WordPress. The plugin was developed by KeyCDN and also supports Kinsta CDN. Kinsta is one of the best WordPress hostings.
This plugin is suitable for those who own multiple WordPress websites because it allows you to manage multiple websites. You can download the Cache Enabler plugin for free from the WordPress directory.
This plugin has the necessary features to manage the caching of a website and is an excellent plugin for those who do not want to pay much for cache plugins for WordPress.
Working with Cache Enabler is easy, and you can easily configure it. Cache Enabler has tutorials for learning important parts, and you can refer to them if you have any problems.
---
💵 This modern plugin contains many features and free support time. You can download it for Free.
Key Features:
Cache Enabler works in conjunction with Autoptimize to add extra features such as injecting CSS into the page head
This is one of the easiest caching plugins to configure because the user interface is simple and straightforward
HTML and JavaScript inline minification are both supported
On the dashboard, the actual cache size is displayed so users can understand how much space the cache takes up. It's an efficient and fast caching program that offers automatic and manual clearing options
Convert your images to WebP format with Optimus, ShortPixel, or EWWW Cloud (the cloud version performs better)
Random Reviews:
There is a cache plugin that can improve the loading speed of your website. This one is lightweight and easy to install. A real solution for anyone concerned about the page weight and loading time.

Unlike most plugins, it can be customized so that any site can obtain full page caching.

The plugin just works, no configuration needed. When I encountered a problem, the support team helped immediately. Now all my pages are being cached. Highly recommended!
WordPress Caching Manager
If you have an e-commerce website and your website is full of video and video content, you are probably experiencing a slowdown. Did you know that 79% of users stop browsing and buying products from your website when they see the low loading speed of the site?
Hyper Cache plugin may not be the best WordPress cache plugin, but it has good features. This plugin is written entirely in PHP and has no complicated settings at all.
By installing this plugin, your website cache will be provided to all users, including mobile and tablet users, which means that you will increase speed on all devices.
Hyper Cache Plugin is an almost popular plugin with over 30,000 active installs. Finally, suppose for any reason you decide to disable this plugin. In that case, you can rest assured that nothing will be left of it once it is deleted.
---
💵 A FREE plugin will offer all of these features.
Key Features:
HTTPS support
Compatibility with bbPress to build forums Minimize and combine HTML, CSS, and JS
Cache on all devices
Compression of non-cached pages
Ability to move the cache folder to outside the website
CDN support
Website dedicated cache in the desktop version
Random Reviews:
In my experience, Hyper Cache works very well for us, and does what we need it to do. Code is very lightweight, simple to install, and easy to use.

I install it in one website because i have bug with other plugin, i just thing it's normal cache like other, but after i don't understand why this website are more speed than my other, then i install it in other, replace other famous caching, and can see miracle, green color on page speed test! Thanks a lot

My blog was broken when I changed the settings of the plugin. I had to restore my blog. Update. The problem was fixed
LiteSpeed Cache for WordPress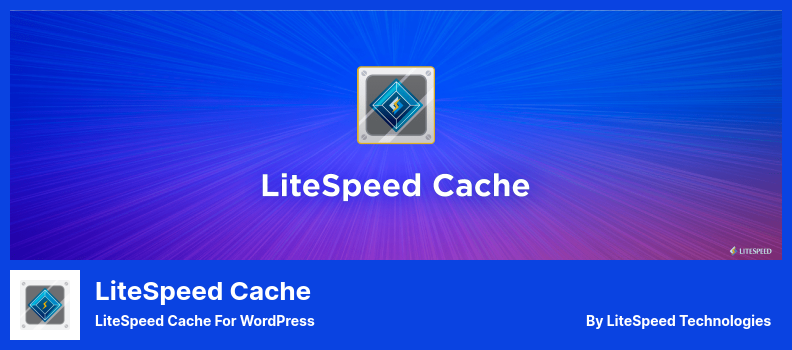 LiteSpeed Cache is the next plugin that we want to introduce to you as one of the best WordPress cache plugins. The reason for introducing this plugin after previous plugins is its fewer features. In any case, among the many WordPress cache plugins, LiteSpeed Cache deserves to be on the list of the best.
The user interface of this plugin is excellent and has a total of 4 tabs. You can select the items you want to cache in one tab, while you can make exceptions for caching in another tab. For example, you can enter the URL of a category and not allow the plugin to cache that category.
LiteSpeed Cache is a free plugin with good features. To use several special features such as WooCommerce support or a separate cache in the mobile and desktop versions, you must use a dedicated LiteSpeed server.
One of the positives of the LiteSpeed Cache plugin is that it optimizes page images in WebP format by default. The number of active installations was more than 800,000 users. It has good settings for photo SEO.
---
💵 It's a FREE service.
Key Features:
Import and Export settings
Asynchronous CSS / JS loading
Browser cache
Image optimization (with quality loss and without quality loss)
Database optimization and cleanup
Support for single-site and multi-site WordPress
Object cache capability
Cache clearing schedule
Lazy photo loading and iframe
Multiple CDN support
Random Reviews:
In my opinion, it's the most effective plugin for optimization*

My appreciation goes out to you for all your hard work, your solution is better than a lot of paid options.

I'm not seeing my website views in Jetpack stats*
As a closing note
Here we conclude our quick look at the best Caching plugins. Build your website fabulous by using these plugins.
We hope you enjoyed reading this article.
Comment and let us know which Caching plugin you will use. Would you like to support us? Simply share this post.