Are you a WordPress website owner looking to make it easier for your customers to contact you? Look no further than these nine best WordPress 'Click to Call' plugins. But you may be wondering, what exactly is a 'Click to Call' plugin, and why is it so important for my website?
You need a mobile-friendly website nowadays. In the age of smartphones, 'Click to Call' buttons make it easy for customers to get in touch with you with just a tap of a finger. Not only does this enhance the user experience, but it also increases the chances of customers turning into you.
In this article, we'll take a closer look at the nine best WordPress 'Click to Call' plugins, both free and pro, and how they can benefit your website.
So, whether you're a small business owner, blogger, or eCommerce site owner, keep reading to find the perfect 'Click to Call' plugin for your WordPress website.
Best 'Click to Call' Plugins for WordPress
If you're looking for a way to make it easy for your website visitors to contact you directly, then you'll want to check out these top-notch 'Click to Call' plugins for WordPress.
Don't miss out on the opportunity to improve your site's user experience and encourage more engagement with these free and pro options.
Call Now Button is a revolutionary WordPress plugin that allows you to add a call button to your site and efficiently communicate with your audience.
This plugin is especially beneficial for mobile sites, enabling users to call you directly at the touch of a button. Under the Settings menu, you can find a few features, such as the option to use a click tracking code and customize the look and function of the button.
Adding a call to action button to your WordPress website has never been easier. By leaving the text field blank, visitors can click on the circular phone button to call you.
This is more effective than displaying your phone number, as a dedicated button makes the process faster and easier for customers. If you use WhatsApp, the plugin provides a contact us button at the bottom of the screen exclusively for mobile users.
Getting started with Call Now Button is simple – just enable your phone number and input it into the provided field. You can also add text to your button, customize its appearance, and limit the pages on which it appears.
By tracking clicks in Google Analytics, setting up a conversion tag in Google Ads, and moving the button farther back if necessary, you can further tailor it to meet your needs.
Key Features:
Scheduler for button appearance
Multiple buttons for various actions
Add text to the button
Easy client connection
Voice Call Plugin For WordPress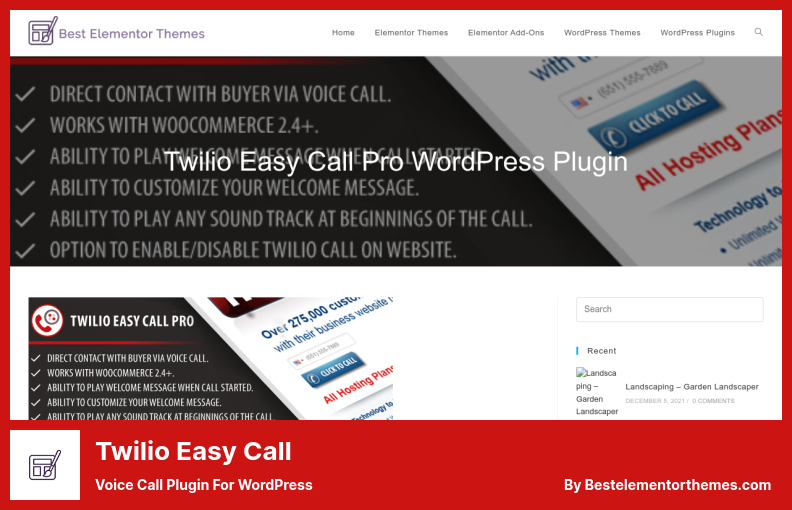 Using Twiilio Easy Call, visitors can get in touch with admins directly. Call screening is a great feature in the plugin since it lets you filter out incoming calls, so you're not available during odd hours or emergencies. You can also accept or decline an incoming call with the call screening feature.
In addition to being compatible with WooCommerce, this plugin lets users add a powerful call now button to their online stores so they can make instant calls. Also included is a form so users can add phone numbers and talk to admins directly.
One of its most exciting features is the ability for users to send voicemails seamlessly. This comes particularly in handy when they need to provide information but don't want to hold up the person on the other end, allowing them to stick to their routine.
In addition, you can translate the plugin strings into different languages, install it, get technical support, customize welcome messages, get visitor numbers and send contacts or marketing stuff, add a new soundtrack, and blacklist or edit unauthorized calls made by visitors and users who are logged in.
Key Features:
Compatible with WooCommerce for instant calls on

eCommerce sites
The call screening feature allows you to filter incoming calls
Simple form for users to add clickable phone numbers
Installation and technical support are available
Customizable welcome messages
Option to collect visitor numbers for marketing or contact information.
Call To Action Button For WordPress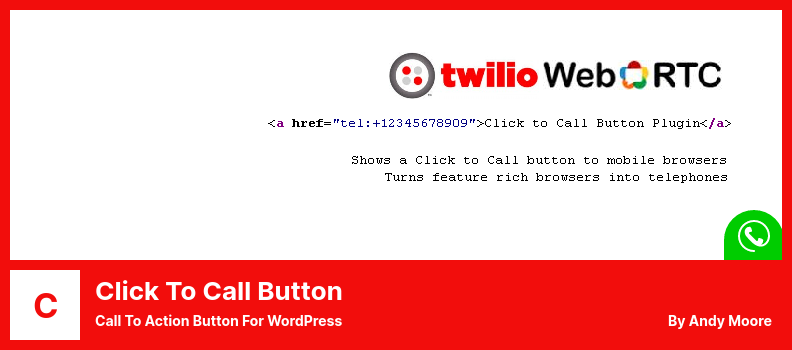 The Click to Call Button WordPress plugin is a straightforward way for users to contact you without leaving your site. The plugin enables you to add devices to pop-up web pages by using shortcodes.
The plugin also allows you to point to reveal or hide various elements in the contact window. In addition, it enables you to select different designs for the contact window.
This plugin is really easy to install, customize, and add widgets in different sections of your site. The plugin lets you choose which days and times you want the button to appear on. It uses JavaScript to show and hide the button based on the days and times you like.
The plugin also lets you style it with different colors, curves, transparency, and opacity. It lets you choose where the button should be displayed, and you can show them an icon with a Call to Call button so they can easily get in touch with you.
With this plugin installed on your WordPress site, you can also add some information about yourself, such as a photo, short text, and phone number. It gives you the option to display different numbers on different pages for greater efficiency.
Key Features:
User-friendly and easy to install
JavaScript automation to show and hide button
Ability to specify which days and times to display the button
Styling options such as different colors and transparency
Option to display different numbers on different pages
Ability to change the text size in the contact window.
Custom Notifications and Alerts Plugin for WordPress
WP Notification Bar Pro is a plugin that adds custom message bars to WordPress websites, capturing audience attention. The plugin provides analytics and A/B testing options, offering maximum effectiveness when it comes to Call-To-Actions.
The plugin allows message bars to be displayed on certain web pages and can be disabled depending on the device being used and the traffic received. It displays personalized notifications each time the Call-To-Action button is clicked and can be included on all parts of the website.
The plugin offers a variety of content types that can be displayed within the notification bars, including simple text, opt-in email forms, social media buttons, search forms, and time-sensitive countdown buttons.
However, it is best to remove the social media banner to avoid appearing redundant and stale. Additionally, the plugin's sleek notification bar makes the call-to-action button appear on every part of the website using a generated code.
WP Notification Bar Pro is customizable to fit the website's needs. The features include displaying the organization's name, address, contact information, business hours, photographs, and a map of the office location.
The Public Media switch makes it easy to find the organization's social media page on Twitter, Facebook, Google+, and LinkedIn. The plugin's stylish appearance is also designed to match the website's theme.
Key Features:
Customizable message bars
Analytics and A/B testing options
Display message bars on select web pages
Personalized call-to-action notifications
Public Media switch for easy access to social media pages
Display of organization's name, address, contact information, etc.
Easy Click to Call Button for WordPress
With WP Call Button, visitors can call you just by clicking a button on your site. One of its unique features among other plugins is that it lets users call you via their mobile phones. The plugin offers lots of customization options, like button color, location, and so on.
This plugin is ideal for those who want a simple, easy-to-use phone calling option on their website. It doesn't require any special knowledge to activate; just enable the plugin, add your contact number, and select the location of the call button.
As it is designed to be SEO-friendly and fast-loading, this is one of the fastest WordPress call button plugins on the market, making it one of the fastest call button plugins available.
One of WP Call Button's essential selling points is its user interface design. You can modify the contact button's color and text, select where the button should appear on your website, and display it in specific posts or different tabs. You can even choose to hide it on desktops if that's your preference.
Key Features:
Ability to display the button only on mobile devices
Smart Phone field for entering contact number
Shortcode support for both floating and static buttons
Dedicated widget available
Compatible with many other plugins.
Click To Call Functionality For WordPress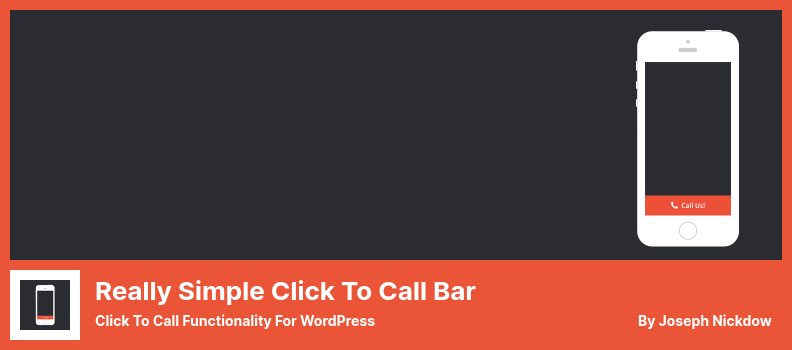 Really Simple Click to Call Bar is a plugin that allows mobile users to contact you with a single click. Google Analytics events are automatically added when you use Universal Analytics.
The bar is simple to install and appears at the bottom of the user's viewing area. You can customize the message, phone number, and bar color to fit your needs.
The plugin provides a range of setting options that allow you to customize the background and message displayed in the bar. Users can also receive customized notifications when a call is made. The bar is visible on screens with a width under 737px, ensuring that everyone can access it.
The plugin also allows you to add or remove buttons from the front end using custom CSS. This feature makes it easy to change the appearance of your website without needing to know how to code.
The mobile phone screen can be displayed with a button to make it easy for users to contact you, especially for businesses like restaurants, retail stores, or lead-generation companies that rely on telephone calls.
Key Features:
The customizable message, phone number, and bar color
Provides setting options for phone numbers
Ability to display the button on mobile screens
Customized notifications for users
Easy-to-add or remove button from the front end
Allows users to contact you in one click.
Call To Action Widget For WordPress
Bazz CallBack Widget is a simple and easy-to-use plugin for WordPress website owners who want to provide a better user experience by enabling users to call them directly.
This plugin is a great alternative to other complicated callback plugins that can cause site performance issues due to a lack of customizations and basic functions.
With the plugin, you can customize the working time, colors, text, and location of the button to meet your specific needs. The device is located at the bottom right of your browser, making it easy for clients to see and use.
Furthermore, as a result of the plugin, you will be able to communicate directly with your clients, and thus, improve the quality of the interaction between you and your clients.
The widget was designed to complement your website's overall design plan since it automatically changes color based on the colors on the screen and the environment.
Additionally, the administration panel allows you to seamlessly set your desired color scheme, making the widget look great alongside your entire design plan.
Key Features:
Fully customizable position, size, and animation duration options
Available in different languages
Countless timer feature
Different texts for working (daytime) and non-working (nighttime) times.
Receive More Leads For WordPress
Popup4Phone is a WordPress plugin that helps you to resolve your pop-up-related issues. It detects pop-ups and displays them automatically while notifying you of new leads through SMS.
The plugin also notifies your customer that their message has been received. It connects the phone specified by the user with your phone. This phone call system works with a cloud-based communication system, making it an exceptional phone call plugin.
You can put shortcodes, change form fields and labels, and most importantly, connect to Google Analytics to analyze your leads' status. This plugin gives you the freedom to insert the inline form on any page or post, and you can delete pop-ups from the page, defining the elements with CSS selectors, as specified in the settings.
Popup4Phone collects leads, including information such as the referrer, landing page, UTM code, URL, title, and pages visited from your website where the form was submitted.
Immediate Way Of Dialing Number WordPress Plugin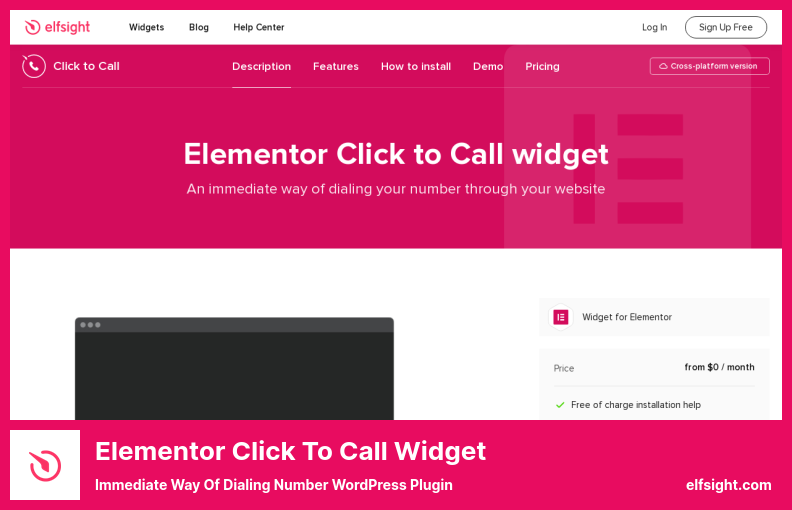 Elementor Click to Call widget is a powerful add-on that makes it easy for your website visitors to contact you by clicking a button. The widget is highly customizable and can be placed in a prominent position on your website.
With the plugin, your visitors can easily contact you by clicking a button on your website. The widget can be triggered to appear in different ways and can be customized to meet your specific needs. It's also mobile-friendly, which means that mobile users will automatically see your phone number when they visit your site.
A big feature of the plugin is that you can let who you're calling show their name and picture, as well as a brief description of what the call is about and what the person is selling. It's easy to make a personal connection with your visitors with this feature, which makes you more likely to sell.
The widget measures the time spent on the page, on the website, the scroll percentage, and attempts to leave the site. It's highly customizable and can be placed in a variety of positions on your website. You can also choose whether or not to display the widget on certain web pages.
Key Features:
Three widget displays for all users
Time spent on the page, scroll percentage, and leave attempts
Mobile-friendly with single-click dialing
Customizable widget position
Option to display widgets on specific web pages.
Frequently Asked Questions
What are Click to Call plugins for WordPress?
Click to Call plugins for WordPress are tools that allow users to call a phone number directly from the website with just one click. This feature is specifically designed to increase user engagement and lead conversion rates.
What are the benefits of using Click to Call plugins?
Click to Call plugins offer the advantage of simplifying the process of getting in touch with businesses for users. This feature provides an easy-to-use and accessible contact option to website visitors who can call the business instantaneously.
This leads to increased engagement, enhanced lead conversion rates, and an improved overall user experience.
What are the factors to consider when choosing a Click to Call plugin for WordPress?
When choosing a Click to Call plugin for WordPress, it is essential to consider factors such as your website's layout and design, customer preferences, and your overall business goals.
Other important considerations include the plugin's customization options, price, mobile responsiveness, and compatibility with other plugins on your website.
Conclusion
In conclusion, we have discussed the 9 best WordPress 'Click to Call' plugins available in both free and pro versions. We have covered the features and benefits of each plugin, making it easy for you to choose the one that suits your needs.
If you want to dive deeper into WordPress tutorials like this one, make sure you check out the BetterStudio blog. We have a plethora of related articles that can help you take your WordPress website to the next level.
Make sure you follow us on Facebook and Twitter to get the latest updates on our tutorials. We are always posting new content, and you don't want to miss out.
Thank you for reading our article on the 9 best WordPress 'Click to Call' plugins. If you have any questions or problems related to the article, don't hesitate to ask us in the comments section below. We are always happy to help.