Are you searching for the best WordPress database plugins?
We have selected the best plugins for WordPress in this post. In the end, we will provide some recommendations for exclusive scenarios. The design of these plugins will impress your customers.
We have chosen plugins that are best for database optimization. You might be searching for a database plugin, but it's not the same as a database plugin. In summation, these plugins can help improve your site and do not have any conflict with your site's WordPress theme.
It does not matter whether you run a simple WordPress blog or a high-traffic WordPress site, you have to make sure to choose a plugin for your site to optimize database size and enable you to create website backup easily.
Also, you can make use of WordPress backup plugins, which are particularly useful when working with WordPress databases.
Let's take a look at the best WordPress plugins for Database in 2022:
WordPress Database Cleander and Optimizer Plugin
Suppose you have been using WordPress for your site for a long time. In that case, you should keep in mind that your database is overloaded and needs to clear a series of unused items such as drafts, spam comments, and so on.
Database plays a vital role in your website, and you should be diligent in maintaining it. Advanced Database Cleaner plugin helps you easily do database optimization in WordPress to reduce database size and access faster and reduce WordPress host size.
Advanced Database Cleaner plugin is a handy plugin for those running their site for a long time. This plugin helps you to clean and optimize your database from additional items in the WordPress database.
After installing this plugin, it will automatically check your database. By referring to the plugin's settings, you can start optimizing it using different sections. You will not have trouble using different sections.
This plugin is a user-friendly plugin, and it is easy to work with it. Anyone can learn how to work with the Advanced Database Cleaner plugin.
Advanced Database Cleaner is one of the best plugins for managing databases on WordPress websites.
---
💵 There is no charge for this plugin. You can download it for FREE.
Key Features:
Ability to optimize databases on WordPress websites
Speed up the database of WordPress websites
Possibility of scheduling for database optimization
Ability to delete spam comments
This plugin will notify you if any database tables need to be optimized
Clean and delete scheduled tasks
Random Reviews:
In spite of its comprehensive feature set, I found this plugin to be easy to use. It quickly corrected my size issue, and when I needed further help, they were responsive and helpful.

It's perfect!!*

This plugin can delete all orphan posts
WordPress Backup Plugin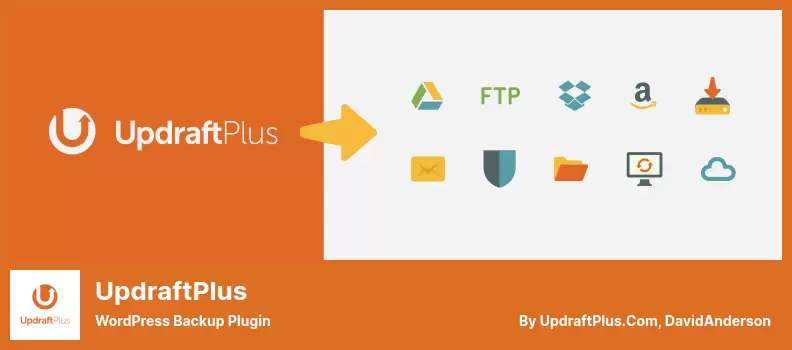 The most popular free backup plugin for WordPress on the Internet is UpdraftPlus, used on more than 2 million websites.
WordPress users frequently use UpdraftPlus as their backup plugin. This plugin allows you to back up in cloud mode on Dropbox, Google Drive, Amazon S3, UpdraftVault, Rackspace Cloud, FTP, DreamObjects, Openstack Swift, and email.
What does the UpdraftPlus plugin do?
1. Backing up
Complete backup of all WordPress files, databases, plugins, and templates
2. Scheduling
Set a backup time
3. Restoring
Ability to restore backups through the WordPress control panel
This plugin has received a good rating in the WordPress directory. Many users have used it on their WordPress websites. One of the weaknesses of other available plugins is that they are not compatible with PHP versions. Still, this plugin is fully compatible with all PHP versions of the webserver.
---
💵 There are two versions of this plugin: Lite and Premium. The Premium version costs $70, while the Lite version costs $0.
Key Features:
Ability to back up the site
Ability to restore the prepared backup
Ability to save backups on spaces such as Google Drive, Amazon, and OneDrive
High-speed plugin for data recovery
Ability to schedule backups
Automatically prepare backups at specified times
Ability to manage the backup of multiple sites by the counter of one site
The ability to back up again if there is a problem in the backup process
Random Reviews:
Thank you. I really like how you can restore specific databases, much more efficient than restoring the entire site. Keep up the great work.

I have enjoyed using your plugin :))*br /

This is the easiest method to get WP backups.
WordPress Database Cleander and Optimizer Plugin

WP Cleaner Pro is an excellent database optimization plugin that you can use to optimize and improve your WordPress website.
Using this plugin, you can clear 25 types of data simultaneously or on a scheduled basis and optimize your database. After the operation, the Database and UI of your site are entirely cleared, and you will not have any backend errors. As a result, your website is fully optimized for speed.
The WP Cleaner Pro is one of the most effective WordPress plugins for optimizing and cleaning the website that you can use to increase the site's speed.
Also, working with this plugin is very simple. With just a few clicks, you can be informed of additional information and irregularities on your website and use the plugin's features to solve these problems.
You can clear 25 obsolete data types as well as optimize the site database. You can do all this work instantly or on a scheduled basis (daily, weekly, monthly, etc.).
There has never been a free plugin that helps a webmaster as much as this plugin to remove obsolete website data and fix irregularities in its website.
---
💵 $19 gives you this incredible plugin, as well as 12 months of support for free.
Key Features:
Scheduled WordPress database cleanup
WordPress database optimization
Backup WordPress Database (Build / Download / Delete Backups)
Mobile-friendly admin dashboard
25 types of data that can be cleared
See cleaning details
Select clearing items
Filter clearing items
Check the code with PHP Code Sniffer
Develop code by WordPress coding standards
Code optimization for speed
Mobile friendly
Random Reviews:
I like it a lot, exactly what I needed, but it doesn't have a large database.

Developers should keep improving this tool for all WordPress websites.

The product performs as described!
WordPress Database Backup Manager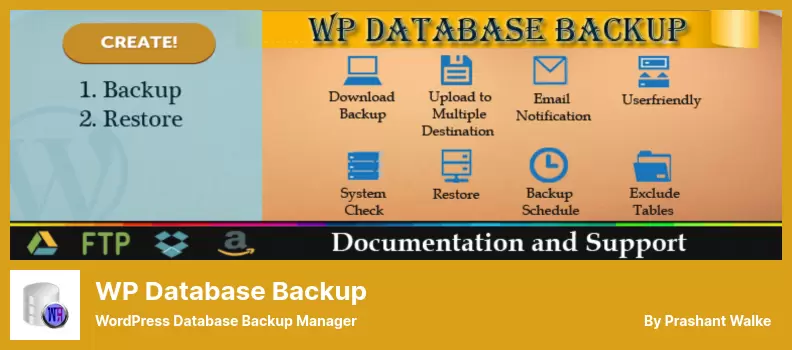 WP Database Backup plugin is the best option when paired with a database cleanup plugin. Not only is this a great plugin to increase the security of WordPress, but also it is very useful when you want to back up your data before cleaning the database.
WP Database Backup plugin helps you to easily backup and restore the database with one click. You can back up databases manually or automatically and save them to a secure location such as Dropbox, FTP, Email, Google Drive, Amazon S3.
---
💵 There is no fee for this plugin. It's free.
Key Features:
It is easy to create a Database Backup with just a single click
Automated backups on a regular schedule
You can download your WordPress backup directly from your dashboard
The configuration takes less than a minute (minimal configuration)
Multiple locations for storing backups
Backup your databases in a safe place such as Dropbox backup as Dropbox, Google Drive, Amazon S3, FTP, and email
Providing email backup reports and backups to any address
You can save a database backup file in zip format on your local server and send it to a destination in zip format
Random Reviews:
The database is not restored. Had to restore it using PHPMyAdmin. The scheduler doesn't work right. You can only schedule backups to happen hourly. You can't schedule it to happen twice daily or daily or daily, etc. The author fails to answer support forum queries prompt.

It's a simple plugin with good functionality.

Thanks for your hard work!
WordPress Database Reset Plugin
WP Database Reset plugin is one of the best and most popular WordPress database reset plugins.
This plugin, developed by Chris Berthe, got a good score from the WordPress directory.
WP Database Reset in your WordPress database and unique items that are useless such as deleted and unverified comments, auto-drafts, reviews, orphan user and meta posts, duplicate posts, user, meta terms and comments, spam comments, Removes transient options, database table optimization, and so on.
If you try to clear the whole site and start over, these plugins still work. It is also used to clear test posts and media. The WP Database Reset plugin scans tables, posts, comments, and other database details regardless of your needs.
After that, you have complete control over which one you want to delete. Keep in mind that this is a permanent solution to clear some parts of your site completely.
---
💵 It is FREE. You will not be charged for it.
Key Features:
In just a couple of clicks, you can reset your WordPress database
It is possible to clear specific sections of the database
Easy to use and completely safe
In a timeline, reset the database
Simple one-click method for resetting WordPress database tables
You can reset the entire database or a specific database table
Would you rather use the command line? You can reset the database with one command
It's perfect for theme and plugin developers who want to clear out the database of unneeded information
Random Reviews:
It is a very useful plugin, thank you very much

*Works great!!!

Thanks mates for making this possible!
We Have Discussed a Few Things in a Nutshell
Here are some of the best free and paid WordPress plugins for the Database. Keep in mind that these plugins can assist in boosting your site.
We hope that after trying all these Database WordPress plugins you have found the best one for your site.
We would really appreciate it if you shared this article on Twitter and Facebook! Feel free to leave questions below. Thanks for visiting!