Are you a WordPress website owner looking to level up your marketing game? Are you overwhelmed by the vast options of plugins available and don't know where to start?
Well, you're in luck! In this blog post, we will be exploring the eight best WordPress marketing plugins, both free and pro, to help you enhance your website's marketing capabilities.
Now, you might be wondering, why should I even bother with marketing plugins? After all, isn't WordPress already an amazing platform on its own? While that is true, these plugins can take your website to the next level by maximizing its marketing potential.
With the right plugins, you can optimize your site for search engines, boost your social media presence, capture quality leads, and ultimately increase conversions. So, get ready to supercharge your WordPress website with these top-notch marketing plugins.
Whether you're a beginner or an experienced user, this article will provide you with valuable insights, expert tips, and hands-on recommendations to help you choose the perfect plugins for your specific needs. Let's dive in and take your online marketing game to new heights!
Best Marketing Plugins for WordPress
If you are looking to enhance the marketing capabilities of your WordPress website, look no further! In this article, we'll be highlighting the best marketing plugins for WordPress that are both free and pro.
Stay tuned to discover how these plugins can help you drive traffic, boost conversions, and skyrocket your online presence. Be sure to check out the products featured in this article – they're a game-changer for any website owner looking to level up their marketing strategy.
#1 Web Creation Platform for WordPress
Elementor Website Builder is a digital marketing plugin that offers over one hundred templates and built-in sections, allowing users to easily create all the content they need to market their business online. Plus, it doesn't require any programming knowledge.
With this plugin, you can customize your page using various options like Box Shadows, Background Overlays, and Hover Effects. These features not only enhance the aesthetic appeal of your page but also keep your visitors engaged for a longer time.
One of the standout aspects of this marketing plugin is its versatility. It allows you to develop multiple websites without any coding skills. The list of features it offers is extensive, making it a powerful tool for marketers looking to enhance their online presence.
Apart from providing sections for services and call-to-action pages, the plugin also includes built-in features for social media marketing. This means you can effectively promote your business online using this all-in-one solution.
Key Features:
Form a widget for promoting email marketing.
Consistency with global fonts and colors across your website
Popup builder specifically designed for WooCommerce stores
Promotion of sales and other campaigns
Fast-loading websites for improved user experience
Time and cost-saving features to jumpstart your website creation
Powerful Data Capture Plugin for WordPress
Gravity Forms is a premium WordPress plugin that offers highly customizable and complex form solutions. Unlike some other plugins, it does come with a cost, but it provides website owners with a powerful tool for creating advanced forms.
The plugin not only allows you to create forms, but it also offers additional features such as web directory display, surveys, quizzes, and user-submitted content. This makes it versatile and suitable for various purposes.
One of the standout features of the plugin is its ability to create rules and restrictions for form submissions. For example, you can restrict certain domains or subdomains from submitting forms, giving you more control over who can access your forms.
When it comes to form creation, the plugin makes the process quick and easy. Its visual form builder allows you to create forms effortlessly by dragging and dropping elements. This saves you time and eliminates the need for technical expertise.
The plugin also offers the ability to display or hide specific fields based on certain conditions. This means you can create forms that are tailored to each user, making their experience more relevant and seamless.
In terms of security, the plugin utilizes state-of-the-art systems to ensure that your data remains safe and protected. This is essential for any website owner who values the privacy and integrity of their users' information.
Another great feature of Gravity Forms is its capability to accept payments directly through popular payment gateways like PayPal and Stripe. This means you can easily integrate payment options into your forms, making it convenient for users to complete transactions.
Google Analytics Dashboard Plugin for WordPress
MonsterInsights is a WordPress plugin that allows you to instantly access easy-to-read Google Analytics reports right from your WordPress dashboard. Instead of sifting through multiple reports, this plugin allows you to quickly find the information that is most relevant to you, so you can focus on what matters most.
One of the key benefits of the plugin is the ability to track where your visitors are coming from. By understanding the source of your traffic, you can determine which marketing campaigns are most effective and make informed decisions to maximize your website's performance.
Another advantage of this plugin is that it integrates seamlessly with your WordPress website, without the need for any coding or developer assistance. This makes it accessible to users of all technical levels.
Additionally, it provides insights into user behavior on your website. It allows you to track outbound link clicks, affiliate link clicks, and file downloads, giving you a comprehensive understanding of how visitors are interacting with your content.
While MonsterInsights offers a premium version with additional features, it's important to note that it comes with a higher price tag, which can be considered a disadvantage for some users.
Key Features:
Enables advanced tracking like eCommerce tracking
Enables file download stats with just a click
Provides a quick overview of your site's performance
Author statistics show you who your most popular author is
Removes demographics and interest reports for remarketing
Provides a thorough understanding of visitor behavior on your website
Best WordPress SEO & Marketing Plugin
All in One SEO is a WordPress plugin that helps website owners optimize their websites for better search engine rankings. It offers a comprehensive SEO audit checklist that ensures your website is error-free and allows you to add important elements like meta tags, open graph tags, and breadcrumb navigation.
This plugin is suitable for both non-technical users and coding experts, making it a great tool for anyone looking to improve their SEO. One of the standout features of the plugin is the TruSEO score, which provides valuable information about the optimization of your content.
This score helps you understand how well your website is optimized for search engines and provides suggestions for improvement. The plugin also includes advanced features like smart schema markups (featured snippets), a local SEO module, and a module for optimizing images.
Another advantage of it is its integration with Google Analytics. This allows you to track and analyze your website's traffic and gain deeper insights into your SEO performance.
By connecting your WordPress site with Google webmaster tools, you can access additional SEO insights and optimize your pages for unlimited SEO keywords. The plugin also offers several other useful features.
These include the ability to add advanced SEO schema markups with ease, improve your SEO rankings with a video sitemap, generate XML sitemaps with support for images, and integrate with popular SEO webmaster tools for enhanced search visibility. Also, it allows you to control who has access to your SEO settings.
Key Features:
Support for custom post types and Google Analytics integration
Easy addition of advanced SEO schema markups
SEO rankings improvement with video sitemaps
XML sitemaps with support for images
Integration with other popular SEO webmaster tools
Control over who has access to your SEO settings
WP Security, Backup, Speed, & Growth Plugin for WordPress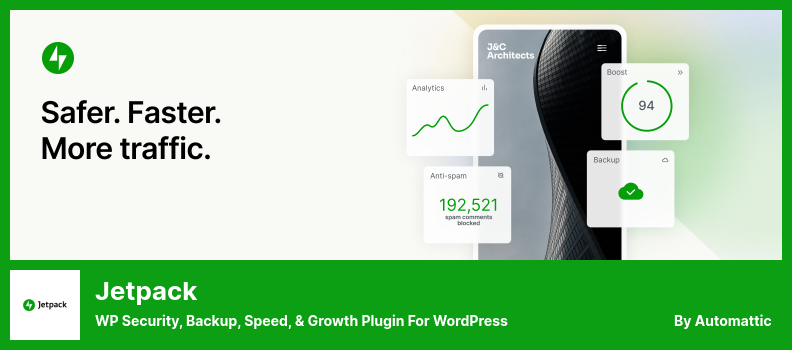 Jetpack is a powerful WordPress plugin that offers a wide range of features to enhance your website. With Jetpack, you have access to various advanced tools and functionalities without the need to install multiple plugins.
One of the key benefits of the plugin is its compatibility with other WordPress plugins. It allows you to choose which features you want to utilize based on your website's requirements. This flexibility ensures that you can customize your website without any hassle.
Among its many features, it provides analytics tools, mobile themes, and widgets. These tools enable you to track and promote the success of your website. You can easily monitor your website traffic statistics and share your content on social media platforms, making it a valuable asset for marketers.
The plugin also offers additional benefits for website owners. It automatically updates your plugins, reducing the risk of vulnerabilities. It includes image widgets for easy inclusion of images in your theme's widget areas.
Furthermore, Jetpack offers 24/7 monitoring of your website, sending you email notifications if it goes down. It even identifies and blocks malicious IP addresses to prevent hacking attempts.
Key Features:
Automated plugin updates to ensure your website's security
Malicious IP address identification and blocking for enhanced website security
24/7 website monitoring with email notifications for downtime
Goodreads Shelf widget for showcasing your literature collection
Integration with Twitter, Facebook, and Google+ widgets
Gravatar Widget to display your Gravatar image and profile data
Plugin for Lazy Load Images & Optimazation of WordPress Website
Smush is a WordPress plugin that focuses on optimizing your website's images to improve loading speed and overall performance. By resizing and optimizing both new and old images, Smush ensures that your website loads faster and showcases clearer, crisp images.
One of the standout features of the plugin is its bulk optimization capability, which allows you to optimize large quantities of images at once. This saves you time and allows you to focus on more important tasks without compromising the quality of your images.
Additionally, the plugin provides detailed information about your photographs and how much storage space you have saved, giving you valuable insights into your website's image optimization.
The interface of the plugin is not only beautiful but also user-friendly. It integrates seamlessly with the Gutenberg Block editor, making it easy for you to optimize your images directly within your content creation process.
Furthermore, the plugin automatically compresses attachments as soon as you upload them, ensuring that your images are optimized from the moment they are added to your website.
With the goal of improving website speeds and boosting your website's ranking in search results, it is a valuable tool for any WordPress website owner. It also offers global and individual multisite settings, allowing you to optimize images across multiple websites with ease.
In its free version, it utilizes lossless compression, meaning that it optimizes your images while preserving their original quality. It also offers the option to defer offscreen images, reducing the strain on your website's resources and improving the overall performance.
Some additional features include the ability to quickly identify images that may be slowing down your site and the optimization of images even if they are not stored elsewhere.
These features, combined with its easy-to-use interface and bulk optimization capabilities, make Smush a top choice for optimizing your WordPress website's images.
Key Features:
Reduces strain on server resources
Integrates with Gutenberg Block Editor
Automatic compression upon upload
Identifies and addresses slow-loading images
Improves website speed and search rankings
WordPress Plugin for Email Marketing & Lead Generation
Hustle is a powerful WordPress marketing tool that allows you to easily manage your website. This WordPress plugin is packed with features that will help you take your website to the next level.
With this plugin, you can add eye-catching pop-ups, slideshows, embedded videos, and social networking buttons to your website. These features will grab your visitors' attention and encourage them to take action.
One of the key features of the plugin is its advanced targeting options. You can use time, clicks, scrolls, pages, posts, logins, devices, tags, and referral links to target your audience. This means that you can display the right content to the right people at the right time.
Another great feature of the plugin is its integration options. You can choose to store the submissions locally or send them to your preferred CRM system. Additionally, the plugin integrates with popular email services like Aweber and MailChimp, allowing you to reach out to your visitors via email.
"Scheduling is made easy with the plugin. You can set specific times or dates for your modules to be displayed, ensuring that they are seen at the most optimal times. This feature is especially useful for running limited-time promotions or special offers.
The plugin also includes exit intent technology, which detects when a visitor is about to leave your website and displays a targeted message or offer. This can be a powerful way to capture the attention of visitors who are about to leave and encourage them to stay or take a desired action.
Key Features:
Super powerful conditions for targeting your audience
Email outreach to visitors
Advanced targeting options
Integration with top email services
Link Management, Branding & Tracking WordPress Plugin
Pretty Links is a WordPress plugin that allows you to shorten, track, and beautify URLs within and outside of your WordPress website. It also lets you create links based on URLs. With this plugin, you can easily redirect existing affiliate links by simply adding them to the settings page.
One of the main reasons to use Pretty Links is to shorten your links and track the number of visits they receive. It provides detailed reports on the number of visitors who access your links, allowing you to analyze your marketing efforts from one convenient location.
The plugin offers several intriguing capabilities. It enables you to track and manage your link cloaks, create nofollow/noindex links, and download hit details in CSV format. You can view click details, including the IP address, remote host, and browser used by the visitor.
Another great feature is the money-back guarantee, ensuring you are satisfied with your purchase. The plugin also generates customizable charts that report the number of clicks per day, giving you a visual representation of your link performance.
With the plugin, you have the freedom to name a custom slug for your URL, allowing for easy recognition and management of your links. Additionally, the plugin offers full tracking capability with custom parameters, allowing you to customize the tracking experience to suit your specific needs.
With Pretty Links, you can easily manage and optimize your links, making it a valuable tool for any WordPress website owner looking to boost their marketing efforts.
Key Features:
Track and manage link cloaks
Great for affiliate marketers
Download hit details in CSV format
Provides a money-back guarantee
Customizable charts for daily click reports
Name custom slugs for easy URL recognition
Frequently Asked Questions
How do these plugins benefit my WordPress website?
These plugins provide significant benefits to your WordPress website. Yoast SEO helps optimize your content for search engines, improving your site's visibility. Google Analytics Dashboard for WP allows you to track and analyze your website's performance.

OptinMonster helps you create attractive opt-in forms to grow your email subscribers. MonsterInsights simplifies the integration of Google Analytics into your WordPress site. WPForms enables easy creation of forms for user interaction.

Constant Contact assists you in email marketing campaigns. WP Rocket enhances your site's speed and performance by caching pages. Sucuri improves the security of your website, protecting it against threats.
How can I install and activate these plugins on my WordPress site?
To install these plugins, go to your WordPress dashboard, navigate to the 'Plugins' section, and click on 'Add New.' Search for the desired plugin by name, and once located, click on 'Install Now' and then 'Activate.'

You can then access the plugin settings and configure them according to your requirements. Some plugins may require additional setup or integration steps, which are usually provided in their documentation or support resources.
Conclusion
To recap, in this article, we discussed the eight best WordPress marketing plugins, both free and pro options, that can take your website to the next level.
These plugins offer a range of features to help optimize your site for marketing purposes, from lead generation and email marketing to social media integration and SEO optimization.
If you're hungry for more knowledge and want to dive deeper into these topics, I highly recommend checking out the BetterStudio blog. They have a wealth of tutorials and resources that will further expand your understanding of WordPress marketing plugins and how to use them effectively.
To stay up to date with the latest tutorials and tips, be sure to follow BetterStudio on Facebook and Twitter. They regularly share insightful content and updates that can help you stay ahead in the world of WordPress marketing.
Finally, we want to express my gratitude to all of you for taking the time to read this article. Your support means the world to us! If you have any questions or encounter any issues regarding the content discussed in this article, please don't hesitate to leave a comment below.
We're here to help and provide further guidance wherever needed. Once again, thank you for reading, and happy marketing with WordPress!