Hey there freelancers! Are you looking to level up your WordPress website with some awesome plugins? Well, you've come to the right place!
In this blog post, we're going to explore the 9 best WordPress plugins for freelancers in 2023 – both free and pro options. So, let's dive in and discover how these plugins can supercharge your website and make your life as a freelancer a whole lot easier.
Now, you might be wondering, why do I even need these plugins? Well, let me tell you, having the right plugins can make a world of difference for your WordPress website.
They can help you optimize your site for search engines, enhance your site's performance and security, streamline your workflow, and even add cool features to impress your clients. And the best part? They're designed specifically with freelancers in mind, catering to your unique needs and challenges.
In this article, we'll not only introduce you to the top 9 plugins, but we'll also provide you with some interesting stats and facts about each one.
So, sit back, relax, and get ready to take your freelancing game to the next level with these powerful WordPress plugins. Whether you're a newbie or a seasoned pro, there's something here for everyone. Let's get started!
Best Freelancers Plugins for WordPress
If you're a freelancer looking to enhance your WordPress website, you won't want to miss out on the best plugins available. Discover how these free and pro options can take your site to the next level. Check out the following products in this article and see how they can elevate your business.
Web Visitors Engagement WordPress Plugin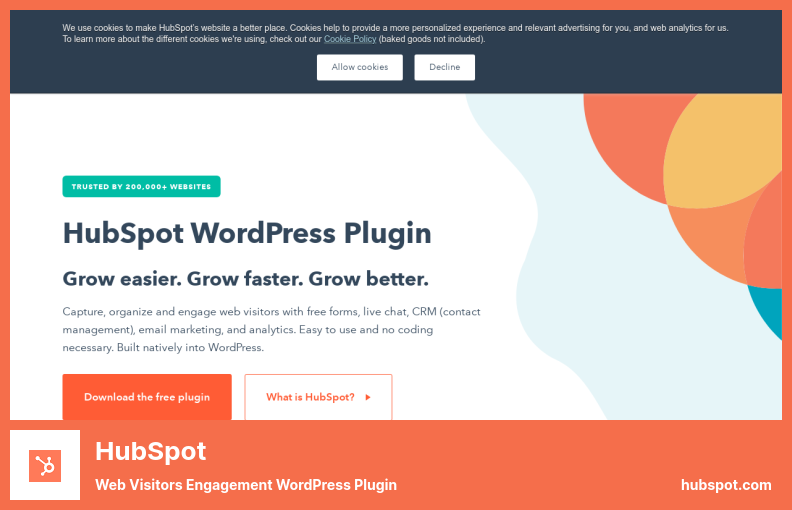 HubSpot is an intelligent and comprehensive WordPress plugin that seamlessly integrates with your website to enhance visitor interaction and organization.
It offers a wide range of features including forms, live chats, customer relationship management (CRM), email marketing, and analytics, all with minimal coding required. The best part is that it works natively with WordPress, so it won't negatively affect your site's performance.
One of the standout features of the HubSpot plugin is its user-friendly pop-up creator, which allows you to create eye-catching pop-ups that capture your visitors' attention. It also includes a chat widget, allowing you to engage in real-time conversations with your website visitors.
Additionally, the plugin provides a contact database that makes it easy to add contact forms to your website. These pre-built forms can be quickly customized and added to your site, saving you time and effort.
By combining all these functions into one plugin, HubSpot makes managing your website much simpler. You won't have to install multiple plugins or worry about bloat slowing down your site. Everything you need to run your business is conveniently available in one place.
For freelancers, the CRM feature of HubSpot is particularly valuable. It allows you to track customer communication and engagement, and log important information in one accessible database. This makes it easier to nurture leads, manage customer relationships, and ultimately convert interested prospects into loyal customers.
It's important to note that while a CRM solution like HubSpot is powerful on its own, integrating it with your website, email, and social media channels is crucial for its effectiveness. By doing so, you can leverage the full potential of the plugin and streamline your marketing efforts.
Powerful Open Source Project Management Plugin
WordPress Project Manager is a must-have plugin for freelancers looking to efficiently manage their projects. With this plugin, you have full control over every aspect of your business. It allows you to easily manage all of your projects in one place, keeping everything organized and ensuring nothing falls through the cracks.
One of the key features of WordPress Project Manager is the ability to receive email notifications. This means you'll always be in the loop, whether it's team discussions or private conversations.
Your clients can also access updated work and ask questions through these conversations, facilitating clear communication and collaboration.
With the file-sharing system provided by this plugin, you can collaborate with your team in a Google-like manner. This makes it easy to share files and work together, ensuring everyone is on the same page.
The plugin also offers a time management system, helping you stay on track and ensuring projects are completed to satisfaction.
Security is important, especially when collaborating on projects. WordPress Project Manager allows you to grant different levels of access to different team members, adding an extra layer of security to your projects. This way, you can control who has access to what and maintain confidentiality if needed.
The dashboards provided by this plugin are user-friendly and intuitive. You can easily check the status of your projects at any time, ensuring you stay on track to achieve your objectives.
This simplified project management platform is designed to keep everything organized and accessible, making it easier for you to manage your projects efficiently.
Entire Blog Schedule Management Plugin for WordPress
The Editorial Calendar plugin for WordPress is a powerful tool that allows you to manage and organize your content creation process with ease. With this plugin, you can create, organize, and assign projects, tasks, and to-do lists faster than ever before.
One of the standout features of this plugin is its ability to help you manage your work with deadlines, milestones, subtasks, activities, progress reports, and advanced insights. This means that you can stay on top of your content creation schedule and ensure that everything is running smoothly.
Another great feature of the Editorial Calendar plugin is its integration with your WordPress site's editorial calendar. This allows you to see all the content that has been published and scheduled for the month, giving you a clear overview of your content schedule.
If you are working with multiple authors on your WordPress site, this plugin allows for easy management of authors and their contributions. You can edit the titles and publication dates of posts, as well as manage drafts for your site. This ensures that everyone is on the same page and that your content is of the highest quality.
One of the standout features of the Editorial Calendar plugin is its color-coded system for editorial status. This means that you can easily see when posts are scheduled to be published and if they are on track. This is incredibly useful for freelancers who are always on the lookout for new client work and need to stay organized.
In addition to its scheduling and management features, this plugin also offers advanced insights and analytics. You can view insights and get a visual representation of what your team is working on.
This can help you identify areas for improvement and ensure that you are making the most of your content marketing strategy.
Key Features:
Divide projects into timelines for more effective goal setting.
Visualize your projects and tasks for easy organization.
Manage each task thread more effectively with an advanced task list.
Discuss projects openly or privately through the plugin.
Receive email notifications for important events related to your tasks.
Gain insights and see a visual representation of your team's work on a dedicated page.
Powerfull Higher Ranking in Search Engines WordPress Plugin
Yoast SEO is a plugin developed by Yoast, designed to optimize your WordPress website for search engines. With its extensive features and tools, this plugin helps you improve your site's visibility and ranking on search engine result pages.
One of the main benefits of Yoast SEO is its ability to help you identify and fix inconsistencies in your site's SEO. It provides comprehensive features and functionality that enable you to optimize various aspects of your website, from meta tags and keywords to site structure and readability.
By addressing these SEO factors, you can enhance your site's visibility and attract more organic traffic.
Another advantage of using Yoast SEO is its integration with Google Search Console. This integration allows you to access valuable search engine metrics directly within your WordPress dashboard. You can easily monitor your site's performance, track keyword rankings, and identify areas for improvement.
Yoast SEO also offers complete control over the breadcrumbs of your website. Breadcrumbs are the navigational links that appear at the top of a website, helping users understand their current location within the site's hierarchy. With this feature, you can customize your website's breadcrumbs and enhance user experience.
The plugin also provides improved functionality for XML sitemaps. XML sitemaps are files that list all the pages on your website, helping search engines understand its structure and content.
Yoast SEO automatically generates XML sitemaps for your website, ensuring that search engines can crawl and index your site effectively.
Additionally, Yoast SEO allows you to perform a search engine optimization analysis on the content you publish.
It provides valuable insights and recommendations for optimizing your content for specific keywords and improving its overall SEO score. This feature helps you create high-quality, SEO-friendly content that resonates with your target audience.
Lastly, Yoast SEO offers templates for titles and meta descriptions. These templates allow you to optimize your website's branding and visibility by creating consistent and compelling titles and meta descriptions for each page. This feature helps improve click-through rates and drives more organic traffic to your site.
Key Features:
Improved functionality for XML sitemaps
SEO analysis for content optimization
Integration with Google Search Console
Templates for titles and meta descriptions
Email and SMS Marketing for Growing eCommerce Brands Plugin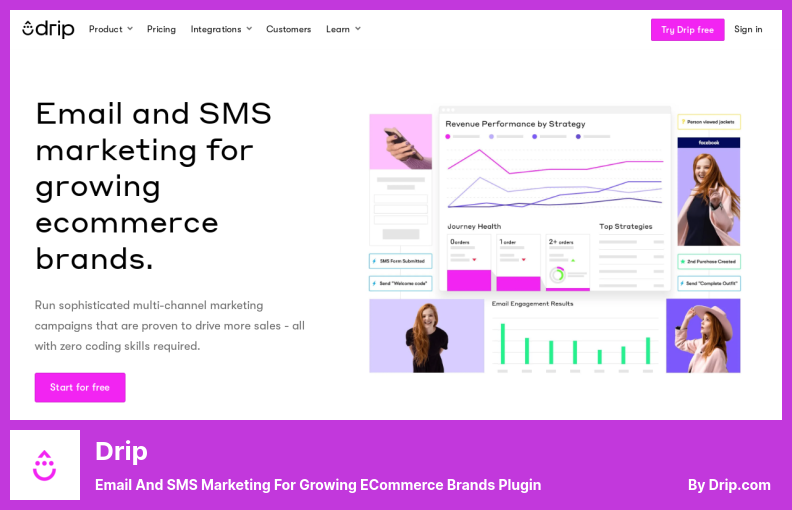 By utilizing the Drip Plugin, marketers can create advanced multi-channel marketing campaigns, including Drip is an email marketing tool that allows marketers to create advanced multi-channel marketing campaigns with just a few clicks and without the need for coding expertise.
With Drip, you can automate tasks like sending automated emails, categorizing subscribers based on specific criteria, and building email courses or onboarding emails to convert visitors into customers.
One of the standout features of Drip is its ability to save you time and effort by automating your marketing tasks. Instead of manually managing these tasks, Drip takes care of them for you, allowing you to focus on other aspects of your business.
Drip offers a variety of widgets that you can use to collect email addresses from visitors to your website. These widgets include a live chat widget that can be embedded directly on your site, a widget that can be used anywhere, and a widget that allows visitors to submit their email addresses before leaving your website.
Drip is specifically designed for digital marketers, business owners, bloggers, and freelancers who understand the importance of building their email lists. With Drip, you can have multiple widgets for collecting visitor email addresses on any website.
One of the main advantages of Drip is that it brings together various email marketing tasks into one dashboard. This makes managing your email marketing functions much easier and less confusing, especially compared to using multiple standalone plugins.
Key Features:
Engage your customers through various channels like SMS, email, social media, and onsite pop-up advertising, all from one platform.
Personalize your content and target your audience effectively with automated content targeting.
Create campaigns for abandoned carts, welcome series, and post-purchase to maximize your sales and conversions.
Sync your data from popular eCommerce stores like Shopify, WooCommerce, and BigCommerce.
Send over a million messages per month, allowing you to reach a large audience and generate substantial revenue.
Fully Featured Invoicing Solution for WordPress
Sprout Invoices makes it easy for you to create and send invoices to clients, which makes it easier to keep Sprout Invoices is a powerful WordPress plugin that simplifies the process of creating and sending invoices to your clients.
With this plugin, you can easily keep track of your financial status and ensure that you never miss out on payment.
One of the standout features of Sprout Invoices is its customization options. You have the ability to personalize your invoices, making them stand out among the rest in your client's inbox. This helps you leave a lasting impression and maintain a professional image.
Not only can you create and send invoices, but Sprout Invoices also allows you to review the invoices you have sent. This feature helps you stay organized and keep track of all the work you have completed for your clients. It's essential for maintaining a clear record of your accomplishments.
What sets Sprout Invoices apart is its seamless integration with major payment gateways like PayPal, Stripe, and Authorize.net. This means that you can easily accept payments from your clients without any hassle. The plugin provides a seamless and professional invoicing experience.
As a freelancer, invoices play a vital role in your business. They are a formal way to request payment for the work you have completed. Sprout Invoices simplifies this process and ensures that you maintain a professional image in your financial transactions.
Key Features:
Customize notifications to keep your clients informed.
Over two hundred Sprout Invoices filters and actions are available, allowing for advanced customization.
Seamlessly integrate with more than 300 web applications, including Quickbooks Online and WooCommerce.
Specify payments amounts, due dates, and interest charges for your clients.
A variety of payment methods are available to you.
Design your own estimates and invoices to match your brand.
Good Looking Opt-in Forms WordPress Plugin
MailChimp is a popular email marketing service that makes managing subscribers, sending emails, and tracking success a breeze. As a freelancer, this tool is invaluable in staying top-of-mind with your clients.
This user-friendly WordPress plugin simplifies the process of integrating MailChimp into your website's features, such as the contact form, comments box, or checkout form. This is a huge benefit for your users, as it allows them to easily subscribe to your email list.
With MailChimp, you can create an attractive subscription form that collects email addresses, enabling you to send targeted emails to your subscribers. Consistent contact with your customers and prospects is crucial for maintaining credibility and ensuring business success, and MailChimp helps you achieve just that.
Not only does MailChimp have seamless functionality and features that deliver positive results, but it has also been trusted by businesses and freelancers for quite some time. Its reputation speaks for itself.
Key Features:
Customize fields to gather the specific information you need from subscribers.
Seamlessly integrate MailChimp with WooCommerce for advanced e-commerce capabilities.
Utilize an email notification system to stay in touch with your audience.
Instantly connect to your Mailchimp account.
A visually pleasing and user-friendly mobile-optimized sign-up form.
Easily customize the appearance of your forms using a style sheet.
Enjoy multiple integrations and add-ons to enhance your email marketing efforts.
Multiple Contact Forms Management Plugin for WordPress
Contact Form 7 is a powerful WordPress plugin that simplifies the process of creating and managing multiple contact forms on your website. Its main purpose is to provide a user-friendly interface for customizing the appearance and content of your contact forms, as well as handling form submissions.
One of the standout features of Contact Form 7 is its support for Ajax submission, CAPTCHA, and Akismet spam filtering.
This means that you can ensure your site remains clean and free from unwanted spam messages. By utilizing these features, you can create a seamless user experience for your visitors and maintain the credibility of your business.
With Contact Form 7, you have the ability to create custom-made notifications, including captchas, quizzes, file uploads, and more. This makes it an excellent tool for freelancers who may not have extensive knowledge of online marketing but still want to develop a comprehensive customer database.
By making it easy for your clients to contact you, you can establish yourself as a professional and gain the respect of your clients.
In terms of popularity, Contact Form 7 is one of the most widely used contact form plugins available online. Its user-friendly interface and variety of features make it a top choice for many website owners.
Whether you're a freelancer looking to enhance your productivity or a business owner in need of a comprehensive contact form solution, Contact Form 7 has you covered.
Key Features:
Support for CAPTCHA

, Ajax submission, and Akismet spam filtering

Customizable contact forms with simple markup
Prebuilt shortcodes for adding new fields, buttons, and drop-down menus
Custom-made notifications, including captchas, quizzes, and file uploads
Enhances your credibility as a freelancer or business owner
User-friendly interface for easy customization
Wide popularity and usage among website owners
Helps in developing a comprehensive customer database
Simplifies the process of managing multiple contact forms
Provides a seamless user experience for your visitors.
A Freelancer Marketplace WordPress Plugin

Taskbot is a WordPress plugin that acts as an online freelance marketplace. It allows freelancers to showcase their services and receive orders online. By adding the Taskbot plugin dashboard to your website, you can improve its accessibility and usability. This user-friendly feature will make visitors more inclined to use your site.
This plugin has undergone extensive research and development to ensure it effectively meets the needs of companies looking to establish sellers' marketplaces in the future.
With the Taskbot plugin, WooCommerce product post types now support tasks, sub-tasks, and packages. Buyers can also add wallets, allowing for seamless collaboration between sellers and buyers.
Setting up profiles on the Taskbot platform is a breeze for both buyers and sellers. Sellers can easily create tasks and start receiving online orders for their services or gigs. The platform's intuitive design and clear descriptions make the process straightforward.
Some key features of Taskbot include building beautiful pages with Elementor's drag-and-drop functionality, managing tasks and sellers' listings, and powerful pages for listing and task details.
The plugin also offers an undefined moderation system for the review system, allowing for easy customization of email templates with powerful options. The custom admin panel provides powerful tools for effective administration.
Key Features:
Elementor integration for building visually stunning pages.
Seamless management of tasks and sellers' listings.
Powerful pages for listing and detailed task information.
Flexible review system with an undefined moderation system.
Customizable email templates for better communication.
Custom admin panel with robust administration tools.
Frequently Asked Questions
Why are WordPress plugins useful for freelancers?
WordPress plugins are incredibly useful for freelancers as they can help streamline their workflow, improve productivity, and enhance the overall performance of their websites. With the right plugins, freelancers can easily add contact forms, create beautiful portfolios, optimize their site for search engines, improve site security, and much more, without the need for coding or technical expertise.
How do I choose the best WordPress plugins for freelancers?
When choosing WordPress plugins for freelancers, it's important to carefully evaluate your specific needs and requirements. Consider the features you need, the level of support provided by the plugin developer, user reviews and ratings, and compatibility with your WordPress version. It's also recommended to stick with reputable plugin developers and regularly update your plugins to ensure optimal performance and security.
Are these WordPress plugins suitable for beginners?
Yes, these WordPress plugins are suitable for beginners. They are designed with user-friendly interfaces and offer easy-to-use features. Many of them also provide documentation and tutorials to help beginners get started. Whether you're just starting out or have some experience with WordPress, these plugins can be easily installed and customized to meet your specific needs.

It's always a good idea to test them out on a staging site before implementing them on your live website to ensure compatibility and avoid any potential conflicts.
Conclusion
In conclusion, we've covered the 9 best WordPress plugins for freelancers in 2023, both free and pro options. These plugins are essential tools that can help enhance your website's functionality, productivity, and overall success as a freelancer. From managing bookings to optimizing SEO, these plugins offer a wide range of features to meet your specific needs.
If you're looking for more tutorials and resources related to WordPress and freelancing, be sure to check out the BetterStudio blog. They have a wealth of helpful articles that can further assist you in maximizing your WordPress website's potential.
To stay up to date with the latest tutorials and tips, I highly recommend following BetterStudio on Facebook and Twitter. By doing so, you'll be the first to know about any new releases or updates that can further improve your WordPress experience as a freelancer.
Thank you for taking the time to read this article. If you have any questions or encounter any problems related to the plugins discussed in this article, please don't hesitate to ask in the comment section below. We're here to help and provide any further guidance you may need. Happy freelancing!