Are you looking for the best email marketing services? Should email marketing be part of your business strategy in 2021?
You can greatly improve the success of your marketing campaign by selecting the right email marketing service.
Let's take a look at the top 10 email marketing services for small businesses in this article:
Advanced Email Marketing Software
One of the largest and fastest-growing email marketing services in the world, Constant Contact is also a user-friendly solution for beginners.
Their drag-and-drop email builder allows you to create new emails quickly that look great and are on-brand without requiring any coding knowledge. You can easily add text, images, videos, coupons, polls, and events to any message.
Due to their long history in email marketing, Constant Contact discovered new avenues that no other providers explored. As an example, they were the only solution that offered tools for managing events, surveys, and social campaigns.
It has advanced A/B testing features. You can conduct A/B testing of the subject lines and resend campaigns to subscribers who haven't opened them. Additionally, the Email Plus package offers you multi-step automated email series, surveys, and online donation tools.
It offers a wide variety of mobile-friendly, modern templates to engage and convert customers, real-time reporting and analytics, as well as bonus features such as coupons and polls.
You can choose from two different plans: The Email tier includes all the basic features described here for a nominal monthly fee. The Email Plus account provides split testing, dynamic content, and mobile-responsive coupons.
Generally, Constant Contact is an excellent email marketing platform that can be used by event organizers, educators, and others to take their online events to the next level.
---
Key Features:
Insights into Instagram and Facebook advertising
Using the A/B Testing tool to determine which variation works best
Using the Form Builder to create an online form to collect leads
Options for an automatic resend to non-openers
Customize your mail with event invitations, coupons, surveys, and polls
You can easily integrate social media with your mail as well
a robust security system
Drag-and-drop email builder functionality
Email automation feature that is simple to use
They offer live chat support and telephone support
All Your Digital Marketing Tools in One Place
It is hardly a controversial statement that SendinBlue is one of the most effective email marketing tools that deliver incredible value without sacrificing functionality.
You can easily create campaigns with Sendinblue's email design tool. There are three ways to build your email: drag & drop, 'Rich Text Editor', and custom HTML code. The editor's layout is compact and doesn't impose many popup windows on your view. Each of these options is smooth and easy to use. You can also preview your created email on a desktop, tablet, or mobile device.
Sendinblue's flexibility in integrating with the top WordPress themes and plugins makes it the most versatile product on this list.
You can use Sendinblue to create automated email workflows that send emails automatically based on your contacts' behavior on your website. For example, you could send a customer an automated email if they add an item to their cart but do not check it.
You are also able to take advantage of SendinBlue's SMS and landing page features to engage with your audience and increase your lead generation efficiency, in addition to email marketing.
A free plan for the platform makes you eligible for unlimited contacts and up to 300 emails per day. I think that's a pretty damn good deal, especially if you're running a bootstrapped business or work alone.
Additionally, SendinBlue offers SMTP bulk email marketing services that can be used to send automated or transactional emails from your WordPress site. It's not necessary for email marketing, but if you have a large website and want to send automatic real-time content-based emails, it's a handy feature to have.
---
Key Features:
This email automation tool is very powerful and affordable at the same time
You can access a landing page builder and Facebook Ads integration on the plans above. You do not get access to the basic package
You can integrate live chat with your email automation. This makes it easier for you to manage your marketing stack since you don't need to use multiple tools
SendinBlue offers transactional email messages and transactional SMS as part of the higher plans
Text-messaging marketing features to deliver SMS and autoresponders
Split testing of campaign elements to determine which ones perform best
Email and SMS transactional messaging services
Email and SMS Marketing for Growing eCommerce Brands
Drip is a powerful enterprise email marketing platform for eCommerce, bloggers, and digital marketers. They offer tools to make marketing automation, sales funnels, and personalization easy.
Drip offers new eCommerce merchants the same powerful email marketing automation and segmentation tools as larger eCommerce stores because it focuses on offering small, independent stores the same powerful tools.
This service shows your customer data and tells you what it means. In addition, it provides data-driven recommendations on when to do what, what to send, and how to make the most significant impact today.
They have an easy-to-use automation workflow editor, which is well-designed and flexible, and colorful icons to make it enjoyable to use. There are several automation triggers available, including clicks on links, page views, tags assigned, as well as purchases made on your online store.
Any idea how to set up a cart abandonment workflow? Install 24 pre-built automation workflows into your account for free. You do not have to worry about it, simply download the automation, add your own content, and hit publish.
If you use Drip, you can send an unlimited amount of emails. There are also drag and drop tools, customer segmentation options, contact tags, personalized email content, opt-in forms, and 100+ integrations with social media and 3rd party tools that they offer as well.
Additionally, Drip offers a lot of support through live chat, webinars, complete online courses, and a robust documentation hub.
---
Key Features:
Drip's feature set is tailored to eCommerce sites, and its eCommerce-specific reporting is unique to this product
With Drip's visual automation builder, you can create email automation and split-test it directly in just a few minutes
You can track all the activities on your website and use that data to build out your email automation campaigns
When you run multiple websites, Drip becomes much more affordable. Adding a secondary user account to your main account can save you from purchasing separate accounts for each site
A CRM for eCommerce shops
Offers SMS notifications
Bulk email sending capabilities
With customer segmentation capabilities
More than 100 integrations with social media and third-party tools
All in One Marketing Platform
Created by creators for creators, ConvertKit understands the needs of their clients and what it takes to build a successful online presence.
In ConvertKit, you can only use plain text or HTML code, and there is no modern drag and drop tool available. It is common for people to send text-based emails to friends and family because that is how they communicate with them. If you treat it the same way, you come across more like a friend than a business, which is exactly what you want as a creator.
With ConvertKit, you get a pretty standard feature list for a modern email marketing service. A cleverly crafted course was also crafted for building and launching email marketing campaigns that greatly emphasize supporting your growth and success.
The visual automation builder allows you to add email sequences and drag them into it. You can do the same with forms too. Most email marketing services would require you to open these options separately, but when editing your automation, you can see both at once.
We rate ConvertKit as the best email marketing service for professional bloggers because they have many features tailored specifically for creators and professional bloggers, like paid newsletters.
There are more than 70 third-party integrations, customizable forms, and custom reports that ConvertKit offers. You can reach them by email and live chat 24 hours a day, Monday through Friday, with limited support on weekends and nights.
---
Key Features:
You can get started with an email list without much learning curve with the user interface
Subscription management features like Tags enable segmentation and provide excellent deliverability rates
You don't have to deal with annoying email branding with text emails
There is a 14-day trial available
They also offer 30-day refunds
Don't bother with fancy design features, adding your logo, or using a bunch of imagery in your blog email
Offer a range of helpful articles and knowledge about marketing
This email automation builder is well-suited for beginners to email marketing due to its simplicity and power. However, depending on what you want to automate, you can do quite a bit with it
You can create opt-in forms and landing pages without additional tools
All-In-One Marketing Platform for Small Business
There are many benefits of using Mailchimp, but the primary benefit is its forever free email marketing service plan. Currently, MailChimp is the most popular free email marketing service on the market, with more than 17 million users.
You can easily create beautiful campaigns using the drag and drop email builder and professional templates. You can grow your audience by having popup signup forms on your website and creating unlimited landing pages with pre-made templates.
You can also do cross-device email testing on Mailchimp's email platform to determine what elements are most effective for your audience when it comes to increasing the success of your campaigns. A landing page builder is available to boost lead generation with this email marketing tool as well.
In Mailchimp, registrations must be double-confirmed (on the website and by Email). Consequently, some users' email lists will be reduced as a result of this. The downside is that this can turn down many potential subscribers, but it also drastically reduces the number of emails that are rejected, as well as prevents email delivery servers from getting blacklisted.
With Mailchimp's email marketing tools, you can write attractive emails to your customers, create dynamic content, automate your emails, and integrate with various social media platforms and other applications.
---
Key Features:
Reports containing useful analysis
Shopify, WooCommerce, and Magento Integration
Support 247 via Email or live chat
Pay As You Go options
Landing pages to boost your lead generation efforts
Track essential metrics with Google Analytics
Integration with a wide range of popular tools
Behavioral targeting and advanced segmentation
Test your Email across different devices to ensure no errors occur
Create Email Marketing Your Way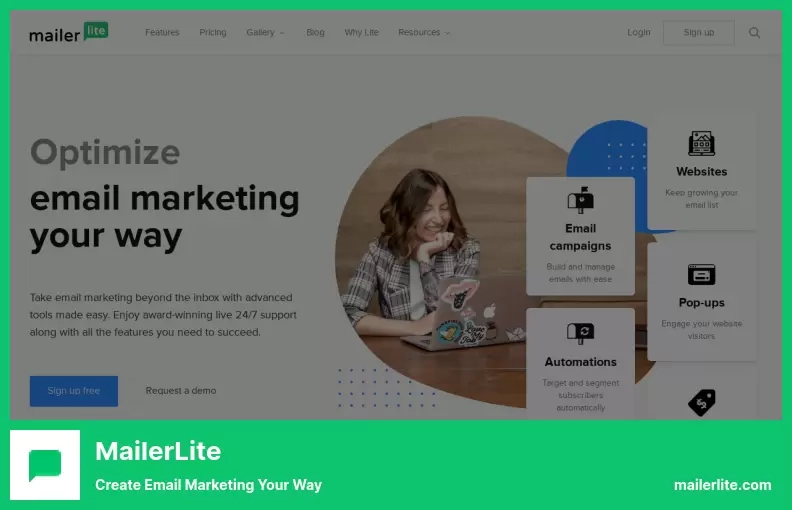 MailerLite lets you create an unlimited number of forms and landing pages for free. Different forms can be deployed to segment your mailing list. It is one of the cheapest options on our list. It comes with everything you need regardless of whether you are a brick-and-mortar store or if you started selling online during COVID.
MailerLite gives you the option of adding contacts individually, uploading a list from a file, or copy-pasting. The option of importing your email contacts from Mailchimp is also available, which is strange on its own. Depending on how the import went, you may need to either add them to an existing group or create a brand-new one.
Subscribers can be segmented, inactive subscribers can be removed with a few clicks, and tracked activity. It's possible to split test campaign emails via RSS or send them directly by Email.
Additionally, the platform is handy for teams since the platform does not need to intimidate users, everyone can take advantage of its basic functions.
In addition to automation features, you still have access to landing pages, popups, and surveys, so you're not completely limited.
Using MailerLite's drag-and-drop editor, you can design a high-quality message quickly and easily. Use segmentation to better target subscribers and A/B testing to optimize your campaigns.
MailerLite can also automate and personalize emails based on user behavior, such as abandoned cart emails. Segmentation and contact management systems are also included.
User interfaces are easy to use, emails are responsive, and customer service is available 24 hours a day, seven days a week. If you have less than 1,000 subscribers, then you can start with their forever-free plan.
---
Key Features:
Custom HTML editor & Easy and powerful landing page builder
Signup forms designed to increase subscriber numbers
With A/B testing options, you can make sure that everything works just like you want it
Open rates by location feature
Many integration options, including WordPress
List segmentation and contact tagging
Live customer support 24/7 via live chat and Email
Trusted Inbound Marketing Software
It's no secret that GetResponse is one of the most popular email marketing software platforms. But it's not just an email newsletter service. Rather, it's an all-in-one marketing automation solution.
Even though GetResponse has always been known for its email marketing product, the addition of visual marketing automation, landing pages, webinars, CRM, and other new features have made it a more comprehensive platform.
GetResponse offers a great tool called Autofunnel. It can be used to build sales funnels, lead generation funnels, webinar funnels, and more. Using it is very simple and automated. Among the things that are included in a funnel are emails, landing pages, popups, marketing automation, Facebook advertisements, and eCommerce integration.
They have responsive email and landing page templates and a webinar feature with big advantages. Also, they recently added a free plan that includes unlimited email.
In addition to transactional emails, marketing campaigns can also be coordinated using the software; eCommerce plugins can be used to promote products on landing pages and emails.
Also included in GetResponse are thousands of free stock photos and a Shutterstock gallery, integrated into the platform. In any case, you must purchase the image after previewing it in the editor if you wish to use it.
It is one of the best tools for creating automated sales funnels and landing pages. GetResponse's 24/7 customer support is reassuring if you're new to email marketing, especially if you're using a live chat or email account.
---
Key Features:
There are 500+ templates for emails
Create your own mini eCommerce store with GetResponse, which is excellent for digital product sellers. You can integrate other eCommerce platforms as well as payment gateways
The visual automation comes with templates to help you get started and is easy to use
Landing page builders are available in most email marketing tools, but they are often quite limited. That's not the case with GetResponse
With Autofunnel, you can create complete sales funnels quickly and easily. It's easy to build a well-planned sales funnel with Autofunnel
You can easily create landing pages and automate the process
Free trial for 30 days
Dynamic content based on the segmentation of the customers
Strong emphasis on webinars and eCommerce
Email Marketing & More for Small Businesses
While AWeber is a very reliable and affordable email marketing service, its greatest strength is its simple pricing model. This is a very lucrative opportunity for those with small lists (no more than 500 subscribers).
Email automation features can automate campaign processes such as drip campaigns for launching a new product or welcoming new subscribers. You can save time using pre-made workflows that include email templates for every campaign stage in the campaign marketplace.
Moreover, email marketing platforms can offer email testing across various devices through their integrations. It is a pretty helpful feature for your business. The best way to ensure your emails are not clipped is to look at how they appear in different email clients and devices. AWeber's features can, in some sense, guarantee that your email will look good.
Also, to improve deliverability for emails from your domain across all of your connected websites, you can set up separate DKIM and SPF records.
Suppose you need a team or virtual assistant to help you out. In that case, AWeber comes with an unlimited number of user accounts.
Its AI-powered email template designer is what makes AWeber so unique. For beginners, this makes the entire process of creating an email much simpler.
You can contact Aweber's customer support by phone, email, or live chat 24 hours a day, 7 days a week. In addition, they have an extensive knowledge base to answer various questions that may arise.
---
Key Features:
Email builder that can be dragged and dropped
With options for automating emails
Using tags to target specific contacts
The AI-powered email template designer makes it easy to quickly design emails that look great
Access 700+ email templates from our extensive collection
AWeber's auto-responder can be used if you don't need full automation. They have simple automation but no visual builder like the other tools on the list
This tool can be used to test your email variations
Test emails on different devices
You can import an email list and create a database from a variety of file types, including XLS, XLSX, TXT, CSV, and TSV
Email Marketing for Thriving Businesses
We feel Moosend deserves a place on our list due to its affordable prices and extensive features.
We like the eCommerce AI in Moosend the most. Using machine learning and collaborative filtering, it shows customers products similar to those they might like based on their shopping habits.
With this tool, you can create email campaigns using drag-and-drop features and a variety of responsive email templates that can be fully customized. As an added bonus, Moosend also allows you to preview your campaigns on different devices so that they always look great.
The automation features of Moosend make it stand out. Automated messages can be generated via upsells, customer engagement, or loyalty using their 'Recipes' (pre-built automation templates). Automating a process involves three major components: triggers, control steps, and actions. Combining all three will enable you to segment and send email sequences based on the events you specify.
Let's say you are going to automate emails such as abandoned carts and upselling emails, or even a simple anniversary email. If that's the case, there are many options for workflow with this platform.
Additionally, pre-made signup forms are available that you can customize and embed in a few seconds on your website. It was important to the Moosend team to make the service as user-friendly as possible.
---
Key Features:
Marketers can segment their lists based on customer behavior such as engagement metrics and abandoned cart emails
The Automation Workflow allows you to tailor your emails to your customers and nurture your relationships more easily
Building landing pages with an email signup forms is a great way to increase conversions
Using custom opt-in forms, you can make sure visitors subscribe to your mailing list when they visit your site
They also provide analytics tools that provide a bird's eye view of your email metrics
All paid plans come with telephone support. All custom enterprise plans provide an account manager and phone, email, and live chat support. A huge knowledge base and video tutorials are also available for your use
Ecommerce Email Marketing and SMS Platform
Omnisend is an eCommerce-specific email marketing solution that's easy-to-use. In order to convert leads into customers, they offer multiple features such as automated email and SMS messaging. In 130+ countries, their email marketing software is used by over 40,000 marketers.
Omnisend lets brands send more relevant content across devices and platforms to their customers. This is accomplished by understanding how the user browses websites and how their device behaves based on the custom events you create.
Segmented campaigns are available across all of their channels. You can therefore target exactly the customer you need to in order to sell your product or service.
It offers a number of pretty unique features in addition to excellent automation, including 'wheel of fortune' incentives for signups, interactive gift boxes, product recommendations, and live web tracking.
The best choice for brands wanting to effectively market to their visitors (or remarket to them).
---
Key Features:
Sales tracking across channels
Offers some excellent free features for beginners
Great audience segmentation
Shopify, BigCommerce, WooCommerce, Magento integration
FAQs About Email Marketing Software
We've answered quite a few questions about email marketing software with thousands of users. What follows are a few answers to some of the most frequently asked questions about email marketing platforms.
Why do we need email marketing services?
Through email newsletters, subscription forms, landing pages, and other means, email marketing services enable marketers to reach, engage and convert their target audience. In addition, an email marketing service must be able to send bulk emails without affecting email deliverability.
What are the costs of email marketing?
Your email marketing cost will differ considerably depending on how many subscribers you have, how many emails you send each month, and which email platform you use. 
What are the Different Types of Email Marketing?
Sending emails to your list can be divided into three main types:

1. Email marketing and newsletters. The emails are sent once and provide up-to-date content, news, and offers to your list.

2. Emails for transactional purposes. Emails such as order confirmations, receipts, invoices, and shipping confirmation emails are used in eCommerce.

3. Behavior-based emails. They are automatic emails sent based on subscriber actions, such as welcoming emails when a subscriber joins your list, cross-sell/upsell emails, post-purchase emails, and re-engagement emails.
Email metrics: what are they, and what are they used for?
In an email marketing campaign, it is essential to pay attention to a few key metrics:

– The deliverability rate measures how many emails your sender makes it to your audience's inbox, while the bounce rate measures which emails are returned to you.

– Among those emails that were delivered successfully, how many were opened?

– Clickthrough Rate – How many people clicked on links in your emails?

– Bouncing rate: What percentage of emails in your list were not delivered due to the recipient mail server returning your message? It is possible to measure bounce rates using hard bounces and soft bounces.
What is email marketing automation?
Sending automated emails through a marketing automation tool enables you to send emails that reach the right people with the right message at the right time without manually writing them.

By linking your website analytics with your email marketing platform, you can target people based on their behavior, preferences, and previous sales. As a result, your automated campaigns become more relevant to your customers, personalizing their experience.
Is it possible to send bulk emails from my Gmail or Outlook account?
It is possible, but you will quickly have your email accounts suspended. Outlook and G Suite are not designed for bulk emailing. Instead, they are reasonable solutions for sending professional business emails.
What are the best free email marketing services?
There are a lot of email marketing services that offer free plans with limited usage. We recommend SendinBlue, which is the best free email marketing service because your subscriber list is not limited.
Is email marketing helpful for SEO?
SEO is not directly affected by email marketing. It can increase traffic to your website, eventually resulting in more shares and backlinks.

Shares and mentions are used as social signals by Google and other search engines to rank websites. You can indirectly improve your website's search engine ranking by email marketing.
Which email marketing app is best for Shopify?
There are several email marketing services that offer Shopify apps that are easy to use. In addition to offering robust eCommerce marketing automation tools, Drip seamlessly integrates with both Shopify and WooCommerce.
What is the best time to send an email?
Depending on your business type and customer data, you should send your Emails at different times.

The best engagement occurs on Tuesdays and Wednesdays when more people are likely to open, read, and click your emails. Additionally, sending email messages between 8 am, and 4 pm is the best time of day.
What is the best email autoresponder?
Any of the major email marketing software is compatible with the autoresponders that I have used. MailChimp is the easiest to use, but SendinBlue offers the most logic.
Conclusion
We researched the best email marketing services and prepared the best services for them. Consider a service provider from this list to increase your email subscribers and website sales.
If you have any questions, please feel free to post them in the comments. We'd appreciate it if you shared this post on your social media accounts.