Are you a WordPress website owner looking for the best sitemap plugins to help optimize your site? Or perhaps you're just starting out and curious about what sitemaps are and why they're important.
Regardless of what reason you want a WordPress sitemap plugin, this post is here to show you the top five that are available, both free and premium versions, and to walk you through them.
In this article, we'll dive into the world of sitemaps and explore why having a sitemap plugin is crucial for your WordPress site's success. We'll also provide you with some interesting statistics and facts about sitemaps to give you a better understanding of their benefits.
So, without further ado, let's get started and discover the five best WordPress sitemap plugins that will not only enhance your site's SEO but also improve your overall user experience. Let's explore how these powerful tools can help boost your website's visibility and crawlability by search engines.
Best Sitemap Plugins for WordPress
If you are looking to improve your WordPress website's SEO and boost your rankings, look no further than these top-notch sitemap plugins for WordPress! Whether you're a beginner just starting out or a seasoned pro, these plugins are sure to take your website to the next level.
Dive in and discover the best sitemap plugins that will help search engines crawl and index your site more efficiently. Don't miss out on these must-have tools for WordPress success!
Greatly Improve SEO And Create Special XML Sitemaps
Google XML Sitemaps is an exceptional WordPress plugin that ensures not only Google but also other search engines like Bing and Yahoo index your pages accurately. This free plugin analyzes your website's layout to generate reliable sitemaps, making it a top choice in the WordPress community.
What sets this plugin apart is its simplicity and user-friendly interface. You can rely on its default settings, but if you need to make customizations, you'll find all the necessary details in the preferences section of your website.
There is a great benefit to your site if you want to make changes to it over time, as it will automatically notify search engines when you change something by sending out a ping notification.
Additionally, Google XML Sitemaps lets you make sitemaps in multiple languages, so you can reach a global audience. There are plenty of active users, so it's a great sitemap generator for WordPress. This plugin makes it easy for you to make sitemaps, no matter how complicated your site is.
Another noteworthy feature of Google XML Sitemaps is its compatibility with multi-site environments. Whether you have multiple websites or a network of interconnected sites, this plugin has got you covered. It's no wonder that this plugin is among the most widely used and trusted WordPress plugins available.
Key Features:
Translation-ready for multiple languages
Compatibility with multiple sites
Automatic ping notifications to search engine services
No coding skills required
User-friendly interface and easy setup wizard
Highly adaptable and flexible
The #1 WordPress SEO Plugin
Yoast SEO is a powerful WordPress plugin that offers a wide range of features to optimize your website's SEO. It is known for its user-friendly interface and helpful guidance, making it a great choice for both beginners and experienced users.
The plugin automatically creates an XML sitemap for your website once you activate and enable the sitemap function. This sitemap includes links to all the pages of your website, helping search engines easily crawl and index your content.
One of the standout features of the plugin is its ability to address SEO issues and keep your website's optimization up to date. It offers unique configurations that can be used to correct any SEO problems you may encounter. Whether it's sitewide optimization, on-page optimization, or sitemaps, this plugin has got you covered.
Experienced users can also benefit from its advanced features. You have the option to restrict the number of sitemap files or even include an additional sitemap if needed. This flexibility allows you to customize the plugin to suit your specific requirements.
Yoast SEO also has a field on your post creation page that helps you set meta tags. This field also gives situational advice on optimizing your content, based on your keywords. It makes sure your content ranks higher on search engines and makes sure it's optimized for them.
Key Features:
Well-coded for optimal performance
Multifunctional, catering to different users and goals
Ability to restrict sitemap entries directly
Provides title and meta description templates
Customizable modification of the Sitemap Index
Generates Sitemaps in XML format for better search engine crawling
The Most Popular WordPress Plugin for Just About Everything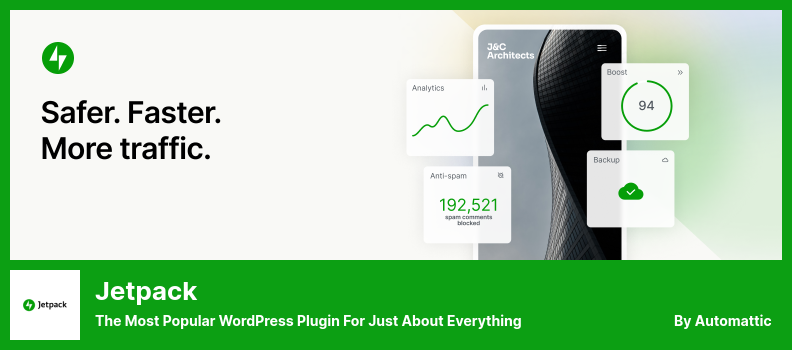 It is the Jetpack WordPress plugin that offers a variety of features that can make your website a lot more secure, perform better, and have easier search engine optimization all at the same time.
One of its key features is the ability to generate multiple types of sitemaps, including overall sitemaps, image sitemaps, video sitemaps, and news maps. These sitemaps can help improve the visibility and accessibility of your website's content.
You don't have to use a dedicated SEO tool to create a sitemap, but you can still use it for common sitemap problems. There's no need for additional plugins, so you can make sitemaps and manage them without any extras. However, you'll have to submit the sitemap to search engines anyway.
In addition to sitemaps, it offers a range of other features to enhance your website's security and performance. The plugin provides automatic malware and security scans, ensuring that your website is protected from potential code risks.
The plugin also offers real-time site backups, allowing you to easily recover your site to any previous point. Furthermore, it allows you to monitor the uptime and downtime of your website and receive email notifications of any changes.
Another useful feature of Jetpack is its activity log, which allows you to see every modification made to your site and who made it. This can be helpful for tracking changes and identifying any potential issues or unauthorized access.
Key Features:
Generates various types of sitemaps for improved content visibility
Performs automatic malware scans and security checks
Offers real-time site backups and easy recovery options
Monitors website uptime and sends email notifications of changes
Provides an activity log to track modifications and identify potential issues
Create a Responsive HTML Sitemap
The Simple Sitemap WordPress plugin lets you create and install a user-friendly HTML sitemap. While most plugins focus on creating XML sitemaps for search engines, this one prioritizes creating visual sitemaps, which both improve your SEO and make your users happier.
With this plugin, you can customize the design of your sitemap by choosing between normal and tabbed layouts. This flexibility allows you to create a sitemap that suits the style and needs of your website.
One of the standout features of the plugin is the use of shortcodes. These unique codes enable you to easily embed the sitemap wherever you want on your website, giving you full control over its placement.
Not only does it provide you with the ability to create an HTML sitemap, but it also offers a preview feature. This means that you can see how your sitemap will look right in the WordPress editor before publishing it, ensuring that it meets your requirements and matches the overall design of your website.
In addition to its user-friendly interface, the plugin is highly adaptable and can be easily customized to fit your specific needs. Whether you have a small blog or a large e-commerce website, this plugin can handle it all.
To summarize, Simple Sitemap is a free WordPress plugin that allows you to create and install a visually appealing HTML sitemap for your website. Its customization options, shortcode functionality, and preview feature make it a versatile tool for improving both SEO and user navigation.
Key Features:
Create HTML sitemaps
Unique shortcodes for easy embedding
Choose between normal and tabbed designs
Preview feature for visualizing your sitemap
Improved navigation experience for users
Highly adaptable and customizable
Sitemap by BestWebSoft is a handy plugin that allows you to easily create a separate media sitemap for your WordPress website. It offers a range of features that make it a versatile tool for optimizing your website for search engines.
With this plugin, you can establish a maximum limit for the URLs in your sitemap and connect your Google Webmaster Tools account for seamless integration. It also works well with other languages, thanks to its compatibility with partner plugins.
This plugin is great because it has a user-friendly interface and a ton of features. You can make XML sitemaps easily and quickly, which you can submit to search engines to increase your visibility, whether you like simple setups or more complex settings.
This plugin covers all the important aspects of your website, including pages, posts, categories, tags, custom post types, and taxonomies. This means that all the relevant URLs will be included in your sitemap, ensuring that search engines can effectively crawl and index your content.
While the basic version of the plugin is free, there is also a paid edition available. This premium version offers additional features such as support for additional sitemap files, filters, and technical help. If you need advanced functionality and support, the paid edition is worth considering.
Key Features:
Add canonical URLs to pages and posts
Include specific URLs in the sitemap file
Automatically update robots.txt with a reference to your sitemap file
Exclude certain pages or post types from the sitemap file
Create a media sitemap for your website
Set a maximum limit for URLs in the sitemap file
Frequently Asked Questions
What is a sitemap plugin?
A sitemap plugin is a tool that helps to create and manage sitemaps for your WordPress website. A sitemap is a list of all the pages on your website, and it helps search engines like Google crawl and index your site more efficiently.

With a sitemap plugin, you can easily generate a sitemap and ensure that search engines can find all of your content.
Why do I need a sitemap plugin for my WordPress website?
A sitemap plugin is essential for your WordPress website for several reasons. Firstly, it helps search engines understand the structure of your site and find all your content. This means that your website is more likely to appear in search engine results, driving more organic traffic to your site.

Additionally, a sitemap plugin makes it easier for users to navigate your site and find the information they are looking for. It improves the overall user experience and can lead to higher engagement and conversions.
What are the benefits of using a sitemap plugin?
Using a sitemap plugin for your WordPress website has several benefits. Firstly, it helps search engines crawl and index your site more efficiently, which can improve your website's visibility in search engine results.

It also ensures that all of your website's pages are discoverable, even if they are not linked directly from your main navigation.

Additionally, a sitemap plugin can help you track the performance of your website by providing insights into how search engines are crawling and indexing your site. Overall, using a sitemap plugin can improve your website's visibility, user experience, and SEO performance.
Conclusion
In conclusion, we have explored the top five WordPress sitemap plugins, both free and premium options. We discussed their features, benefits, and the importance of having a sitemap on your WordPress website.
If you found this article helpful and want to learn more about WordPress tutorials, make sure to check out BetterStudio's blog. They have a wealth of valuable resources to help you enhance your website.
To stay up to date with the latest tutorials and tips, be sure to follow BetterStudio on Facebook and Twitter. Their social media platforms are a great way to get notified about new articles and stay connected with a community of WordPress enthusiasts.
Thank you for taking the time to read this article. If you have any questions or encounter any issues while implementing the sitemap plugins discussed here, please feel free to ask in the comment section below. We are here to help and provide support.