Are you a WordPress website owner looking for the best file upload plugins? Well, you've come to the right place! In this blog post, we'll be discussing the six best WordPress file upload plugins, both free and pro options, to help you enhance the functionality of your website.
If you require your users to be able to upload files, images, or even videos to your site, then we can meet all of the requirements you may have if you wish your site to be able to handle this type of uploading!
Now, you might be wondering why file upload plugins are so important for your WordPress website. Well, the ability to let your users upload files directly to your site can significantly enhance collaboration, and user engagement, and even streamline your workflow.
Imagine a scenario where you want to collect customer testimonials, project files, or even product images for your e-commerce store. A reliable file upload plugin can make this process seamless and efficient.
In this article, we'll be introducing you to the top 6 file upload plugins available for WordPress, both free and pro options. We'll provide you with detailed insights into their features, ease of use, performance, and compatibility with different themes and plugins.
So, whether you're a beginner or an advanced user, stick around as we dive into the world of WordPress file upload plugins and help you choose the perfect one for your website. Let's get started!
Best File Upload Plugins for WordPress
If you're looking to enhance your WordPress website with file upload capabilities, you're in luck! In this article, we've rounded up the best file upload plugins for WordPress that will take your website to the next level. So, keep reading to discover these top-notch plugins and find the perfect fit for your needs.
Make It Simple for Anyone to Easily Add Support for Any File Types With Any Extension
File Upload Types is a powerful WordPress plugin that allows you to support any file type on your website. Developed by the creators of WPForms, this free and open-source plugin gives you the flexibility to accept a wide range of file extensions.
With this plugin, you can easily integrate it with WPForms to enhance its functionality. This means that you can now accept file types such as .zip, .xml, .csv, .ai, and .cad directly through your forms. This is especially useful if you need users to upload specific file types for tasks like document sharing or file submissions.
One of the standout features of the plugin is the ability to control and adjust the internal WordPress file whitelist. This means that you have full control over which file types are allowed to be uploaded to your website, giving you an added layer of security and customization.
Another great feature of File Upload Types is the easy tutorial provided on how to add new file types or create custom ones. This means that even if you have unique file types that you need to support on your website, you can easily do so without any technical hassle.
Key Features:
Supports popular file extensions like .zip, .xml, .csv, .ai, and .cad
Enhances functionality of WPForms with easy integration
Allows control and adjustment of internal WordPress file whitelist
Tutorial provided for adding new file types or creating custom ones
Customizable comma-separated MIME types for added flexibility
Flexible and free open-source plugin for supporting any file type.
A File Upload WordPress Plugin Based On Jquery

Ajax Multi Upload is a highly efficient and practical Multi-Purpose File Upload plugin that offers a seamless experience for both website owners and users. It enables you to effortlessly manage the process of file and picture uploads on your WordPress website.
One of the standout features of the plugin is its ability to add files to the upload queue without the need for page reloading. This allows users to enjoy a smooth and uninterrupted experience while uploading files. Additionally, the plugin offers custom filters, image resizing, and the option to upload single or multiple files.
One downside to be aware of is that the support team may not always be readily available, which could result in longer wait times for assistance. However, despite this drawback, Ajax Multi Upload remains a reliable and feature-rich tool.
Not only does the plugin require no coding knowledge or skills to operate, but it also boasts compatibility with multiple systems and is cross-browser compatible. This ensures that all users, regardless of their device or browser, can easily utilize the plugin's file upload capabilities.
One of the standout aspects of Ajax Multi Upload is its seamless integration with WordPress. The plugin is implemented using jQuery and a shortcode, making it easy to incorporate into your website's existing design and functionality.
Key Features:
Allows single or multiple file uploads
Keeps track of uploaded file count
Compatible with multiple systems
Image resizing functionality
Seamless integration with WordPress
Custom filters for file uploads.
Upload Files to Your Site From Any Page, Post or Sidebar Easily and Securely
WordPress File Upload is an incredible plugin that lets you easily add file upload buttons to your website. With just a simple shortcode, you can include it on any page or post.
One of the standout features of this plugin is its multilingual support, which means you can cater to a diverse audience. It also offers filters and actions that give you more control over the file upload process.
Email notifications are automatically sent whenever a new file is submitted, so you can stay on top of incoming uploads. Plus, you don't even have to leave your WordPress dashboard to view the uploaded files. It's all right there, easily accessible.
If you need to capture additional information about file uploads, the plugin lets you add custom fields. This way, you can gather any necessary details for organizational purposes.
To ensure security and control, you have the ability to restrict file uploads based on user roles. This means you can limit who can upload files to your site, ensuring that only authorized users have access to this feature.
Key Features:
Easy access to uploaded files from your WordPress dashboard
Custom fields to capture additional information about uploads
File upload restrictions based on user roles for added security.
Multilingual support for a wider audience
Filters and actions for enhanced control over file uploads
Email notifications for new file submissions
A Simple, Straightforward WordPress Plugin
Drag and Drop Multiple File Upload is a WordPress plugin that allows website owners to offer their visitors the ability to easily upload multiple files. This tool is perfect for those who want to give their users more flexibility and control.
One of the standout features of this plugin is the ability to set limits on the number and types of files that users can upload. You can specify the maximum number of files allowed and also restrict the file types and sizes that are accepted. This ensures that you only receive the files that are relevant and useful to you.
The process of uploading files with this plugin is incredibly user-friendly. Users can simply drag and drop their files into the upload field, making it quick and easy for them to share their documents, images, or any other files with you.
Additionally, you can enable the option for users to either attach files directly or provide links to files.
If you choose to upgrade to the premium version, you'll gain access to even more features. This includes the ability to automatically delete files, change the upload folder, and enhance the performance of the plugin.
These additional features provide even more functionality and customization options, allowing you to tailor the plugin to your specific needs.
With Drag and Drop Multiple File Upload, you can also integrate it seamlessly with other popular plugins like Contact Form 7 (CF7).
This means that you can add a file upload field to your CF7 forms, making it convenient for users to upload files directly from your contact forms. It's a great way to simplify the file upload process and streamline communication.
Key Features:
Includes uploaded files in email notifications
Limit the file types that can be uploaded
Outstanding support from a dedicated developer team
Simultaneously drag and drop multiple forms
Option for users to delete their uploaded files before submitting the form.
Lets Your Customers Upload Files On or After WooCommerce Checkout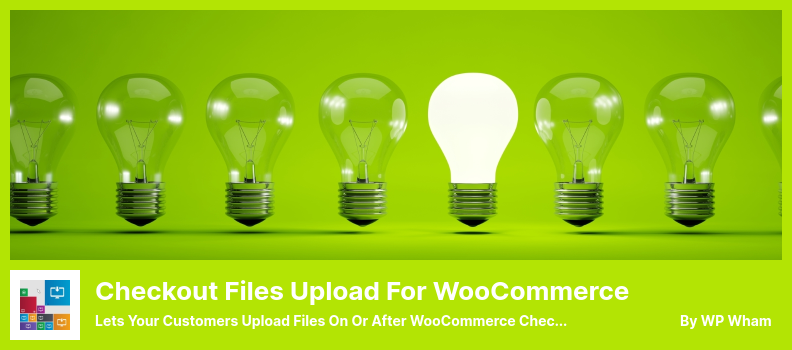 With Checkout Files Upload for WooCommerce, you can easily add file uploading to your WooCommerce store. This plugin lets you upload files of all types, and you can set the size of the files. After successful or unsuccessful uploads, you can even add a custom message.
One of the great things about this plugin is its flexibility. You have the option to display the file upload field on the Gratitude or My Profile pages, giving your customers a seamless experience. Whether you want the file upload field to be shown before or after the checkout form, it's all up to you.
If you're selling custom-made products, this plugin is a game-changer. Imagine offering your customers the ability to upload a logo image that will be printed on a hat they're purchasing. It's a fantastic way to personalize their shopping experience.
If you're looking for extra features, you can choose the premium plugin. With the premium version, you can upload multiple files and use multiple placement spots. Although the premium version is more expensive than similar products on the market, you should keep that in mind.
Shoppers can upload files with a limit on extensions and sizes in the Checkout Files Upload for WooCommerce plugin. Also, you can make the field show and hide based on what's in order. The error messages can be customized, too. The best part is that you don't have to know anything about coding.
Key Features:
Limit file extensions and sizes
Field visibility based on the customer's order
Customizable error messages
No coding knowledge is required.
Drag & Drop WordPress Form Builder
WPForms is a WordPress file upload plugin that offers two different file upload fields. One of these fields is the Modern style field, which allows visitors to easily upload files to your WordPress site by dragging and dropping them.
Not only is the plugin one of the best contact form plugins for WordPress, but it also allows you to create a WordPress file upload form. With this plugin, you can accept one or more file uploads on your forms without the need to paste any HTML code.
One of the great features of the plugin is the option to choose whether to store the uploaded files in the Media Library. This makes it convenient for you to manage and access the files uploaded by your users.
When a file is uploaded, the plugin will display a link in the email notification instead of sending the file itself. This ensures that the email can be delivered quickly without any issues.
Additionally, WPForms supports a wide range of file types and extensions, including images. This makes it not only an effective contact form plugin but also a great photo upload plugin for your WordPress site.
Key Features:
Add additional fields to any form effortlessly
Specify the maximum file size allowed for each form
Enable users to upload files without the need to reload the page
Simple and user-friendly file uploading by dragging and dropping.
Frequently Asked Questions
What are the top factors to consider when choosing a WordPress file upload plugin?
When choosing a WordPress file upload plugin, it's important to consider factors such as ease of use, customization options, security features, compatibility with your WordPress theme, and whether it offers both free and pro versions to cater to your specific needs.
What are the advantages of using a pro version of a WordPress file upload plugin?
Upgrading to the pro version of a WordPress file upload plugin provides several advantages, including advanced customization options, enhanced security measures, priority support, and additional features such as file size restrictions, multiple file uploads, and integration with popular cloud storage services.
How can I ensure the security of file uploads with a WordPress file upload plugin?
To ensure the security of file uploads with a WordPress file upload plugin, make sure to choose a plugin that offers secure file validation, has protection against malicious file uploads, and supports encryption for transferred files.
It's also recommended to regularly update the plugin and your WordPress theme to stay protected against any security vulnerabilities.
Conclusion
In conclusion, we have discussed the 6 best WordPress file upload plugins, both free and pro versions. These plugins offer a range of features and functionality to help you easily manage and upload files on your WordPress website.
If you want to dive deeper into this topic and explore more related tutorials, I highly recommend checking out the BetterStudio blog. They have a wealth of resources and guides to help you make the most out of these file upload plugins.
To stay updated with the latest tutorials and tips, make sure to follow BetterStudio on Facebook and Twitter. They regularly share valuable insights and updates that can help enhance your WordPress experience.
Thank you for taking the time to read this article. If you have any questions or encounter any problems related to the content discussed here, feel free to leave a comment below. We're here to assist you and provide solutions to any queries you may have. Happy plugin hunting and happy WordPress website building!