Are you trying to find the best list of WordPress plugins for Live Chat? But how to do that?
Do you need an affordable plugin? Our recommendation is to install the Better Facebook Chat plugin, which adds Facebook Messenger to your website and does not require you to pay a monthly fee. Additionally, there is no limit to the number of agents or chats.
Below, we have searched the internet for WordPress plugins, so you don't have to, and showcased the best Live Chat plugins out there functional for your site. They are easy, deliver optimum performance, works properly with WordPress themes, and will help you level up your website.
We have curated the following list of Live Chat plugins to help you pick the extensible plugin. Even so, plugins could be used to create Social Chat, ChatBot, Facebook Chat, and WhatsApp Chat within this collection of WordPress plugins.
Now let's take a look at the best Live Chat WordPress plugins in 2022:
live chat plugin for WordPress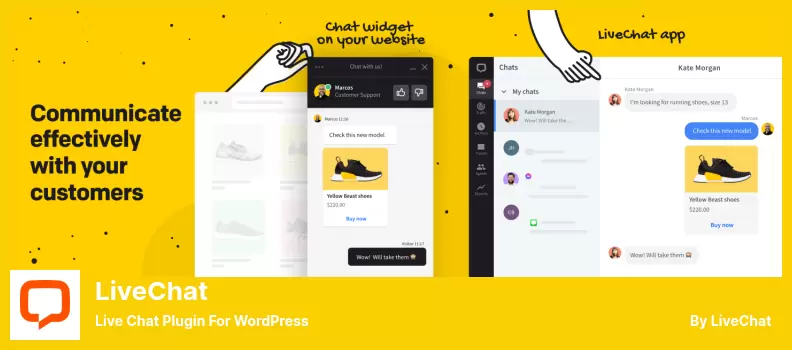 WordPress LiveChat plugin allows your visitors to chat with you in real-time from the bottom of your website. This plugin is suitable for all businesses of any size.
Live chat plugin for WordPress enables companies to boost conversion, increase their sales and revenue and increase user satisfaction with goods and services.
Adding this plugin to your site allows you to add a live chat feature that helps you quickly answer your customers' questions.
As a result, you will have efficient customer service and can answer customers' frequently asked questions. If needed, you can send files to your customers using the live chat plugin for WordPress.
This plugin has a built-in ticketing system. As a result, you can answer all customer tickets from one place.
An exciting feature is that the LiveChat plugin works well with any site builder. In addition, the plugin is compatible with any theme and works well on popular WordPress themes.
💵 easy to use: Free, Premium: $16/Month.
Key Features:
Communications that utilize multiple channels
Solve customers' problems
Being able to use Facebook Messenger
Set up your LiveChat account on multiple websites and maintain the chat widget consistently across all your websites
Chat directly with a live chat link
Keeping track of visitors
Give visitors a direct and free way to ask for help by providing a convenient customer support option
Manage products more effectively and maintain good relationships with customers
Uploading files to and receiving files from customers is supported through the live chat widget
Logging and exporting data from the chat
Create a custom chat widget with neatly looking eye-catchers, chat buttons, and more
Learn more about your customers' needs with live chat
LiveChat Features
Increase sales and conversion rate
Gather customer messages left on your ticket form when you're away, then respond to them when you're back online
Random Reviews:
really good working plugin for all live-chat users embeds live-chat effortless to your wordpress website This topic was modified 3 months, 3 weeks ago by

I imagine this plugin may be great, but it definitely is not FREE if you have to pay for the service in order to use the plugin. I wish WordPress would crack down on these false claim plugins.

It is difficult and not clear. It takes a lot of time to learn features that are essentially not very important.
WordPress Live Chat Plugin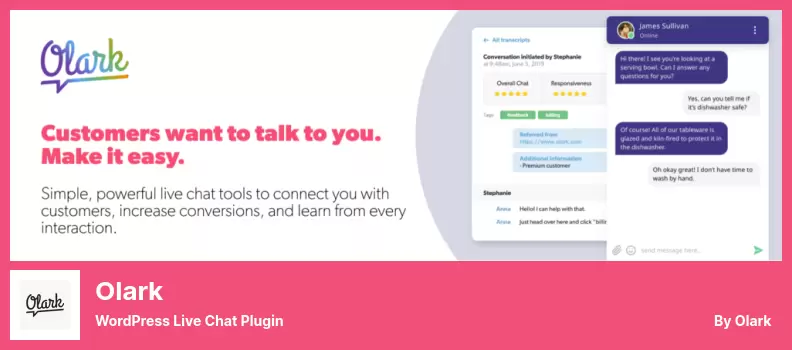 Another good live chat plugin is the Olark plugin. You can easily install this plugin on your website. By installing and activating the plugin, a widget will be added to your website, which you can use to add live chat to your site.
As a result, with the Olark plugin, you can have a full live chat on your website, and with its full features, the Olark plugin is one of the more slick-looking live chat plugins on the market.
💵 It is free to download the Lite version, but you have to pay $29/Month to download the Pro version.
Key Features:
You can make a set of settings in the plugin
You can get a report from your chat history and consider the performance of that chat
With this plugin, you can use CRMs like Salesforce, Highrise, Nutshell, and many other CRMs
The plugin has a Helpdesk integration feature. In case you need more details on any chat, you can search through the chat history
With these commands, you can hide the chatbox or automatically send messages and do other things
Random Reviews:
Finally, will have something stable! Thank you to the always awesome team at Olark. Just one thing to fix on my side, and the only reason I didn't give it 5 stars, how can I make it multilingual now? (I use wpml). Thanks!
WordPress Live Chat Plugin
Another excellent live chat plugin is the Crisp Live Chat Plugin. Using this plugin, you can use various marketing tools such as CRM and email marketing. The plugin works similarly to Tidio and Sendinblue, although there are significant differences.
Crisp Live Chat Plugin is a beautiful and powerful plugin that you can install on your WordPress website for free. If you want to increase your email lists and market more effectively, this plugin is an excellent choice for you.
With this plugin, you can communicate better with customers, and as a result, you will produce more leads.
With the Crisp Live Chat Plugin, you will have access to Crisp marketing and sales tools, and you can use them to communicate with your customers. If you have questions or concerns about the plugin, you can ask the Crisp support team. The company will also provide you with documentation to use the plugin.
💵 The Pro version is $25/Month, the Lite version is free.
Key Features:
Live Chat
Scheduling capability
Real-time notifications
Desktop and Mobile apps
Random Reviews:
I love it

Terrible, it's a freemium, everything in the Crisp service warns you to get paid. You can't use it right, it's exhausting. There's no Brazilian Portuguese translation available. It would be great if the company let the consumer use it more freely and allowed the integration of Whatsapp for the basic plan.

The support sucks…..no response from the developers. This topic was modified 3 months, 2 weeks ago by
Live Chat widget for WordPress
The relationship of sites with their customers is one of the most important factors in increasing sales. Suppose you are unable to reach a customer and answer their questions about your product. In that case, they will most likely not buy from you and go to your competitors.
With over 150,000 companies using Zendesk Chat, it is the most popular live chat plugin. This plugin adds a customizable widget to your site. You can use it as a user-friendly to check the activity and behavior of users and customers and have a live chat with them.
Zendesk Chat plugin allows you to answer customers' questions and concerns in real-time.
By installing this plugin, a widget will be added to your site, and you can use it to chat directly with customers. Zendesk Chat plugin has an online dashboard, and you can use it to manage multiple conversations.
💵 Free and $14/Month for the Pro version.
Key Features:
A variety of tools are included in the plugin to analyze customer behavior. By analyzing this behavior, customer needs can be identified
Use Triggers to automatically contact every visitor in place of manually chatting with every visitor, increasing the chance of high-value engagement
The plugin is optimized for mobile. As a result, customers can chat with you on any device
Random Reviews:
Nothing works. Not even their website on mobile.

It's Slow down any website, and no any support

Very good application easy and fast… You can try on my website
Live Chat, Chatbots & Email Marketing for WordPress
Tidio Live Chat is one of the most suitable live chat plugins that are easy to install and activate. Tidio Live Chat installs three different types of chat boxes on your site, and you can choose one according to your preferences.
Customer chats can be managed through the plugin dashboard. There is also a dedicated application to manage chats.
By installing the plugin, you can launch multiple chat windows on different pages of the site. The plugin has tools for email marketing so you can keep in touch with site users when they leave the site. As a result, you can turn users into customers with innovative methods.
If you have a WordPress website and want to launch a live chat for your site, the Tidio Live Chat plugin is an excellent tool for this purpose. Due to the features of Tidio Live Chat, you can create a complete live chat for your site.
The free version of the plugin has enough features, but it has limitations like all other free plugins. If you want to have no restrictions, you can get the premium version of the plugin.
💵 The Premium version of the Tidio plugin charges $39/Month, and the Lite version is free.
Key Features:
It is a lightweight and splendid tool for launching live chat and is entirely mobile-friendly
It has many features, and you can find out about them by visiting the relevant site
This plugin has an email marketing system, and you can use it for marketing and advertising votes
It has a free app so you can connect with your customers wherever and whenever you want
Random Reviews:
I strongly recommend Tawk.To After trying Tidio. Thank You.

I strongly recommend Tawk.To After trying Tidio This topic was modified 2 days ago by

Recommended plugin. Chat bots are the best of all.
live chat plugin for WordPress
LiveChat Complete is one of the best plugins for launching a complete and unlimited live chat. This plugin is paid, and you can get it from the CodeCanyon website and use its many features. Plugin chat boxes can be entirely handled in the WordPress dashboard.
Multiple operators can respond to the same query simultaneously. You can handle an unlimited number of conversations at once. If all operators are offline, a contact form replaces the chat box so that visitors can email directly with their questions.
💵 With $25, you will get all the exceptional features of the LiveChat plugin plus 12 months of support time.
Key Features:
It works in an iframe, so it doesn't hurt your page performance. The widget automatically loads once your page is fully loaded
One-time fee (1 license = 1 website)
The latest version includes SSL support, encrypting all messages between you and your visitors
Multi-lingual support (WPML and Polylang plugins)
Open-source
Random Reviews:
I can't say enough how amazing this plugin is and I understand how complex it is and it takes great minds to come up with something like this. Simply amazing, Well done guys.

Great plugin whit great developing progress. Customer Support is extremely helpful. The Chat itself is lightweight and doesn´t effect site loading. Highly recommended chat plugin!

Works immediately out of the box. Follow the instructions and the pluign will be operational in 15 minutes, top chrono!

Using this particular Messenger Customer Chat plugin, you can integrate your Facebook Messenger experiences directly into your website. As a result, your customers can interact with your business at any time with the same personalized, rich-media experience they have in the Messenger App.
NinjaTeam Facebook Messenger plugin automatically saves recent chat history between customers and your website. As a result, customers interact with the site on messenger.com or in the Messenger app. Using this feature, you can offer your customers a good user experience and continue a conversation even after they have left your website.
With Facebook Messenger, your website users can chat with you without having to log in to Facebook. Through this plugin, you can quickly respond to your customers' questions and needs.
💵 With $25, you can get this plugin plus 12 months of support time.
Key Features:
Using this plugin is one of the easiest and fastest ways to communicate with the customer
The plugin synchronizes conversations between Messenger and the website
It supports most of the living languages of the world and can be easily set up on the website
Creates a live chat on your website
WordPress Live Chat Plugin

SupportBoard is another WordPress plugin that helps communicate with your customers through robots based on artificial intelligence and a complete chat system.
You will save time by using this plugin. The plugin is designed to be easy to work with, and anyone can use it easily.
Using the Support Board, you can communicate directly with your customers in Slack software. As a result, you can share your important messages with your customers through this software.
💵 This plugin costs $59 and has 1 year of free support.
Key Features:
You can communicate directly with customers in Slack software and answer their questions and concerns
It is a multilingual plugin and has been translated into more than 19 live languages ​​worldwide
It has an advanced admin panel and can be easily used. As a result, customer conversations can be organized and answered
It is a compact and straightforward plugin. As a result, it consumes a small number of website resources and keeps site performance high
The chat system of this plugin is well designed, and all the rules related to UX are observed in it
Random Reviews:
Great plugin Very fast reply from support

Super Great livechat plugin!

Excellent and very fast support, from the developer!
WordPress Whatsapp Chat plugin
WhatsApp Chat plugin helps you to send messages to your customers non-stop and stay in touch with them. Having a constant relationship with customers is one of the features that will directly impact customer attraction.
Installing the WhatsApp chat plugin is simple, and you can install it on your website in minutes. The plugin has options for personalization, and you can customize the plugin according to your needs and tastes.
This plugin allows you to stay in touch with your customers, which will increase your visitors' engagement.
Maintaining an ongoing relationship with your customers will increase customer trust, ultimately translating into more sales and revenue.
💵 With $24, you get this advanced plugin, and you will get 12 months of support for free.
Key Features:
It is compatible with different versions of WordPress, and you can install the plugin on any version
Because the plugin increases user engagement, using WhatsApp chat will ultimately increase sales
It is optimally coded and will not slow down your website or slow down the site
Customers can connect with your website in the easiest way
Random Reviews:
Excelente plugin, podem comprar sem medo. Fácil de instalar e configurar!

Great Plugin!!!! All fine! Very fine coded!!! No problems!!! Easy to handle!!!!

Very good work guys! Easy settings, simply design and no any issue with page speed or SEO. Support directly from WordPress and nice document. Thank you for that.
Real-time Chat Plugin for WordPress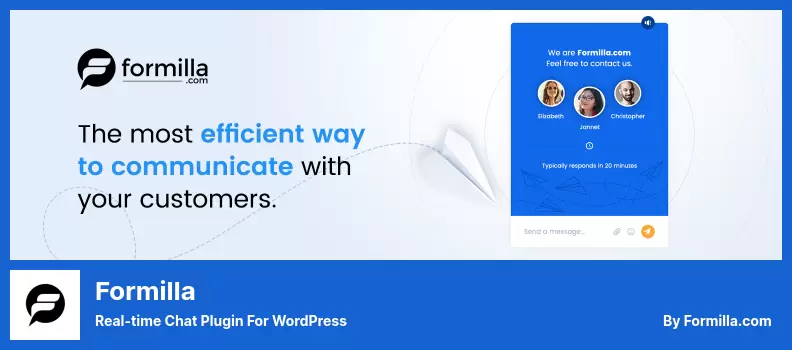 Formilla is an excellent plugin for having a live chat on your website. You can download and use this plugin for free from the WordPress repository.
If you have a website with low traffic, you can use the free version of Formilla. The free version allows one agent, one concurrent chat, and up to 30 total chats/month, all handled via Formilla's bespoke interface.
The premium version has a particular app. You can manage user interaction with the site through this app and communicate with them in real-time.
💵 There is a $35/Month premium version as well as a free version.
Key Features:
The Conversation History feature in Formilla makes it possible to add private comments to any historical record
Automate chat by triggering it after a specified period of time
A responsive design with Formilla Live Chat makes it easy for visitors to interact with it no matter what size their phone is
You can handle conversations with advanced filters in Conversation History/Helpdesk and assign an item to another user with a Formilla Live Chat account
You can manage offline messages via email. Formilla will email you a transcript of the offline message when you cannot live chat
Random Reviews:
Works very good. They also have a great support.

very good plugin specially android app

Fast and quick customer support.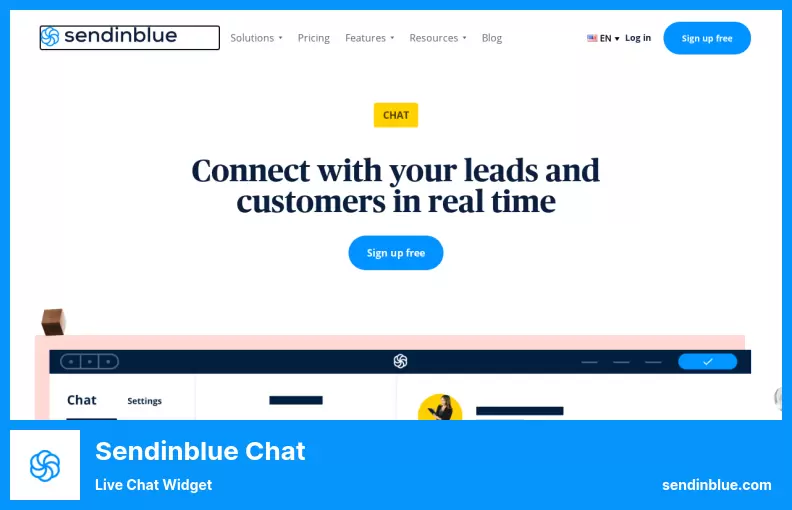 Sendinblue Chat is another plugin that adds live streaming to your website. This plugin has tools for customizing the chatbox, and you can create a custom chat box according to your needs and brand.
Using this plugin, you can monitor the behavior and conversations of users and therefore do the work related to advertising and marketing your company.
Another positive feature of the SendinBlue Chat plugin is that it has several ways to integrate. There are many ways you can use this add-on on your web pages. Through Elementor or WooCommerce, you can integrate the plugin into your website pages.
You can use both the free and premium versions of SendinBlue Chat. The free version of the plugin has platforms for marketing via email and SMS.
💵 This plugin costs $25/Month.
Key Features:
Email & SMS personalization
SMS marketing
Shared inbox
Mobile-friendly email designer
Real-time reporting, geography & device reporting, heat map reporting, advanced open & click stats
Advanced customer segmentation
Customizable signup forms
Email template library
Email campaigns
Workflow editor/marketing automation workflows
Free WordPress Live Chat Plugin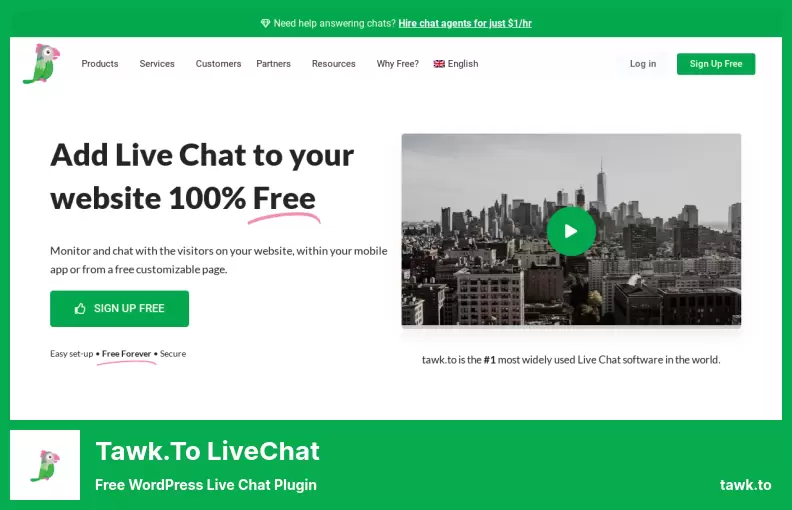 The latest plugin that we will introduce in this article is the Tawk.To LiveChat plugin. This plugin is entirely free and will add a live chat feature to your site for free.
Tawk.To LiveChat offers a wealth of features and functionality based on a 'no-charge business model.
You can easily install the plugin and use its features. The Tawk.to plugin has many customization options, and you can use them as you need. It is also possible to translate the chat window.
In general, if you have a small budget and want to add a live chat feature to your website, Tawk.to will be one of your best options.
💵 All these features will be available in the plugin, and Its FREE.
Key Features:
Ability to file share
Group messaging
Having native mobile apps
Customizable widgets
Sentiment tracking
Support 27 languages
Desktop notifications
In chat payments function
Customizable landing pages built for chat
Built-in ticketing system
Real-time website visitor monitoring
Having mail notifications
Having a scheduler
To Sum Up
Now you know the best free WordPress plugins for Live Chat. If you want to have a better site, just choose one of these plugins to enhance your website.
Hope you found this effective. Furthermore, you may also use our article to locate the best bogging themes that function well across all WordPress hosting services.
In summary, if things are still not comprehensible, you can ask your question in the comments section below. If you desire to support our team, please share this content on your social accounts.