Are you looking for the best WordPress plugins for Custom Fields websites in 2022?
Here you will find the best WordPress plugins for Custom Fields that offer some of the best features and capabilities. All the plugins support these top WordPress themes.
We picked the best plugins for Custom Fields. However, these plugins also work well with Custom Field Filter and Multi Custom Fields.
The following are some of the best WordPress plugins for Custom Fields in 2022:
Allows You to Create Custom Fields

With the WooCommerce Custom Fields plugin, you can create an unlimited number of product fields, display WooCommerce custom fields on your checkout page, and mark fields as public or private, permitting them to be modified by customers.
With this plugin, you can ask your customers for delivery dates and times and charge them an additional fee for the items and services they select at checkout.
This plugin allows you to create custom products, checkout orders, and user fields, collect buyer information in a structured way, and sell configurable products and add-ons according to your customer's preferences.
The plugin is easy to use and improves your customers' experience by optimizing your online store. It also takes care of all of the fields for you.
Furthermore, this plugin allows adding on add-on services such as gift wrapping, furniture assembly, and extended warranties, which will increase profits from each sale.
💵 The Plugin costs $65 and includes all features, 12 months of support time, all plugins, and one year of updates.
Key Features:
Provides support for text, passwords, email addresses, etc
You can sell configurable and customizable products
You can use product properties to display additional information
You can collect additional information about your order
It is possible to sell WooCommerce product add-ons
Random Reviews:
The plugin has great code quality, good frequency of updates, and is easy to use

Excellent design and easy to implement. Well done!
Turns WordPress Sites Into a Content Management System
The Advanced Custom Fields plugin allows you to transform WordPress into a fully-featured content management system with all the tools you will ever need for managing data.
By using this plugin, you will have complete control over the edit screens of WordPress and the values of custom fields. This plugin allows you to easily add fields to WordPress edit screens by simply clicking a few buttons.
This plugin allows you to add a range of fields to WordPress posts, users, taxonomies, media comments, and custom options.
This multiple custom fields plugin provides hassle-free functions for loading and displaying custom field values in theme template files. A Pro version of the plugin includes additional fields, more functionality, and greater customization options.
Using this plugin, you will have the ability to repeat subfields in order to organize your data in an organized manner.
💵 There is a Lite and a Premium version of this plugin. A Premium version costs $49, while a Lite version costs $0.
Key Features:
There are powerful functions available
A simple and intuitive design is available
You can define, create, and manage content
There is an extensive Documentation
Over 30 field types are available
Random Reviews:
If you are a WordPress developer, you don't want to miss out on this plugin's feature set. The interface is clean and straightforward. It's a must-have.
Custom Post Types and Custom Fields Creator
The WCK plugin includes three tools to assist you in creating and maintaining custom post types, taxonomies, and, most importantly, custom fields and meta boxes for your custom post types.
This plugin allows you to create custom meta boxes for your posts and pages, and you can use custom fields to hold that data. Custom fields can be displayed using code or template tags.
By providing an interface to the register_post_type function, the user can specify most of the parameters needed to create custom post types.
This plugin facilitates the creation and editing of custom taxonomies without knowing any programming language. Most of the arguments of register_taxonomy can be accessed through an intuitive user interface.
This plugin allows you to create and edit custom post types using the WordPress Admin User Interface.
💵 A premium version costs $49 while a lite version is free.
Key Features:
You can attach the taxonomy to built-in or custom post types
Taxonomies can be created and edited via the admin interface
You can attach built-in or custom taxonomies to post types
There is premium email support for your project
Advanced labeling options are available
Random Reviews:
I like the idea of combining three major features in one plugin.

The plugin works well because the slugs remain dirty in the database even after registering fields and removing the meta box.
Adds Various Options to Each Product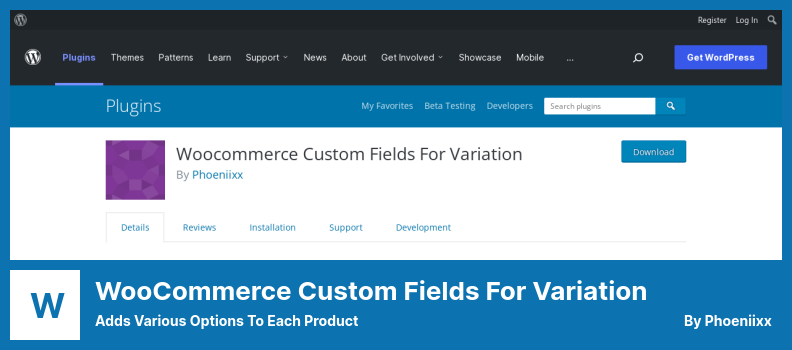 With the help of the WooCommerce Custom Fields For Variation plugin, administrators can add various product characteristics, including color, size, weight, etc.
As well as adding text fields for each variation, admins can add text areas for customers to write the text they wish to appear on the clothing item.
Furthermore, customers can upload images to be printed on the clothing item. Admins can also allow them to select a design to be printed on the clothing item.
You will have the option of choosing a radio main or drop main for your website. The administrator may charge an additional amount based on the customizations you choose.
This plugin provides a conditional logic feature that lets you apply conditional logic to multiple fields and display them with additional controls due to the logic.
Four types of conditional logic can be applied to fields: Textfields, Textareas, dropdown lists, and radio buttons. The logic in the upload field is invalid.
💵 This plugin has a Lite and Premium version. The Premium version costs $29, while the Lite version costs $0.
Key Features:
Each option could be described in a separate document
Provides the ability to add multiple fields to the input field
Provides support for negative price values
A text limit could be defined for input fields
There are various styling options
Random Reviews:
Do not bother trying this plugin at all. It simply does not work.

I'm sorry, but it doesn't work for me on my actual setup of WordPress + Woo + Salient Theme.
WordPress Custom Fields Framework
Developers will find Meta Box to be a powerful, lightweight plugin that comes with a variety of features. This plugin enables your customers to create custom meta boxes and custom fields for any custom post type on your WordPress website.
This plugin can add over forty fields to your website, including text, images, file uploads, checkboxes, etc. This plugin allows you to add custom fields to your pages, posts, and custom post types.
With WordPress custom field types, you can create content in countless ways since each type offers multiple options. You are able to customize and control everything with just a few mouse clicks.
This plugin allows adding custom fields to WordPress custom post types and meta boxes to WordPress custom meta boxes without needing additional code.
💵 Premium versions of this plugin are available for a $149. FREE versions are also available.
Key Features:
It is possible to clone fields for most types of fields
Supports more than 40 types of custom fields
It is also possible to create your field types

Utilizes the powerful actions and custom field filter provided by WordPress
Random Reviews:
I never intended to use Meta Box when it was primarily geared toward developers, but I now love it because it allows me to do much without coding. I am happy with the product. I like its versatility, the possibility of custom settings pages, and its ability to have cloneable field groups without limitations (so far, I haven't found any).
As a final note, let us say
The best WordPress Custom Fields plugins we reviewed in this post have been updated for 2022. Anyone can create a great-looking website with a ready plugin in a few minutes.
📌 Note: Additionally, you may find our list of top WordPress security plugins helpful in enhancing the security of your website. We also recommend you look at our expertly selected WordPress hosting providers.
Would you mind letting us know if you found this article helpful?
Let us know about your favorite Custom Fields plugin in the comments below. If you enjoyed this article, share it on Facebook and Twitter.