Do you want to provide exclusive content to your users and create a community around your brand? Then you might have considered using WordPress membership plugins. But with so many options available, how do you choose the right one for your website?
In this article, we'll be exploring the 11 best WordPress membership plugins of 2023, both free and paid. We'll dive into their features, pricing, and user experience to help you make an informed decision about which plugin suits your needs.
Whether you're a blogger, an online course creator, or a business owner, there's a membership plugin that can take your website to the next level.
Membership plugins are essential tools that can help you create a loyal following, generate recurring revenue, and improve your website's overall performance.
In the following sections, we'll introduce you to the top WordPress membership plugins and provide you with all the information you need to choose the one that fits your goals and budget.
Best Membership and Subscription Plugins for WordPress
Best User Profile & Membership Plugin for WordPress
Ultimate Member is a WordPress membership plugin that offers several features to create customized registration and login pages. With its conditional logic feature, the registration process becomes easy for website owners and members alike.
This plugin also provides integration with JobsBoardWP and ForumWP, which eliminates the need for maintaining a separate membership site. The extensions enhance the functionality of your membership site by integrating job boards and forums.
Along with its essential features, Ultimate Member also includes free add-ons, such as Google reCAPTCHA and Terms & Conditions, which help prevent spam and protect user privacy.
If you're looking for a membership plugin for smaller or medium-sized websites, Ultimate Member is an ideal choice. Its basic features are available for free, allowing for testing without committing to any subscriptions. Upgrade options are available for more advanced features, but the free version provides enough functionality to get you started.
Overall, Ultimate Member is a user-friendly membership plugin that can benefit website owners seeking to improve their registration and login processes while enhancing their membership site's functionality.
Key Features:
Form fields include conditional logic
Form fields can be customized
User profiles are available in the front-end
It is possible to register users from the front-end
Users can log in from the front-end
Most Complete Content Protector Plugin for WordPress
WPShield Content Protector is a WordPress plugin that provides comprehensive content protection for all types of content, including text, video, audio, and source codes. This plugin is an excellent addition to any WordPress website owner's arsenal who needs to protect their membership content from being stolen.
One of the main features of WPShield Content Protector is its ability to disable the right-click menu items such as save as, view source code, and inspect element. This unique feature ensures that unauthorized users are unable to easily bypass content protectors and copy your valuable content.
Moreover, it clears the site content if the developer tool is opened so that any copy of your site content will be prevented.
The plugin also simplifies the video player by hiding the URL of the video file location and eliminating the download button, which protects your videos from being downloaded illegally.
Furthermore, the plugin has a feature that prevents site content from being printed in all available ways while allowing users to use print. It simply adds a watermark on the printed content, which offers an additional layer of protection.
If you're looking to enhance your website's security and prevent content theft, WPShield Content Protector is a plugin worth considering. Its unique features and comprehensive protection make it stand out from other content protection plugins available in the market.
By using this plugin, you can ensure that your valued content stays safe and secure.
Key Features:
Protects all formats of content with 15 different protectors
Compatible with any WordPress theme and plugin
Exclusive option to disable Inspect Elements system
Clears site content if developer tool is opened to prevent content copying
Focuses on protecting website content from spammers using iFrames
Prevents hotlinking by blocking other sites from loading your images, videos, and audio within iFrames
Advanced features and settings to customize behavior for specific needs
Comprehensive step-by-step documentation for easy setup and use
Aids in preventing security issues caused by content theft
Increases site traffic by ensuring content is not being stolen or used without permission
Random Reviews:
I sell courses on my website and I did not want someone to be able to easily copy/paste my content using a right-click. This plugin did this as advertised. I recommended using right click limiter to allow visitors to right-click on links for opening in new tab. it disables the view source and copy in menu.

I tried many content protections and all of them have lack of features but it does a great job and brings protection on the top level. There may be other plugins that offer similar functionality, but I have found that this plugin is the only one that disables the developer's tools and CTRL+SHIFT+C completely
Top Rated Membership Plugin for WordPress
ARMember is a WordPress membership plugin that enables website owners to offer different types of memberships with a trial period and multiple payment cycles. The plugin provides an unlimited number of memberships, allowing users to test it before committing to the full version.
Additionally, it includes a dribble content feature that enables the distribution of content to members according to their schedule.
ARMember also offers several features, such as content restriction and pay-per-post features that allow guests to earn revenue on your site. Moreover, you can monetize posts and courses without becoming a member.
This plugin supports PayPal, AuthorizeNet, and WooCommerce payment gateways, making it convenient for website owners to receive payments from customers.
The membership setup wizard offered by ARMember is user-friendly, resulting in a seamless registration process for new members. Furthermore, the plugin includes various security features, including CAPTCHA anti-spam mechanisms, brute force protection, and the capability to restrict the view of your website.
If you're planning to improve your WordPress website and increase its traffic and sales through membership options, ARMember could be an excellent option to consider. With its user-friendly interface and security features, this plugin provides a great experience for both website owners and members.
Key Features:
Members may upgrade, downgrade, renew, or cancel their membership at any time
An online membership setup wizard is available
There are unlimited membership levels available
You can create both free and paid memberships
During the trial period, periodic billing is available
an Easy-to-use WordPress Membership Plugin
Simple Membership is a fantastic option for WordPress website owners looking to increase their online sales and traffic. This user-friendly plugin makes it easy to create membership sites without requiring any web development expertise.
With its billing features, Simple Membership allows you to offer both free and paid membership levels on your site, making it perfect for businesses of all sizes. Plus, this plugin allows you to sell digital content, such as courses, on a one-time or recurring basis, making it an excellent tool for bloggers and online course creators.
One of the standout features of Simple Membership is its email confirmation functionality. With this feature, you can keep track of all purchases made by your members and receive email confirmations of free membership.
Additionally, Simple Membership offers a developer API and a variety of shortcodes that allow experienced developers to customize the member login widget and message of content protection.
Overall, Simple Membership is an excellent choice for WordPress website owners looking for an easy way to create effective membership sites. Whether you're selling digital courses or running a subscription-based business, Simple Membership has everything you need to succeed.
Key Features:
Visitors can be converted into members by displaying teaser content
Your protected posts will also be protected when you leave comments automatically
It is possible to protect attachments on web pages
Compatible with all WordPress themes
Photos can be protected in a gallery
Supports Content Restrictions On Posts, etc.
WP Private Content Plus is a top-notch WordPress membership plugin that offers a wide range of features for website owners looking to enhance their site's functionality and increase sales.
This plugin provides an extensive content restriction feature, which can be used to restrict access to specific posts, pages, and custom post types based on the user's login status and role on the website.
This plugin is highly relevant to the article subject as it enables website owners to customize their website's purchasing experience, allowing customers to purchase exclusive content from them. Moreover, WP Private Content Plus enables the creation of member profiles and customer search capabilities, making it easier for website owners to manage their customer base.
The free version of this plugin integrates with WooCommerce, enabling website owners to create a membership application and restrict access to specific products. The premium version of this plugin allows website owners to manage unlimited levels of memberships, both paid and free, and accept multiple payment options through WooCommerce.
In addition to managing user groups and limiting content, this plugin also integrates with MailChimp email marketing, enabling website owners to extend their reach and communicate more effectively with their customer base.
Furthermore, users of the premium version of this plugin get access to premium support and several additional features for creating a professional-looking WordPress membership site.
Key Features:
You can restrict entire posts, pages, or custom post types
Content can be restricted by user groups
The content of the private user page is private
There are private discussions on a private user's page
You can restrict content according to the role of the user
a Fast and Simple Membership Plugin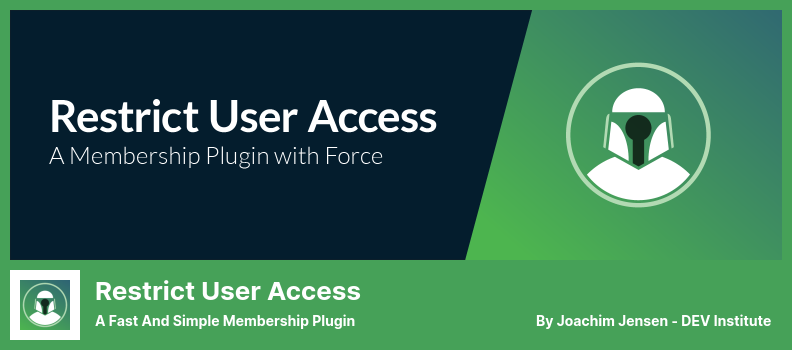 Restrict User Access is a fantastic plugin that website owners can use to manage user access levels. It allows users to create unlimited access levels, which is especially useful for membership sites looking to restrict certain content or features to specific members.
One of the most compelling features is the ability to sync custom roles with membership subscription levels, making it easy to control access to premium content. For instance, this feature would be perfect for a WordPress site selling online courses where non-paying users would have limited access.
Another excellent feature worth mentioning is drip content, which enables website owners to gradually release new content over time. This is an effective way to keep members engaged and promote subscriptions.
The plugin's built-in support for popular WordPress plugins such as bbPress, Easy Digital Downloads, WooCommerce, and WPML means you can add custom posts and taxonomies to your WordPress site without any trouble. This makes Restrict User Access a versatile and functional addition to any WordPress site.
Key Features:
Several author archives are available
There are blog pages and post type archives
Includes a FrontPage, a Search Results page and a 404 Not Found page
There are several types of page templates available
The Taxonomy Archives are available
Lets You Protect WordPress Content
s2Member Framework is a WordPress membership plugin that provides many valuable features, such as content restrictions and recurring subscription payments. If you are looking for a plugin to improve your WordPress site and increase sales or traffic, s2Member Framework may be a suitable solution for you.
One of the main advantages of using s2Member is its ability to restrict access to content based on membership levels. This feature can be especially useful if you want to create premium content that can only be accessed by paid members.
Additionally, s2Member allows you to synchronize user roles, so you can easily add a subscription system to your membership software.
Another great feature of s2Member is its ability to sell download keys that grant access to digital content, such as eBooks. This functionality can be beneficial for businesses that want to monetize their intellectual property and offer exclusive content to their customers.
Furthermore, s2Member offers customizable login and registration pages, email marketing templates, and membership options pages, which can help you tailor your website to your specific needs.
Key Features:
Content can drip
There are unlimited membership levels available
Some emails remind you of renewals
Compatible with PayPal's Website Payments Standard
Downloadable files and streaming audio and video can be protected
The Original Membership Plugin for WordPress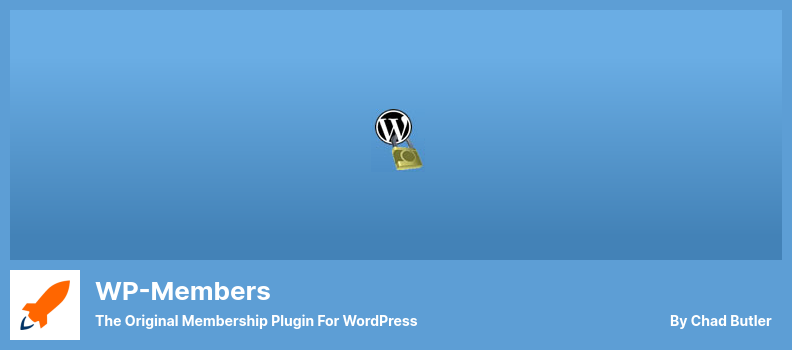 WP-Members is a free WordPress plugin that enables website owners to add membership features and functionality to their sites. It offers various simple yet powerful features, including the ability to create a registration page and manually approve member registrations to restrict access to content, integrate profile information into WordPress themes, and generate teaser content automatically.
This plugin could be an excellent option for those looking to experiment with membership systems without investing in full-featured plugins. However, it may not be suitable for those needing to collect extensive data as the limited number of fields makes it challenging.
Overall, WP-Members is a convenient multisite membership plugin that is free of charge and comes with extensions for managing memberships. Its straightforward approach to adding membership features to WordPress sites makes it perfect for beginners or anyone who doesn't want to risk purchasing expensive membership plugins.
Key Features:
WooCommerce can be used to sell memberships
It is possible to restrict or hide posts, pages, or custom post types
It is possible to create custom fields during registration and in your profile
Access to specific files can be restricted
You can restrict menu items to users who are logged in
The Most Complete Member Management and Membership Plugin
Paid Memberships Pro is a WordPress membership plugin that offers multiple features to build an effective membership site. If you run a WordPress site and want to increase sales or traffic, adding a membership option could be the answer. This plugin allows you to restrict content and create various membership levels with different prices.
By setting up content dripping, you can gradually release exclusive content to members over time, which can encourage subscribers to stay longer. Paid Memberships Pro also lets you create child accounts for groups of members and automatically notify users about upcoming payments.
One of the most useful features of this plugin is the ability to generate revenue reports and sales reports. By keeping track of sign-ups, cancellations, and user activity, you can make better business decisions. Knowing which membership levels are the most popular can help you improve your site and increase profits.
Although the price for a single-site license might seem steep, the benefits of Paid Memberships Pro outweigh the cost. If you're looking to monetize your WordPress site, this plugin is definitely worth considering. It's important to note, however, that the free edition does have limitations, such as a cap on support tickets.
Key Features:
You can restrict the default content
Password recovery is available for the front-end
It is possible to edit profile information from the front-end
There is an option to restrict custom post types
You will find a dashboard for your membership account
a WordPress Membership Plugin
Restrict Content is a fantastic WordPress membership plugin, particularly for beginners. It's an adaptable and user-friendly tool that makes it simple to create a professional membership website on WordPress.
This plugin enables you to provide your customers with the best possible experience by displaying all their account information, including PDF invoices for each payment they make.
If you're looking to increase revenue and improve your site's performance, this plugin can help. Restrict Content allows for limitless membership tiers, a free trial period, a free subscription, and a paid subscription. When combined with WooCommerce and a variety of payment gateways like PayPal, Stripe, and 2CheckOut, the possibilities are endless.
One of the most significant advantages of using this plugin is its proration capability. Members must pay only for the content they've seen, and if they want to upgrade to the next level, they must pay the difference between levels. By charging only for the material consumed, you will develop stronger relationships with your members.
Detailed reports on website performance and revenue generated by the plugin are available to assist you in monitoring your site's success and transactions.
Restrict Content provides a comprehensive overview of how your website is performing at any given time, allowing you to make informed decisions to improve your site's traffic and sales.
Key Features:
The member email can be customized
Auto-created member pages are available
Renewals are automatically processed
It is possible to specify access level, duration, number of renewals, etc
There is a discount code available
a Membership Solution 100% Integrated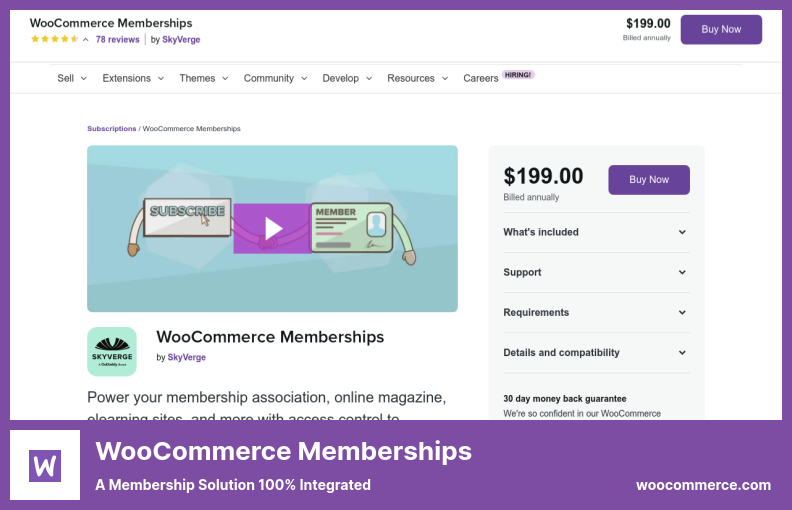 WooCommerce Memberships is a plugin designed for WooCommerce online stores that offers a range of membership features to site owners. If you are looking to improve your WordPress website and increase sales or traffic, then this plugin could be worth considering.
The plugin comes with several unique features that set it apart from other membership plugins. For example, you can offer membership plans as part of your retail sales, which can help you provide your customers with a better deal while also increasing the credibility of your store.
This feature could be especially valuable if you're running an e-commerce site and want to encourage more purchases.
Another benefit of WooCommerce Memberships is that it allows you to create a member-only section for your shop. This means that you can offer exclusive products or content to members, which could incentivize people to sign up for your membership program. You could also offer free shipping as a benefit for members, which could further encourage people to join.
Additionally, the plugin provides features like content dripping and restrictions for members. This means you can control what content or products are available to members at specific times or under specific conditions.
Key Features:
You can turn your store into a buying club
Memberships can be sold or assigned
Provides a complete membership management system
You can offer better shipping options to your members
Members can be rewarded with special discounts
FAQ
What are membership plugins?
Membership plugins are tools that enable website owners to restrict access to certain content, pages, or features of their website to registered members only.
Why should I consider using a membership plugin on my WordPress site?
If you want to provide exclusive content or services to your users and build a community around your site, implementing a membership system is an effective way to do so. Additionally, it can help you monetize your site by offering premium content or features to paying members.
What should I look for when choosing a membership plugin?
When choosing a membership plugin, you should consider factors such as ease of use, pricing, integration with other tools, customer support, available features, and security measures. It's also helpful to read reviews and compare different options before making a decision.
Do all membership plugins require payment?
No, there are both free and paid membership plugins available for WordPress. While free options may have more limited features, they can still be effective for smaller sites or those just starting out.

Paid options usually offer more advanced features and better support, but ultimately the decision comes down to your specific needs and budget.
Conclusion
This article examined these plugins and explained why they're advanced. The ready plugins can assist anyone builds a nice-looking website in just a few hours.
📌 Recommended: We strongly suggest you read our articles about the best WordPress blog themes and the best WordPress plugins for bloggers.
We hope you found this article helpful in searching for the best WordPress membership plugins.
Send a comment or questions if you have them. We would appreciate a share on Facebook or Twitter if you enjoyed this article.