WooCommerce is probably one of the best eCommerce plugins available in the WordPress repository and it allows you to set up great looking online stores and customize it however you wish. Having an online store is no longer a risk with WooCommerce. There are hundreds upon hundreds of addons for WooCommerce that almost guarantees a profit for your business.
WooCommerce comes with a lot of great features that allow you to fully customize the store as you desire. You can add products, deals, discounts, etc. Also, there are a lot of plugins to add extra features to WooCommerce. For example, WooCommerce payment gateways, WooCommerce email marketing, WooCommerce currency switcher, and so on. However, when we shift our focus towards email, we can't find any designs in the WooCommerce itself and most of the available designs are pretty basic and come with standard functionalities.
After a while users may get bored of receiving the same emails and as you probably know email marketing needs to be crisp, short and with a gorgeous design. In this article, we would like to discuss how to customize WooCommerce email with a plugin and why should you even customize it.
Why Should You Customize WooCommerce Email?
Well, the main reason that comes to mind when talking about customizing WooCommerce emails is simply because of branding and cause branding. Put yourself in your customer's position, when you purchase a product from a website, you expect to receive an email regarding the product you have bought in a professional manner that reflects the brand and the professionalism of the company.
If they have designed a well-crafted email, you will feel special and it will strengthen the relationship between you and the website. On the other hand, imagine if you receive an email with just a logo and plain text, how would you feel? You will definitely judge the website based on that email.
So, now that you know the importance to customize WooCommerce email, let's get into a list of advantages of having customized emails:
It helps to make your business look professional
You can make emails interactive should you need to do so
Gorgeous looking emails can increase your conversions and engagement
Customized WooCommerce emails are impressive and visually attractive
Now without further ado, let's discuss how to customize a WooCommerce email.
Customize WooCommerce Email with Plugin
WordPress is a flexible CMS and by using plugins you can add or remove functionalities to it. There are thousands upon thousands of plugins in the WordPress repository and if you don't know how to upload a plugin zip file to WordPress, feel free to read our previous article.
We will introduce a free and premium WooCommerce mail customizer plugins below. If you are unsure about buying a plugin or using a free plugin, feel free to read our previous article about premium vs free WordPress plugins.
The first WooCommerce mail customizer on our list is Email Customizer for WooCommerce. This plugin enables you to create gorgeous looking and well-organized templates for your WooCommerce emails and it does that with its easy to use template builder.
With the Email Customizer for WooCommerce plugin, you can add basic elements such as text, image, divider, gap, etc. as well as WooCommerce elements such as billing details and shipping details to your emails.
Furthermore, it comes with a user-friendly email template builder, live preview of the changes you are making, an unlimited number of rows along with few more features.
In addition, this plugin comes with a premium version as well. The premium version unlocks more elements, columns and customization options.
To install the plugin, follow the steps down below:
Log in to your WordPress dashboard
Hover over Plugins then click on Add New
In the search box type in Email Customizer for WooCommerce
Proceed to click on Install Now then Activate

Once the plugin is activated it will appear on the left-hand-side menu of your WordPress dashboard. Click on it to open its options. Once it's opened, from Choose Template drop-down menu choose either customer new account or customer processing order and then click on Edit.

In its WooCommerce mail customizer, you can use its drag and drop feature to add or remove elements from your email template. However, to use its other features, it is recommended that you upgrade to the pro version.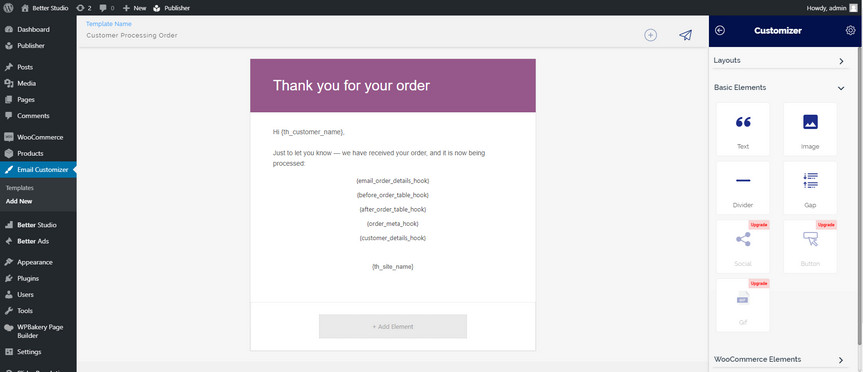 Once you have designed your template, you can send a test mail by click on its icon on the top right corner of the page.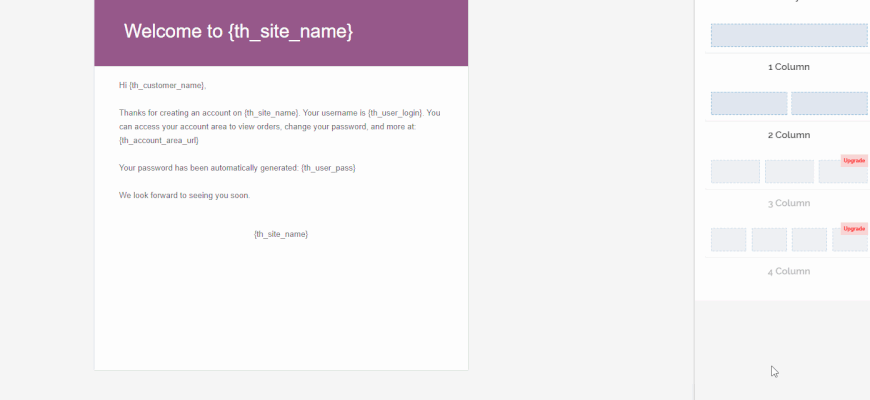 This plugin has over 1000 active installations and fully compatible with the latest version of WordPress.
2. Decorator – WooCommerce Mail Customizer
The decorator is a nice and simple WooCommerce email customizer tool. It is specifically designed to create and change your WooCommerce emails. However, unlike Email Customizer for WooCommerce, it doesn't come with the drag and drop feature. Although, it offers a lot of customizations and works well if you are not looking forward to changing the elements in your email.
Decorator allows you to change the header & footer styling, and even add custom styles. In addition, you can change the font family, size and color. To install the plugin, follow the steps below:
Log in to WordPress dashboard
Hover over Plugins and click on Add New
In the search box type in Decorator WooCommerce Email Customizer
Click on Install Now then Activate

Once the plugin is activated hover over WooCommerce > Settings > Emails and scroll down until you see Decorator (Customize WooCommerce Emails). Then, click on Open Decorator to open the WooCommerce email customizer.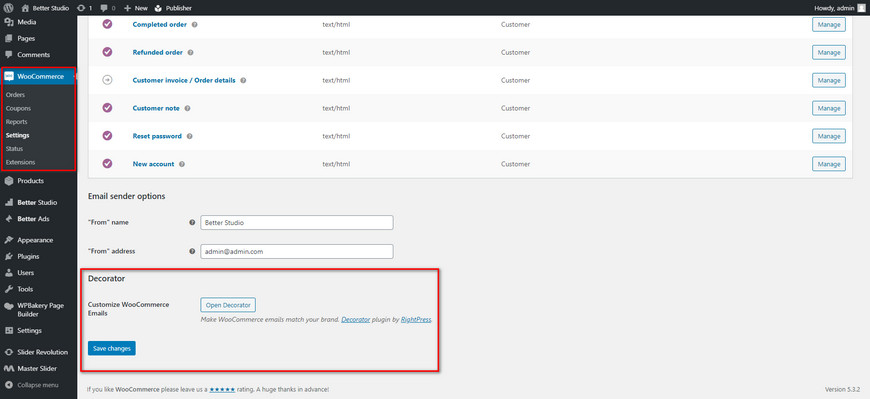 This plugin uses the default WordPress customizer to create or customize WooCommerce emails. The customizer allows you to edit container, header, footer, content, headings and even allows you to add custom styles.
Once you have made your changes make sure to click on Publish to save your changes.
Conclusion
In this article, we discussed how to customize WooCommerce emails with two simple yet powerful plugins. Having a great email template for WooCommerce is the perfect way of connecting with your customers and strengthen your relationship with them.
Furthermore, a lot of customers look forward to seeing a professional email in their inbox as soon as they have purchased an item on your website. Having a plain email with just texts will definitely put them off and make them purchase from other websites whenever they have to.
The Email Customizer for WooCommerce is a great plugin that's available in both free and premium versions. The free version is probably enough if you are just starting out and making your first template. However, as you progress you will find the need to upgrade to the premium version.
The Decorator plugin is a completely free WooCommerce email customizer tool that uses the default customizer that comes with WordPress to edit the basic template provided by WooCommerce itself.