Are you trying to find the best WordPress Notification plugin but need help determining which one is best?
The best WordPress plugins for notifications are discussed in this text. We will give you some suggestions based on different scenarios as a final recommendation. WordPress plugins are mobile-friendly, speed-optimized, and will work with the top WordPress themes.
We compiled our list of WordPress plugins for notifications. The WordPress plugins also include plugins that can be used with WooCommerce Custom Notifications, WooCommerce Order Notifications, Custom WooCommerce Notifications, Live Sales Notification WordPress Plugin, WooCommerce Order Notification Email, WooCommerce Product Notification Plugin, SMS Notification Plugin, and Push Notifications Plugin.
📌 Note: Refer to our article on advanced WooCommerce themes for information on sophisticated themes that provide you with features you need and are beautiful to enhance the appearance and functionality of your site If you are interested in information on sophisticated plugins, see our article on modern WooCommerce plugins.
The following are the top WordPress plugins for Notification in 2022:
Easy Setup of u0022New Orderu0022 and Stock Email Notifications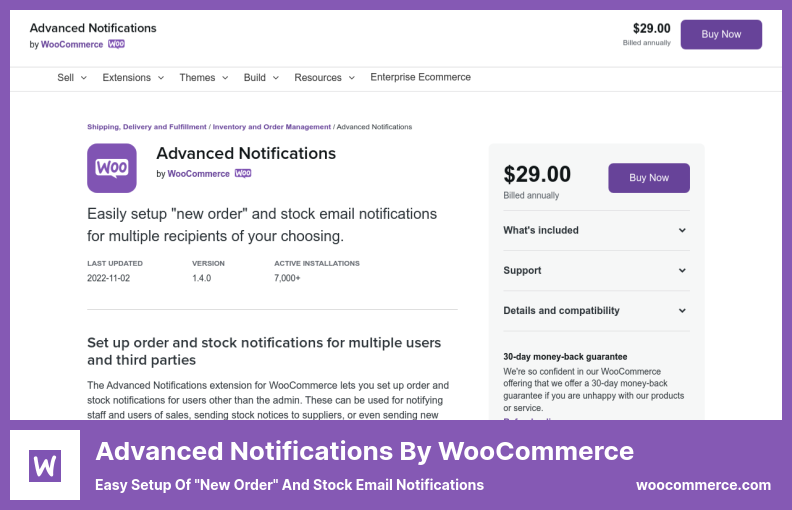 Advanced Notifications allows you to send push notifications to users of your WooCommerce website about any information they need. Users can be notified about new orders, product stockouts, or any other information you want to communicate with them.
By using WooCommerce, you can communicate your sales data to your staff and your customers at the same time. Your suppliers will also receive notifications of your live sales and the stock levels of your products when you run out of a product.
Shippers will also receive notifications of any new products you have ordered from them. It is possible to create the recipient's information and contact information using the WooCommerce Order Notification email plugin, such as their email address, etc.
Additionally to these WooCommerce notifications, you can send them any type of message you feel is appropriate for each product. Each product contains its information, and news can also be customized.
You can use this WooCommerce product notification plugin to automate your eCommerce website's process and enhance your sales through an improved engagement rate.
💵 It costs $29.00 with 12-month support.
Key Features:
Whenever your site's users make a purchase, a notification is sent
Use WooCommerce order notifications for any notification
Refund requests will also be notified with Advanced Notification
Customer and supplier notifications can be selected from several options
Live Sales Notification for WooCommerce Plugin
Woomotiv can be described as a live sales notification for Woocommerce sites. It allows new customers to see that your site is active and of trustworthiness to transact business with.
Using the live sales notification for WordPress plugin, you can customize the text and layout of the message to make it more appealing to your store's visitors.
Your potential customers can see sales notifications for specific products and categories and proper orders with them. You can also display sales notifications directly on the product and cart pages. Beautiful templates are available to select from based on the design of your website.
If you own a WooCommerce store, you would likely like visitors to become customers as soon as possible.
The average online shopper will click around an online store for about 97% of the time without completing a purchase or using the service.
There is one problem that affects all online stores, and that is the lack of trust among customers. WooCommerce Notification can significantly improve this situation.
💵 The Premium version is $49.00 and the Lite version is free.
Key Features:
The ability to display messages for reviews
Creates an urgent feeling within the organization

Reports tailored to your specific needs

Increases conversion rates, which is crucial for businesses
Displays the popularity of your Woocommerce store
Provides a list of products that are trending at the moment
Provides trust in your online store
Notifications concerning recent sales/random sales
Random Reviews:
It's great to have the plugin! Thank you!

Worked well and boosted sales; thanks

Mr. Sabri created an awesome plugin for no cost, and I would like to thank him for that.
Email Verification Integration to The WooCommerce Store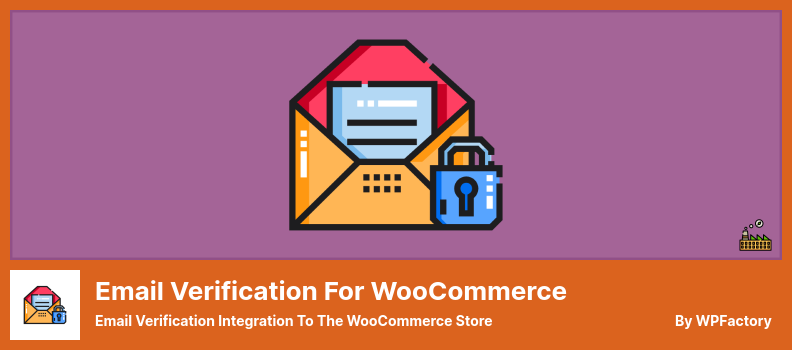 With Email Verification for WooCommerce, email verification is now available for your WooCommerce-based store.
Users can confirm their email address upon registering or visiting your site; for the first time. Additionally, unverified emails can be manually verified and resent through the dashboard's intuitive interface.
Users may also ignore the verification process based on their role; for example, administrators are not required to verify by default.
Maintaining a clean user base and only retaining valid users is essential to the success of your business. Automating the process of removing verified users on a weekly or daily basis is a great way to accomplish this.
The verification link can also be sent separately or in the email containing the WooCommerce notification 'Customer new account.'
The verification email does not need to be added to the custom email created by a third-party plugin. You can add a third-party plugin to the email if you do not use a third-party plugin.
Should you send the verification email separately to the customers, you may delay sending the 'Customer new account' email until after they have verified their accounts.
💵 A Pro version for $39.00 and a Free version is available.
Key Features:
Re-verify email activation link manually by admin
Unverified users can be deleted
Registering new users requires email verification
Select roles can skip email verification
Allow email verification for existing users
verification messages can be customized
Random Reviews:
This plugin has great free functionality – the support was excellent and very helpful in solving a customization issue.

When the user logs in, it will appear 502 Bad Gateway when the email verification is enabled on registration.
Using Real-time Orders As Social Proof and Buyer Validation

A WooCommerce Notification allows you to display custom notifications for WooCommerce about recent orders in a popup window for more effective order management.
The plugin also allows you to display customer information such as a photo, a name, a product image, and the time an item was purchased in the notification popup. It also provides shortcodes for displaying any information you choose.
Furthermore, you can easily create social proof for your shop by displaying orders on the front end. You can show orders in real-time to develop a sense of urgency and increase customer loyalty if you already receive a high traffic volume.
It can be used with categories or based on newly launched products to create counterfeit orders. Suppose you want to attract customers to newly launched products. In that case, you can use the plugin to create fake orders for your recently released products.
Using the WooCommerce order notification plugin, you can monitor WooCommerce orders remotely and set up several messages to be notified when an order is placed.
With the plugin's powerful customization capabilities, you can customize your notification's background color, image position, border radius, and more. There are 22 template options available. Select the template which is most appropriate for your website.
Likewise, advanced users can select which pages will receive notifications and delay the appearance of popups through a notification sound.
💵 With $30.00, you will get 12 months of support for this plugin.
Key Features:
Display virtual orders in the order book
Templates with 22 pre-built feature
Support for multiple information shortcodes
Show WooCommerce orders in real-time
Dismiss notification at the right time
CSS support for notification customization
Reports for live sales on pages
Random Reviews:
I am very grateful for this great plugin. It has helped me a lot, and I am thrilled with it. It is always up-to-date, and it has good code quality. Translations are not problematic. Thank you, and keep up the good work up.

My sales have increased in the past month due to this plugin. I will recommend it to all of my friends and colleagues. Thank you a lot for this outstanding extension.
Maintaining The Loyalty of Your Customers WordPress Plugin
The YITH WooCommerce SMS Notifications plugin provides your customers with instant communication regarding changes to their order status via SMS. The plugin utilizes Twilio and Clockworks for SMS gateways.
You can also receive notifications for every purchase to ensure that everything is handled efficiently and accurately with just one click.
Additionally, notices can be sent to a different telephone number, allowing you to delay messages for orders on hold until you are ready to receive them again.
Several variables in the system can be utilized to customize messages. Customer telephone numbers are automatically converted into an international format, and administrators can add custom variables. Third-party plugins can be customized more easily with the help of a filter.
Since we use multiple gateways, such as Twilio and Clockworks, for the delivery of these messages, it is also possible for you to receive them.
Click a button, and you will receive an SMS notification for every processed purchase or order that went wrong in your store, enabling you to stay informed at all times.
This WooCommerce Custom Notification plugin has everything you need to increase sales and ensure your business's success.
💵 With this plugin, you can get 12 months of support for $59.99.
Key Features:
Notify the status of the order on time
Allow all users to access the service
Inform others about admin changes
Choose from over 30 services to send SMS notifications
Maximize SMS characters to 160
Changing the sender's configuration with fictitious data
User Engagement Enhancement Plugin for WooCommerce Store
Push Notifications for WooCommerce is a powerful plugin for eCommerce websites that allows you to increase user engagement.
With this plugin, you can send targeted Push Notifications to your website visitors to keep them engaged. The plugin is simple to use and will assist you in keeping visitors engaged on your site.
The PushPro plugin can notify all website visitors when new stock becomes available, when sales begin, or when new inventory is added.
Moreover, you can schedule your Push Notifications, so they are sent when needed. You can create user segments and customize opt-in messages for visitors even after they leave your website, resulting in higher engagement and conversions.
If your website visitors wish to receive Push Notifications from you, they must subscribe to receive Push Notifications. The website provides a custom opt-in form for subscribers to subscribe to receive push notifications, or they may follow the browser prompt to subscribe on any device.
💵 With this plugin, you'll get 12 months of free support. It costs $90.00.
Key Features:
All types of devices can be notified based on their type
Easily schedule your notifications to be sent out at certain times
The style features you need at your fingertips
Click-to-action buttons that are customized for your business
Set up your opt-in form in a way that suits your needs
Unlimited Push Notifications to Engage and Loyalize Your Customers
It is now possible to send unlimited notifications to your customers using the YITH live push notification plugin for WooCommerce. You can advertise discounts and coupon offers to your customers and notify them of another customer's purchase using this plugin.
By displaying what other customers have bought on your website when they visit your website, your WooCommerce plugin will assist you in earning their trust.
This will cause a pop-up push notification to appear whenever someone visits your website, creating an urgency to act and purchase your products as soon as possible.
The use of email marketing and SMS marketing is considered old-fashioned since they do not display unless they are opened. This may also be annoying for some individuals if they receive such messages.
It is claimed that push notifications are 50% more effective than email or SMS marketing in addressing this issue.
More and more WooCommerce owners are now using push notifications to solve this problem. This plugin is also one of the best you can use to reach your business objectives.
💵 Adding a YITH Live Push Notifications for WooCommerce plugin to your website will cost you $79.99, and you will get 12 months of support.
Key Features:
Create urgency for your shop discounts with coupons and messages
Gain trust by showing your visitors only positive reviews
Notify customers to purchase again if they previously purchased
Visitors gain more confidence by seeing ordering notifications on your site
Promoting favorable policies on your site and encouraging customers to share
a Unique Approach to Influencing a Purchase Decision & Converting Visitors
NotificationX is an excellent plugin for increasing conversion rates for WooCommerce promotions. It provides live updates regarding the sale's progress.
Suppose you are selling through your WooCommerce store. This plugin will alert your customers when a sale occurs, increasing customer trust and credibility.
As part of the live sale notification, you can also display the number of downloads or the history of downloads you have received.
In WooCommerce live sale notifications, you can display recent customer comments, customer reviews, and notification bars. However, if you decide to go pro, you can also show a contact form and form for email subscriptions.
The notifications you receive can be customized to appear wherever you like or be excluded from specific pages.
In addition to supporting both WooCommerce and Easy Digital Downloads, this WooCommerce live sale notification plugin is also cross-compatible.
Using the pro version, you can integrate your site with advanced integrations such as Zapier, Freemius, Envato, etc. Additionally, advanced analytics will allow you to track conversion rates and set roles for notifications and analytics integration.
💵 With $49.00, you can have an open-source plugin with many documents and 12 months of support for free.
Key Features:
A

notification bar

is displayed on your screen

Digital downloads and WooCommerce live sale notifications
Displaying social proof popups on your website
Integrates with the Elementor theme
Timer for counting down to the end
Analyzing advanced data in real-time
The ability to customize notifications
We will conclude by leaving you with these words:
Our team has handpicked the best Notification WordPress plugins. With a couple of hours, you could have a phenomenal site.
📌 Note: We have published a post on the best WordPress hosting providers that may interest you. We have also posted a post on modern WordPress security plugins for your consideration.
This is a pack of the best WordPress plugins for Notification. We hope you find it useful.
We will be happy to add any additional functionality you think we missed. If you wish to support us, share this on your Facebook or Twitter posts.