Have you ever wondered how to keep track of all the important tasks and items on your WordPress website? Well, look no further because we have the solution for you!
In this blog post, we will be discussing the 5 best WordPress checklist plugins for the year 2023, both free and pro versions. Whether you're a beginner or an experienced website owner, these plugins are sure to make your life easier and more organized.
Now, let's dive into the details. Did you know that there are currently over 75 million websites that are powered by WordPress? With such a large number of websites, it's essential to have the right tools to manage and maintain your WordPress site effectively. That's where checklist plugins come in.
These handy plugins allow you to create checklists for various tasks, such as content creation, SEO optimization, security checks, and more.
But why are checklists so important? Well, according to research, using checklists can improve productivity and reduce errors by up to 30%. By having a clear list of tasks and items to complete, you can stay focused, and organized, and ensure that nothing falls through the cracks.
With the right checklist plugin, you can easily create, manage, and track your tasks, ensuring that your WordPress website is always in top shape.
In this article, we will be introducing you to the 5 best WordPress checklist plugins for 2023. We will provide an overview of each plugin, highlighting its key features, benefits, and any limitations.
Whether you're a website owner, a blogger, or an online entrepreneur, these plugins will help you streamline your workflow and enhance your website's performance. So, let's get started and find the perfect checklist plugin for your WordPress site.
Best Checklist Plugins for WordPress
Looking to make your WordPress website more organized and efficient? Look no further than these top-rated checklist plugins! Check out the following products in this article and discover how they can streamline your workflow and boost your productivity.
Create HTML or PDF-checklists for Your Visitors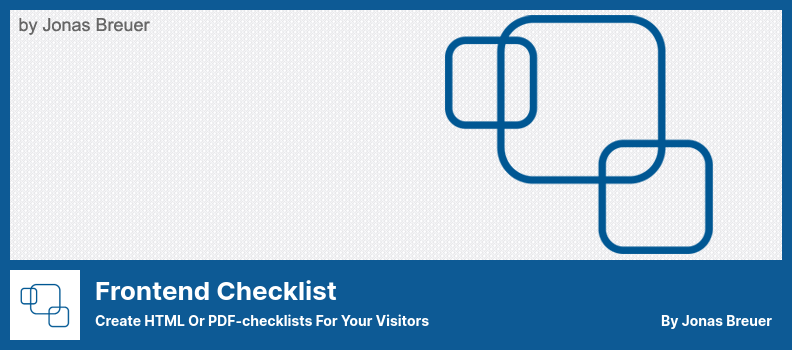 Frontend Checklist is a WordPress plugin that allows users to easily create HTML and PDF documents directly on their website or blog. It offers a host of features that make creating and managing checklists a breeze.
With Frontend Checklist, you can create both HTML and PDF checklists that can be displayed on your website. The plugin allows users to check off checkboxes, which will then store the current status in a cookie or database for future visits. This means that visitors can pick up where they left off, even if they leave the website and come back later.
One of the great features of Frontend Checklist is its flexibility. You can insert several entries into a single checklist, and there are no limitations on the number of checklists you can create. This is perfect for those who need to create multiple checklists for different purposes.
Frontend Checklist also allows you to group your checklists according to their categories. This makes it easy to organize and find the specific checklist you need. Whether you're creating a to-do list for yourself or a checklist for your website visitors, Frontend Checklist has you covered.
Installation and setup are a breeze with Frontend Checklist. The plugin comes with complete instructions, so even if you're new to WordPress, you'll be up and running in no time. The backend interface is user-friendly and intuitive, making it easy to create and manage your checklists.
One potential downside of Frontend Checklist is that if you're creating a to-do list with more than 50 items, the cookie functionality can become problematic. However, for smaller checklists, this shouldn't be an issue.
The best part about Frontend Checklist is that it's completely free to download. There are no associated charges or hidden fees, making it an affordable and accessible option for WordPress website owners.
Key Features:
Multiple entries in a single checklist
Complete installation and setup instructions
Unlimited checklists
Grouping checklists by categories
Backend control over setting the cookie
Turn Any List in Your Blog to a Beautiful Interactive Checklist
Checklist is a WordPress plugin that allows you to transform simple lists into interactive and mobile-friendly checklists. It's an incredibly useful tool that can help you engage your audience, increase user interaction, and even boost your marketing efforts.
With Checklist, you can easily convert any list on your blog into a downloadable and printable checklist. This means that your readers can easily access and use your checklists, whether they're on a computer or a mobile device. You also get a permanent link to your blog whenever someone opens the list, which is fantastic for marketing purposes.
The plugin comes in two versions: a Lite version and a Premium version. The Lite version is free, making it a great option for those on a budget. However, if you're looking for extra features and enhanced functionality, the Premium version is available at a reasonable price.
One of the standout features of Checklist is its simplicity and ease of use. It's incredibly straightforward to set up and can be used for a wide range of tasks, from tutorials and recipes to bookmarks and to-do lists. You can even add links to make your checklists more interactive and engaging for your readers.
In terms of features, Checklist offers a variety of options to enhance the user experience. You can save and print your checklists, giving your audience the ability to refer back to them whenever they need to. This can help turn your visitors into returning customers, as they'll find value in your content and keep coming back for more.
Additionally, Checklist allows you to insert hyperlinks into your entries, further enhancing the functionality of your checklists. This means that you can provide additional resources and information within your lists, making them even more valuable to your readers.
Another great feature of Checklist is its monetization potential. You can easily monetize your checklists, whether it's through affiliate links or advertising. This can be a great way to generate additional income from your blog while providing valuable content to your audience.
Lastly, Checklist offers full customization options, allowing you to tailor the appearance and functionality of your checklists to suit your needs. You can customize the colors, fonts, and layout to match your brand's aesthetic and create a cohesive user experience.
Key Features:
Save and print checklists
Convert visitors into returning customers
Insert hyperlinks for additional resources
Monetize your checklists
Full customization options
Pre-Publishing Approval Task Checklist for WordPress Content
PublishPress Checklists is a WordPress plugin that helps you ensure your content is ready for publication before you hit that post button. This handy tool allows you to create customized checklists of tasks that need to be completed before your content can be published.
With PublishPress Checklists, you can easily define the specific tasks that must be completed, tailored to your website's specific needs. Whether you're a professional writer or just want to make sure your content is top-notch, this plugin is a valuable tool that guarantees your content is ready for the world to see.
The user-friendly interface makes it easy to manage your checklists and stay organized. As you complete each task, a green checkmark appears next to it, giving you that satisfying sense of accomplishment. You can even set maximum and minimum values for each item on the checklist, ensuring your content meets all the necessary criteria.
But that's not all! PublishPress Checklists also offers some additional features to help you perfect your content. You have the ability to set maximum and minimum sizes for your featured images, ensuring they look their best on your website. You can also control which characters appear in the URL, making sure it's clean and SEO-friendly.
The plugin also includes a feature that verifies all your links are in a valid format. Broken links can be a real headache, but with PublishPress Checklists, you can rest easy knowing that all your links are working correctly.
And don't forget about the word count! With this plugin, you can set minimum or maximum word counts for your posts, making sure you're hitting that sweet spot of informative and concise content.
Key Features:
Featured image size control

for a visually appealing website

URL character control for clean and SEO-friendly URLs
Link verification feature to eliminate broken links
Word count control for concise and informative content.
Customizable checklists to ensure your content is ready for publication
Easiest Way to Make Sure Your Page or Post is Ready to Go Live
Pre-Publish Checklist is a powerful WordPress plugin that ensures your website's content is validated before it's published. This plugin allows you to create checklists of tasks that need to be completed prior to publication. It organizes these tasks in a specific order and sends you reminders if you forget to complete any of them.
With the Pre-Publish Checklist plugin, you can easily streamline your content creation process. No longer will you have to worry about missing important steps before publishing. This plugin keeps all your tasks organized in one convenient list, making it simple to keep track of what needs to be done next.
One of the standout features of this plugin is the ability to set a custom message that appears when someone tries to publish a post or page without finishing their checklist. This ensures that no important steps are accidentally skipped.
Using the Pre-Publish Checklist plugin is straightforward and hassle-free. It also comes with free updates and support, ensuring that you have access to any necessary assistance along the way.
With this plugin, you can create different checklists for different types of posts, such as blog posts, product reviews, and tutorials. This allows you to tailor the checklist to the specific requirements of each type of content.
By following the checklist thoroughly, you can rest assured that no detail goes overlooked and your content is ready to go before it goes live.
Another benefit of the Pre-Publish Checklist plugin is the easy customization of the message that appears when someone tries to publish a post or page without finishing their checklist. This feature gives you the ability to provide specific instructions or reminders to your team or contributors.
In addition to its powerful features, the Pre-Publish Checklist plugin is regularly updated, so you can be confident that it remains compatible with the latest WordPress updates. It also offers free support if you encounter any issues while using the plugin.
Key Features:
Create checklists for pages, posts, and custom post types
Additional pre-publish meta box for each post type
Customize checklists to meet your specific needs
Easily check completed list items without opening the editor
Check completed status in a convenient column
Choose the desired action after clicking the publish button
Allows Creating Checklists in Posts Based On Bulleted List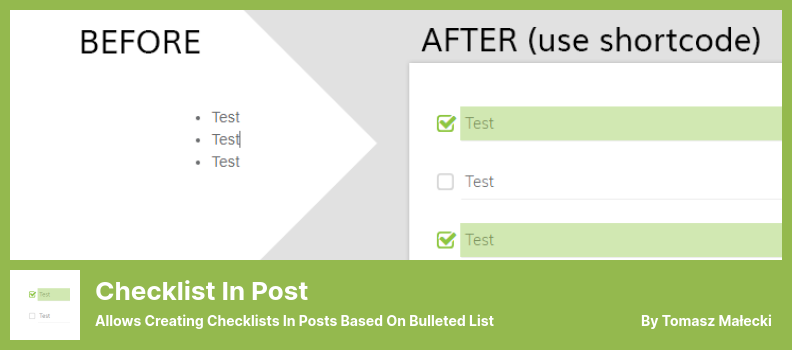 Checklist in Post is a free WordPress checklist plugin that allows you to effortlessly create, modify, add, and delete checklists on your website. With its simple shortcode, you can easily incorporate checklists anywhere on your site.
This plugin is designed to be a basic, no-frills solution for creating checklists. It's perfect for new WordPress users who are looking for a simple way to add checklists without having to pay for a premium plugin. Best of all, it's completely free to download.
One of the standout features of Checklist in Post is its visual editor, which makes it incredibly easy to add bullet points and create checklists within your posts. You can also customize the spacing before and after the bullet list for added convenience.
Additionally, this plugin includes the Classic Block feature, which allows you to add all the necessary instructions directly within the visual editor. This means you don't have to switch between different settings or tabs to create your checklists.
Checklist in Post provides support for the latest versions of WordPress, including version 5.0 and the Gutenberg editor. It also offers support for cookies, ensuring that your checklists function smoothly.
With the inclusion of shortcodes, you have the flexibility to place your checklists anywhere on your website. Simply add the shortcode to the desired page or post, and your checklist will appear seamlessly.
Key Features:
Supports WordPress version 5.0 and Gutenberg editor.
Provides support for cookies.
Creates checklists based on a bulleted list in posts.
Offers the use of shortcodes for flexible placement.
Includes a user-friendly visual editor.
Frequently Asked Questions
What are WordPress checklist plugins?
WordPress checklist plugins are tools that help users manage and organize tasks in WordPress websites. These plugins provide a checklist format where users can create and check off items, ensuring that important tasks are completed and nothing is overlooked.
Why should I use WordPress checklist plugins?
WordPress checklist plugins are beneficial for website owners and administrators as they offer a structured approach to managing tasks. These plugins help keep track of crucial website maintenance tasks, content creation, SEO optimization, plugin updates, and more. By using checklist plugins, you can increase productivity, improve website performance, and ensure that nothing important is missed.
What are the key features to look for in a checklist plugin?
When choosing a checklist plugin for your WordPress site, there are several key features to consider. Firstly, look for a plugin that offers customizable checklists, allowing you to create lists that suit your specific needs and preferences.

Secondly, consider if the plugin offers the ability to assign tasks to specific users or teams, which can be helpful for collaboration and assigning responsibilities. Additionally, look for features such as reminders, notifications, and progress tracking, as these can greatly enhance the functionality and usability of the plugin.

Lastly, ensure that the plugin is compatible with your WordPress theme and other plugins to avoid any conflicts or compatibility issues.
Conclusion
To sum it all up, in this article, we have discussed the top 5 WordPress checklist plugins for 2023, both free and pro options. These plugins offer a wide range of features to help you stay organized and streamline your workflow on your WordPress website.
If you're curious to learn more about WordPress and its various functionalities, I highly recommend checking out the BetterStudio blog. They offer a plethora of tutorials and guides that can help you maximize the potential of your website.
To stay updated with the latest tutorials and tips, make sure to follow BetterStudio on Facebook and Twitter. By doing so, you'll never miss out on any valuable information that could enhance your WordPress experience.
Thank you for taking the time to read this article. If you have any questions or encounter any problems regarding the content discussed, please feel free to leave a comment in the comment section below. I'm here to help and provide any additional clarification you may need.