Is your goal to find the best CRM WordPress plugin?
We have made the entire process simpler for you by listing the Best WordPress plugins for the CRM to save your time and attempt. These WordPress plugins are mobile-friendly and speed-optimized. The plugins will also integrate with all modern WordPress themes.
CRM plugins collected here will assist you in choosing a suitable plugin. The plugins could also be applied to WooCommerce CRM or Open Source CRM sites.
We now turn our attention to the best CRM WordPress plugins for 2022:
Contact Management Plugin For WordPress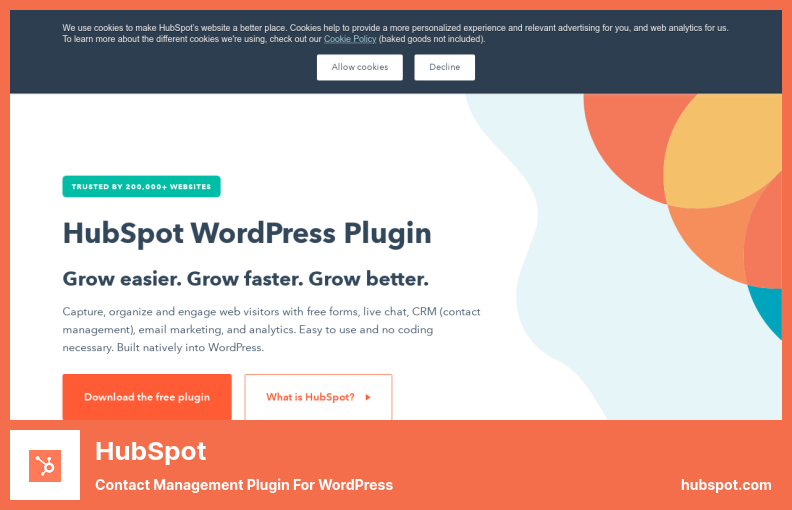 Through HubSpot's WordPress plugin, you can connect your WordPress website to HubSpot's free CRM so you can track, organize, and nurture your leads and customers.
Besides CRM capabilities, this plugin offers a full suite of features, including the ability to create forms, run live chats on your site, and provide analytics. Emails and newsletters can even be sent out using an email marketing tool.
With all of this, you can build a great customer management platform that engages visitors and creates a beautiful experience for them. According to a report by Databox, 53.3% of those surveyed said HubSpot's free CRM tool is far better than the competition.
The HubSpot marketing tools are famous for their power. Now you can leverage some of the most advanced customer management tools available. It features a WordPress plugin to integrate with your existing website to be fully integrated with your CRM.
Online configuration of the CRM can be completed in a few minutes. We will then demonstrate the dashboard and walk you through the reports and graphs.
A free form builder is included with the CRM plugin, which will automatically sync your visitors' submissions with CRM. These leads will be added to your contact list regardless of whether you're using a form tool like Gravity Forms or Ninja Forms.
It can be used to create banners, pop-ups, and embedded forms. The CRM you receive comes with live chat and chatbots that enable you to connect with your prospects and personalize your interactions. Those conversations are automatically captured in the CRM.
💵 Here is the download link to the plugin. It is free.
Key Features:
Each contact has real-time updates on their interactions and communications
Every contact has their page views marked up on your website so you can quickly see how they interact with it
With the CRM's built-in contact management system, building and segmenting lists is a breeze
Every customer receives a unified timeline indicating their lifecycle stage
Customers can communicate with customer support representatives via live chat
Form builder allows you to create custom designs that fit your brand
Keeps a log of every interaction with a customer, so you can see what they have done on the site and if they have contacted you
Complete WordPress Business Manager for Small Businesses
WP ERP is a free plugin that provides the functionality of CRM, Human Resources Management, and Accounting to both businesses small and big.
One of the things which makes this CRM plugin so interesting is that there are multiple modules that you can choose from, one for CRM solutions the other for HRM and Accounting solutions.
Basically, they don't have any limits on anything, so you can make as many entries in the various modules as you desire. There are no charges required to start using the WP ERP plugin once you get it.
Besides having the most basic features, this version will allow you to log your interactions with customers and keep track of how well they are doing.
There is also a chance to manage the information of your company, locate tools, and create holiday lists for free with the free features. You can also make notes on customer profiles as well as generate contact groups.
While the premium version may not be necessary for all businesses, it provides users with unique features like payment gateways and payroll tools and access to premium support.
The WordPress ERP package offers all-in-one functionality. This package includes human resources management as well. The system allows you to keep track of employees at various locations.
Additionally, WordPress ERP comes with CRM capabilities. You can use it to track users who interact with your website and convert them to leads.
A CRM activity report is an excellent way for you to see how your company is growing and if your services are helping your clients. There is an incredible accounting system that comes with the CRM platform, which offers tools for non-accountants as well.
There are also features like a balance sheet, income tracking, and reports to be found in the system.
💵 Premium version costs $12.99, Lite version costs $0.
Key Features:
Each customer can have their own notes
Client management works well in the CRM, including the ability to handle the customer life cycle and create contact groups
Offers an HR Manager plugin with features for managing locations, handling employee benefits, and communicating company-wide
Both clients and admins are sent beautiful notifications via email, with several email templates to choose from
Payments from customers and clients all over the world can be collected in more than 40 currencies
With the option to white-label your company profile, you get to set up a comprehensive profile
Random Reviews:
A query in regards to filtering options for the customer was answered within a day of the email being sent with an offer of assistance. An engineer came back with a satisfactory result after a few days. I recommend this product. It's easy to use and has a lot of options. Thanks again for the great service.

WeDevs has been working with me for a while and my products are unbeatable in price-performance comparison. I am also grateful for the support of Arif and Andrew, who are always there when I need them. Thanks again.
Client Relationships Growing Plugin
vCita CRM is jam-packed with features and is compatible with just about any website platform. Additionally, it also provides a WordPress integration, thus making it a fascinating application for those who work on WordPress sites at the moment.
Please keep in mind that vCita CRM is only available to subscribers of the vCita CRM Premium service. You can use CRM to store all your contacts in one place and gain a deeper understanding of each customer by knowing what they want and how they shop.
A mobile interface is also provided by vCita CRM, so you can handle your business on the go and be available to your clients when needed. CRM platforms such as vCita are powerhouses.
The application has the tools you need to boost your team's productivity without sacrificing the design and functionality. It is easy to manage, adding notes to client profiles and modifying customer modules with a minimum of training.
Among the other benefits you get from the cloud are that you'll get a customer portal that your customers can use to make changes to their profiles, send payments to your company, and share documents with each other.
Customer follow ups can be extremely valuable for some businesses, especially if you manage a sales team or book appointments.
One example of this would be a doctor's office and how a CRM was used to manage appointments, and appointments would be running on the vCita. You can make the same point if you need a schedule for a program tour or if you are running software demos.
💵 At $45.00 price, you'll get a plugin with 12 months of support and updates.
Key Features:
Ability to create profiles, manage their payment schedules, and update user information through a client portal provided by CRM
Stores and labels all contacts without any concern over their security
Followup messages are available for sending to people who need a reminder
A mobile app is available with vCita CRM so that you can change customer profiles on the go
Ability to analyze data about payments and messages in the dashboard to see how you can improve your business
Customers have access to their own profiles, and it's easy for companies to analyze user behavior
Lead Management & Affiliates management for WordPress
With UpiCRM, you get access to a complete CRM and lead management package for WordPress for free. Even though this is only a relatively new plugin, it has already gained an outstanding reputation, with years of good ratings and thousands of installations.
It is also handy when deciding to upgrade to a premium CRM in the future; if you need to move all your contacts into another system, the UpiCRM WordPress plugin provides a bulk export functionality.
In general, the application focuses on creating contact forms and tracking leads into your database. The plugin automatically aggregates data from various websites, so we really like the fact that it links to several of them.
Also, the integration options are superior to the competition, including WordPress plugins, integration with other CRMs, and Google Drive integration.
UpiCRM is compatible with all the existing contact form plugins which you have in place to capture leads, such as Contact Form 7, Gravity Forms, and Ninja Forms.
A massive and unique database of all your leads is created right in your WordPress dashboard by importing your existing databases and forms data into UpiCRM's import process, which maps them into a single, central and unified database.
💵 It doesn't charge anything.
Key Features:
Create lists by importing lists from other CRMs or databases
With an automated process or manually, you can assign your leads to any member of your team
Traffic sources and UTM parameters can be tracked for leads
With your WordPress dashboard, you have access to a detailed customer lifecycle report at any time
Tracking leads and sources are made more accessible by the plugin
Fewer reports are needed with the plugin's dashboards and KPIs
Random Reviews:
Since the release of 2.3.8.4 on April 27th, 2022, no new leads have been posted. It seems to have broken Contact Form 7 inputs. Upgrade to 2.3.8.1 fixes the issue.

This plugin integrates well with Gravity Forms, I don't need to pay for the plugin, and it is customizable so that it suits my project perfectly.
Marketing Automation & CRM for WordPress
Groundhogg is an externally hosted CRM and Marketing Automation plugin built specifically for WordPress, which simplifies, consolidates, and automates sales and marketing for businesses using the platform.
Through this CRM solution, you will be able to guide your customers through the sales pipeline efficiently and, of course, automatically with funnels, email marketing, CRM, and more. It is possible to run your business with no additional fees using the accessible version of Groundhogg.
A fully-featured CRM, which helps you manage your business efficiently, allows you to create forms, write personalized emails, create drip campaigns that are timed, segment your contacts, use timed drip campaigns to nurture leads, and generate revenue through sales.
It's a freemium business model, which means you can get started without spending any money, then upgrade when you want more features.
They offer 40+ extensions that can be downloaded, allowing you to integrate with the most popular WordPress plugins and services and add additional features such as collecting payments and conditional funnel logic.
The Groundhogg WordPress plugin allows you to send out automated and manual messages to your contacts using an advanced emailing system. Additionally, it provides unlimited email storage, so you'll never run out.
A funnel builder is included with the plugin, which lets you decide what steps you'd like to have in your sales funnel. A template and suggestions are provided to ease you into the process.
💵 With this plugin, you'll get 12 months of support for the price of $20.00.
Key Features:
Drag and drop email builders make it easy for you to create professional-looking emails without needing coding skills
Over 16 extensions address conversions and lead generation through features like Payments, Social Proof, and Appointment Booking
Several WordPress plugins are integrated with WooCommerce, Gravity Forms, and LifterLMS
All data is fully self-hosted, meaning you own it from the moment you capture it to the moment you want to export it
Build your sales funnel with the plugin's funnel builder, where you choose what steps to implement
Clients, Invoices, Leads, & Billing for WordPress
Jetpack is a business suite that offers WordPress optimization tools, analytics, and security. In terms of WordPress CRMs, only Jetpack CRM is new among the bunch. It provides a CRM accessible directly from within the WordPress administration area.
There are a lot of tools in Jetpack CRM that will help you better understand and track your visitors, leads, customers, and prospects.
With this tool, users can create contacts from form responses, segment, tag contacts, and see their interactions with each connection through the logs. In addition to the free CRM plugin, this tool also offers a few paid extensions that you can use to tailor your experience to your local business's requirements.
You will be able to manage your customer relationships and increase your revenue while maintaining a solid business relationship for future exposure.
The plugin contains premium extensions that can be integrated with popular platforms such as WooCommerce, AWeber, Mailchimp, and many others. Aside from being easy to set up, it keeps track of all your communications, including telephone calls, meetings, and emails.
💵 This plugin is free to use. It can be downloaded and used at no charge.
Key Features:
Quotes and proposals can be made right in WordPress with this plugin
Increasing the lead for your WordPress website
Offer a Client Portal where clients can view quotes, invoices, transactions, and files
Managing your business transactions and payments in WordPress
WordPress payment gateway system that can be integrated with Stripe and PayPal via extensions
Random Reviews:
The entrepreneur bundle is lacking in documentation and explanations of how the system works. Extensions are confusing and overlapped. •Desprately needs quality documentation for extensions.

Nothing good to say about this. If you want to use it for a business, you HAVE to be a developer, because it is not usable unless if you write a child theme for the front end, and create a plugin to fix the hundreds of display errors in the admin menu, this plugin is absolutely terrible.

It sounds too good to be true, but I have never managed my clients and transactions so easily since I started my freelance career.
Customer Data Provider For WordPress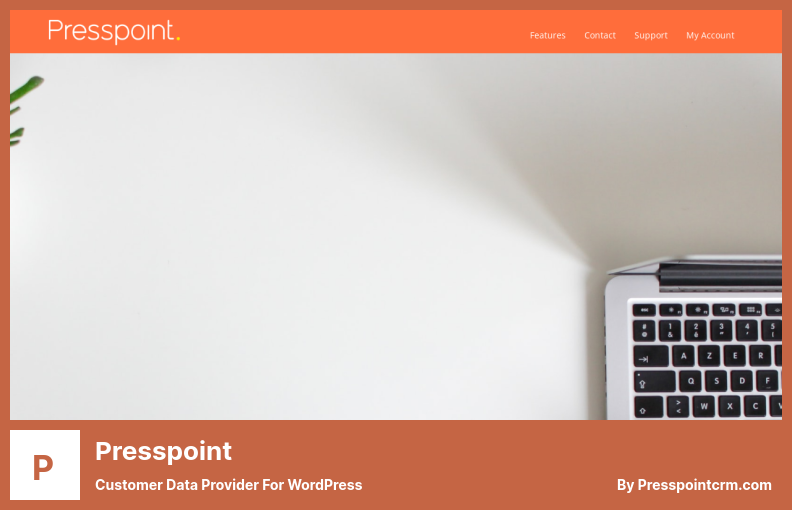 Presspoint is a premium WordPress plugin that can be purchased through the site. This plugin was previously known as PauPress and relaunched in October 2014 as Presspoint CRM.
Considering the fact that it is a 100% native and robust WordPress CRM solution, this is better than any other out there. Aside from capturing and storing customer data, Presspoint also lets you do a lot more than that.
As part of the WordPress admin, eCommerce, memberships, email marketing, and more are integrated into the service. Additionally, the plugin not only provides excellent features, but it also offers complex query capabilities and reporting capabilities.
Reports can be used to explore the data to find interesting information or to perform bulk actions such as editing or sending large bulk emails.
In addition to the fact that the user interface integrates seamlessly with WordPress, it should also be genuinely intuitive for you to use.
Pricing information is available from a sales team ready to walk you through a demo and provide you with a quote. Even though it is an old-fashioned method of doing things, we like the software, so it may make sense for you.
We recommend that you remember that Presspoint is a CRM of severe businesses with cash flow. You should not expect anything free from this CRM since there are no monthly plans to choose from.
The program is comparable to SalesForce in features packed into the suite. The Presspoint plugin has some of the most comprehensive CRM features that you can find, with advanced profiles of clients, content restrictions, emails, and user directories.
💵 There is no charge for this plugin. You can download it for FREE.
Online Workspace for WordPress
You can also use Bitrix24 CRM as another WordPress CRM solution. In terms of the technology involved, it's not a plugin but rather a form of integration especially designed for WordPress.
It organizes your contacts into a database within your WordPress site, and you have the choice to manually enter your contacts or automatically submit them through a conversion form on your website.
There is nothing to worry about even if you're not comfortable with the idea of your prospects and customers being designated as users since you can specify their default role before signing up.
Additionally, you can specify which fields must be filled out in advanced options. You can manage your contacts and edit forms with Bitrix24 CRM from the WordPress admin panel.
It is possible to group contacts according to their types and keep track of all interactions by keeping a correspondence thread for each record. Using this tool is particularly advantageous because the support options are so intensive.
In addition to offering extensive information about the product in the support area, the developers maintain an active blog.
To determine whether Bitrix24 CRM is right for your organization, you should test it out to see what happens. The online reviews indicate that some people are delighted with this product, while others prefer to use other alternatives.
The main benefit of it is it is entirely free, and you can access all of the tools in one place instead of having to go to several different places. Therefore, using a single platform to manage your customers is more convenient than switching to another.
💵 This plugin offers an easy-to-use reader interface and can be purchased for $45.00.
Key Features:
Several options for adjusting how your database is organized are provided, including individual and bulk editing
With the help of shortcodes, you can place the contact form anywhere on your site
Utilize custom attributes and categorization options to organize your users
Keeping track of your customer correspondence is easy with this platform
Ability to filter lists to find specific people
Lead Form Data Collection to CRM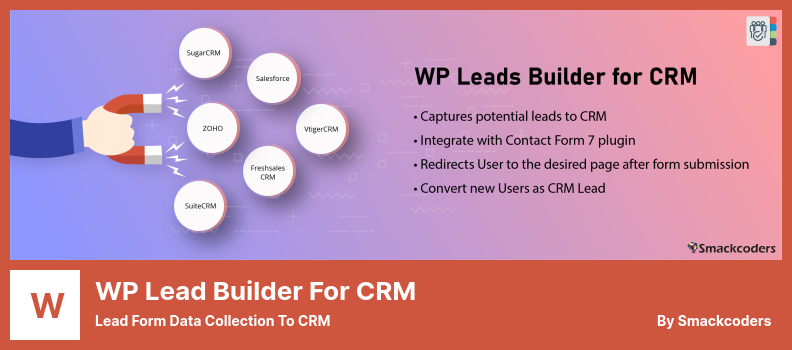 Lead Form Data Collection to CRM is another CRM plugin. There is no doubt that there are a large number of CRM software products available for collecting contacts, managing them, as well as determining where a customer is in the customer lifecycle.
It is often difficult to find an integration for your website, whether it is WordPress or another website builder of some kind, when trying to get it to work.
A plugin that helps you to automate the collection of Lead Form Data and also send it to CRMs solves this problem for some of the most popular CRMs out there and WordPress websites.
It's not that every CRM in the world can connect to the plugin, but enough of them can that it's very likely you could make it work, depending on what CRM you use.
In addition to Vtiger, Freshsales, SugarCRM, Salesforce, and Zoho, this plugin also supports options like Vtiger and Freshsales. As we have already highlighted Salesforce and Zoho on this list, we would like to draw your attention to another option if you use those CRMs as well.
Further, it's worth noting that the API is also accessible for any users who wish to integrate the above plugin with another CRM system. A particular interest of this plugin is the fact that it can effectively be viewed as a simple connection between WordPress and the CRM.
In contrast, the Lead Form Data Collection to CRM plugin is an easy-to-use tool that lets you accomplish that simple task extremely well.
💵 Free download of this modern plugin.
Key Features:
Forms can be created in an unlimited number using the plugin
Integrating several popular CRMs with the plugin, including Salesforce, SugarCRM, and Freshsales
The contact information collected on your site is converted into the proper format and pushed into your CRM
Administrators receive emails when people sign up for the lists
Choose which contact form plugin you like the most and then connect it to the plugin
Includes the tools you need to create a simple contact form
All new contacts can be directed to another page after submitting their information
Random Reviews:
We are grateful for the support of Smackcoders! Best wishes to the team!

We noticed a bug or two in the new plugin, but support resolved it right away. We would buy from them again at any time. This topic was modified 1 year, 6 months ago by christino.

WP site health report issues are caused by this plugin. The code is poorly written and you will see this in the plugin's bugs.
Marketing Automation for WordPress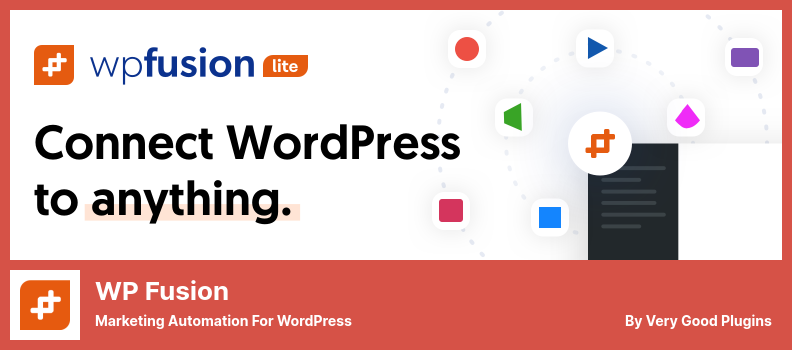 WP Fusion is a premium WordPress plugin which enables you to create a connection between the activities on your website and your CRM.
With WP Fusion, you can build a membership site, retain your customers' information and record e-commerce transactions, all while keeping your customers' information up-to-date in one location.
There is a Lite version that can be downloaded for free. With the latest version of the WordPress plugin, your contacts and user management items will be synced between WordPress and a third-party CRM of your choice.
The WordPress plugin is not intended to act as a full CRM system, but rather as a link to your WordPress site and then to the CRM you choose.
Although the plugin only comes with a few basic CRM features, such as automatic contact creation and the ability to restrict access to the database and your site, it does have several additional CRM features.
In this article, you will find that some CRM systems integrate nicely with the WP Fusion plugin. Here is the list of CRMs that are supported by the WP Fusion plugin: AWeber, AgileCRM, Gist, GetResponse, Groundhogg, Hubspot, MailerLite, Zoho, Salesforce and Many more.
If you look at the above list, you can see that not all of the plugins and services mentioned would be considered by the average person to be CRMs. AWeber is, for example, more of a tool for email marketing with a database of contacts than an email marketing tool.
WP Fusion, however, is just proving that the plugin integrates with a host of contact management tools, so that people may have the ability to manage their contacts from anywhere.
💵 There is a Lite version and a Premium version of the plugin. The Premium version costs a $247.00, whereas the Lite version is free.
Key Features:
Data from any WordPress user can be synchronized with custom fields in your CRM
Users who register in WordPress are automatically added to your CRM
Add new WordPress users from your CRM and generate passwords for them
Utilize your CRM's tracking scripts to track visitor activity (for CRMs that support this)
Registering users with tags
Using tags and lists in your CRM, you can restrict access to content on your site
Create a contact record for each WordPress user in your CRM
Random Reviews:
The utility is just what I needed

It also has great support Thanks to the team behind this plugin This plugin deserves many stars.

In addition to creating the best plugin solution to solve all of my site's problems, Jack provided the best customer service experience that I've ever had. Over all, I am satisfied with the service and excited to be part of WPFusion's future.
The conclusion
We researched the best WordPress CRM plugins for you and then created the best plugins for them. You can use these plugins to improve your website.
📌 Recommended: We also suggest that you check out our articles on the best WordPress blog themes and best WordPress plugins for bloggers.
We hope you found this article useful when searching for the top WordPress CRM plugins.
Comment and let us know which CRM plugin you end up electing. And don't forget, please share this article on Facebook and Twitter if you like this article.