Are you having trouble with your WordPress website's user experience? Finding your way around can be challenging, especially when browsing multiple pages.
Our quest for a user-friendly platform led us to the solution of breadcrumbs navigation. But what is it, and how do you implement it? Not to worry, we've got you covered.
In this article, we'll introduce you to the 8 best WordPress breadcrumbs plugins, both free and paid options, that can significantly improve your website's navigation. Breadcrumbs display users' current location on the website, making it easier to backtrack or move forward without getting lost.
Did you know that a study by the Nielsen Norman Group found that website navigation accounts for 50% of the success rate of a web page? By incorporating breadcrumbs, you can expect minimal bounce rates and better user engagement.
Before we dive in, let's briefly explain what breadcrumbs are and why they're beneficial for your website. Breadcrumbs are navigational links that appear at the top or bottom of a page and indicate the users' location on a website.
Breadcrumbs plugins offer customizable options and designs, making the site's navigation seamless and straightforward. So, without further ado, let's explore the top 8 WordPress breadcrumbs plugins and help you elevate your website's navigation.
Best Breadcrumbs Plugins for WordPress
If you're looking to enhance your user experience and navigation on your WordPress website, using Breadcrumbs is a great place to start.
Our list of the 8 best WordPress breadcrumb plugins, both free and pro, can help you make that happen. Check out our recommended products below and see how they can benefit your website.
One Of The Simple And Robust Breadcrumb Menu System
Flexy Breadcrumb is a WordPress plugin used to add a breadcrumb trail on any website. This plugin is exceptional as it provides a shortcode to effortlessly add the breadcrumb trail wherever needed.
Users can customize the breadcrumb trail with end texts, and home texts, and select their navigation bar characters. Additionally, the SEO-friendly breadcrumbs can be integrated directly into your theme files.
The plugin also provides users with the option to configure the font size and select Font Awesome icons for the breadcrumb paths. Users can customize their breadcrumbs with diverse backgrounds and link colors. However, the plugin doesn't support display breadcrumb navigation or hover-over support.
Now, let me summarize the product's key features. Users can select the breadcrumb separators and choose a Font Awesome icon. It also supports creating web designs that are SEO-friendly, and users can choose their preferred Home and End text.
With the flexy_breadcrumb shortcode, implementing the breadcrumb navigation on your website is possible. Lastly, the Flexy Breadcrumb plugin is incredibly flexible, making it an excellent choice for website owners.
Key Features:
Select breadcrumb separators
Choose a Font Awesome icon
Creates SEO-friendly web designs
Customize Home and End text
Use the flexy_breadcrumb shortcode.
One Of The Most Popular Breadcrumb Plugins
Breadcrumb NavXT is one of the most popular breadcrumb plugins in the WordPress market. It offers an extensive range of breadcrumb options and allows users to create numerous networks via the network admin page.
This plugin is perfect for experienced WordPress users who know how to utilize plugins and navigate. It allows users to customize their breadcrumbs, set default priorities, and even set up OOP actions and filters for ultimate customization.
Breadcrumb NavXT offers a wide range of features such as a widget for easy integration with WordPress, integration with translation plugins, and social network integrations.
A further feature of the plugin is that the breadcrumb generation process can be handled with regard to RDF using the schema.org breadcrumb list as a starting point.
Key Features:
Compatible with translation and

social network plugins
OOP actions and filters for ultimate customization
Easy implementation via WordPress widget
Network administration options for multi-site administrators
Extensive settings page for breadcrumb customization
RDF process for breadcrumb generation using schema.org breadcrumb list.
Allows You To Restyle The WooCommerce Breadcrumbs
WooCommerce Breadcrumbs is a WordPress plugin that offers a wide range of options for enhancing your website's breadcrumb navigation. With this plugin, you can easily customize your breadcrumb separators, text on your home page, and the URL for your main page.
The plugin comes with flexible navigation systems that can be tailored to meet the specific needs of your users. In addition, the breadcrumb trail can be embellished with HTML tags, such as Before and After, to enhance the overall user experience.
Although the plugin only affects the HTML surrounding the breadcrumbs and not the breadcrumbs themselves, users with coding knowledge can utilize the Wrap before & after tags and the Before & After tags using this feature.
One great feature of this plugin is the ability to include a list of unsorted links under the breadcrumb trail. This gives your users even more options for exploring your site.
With the WooCommerce Breadcrumbs plugin, you'll have access to various display styles and parameters, providing you with an array of customization options. All in all, this is definitely worth checking out if you need your breadcrumbs to include HTML tags and require a high level of customizability.
Key Features:
HTML tags can be used to enhance user experience
Option to include a list of unsorted links under the breadcrumb trail
Various display styles and parameters are available
Customizable breadcrumb separators, home page text, and URL for the main page
Flexible navigation systems tailored to user needs
Wide range of options for creating breadcrumbs.
An Easy And Light Weight Plugin To Display Breadcrumb Navigation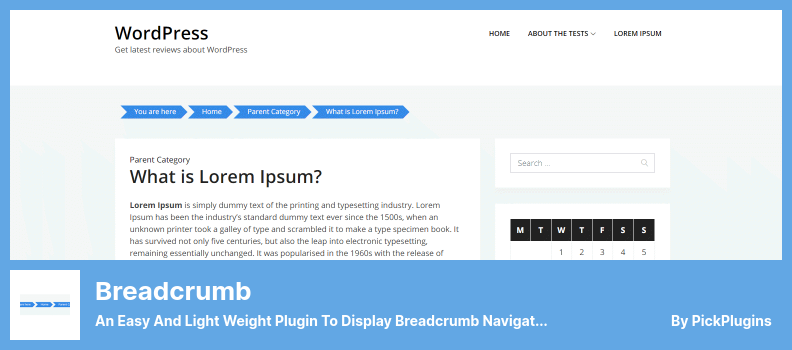 Breadcrumb is a premium plugin that allows you to create breadcrumb trails on your website easily. It is a lightweight plugin, making it easy to use. The plugin comes with various customization features, including the ability to change link texts, colors, separators, and form breadcrumbs on your website.
The plugin is specifically designed for advanced users who need to utilize breadcrumbs on their websites. It can be configured using hooks and filters, allowing you to modify its functionality according to your requirements. Furthermore, it is easy to customize the breadcrumb text, link words, font size, and page margin.
The plugin also offers several helpful customization capabilities, including custom text preceding breadcrumb links, shortcodes to access the data, the possibility to display breadcrumb trails wherever you like, and the ability to view breadcrumb navigation on any page of the site.
The appearance of your text on the site can also be customized by altering font sizes, padding margins, link colors, and links themselves. In addition, you can enter your text in the separator if you wish. The plugin's premium version allows you to hide breadcrumbs according to archives, post types, and post IDs.
Key Features:
Hooks and filters can be used to override plugins.
Custom text precedes the breadcrumb links.
Breadcrumb navigation can be displayed wherever you choose
The appearance of the site text can be customized.
Shortcodes can be utilized to access data.
Customizable font size, padding margin, link color, and links.
A New Breadcrumbs Module In The Divi Builder
Breadcrumbs Divi Module is a powerful plugin that is perfect for those building their website using Divi. It offers a menu module that can be placed anywhere within the Divi Builder, which gives you more flexibility than the Visual Builder.
With this plugin, you can customize your Home and Before texts, links and text colors, and separator icons. The ability to customize breadcrumbs means they can be integrated into your content and match any site design.
One of the best features of the plugin is its support for Visual Builder, which makes it easy to use. You can place breadcrumbs anywhere on your website, making it convenient for users to navigate.
Also, the plugin allows you to customize your breadcrumbs in a lot of different ways, so you can make your breadcrumbs look exactly the way you want, and function exactly the way you want.
Breadcrumbs Divi Module is dedicated to Divi Visual Builder, which means it provides the best compatibility and functionality for users of Divi. It also offers Divi icons that can be used as separators, allowing you to create a unique look for your breadcrumbs.
Key Features:
Customizable links, text, and icons
Visual Builder support
Breadcrumbs can be placed anywhere on your website
Dedicated to Divi Visual Builder
Divi icons can be used as separators
Offers more flexibility than Visual Builder.
Can Add Five Different Breadcrumbs Navigation To Your WordPress Website
SEO Breadcrumbs is a WordPress plugin that makes navigation easier for visitors to your website. With this plugin, you can add five different breadcrumb options to your site, including custom ones for posts, pages, and more.
There are over 100 widgets available on this plugin, each of which can be customized to meet your personal needs, making it a powerful and user-friendly tool for the owners of websites.
One of the standout features of this plugin is its ability to customize your breadcrumbs using any color combination. It also offers multiple options for style, breadcrumbs style, and effects style, giving you plenty of flexibility in how you want your breadcrumbs to appear on your site.
In addition to its navigation features, SEO Breadcrumbs also supports rich snippets, which can help improve your site's search engine rankings. This means that the plugin can identify breadcrumb trails used by search engines as a ranking signal, making it an effective tool for SEO optimization.
Key Features:
Optimized for search engines
Enables schema.org breadcrumb display
Reduces the amount of markup
Breadcrumbs code available
Includes SEO Breadcrumbs Widget
Customizable colors using color-picker.
The First WordPress SEO Plugin
Using Yoast SEO, you can optimize and analyze SEO efforts for your website. It's one of the most popular plugins on the market today. It's got XML sitemaps, breadcrumbs, and customization. You'll get all the features in the free version, but the premium version has even more.
One of the standout features of the plugin is its ability to incorporate breadcrumbs into your website's theme. This feature can help visitors easily navigate your site's hierarchy and, ultimately, boost your search engine rankings.
Also, the plugin does have the capability of changing the separators for breadcrumbs in real-time, and the ability to generate breadcrumbs for pages with 404 errors as well.
Other notable attributes of Yoast SEO are its on-page optimization capabilities, which can improve the content of your website, and its ability to produce clearer search results. It's no wonder why a diverse range of businesses and organizations, big or small, trust this plugin to help them achieve their SEO goals.
Key Features:
On-page optimization capabilities
Real-time breadcrumb separator changes
Clearer search results
Breadcrumbs generation for 404 error pages
Trusted by diverse organizations and businesses.
Use Breadcrumbs To Add A Secondary Navigation Scheme
Elementor Breadcrumbs Widget is a powerful tool designed for Elementor users. It is an integral part of Elementor Pro that provides you with customizable breadcrumbs.
There are several benefits to adding breadcrumbs to your website, including helping you to create a well-structured navigation scheme for your site and increasing the search engine indexability of your pages.
With the Elementor Breadcrumbs Widget, designing professional-looking breadcrumbs is made easy. It works seamlessly with the Yoast SEO plugin, which helps streamline breadcrumbs visually, making it convenient for users.
A built-in mechanism in the plugin can identify the location of your website both from the outside and from the inside, making navigation of your content easier for visitors.
Using the Elementor Breadcrumbs Widget does not require any coding skills, as it offers extensive customization options such as varying text sizes, colors, and links. You can also align the HTML tag as you see fit. This provides a more flexible and aesthetic approach to creating breadcrumbs for your website.
Key Features:
Yoast Breadcrumbs Panel Integration
Customizable Breadcrumbs are included
Varying Text Sizes and Colors
Easy Alignment of HTML Tags.
Frequently Asked Questions
Why do I need breadcrumbs on my WordPress website?
Breadcrumbs offer an easy navigation option for users on your website, allowing them to easily track their way back to higher-level pages. They also provide search engines with additional contextual information about your website structure.
Do I need a plugin to add breadcrumbs to my WordPress site?
While it is possible to add breadcrumbs to your WordPress site without a plugin, using a plugin can simplify the process and offer additional customization options. Plus, many plugins offer helpful features like schema markup and custom styling options.
What factors should I consider when choosing a breadcrumbs plugin?
When choosing a breadcrumbs plugin for your WordPress site, it's important to consider factors like ease of use, customization options, compatibility with your theme, and the presence of additional features like schema markup. You may also want to read reviews and compare prices before making a decision.
Conclusion
To recap this article, we discussed eight of the best WordPress breadcrumbs plugins, both free and pro. These plugins can greatly improve your website's user experience and navigation.
If you're interested in more tutorials like this, be sure to check out the BetterStudio blog. We offer a variety of resources and guides to help you improve your website's functionality and design.
For the latest updates and tutorials, be sure to follow BetterStudio on Facebook and Twitter. We regularly share informative articles and tips to help you improve your website.
Thank you for taking the time to read this article. If you have any questions or problems, please don't hesitate to ask in the comment section below. We're here to help you optimize your website and enhance your online presence.