Do you need the best WordPress project manager plugins?
These are some of the best WordPress plugins you can find on the internet for the Project Manager. We have built sure that every plugin listed here is compatible with the latest WordPress version. Last but not least, these plugins integrate nicely with all the top WordPress themes.
We chose plugins that are the absolute best for the Project Manager. Even so, you may also use these plugins for Task Manager, Project Manager Shortcode, Task Management Integration, Team Management, Management Tool, Open Source Project Management, Project Management Front-End, Workflow Management, and Team Collaboration.
Take a look at these great Project Manager WordPress plugins for 2022 that will serve you well:
WordPress Project Management And Client Dashboard Plugin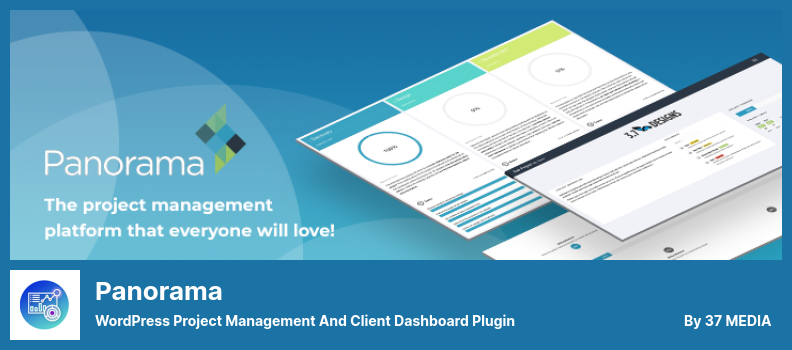 You can easily keep your clients and team members informed on all your project developments with Panorama. The best way to ensure that the free version is functioning correctly is to test it first on a staging environment since the free version has not been updated recently.
However, though it may not seem like it is a great tool, it is one that we think is worth a look, even if just for one of its most outstanding features: visualization. Your tasks are easier to see and track when they are displayed in the project's overall look.
It is obvious that if you follow up on your deadlines and acknowledge your progress when you are making progress, you will be able to take advantage of the beautiful and simple charts that come with the software.
Specifically for project management, Panorama integrates basic modules and adds modern enhancements to improve the transparency and efficiency of the project management process and to help the businessman get the job done more rapidly.
This project management tool is designed to be understandable instead of cluttered like many other tools to be easy to use. The top-of-the-line Panorama plugin gives you an easy way to manage your WordPress site with simple project management tools.
But, those who purchase the premium version get more power-packed features that can increase the scale of their projects (rather than simply a few basic ones added to the standard version).
WooCommerce integration, sequential tasks, Sprout Invoices, and an image gallery are free and premium add-ons. Addons can be licensed individually or across multiple sites and as part of bundles.
In comparison with WP Project Manager's premium versions, the Panorama plugin's plans may appear to be somewhat costly for some users.
💵 You can get the Lite version for free, and the Premium version costs $69.00.
Key Features:
Organize your projects by setting milestones and setting milestone frequency. You can also assign titles and descriptions to reach the milestone
Tracking tools, task lists, and calendars are all included in each project
Defining custom project types lets you view only projects from one team and filter out your closed projects
Provide your clients and users with access to your timelines via your WordPress theme, so they can look at them wherever they want
Receive notifications when deadlines approach and assign start and finish dates
Ability to expand with the help of free and paid addons
Random Reviews:
In spite of repeated emails regarding serious bugs in Panorama, they haven't been fixed for months. I'm a paying customer, so I'm not impressed.

I'm sort of stunned by this thanks

There were about 60 emails back and forth between myself and the developer, and I must say it was the best customer service I have ever received. The program is great, very customizable, and very powerful. Thank you very much for making it available. O
Smartly Managing Team Plugin For WordPress
With WP Project Manager, users can manage projects and tasks directly within the WordPress dashboard thanks to the simple interface and the ability to manage tasks using a web-based tool.
The Task Organizer allows you to create, organize, and assign tasks and tasks and create work lists in minutes. You'll be able to generate work lists, tasks, and projects faster than you ever thought possible.
This powerful task management integration will enhance your team's productivity and provide analysis tools that will give you a sense of performance differences. Among the many powerful features is the time tracking feature.
A wide range of activities and tasks can be managed to ensure that a wide array of activities and projects are being managed in the shortest amount of time possible.
Additionally, the dynamic design of the application will ensure you are able to provide greater efficiency and speed to your work, as well as increased productivity. You will benefit from the dynamic, user-friendly design that will enable you to be more efficient and speedy with your work.
With the integration of forums and file-sharing features, you can collaborate without the hassle of handling either the media or file-sharing characteristics. The WordPress team management collaboration tool allows you to work simultaneously with remote teams to ensure that you get the best possible results.
The best way for you to achieve the results you want is with the WP Project Manager software. No matter the nature of your business or team, it will be the most efficient way for you to achieve your objectives.
As a result of its increasingly widespread popularity, this plugin has risen so rapidly that it has become the most popular free, open-source project management tool in the world that is used by individuals and teams alike as a means of managing their projects.
💵 For the price of $79.00, you will receive 1 year of support and updates on the plugin.
Key Features:
Maintain a proper organizational and tracking system for all tasks and projects
Get your project done more efficiently by meeting your deadline
Tools to track time efficiently with advanced time management tools
Plan and ensure the most efficient use of your resources
Find out everything you need to know about everything with advanced reports
Increase the effectiveness of collaboration within a team by making it easier than ever
Business Management for WordPress Plugin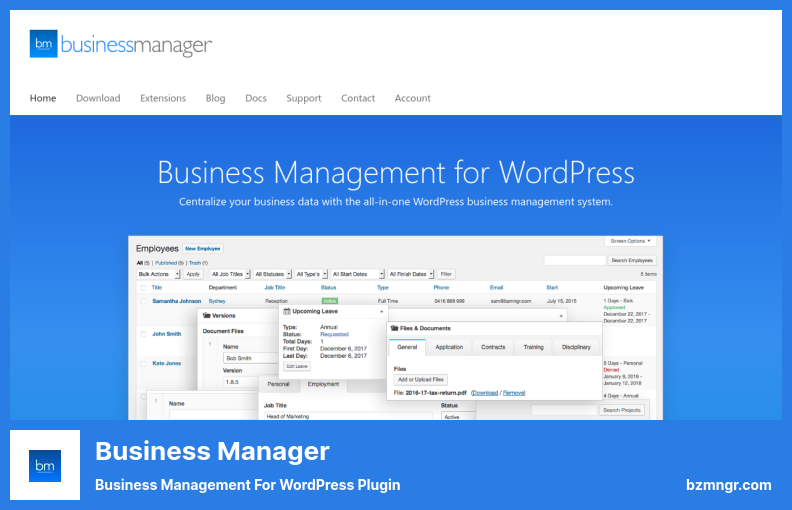 In the Business Manager plugin, the software requirements of an organization are compiled. The Business Manager plugin offers the tools not only for project management but also for human resources management and enterprise resource planning.
The Business Manager plugin deals with several departments, in addition to merely project management. There are several upcoming features in the works from the developers, along with extensions for sale.
There are various parts of your organization in which you may want to use the Business Manager plugin. With its free core plugin, this is a highly intuitive and high-value solution for running various parts of your organization.
There is a fee associated with one of the extensions that you will need to pay in order to use it however, this is the only time you will be required to spend money.
However, there are only two extensions available on the website: an Asset Manager and Custom Fields Extension, which comprise the bulk of the features included in the standard plugin.
The purchase of a project manager plug-in like this may not make much sense for some businesses if they do not require an HR manager or are satisfied with their document storage or custom field plugin already.
These extra features should not be included in your dashboard as they will clutter it up anyway. Nonetheless, this appears to be a way for many companies to eliminate the need for several different plugins to manage HR, Project Management, Document Management, and Custom Fields.
In that case, we recommend you consider using the Business Manager plugin, as it provides you with all of the functionality that you need in order to make the most of your website.
💵 Free plugin.
Key Features:
Document versioning allows you to keep track of your business documents & templates
Assign departments to papers and to assign their versions, dates, and who uploaded them
Create a complete record of staff members, including their contact details, documents, and notes, and even upload their logos
Manage project timelines, start and finish dates, estimated and actual hours, upload files, assign to employees
Your employees will be easier to manage than ever before
Keep everyone on the same page by managing your project timelines
Freelancer Or Agency Management Plugin For WordPress

Using Projectopia's WordPress plugin, you can organize and track all of the different aspects related to the project management process, and in one simple and easy-to-use place.
The tool needs to be embraced by agencies and freelancers alike as it has some key features that will make them more productive by assisting them in communicating with clients and teams during the project management process.
A user can access projects they're working on whenever and wherever they want, enabling them to collaborate whenever, wherever they want. On the other hand, an administrator at our firm organizes a client's WordPress website so they can easily keep track of all their projects on the site.
As a result of a quality control service, clients can be guaranteed that all aspects of their project will be managed as reliably as possible and that they receive up-to-date information about the project at all times.
There is a WordPress plugin that will allow you to streamline and streamline the process of managing projects for your clients in an easy, fast, and straightforward way.
The plugin features a streamlined dashboard that allows you to manage all project-related activities, invoicing and support requests in one simple place.
This WordPress plugin lets you easily optimize your workflow to have a full understanding of your client's and team members' details, add your team members, see all the relevant information, make payments, and generate invoices in your preferred format.
Your team can be expanded and responsibilities assigned using Projectopia's WordPress Plugin for Project Management. However, they know what projects they're working on and their responsibilities.
In the end, I should mention that compared to the Business Manager plugin, Projectopia does not provide a free trial option.
💵 Buy this premium plugin for $79.00.
Key Features:
All project aspects such as messages, watchers, and task file uploads can be managed in one dashboard
Get information about the project's start date and deadline and share it with your clients
Allowing your clients to keep track of the project's progress
Manage your projects according to your specifications
Email piping enables users to quickly interact with emails
Time can be added manually or through jQuery timers
Random Reviews:
It's a terrific plugin with great customer support. The only thing missing is well-written documentation and video tutorials.

br>I used this plugin to manage my projects for the past couple of years and it has been extremely stable/br>
Document And File Management Plugin For WordPress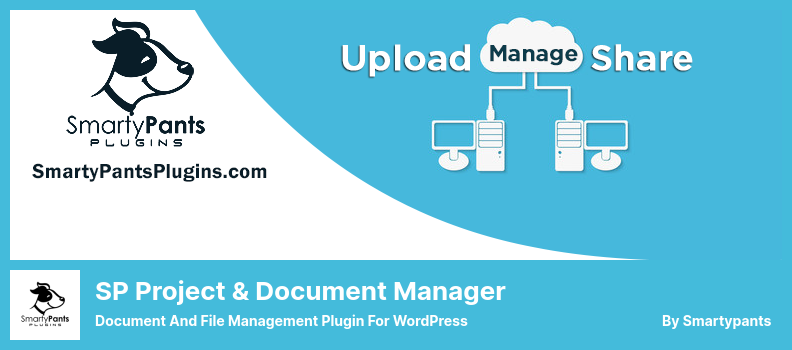 With SmartyPants, formerly SP Project & Document Manager, you can manage your projects efficiently with many features. It is arranged into two sections: the administrator features and the client features. If the client needs these features, they can be added by developers.
System administrators can set up a system that determines which users have access to different services and how they can access those services. A section is available on each client and project page to upload attachments. Also available is a list of the attachments you've uploaded to each client.
The platform's flexibility allows you to add employees, vendors, suppliers, subcontractors, and affiliated parties to your business. Using the permission parameters, you can manage who is allowed to create projects according to the level of permission.
The plugin has been designed to allow SharePoint Project and Document Manager users to share files easily and efficiently as a result of its fast, simple, and comprehensive features.
You can upload files more than once, delete files, and search for files on the website. The fact that you can embed media files from YouTube and other websites so that they can be viewed by your customers and secure documents and customize emails is one of the great things about web security.
Although it has a few standard features for project management, it's typically used mainly for storing and transferring files, particularly in cases where both clients and employees need to share large files.
It is possible to add dozens of additional functionality to the plugin, such as Amazon S3 support, WooCommerce integration, and various form fields in addition to the default functionality.
You will be able to integrate Amazon S3 into your page, add WooCommerce support, and provide your visitors with the ability to fill out additional form fields using dozens of different add-ons.
With SP Project and Document Manager, you can increase project management efficiency across several industries, from healthcare to banking and education to manufacturing. It enables you to enhance your current project management software and use it as your primary project management tool.
💵 Free download and future updates were included.
Key Features:
SSL support is an excellent feature for ensuring maximum security
Uploading and managing your files is limitless
Forms with custom fields can be built in a wide range of ways
Imported files can be stored on project pages
Localization of the plug-in allows it to be used by anyone around the world
Supporting multiple media types, including links from places like YouTube
Add unlimited users and projects with user role assignment in the plugin
Through the plugin dashboard, users have access to sign documents alongside the field manager
Random Reviews:
Our documents are database-tagged, but this is not required. We requested a refund 3 days after we tested, but received no response. Support was not helpful at all.

Exactly what we needed for our company's internal file-sharing site. Great user experience. I wish the user groups' security addon were free.
Projects And Tasks Management Plugin For WordPress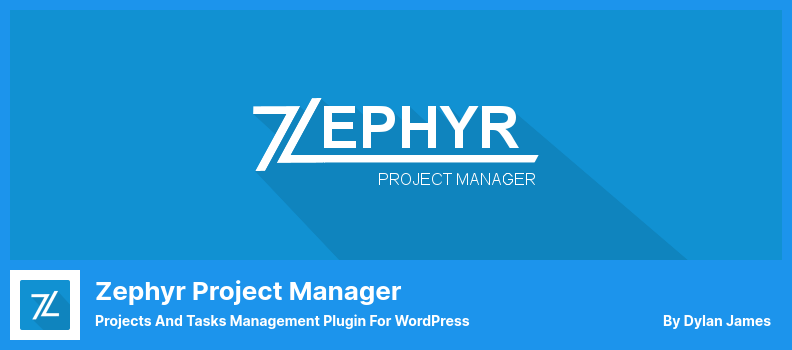 Integrated into WordPress' media library, Zephyr Project Manager is packaged as a free add-on, with a premium (paid) subscription available (significantly more potent than the free version, with superior support included).
The free plugin also allows access to a mobile application for managing tasks and projects. In addition to the free plugin, you can also integrate a mobile application for managing tasks and projects.
There is also the option for users to create custom dashboards for each project which can incorporate personal dashboards, discussions, and attachments.
Additionally, it is not only possible but even essential that we mention a couple of other reports and Kanban-style projects that are included in the premium version, in addition to custom fields, templates, and an Asana integration, just to mention a few.
The Zephyr Project Manager has an appealing appearance, but it is not overwhelming as it was designed to be highly functional and extremely effective.
There is no limit to the number of projects you can create, and the interface can be customized so that you can place your logo and company colors there.
As soon as you have created a project, you can then add the details of that project, assign users, and mark tasks and deadlines. All of this takes place in your WordPress dashboard.
While the software price would be attractive to every organization, the user interface would be able to retain many users. The standard view for managing a project gives the user an overview of the project, jobs, discussions, and progress with the option to toggle between them with the short click of a mouse.
Users can upload files and make comments when they land on an individual project management page in the project management area. Overall, it's a straightforward and intuitive process that makes the process relatively simple.
💵 It costs $49.00 to obtain the premium version of the Zephyr Project Manager plugin, but it is free to download the lite version.
Key Features:
Provide different translations that you choose
Admins and users can create personal profile pages on the site, with options to upload profile pictures descriptions and set notifications by email
Ability to set up and manage projects and tasks by using the calendar view
Each project is sent progress reports to the users that have been assigned to it
Easily organize your team members and projects in one location
Admins and users can work together to optimize their view of their projects by setting user capabilities
Access customizable features like Asana integration, custom task templates, reporting, custom fields, Kanban boards
Random Reviews:
As a Pro version user, I was able to communicate with Dylan via email to remove some of the gaps in the software and our business needs. Dylan was able to capture our requirements and offer us a solution in a very short period of time. I would certainly recommend this plugin.

The plugin has excellent potential, and it has an easy-to-use interface, it integrates well in WordPress and it is very simple, it is easy to use, I would recommend it to anyone who needs it. This topic was modified 3 months, 3 weeks ago by a soldier.
Marketing Industry's Leading Provider For WordPress
CoSchedule is a great WordPress plugin for managing personal and team projects. WordPress features allow project managers to manage and organize marketing tasks from their dashboards, allowing them to keep track of progress and deadlines.
The process of writing with WordPress becomes much easier once you use this plugin for project management. With this plugin, your WordPress site allows you to schedule events, manage projects, and publish content directly on the site.
There is a tool in which you can access, share, and search a variety of resources such as files, videos, and audio files, thanks to CoSchedule's asset organizer. CoSchedule has a high visual appeal, and an extensive marketing calendar comes with the tool.
To keep track of things, your team can set deadlines, plan events, post content, and send emails to maintain a stable workflow. You can easily adjust deadlines for your projects by using drag and drop operations.
You must sign up for CoSchedule before using this project management shortcode. Over 100,000 marketers have saved time and effort thanks to CoSchedule products by enabling them to produce more high-quality work in less time.
The CoSchedule platform helps marketers plan, plan, and promote more efficiently. It will streamline your editorial process and boost your productivity. You can streamline your workflow management by publishing and promoting everything from the exact location.
💵 In the premium version, the plugin charges a $29.00, while the lite version is free.
Key Features:
Keeping track of all of your campaigns from one dashboard is possible with the Marketing Calendar view
Getting more from every ounce of time and energy you spend on your blog helps you to achieve more tremendous success
Posting to multiple social networks simultaneously is very easy to do
Using the dashboard, you have access to planning, publishing, and promoting all of your WordPress content right from your dashboard
It is easier to keep track of all of your activities in one place
Random Reviews:
I generated the support ticket, but the support team has not responded.

I created a trial account to use the plugin and received a lot of useless emails (even twice daily). I wanted to delete the account to stop receiving these emails but it is incredibly difficult.

The tool really makes it easy to automate social media postings and organize your marketing campaign.
Agile Project Management For WordPress
Trello and Kanban boards are very similar in look and feel, yet Kanban boards are best known for agile project management. Kanban boards are excellent tools for tracking sales, editorial calendars, and other business-related information.
The plugin not only has an easy-to-use interface, but it is also highly integrated with common plugins such as Gravity Forms and Ninja Forms and many other ones as well.
In particular, this plugin offers several benefits including the ability to easily customize the board for your team by selecting only one button, along with the ability to create tasks and projects easily and quickly.
As part of the plugin's development, the developers have made the plugin's core plugin available for download on the plugin's website for free.
As a result, you don't have to buy them all separately because the Pro plugin enables you to include a batch of all the extensions from the developer. For example, if you are a Pro user, you have access to advanced task comments, user management, and task color selections.
The most common way to track the hours you spend on a project is to estimate how long you think it will take to finish it and then keep track of the hours spent every month.
Additionally, a few additions allow you to have multiple boards, notifications, and attachments for your tasks. Its use can range from customer relationship management (CRM), tracking sales, scheduling content publication, and hiring new employees to various other benefits.
💵 A premium version costs $149.00 and a lite version is free.
Key Features:
Team members are assigned tasks with the option of including instructions and deadlines
Using the project management workflow, you edit elements of each project in real-time and adjust them in a few seconds
Project time tracking tools can be helpful for showing a range of anticipated completion times
Updates are seen in real-time, allowing for easier collaboration
Despite running thousands of projects at once, the plugin has proven to be fast and efficient
Coming with a filtering and search function that enables you to locate the most essential projects quickly
By grouping tasks by projects, you can create an organized workflow
Random Reviews:
The plugin is 149 dollars. But they are not accessible. The support is impossible. I have emailed support six times. They didn't respond.

Keanan produced outstanding work and provided outstanding support within 8 hours

This plugin offers many features and can be easily customized with addons to suit your needs. It is ideal for small projects.
Team Management Plugin For WordPress

Task Manager Pro is a project manager plugin on CodeCanyon that is one of the very few that you should really consider using. This plugin comes with a one-time fee, as with many other plugins on the market, and then you are given the option to purchase additional customer support.
Task Manager is reasonably inexpensive compared to most of the premium plugins on this list, so I would say that it's worth the money. On top of that, you can post unlimited projects and tasks, meaning that you can support a total number of projects.
All-in-one plugins are also the right choice to manage your new users since you may create your user account, assign roles, and place them into organizations and projects, among other options.
There are no other plugins that allow you to create groups, and it does not allow you to develop projects. This means that you may be able to create an organization, such as a marketing team collaboration, and assign people within that organization to different projects.
With this plugin, you'll gain a number of significant improvements across the board when it comes to tasks as well as progress checks. Shortly put, if an update is necessary, users are given the option to comment or receive automated task updates and alarms.
The WordPress project management plugin offered by this company might not be the most popular one on the market. Still, it provides a feature base and a low price that every company should expect from a project or task manager.
💵 The cost of this plugin is $20.00.
Key Features:
Users can be added, assigned to groups, and linked to specific projects using the User Management module
Using the task list, you can see how many tasks are open and if any need to be addressed
Every task has its own Detail page, which displays a priority, timeline, start and end dates, as well as an area where users can be assigned
Add an unlimited number of users, groups, projects, and tasks through the plugin
Ability to test out the plugin's front-end features and its backend, even though there is no free trial available
Random Reviews:
The support is fast and helpful and the plugin is amazing!

It would be nice to have the same features and fields.

Thank you Robin for your professional and fast support while adding some aspects (exporting the tasks list to a CSV file, etc.).
Workflow Management Plugin For WordPress
The UPStream WordPress Project Management system allows you to manage any project that you are working on directly from a WordPress website, allowing you to visualize the project from the website and manage it using WordPress.
Also, using the Project management front-end view, your clients can manage their individual projects at any time, set milestones for the project, and track bugs effectively.
If you would like, you can create a project discussion thread so that everyone who is involved in the project will be able to share information with each other, as well as ask questions of each other.
This plugin is free, but there are extensions available that make it possible to use it as an add-on with front-end editors and timeline functions in workflows that can use the plugin.
On the Joomla Marketplace, you can find some of my favorite premium extensions, such as Calendar View, Customizer, Custom Fields, and Email Notifications.
There are many ways to keep the cost of your project low, while still ensuring that it meets the highest of quality standards. UpStream is the ideal company for people who wish to save their budget but still desire the best results.
We are able to identify the status of our projects using Gantt charts and calendars that provide us with a visual representation of the status and allow us to visualize projects on a more detailed level. The fields and colors are customizable to match your own brand.
💵 A WordPress Project Management by UpStream plugin costs $39.50.
Key Features:
Customize the fields to let your workers record descriptions, bugs statuses, and severity levels
Milestones and tasks created for each project can be linked together
Provides upload capabilities for files and documents
Provide contact information and custom fields to client users
Automated progress tracking indicates when a project needs help and when it is close to completion
Threaded discussions cut down on messy emails, and you control user permissions
Frontend templates can be customized to fit your brand, from colors to fields
I'll end it here
A plugin evaluation is important. We reevaluated the best WordPress Project Manager plugins. In just a few hours, anyone can create an extensible site with a ready-made plugin.
📌 Note: Please take a few minutes to review our posts highlighting the modern WordPress blog themes and the best WordPress plugins for your blog, which are regularly used, voted, and shared by our readers.
We wish you the best.
Let us know if you have any comments or questions about the newly introduced plugins. If you wish to support our team, please share this content.