Are you a WordPress website owner looking for the best project management plugins? Or maybe you're just starting out and wondering if you even need one? Well, you've come to the right place!
In this blog post, we'll be discussing the top 10 WordPress project management plugins, both free and paid, to help you streamline your workflow and stay organized. So, whether you're a seasoned pro or just starting out, read on to find the perfect plugin for your needs.
Now, before we dive in, let me share some interesting stats and facts about project management plugins. Did you know that nearly 35% of all websites on the internet are powered by WordPress?
That's a staggering number, and it goes to show just how popular this platform is. With such a large user base, it's no surprise that there are plenty of plugins available to help manage projects and tasks effectively.
In this article, we'll be covering a range of project management plugins, from simple to more advanced options. Whether you're looking for basic task management, team collaboration, or advanced project tracking features, we've got you covered. So, let's get started and discover the best WordPress project management plugins for your website.
Best Project Management Plugins for WordPress
If you are looking to streamline your project management process on your WordPress website, look no further! Check out these top-notch project management plugins that will revolutionize the way you handle tasks and collaborate with your team.
Whether you're a perfect freelancer, a small business owner, or a project manager, these plugins are a must-have for boosting productivity and staying organized.
WordPress Project Management And Client Dashboard Plugin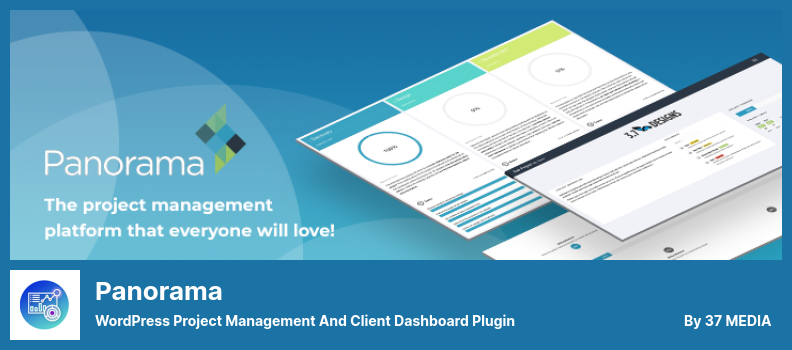 Panorama is a powerful project management plugin that offers a range of features to help streamline your WordPress website. With the premium version, you'll gain access to even more robust tools to take your projects to the next level.
Using the plugin, you can visualize your progress and make sure you're on track. In addition to WooCommerce integration, you can license these add-ons individually or in bundles for multiple sites. They also include sequential tasks, Sprout Invoices, and an image gallery.
While the pricing for the premium plans may seem a bit steep for some users compared to other project management plugins like WP Project Manager, this plugin is designed to be user-friendly and easy to understand. It offers simple project management tools that make managing your WordPress site a breeze.
One of the standout features of the plugin is its ability to keep your clients and team members informed about project developments. You can easily share updates and progress with them. However, it's advisable to test the free version on a staging environment first, as it hasn't been updated recently.
Although it may not initially appear to be a standout tool, the plugin is definitely worth considering, especially for its visualization capabilities. When tasks are displayed in the overall project view, they become easier to track and manage.
In terms of specific features, it allows you to organize your projects by setting milestones and assigning titles and descriptions. It includes tracking tools, task lists, and calendars for each project. You can also define custom project types to filter out closed projects and view only those from specific teams.
The plugin also offers the ability to provide access to timelines for clients and users via your WordPress theme. You'll receive notifications for approaching deadlines and can assign start and finish dates. Additionally, Panorama can be expanded with the help of free and paid add-ons.
Key Features:
Custom project types for filtering and viewing specific projects
Milestone organization with titles and descriptions
Tracking tools, task lists, and calendars
Access to timelines for clients and users
Deadline notifications and start/finish dates
Expandability with free and paid add-ons
Smartly Managing Team Plugin For WordPress
WP Project Manager is the most popular free, open-source project management tool in the world. It allows individuals and teams to manage their projects directly within the WordPress dashboard. With its simple interface and web-based tool, users can create, organize, and assign tasks in minutes.
The plugin offers a range of features that enhance collaboration and productivity. Integration with forums and file-sharing capabilities makes it easy to collaborate with remote teams. It also provides a time-tracking feature, allowing users to track their progress and meet deadlines more efficiently.
One of the standout features of the plugin is its ability to maintain a proper organizational and tracking system for all tasks and projects. This ensures that nothing falls through the cracks and allows for a more efficient workflow.
Further to this, the plugin is equipped with advanced reporting tools, which provide users with valuable insight into the performance of their projects via reports and analytics.
With this plugin, you can plan and ensure the most efficient use of your resources. It streamlines team collaboration, making it easier than ever to work together towards common goals. The plugin's dynamic design and user-friendly interface also contribute to increased efficiency and productivity.
Key Features:
Robust reporting capabilities to track progress and high performance
Proper organizational and tracking system for tasks and projects
Efficient time management tools with time-tracking capabilities
Resource planning and optimization for improved efficiency
Advanced reports and analytics for valuable project insights
Deadline management to ensure projects are completed on time
Business Management for WordPress Plugin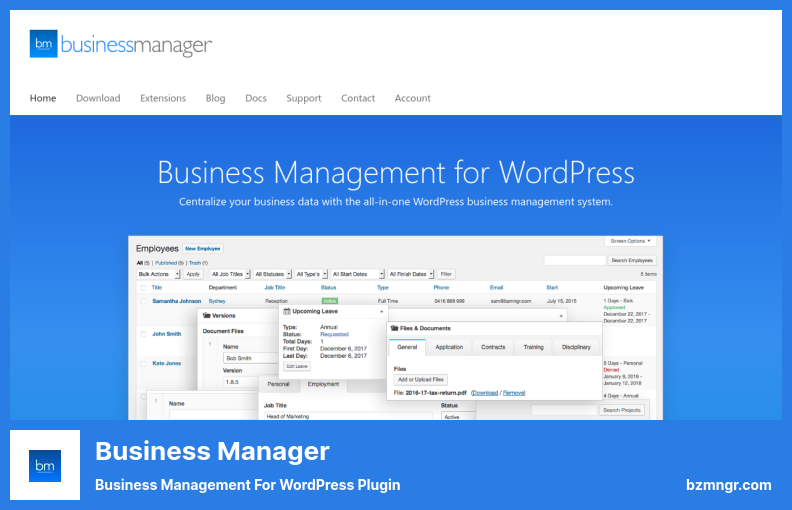 The Business Manager plugin lets you streamline all your departments with some cool features. With optional paid extensions and upcoming features, it'll do more than just project management. In the future, you'll be able to manage HR, project management, document management, and custom fields all in one place.
The plugin's core functionality is free, making it a cost-effective solution for running different aspects of your organization. It provides an intuitive and valuable solution for managing your projects and resources effectively.
This plugin offers not only tools for managing projects but also features and tools for planning and managing a wide range of human resources activities, which are integrated into this plugin.
It is worth noting that if your business does not require an HR manager or if you are already satisfied with your existing document storage or custom field plugin, purchasing a project manager plugin like this may not be necessary. However, if you have multiple needs across various departments, it can be a game-changer.
With the document versioning feature, you can easily keep track of your business documents and templates. You can assign departments to papers, track their versions, dates, and who uploaded them. This ensures that everyone is working with the latest and most accurate information.
Another useful feature is the ability to create a comprehensive record of your staff members. You can store their contact details, documents, and notes, and even upload their logos. This makes managing your employees a breeze and ensures that all relevant information is easily accessible.
Business Manager also allows you to manage project timelines, including start and finish dates, estimated and actual hours, file uploads, and employee assignments. This keeps everyone on the same page and ensures that projects stay on track.
Key Features:
Streamlined employee management for easier workforce supervision
Ensures everyone is on the same page with efficient project timeline management
Asset Manager extension for efficient asset management
Custom Fields Extension for customizable fields within the plugin
Document versioning for easy tracking of business documents and templates
Comprehensive record keeping for staff members
Freelancer Or Agency Management Plugin For WordPress

Projectopia is a WordPress plugin that aims to simplify project management for website owners. With its streamlined dashboard, you can easily handle all project-related activities, invoices, and support requests in one convenient place.
This plugin allows you to optimize your workflow by providing a clear understanding of your client's and team members' details. You can easily add team members, access relevant information, make payments, and generate invoices in your preferred format.
By embracing this tool, both agencies and professional freelancers can increase their productivity. It has key features that assist in effective communication with clients and teams throughout the project management process.
One of the standout features of the plugin is its accessibility. Team members can access projects they're working on from anywhere and collaborate seamlessly. Administrators can organize a client's WordPress website to keep track of all their projects easily.
It's important to note that, unlike the Business Manager plugin, Projectopia does not offer a free trial option. However, with its user-friendly interface and comprehensive project management capabilities, it is a valuable plugin for organizing and tracking all aspects of the project management process on your WordPress site.
Key Features:
Manage messages, watchers, and task file uploads in one dashboard
Share project start date and deadline information with clients
Email piping for quick interaction with emails
Manual or jQuery timer-based time tracking
Enable clients to track project progress
Customizable project management according to your specifications
Document And File Management Plugin For WordPress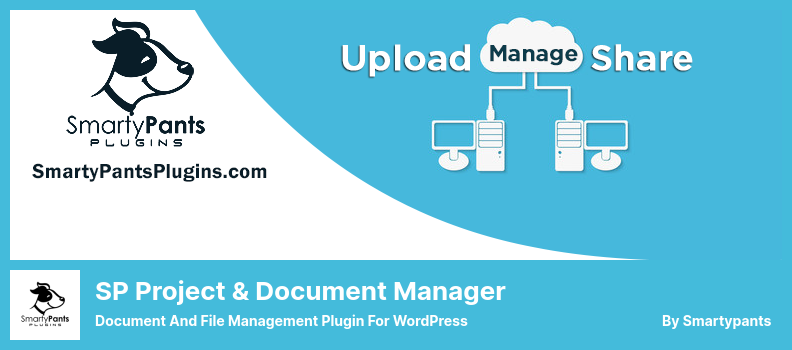 SP Project & Document Manager is a powerful tool that can greatly enhance project management efficiency in various industries, including healthcare, banking, education, and manufacturing. It serves as both a project management software and a file storage and transfer system.
Among the great things about this plugin is that you can send large files to clients and employees without any hassle. In addition to uploading, deleting, and searching for files directly on your website, you can embed media files from platforms like YouTube videos, so your customers can see and interact with them too.
What sets the plugin apart is its flexibility and extensive functionality. It offers additional features such as Amazon S3 support, WooCommerce integration, and the ability to customize form fields. These additional functionalities can be added by professional developers to meet specific project requirements.
The plugin is divided into two sections: administrator features and client features. While the default features are available to all users, top developers can add client-specific features when needed. This enables you to tailor the plugin to suit your project management needs.
With this plugin, files can be shared quickly and efficiently, thanks to its fast, simple, and comprehensive features. It also allows you to integrate Amazon S3 and WooCommerce, offering even more versatility. Additionally, you can easily upload attachments on client and project pages and keep track of all the files you've uploaded.
Key Features:
Maximum security with SSL support
Limitless file uploading and management
Support for multiple media types, including YouTube links
Flexible form building with custom fields
Stored imported files on project pages
Localization for global usability
Projects And Tasks Management Plugin For WordPress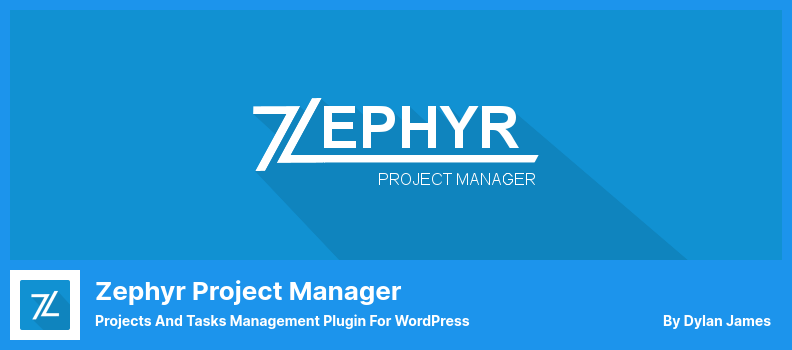 Zephyr Project Manager is a WordPress plugin that allows you to easily manage your projects and tasks directly from your WordPress dashboard. With this plugin, you can create projects, assign users, and set deadlines all in one place.
One of the great features of the plugin is its integration with the WordPress media library. This means that you can upload files and make comments on individual project management pages. It's a simple and intuitive process that streamlines project management.
The free version of the plugin also comes with a mobile application, allowing you to manage your tasks and projects on the go. This added flexibility means you can stay connected and productive no matter where you are.
Another key feature of the plugin is its customizability. You can customize the interface to include your logo and company colors, giving your project management area a personalized touch. Plus, there are no limits to the number of projects you can create, giving you the freedom to manage all your tasks effectively.
In terms of design, it strikes the perfect balance between functionality and aesthetics. It has an appealing appearance without being overwhelming. This means you can focus on managing your projects without getting lost in a cluttered interface.
With the premium version, you unlock even more features. This includes additional reports, Kanban-style projects, custom fields, templates, and integration with Asana, among others. These features enhance the functionality and power of the plugin, making it even more effective for project management.
Zephyr Project Manager also offers the ability to create custom dashboards for each project. This allows you to incorporate personal dashboards, discussions, and attachments, ensuring that everything related to your project is organized in one place.
Key Features:
Calendar view for easy project and task management
Personal profile pages with profile pictures and descriptions

Progress reports are sent to assigned users

Centralized organization of team members and projects
Customizable user capabilities for optimized project views
Marketing Industry's Leading Provider For WordPress
CoSchedule is a powerful plugin for WordPress that revolutionizes the process of writing and managing projects on your website. With the plugin, you can schedule events, manage projects, and publish content directly on your WordPress site, making the whole writing experience much easier and more efficient.
One of the impressive features of the plugin is its asset organizer tool, which allows you to access, share, and search various resources like files, videos, and audio files. This tool not only enhances the visual appeal of your site but also helps streamline your workflow by keeping all your important resources in one place.
Any project manager needs to keep track of team progress and deadlines, and this plugin has got you covered. Drag-and-drop functionality makes it easy to adjust deadlines and stay on top of your projects with the plugin's dashboard. You can set deadlines, plan events, post content, and even send emails.
It is not just for personal projects; it's also great for team collaboration. The plugin allows project managers to manage and organize marketing tasks directly from their WordPress dashboards, ensuring everyone stays on track.
With the plugin, planning, promoting, and managing your projects becomes a breeze, boosting your overall productivity and streamlining your editorial process.
It's a free plugin so you can use it right away. Over 100,000 marketers have already benefited from CoSchedule, generating great content in less time with it. CoSchedule lets you focus on what matters most – creating great content and getting your brand to the next level.
Agile Project Management For WordPress
With Kanban Boards, you can efficiently manage your tasks and projects on WordPress with a range of features that enable you to achieve the best results you can with your online project management platform.
The plugin's core functionality is available for free on their website, but there are also additional features available in the Pro version. These additions include the ability to have multiple boards, notifications, and attachments for your tasks, eliminating the need to purchase these features separately.
One of the standout benefits of the plugin is its ease of use and customization options. With just a single button, you can easily customize the board to suit the needs of your team. Creating tasks and projects is also a breeze, allowing you to quickly get organized and start working on your projects.
The plugin is known for its similarity to Trello, but they are best known for their agile project management capabilities. They are particularly useful for tracking sales, managing editorial calendars, and handling other business-related information.
In terms of integrations, Kanban Boards is highly integrated with popular plugins such as Gravity Forms and Ninja Forms, making it easy to connect with other tools that you may already be using.
Key Features:
Team members can be assigned tasks with instructions and deadlines
The project management workflow allows for real-time editing and adjustments
Project time tracking tools help in showing anticipated completion times
Updates are seen in real-time, facilitating better collaboration
The filtering and search function enables quick access to essential projects
Tasks can be grouped by projects, creating a more organized workflow
Team Management Plugin For WordPress

Task Manager Pro is a project management plugin on CodeCanyon that offers a range of improvements for task management and progress tracking. It allows users to comment on updates and receive automated task updates and alarms.
This project management plugin is not the most popular out there, but it does offer a range of features at a reasonably priced price, which makes it an appealing choice.
The plugin lets you post unlimited projects and tasks, so you can support multiple projects at the same time. In addition to creating user accounts, assigning roles, and organizing them into teams and projects, it makes it easy to manage new users and streamline collaboration within organizations.
One standout feature of this plugin is its User Management module, which allows you to add and assign users to specific projects and groups. The task list gives you an overview of open tasks and lets you know if any need immediate attention.
There is also a separate Detail page for each task, where you are able to view details such as the priority, deadline, and start and end dates for each task, as well as assign users to their respective tasks.
Another advantage of the plugin is its flexibility in terms of scalability. You can add an unlimited number of users, groups, projects, and tasks, giving you the freedom to expand your projects as needed.
Also, the plugin offers both a front-end interface and a back-end interface, giving you a chance to test the plugin's capabilities before making a purchase commitment.
Key Features:
User Management module for adding and assigning users to projects and groups
Task list for easy overview and management of open tasks
The detail page for each task, with priority, timeline, and assigned users
Unlimited projects, tasks, users, and groups
Front-end and back-end features for testing and customization
No free trial is available, but the plugin's features can be explored
Workflow Management Plugin For WordPress
WordPress Project Management by UpStream is a plugin that allows you to effectively manage and visualize your projects directly from your WordPress website.
With this plugin, you can create project discussion threads, enabling everyone involved in the project to share information and ask questions. You can also utilize premium extensions like Calendar View, Customizer, Custom Fields, and Email Notifications from the Joomla Marketplace.
One of the great features of the plugin is its project management front-end view, which allows your clients to manage their individual projects at any time. They can set milestones for the project and effectively track bugs. This feature empowers your clients by giving them more control over their projects.
While the plugin itself is free, there are additional extensions available that can enhance its functionality. These extensions offer options such as front-end editors and timeline functions in workflows, providing even more flexibility in how you use the plugin.
With the plugin, you can easily visualize the progress of your projects using Gantt charts and calendars. These visual representations allow you to easily identify the status of your projects and track them on a more detailed level. The best part is that you can customize the fields and colors to match your own brand.
Not only does the plugin provides powerful project management capabilities, but it also helps you keep your project costs low without compromising on quality. This makes it an ideal choice for individuals and businesses who want to save their budget while still achieving excellent results.
Key Features:
Easy file and document uploads
Customizable fields for recording descriptions, bug statuses, and severity levels
Linking milestones and tasks for better project organization
Contact information and custom fields for client users
Threaded discussions to streamline communication and reduce messy emails
User permission control for improved security
Frequently Asked Questions
What are WordPress project management plugins?
WordPress project management plugins are tools that help users efficiently manage and organize their projects within the WordPress platform.

These plugins offer a variety of features such as task management, collaboration tools, file sharing, and time tracking, making it easier for individuals or teams to stay organized and streamline their project workflows.
What are the benefits of using WordPress project management plugins?
Using WordPress project management plugins offers several benefits. Firstly, they provide a centralized and easily accessible platform for managing projects, tasks, and communication, improving overall efficiency.

These plugins also offer collaboration features, allowing team members to work together seamlessly and share project-related files and information.

Additionally, some plugins offer features like time tracking and reporting, which help with monitoring project progress and analyzing productivity. Overall, these plugins simplify project management processes and enhance productivity for individuals and teams.
How do I choose the right WordPress project management plugin?
Choosing the right WordPress project management plugin depends on your specific project requirements and preferences. Consider factors such as the features you need, ease of use, compatibility with your WordPress theme, integration with other tools, and user reviews.

It's recommended to test out different plugins and evaluate their functionality before making a decision. Additionally, you can also seek recommendations from other WordPress users or consult online resources to find the best fit for your project management needs.
Conclusion
To recap, in this article, we discussed the 10 best WordPress project management plugins, both free and pro options. We explored their features, functionalities, and how they can benefit WordPress website owners like you.
If you found this article helpful and want to dive deeper into WordPress-related tutorials, I highly recommend checking out the BetterStudio blog. There, you'll find a wealth of informative content to help you enhance your WordPress website even further.
Don't forget to follow BetterStudio on Facebook and Twitter to stay up-to-date with the latest tutorials, tips, and tricks. By following them on these platforms, you'll never miss out on valuable insights that can elevate your WordPress project management game.
You've read an awesome article, thanks for reading it! Please feel free to leave a comment below. Our readers and team will be more than happy to help you out. Thank you again for your support, and here's to a successful WordPress project management journey for you!