Are you searching for the Best WordPress Invoice plugins? Is it difficult to find an Invoicing plugin that works wonderfully among thousands of WordPress plugins integrated on the market?
Please find below the best WordPress Invoice plugins with some of the best features and functions. Listed below are invoicing plugins for WordPress, each carefully screened and selected to ensure that you select the best WordPress plugin for your website. These plugins are also compatible with all WordPress themes.
In the end, all of the following plugins are for the Invoice. What if you're searching for an Invoice related plugin, but It is not the exact Invoice plugin? Moreover, these plugins work on payments, billing systems, WooCommerce PDF invoices, sliced invoices, and Paypal invoices.
Best Invoicing Plugins for WordPress 🧾
Let's check the checked and rank of the best top WordPress plugins for Invoice in 2022:
WordPress Invoicing & Payments Plugin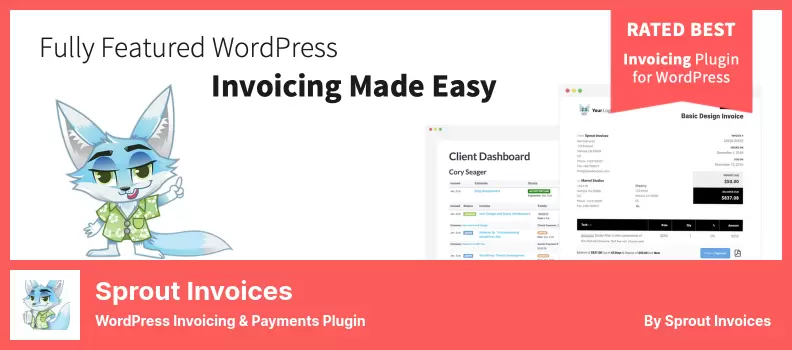 Sprout Invoices is a complete billing system for WordPress-based websites. It can automatically calculate the cost of your services and produce precise invoices for your consumers.
The plugin interfaces with over hundreds of applications for payment processing, invoice creation, and workflow management. It has a robust payment schedule system that enables you to define payment conditions for clients, such as payment amount, due date, and late penalties.
The free version is rather restricted, and you would need to subscribe to the Pro version to unlock all features.
Sprout Invoices works with the WordPress dashboard to let you manage your customers and programs and deliver customized invoices and estimations. It's basically an automated client management procedure, which sounds like a win for freelancers and client-based professionals.
---
💵 Its free to download the Lite version and $39 for the Pro version.
Key Features:
Supports several languages and local currencies, allowing you to send invoices to your clients
The amount of bills and estimates you need to send out is limitless, and also the number of customers too
Templates that are completely editable and may be customized to match your brand
You can take advantage of recurring invoices and payments, sophisticated reporting, particular integrations, and other capabilities
Random Reviews:
HTML notification button doesn't do anything,so notification templates won load, bugs using their add-on with project panorama, no pay button and after couple weeks nothing resolved so using our old payment system, may be you'd like to wait a bit longer until it has all it's compatibility issues improved. This topic was modified 1 week, 6 days ago by

I Contacted the Sprouts support team due to some issues with my current update, WP7.0. They were so kind and fast to respond to my email and they provided a few options and we were able to solve my problem in no time. Love this invoicing system and appreciating the developer's hard work. Thank you, Sprout Cheers AK.

Excellent App and Support
Easy Estimates and Invoices For WordPress
With its straightforward name, Get Paid has earned its place on our list of the top invoicing plugins for WordPress. It does so by providing users with access to a wide variety of payment methods as well as an array of additional functions.
It is possible to create and send invoices to clients using the Get Paid Invoicing WordPress plugin, which is free.
It is also capable of handling taxes in invoices on an automated basis. By automating the process, you and your customers will benefit from the time savings.
The plugin handles payments using a variety of payment gateways, including PayPal, Stripe, Authorize.net, and others. Also possible with this tool is the creation of recurring payments as well as the automated generation of invoices for each payment.
Although the Invoice & Payments Plugin is free, there are a number of premium add-ons that may be purchased and installed.
---
💵 Download the Free Lite Version and the $99 Premium Version.
Key Features:
Create and send invoices for one-time or regular payments, depending on your needs
Gain access to a reporting system that enables you to export payments and other information
Full VAT MOSS compliance
Nice ability to manage taxes
A modification of the popular Easy Digital Downloads plugin, which has undergone many updates recently
Quotes are instantly converted into invoices
Random Reviews:
Its simply works really well and the support is awesome!

Great job! Keep improving it! I have been using it for over a year and I am happy with it.

best plugin yet for payments, easy to use
Easily Create Payment Forms & Invoices In WordPress
WP Simple Pay is one of the most popular WordPress payment plugins among small company owners since it is both simple to use and strong in terms of functionality.
Best of all, it allows you to collect one-time and recurring payments on your WordPress website without having to set up a complicated shopping cart (no coding needed).
A clever payment form builder allows you to take credit card payments, Apple Pay, Google Pay, ACH bank debits, SEPA direct debits, Alipay, Giropay, iDEAL, and a variety of other types of payments.
The greatest aspect is that WP Simple Pay does not impose any extra transaction fees on your purchases with it.
---
💵 The Pro version charges $99, the Lite version is free.
Key Features:
Amounts that are specific to you
Allowing coupon codes
Payment Form Builder
Accept payments other than credit or debit cards
Integration of Subscription Services
Support for Multiple Languages and Multiple Currencies
Random Reviews:
Could use some improvement on the subscription cycle, which does not generate a receipt or payment intent admin email.

Very useful

The plugin works well as is quite easy to understand.
PDF Invoices & Packing Slips For WooCommerce
A PDF invoice for each purchase is created automatically by the WooCommerce PDF Invoices plugin, and this invoice is then attached to the order confirmation email that your customers receive. There are also a number of paid extensions available that provide additional functionality. You can find more plugins like this on our list of the best WooCommerce pdf invoice plugins.
Each invoice is assigned a sequence number, which allows you to keep track of all the payments made on that invoice. Customers may download bills from their account page on your eCommerce website, which is accessible via their login.
You can also use the plugin to link a printer so that invoices may be printed as soon as the clients confirm their order. When it comes to invoicing, if you have a WooCommerce-based online business, this plugin may be the solution to your problems.
---
💵 This plugin charges $39 for the Premium version and $0 for the Free/Lite version.
Key Features:
Create and send completely customizable Proforma Invoices and Credit Notes for reimbursements to your customers through email
Create invoices and/or packing slips in bulk to save time and money
Available in a variety of languages, including English, Czech, Dutch, Finnish, French, German, and others. English is the primary language
HTML and CSS templates that are completely customizable
Templates with more sophisticated features
Easily attach PDF bills to WooCommerce purchase confirmation emails with a single click
invoice numbers in sequential order with specific formatting
You may access and download the invoice and/or packing slip at any time from the protected administration website
Random Reviews:
Works like a charm and very easy to implement. Also has many coding hooks for those who want to customize their PDF files. Very fast to boot!

I had a problem with downloading the invoices (critical error) but it got solved fast thanks to the input from the plugin developer. It turned out to be a PHP issue. Ewout pointed me in the right direction and i could resolve the issue quickly Now already on my 10.000th invoice and still going strong. This topic was modified 4 days, 12 hours ago by

one of the best invoice plugins out there!
Sliced Invoice Plugin For WordPress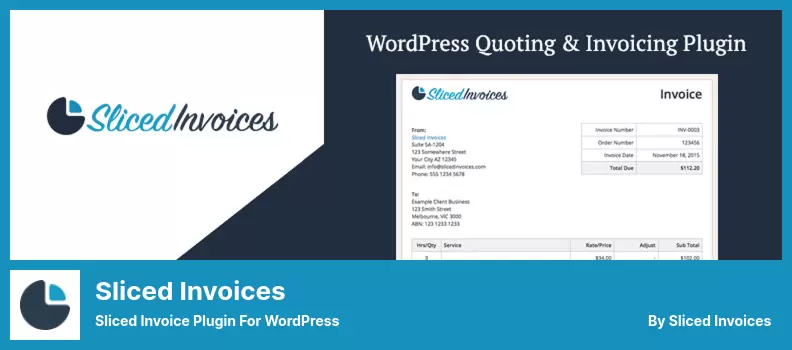 The Sliced Invoices plugin for WordPress is the most popular invoice plugin in the world. Create Excellent Quotes and invoices for which clients can pay online with this flexible, efficient, and Smooth WordPress invoicing plugin.
The commercial edition of the plugin adds extra capabilities, such as the ability to manage anything from invoicing to quotations to real payments and everything in between.
It is recommended that businesses use the Sliced Invoice plugin if they wish to invoice customers directly via their WordPress site and accept payments through PayPal (or PayPal alternatives like Stripe or 2Checkout for premium users).
---
💵 The Pro version of this plugin costs $79 compared to the Lite version's $0.
Key Features:
It enables you to develop your own invoice templates from scratch
Allows you to customize the information that is used for offline payments
Provides a selection of invoice templates that are ready to use
The ability to provide a free tax extension in order to simplify accounting procedures
Export invoices as a CSV file
Invoice reporting that is extensive
Payments are processed using PayPal Express. Checkout
Invoice in whatever currency you like
Set a default due date for your project (IE 30 days from when the invoice is received)
Random Reviews:
Un plugin muy util que permite en pocos pasos gestionar tu negocio, crear presupuestos o facturas, y sus extras terminan de completar todo lo necesario. Buen trabajo.

This is by far the very best invoicing system I have found and tested for one of my clients….at the point that I ditched what I was using for myself and I am now fully invested with this puppy.

Why this is worst: Can't generate invoices from orders While ading more than one existing items in the invioce, it always updates the first item Difficulty in downloading
Invoice and Billing for WordPress
WP Invoicing is a powerful WordPress invoicing plugin that offers a wide range of functionality. Without ever leaving your WordPress dashboard, you can rapidly create, update, and send customized and itemized bills to your clients.
When it comes to accepting payments on your website, WPInvoice is the most popular and versatile plugin available for WordPress users. Efficient e-commerce options that are ready to be used.
WP-Invoice is a WordPress plugin that allows blog owners to send itemized billing messages to their customers. Suitable for web developers, SEO experts, general contractors, and anybody else who maintains a WordPress blog and bills customers.
To keep track of your customers and their information, the plugin integrates with WordPress's user management database.
The plugin accepts payments via a variety of payment channels, including PayPal, Stripe, Authorize.net, and other options. Also possible with this tool is the creation of regular billing as well as the automated generation of invoices for each payment.
---
💵 You can download this plugin for Free from the following link.
Key Features:
Payments in installments are accepted
Enables you to create invoices that are personalized and to include many data in your invoices
Interfaces with the WordPress administration database, which offers you the ability to keep track of everything quickly and effortlessly
It integrates with WP-CRM to provide more extensive customer management
Make them unique by adding your company's information and logo
Line objects may be stored and reloaded at a later time
Random Reviews:
I have posted 2 times in the last few months to the support forum and gotten no reply. In fact no one has gotten any replies in about a year. I would say that with support like the company is either gone, or will soon be gone. Its a shame because the product itself had a lot of potential.

The setup instructions are not very good. The forms have misaligned fields. I can't recommend this.

Thank you for making this plugin and avail for free. I am looking for such a plugin and then I showed this plugin video. I am using this video now. I had added my currency INR from setting options. This topic was modified 1 year, 3 months ago by Kevin Kovadia.
Summary
The best WordPress Invoice plugins we checked in this post have been updated for 2022. Nearly anyone who has a website can incorporate these plugins into their site.
There are many excellent Invoice WordPress plugins that you can use to help promote your Invoice episodes across the internet. Also, we hope you find your need.
Any questions? Just ask. Finally, if you have enjoyed this content and think it may be profitable to others, share it on social medias!