Searching for the best plugins for WordPress comments?
In this post, we will help you select the best WordPress comment plugin. All the WordPress plugins listed here offer out-of-the-box features and functionalities and are working with all WordPress themes.
Our selection of Comment plugins has been curated to help you choose the right plugin. You can still use these plugins for WordPress native Comments, Facebook Comments, Disqus Comments, and WordPress Social Comments as well.
You can find more ideas on how to use these plugins in our step-by-step guide on how to customize the WordPress comment form.
Best Comments Improvement Plugins for WordPress 💬
Add a header to begin generating the table of contents
Find out which are the best WordPress plugins for Comment websites in 2022:
WordPress Comment Manager Plugin
WPDiscuz is an AJAX real-time comment system that allows using custom comment forms and fields. This WordPress comment plugin is known for its speed, stability, and modern design.
If you want to keep your comments in your WordPress database for safekeeping, this plugin is the best option for Disqus and Jetpack Comments.
WPDiscuz version 7 can change your website commenting experience. This modern plugin provides you with the newest user engagement features. Moreover, you can integrate wpDiscuz with a wide variety of popular plugins such as UserPro, BuddyPress, and Akismet.
It doesn't slow down your site and does not need expensive WordPress hosting. It is reliable, and comments have a lazy loading effect when users scroll down.
The core plugin is entirely free, and you don't need to worry about a monthly or yearly fee. Besides, this plugin has caring forum customer support to help you keep things in check.
It has three nice and modern comment layouts. You can also use a lot of add-ons to extend the functionality of WPDiscuz.
💵 It's Free.
Key Features:
It provides an inline commenting and feedback feature that allows commenting on post content
It has the option for social commenting with lots of social login options
This plugin allows you to rate or comment on posts and other content types
It is clean, simple, and accessible UI and UX with responsive comments form and comment threads design
You can sort comment lists by the newest, oldest, and most voted comments
It has the feature for up and downvotes that is like what you might see on Reddit
Random Reviews:
In addition to the plugin being free, I will definitely purchase the whole package! Thanks for your hard work!

Support was very prompt and I had the issue resolved in minutes. Thank you!

Amazing plugin. Looks fab and professional and has so many useful settings and options. No other plugin I've seen comes anywhere close. And the support is great. Thank you so much, guys!
One Click Close Comments
One-Click Close Comments is a WordPress comment plugin that allows users to close or open comments to any posts. This process gives them sufficient privileges to make such changes (admins and post authors for their positions).
These changing processes will be performed by using an AJAX-powered color indicator. This indicator gives instant feedback on the current status of the post for comments which has two options red and green colors. Green means open to comments post/page, and red means closed to comments post/page.
If a plugin is AJAX-powered, all changes will submit in the background after clicking on a page without requiring a page reload.
💵 It is a FREE download and installation.
Key Features:
Lets users open/close comments from the admin listing posts
The commenting status link/button is only clickable if you enable JavaScript
It has an AJAX-powered color indicator to give instant feedback on the current status of the post for comments
This plugin is AJAX-powered and doesn't need a page to reload
The option for customizing the colors via CSS is available
Random Reviews:
I have used this plugin for many years without any problems. It is a pity that it no longer is updated.

It appears that the green dot is still present, even though the comments were automatically closed. Why is that? Is it an error or a feature?

My friend just installed this plugin on her website and is delighted with its performance. It does exactly what it says and does it in an intuitive and beautiful way. Thank you so much.
Comments Management Plugin
Yoast Comment Hacks is the name of a professional WordPress comment plugin provided by the Yoast team. This plugin makes comments management more accessible by adding some small hacks to the core of WordPress comments.
This plugin will make comment notification emails more straightforward. It can disable comments below and above a certain length. Or, it comments on a routing option or the routing of comment emails to another user.
Yoast comment hacks can redirect all commenters to a thank-you page. It provides an input field on the comment edit screen to change the comment parent ID. Additionally, it offers an option for the Administrator to email individual commenters or a button to email all comments on a particular post.
💵 You can download this plugin for Free and receive limited support from the WP.org forums.
Key Features:
You have the option to email a comment author from your WordPress admin area
It provides a cleaner comment notification email
You can redirect your first-time commentators to any page on your site in a thank-you page or somewhere like that
The option to update the parent comment ID is available
Random Reviews:
The email section does not appear or work*br

Does not send emails to the commentators. False description.

More comment options are available, so you can easily customize.

Remove Comments & Protect From Spam
Disable Comments is a WordPress comment plugin that allows/disallows comments from any post type. This plugin can stop the spammers and gain complete control over your entire website and disable WordPress spam comments.
In case you simply want to stop spam comments on WordPress, we would recommend you to add reCAPTCHA to WordPress comments, which stops almost all spammers.  
WP-CLI will use XML-RPC and REST-API to support and control comments. By using this plugin, take complete control over your WordPress site and customize all settings via your website. Choose which posts, pages, or media should allow comments from site visitors. And get rid of unwanted comments or features on your site.
💵 It's Free.
Key Features:
Comments links have separated from the Admin Menu and Admin Bar
All comment-related sections have to hide from the WordPress Dashboard
Since all comment-related widgets are disabled, so your theme cannot use them
In this plugin, the "Discussion" settings page is not visible
Comment RSS/Atom feeds are not enabled, and requests for them will redirect to the parent post
The Outgoing and Pingbacks X-Pingback HTTP header has been removed from all pages
With only one click, you have the option to stop spam comments entirely from the site
Delete comments by type or disable them via XML_PRC and REST-API
This plugin will support a Multisite Network
Random Reviews:
It was the first time in years that I encountered a problem with this plugin, but the developer had it fixed in less than 24 hours. I will continue to use it with confidence. Thank you for your dependable plugin!

Good privacy option, very easy to set up, fast, and good support in the WordPress forum. Thank you.

Thank you for creating such an awesome plugin for removing comments*
Comments Email Notificatoin for WordPress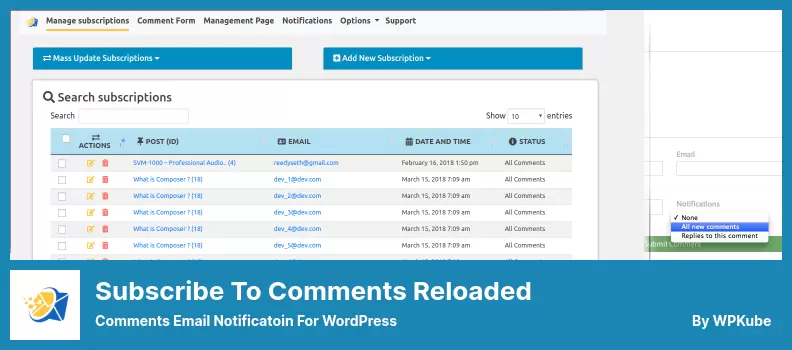 Subscribe To Comments Reloaded is a WordPress comment plugin that enables users to sign up for email notifications. This plugin was tagged as "comments, email, subscribe, subscribe to words, and more like them.
It includes a full-featured subscription manager to let users unsubscribe from specific posts. It uses the latest WordPress features and functionality to solve most of the issues that affect Mark Jaquith's version.
Furthermore, this WordPress comment plugin has the option of enabling a double opt-in mechanism. This mechanism requires users to confirm their subscription by clicking on the related link. Subscribe To Comments Reloaded is a great plugin that helps people stay engaged with the posts they appreciate.
💵 For FREE, you can download and install it.
Key Features:
You have the option of efficiently managing and searching among your subscriptions
You can import Mark Jaquith's subscribe to comments and its clones data
Messages have a complete customization option, and you don't need to use POEdit
The option of using HTML with a Rich Text Editor – WYSIWYG is available
The option of disabling subscriptions for specific posts is available
This plugin can download your System information to experience better support
Random Reviews:
Subscribers to my website, who make comments, reported getting the IP address of the user who left a comment. I'll look for another plugin.

In the v.210315 I translated it completely into Italian with Loco, but I noticed that there are still many entries in English in the plugin.
This topic was modified 3 months, 2 weeks ago by .

Installed this as a replacement for setting up a forum, which seemed too complex! Love it so far, very easy to set up, and love that everything has a ? before setting it.
Comments Fields Editor For WordPress
Comments Fields Editor for WordPress is one of the most professional WordPress comment plugins to use. It works perfectly and gives the ease of adding field/s to the comment.
The pro version of this plugin allows uploading files. These fields will save as comment meta and will display under comment text. It supports four field types and also it works with WordPress page builders.
Also, with a nice drag & drop editor by Admin, you have the option to create 12 types of different input types.
💵 Free download of this plugin is available.
Key Features:
This plugin is developer-friendly and has custom filters for developers
You can support comment Field Section Title and custom post types supported
It supports various input types like Text, Checkbox, ColorPicker, Autocomplete, Email, and more
Fields will save as comment_meta
You can control thumb height and width to allow displaying everywhere
Upload every filename by wpcomments_filename
You can handle file types by using wpcomments_allowed_filetypes
Random Reviews:
Plugins work, but cannot edit custom comment fields

I tried it and it works perfectly, especially the pro version which allows uploading files as well.
Attach Images, Videos, Audios, Documents by Commenters
DCO Comment Attachment is the name of a WordPress comment plugin for attaching images, videos, audios, and documents. You can stick them as well as other files with comments. Your audiences can also embed links from Twitter, Facebook, Youtube, and other services in the comment text.
In the Edit Comment screen section, you can add, replace or delete an attachment from a comment. These attachments are unlimited in the admin panel.
Suppose you set them in the extensions settings. In that case, you can upload them to the WordPress Media Library and delete them along with the comment. Using this WordPress comment plugin, delete the attachment by deleting a comment. Or keep the extensions in the Media Library after the comment is deleted.
You also have the option to set what happens if you click on the "Delete Attachment." The attachment file will be permanently deleted from the site or will only be unattached from the comment. But they will remain available in the media library.
DCO Comment Attachment tested with FancyBox, FooBox Image Lightbox, and FancyBox for WordPress. You have the option of multiple uploads and choose to upload multiple attachments at once. You can also combine images in the gallery or display them as a list.
💵 The plugin is free. It can be downloaded from the following link.
Key Features:
You have the option to limit the maximum file upload size
You can choose to have an embedded link or a displayed one
Enable/Disable auto-embed links in the comment text format for social media accounts
Use lightbox plugins support to link a thumbnail to a full-size image
Link the thumbnail to the attachment page or open the full-size picture in a new tab
You can enable/disable multiple uploads or combine images to the gallery
Select an attachment image size or restrict attachment file types for the images gallery
Change the access type for uploading the attachments
You have the option of deleting an attachment on the Comments screen
Random Reviews:
Translating strings such as (The maximum upload file size, Attachment, etc) with loco translate, but none of the strings appear to be translated at the front end.
how can I translate them?

It's not easy, but it's fine

This sounds great, but it definitely needs some access controls, such as limiting attachment posting to logged-in users (not allowing anonymous users to post). Otherwise, it's just too risky to use.
Customize WordPress Emails and Alerts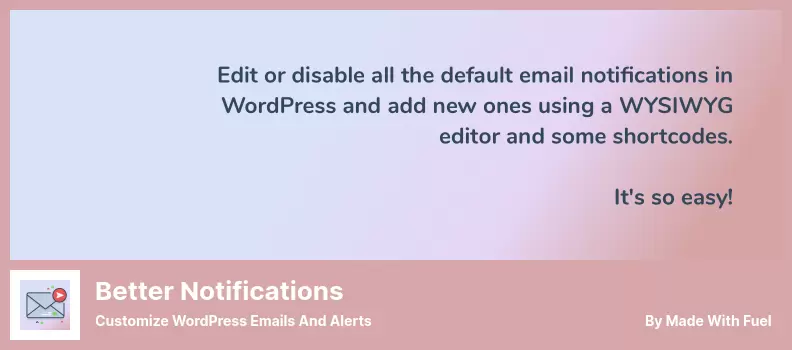 Better Notifications for WP is a WordPress plugin for displaying comment notifications. It is easy to use, yet powerful for beginners and experts alike.
By using shortcodes and the WYSIWYG editor, you can customize the email notifications to send them to individual/multiple users or to all users in the same user role/multiple roles.
It also provides you with premium add-ons to power up your notifications. You have the option of sending emails via your website using wp_mail or sending via SMTP using an appropriate 3rd party plugin.
💵 The Pro version of this plugin costs $129, while the Lite version costs $0.
Key Features:
The option for notifying the New User Registration for Admin is available
The opportunity for informing the User of Lost Password for Admin is available
The choice for telling the Password Changed for Admin is available
The option for notifying the User Email Changed for Admin is available
The opportunity for informing the User Role Changed for Admin is available
The choice for informing the User Logged In for Admin is available
The option for confirmation of the Export Data Request for Admin is available
The opportunity for proof of the Erase Data Request for Admin is available
WordPress Core Automatic Background Updates are regular
Random Reviews:
Hello,
Thanks for this plugin and your good support. When we had multiple writers, this plugin helped us send alerts when articles needed reviewing.
Very useful!

One of the best plugins I've used so far.
This topic was modified 8 months, 2 weeks ago by ctrl.

This plugin has great support!
A Few Thoughts Related to Comment WordPress Plugins
We have compiled a list of the best WordPress comment plugins in this article. They are useful and if used properly, you can have an awesome commenting on your website.
Thank you for reading this article. We hope you enjoyed it.   As a further suggestion, we recommend that you check out the Publisher theme, one of the best WordPress blogging themes ever designed.  
In the comments, please let us know if you have any questions or if you have any problems making a website. If you liked the article, please share it on Twitter and Facebook.