Have you ever struggled to manage comments on your WordPress website? Are you searching for the best comment plugins to elevate user engagement on your site? Look no further!
This article covers the 8 best WordPress comment plugins for 2023, both free and paid, to help you optimize your website's commenting system and improve user experience.
With over 75 million websites using WordPress, commenting has become a crucial feature for website owners to engage with their audience. According to a survey, 93% of users read comments before making a purchase decision.
It's clear that managing and moderating comments is an essential part of running a successful website. This article explores the top 8 WordPress comment plugins that can assist in managing comments on your website effectively.
In this article, we will introduce you to the 8 best WordPress comment plugins for 2023, including both free and paid options. Whether you're looking to streamline the commenting process, protect your site from spam, or enhance your users' experience, you'll find a plugin that suits your needs.
Keep reading to discover the best comment plugins for your WordPress website!
Best Comment Plugins for WordPress
Welcome to the Best Comment Plugins for WordPress section, where we showcase the plugins that will revolutionize the way you interact with your audience. Take a look at our list of the 8 Best WordPress Comment Plugins for 2023, both free and paid and find the perfect fit for your website's needs.
WordPress Comment Manager Plugin
wpDiscuz is a lightweight and AJAX real-time comment system for WordPress sites that offers custom comment fields and forms. This comment plugin stands out thanks to its fast speed, stability, and modern design.
Plus, it won't slow down your site or break the bank on pricey hosting. You can rest assured that comments are safe and secure in your WordPress database.
In addition, wpDiscuz version 7 enables you to integrate with many popular plugins, including BuddyPress and Akismet, for more flexibility. This new plugin version has the latest user engagement features, and you can choose from three sleek and modern comment layouts.
The best part? You don't have to pay any monthly or yearly fees since the core plugin is entirely free. Plus, wpDiscuz offers caring forum customer support for any issues you may encounter.
Key Features:
Inline commenting and feedback feature for commenting on post content
The capability to rate or comment on posts and other types of content
Social commenting with various social login options

Simple and accessible UI and UX with responsive comments form and comment threads design

Sorting comment lists by newest, oldest, and most voted comments
Up and downvote feature for voting on comments like Reddit.
One Click Close Comments is a WordPress plugin that enables easy opening or closing of comments on posts or pages by those with sufficient privileges such as admins and post authors.
The plugin is AJAX-powered, meaning no page reload is required. Instead, an AJAX-powered color indicator displays instant feedback on the post's status for comments.
Green indicates an open post/page while red shows it's closed. The commenting status link/button is only clickable when JavaScript is enabled, and users can customize colors via CSS.
Key Features:
Clickable commenting status link/button on

enabling JavaScript
Open/close comments with ease
AJAX-powered color indicator for instant feedback on post status
No page reload required due to AJAX-powered tech
Customizable colors via CSS
Comments Management Plugin
Yoast Comment Hacks is a WordPress plugin that adds small hacks to the core of WordPress comments to make comment management more accessible.
This plugin offers various features to simplify the process of managing comments, including comment notification emails, comment length limitations, and routing options.
One of the features of Yoast Comment Hacks is that it allows you to email a comment author from your WordPress admin area. This feature makes it easier to communicate with comment authors without having to switch to the email client.
Additionally, the plugin provides a cleaner comment notification email to keep comment management more organized.
Another feature is the option to redirect first-time commentators to any page on the site, such as a thank-you page. This feature is especially useful to improve user experience and fosters a sense of belonging.
The plugin also provides an input field on the comment edit screen to update the parent comment ID. This feature helps easier navigation and tracking comments in the WordPress dashboard.
Key Features:
Redirecting first-time commentators to any page on the site
Email a comment author from the WordPress admin area
Cleaner comment notification emails
The option to update the parent comment ID
Remove Comments & Protect From Spam
Disable Comments is a simple and effective WordPress comment plugin that gives you complete control over your site's comments. With it, you can choose which posts, pages, or media should allow comments from site visitors.
This powerful plugin gives you the ability to get rid of unwanted comments or features on your site, prevent spam comments, and gain complete control over your entire website.
The best part is that WP-CLI uses XML-RPC and REST-API to support and control comments rather than using the built-in WordPress comments feature.
One of the most appealing attributes of Disable Comments is that it hides all comment-related sections and widgets from both the Admin Menu and Admin Bar. With this plugin, you can easily customize all settings via your website, seamlessly deleting comments by type or disabling them via XML_PRC and REST-API.
In addition to giving you more control, Disable Comments offers numerous features to assist with the customizability of your site.
These features include the removal of Comment RSS/Atom feeds and the Outgoing and Pingbacks X-Pingback HTTP header for all pages to better protect your site from spammers. With only one click for complete spam prevention, the option to stop spam comments entirely from the site is an excellent feature.
Key Features:
Separated Comments links from the Admin Menu and Admin Bar
Hidden all comment-related sections from the WordPress Dashboard
Disabled all comment-related widgets so your theme cannot use them
"Discussion" settings page is not visible
Disabled Comment RSS/Atom feeds, and requests for them will redirect to the parent post
Removed X-Pingback HTTP header for all pages to prevent spammers
One-click option to stop spam comments entirely from the site
Ability to delete comments by type or disable them via XML_PRC and REST-API
Comments Email Notificatoin for WordPress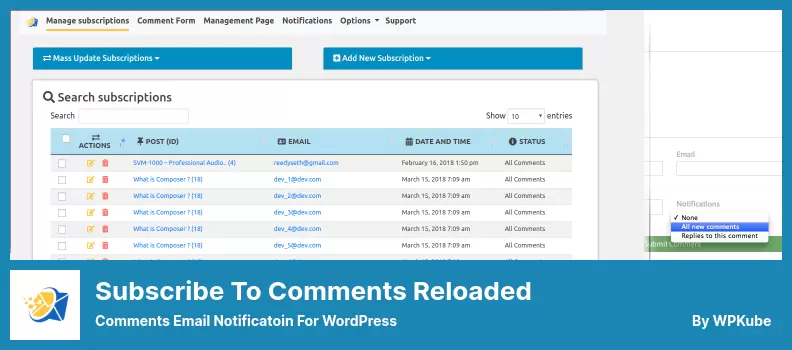 Subscribe To Comments Reloaded is a WordPress comment plugin that allows users to sign up for email notifications. This plugin comes with the option of enabling a double opt-in mechanism, ensuring that users confirm their subscription by clicking on the related link. It's a powerful tool that helps keep users connected to their favorite posts.
One of the standout features of Subscribe To Comments Reloaded is its full-featured subscription manager, which enables users to unsubscribe from specific posts easily. This can be particularly helpful for those following several threads at once.
Additionally, the plugin uses the latest WordPress features and functionality to solve most of the issues that have affected previous iterations of this type of plugin.
Another great attribute of Subscribe To Comments Reloaded is that it allows you to import data from Mark Jaquith's subscribe to comments and its clones.
It also lets you customize messages without the need to use POEdit. Plus, it comes with the option of using HTML with a WYSIWYG Rich Text Editor, which makes formatting even easier.
Moreover, the plugin offers the flexibility of disabling subscriptions for specific posts. This can be helpful if a post doesn't require comments or the author doesn't want to receive notification for that particular article. Finally, Subscribe To Comments Reloaded collects your system information to provide you with better support.
Key Features:
HTML and WYSIWYG Editor
Post-specific subscriptions disable
Efficient subscription management
Easy import of data from previous comment plugins
Customization without POEdit
Advanced support with system data collection.
Comments Fields Editor For WordPress
WordPress Comments Fields is an impressive comment plugin that offers a hassle-free way of adding desired fields to the comments. It's equipped with a drag & drop editor that allows creating up to 12 input types.
With the pro version, users can upload files and these fields will be saved as comment meta. It's compatible with page builders and supports four field types. The plugin is also developer-friendly and comes with custom filters.
Key Features:
Supports Comment Field Section Title and

custom post types
Developer-friendly with custom filters
Offers various input types like Text, Checkbox, ColorPicker, and more
Fields will save as comment_meta
Control thumbnail height and width for display
Upload every filename with wpcomments_filename
Handle file types with wpcomments_allowed_filetypes
Attach Images, Videos, Audios, Documents by Commenters
DCO Comment Attachment is a WordPress plugin that lets you attach images, videos, audios, and documents to your comments. You can even stick them and add links from services like Twitter and YouTube.
With DCO Comment Attachment, you can choose to permanently delete attachments from your site or only unattach them from comments. The best part is that these files remain available in your media library.
DCO Comment Attachment is compatible with FancyBox, FooBox Image Lightbox, and FancyBox for WordPress, and it supports multiple uploads and the ability to combine images in a gallery or display them as a list.
In the Edit Comment screen section, you can add, replace, or delete an attachment from a comment. You can also limit the maximum file upload size and restrict attachment file types for the images gallery.
This WordPress plugin is convenient since deleting a comment removes the attachment or keeps it in the media library. With DCO Comment Attachment, you can delete attachments easily or keep them even if the comment gets deleted.
Key Features:
Uses lightbox plugins to link thumbnails to full-size images
Linking options for thumbnails
Enable/disable multiple uploads
Attachments image size selection
Restricting file types for images gallery
Maximum file upload size limit
Embedded or displayed links options
Enable/disable auto-embed links in the comment text
Customize access type for uploading attachments
Ability to delete attachments from the Comments screen
Customize WordPress Emails and Alerts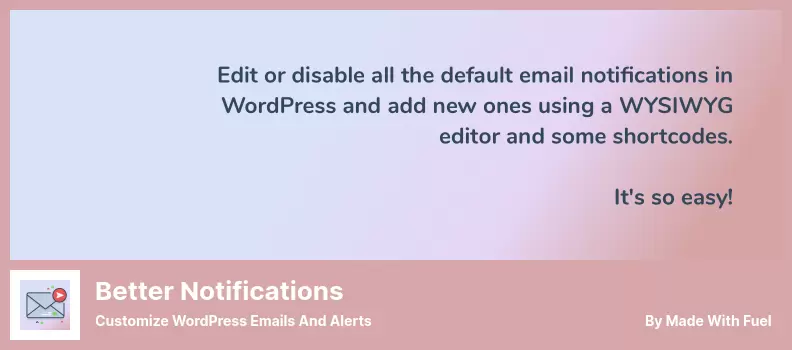 Better Notifications is a WP plugin that displays customizable comment notifications for individual or multiple users. It's perfect for beginners and experts since it's easy to use and provides premium add-ons to enhance notifications.
The plugin allows for personalized emails for admins, including new user registrations, lost password notifications, and user role changes. It also provides confirmation for export and erase data requests. Additionally, the plugin offers automatic background updates for WP core.
Key Features:
Display user role changes for admin
Display user logged in for admin
Option to notify new user registration for admin
Inform user of lost password for admin
Notify password changed for admin
Notify user email changed for admin
Confirm the export data request for admin
Proof the erase data request for admin
Regular WordPress Core Automatic Background Updates
Frequently Asked Questions
What are WordPress comment plugins?
WordPress comment plugins are tools that add features to the commenting system on WordPress sites. These plugins can help improve the user experience, prevent spam comments, and enhance the overall functionality of the comment section.
Why are comment plugins important for WordPress sites?
Comment plugins for WordPress sites can be crucial for the success of a site since they help to keep the users engaged, promote discussion, and build a loyal following. Additionally, comment plugins can help prevent spam comments, increase site speed, and provide valuable feedback to the site owner.
Are there any paid WordPress comment plugins worth investing in?
Yes, there are several paid WordPress comment plugins that offer advanced features and customization options. Some of the best options include Thrive Comments, CommentLuv, and De:comments. These plugins can help improve user engagement, increase social shares, and automate the comment moderation process.
Conclusion
In conclusion, we have discussed the 8 best WordPress comment plugins for 2023, including both free and paid options. We have covered everything from basic commenting features to advanced tools for enhancing user engagement and moderating comments effectively.
If you want to learn more about improving your WordPress website, be sure to check out the BetterStudio blog for other helpful tutorials and tips. Our team of experts is always working hard to help you get the most out of your website.
Don't forget to follow us on Facebook and Twitter to stay up-to-date with the latest news and updates from BetterStudio.
Thank you for reading this article, and we hope that you found it helpful. If you have any questions or comments, please feel free to share them in the comment section below. We're always here to help!