Looking for the best Timeline WordPress plugin to stand out in this advanced world?
If you don't have the time or experience with WordPress, we have rounded up a list of the best WordPress Timeline plugins for you. They are all well-programmed and offer a vast collection of features. These plugins are also ready to support the entire library of WordPress templates.
We gathered WordPress plugins that will make your timelines stand out. Horizontal Timelines, Vertical Timelines, Responsive Timelines, and Timeline themes can all be used.
Here are more than 6 Best Timeline WordPress plugins for 2022:
A Responsive WordPress Pure Html & Css Timeline
Using the Cool Timeline plugin, you can create responsive horizontal and vertical timelines in the WordPress Gutenberg editor.
With this plugin, you can easily enhance your blog feed by automatically displaying a timeline of the latest blog posts published on your website, arranged by their date of publishing in ascending or descending order.
Furthermore, each story can be customized in terms of how it looks and how it contains images, icons, buttons, and custom colors.
Additionally, an option is to upgrade to a premium version of Cool Timeline, which offers a greater range of ready-made layouts, timeline themes, and more advanced options including animation effects and pagination controls.
---
💵 In the Premium version, there is a price, while the Lite version is free.
Key Features:
Colors and typography settings for the timeline
With Smart Generator, you can easily add shortcodes
Providing custom color options for each story
There are over 40 timeline designs
The Pro version provides four different timeline layouts
Timeline of the horizontal roadmap
Optimized code and advanced design
Random Reviews:
You have helped me well and quickly, thank you!

Using a visual editor like Origin Builder makes the configuration somewhat more complicated, since you have to use an embed code that has all the parameters defined in the text, in a non-visual manner. But, apart from that limitation, the visual result is very good.

My client's requests that are beyond the plugin standard inputs were met with fast response by the Support team, thank you!
The Best WordPress Timeline Plugin
Like Cool Timeline, the Timeline Express plugin is an excellent choice for users looking to design dynamic and responsive vertical timelines for their websites.
This free plugin makes it possible to add beautiful CSS animations to your timelines. Every announcement can be configured differently using the plugin.
You can define the excerpt length, hide the date of each announcement, upload your own image, set the order of display (descending or ascending) and set the excerpt length and hide the date.
The Timeline Express plugin has been very successful on small and large sites alike. This plugin is also ready for translation, but unfortunately, it is not translated to many languages now.
---
💵 Both the Lite and Premium versions of the plugin are integrated. The Premium version is paid, while the Lite version is free.
Key Features:
You may set up several timelines and assign announcements to one, or all, of them
You can hide the "read more" link for each announcement in the timeline
Each announcement can have its own custom image displayed on the timeline
International users will find the date formatted locally
There are many powerful extensions available both in free and paid versions
The timeline layout is tighter, with fewer spaces between announcements
You can organize your announcements by creating and assigning categories
Random Reviews:
Easy to use and customize, fits our needs perfectly. This topic was modified 3 months, 4 weeks ago by

I would rate it as a good free plugin. This topic was modified 1 week, 4 days ago by

Taking advantage of me for the Pro Version that does not work with most add-ons
Vertical & Horizontal Timeline For Elementor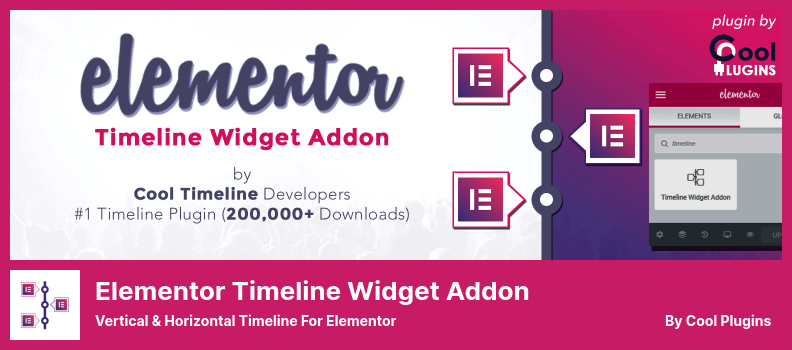 Using the Elementor Timeline Widget addon as a part of the Elementor page builder plugin, you can add horizontal timelines to your WordPress site and add timelines vertically.
Using the advanced settings of this widget, you can easily include or customize colors, fonts, icons, images, and content within your timeline stories.
A premium version will offer a larger selection of templates and features, including dozens of pre-designed templates. Advanced tools, such as animation effects and pagination options, enable you to create stunning timelines.
With this add-on, you will be able to highlight various stories and events in a more detailed manner, especially when promoting your brand through the web. It is important to inform your audience of the brand's history when promoting the brand.
However, this is just an addon for the Elementor plugin. If you want to use a specialized plugin for the timeline, you must use another plugin mentioned in this article.
---
💵 The plugin costs $33, but it also comes with a Free version.
Key Features:
Text size can be adjusted using the advanced settings feature
The timeline can be easily customized by changing the colors and adding icons
Images can be added to timeline stories
The Elementor Inline Editing feature is supported
Stories can be loaded with ajax pagination when you scroll the page
You can control the typeface used for the title, description, and other story elements
Random Reviews:
The topic was modified 22 hours, 41 minutes ago by

The plugin works very well, and the support is very good; I had a small problem and they got me the solution almost immediately (it was already built-in, I just didn't know it could be used that way). Thank you, very much!

Thanks guys, the free version is a great alternative
A WordPress Timeline Plugin
Using the Bold Timeline Lite WordPress plugin, you can display an unlimited number of events and can be used in plenty of contexts, such as company histories, biographies, historical events, life stories, step-by-step guides, and timelines.
In this manner, the plugin is extremely easy to use since it does not require the user to deal with many complex settings. The application offers five predefined styles for an easy-to-use interface.
By selecting a style, adding your own text, and adding images to your timeline, you will be able to make it look completely unique to you. Furthermore, by using different fonts, colors, and icons, you will be able to make it look as though it was created specifically for you.
---
💵 A $24 for the premium version and a free version for the lite version.
Key Features:
A great deal of compatibility
There is a tool for creating shortcodes
Providing support to customers
Configuration of colors and fonts
There are five different styles of timelines to select from
There are Media settings and icons
Designing in a responsive manner
Creates Beautiful Timeline Page Of Your WordPress Posts
Use the Post Timeline WordPress plugin to create a pleasing vertical timeline for your WordPress posts. This plugin displays a timeline based on the tags and dates you specify, then integrated into the navigation.
With this feature, you can easily enjoy some incredible features and receive a great deal of value. You can simply view stunning timelines with this feature, and you will receive a great deal of value at the end of the day!
Post Timeline is an essential plugin if you wish to create multiple timelines. It also features a custom header post, which can be customized.
---
💵 You can download the Lite version for free and the Premium version for a fee.
Key Features:
Provides support for multiple animation styles
The animation status can be changed
The background color can be set
You can set your date format
you can organize your timelines horizontally and vertically
There are five awesome navigation styles
The sorting order can be changed (descending/ascending)
There are 23 unique timeline templates available for you to choose from
Random Reviews:
Great experience using this plugin, easy to use, good documentation, and very responsive and helpful support.

Also, there is nothing displayed when I embed the code and adding a new timeline does nothing.

If you have a problem with the plugin, the support usually responds very quickly. I love the plugin and will upgrade to pro at some point.
A Responsive WordPress Timeline Plugin
Like Timeline Express, the Everest Timeline is a responsive timeline plugin with more than fifty pre-designed templates. It is the ultimate WordPress timeline plugin that displays your stories captivatingly.
As a result of the plugin, you can create various timeline layouts, such as a one-side layout, a Facebook Feed layout, a Twitter Feed layout, etc. Each layout can be customized according to your preferences.
The plugin offers the possibility of including images, sliders, YouTube videos, Vimeo videos, HTML videos, and SoundCloud music in your timeline; social media and sharing buttons can be added, and you can create a beautiful timeline that will make your website stand out among the competition.
---
💵 Price is $22.
Key Features:
There are five pre-designed one-side timeline templates available
There are five different types of layouts for displaying the timeline
Posts related to certain statuses can be shown in the timeline
A collection of 21 beautifully designed, responsive horizontal slider timeline templates
Pre-designed beautiful, responsive vertical timeline templates are available for use
The timeline is displayed following a search term
Media types of all kinds are supported
The timeline of a popular story/event can be accessed by viewing or commenting
Random Reviews:
The team at these guys have been amazing. I needed some customizations and they were always very helpful and responsive. I have tried a few paid plugins and this one has been the best overall.

I am very satisfied with timelines with available filters in the front-end which allows the users to filter data how they see fit.

This is a great plugin with excellent support. I encountered a problem with the slider but they fixed it for me and now it works fine. Thanks!
Let's wrap up
This was a list of the best WordPress plugins for you in 2022. If you want to boost your site, you can use them.
Thank you for taking the time to read about the best Timeline WordPress plugins. I hope you have found something original and fresh for your site.
Moreover, you may find our posts on the best WordPress blog themes of 2022 and the best WordPress blog plugins for improving your blog and boosting its subscribers and SEO.
Those with comments, feedback, or interests are welcome to write a comment. We'd appreciate you sharing this article on Facebook, Twitter, or other social sites.