Have you been looking for a way to display events or milestones on your WordPress website? Perhaps you've found yourself a bit overwhelmed by the multitude of timeline plugins available in the market.
This article will guide you through how to make an informed decision about plugins for your WordPress timeline, both free and paid, so you don't have to worry.
It doesn't matter if you're a blogger, entrepreneur, or anyone else who wants to showcase their journey in a unique timeline format, we have got you covered with such a timeline.
We've researched and tested each of the plugins, taking into consideration user-friendliness, design options, and features. In this article, you'll find everything you need to know about the six best timeline plugins available in the market.
Without further ado, let's dive right into the details. In the following sections, we'll take a closer look at each plugin, highlighting its pros and cons while providing you with a detailed guide on how to use it.
So, get ready to choose the right timeline plugin for your website and start displaying your events and milestones in style!
Best Timeline Plugins for WordPress
If you are looking to add a timeline feature to your WordPress website, we've rounded up the best timeline plugins for WordPress, both free and paid, to make it easy for you to find the right one for your needs. Check out our top picks below.
A Responsive WordPress Pure Html & Css Timeline
Cool Timeline allows WordPress users to create both horizontal and vertical timelines with responsive design options. Marketers can upgrade to the premium version which provides a wide range of layouts, themes, and advanced features including animation effects, pagination controls, and customization options for each story.
It is a plugin designed to help users improve the usability of their blogs by displaying a timeline of all of their published blog posts in order of ascending or descending date.
The plugin comes with over 40 timeline designs and smart generators that make adding shortcodes a breeze. Users have the ability to customize their timelines with custom color options for each story and typography settings for the timeline.
With Cool Timeline, you can rest assured you are getting optimized code and advanced design to make your timeline stand out. The pro version includes four different timeline layouts and a horizontal roadmap timeline. This plugin is a great addition to any website looking to showcase its content in a unique and engaging way.
Key Features:
Responsive design options
Wide range of layouts and themes for premium users
Customization options for each story
Over 40 timeline designs included
Smart generators for adding shortcodes
Custom color options for each story.
The Best WordPress Timeline Plugin
Timeline Express is a versatile WordPress plugin that allows website owners to create stunning vertical timelines. With this plugin, you can customize each announcement by setting the order of display, defining excerpt length, hiding the date, and uploading your own image.
It's suitable for both small and large sites and is also translation ready. The highlight of this plugin is the beautiful CSS animations it offers that can be applied to each announcement differently.
One of the most attractive features of this plugin is its ability to create multiple timelines, each of which can be assigned information for announcements to be displayed on that timeline.
You can also customize the appearance of each announcement by hiding the read more link, adding custom images, and organizing them by creating categories. International users will appreciate the localized date formatting provided by the plugin.
In addition to its powerful base features, Timeline Express also offers several extensions both in free and paid versions. These extensions provide even more customization options and features to enhance the timeline layout. The layout is also designed to be tighter with fewer spaces between announcements for a sleeker look.
Key Features:
Set up multiple timelines and assign announcements
Localized date formatting for international users
Powerful extensions available in free and paid versions
Tighter layout with fewer spaces between announcements
Organize announcements by creating categories.
Vertical & Horizontal Timeline For Elementor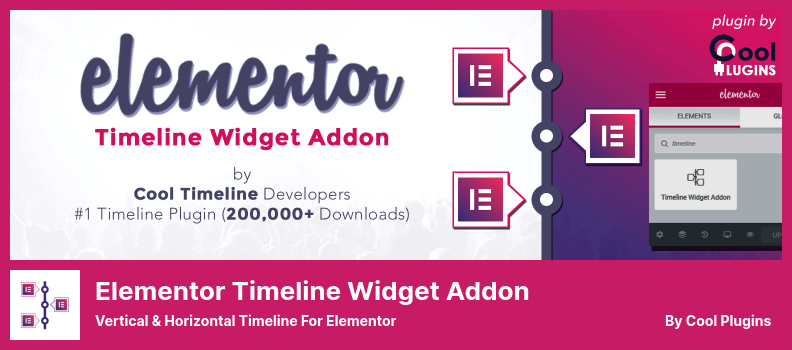 Using the Elementor Timeline Widget Addon, you can make a horizontal and vertical timeline with your WordPress site using the page builder plugin. You can customize your timeline with a lot of options with this widget, including dozens of templates, animation effects, and pagination.
Using this widget provides an excellent way to highlight various stories and events in a more detailed manner, especially when promoting your brand through the web. With the widget's advanced settings, you can easily include or customize colors, fonts, icons, images, and content within your timeline stories.
One outstanding feature of this widget is that it supports Elementor's inline editing, which allows you to edit your site's content directly instead of going back and forth between the WordPress editor and the Elementor editor.
Another great feature is Ajax pagination, allowing the stories to load automatically as you scroll through the page, improving your site's user experience.
Furthermore, this widget simplifies its customizable settings by providing tools to adjust the size of text or control the typeface used for the title, description, and other story elements.
Elementor Timeline Widget Addon is an intuitive and user-friendly addon that adds more life to your WordPress site. Still, note that it is only an add-on for the Elementor plugin, and if you want to use a specialized plugin for timelines, you'll have to use another plugin mentioned in this article.
Key Features:
Pagination options are included
Inline editing support
Dozens of pre-designed templates
Advanced animation effects
Ajax pagination is provided
Simple customizable settings.
A WordPress Timeline Plugin
By using Bold Timeline Lite, users can display events without restrictions in different contexts easily and with a user-friendly interface that makes it easy to use.
This WordPress plugin has five pre-defined styles, and by adding custom text and images, it becomes entirely personalized for you. With the option to use different colors, fonts, and icons, your timeline will be genuinely unique.
This timeline plugin offers an excellent deal of compatibility that works seamlessly with other WordPress plugins. There is also a shortcode builder tool available to facilitate the creation of highly customized timelines.
Furthermore, the support team will always provide you with excellent customer support, so you don't have to worry that you'll be lost if you run into any problems.
Bold Timeline Lite comes with a configuration setting that allows you to personalize colors, fonts, and visual elements to match your website's design. There are five different timeline styles to choose from, each with a responsive design that supports media, icons, maps, and more.
Key Features:
Five pre-defined styles are available
Custom text and image options
Compatibility with other WordPress plugins
The shortcode builder tool is  available
Personalizable colors and fonts.
Creates Beautiful Timeline Page Of Your WordPress Posts
Post Timeline is a WordPress plugin that allows you to create beautiful vertical timelines for your posts. This plugin uses tags and dates to display a timeline, which can be integrated into your site navigation.
With the plugin, you have access to amazing features that will add tremendous value to your site. You can easily create stunning timelines and customize them to your liking with ease.
One of the best features of the plugin is the ability to create multiple timelines on your site. This is a great way to organize your content and make it more visually appealing. Additionally, the custom header post feature allows you to add a unique touch to your timelines.
The plugin also lets you choose from five navigation styles, edit the animation status, set the background color, and change the animation status to keep your timelines interesting. As well as setting your own date format, you can organize timelines horizontally or vertically with the plugin.
With Post Timeline, you have the freedom to change the sorting order of your timelines to fit your needs. You can choose between ascending and descending orders based on your preferences. Additionally, the plugin offers 23 unique timeline templates that you can choose from to customize your timeline.
Key Features:
Support for multiple animation styles
Changeable animation status
Set background color
Custom date format
Horizontal or vertical timeline organization
Changeable sorting order.
A Responsive WordPress Timeline Plugin
Everest Timeline is a WordPress plugin that creates mesmerizing timelines on your website. With over fifty pre-designed templates, you can customize your timeline to suit your preferences.
Its responsive design enables it to showcase images, sliders, YouTube videos, Vimeo videos, HTML videos, and SoundCloud music in your timeline.
You can easily integrate social media and sharing buttons into your timeline with the plugin. It is the perfect plugin to make your website stand out from the competition.
It provides you with various timeline layouts, such as a one-side layout, a Facebook Feed layout, a Twitter Feed layout, etc. Each layout can be customized to your liking. It is also possible to display posts related to certain statuses in the timeline.
This plugin offers you five pre-designed one-side timeline templates and a collection of 21 beautifully designed, responsive horizontal slider templates. It also supports responsive vertical timeline templates which you can use.
Everest Timeline allows you to access timelines following a search term, and all media types are supported. You can view or comment on the timeline of a popular story/event with the plugin.
Key Features:
Over fifty pre-designed templates
Responsive design with media support
Customizable timeline layouts
One-side and horizontal slider timeline templates
Vertical timeline templates
Search term timeline access.
Frequently Asked Questions
What are WordPress timeline plugins?
WordPress timeline plugins allow you to create interactive timelines for your website, displaying events, milestones, and achievements in a visually appealing way.
Why should I use a timeline plugin?
A timeline plugin allows you to showcase your company's journey, history, and achievements in a visually appealing and interactive way. It helps make your website more engaging and can help you stand out from the competition.
How can I choose the best timeline plugin for my WordPress site?
When choosing the best timeline plugin for your WordPress site, consider the features it offers, ease of use, customer reviews, and compatibility with your theme and other plugins. Additionally, you may want to consider whether the plugin is free or paid.
Conclusion
In conclusion, we hope that our comprehensive guide to the 6 best WordPress timeline plugins (free and paid) has been insightful and informative. We have covered everything from the features and benefits of each plugin to their compatibility with different WordPress themes.
If you found this article helpful, we encourage you to browse the BetterStudio blog for more related tutorials and tips on how to improve your website. Additionally, follow us on Facebook and Twitter to stay up-to-date with our latest tutorials and guides.
Thank you for reading our post and if you have any questions or feedback, please leave a comment below. We would be happy to help you!