Do you have a WordPress website and are looking for the best eCommerce plugins to enhance your online store? Well, you've come to the right place! In this blog post, we will be sharing the 12 best WordPress eCommerce plugins, both free and pro, that will take your online business to the next level.
Now, you may be wondering, why I need ecommerce plugins for my WordPress site. The answer is simple – these plugins are designed to optimize your eCommerce functionalities, making it easier for you to manage your store, showcase your products, and process transactions seamlessly.
By choosing the right plugins for your WordPress website, you are enhancing your user experience, improving your sales, and ultimately growing your business online as a whole.
This article will provide you with an overview of 12 top WordPress eCommerce plugins that are available, so you can decide which of them would be the best choice for your website.
We'll discuss their features, pricing, and benefits, so you can make an informed decision about which ones are best suited for your specific needs. Get ready to take your online store to new heights with these powerful eCommerce plugins!
Best eCommerce Plugins for WordPress
If you are looking to take your WordPress website to the next level with an eCommerce feature, look no further! In this article section, we've handpicked the 12 best WordPress eCommerce plugins, both free and pro, to help you create a seamless and successful online store.
Our aim is to introduce you to 20 powerful tools that you can use in order to turn your website into a productive online business and become successful in your online endeavors.
The Best eCommerce WordPress Pluign
In BigCommerce, you get a single dashboard to manage sales and inventory, which is a plugin that integrates with WordPress. It's a cloud-hosted store that's easy to integrate with WordPress, so it's great for beginners. Skullcandy, Ben & Jerry's, and Camelbak use this plugin, which means it's reliable and powerful.
However, it's important to note that this plugin is not suitable for selling both physical and digital products. For that, WooCommerce is a better alternative. It is designed specifically for online shops and has its own eCommerce platform, content management system, and hosting facilities.
You can boost web sales with the plugin's powerful eCommerce platform. It's also got a bunch of features like selling digital products on Facebook, Instagram, and Amazon. The plugin lets you run the system on multiple sites, so you can keep your eCommerce engine separate from other content on different sites.
The plugin lets you pick from a bunch of payment gateways, so your transactions will run smoothly. It comes with 80+ responsive templates, so your online store can look and feel whatever way you want. It's also got shipping and fulfillment, so it's easy to manage orders and deliveries.
One of the standout features of the plugin is its enterprise-grade security. You can rest assured that your customer's information is protected with the latest security measures in place. Additionally, unlike some other plugins, you only pay transaction fees to the payment provider, saving you money in the long run.
Using BigCommerce also frees up space on the front end of your website, as it makes use of WordPress resources, reducing clutter and enhancing user experience. Finally, it handles all PCI Compliance, ensuring that your online store meets the necessary security standards.
Key Features:
Sell digital products on Instagram, Facebook, and Amazon
Run the system on multiple sites
Shipping options and fulfillment services
Keep eCommerce separate from other content
Choose from top payment gateways
Transaction fees only paid to the payment provider
World's Most Popular eCommerce WordPress Plugin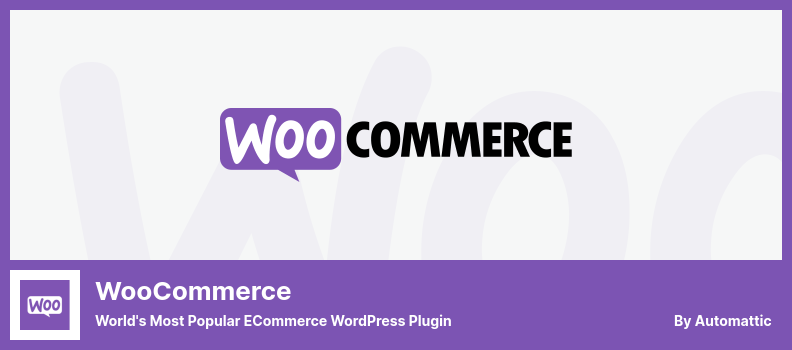 WooCommerce, the king of eCommerce plugins for WordPress, is a powerful and reliable tool that allows you to create an online store for your blog. Owned by Automattic, a renowned and trusted company, this plugin offers a high level of customization and flexibility.
One of the significant advantages of the plugin is its compatibility with all WordPress eCommerce themes. However, setting it up might be a bit challenging for some users. But don't worry, with a little patience and effort, you can easily get it up and running.
With this plugin, you have the freedom to create an e-commerce store that fits your needs, whether you're selling a few products or thousands. It's a versatile plugin that caters to both beginners and advanced website owners.
What sets the plugin apart from its competitors is its ability to sell digital products. Unlike other platforms like BigCommerce, it allows you to effortlessly sell digital goods, making it suitable for artists, musicians, and online course creators.
Managing your inventory is a breeze with the plugin. You can easily track and update your products or even assign this task to a store manager. It also offers community forums where you can interact with other users and seek help or share your experiences.
When it comes to payment options, the plugin has you covered. It comes with built-in support for popular payment gateways, ensuring a smooth and secure transaction process for your customers.
Setting up your own eCommerce store has never been easier. With just a few clicks, you can create a fully functional online store, customize its appearance, and start selling your products. No coding skills required!
Worried about the number of products and visitors? Well, the plugin has got you covered. It allows for an unlimited number of products and can handle heavy traffic without any performance issues.
Calculating taxes and shipping costs can be a daunting task, but the plugin automates this process for you. It automatically calculates taxes based on your location and offers various shipping options to ensure accurate and efficient order fulfillment.
With WooCommerce, you have access to hundreds of extensions and themes to enhance your store's functionality and design. Whether you're looking to integrate with popular services or spice up your store's aesthetics, there's an extension or theme for every need.
Key Features:
Easy inventory management
Community forums for support
Built-in support for popular payment gateways
Simple setup for your eCommerce store
Sell digital products hassle-free
Suitable for beginners and advanced users
Simple eCommerce WordPress Plugin for Selling Digital Files
Easy Digital Downloads is a WordPress plugin that is specifically designed for digital sales. It stands out from other eCommerce plugins like WooCommerce due to its feature-packed nature and cleaner interface. With this plugin, website owners can effortlessly sell digital products on their sites.
One of the main benefits of using the plugin is its functionality geared toward digital sales. It provides all the necessary features for selling digital products, making it a convenient choice for online shop owners. Additionally, it offers a full shopping cart and file access control, ensuring a seamless experience for customers.
Another advantage of the plugin is its flexibility when it comes to payment gateways. It provides many options for choosing your own payment gateway, similar to what WooCommerce offers. This means that you can easily integrate your preferred payment method into your WordPress shop.
One of the standout features of the plugin is its ability to send customers an email with the download link immediately after purchase. This ensures a smooth and efficient delivery process, enhancing customer satisfaction.
Additionally, Easy Digital Downloads comes with many different themes to choose from, allowing you to customize the look and feel of your online shop. It also offers dozens of add-ons, expanding the functionality of the plugin and allowing you to tailor it to your specific needs.
Key Features:
Activity tracking

for monitoring website performance

File access control for efficient management of digital products
No cost for using it in your WordPress shop
Wide range of themes to choose from for customization
Discount codes to attract and retain customers
Immediate email delivery of download links after purchase
The "All-In-One" eCommerce Plugin for WordPress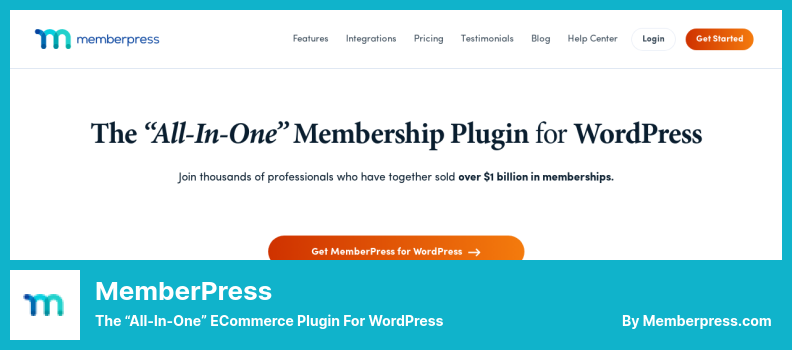 In WordPress, you can create and manage memberships with MemberPress. It allows you to restrict access to a variety of different kinds of content, including posts, pages, categories, tags, and more. You can also set up unlimited membership plans to fit your needs.
Using the plugin, users can also automate the setup of pricing, login, account, and thank you pages, thus making the process of getting started on a website easier and more straightforward.
The plugin integrates with Mailchimp and Constant Contact, so you can seamlessly connect your membership site to your email marketing campaigns. It also lets you track referrals and ads, so you can figure out which marketing strategies are working.
If you have an online course or learning management system, the plugin integrates beautifully with LearnDash. You can create and sell courses directly from your WordPress website, making it a convenient all-in-one solution.
It offers a customizable checkout process, allowing you to create a seamless purchasing experience for your customers. You can define content restriction rules, giving you full control over what your members can access. You can even release paid content over time, drip-feeding your content to members on a schedule.
With the plugin, your members can get discounts and promotions. Coupons can be created and managed with full control. You might want to check out another plugin like BigCommerce if you're looking for more payment gateways. With the plugin, you can only use a few payment gateways.
This plugin lets you create dynamic pricing pages. You can offer different packages and prices to your members, which gives you more flexibility when it comes to monetizing your website. Plus, MemberPress can work seamlessly with WooCommerce if you want to sell physical or digital stuff.
An Easy to Use WordPress Ecommerce Plugin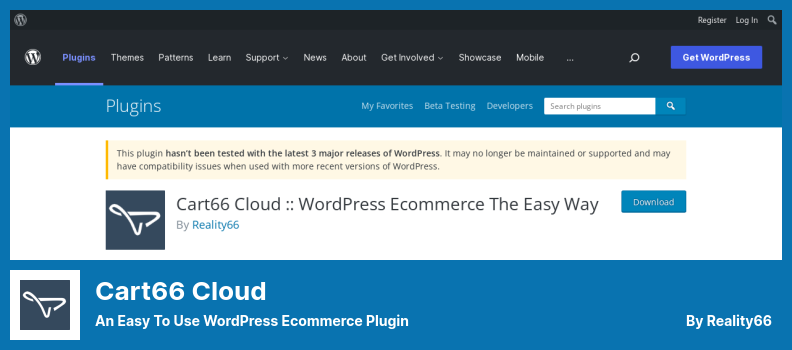 Cart66 Cloud is a WordPress plugin that simplifies the process of setting up an online store. Unlike other eCommerce plugins, it doesn't require additional extensions or add-ons to function properly. This means you can avoid the hassle of integrating multiple tools into your website.
With this plugin, you can easily create an online business, even if you don't know anything about coding. One of the best things about it is how seamless the front-end is. Your store's interface makes it easy to manage your products, handle transactions, and customize them.
In the world of eCommerce plugins, the plugin stands out as a strong competitor to WooCommerce. It offers pre-integrated eCommerce features, saving you the need to purchase additional extensions. Unlike MemberPress, however, it is not integrated with Mailchimp.
This plugin stands out because it's a hosted solution for WordPress eCommerce. Users can segment their lists, send follow-up emails, and restrict content with it. It's available both for free and for money, so you'll have lots of options. Users get support, tools, and tools from the company.
When it comes to payment gateways, the plugin has you covered. With over 100 built-in gateways to choose from, you can easily accept payments for physical and digital products. The plugin also includes features for recurring payments, making it a great option for subscription-based businesses.
One of the reasons why Cart66 Cloud is an excellent choice for beginners is its dedicated customer support team. They provide full-time support to help you navigate any issues or questions that arise while using the plugin. This level of support can be invaluable when you're starting out and need guidance along the way.
Key Features:
List segmentation tools
Dedicated customer support team
Timed follow-up emails
Built-in essential features
Content restriction and recurring payments
The Best WordPress Plugin to Sell on Your Online Shop
Ecwid Ecommerce Shopping Cart is a WordPress plugin that allows you to easily create an eCommerce shopping cart for your WordPress website. It has received excellent ratings and offers a similar application setup to WooCommerce, but operates in a different way.
One of the standout features of this plugin is that it allows you to add up to ten free products to your store with the core plugin. This makes it a great option for small businesses that don't need a large inventory.
What's great about the plugin is that it offers a mobile-responsive shopping cart, which is essential in today's mobile-first world. This means that your customers can easily browse and purchase products from their mobile devices without any issues.
Unlike other plugins like WooCommerce, the plugin is not limited to a specific platform. It is compatible with a wide variety of websites, including Facebook, Instagram, Joomla, Wix, and Weebly. This gives you the flexibility to sell your products on multiple sites and reach a larger audience.
With the plugin, you also get access to a range of features that can enhance your eCommerce store. Social media tools are available to help you promote your products on platforms like Facebook and Instagram. There is also phone and chat support provided, so you can get help whenever you need it.
With the plugin, you don't have to worry about manually updating it and potentially running into technical problems. It does all your plugin upgrades automatically, so you don't have to worry about that. You can also create and apply discount coupons to your products and use Google shopping support.
Another key feature of the plugin is its automated tax calculation functionality. This saves you time and effort by automatically calculating taxes based on the customer's location, making the checkout process seamless.
To summarize, Ecwid Ecommerce Shopping Cart is a versatile WordPress plugin that allows you to create an eCommerce shopping cart for your website. Its compatibility with multiple platforms, extensive features, and excellent support make it a reliable choice for online store owners.
Key Features:
Social media tools for easy promotion
Phone and chat support for assistance
Automatic plugin upgrades for hassle-free management
Google shopping support for broader reach
Discount coupons to attract customers
Automated tax calculations for seamless checkout
Number One eCommerce Store WordPress Plugin
If you're new to WordPress and you don't know how to code, you should check out the Shopping Cart & eCommerce Store plugin. The app works with Quickbooks and MailChimp for accounting and email marketing. It's even better because TaxCloud and ShipStation are just integrated.
With this plugin, entrepreneurs and small business owners can easily launch an online store without spending a lot of time and effort on WordPress web integration tools. Whether you're selling physical products or digital goods, this plugin has got you covered.
One of the standout features of this plugin is its user-friendly interface, making it easy for beginners to navigate. It also offers options for sending out invoices and asking for donations, catering to a wide range of business needs.
The plugin also includes live shipping calculators, enabling users to provide accurate shipping costs to customers. It offers advanced product variants and support for unlimited products, giving you the flexibility to showcase and sell your entire inventory.
Another great feature of this plugin is its integration with TaxCloud, streamlining the tax calculation process for online sales. Additionally, it allows you to sell both digital and physical goods, making it a versatile solution for any type of e-commerce business.
Key Features:
Live shipping calculators for accurate cost estimation
Integrated accounting and email marketing campaigns
Seamless integration with TaxCloud and ShipStation
Easy setup for users without coding skills
Suitable for selling physical and digital products
Options for sending invoices and asking for donations
WordPress Plugin for Selling Digital on Website
WP eCommerce is a widely used plugin for eCommerce in WordPress. It is a free platform that includes a marketplace of paid add-ons to extend its core functionality. While it may lack customization options, it is ideal for those familiar with WooCommerce or looking to use a familiar eCommerce platform.
One of the major drawbacks of the plugin is its limited customization options. This may make it less desirable for website owners who are looking for more flexibility in their online store. However, the plugin does offer a variety of features that can still meet the needs of many users.
The free version of the plugin allows users to search for products, but the payment gateways are not as well supported as they are in the paid edition. This means that if you are looking for more robust payment options, you may need to invest in the paid version of the plugin.
Another point to consider is that creating an online store with the plugin may require the use of additional paid plugins. This means that while the plugin itself is free, you may still need to spend money on other plugins to fully customize and optimize your online store.
One of the key advantages of the plugin is its similarity to WooCommerce, the most popular eCommerce plugin for WordPress. The plugin offers similar appearance, functionality, and paid extensions, making it a viable alternative for those familiar with WooCommerce.
In terms of features, the plugin offers great documentation and has a large community for support. It allows the use of WordPress-specific PHP tags, use of shortcodes, and widgets, providing flexibility for customization.
The plugin also supports many online payment modules, including Google Checkout and PayPal. Additionally, it integrates with important social networks and includes good optimization for search engines.
Key Features:
Great documentation and support from a large community
Ability to use WordPress-specific PHP tags, shortcodes, and widgets
One-page checkout for customer's cart content, shipping information, and billing details
Support for multiple online payment modules, including Google Checkout and PayPal
Integration with important social networks
Good optimization for search engines
The #1 WordPress Plugin for SEO
Yoast SEO is a powerful WordPress plugin that revolutionizes your website's SEO game. With its popularity and user-friendly interface, it's not surprising that the plugin has become a go-to tool for many website owners.
This plugin is available in both free and premium versions, and it offers a wide range of functionalities to enhance your website's search engine optimization. Whether you're a beginner or an advanced user, the plugin caters to all levels of expertise.
One of the standout features of the plugin is its ability to analyze and optimize various aspects of your content. It checks important elements like titles, meta descriptions, and keyword inclusion to ensure that you have a strong foundation for on-page SEO.
Another valuable feature is the automatic creation of XML sitemaps for all your website's content. These sitemaps help search engines effectively index your site, leading to improved visibility in search results.
Along with these SEO tasks, the plugin has a few other features that make it an awesome website SEO tool. There's a redirect manager in the premium version, so you can manage your URLs and redirects easily. You can also export focus keywords for analysis and canonical support has been improved.
To help you fully understand and utilize all the features, the plugin provides video tutorials that guide you through each functionality. This ensures that you can make the most of the plugin and improve your website's SEO effectively.
Basically, this plugin is awesome for SEO. It has everything from title optimization to XML sitemaps and redirects, so it's a great WordPress plugin for SEO. Because of its intuitive interface and comprehensive features, Yoast SEO is easy for WordPress webmasters to use.
Key Features:
Redirect manager for easy setup of redirects
Improved canonical support
Google search result snippet previews
Export focus keywords for analysis
Google Search Console verification
Video tutorials for each feature
The Best WordPress Caching & Speed Plugin
WP Rocket is a powerful WordPress caching plugin that can greatly improve the performance of your website. With its easy-to-use interface, you can optimize your site's speed and make it load faster for your users.
This plugin has page cache as well as browser cache support, which makes it really cool. Static content, like images and CSS files, can be stored and reused, so users don't have to reload every time they navigate through your site. This makes browsing faster and smoother.
The plugin not only caches, but it also has a bunch of extra features that can make your site even better. You can, for example, set it up so that images only load when they show up in the viewport, reducing loading time and improving performance.
Another useful feature is the plugin's support for CDN (Content Delivery Network). A CDN allows your static content to be stored on servers located around the world, closer to your users. This reduces latency and improves the loading speed of your site, especially for users who are geographically distant from your server.
The plugin also provides minification, which is the process of removing unnecessary characters from your HTML, CSS, and JavaScript files. This helps to reduce file sizes and improve the loading speed of your site. Additionally, the plugin removes unused CSS and JavaScript, further optimizing your site's performance.
The plugin has specialized optimization features for eCommerce sites. It excludes the checkout pages from caching so your customers get the right information when they buy. This prevents any possible conflicts or errors caching may cause on these vital pages.
The plugin also offers database optimization, which helps to improve the efficiency of your site's database. By optimizing and cleaning up your database tables, it ensures that your site runs smoothly and efficiently.
You can use WP Rocket to cache your site in a few minutes with its comprehensive caching plugin. Besides its easy-to-use interface, it has powerful features like page caches, browser caches, lazy loading, minification, and CDN support, so it can boost your site's performance.
Key Features:
Checkout page exclusion from caching
Optional features to enhance performance
Advanced caching capabilities
Minification and concatenation of HTML, CSS, and JavaScript
Removal of unused CSS and JavaScript
Compatibility with the server Cloudflare
WordPress Plugin for Growing Email List & Getting More Leads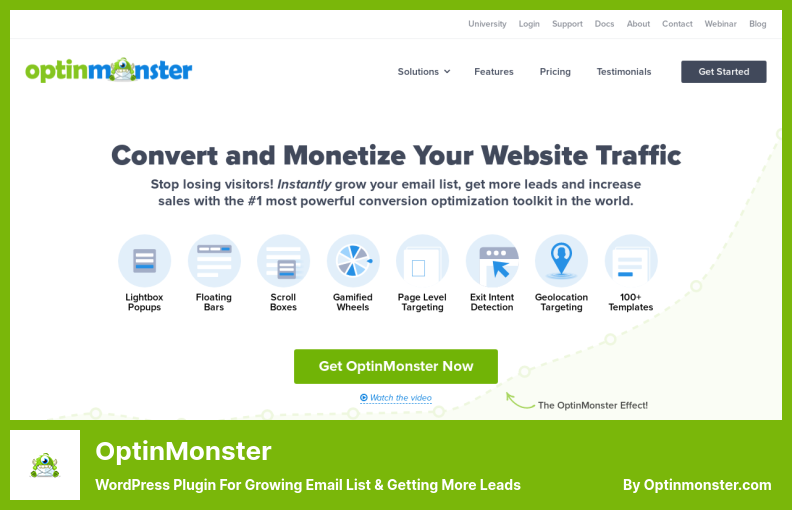 OptinMonster is an incredible tool that allows you to create various conversion campaigns on your WordPress website. With features like exit-intent popups, slide-in boxes, and content lockers, this plugin helps increase conversion rates and promote your business effectively.
One of its best things is that it has all kinds of campaign types and target options, so you can get people's attention and create highly customized campaigns. With the drag-and-drop design editor and visual builder, you can make your campaigns look the way you want.
The plugin also offers detailed analytics reporting, giving you insights into the performance of your campaigns. You can track metrics like conversions, click-through rates, and more, allowing you to make data-driven decisions to optimize your campaigns for better results.
Another great aspect of this plugin is its ability to grow your email list and boost website views. With the help of exit-intent popups and other conversion campaigns, you can capture visitors' attention and encourage them to take action, such as signing up for your newsletter or making a purchase.
The plugin offers native integrations with dozens of email providers, making it seamless to connect with your existing email marketing platform. This allows you to easily sync your leads and automate your email marketing efforts.
One of the standout features of OptinMonster is its 50+ beautiful templates. These templates serve as a starting point for creating stunning campaigns that complement your eCommerce website. You can easily customize these templates to match your branding and create a seamless user experience.
Key Features:
Content lockers for exclusive access

Powerful targeting and trigger options

Wide range of targeting tools

Detailed analytics reporting

Drag-and-drop visual builder

Multiple campaign types
Easily Improve SEO Rankings & Increase Traffic
All in One SEO is a WordPress plugin that allows you to connect your website to it and manage your SEO settings right from your dashboard. It offers features like schema markups, knowledge graphs, and local SEO. With this plugin, optimizing your website for search engines becomes a simplified task.
One of the key features of the plugin is its ability to generate and submit your sitemaps and RSS feeds to search engines like Google, Bing, and Yahoo. This ensures that your website becomes more visible to these search engines, ultimately attracting more visitors.
Another useful feature of this plugin is its SEO audit checklist. It allows you to check your entire WordPress website for errors and provides you with suggestions on how to improve it. This ensures that your website is constantly updated and easily accessible for search engine optimization purposes.
In addition to these features, the plugin also offers content and on-page SEO analysis, a headline analyzer, social media integrations, and optimization recommendations. It also allows you to control your settings from your dashboard, making it convenient and user-friendly.
With All in One SEO, your posts and pages will be included in search results snippets, increasing their visibility and attracting more organic traffic. The plugin also includes technical SEO features like robots.txt, ensuring that your website is optimized at every level.
Key Features:
Headline analyzer for writing compelling titles that attract readers
Offers schema markups for better search engine visibility
Knowledge graphs are available for enhanced information display
Content and on-page SEO analysis provided for improved optimization
The SEO audit checklist helps identify and fix errors on your website
Social media integrations for seamless sharing and promotion
Frequently Asked Questions
What are the benefits of using WordPress eCommerce plugins?
WordPress eCommerce plugins provide a user-friendly interface, allowing you to easily manage products, track inventory, and process payments. They also offer various customization options to match your brand's design and enable integration with popular payment gateways.

Additionally, these plugins provide analytics and reporting features to help you monitor and optimize your online store's performance.
How do I choose the right WordPress eCommerce plugin for my online store?
When choosing a WordPress eCommerce plugin, consider factors like your business needs, budget, ease of use, and desired features.

Look for plugins that offer a seamless integration with your existing WordPress website, have good customer reviews, and provide reliable customer support.
It's also important to analyze the scalability and compatibility of the plugin with future business growth plans.
Can I use multiple eCommerce plugins on my WordPress site?
While it is technically possible to use multiple eCommerce plugins on a WordPress site, it is generally not recommended. Using multiple plugins can cause conflicts and compatibility issues, which may result in errors or a poor user experience.

It's best to choose a single eCommerce plugin that meets all your requirements and properly configure it to avoid any potential issues. Additionally, using a single plugin will make it easier to manage and maintain your online store.
Conclusion
To wrap up this article, we've discussed the top 12 WordPress eCommerce plugins, both free and pro options, to enhance your online store. From seamlessly integrating payment gateways to providing customizable product pages, these plugins offer a range of benefits to meet your specific eCommerce needs.
If you're hungry for more tutorials and guides on WordPress plugins and themes, be sure to visit the BetterStudio blog. As your go-to resource for all things WordPress, we regularly publish informative content to help you navigate the world of website customization and optimization.
For real-time updates and the latest tutorials, don't forget to follow BetterStudio on our social media channels. Join our vibrant community on Facebook and Twitter, where we share valuable insights and keep you in the loop with all our helpful tips and tricks.
You can get a lot of help from this article. It's packed with information and solutions to help you build your eCommerce website. If you're having any trouble installing the plugins, don't hesitate to post a comment below. Our support team is always there. Have fun building your website!