Have you ever wondered about the best CSS and CSS Live Editor WordPress plugins for 2023? Well, you're in luck because, in this blog post, we will be exploring the top 7 plugins that can help you take your WordPress website design to the next level.
Whether you're a beginner or an experienced website owner, finding the right CSS and CSS Live Editor plugins can be a challenging task. But don't worry, we're here to guide you through the process and help you find the perfect plugin for your needs.
In this article, we will not only introduce you to the best CSS and CSS Live Editor WordPress plugins of 2023 but also provide you with some interesting statistics and facts about each plugin.
Our goal is to make your decision-making process easier by giving you all the information you need to choose the right plugin for your website.
So, if you're ready to enhance the design and functionality of your WordPress website, keep reading as we dive into the world of CSS and CSS Live Editor plugins and explore the top contenders for 2023. Let's get started!
Best CSS & CSS Live Editor Plugins for WordPress
If you're a WordPress website owner looking to enhance the design and customization of your site, you'll definitely want to check out these top-rated CSS and CSS Live Editor plugins.
With their user-friendly interfaces and powerful features, these plugins will take your website's appearance to the next level. So, let's dive in and explore the best options available in 2023!
Intuitive Point and Click Interface WordPress Plugin
CSS Hero is a powerful editor WordPress plugin that allows you to have total control over the design of your website. With CSS Hero, you can customize every aspect of your site's appearance, making it look exactly how you want it to.
Whether you're a professional developer or a beginner, this plugin is user-friendly and requires no knowledge of coding.
One of the standout features of CSS Hero is the ability to save all your edits along the way. This means you can always go back and start from where you left off, and easily undo any changes you've made. This not only saves you time but also ensures that you don't make any mistakes or accidentally damage your website.
CSS Hero offers a wide range of styles and layouts to choose from. You can either use the plugin to customize your own theme, or you can take advantage of the pre-designed layouts that are available for free.
With over 29 unique layouts and hundreds of styles to choose from, you can easily create an attractive website that will impress your visitors and potential clients.
One of the best things about CSS Hero is that it allows you to make changes to your website's layout without having to touch a single line of code.
With just a few clicks, you can modify the layout and appearance of your site to match your vision. Even if you're not familiar with coding, the current version of CSS Hero makes it easy for anyone to make these changes.
Key Features:
Animated on-scroll content
Checkpoint and save feature for easy editing
Integration with the Unsplash platform for high-quality images
Font style and typography customization options
Flexible theme layout editing capability
Comprehensive control over the inspection process
Ability to save and export your code for future use.
Custom CSS Addition WordPress Plugin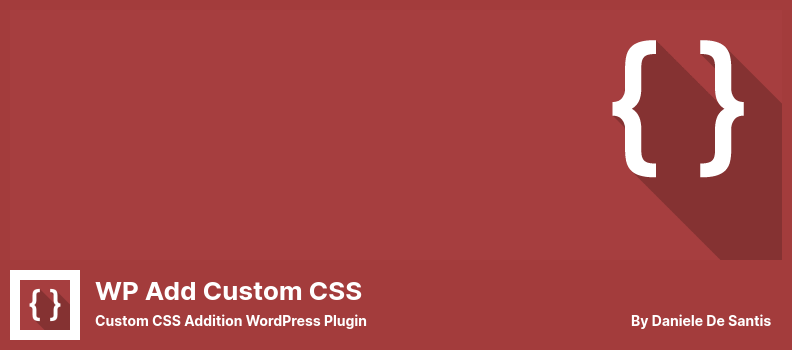 WP Add Custom CSS is a WordPress plugin that allows proficient programmers to effortlessly manage the CSS of their website directly from the front end.
With this plugin, you can add custom CSS codes to every page of your site directly from the WordPress dashboard. It's a user-friendly tool that empowers you to create the website of your dreams.
One of the standout features of WP Add Custom CSS is its CSS manager, which sets it apart from other plugins in its category. This manager provides a seamless way to add custom styles to your site and is easily accessible from the WordPress Dashboard.
If you have experience with adding themes through CSS, this plugin will perfectly cater to your needs, ensuring that your site looks exactly the way you envision it. It's a fantastic option for those comfortable with writing and editing CSS.
To make your coding experience even more enjoyable, WP Add Custom CSS offers a code syntax highlighter. This feature enhances code readability and simplifies working with code.
You can now easily spot and rectify any errors in your CSS code thanks to the plugin's error-checking process called code linting. It helps you identify and fix any issues within the CSS code.
What sets WP Add Custom CSS apart is its user interface, which is built on WordPress' UI. This familiar interface makes navigating the plugin a breeze, even for those who may be new to CSS customization.
You don't need to worry about complex configurations or technical knowledge – the plugin ensures a smooth and straightforward user experience.
Key Features:
Code syntax highlighter for easier coding experience.
Real-time preview of Customizer Control.
Error-checking process for code linting.
User-friendly interface based on WordPress' UI.
No complex configurations required.
Powerful CSS Editor for WordPress
SiteOrigin CSS is a powerful CSS live editor plugin for WordPress that allows users to build comprehensive websites without the need for extensive programming knowledge. It offers a range of features and is compatible with various themes.
One of the most impressive aspects of SiteOrigin CSS is its real-time editing feature. As you make changes to your website, you can immediately see how they look. This is incredibly helpful for customizing your site and ensures that you can make adjustments that suit your needs.
If you're new to CSS selectors, SiteOrigin CSS can be a lifesaver. It helps you locate the right selector to modify specific elements on your webpage. This feature is particularly useful for beginners who are still learning the ropes of CSS editing.
The plugin also comes with a powerful CSS editor that allows you to fix any errors in your code before publishing it. It provides autofill features for selectors and attributes, making the editing process even easier for experienced users.
Despite its range of advanced features, SiteOrigin CSS also offers a Visual Editor for simple design changes. This means you don't need any coding knowledge to make basic adjustments to your site's design. The plugin provides a user-friendly interface that simplifies the customization process.
Key Features:
Compatibility with any WordPress theme, including custom ones
Powerful inspection engine for your website
Easy-to-use CSS editor
Automated CSS code completion
Intuitive visual editor
Real-time editing feature
Help with locating CSS selectors
Error fixing capabilities
Autofill features for selectors and attributes
Dynamic inspector for advanced CSS editing
Theme's CSS OverWrite WordPress Plugin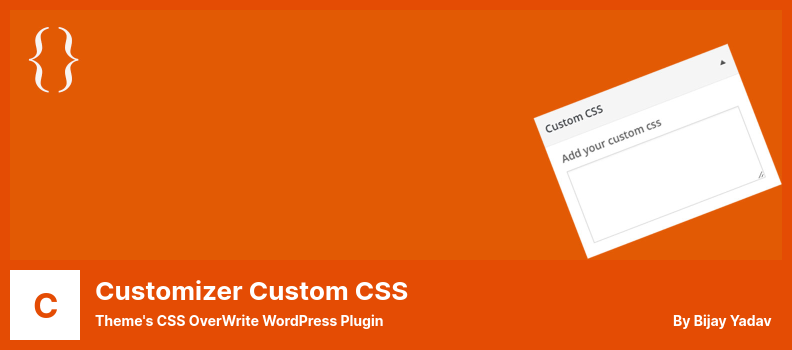 Customizer Custom CSS is a CSS live-editing plugin developed by Bijay Yadav. It won the title of the simplest CSS live-editing plugin, making it a popular choice for WordPress website owners. With this plugin, you can easily customize the appearance of your website by entering CSS rules in a text box.
One of the standout features of Customizer Custom CSS is its ability to create styles based on viewport breakpoints using media queries.
This means that you can target smaller devices and make specific changes, even when automatic presets are not available. It's a great way to ensure that your website looks and functions perfectly across different screen sizes.
Using this plugin is incredibly straightforward. After installing and activating it, you can find the Custom CSS tab in the Customizer menu under Appearance > Customize.
Once you select the customizing text box, you can start entering rules, and the Customizer preview window will automatically update as you make changes. This allows you to see the impact of your CSS updates in real-time.
In addition to offering a live preview, Customizer Custom CSS also keeps track of the changes you make. This means you can easily revert back to a previous version if needed, giving you more flexibility and control over your website's design.
Another useful feature of this plugin is its interactive HTML and CSS editor. With this editor, you can edit margins and padding visually, making it easier to fine-tune the layout of your website.
One aspect that sets Customizer Custom CSS apart is its CSS selector, which automatically selects content for you. This saves you time and effort, as you don't have to manually select each element you want to style.
Key Features:
Customizes the WordPress login page
Provides a live preview of CSS changes
Tracks changes made in the system
Offers an interactive HTML and CSS editor
Allows visual editing of margins and padding
Uses a CSS selector to automatically select content
Supports targeting smaller devices with media queries
Integrates seamlessly with the WordPress Customizer
Provides an intuitive interface for easy CSS customization
Offers great flexibility and control over website design.
Visual CSS Style Editor Plugin

Yellow Pencil is a visual CSS style editor plugin that allows you to customize your WordPress website without any coding knowledge. It offers a code-free plugin, as well as a CSS editor for those who prefer manual customization.
With Yellow Pencil, you can easily identify CSS selectors in your theme and make changes directly, making it a valuable tool for both beginners and experienced web designers.
One of the major benefits of Yellow Pencil is its real-time editing feature, which allows you to view and edit your website as you make changes. This makes the customization process more efficient and convenient. Additionally, the plugin offers a free trial version that allows you to test its features before making a commitment.
With over 300 different backgrounds, 600 font families, and 50 animations to choose from, Yellow Pencil gives you endless options for customizing the look and feel of your website. Whether you want to make small tweaks to your theme or completely redesign your entire website, Yellow Pencil has you covered.
For those who are new to the plugin, Yellow Pencil provides extensive documentation to help you get started. This ensures that even beginners can take full advantage of the plugin's powerful features.
The plugin also offers approximately 60 CSS properties, allowing you to create a custom look for any page and element on your website.
Yellow Pencil also simplifies the process of managing your changes. You can easily use the visual drag-and-drop feature to move items around and adjust the visual margins and padding of your documents. Additionally, Yellow Pencil allows you to make your WordPress login page unique and eye-catching.
Key Features:
Over 300 backgrounds, 600 font families, and 50 animations
Code-free customization for WordPress websites
Real-time editing for efficient website customization
Approximately 60 CSS properties for customizing any page and element
Visual drag and drop feature for easy management of changes
Unique customization options for WordPress login page
Automatically generated CSS selectors for easy identification and customization.
Custom Site-wide CSS Styles and Javascript Code Addition Plugin
Custom CSS and JavaScript is a plugin that allows you to easily add and edit CSS and JavaScript code on your WordPress website. It offers a range of advanced features, such as SCSS code support, live previews for CSS, and the ability to upload and download individual CSS and JavaScript files.
One of the standout features of this plugin is its syntax highlighting function, which makes it easy to identify and highlight code. Additionally, the plugin automatically saves your changes using AJAX, eliminating the need to reload the editor after each save.
Another impressive feature is the plugin's ability to reduce the size of your custom CSS and JavaScript files, resulting in faster download times for your website.
If you ever find that you don't like the changes you've made and want to revert back to a previous version, this plugin allows you to view and restore your previous versions with ease.
Custom CSS and JavaScript is a reliable tool for adding custom CSS and JavaScript code to your WordPress website. Unlike other plugins that serve customized code from a database, this plugin serves them directly from the file system, ensuring optimal performance.
Key Features:
Minimizes CSS and JavaScript codes.
Save and preview drafts of your CSS and JavaScript code.
Edit code with a user-friendly editor.
Syntax highlighting and AJAX saving features.
Organize code into separate files.
View and restore past revisions.
Live CSS Editing with HTML Inspection Plugin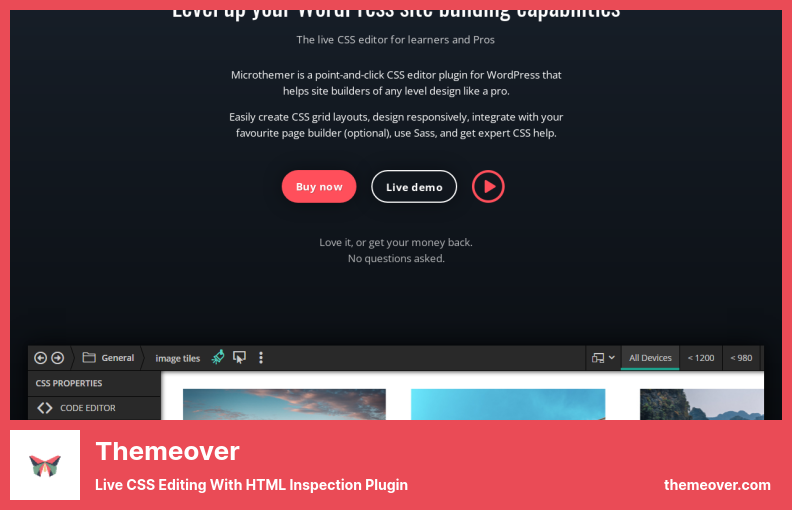 Themeover is a premium WordPress CSS editor plugin that allows you to easily customize the design and appearance of your website. With its versatile and intuitive interface, even non-programmers can customize color schemes, fonts, backgrounds, and layouts to create a unique and personalized website.
One of the standout features of Themeover is its Draft Mode, which allows you to experiment with different designs without affecting the user experience. This means you can play around with styles and layouts until you're satisfied with the final design before publishing it.
It provides a safe and secure environment for editing, ensuring that you don't accidentally make any unwanted changes.
The editor also offers a lightweight technology, ensuring that your website loads quickly even with the added customization. It's not just limited to visual changes either – you can also add and edit content directly within the editor, making it a powerful all-in-one tool for website customization.
For developers, Themeover supports coding in CSS, SCSS, and JavaScript with its live preview mode. This allows you to fine-tune your website's design by directly manipulating the code. However, note that JavaScript editing is not available in this plugin.
In addition to the plugin itself, Themeover also provides a comprehensive set of tutorials, documentation, and a support forum. This ensures that you have all the resources you need to fully utilize the plugin's features and get the most out of your website customization.
To sum it up, Themeover is a versatile and powerful CSS editor plugin that allows you to easily customize your WordPress website's design. With its intuitive interface, Draft Mode feature, and support for coding, it provides a flexible and user-friendly solution for both non-programmers and developers alike.
Key Features:
Drag-and-drop page builder integration with WordPress.
Autosave and Revision History features for efficient workflow.
Easy export of designs between different domains.
Drag-and-drop controls for CSS grid customization.
SaSS editor for editing and customizing SaSS and JavaScript.
Draft Mode for safe and experimental editing.
Element inspection process for an overview of your website's elements.
Frequently Asked Questions
What are CSS plugins?
CSS plugins are tools or software that enhance the functionality of CSS (Cascading Style Sheets) in WordPress. They help users add custom styling to their websites without needing to code the CSS manually.
Why should I use CSS plugins for my WordPress site?
CSS plugins provide a convenient way to customize the appearance of your WordPress site without extensive coding. They offer a range of pre-designed styles, templates, and options, making it easier to achieve a visually appealing and unique design for your site.
Are CSS plugins suitable for beginners?
Yes, CSS plugins are suitable for beginners. They are designed to be user-friendly and require little to no coding knowledge. With CSS plugins, beginners can easily modify their website's design and layout without having to write complex CSS code from scratch.
Conclusion
To recap, in this article we explored the 7 best CSS & CSS Live Editor WordPress plugins for 2023, both free and pro options. We discussed the features, benefits, and use cases of each plugin, helping you make an informed decision for your WordPress website.
If you found this article helpful, I encourage you to visit BetterStudio's blog for more tutorials and articles related to WordPress plugins and web development. They have a wealth of resources to further enhance your website and keep you up to date with the latest trends and techniques.
Additionally, make sure to follow BetterStudio on Facebook and Twitter to stay connected and receive updates on their latest tutorials and offerings. This way, you won't miss out on any valuable information and can continue to improve your WordPress skills.
Thank you for reading this article! I hope you found it informative and useful. If you have any questions or encounter any problems while implementing the discussed plugins, please don't hesitate to reach out in the comment section below. I'm here to help and provide any assistance you may need.