Are you trying to find the Best WordPress RSS Feed plugins? Are you unsure where to begin your search for the best RSS Feed plugin?
So, we searched for you, and these are the best WordPress RSS Feed plugins integrated today in 2022. These WordPress plugins have the best features, support, WordPress themes compatibility, and easy-to-use interfaces to assist you to get going.
We handpicked these RSS Feed plugins to assist you in deciding on a usable plugin. These WordPress plugins additionally contain plugins that can be used for RSS Aggregator, Feedly, and RSS Full Content.
Best RSS Feed Plugins for WordPress 🥇
Let's dive into the list of best WordPress plugins for RSS Feed in 2022:
News Feeds, Autoblogging, And More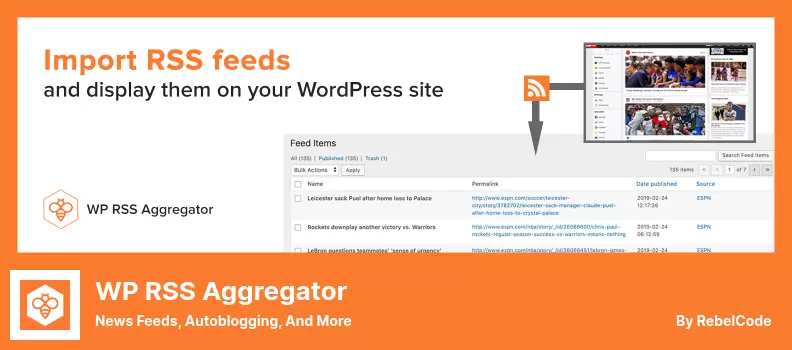 If we take a deep dive into the WordPress plugin library, WP RSS Aggregator is one of the best WordPress content curation plugins. It's updated on a regular basis, is simple to use, and is accessible in various languages.
It's a free plugin that may be expanded and enhanced by adding and customizing add-ons and bundles.
You may show all the relevant feeds from single or numerous sources from any position on your WordPress site by utilizing WP RSS Aggregator's shortcode and specific options and features.
It allows you to import an infinite amount of feed items for your RSS feed. You may determine the frequency with which the feed is updated, as well as the order in which the feed items are shown; for example, the most recent or oldest things appear first or vice versa.
---
💵 The Premium version of this plugin costs $59, whereas the Lite version costs nothing.
Key Features:
Organize and customize feed sources into categories
Even if the RSS feed contains just a limited selection for each item, you can still import the whole text for each item
If you are unable to locate an RSS feed URL manually, you may use the cool feature to assist you in discovering it automatically
Select which information should be shown or hidden from the feed, things like the name of the writer or the publish date etc
Import data from an infinite number of RSS feed resources
Only particular things can be included or excluded from the feed based on a keyword or other filter
Random Reviews:
They just try to steal your money. Free versions lacks ultra-basic feature any similar plugin has, like the ability to include thumbnails or the posts excerp. This plugin should be removed from the wordpress.org repo, it's a freud attempt.

Very useful plugin! This is easy to use with great functionalities. I highly recommend this plugin for feeding 3rd party content onto your site.

Great product! and great support too!
Powerful WP Autoblogging And News Aggregator
It's also one of the finest WordPress plugins for managing and customizing your RSS feed using shortcodes and widgets for WordPress page builders, which makes it a great choice. One of the nice things about it is that every single one of the feeds that are presented is adaptive, even the ones that include photos.
You can totally be sure and confident about page loading speeds and duration since the caching mechanism is handled automatically by the system itself.
The Feedzy RSS Feeds widget may be used to add the feed to your sidebar or other favorite and needed places on your website. By using the drag and drop feature to the widget section you feel is appropriate and configuring the settings based on your specific needs and preferences.
---
💵 There is a premium version that costs $99 and a free Lite version.
Key Features:
Choose from a variety of layouts to customize how RSS feed items are displayed
Your affiliate links will be included directly
Filter feed items such that only specified feed items are included or excluded depending on a keyword and other filters
Import content and data from feeds and make them your existing WordPress posts
Even if the RSS feed just contains an extract, you are able to import the whole feed
Prices for items on can be shown
Random Reviews:
works perfect

Thanks for the work!
Add Attractive RSS Feed Widget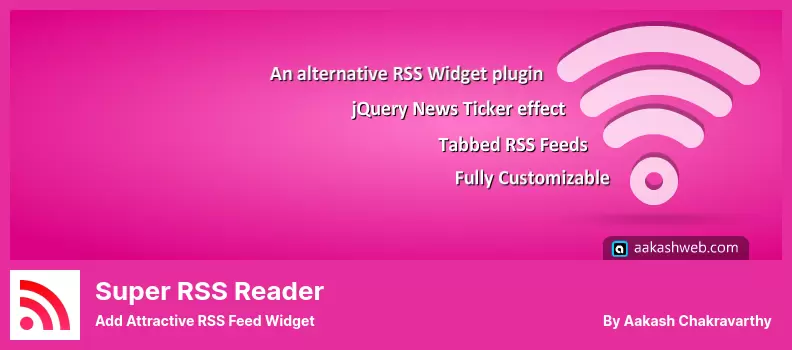 In your WordPress sidebar, Super RSS Reader is a great method to show material from many and various RSS feeds. It includes a super simple and practical widget.
You may also use post titles to create a news section, which is useful for sites that wish to present the current news trends from various sources.
The Super RSS Reader plugin enables you to add appealing RSS feeds to your panel. It offers the ability to show numerous RSS feeds in just a single widget which is divided by tabs.
The widget is entirely configurable with alternative designs and comes with pre-installed color schemes. It's a great alternative to WordPress's default RSS widget.
---
💵 There is a Pro version for $19 as well as a Free version available.
Key Features:
Use tabs to split multiple feeds in one widget
Various color themes are available
The newsticker shortcode speed can be changed
Shows and customizes the feed item's thumbnail and covers
Several thumbnail locations
Make RSS feeds seem like a news section
Reduce and modify the feed item's title and description text
RSS and Atom feeds are supported
Feed articles may be ordered by date or just randomly
Random Reviews:
I wanted a simple RSS news feed in my sidebar and this plugin does it perfectly for my google RSS news feed. 100% happy here.

Very useful and excellent support, thank you!

Doesn't display a category feed, instead it will pull the full site feed. Also it's limited to display options and doesn't have a block entry.
Display Feeds In Your Blog Using PHP Or Widget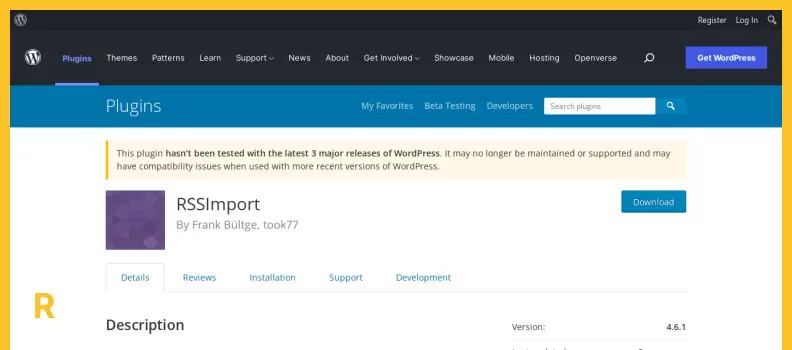 RSSImport is one of the simplest and basic RSS feed plugins among other options, and it is also the most often used. It provides a straightforward method of displaying feeds using PHP, shortcodes, or widgets, but it does not include any of the more extensive and prestigious capabilities found in other plugins and tools.
Of course, the number of things you choose to show in a feed might vary depending on your preferences, but you have a limitation often.
You can also enjoy the capability to incorporate item descriptions, as well as the ability to control the length of the descriptions and modify them based on your need.
The maximum amount of characters that may be used in titles can be adjusted, and you can even choose the text that will be shown if your feed is not already filled.
---
💵 Get updates of this plugin for Free forever because It is a Free plugin.
Key Features:
Select from a variety of ordering options
You can modify and select the number of items to be shown
Feed text may be enhanced by adding HTML or a string before and after certain sections of the content
Provide you with efficient functionality despite being free and basic
Random Reviews:
Does what I needed it to do without having to buy upgrades. You can how images and customize the CSS to make it appear exactly as needed. Love it!

This is a great plugin for developers that are looking for something simple yet configurable for pulling in RSS feeds.

WP 4.8 broke this feature in Jetpack, at least for now. But this little plugin does the job nicely.
A Plugin That Allows You To present Multiple RSS Feed Subscription Option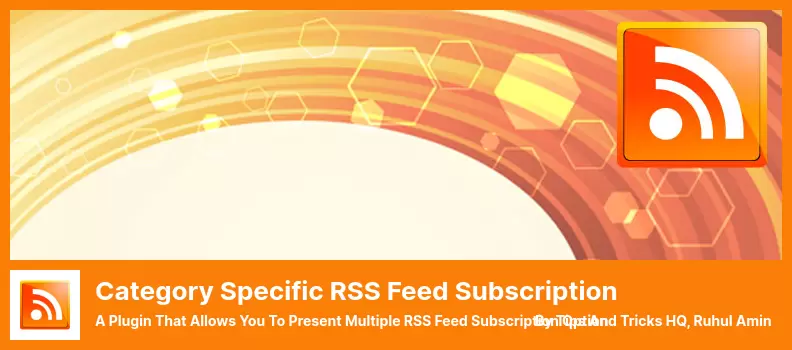 Your visitors will be presented with a menu that has a variety of RSS feed subscription choices in addition to your standard subscription offer when they use the Category Specific RSS feed Subscription WordPress RSS plugin.
As a result, the user gets just relevant material and content, so they are not bombarded with alerts regarding uninteresting and unrelated issues.
You have the option of displaying feeds in one of three different ways. Depending on your needs, you may include them as widgets, shortcodes, or even a line of PHP as a coding line.
Using this plugin, you can also construct an RSS feed menu that is particular to a tag. Using a simple shortcode, you can easily create an RSS feed menu for all of the tags on your site.
---
💵 The price is $0. It is Free.
Key Features:
Even a complete amateur user will find it simple to use
With Category, the vast majority of our users report having a great overall experience
A decent choice for Subscription to a Specific RSS Feed
Customer service that is fantastic and supportive
When compared to similar products, the pricing is affordable
The best option for a comprehensive experience
The main aspects and features of it are completely free of charge
Random Reviews:
Lot's of bots are looking for this file used with this plugin: /wordpress/wp-content/plugins/category-specific-rss-feed-menu/wp_cat_rss_style.css

Used to be good. Same as the last review, directing to categories instead of to feeds. Lack of support. Poor support when it's provided (2 years ago). Should be marked as abandoned.

Currently, the plugin does not work for me. It displays a menu but all links point to category archive pages instead of RSS feeds. I have checked that I am using pretty permalinks. I have also tried both shortcode and widget methods to no avail.
A simple And Easy Way To Add Featured Images In Your Site's RSS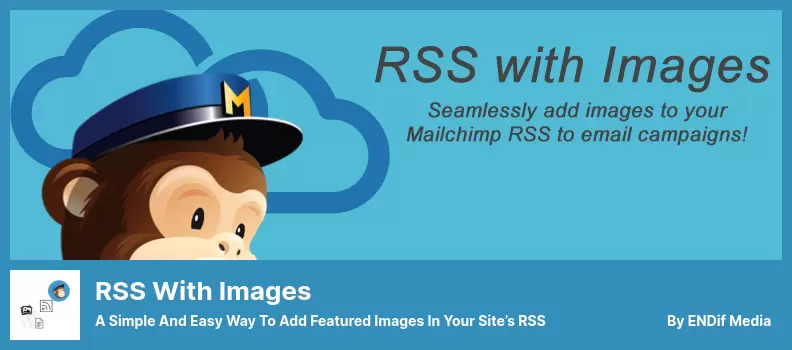 Using RSS with Images, you can add some nice and amazingly featured images to your site's RSS feeds, which will keep them from being just ordinary and typical. It also comes with a number of different size choices, which you can modify easily.
It is a free and open-source tool which is fantastically adaptable with the Mailchimp email marketing service, which allows you to manage and run RSS-to-email ideas from your website.
With the use of shortcodes or text widgets, you may show the RSS feed on your website in any location you believe is appropriate.
There is something somehow annoying about it; that is, it will not overwrite images that are already present in your feed. However, as soon as the plugin is active, any new images that are posted will automatically be added to your feed.
---
💵 Using this plugin is free of charge. It's integrated for download for free.
Key Features:
Adding featured images to your feed with fantastic customization
Brilliant compatibility with services like Mailchimp and other similar tools
Even though it is free still delivers great value and can be a decent choice for many people
you have the nice capability to adjust and place it on any given location on your site
Random Reviews:
It's very-very good job!

It´s great to be able to have the RSS with images, but also to be able to configure for Mailchimp so your newsletters looks awesome. Also a great support from @endifmedia !

While I think it is OK to inform the user once, I don't like, that the Dasboard Notification "Want more features? Upgrade to RSS with Images Premium " can't be dismissed. If I click on the cross to close the information, I comes back after every reload of the page. I reported this as bug already two month ago and I am annoyed now.
So, let's sum it all up by saying.
In this text, we evaluate many RSS Feed plugins. If you want to increase your site, you can use them.
We hope you have found the best match for your site out of all these RSS Feed WordPress plugins.
Have an RSS Feed plugin to recommend? Tell us about it below if you do! Please follow us on Facebook and Twitter to hear about our newest articles!