Are you a WordPress website owner looking to take your social media game to the next level? Look no further than the nine best WordPress Instagram plugins (free & pro). But with so many options out there, how can you know which ones are truly worth your time and investment?
In this article, we dive deep into the top Instagram plugins available for WordPress users. From free to paid, we've done the research and gathered the facts to help you make an informed decision.
Did you know that Instagram is one of the top five social media platforms with 1 billion active monthly users? There are countless benefits to integrating Instagram into your website, including increased engagement, reach, and even sales.
At the beginning of this article, we'll start by breaking down what an Instagram plugin is and how it can benefit your WordPress site. Let's take a closer look at these powerful tools and how they can help you achieve your social media goals.
Best Instagram Plugins for WordPress
If you're looking to boost your social media presence, using Instagram on your WordPress website can be a great way to do it. In this section, we'll explore the best Instagram plugins available for WordPress, including both free and pro options.
Here are some plugins that can help you take your social media game to a whole new level and help you to enjoy it more in the long run.
Spotlight Social Media Feeds
Spotlight is an Instagram plugin that connects your Instagram account to your WordPress site in just a few clicks. It allows you to add numerous feeds by linking as many profiles as you want. With a live preview feature, you can preview your design and customize it in real-time before embedding it on your site.
This plugin features a lightbox display option for your photos and videos. In addition, it offers several other features that entice your visitors and keep them engaged. Moreover, the plugin's website customization feature makes your site look fantastic regardless of the device on which it's accessed.
The options to attach the 'Follow' and 'Load more' buttons to any feed make it effortless to navigate through your Instagram profiles. Using the plugin's point-and-click interface, you can customize your website with ease.
The interactive live preview customizer further streamlines the installation process. Besides, Spotlight even provides the option to upload a custom photo and bio.
Key Features:
Pop-up/lightbox display option for images and videos
'Follow' and 'Load more' buttons that can be added to any feed
Easy website customization with a point-and-click interface
Interactive live preview customizer for a convenient installation process
Option to upload a custom photo and bio.
for Twitter Feed, YouTube and More
With Feed Them Social, users can integrate social networks of any kind, including Instagram, Twitter, Facebook, YouTube, Pinterest, Google+, and any other social network that is available in the world today.
The plugin can create a feed of Instagram posts, including everything from the user's profile to the hashtags, photos, and comments that accompany them.
The premium version of the plugin offers many advantages, including the possibility to display as many feeds as you wish and fully responsive feeds. There are also the following buttons added to the user interface for your convenience.
One of the main advantages of using Feed Them Social is that users can pull pictures from various sources, including Instagram, Facebook, and Twitter.
Additionally, the plugin provides shortcodes for all social feeds and buttons for sharing on Facebook, Twitter, and Instagram. Users can endlessly scroll and use the Load More button to consolidate their feeds.
Key Features:
Sharing buttons for Facebook, Twitter, and Instagram
Ability to pull pictures from multiple sources
Endless scroll and Load More button.
Integration with various social networks
Ability to create customized feeds
Brings Together Two Popular Designs
Social Slider Feed is a unique WordPress plugin that combines two popular Instagram feed designs. It includes a slider that can fit in any sidebar and features 12 most recent photos. It also includes a hashtag feature that allows you to filter your feed for specific subjects.
The plugin comes with a widget that enables you to add a slider to your website, allowing your visitors to easily scroll through Instagram photos. This feature is especially useful if you want to display a variety of photos.
One of the best parts of Social Slider Feed is that there is no need to have access to Instagram's API. You can link your user profile and gallery images to external URLs, attachments, or Instagram posts. This flexibility allows you to customize and create a niche Instagram feed solution that meets your needs.
Key Features:
Sort images by characteristics
No need for API access
Link user profile to images
Link gallery images to external URLs or attachments
Customizable niche feed solution.
The Most User-friendly Instagram Plugin
Social Feed Gallery is a sleek and straightforward plugin for WordPress users that need to integrate an Instagram gallery into their website without the fuss. Unlike other Instagram gallery plugins, it doesn't offer bells and whistles, but it gets the job done effortlessly.
When you link your Instagram account to the plugin, you can choose between a gallery or a carousel slider. You don't need to use any API or add your Instagram username to set it up. Just enter your Instagram username, make a few tweaks to the settings, and you're good to go!
One of the best things about the plugin is that it allows you to incorporate widgets into the sidebars of your website. It's the perfect solution for anyone who wants to add Instagram pictures to their sidebars without having to resort to convoluted coding solutions.
Another great feature of the plugin is its gallery format, which is as straightforward as it gets. You don't have to worry about sorting or arranging your pictures. Social Feed Gallery will automatically arrange them, making sure that they look great and are easy to navigate.
Key Features:
Incorporates widgets into sidebars
Available as a gallery and a carousel slider
Requires only Instagram usernames
Simple, straightforward gallery format.
a Simple and Lightweight Widget for WordPress
WPZOOM Social Feed Widget is a plugin that enables users to showcase Instagram feeds on their WordPress websites. Unlike other plugins that display images based on hashtags, this plugin can be customized to present only specific images based on Instagram hashtag feeds.
The plugin allows users to customize headers and associated colors using its customization tools, giving their website a consistent appearance. Furthermore, the plugin is compatible with the latest smartphones and tablets, making it easily accessible.
The plugin offers users a seamless experience by automatically taking them to a gallery of images as they scroll down the page, eliminating the need to click any buttons to view the entire gallery.
This plugin also improves website speed as all images are not loaded simultaneously. Users can even adjust the size of their images for larger or smaller images that do not appear as full-sized or thumbnail images as well.
With WPZOOM Social Feed Widget, users can categorize their photos and display them using hashtags or usernames. The plugin provides lazy loading support, and users can even add their own avatar and bio. Additionally, multiple languages are supported, giving users the opportunity to reach a wider audience.
Key Features:
Customize headers and colors for a consistent appearance
Automatic scrolling to a gallery of images
Adjust image size for larger or smaller images
Categorize and display images using hashtags or usernames
Provides lazy loading support.
Allows You to Easily Pull Photos From Your Instagram Account
Instagram Theatre is a CodeCanyon plugin that offers a personalized look for your Instagram profile. It allows you to integrate your profile with your brand's website by customizing the color scheme of your web pages.
The plugin has a simple and elegant design, which focuses on creating a high-quality user experience. Its fullscreen mode allows you to view photos clearly, and it offers both grid and list views.
Integrating with the Instagram API, it allows you to display your photos in an attractive and streamlined manner. The plugin supports iPhone, iPad, and Android, and also comes with several stunning effects and animations to make your website come to life.
Features of Instagram Theatre include location-based photo posting, customizable effects, tag-specific image feeds, multi-user modes, and three site templates.
Key Features:
Location-based photo posting
Customizable effects are included
Tag-specific image feeds
Multi-user modes are available
Three site templates.
Enjoy Social Feed Plugin for WordPress Website
Enjoy for Instagram Feed is a plugin that allows you to showcase your Instagram feed directly on your website. It effortlessly integrates, creating a personalized gallery that allows you to engage with your audience. This plugin comes in both free and premium versions, so let's dive into the impressive features it has to offer.
The free version includes the option to insert a widget in your sidebar to showcase your Instagram feed. You can also choose between a carousel or grid view of your images, helping you to curate the best layout for your site.
The customizable columns ensure that everything looks perfect and matches the rest of your website's design. Shortcodes are also available for posting your content on various web pages.
If you opt for the premium subscription, you will gain access to even more features. You can utilize hashtags and multiple feeds, giving you the ability to highlight specific content or events.
The format options expand beyond the basic carousel and grid views, including Polaroid, album, and badge views. You can even choose to direct your viewers to another website or straight to your Instagram page by clicking on the post.
The animations and effects are another bonus included in the premium version. This plugin truly ups the ante when it comes to creating a standout Instagram feed on your website. The best part? You won't have to shell out too much money for any of the great features.
Key Features:
Insert a widget in your sidebar
Choose between a carousel or grid view
Shortcodes are available for posting on various web pages
Utilize hashtags and multiple feeds
Impressive animations and effects
Customizable columns are included.
an Instagram Feed Addon for Elementor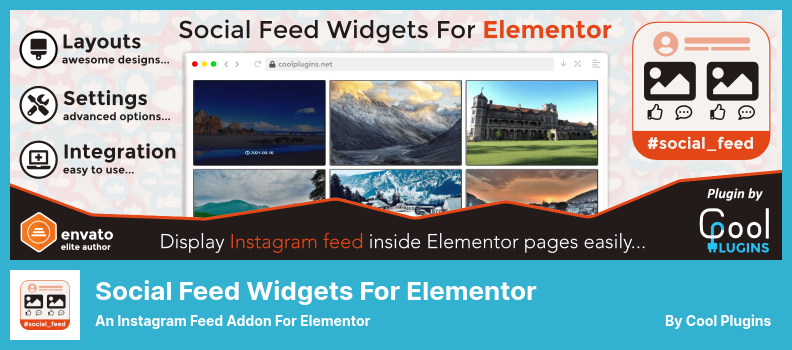 Social Feed Widgets for Elementor is an add-on that enables Elementor Page Builder plugin users to showcase their Instagram profile on their WordPress website using a grid or carousel layout.
It's the perfect tool to make your social media photo feed look more attractive and dynamic, with various customization options available – from the number of slides and automatic slide play to colors, typography, and image visibility.
With the option to display your social media feeds in Grid and Carousel formats, you can choose the sorting order – the most recent first or the least recent first, and even manage the number of stories that you want to display.
One of the most exciting features of this plugin is that it allows for advanced settings to control the visibility of your social media photos. You can also customize the pop-up or redirect options for feed photos directly to your Instagram account.
The Social Feed Widgets for Elementor add-on is compatible with multiple Instagram accounts, allowing you to showcase more content. However, note that to use the plugin, you need to install the Elementor Page Builder and Smash Balloon Social Photo Feed plugins.
Key Features:
Display Instagram feed in Grid and Carousel formats
Customization options for colors, typography, and image visibility
Sorting options for the most recent or least recent additions
Control the number of stories to display
Pop-up or redirect options for feed photos
Advanced settings for photo visibility.
Display Completely Customizable Instagram Feeds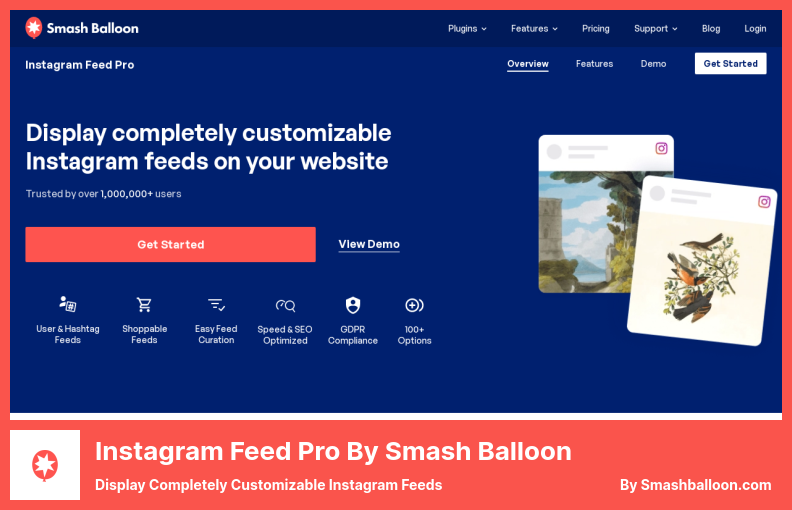 Instagram Feed Pro by Smash Balloon is a plugin that automatically posts your photos from Instagram on your website, improving efficiency and the visitor experience.
Your business can grow by displaying Instagram content and providing more feedback to customers, which can lead to increased conversions. This plugin also enhances your search ranking and increases engagement with followers.
The purpose of this plugin is to allow you to display an unlimited number of feeds, without losing the look and feel of your WordPress theme, as it inherits the design from your website.
The plugin resizes Instagram pictures and saves them locally, ensuring that posts are always visible, even if Instagram is down. Additionally, complete customization is possible.
Key Features:
Displays unlimited feeds
Inherits website style
Resizes and saves Instagram pictures locally
Posts always visible
Improves search ranking
Increases engagement with followers.
Frequently Asked Questions
What are the benefits of using Instagram plugins for WordPress?
Instagram plugins for WordPress allow users to display their Instagram feed on their website without having to manually upload new content.
This can save time and effort while keeping the website up to date with fresh content. Additionally, Instagram plugins can improve website engagement and increase the website's social media following.
How do I choose the best Instagram plugin for my WordPress website?
When choosing an Instagram plugin for WordPress, consider the features you need, such as customization options, support for multiple accounts, or pre-designed templates.
Look for plugins with strong user reviews and high ratings. Testing out a few different plugins to see which fits your website's needs best is also recommended.
Can Instagram plugins slow down my WordPress website?
It is possible that using too many plugins, including Instagram plugins, can cause website speed and performance issues. However, many Instagram plugins are designed to be lightweight and optimized for speed.
When selecting an Instagram plugin, check the reviews and ask the developers about the impact on performance. Additionally, keeping your WordPress website updated and well-maintained can help prevent any performance issues.
Conclusion
In conclusion, we have gone through nine of the best WordPress Instagram plugins that can help you improve your website's social media presence.
From free to premium, these plugins offer various features that cater to your specific needs. We hope that this article helped you in selecting the right Instagram plugin for your WordPress website.
If you want to learn more about WordPress tips and tricks, be sure to check out the BetterStudio blog, where we regularly publish informative articles related to WordPress and website development.
Don't forget to follow us on Facebook and Twitter to stay updated on the latest tutorials and tips from BetterStudio.
Thank you for reading this article. If you have any questions or face any problems while implementing any of the strategies mentioned in this article, please feel free to ask in the comments section below. We would love to hear from you!