Are you tired of your WordPress website taking forever to load? Does it seem like your visitors are constantly waiting for images and videos to load, slowing down their browsing experience?
Well, fret no more! In this blog post, we'll be diving into the top 10 WordPress lazy load plugins, both free and pro, that will help optimize your website's performance and improve user experience.
Lazy loading is a technique that delays the loading of non-essential elements, such as images and videos, until they are needed. By implementing lazy load plugins, you can significantly reduce the initial page load time and improve the overall speed and performance of your website.
With these plugins, you no longer have to worry about slow-loading images and videos affecting your website's user engagement and search engine rankings.
So, without further ado, let's explore the best WordPress lazy load plugins available in the market. We'll be discussing their features, benefits, and how they can help boost the speed and performance of your website.
Whether you're a beginner or an experienced website owner, you'll find something suitable for your needs in this comprehensive guide. Say goodbye to slow-loading websites and hello to a seamless browsing experience for your visitors!
Best Lazy Load Plugins for WordPress
If you are looking for the best lazy load plugins for your WordPress website, look no further! We've compiled a list of the top 10 plugins, both free and pro, that will help optimize your site's loading speed and improve the overall user experience.
Here is a list of some of the best plugins to enhance the performance of your website. Take a moment to check them out and choose the best one for you.
Lazy Load Images, Optimize & Compress Images For WordPress
Smush – Lazy Load Images is an incredible tool for optimizing images on your WordPress website. It allows you to easily register and accomplish tasks such as lazy loading, resizing, and compressing images, all in one place.
By using this plugin, you will be able to improve the speed and performance of your website's loading, leading to a smoother browsing experience for your website's visitors.
One of the standout features of the plugin is its ability to optimize images while preserving their quality. By using this tool, you can ensure that your images are compressed without any degradation in quality. This is especially important for maintaining the visual appeal of your website while improving loading times.
Another great feature of the plugin is the option to optimize images individually or in bulk. With the Simultaneous Optimization Mode, you can optimize up to 50 images at once, saving you time and effort. This is a convenient and efficient way to improve the performance of your website.
Lazy loading is a technique that allows images to load only when they are visible on the screen. This helps to prevent slow loading times and ensures that your website runs smoothly.
With this plugin, you can easily enable lazy loading and choose which regions of your website it applies to, such as widgets, content areas, and thumbnails.
Compatibility is also a key feature of the plugin. It works seamlessly with other WordPress plugins, allowing you to maintain the functionality of your website. This means that you can continue using all your favorite plugins while benefiting from the image optimization features.
In general, it's one of the best WordPress plugins. It has a bunch of great features, like lazy loading, image resizing, and bulk loading, to make your site faster. With Smush – Lazy Load Images, you can optimize your images for speed without sacrificing quality, and keep your visitors happy and engaged.
Key Features:
Lazy loading for improved loading times
Resizing and compressing images while preserving quality
Bulk optimization for up to 50 images at once
Option to optimize images individually or in bulk
Easy detection of incorrectly sized images through Optimization Tools.
Video and Audio Elements Lazyloading Plugin
Lazy Loader is a WordPress plugin that allows you to easily add lazy loading to your website. With this plugin, you can insert images, frames, videos, and audio elements, and use the lightweight script for lazy sizes that you have already downloaded.
Besides this, this plugin is also equipped with other features, such as lazy loading of iframes, as well as poster frames for video and audio elements in the content.
This plugin lets you lazy load CSS classes with specific CSS. By allowing you to choose which classes you want to load, you get more control over how your website loads. A loading spinner can also be displayed and the default lazy size can be customized.
There's also audio and video loading with this plugin. Using the plugin, all background images, scripts, and styles will load automatically if the image is positioned correctly in the HTML markup and the markup is correct. As a result, your website won't crash.
In addition to its functionality, the plugin also offers many free add-ons. These add-ons enhance the plugin's features and provide additional options for customization. This is a standout feature of Lazy Loader, as it allows users to further optimize their websites without incurring any extra costs.
Key Features:
Apply filters to specify which elements should be processed
Show a loading spinner during the loading process
Enable lazy loading for poster frames of video elements
Lazy load audio components
Load video elements with inline backgrounds in lazy mode.
Speed Up Sites Page Load Speed For WordPress
Using A3 Lazy Load, you'll never have to worry about lazy loading again. It's easy to set up and customize, so it's easy to use. It's mobile-friendly and works with WordPress' standard media display functions. Getting your photos, videos, and frames loaded faster is made easier by reducing file size.
To make loading images more visually appealing, the plugin allows you to add animations, fade-ins, and spinners. It also offers toggle switches to enhance content visibility based on specific topics and allows you to specify URLs for including or excluding videos.
However, it's worth noting that the plugin script may not work on customized objects or objects developed by theme or plugin developers. This limitation should be taken into account when considering its usage.
Using the plugin's dashboard, you have the ability to choose which topics the images should be displayed for. For example, if you prefer climate change-related images, you can easily set that as a preference.
While A3 Lazy Load is not as advanced as Lazy Loader when it comes to hardcoded images or background images, it is still an effective tool for improving website performance. Keep in mind that some site malfunctions have been reported by previous users.
Key Features:
Fully supported by the jQueryMobile framework
Embed videos from URLs in posts and pages
Seamless integration with any WordPress website and embed posts on any page
Improves the performance of embedded posts
Ability to display content on the right-hand side of the screen
Add videos to widget types, text widgets, and HTML widgets.
Lazy-loads Media For WordPress
Native Lazy Loading is a powerful new plugin released by Google that aims to enhance the browsing experience for website visitors. It utilizes a feature called 'It' to enable fast loading of content within the first few seconds.
The plugin uses the browser to detect the motion of the page, which eliminates the need for JavaScript, thus resulting in an improved level of performance on most browsers.
However, the plugin works with other popular browsers like Firefox even though it doesn't support Safari right now. The plugin checks whether native lazy loading is available on the user's browser, then loads a JavaScript file to load the images if it doesn't. However, it may run slower on Safari.
The browser measures the scrolling rate on a page to determine when a user is about to see an image. At that moment, the browser starts loading the image, even before the user can view it.
This process occurs automatically without the need for JavaScript, allowing the server to serve the page faster and load assets more quickly. This plugin represents the future of lazy loading, albeit in its early stages.
Key Features:
NoScript variant for browsers that support the loading attribute
Ongoing improvements to the loading attribute as more browsers adopt it
Automatic inclusion of the loading attribute for a seamless experience
Lightweight without JavaScript logic, ensuring faster and more efficient performance.
Image optimization & Lazy Load For WordPress
Optimole is an image optimization plugin with a powerful lazy load feature. It optimizes your images, improving your site's loading speed, and it also ensures that your images are cached for increased accessibility.
One of the main advantages of the plugin is its compatibility with the Gutenberg editor, the new block editor in WordPress. This means you can use the plugin seamlessly while editing your pages, without any compatibility issues.
The plugin not only compresses your images but also maintains their size and quality. Additionally, it offers intelligent cropping capabilities to ensure your images remain sharp. You can even add watermarks automatically to your images in the future.
By using this plugin, you can replace your image URLs with ones generated by the cloud, eliminating the need for URLs generated on your website. This further optimizes your site's performance.
Unlike some other lazy load plugins, Optimole doesn't currently have detailed documentation. However, its native technology is capable of detecting retina screens and delivering pixel-perfect images that are responsive to any screen size. This ensures that your images are scaled appropriately and served instantly on all devices.
Key Features:
AWS CloudFront CDN provides free access to over 200 cities worldwide
Detection of slow networks and the ability to downgrade image quality as necessary
Perfect images with DPR of the correct size for Retina displays
Offscreen images are deferred using the container and sized perfectly
Keep your images sharp and large with intelligent cropping.
Speed Up Sites Page Load Plugin For WordPress
With Lazy Load Optimizer, you can get faster page load times and better performance by reducing the loading time for images and iframes on your website. Website owners can use it to show off their products fast and efficiently, which is great for those who want to start an online store.
The plugin lets you load images easily through product categories, gallery widgets, and image galleries with seamless loading. It's also compatible with WooCommerce, so customers can browse and buy things faster. Not only does this make the site load faster, but it improves the user experience.
Using lazy loading, the plugin makes your images and iframes only load when they're visible, so your site loads faster and gets better PageSpeed insights. You'll also get rid of the common "defer offscreen images" issue with this optimization.
The plugin is highly configurable, giving you the ability to customize its settings to suit your specific needs. The lightweight nature of the plugin ensures that it won't impact the speed and performance of your website, allowing your pages to load quickly and smoothly.
In addition to being a fantastic solution for online stores, it can also be used to showcase your business and monetize your website. Its support for WooCommerce makes it an ideal choice for those looking to advertise and sell products, as it optimizes the loading time for product images and categories.
You get a huge boost in performance and loading time with this lazy load self-hosted video plugin for WordPress. Besides being compatible with WooCommerce, it's lightweight, customizable, and can enhance PageSpeed insights, so you'll want to get it.
Key Features:
Reduce the loading time of inserted images in posts, pages, and text widgets
Lazy loading for image and gallery widgets
Support for loading images from product categories and product images in WooCommerce
Enhances PageSpeed Insights results and resolves the error of "defer offscreen images"
Improves the overall performance of your site's page load.
Infinite Scroll Plugin For WordPress
Ajax Load More is a powerful WordPress plugin that lets you scroll endlessly through posts, pages, comment sections, and anything that uses an Ajax API call. Besides providing seamless scrolling at the top and bottom of your website, it also speeds it up, so users have a smoother and more efficient.
One of the standout features of the plugin is its versatility. You can use the plugin in multiple locations on your site, whether it's a post, page, or template, without the need to install it multiple times.
It also offers a filtering tool, allowing you to customize and update the queries sent to the plugin. This gives you full control over the content you want to display and how it's displayed.
The plugin shines when it comes to images for SEO on WordPress sites. It optimizes image loading, so your website runs well and gets organic traffic. Plugins lazy load images, so only the ones that show up on the user's screen load, reducing bandwidth and speeding up loading time.
If you prefer to embed the plugin directly into a page, you can easily do so by adding the shortcode directly into the content of the page using your text editor. This offers flexibility and gives you the freedom to customize your website according to your needs.
Additionally, it's not just for pages and posts. In addition, it lets you filter and display content based on the type of post, the post format, the tags, the categories, and any custom taxonomies. You can make sure your users get a customized browsing experience.
Using the plugin for WooCommerce is a huge deal. It's compatible with lots of WooCommerce plugins, so it's perfect for lazy loading product pages and improving your store's performance. Easy lazyload integrates seamlessly with WooCommerce, so you can use lazy loading.
Lastly, Ajax Load More provides a shortcode builder, making it easy for developers and users to create complex WordPress queries through shortcodes. This eliminates the need for coding and simplifies the process of customizing your website's appearance and functionality.
Key Features:
Dramatically improves server performance and reduces content load times
Add custom AdSense advertisements and call-to-actions to post loops
Enable paging URLs to scroll through Ajax-loaded pages
Filter files and content effortlessly without requiring any coding skills
Create, modify, and delete templates as per your requirements, with no restrictions.
Images, Videos, and Iframes Lazy Loading WordPress Plugin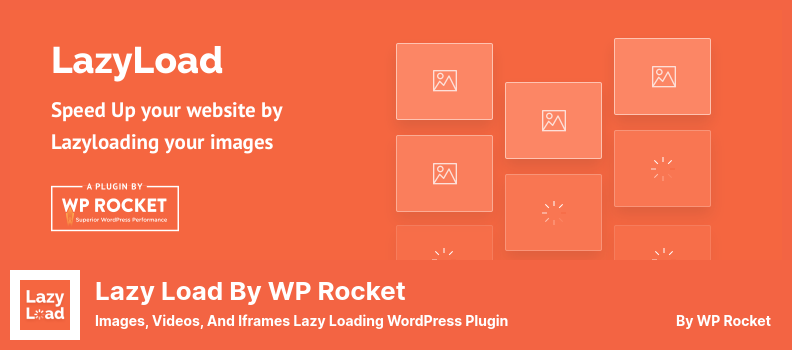 Lazy Load by WP Rocket is a highly regarded cache plugin developed by the experienced team at WP Rocket. It is a popular choice among WordPress website owners looking to improve their website's performance.
With the plugin, you can optimize the loading of images and videos on your website by only displaying them when they are within the visible area of the page, known as above the fold.
One of the standout features of the plugin is its ability to handle a wide range of multimedia elements, including avatars, thumbnails, iframes, YouTube videos, background images, and regular images. This ensures that your website's performance is not compromised, even when dealing with media-heavy content.
By utilizing the plugin, you can create a website that loads faster than YouTube's embedded iframes by using thumbnail files instead. This can significantly enhance the speed and overall user experience of your website.
In addition to improving website speed, the plugin also offers various options to optimize your website's performance and Core Web Vitals report. It is a comprehensive caching plugin that provides effective solutions for enhancing your website's loading time.
One of the notable advantages of the plugin is its lightweight nature. It doesn't rely on heavy JavaScript libraries like jQuery or Flash, making it more efficient and reducing the plugin's size to less than 10 kilobytes. This means that you can delay the loading of images without adding unnecessary bloat to your website.
Key Features:
Lazy loading for avatars, images, thumbnails, and smilies in blog posts and widgets
Lazy loading for image widgets and image gallery widgets
Upload images with WooCommerce for product categories and product images
Lightweight script without the use of jQuery or other JavaScript libraries
Supports slow-loading images in posts, pages, custom post types, and text widgets.
Lazy Load Implementing Technique For WordPress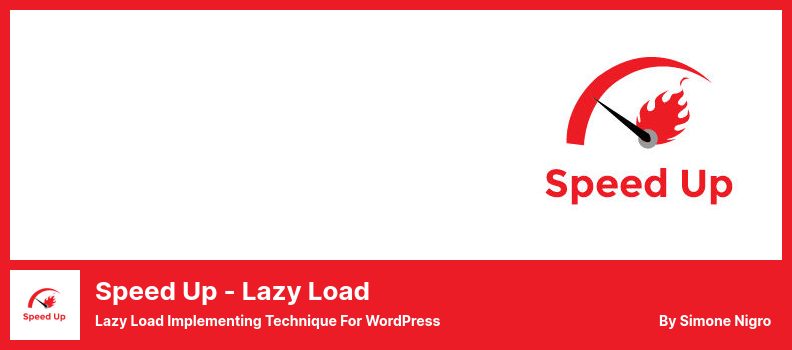 Speed Up – Lazy Load is a WordPress plugin that helps optimize the performance of your website by reducing image and iframe loading times. This plugin is especially beneficial for blogs and sites that want to enable lazy loading of images and iframes.
With lazy loading, images or frames that are hidden from the user's view won't be downloaded until they are actually clicked on, resulting in faster loading times and improved user experience.
The plugin's ease of use is one of its biggest advantages. Once installed, it starts working right away, so you don't have to mess with complex settings. That's why you can set up the plugin quickly and easily. You won't have to spend a lot of space on your website either since it's lightweight, weighing only 5 kB.
By using the plugin, you can enhance the loading speed of various elements on your website. It supports lazy loading for avatars, smilies, iframes, photos in the post content, widgets, and widget text.
Additionally, the plugin recommends using thumbnails instead of YouTube iframes to further improve loading speed. By reducing the number of HTTP requests, the plugin helps minimize loading times, resulting in a faster and more attractive website for your visitors.
Key Features:
Lightweight script under 10KB without the need for a JavaScript library like jQuery
Lazy loading for avatars, smilies, iframes, photos
Use of thumbnails instead of YouTube iframes for faster loading
Reduction of HTTP requests for improved loading speed.
Load More Products Button For WordPress
Load More Products for WooCommerce is a handy plugin that enables the lazy loading of pictures and thumbnails. Lazy loading means that the images are only loaded when the user reaches them, rather than all at once when the webpage loads.
It's important to note that this plugin is specifically designed for WooCommerce websites and may not work with other types of websites, such as blogs or general WordPress sites.
One of the key features of this plugin is its ability to completely customize the Load More button. You can also add a Load Previous button, which redirects the user to the previous page when clicked.
By reducing the load time of your website, you can greatly improve user experience, search engine optimization, and site speed. The lazy loading feature can be enabled for your entire website or just for mobile devices, depending on your preferences.
There are three options you have with this plugin: pagination, infinite scrolling, and a button to load more content for your navigation, so you can choose which one best suits your needs.
You can also insert a custom message at the beginning and change the loading text at the end of the page. Additionally, you can add JavaScript hooks and CSS to further customize the appearance and functionality of your website.
This plugin also lets you update your URL with every page displayed or you can opt out. You can also customize your mobile menu and determine how many products should be displayed on each page. In this plugin, you can design your own loader, so you're completely in control of how your website looks.
Key Features:
Options for pagination, infinite scrolling, and load more functionality
Choose the best navigation method for your mobile device
Add custom coding with JavaScript hooks
Display custom messages when content is loaded
A lazy loading system with over 40 animation options for pictures and thumbnails
Customize the load more button, loading image, and loading text.
Frequently Asked Questions
What is lazy loading and why is it important for WordPress websites?
Lazy loading is a technique used in web development to delay the loading of certain elements on a webpage until they are actually needed. This helps improve the page loading speed and overall user experience, especially for websites with a lot of images or content.

In the case of WordPress websites, where plugins and themes can add to the overall load time, lazy loading can significantly reduce the initial loading time, allowing visitors to access the website faster.
How does lazy loading impact SEO?
Lazy loading can have a positive impact on SEO by improving website performance and user experience. When a website loads faster, search engine bots can crawl and index the pages more efficiently, leading to better visibility in search results.

Additionally, a faster website encourages visitors to stay longer and navigate through more pages, reducing bounce rates and increasing engagement metrics, which are important ranking factors for search engines.
Why should I use Lazy Load plugins for my WordPress site?
Lazy Load plugins for WordPress offer several benefits for your website. Firstly, they can significantly improve page load times, especially for sites with many images and videos. This helps retain visitors and decrease bounce rates.

Secondly, Lazy Load can reduce bandwidth usage by only loading content that is actually viewed by users, which is particularly useful for mobile users with limited data plans.
Lastly, Lazy Load can improve SEO performance by reducing the overall page size, which is a ranking factor for search engines.
Conclusion
Lastly, we'll wrap up our review of WordPress lazy load plugins. We've talked about different plugins that can make your WordPress website load faster by lazy loading images and videos. They'll not only improve the performance of your website, but they'll also make it more user-friendly.
If you want to dive deeper into this topic or find more tutorials on WordPress and website optimization, I highly recommend checking out the BetterStudio blog. They have a wealth of knowledge and resources that can further assist you in making the most out of your WordPress website.
To stay updated with the latest tutorials and tips from BetterStudio, make sure to follow them on Facebook and Twitter. This way, you'll never miss out on any valuable insights and techniques that can take your website to the next level.
Thanks for reading this article! Let us take a moment to say thanks. I hope you find it helpful in optimizing your WordPress site. Feel free to get in touch with me in the comment section below if you have any questions or run into any problems when you implement these lazy load plugins. I'm here to help.
So, go ahead and give these plugins a try, and let the power of lazy loading enhance your website's performance. Remember, a faster website means happier visitors and better rankings. Happy optimizing!