You may be looking for a mobile-friendly WordPress theme, but you don't know where to start if that is the case. 
⚡️ Are you looking for an answer quickly? Using the Publisher theme is an excellent solution that is both convenient and easy to use. It offers over 100 unique demos and is highly customizable and highly scalable.
We know that you're concerned about finding a theme that both looks attractive and is responsive on mobile devices, so don't worry. We've got you covered on our list of the best mobile-first WordPress themes.
In this article, we will be discussing the top WordPress themes for mobile-first available in the market today. 
Based on recent statistics, more than 50% of website traffic originates from mobile devices. Thus, having a mobile-friendly website is critical for businesses and individuals who wish to establish their online presence. 
We have carefully selected themes for your website to make sure that the design of your website not only looks great on mobile devices but also provides a seamless user experience as well.
I would like to take this opportunity to introduce you to our list of the best mobile-first WordPress themes we've compiled here. Several factors have been taken into account when analyzing and testing the themes, including their responsiveness, speed, customization options, and overall design. 
These themes are sure to meet your needs regardless of whether you are setting up an online store or showcasing your business.
Multipurpose eCommerce WordPress Theme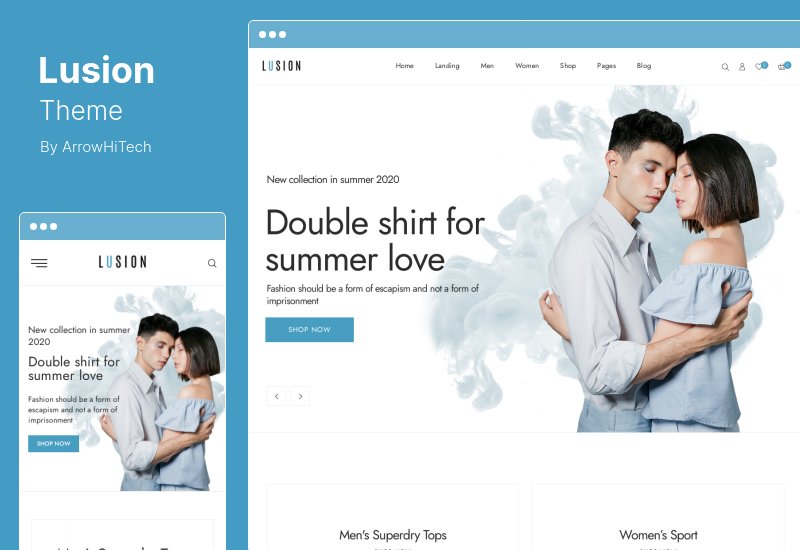 With a clean and modern design, Lusion is undoubtedly one of the most popular eCommerce themes for businesses to sell their products online. If you are interested in selling your best products online, Lusion is the suitable theme for you!
If you choose to use this theme, you can rest assured that both the functionality and visual appearance of your website will be greatly enhanced.
Thanks to its Responsive-ready design, which is compatible across multiple devices, browsers, and platforms, you can easily customize the design of your website.
Key Features:
Various capabilities in one framework
Homepage/archive of the leading shop
Find relevant results with Ajax search
Easy to install, just a few clicks are all it takes
Typefaces are available in a variety of styles
WooCommerce Gutenberg WordPress Theme
By utilizing Cartify, you can build any shopping website with more than 20+ layouts that use Gutenberg blocks as the basis for your design. 
This WooCommerce theme has been touted as one of Gutenberg's most impressive and well-designed themes, and it's a must for any shopping website that you are planning to launch shortly.
The demos will allow a seamless experience across any device, yet sections/blocks of the presentation can be mixed and matched at any time without altering the outcome of the presentation as a whole.
Key Features:
Widgets used for Ajax-based product filtering
Analyzing the histogram of a product in detail
A compare button at the top of each product page
The shop page and category page have a category bar on them
Home/archive page for the leading shop
With Ajax search, you can find relevant results
Creative Multipurpose WordPress Theme
Grid X is an incredibly versatile and creative WordPress theme designed primarily to be used for corporate blogs and portfolios, but it can also be used for any other.
There are 21+ grid pages in this template, 7 different home pages, and 5 creative pages that can be mixed and matched to create what you desire. The demo pages demonstrate the template's flexibility and show you how the different sections can be linked together.
Key Features:
Typography with 600+ Google Fonts
Demo data is available with one click
Footer with up to four columns
Slider revolution with powerful features
100+ options for live customization
Sections with fullscreen and fullwidth images
News Magazine WordPress Theme
Getting published online and digitally is something many aspiring writers and artists strive for, which is why the Benqu theme is designed to make the process easier for them.
There is a lot to offer when working on a website, and this theme was designed to supply users with everything they need to succeed in their endeavors. Thanks to its fast load speeds across all devices, as well as the advanced technological options, this theme ensures users reach their goals in no time.
Key Features:
Enable the Disabled Option for Sticky Footer
A total of 12 different home pages to choose from
Addition of the Ajax Infinite Scroll ON/OFF control
Support for cross-browser compatibility
Infinite Scroll Ajax Post Details Page
Graph showing the progress of reading
Minimal Blog & Magazine WordPress Theme
In terms of simplicity, attractiveness, and appeal, Maxima was designed in particular to cater to users who wish to create blogs and content sites that are simple, easy to use, and visually appealing.
Your individual tastes have been considered when designing and developing this site. The design is consistent with your branding to make sure this site is both easy to navigate and seamless. All devices can access the site since it is fully responsive.
Key Features:
Integration of social media share buttons
An easy way to import demos in one click
A documentation system that is available online
Compatible with all major browsers
Providing a custom logo design service
Widgets areas on the footer of the site
News Magazine WordPress Theme
With Neoton, you can easily create a blog site, a magazine-style website, and other types of websites; it provides you with considerable flexibility when it comes to creating an online magazine or news site.
This is the fastest and easiest way to create a website since it requires only one click to download and install the demo data so you don't have to have any knowledge of coding to create a website.
Key Features:
Demo Installation with One Click Included
Including a child theme in the theme
A powerful theme options panel
The four layouts of the header
A collection of 17 unique demo homepages
Several color options to choose from
The High Converting eCommerce WordPress Theme
Getting going is easy with Minimog because it is a Joomla-based theme, made to ensure that you get started within a short time frame. It is a next-generation WordPress theme designed to maximize your store's potential through a high conversion rate and extensible features.
You will love this eCommerce theme for your store. It provides all the eCommerce features that you could possibly need for your store to reach its full potential at no additional cost. It is also available for free download.
Key Features:
Keeping track of visitors in real-time
A list of 10+ modern shop layouts to inspire you
Layouts for 10+ different product pages
Browse directly through the lookbook
Switcher for multiple currencies
Newspaper, News and Magazine WordPress Theme
If you're working on a publishing-related website, Foxz will be a great tool for you regardless of what type of website you've built.
It possesses features for a wide variety of publications, such as fashion, food, beauty, technology, hardware, and lifestyle, as well as cryptocurrency podcasts, in addition to providing tools for blogging and user-driven websites.
The theme is also AMP RTL ready, with multiple language translations, a multi-language paywall membership, and GDPR compliance. Additionally, this theme has been optimized to be SEO-friendly and also has schema-structured links, search boxes, and breadcrumbs.
Feature Packed News & Magazine WordPress Theme
There are lots of reasons why Spotlight theme is one of the best themes for WordPress. It is a sleek, simple, fast theme with a great deal of visual flair that will suit blogs and magazines with a great deal of photographic content.
Using the Demo Switcher feature, you can apply a new demo anytime without affecting your content. Old demos can be replaced with new ones, and your blog or magazine can appear completely different.
Key Features:
Homepage and archive layouts available
Mega-Menu of super-fast speed
Posts with featured images appear on category pages
Allow subcategories to be filtered on category pages
A variety of page header types are available
Customize your design with instant live previews
Creative WordPress Theme for Personal Blogs and Magazines
With Affair's clean design and its well-crafted typography, you'll be able to build a ton of engaging visual content easily. For example, there are slideshows, galleries, and featured images to choose from, among other options both inside and outside of the site.
As you can see from the screenshots attached, several features and attributes remain the same across both the demo content and the actual demonstration, however, there are a few settings related to the demo site that will need to be configured manually for your convenience, such as widgets linked to social media sites.
Key Features:
Options specific to a particular site
Provide credit information for images
Integrate with external service providers
A list of Adobe fonts is included in this package
Compatible with all major web browsers
Social media accounts that you are linked to
Resort and Hotel WordPress Theme
With Colina as a WordPress theme specially designed for accommodation websites, it is the perfect choice for hotels and resorts, as well as for other people who provide accommodation services and seek to offer them online through their websites.
A beautiful, unique website coupled with this elegant template will ensure that your online presence succeeds at its very best. This template is 100% cellular-friendly, and it has been tested on all major handheld devices as well.
Key Features:
Create a page by dragging and dropping the elements
Contains a demo version of the product
Installs in just a few clicks
A wide variety of typography options are available
Designed to be compatible with Contact Form 7
A powerful framework with a wide range of capabilities
Questions and Answers About WordPress Mobile Themes.
Here are the frequently asked questions we provide to our users regarding the best Mobile-first WordPress themes.
The questions below can be skipped if you already know the answers. Additionally, if you have any other questions, you can post them in the comments section.
Which WordPress theme is best for a mobile-first site?
Here is a list of some of the top WordPress themes for mobile-first websites in 2022.

We would recommend the Astra theme as a second choice since it offers many listing options, blocks, and plugins for free. Our first suggestion would be to use the Publisher theme since it has many demos and themes.
Is there a WordPress hosting service that is best for mobile-first websites?
A good WordPress host is crucial for your website. Beyond selecting, a look at the host might have a negative impact on your site that cannot be remedied. The Bluehost host is a great host for any WordPress website, including mobile-friendly websites. Check out our review of Bluehost.
Last Words
As a conclusion, we have discussed the importance of selecting a WordPress theme that is mobile-first and highlighted some of the best choices available right now. 
Having a mobile-first approach can help you ensure your website is fully optimized for the growing number of mobile users and provide them with an easy-to-use experience no matter where they are on your website.
BetterStudio has a blog that you can continuously check out if you want to learn more about WordPress and web design. The BetterStudio blog publishes a variety of tutorials and articles on a range of WordPress, web design, and digital marketing topics.
We'd really appreciate it if you would take the time to read this article, and if you have any comments or questions, please let us know down below, and you can also follow us on Twitter or Facebook. Your tutorials and news can also be shared on Facebook and Twitter.