Have you ever struggled with creating attention-grabbing headlines for your WordPress website? Or maybe you're searching for the best tools and plugins to optimize your headlines and drive more traffic to your site.
Look no further! In this blog post, we're going to explore the six best WordPress headline analyzer tools and plugins, both free and pro options, that can take your headlines to the next level.
First off, let's address the question that might be on your mind: why do you need headline analyzer tools in the first place? Well, statistics show that 80% of readers never make it past the headline, which means if your headline doesn't captivate their attention, they won't even consider clicking through to your article.
That's where these powerful tools and plugins come in, as they analyze your headlines and provide suggestions to optimize them for better click-through rates and engagement.
Now, let's dive into the six best WordPress headline analyzer tools and plugins. With these tools, you can expect an in-depth analysis of your headlines, insights on their emotional impact, suggestions for improvement, and even comparisons against successful headlines in your niche.
Whether you're a beginner or an experienced website owner, these tools will help you craft headlines that grab attention and drive more traffic to your WordPress site.
We'll give you a detailed look at each tool, highlighting its unique benefits and features. Here we'll talk about free and paid options, so you can choose what works best for you. Let's dig in if you're ready to increase visibility and engagement on your site with killer headlines!
Best Headline Analyzer Tools and Plugins for WordPress
If you are looking for the best tools to analyze your WordPress headlines, look no further! In this article, we've rounded up the top-rated headline analyzer plugins and tools for WordPress, so you can craft attention-grabbing headlines that captivate your readers.
Don't miss out on these game-changing resources – read on to discover the best headline analyzer tools and plugins for WordPress!
The First Headline Analyzer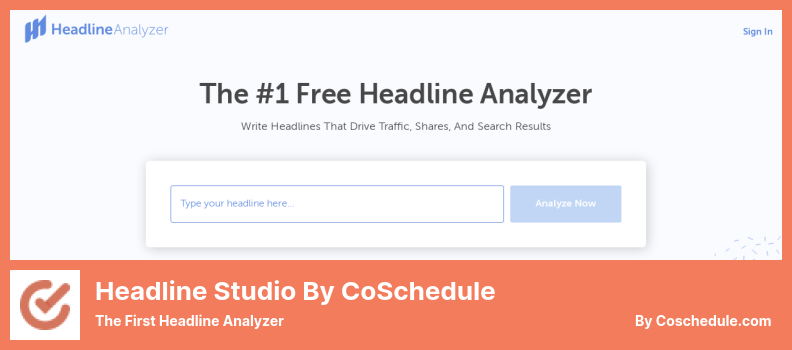 Headline Studio by CoSchedule is a powerful tool that provides valuable insights into the effectiveness of your headline. It offers an SEO score, a search preview, and a comparison with your competitors, allowing you to gauge how well your headline performs.
While the paid version of this tool has a lot of features that are only available to subscribers, it still offers help with improving your headlines through helpful suggestions.
The plugin has a cool feature: it helps you get headline suggestions. Analyzing your headline for emotional language, common words, and readability, makes it easy for your readers to comprehend and engage. Your headline will be more captivating and enticing if you make use of these suggestions.
Another notable feature of the plugin is the option to incorporate various variations of your keyword and related questions. This helps you target a wider audience and optimize your headline for search engines. By including these suggestions, you can increase the visibility and reach of your content.
The plugin also allows you to assess the clarity of your headline. This is crucial as it determines whether your readers can understand the main message or purpose of your content. By ensuring that your headline is clear and concise, you can effectively communicate your ideas to your audience.
Additionally, this tool enables you to assess the emotions conveyed by your headline. Emotion plays a key role in capturing readers' attention and evoking a response. With Headline Studio, you can determine whether your headline conveys the desired emotion and make adjustments as needed.
Key Features:
Captivate your audience by finding the right balance of words in your headline
Make your headline more readable and accessible by simplifying it
Receive suggestions for various variations of your keyword
Check whether your headlines effectively communicate your main point
Assess the emotions conveyed by your headline and adjust accordingly
Get an SEO score and a search preview to evaluate the performance of your headline.
You Can Find Out If Your Headlines Are Engaging or Not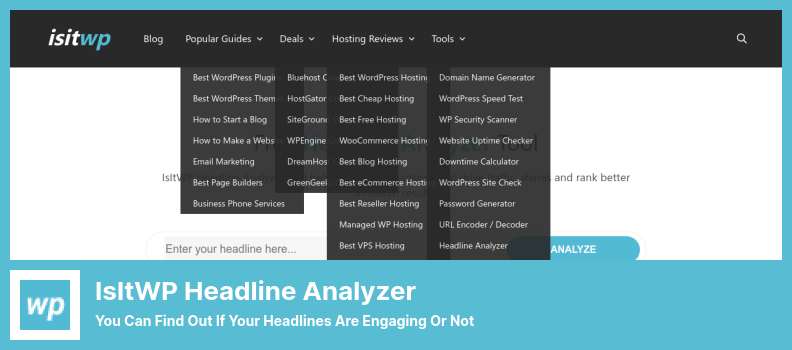 The IsItWP Headline Analyzer provides WordPress website owners with a powerful tool that can be used to improve their headlines and increase the volume of organic traffic to their sites.
This easy-to-use plugin assesses the word balance in your headline and provides suggestions for improvement, helping you create compelling and relevant titles. With just a few simple steps, you can analyze your headline and receive an overall rating.
One of the standout features of the plugin is its ability to help you avoid having the title of your search results cut off. By indicating the length of your headline in characters, you can ensure that your headline is fully displayed in search engine results, increasing the chances of attracting clicks.
The plugin also allows you to write headlines that contain both common and uncommon terms. This versatility gives you the flexibility to create compelling and unique headlines that stand out from the competition.
Key Features:
Avoid having search result titles cut off
Indication of headline length in characters
Incorporate both common and uncommon terms
Use powerful and emotional words effectively.
The Simple and Yet Powerful Headline Analyzer Tool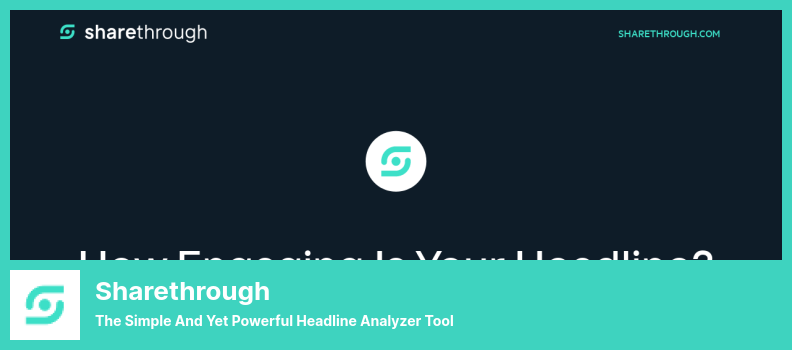 The Sharethrough headline analyzer tool for WordPress is simple and powerful. You'll get a Headline Quality Score when you enter your title, which highlights its features and suggests ways to make it better. This awesome tool uses neuroscience and behavioral research to grade your headline.
Along with the Headline Quality Score, the plugin gives you three other headline scores, too: an impression, a conversion, and an engagement score. As a result, you can tell how effective your headlines are at attracting attention, generating engagement, and turning readers into customers.
In its evaluation process, it uses 300 variables, like EEG Electroencephalograms and Natural Language Processing (NLP). It's a tool that takes a number of things into account when deciding whether your headlines are powerful and can catch your audience's attention.
With Sharethrough, you're not just receiving scores and evaluations. You also get valuable feedback on your performance and suggestions for improving your headlines. This feedback can be especially helpful in modifying your words to increase engagement or leveraging your brand to build trust and generate more impressions.
Key Features:
Provides Headline Quality Score for title evaluation
Offers three additional scores for impressions, engagement, and conversions
Utilizes neuroscience and behavioral research for accurate evaluations
Gives feedback and suggestions for improving headline performance
Evaluates headlines based on 300 variables
Helps modify words and leverage the brand to increase engagement.
a Tool to Evaluate Your Headlines
Emotional Marketing Value Headline Analyzer is a powerful tool that evaluates headlines and calculates their emotive marketing value. By analyzing your headline, it provides an emotional impact percentage, indicating how impactful your headline is on readers.
Not only does this tool provide an EMV score, but it also helps identify the types of emotions that are likely to be provoked by your headlines, such as intellectual, empathetic, and spiritual. Developed by the Advanced Marketing Institute, this tool is based on the findings of a Mitchell study called 'It.'
To assess the emotional significance of your writing, the tool uses a scale from 0 to 100, with 0 representing the lowest score and 100 representing the highest. This allows you to gauge the emotional impact of your headlines and make necessary adjustments to optimize your content's effectiveness.
With the plugin, you can determine the appropriate emotion for your headline based on your customers' reactions. This understanding allows you to create headlines that capture your audience's attention and evoke the desired emotional response.
By analyzing your headline, this tool provides an EMV score that indicates how often you've used EMV words. This score helps you evaluate the emotional appeal of your headline and make improvements if needed.
Incorporating emotions into your headlines strengthens your business relationship with customers. With the help of this tool, you can leverage the power of emotion to connect with your audience on a deeper level and foster long-term loyalty.
Key Features:
Analyze the

Emotional Marketing Value score

of your headline

Evaluate how often you've used EMV words in your headline
Determine appropriate emotion for your headline based on customer reactions
Utilize emotion to strengthen customer relationships
Identify the types of emotions likely to be provoked by your headlines
Make necessary adjustments to optimize your content's effectiveness.
Makes It Easier Than Ever to Write Irresistible Titles
With OptInnMonster Headline Analyzer, you can boost your lead generation rate, sales, and contact list for WordPress. Although it doesn't have a free version, the tool offers a bunch of features to make your headlines better. It gives you insights into how your title will look in search engine results and a length analysis.
One of the standout features of the plugin is its ability to generate diverse headline ideas, enabling you to come up with creative and compelling titles. Additionally, it provides suggestions for adjustments, helping you refine and improve your headlines for maximum impact.
The plugin also offers an SEO heading submission feature, allowing you to analyze and review the results. You can even preview how your headline will appear on Google Search, giving you a clear understanding of its visibility and clickability.
The plugin excels at assessing your headlines, providing you with valuable suggestions to enhance the likelihood of attracting a higher number of clicks.
With its user-friendly interface and straightforward usability, OptinMonster Headline Analyzer enables you to create attention-grabbing titles that truly resonate with your target audience.
Key Features:
Analyzes and reviews SEO headings
Provides a preview of Google search results
Assesses headlines and recommends improvements for maximum clicks.
Generates diverse headline ideas
Offers suggestions for adjustments
Google Analytics Dashboard for WordPress
MonsterInsights is a WordPress plugin that allows you to analyze your headlines directly within the editor of your website, saving you time and effort. With just a click of a button, you can receive a customized score based on the number of words in your headline.
With this powerful tool, you will be able to analyze your headline and find out what words you're using most frequently, what words are uncommon, and what words are emotionally powerful, providing you with valuable insights.
This plugin has an awesome Google Analytics integration, so you can see how your headlines perform and make data-driven decisions for optimizing your content. You can tailor your headline to get more clicks and boost your SEO by seeing how it looks in search results.
MonsterInsights also provides suggestions for writing better headlines. It gives you feedback on the length of your headline, helping you to keep it concise and impactful. Additionally, it analyzes the sentiment of your headline, allowing you to craft a headline that resonates with your audience.
Key Features:
View the search preview to optimize your headline for Google
Receive suggestions to improve your headline
Determine the word count and character count of your title
Analyze the sentiment and type of headline you have
Keep your content concise with the help of MonsterInsights.
Frequently Asked Questions
What are headline analyzer tools and plugins?
Headline analyzer tools and plugins are online resources or software that help writers and website owners analyze the effectiveness of their headlines.

These tools and plugins assess various factors such as length, keyword usage, emotional impact, and readability to provide suggestions and tips for creating compelling headlines that can attract more readers and improve search engine optimization.
Why should I use headline analyzer tools and plugins for my WordPress website?
Using headline analyzer tools and plugins can greatly benefit your WordPress website by helping you create attention-grabbing headlines.

These tools analyze your headlines and provide feedback on their effectiveness, ensuring that they are engaging, SEO-friendly, and have the potential to attract more readers.

By optimizing your headlines, you can increase click-through rates, improve search engine rankings, and ultimately drive more traffic to your website.
What features should I look for in a headline analyzer tool or plugin?
When choosing a headline analyzer tool or plugin, it's important to consider features such as keyword analysis, emotional impact assessment, headline length suggestions, readability analysis, and SEO optimization recommendations.

These features will help you craft headlines that are not only captivating but also optimized for search engines, increasing the visibility and reach of your content.
Conclusion
In conclusion, we've discussed the importance of headline analyzers in improving the effectiveness of your WordPress website's headlines. We reviewed six of the best WordPress headline analyzer tools and plugins, both free and pro, that can help you optimize your headlines for maximum impact.
To dive deeper into the world of WordPress and gain more insights and tutorials related to this topic, I highly recommend checking out the BetterStudio blog. They have a wealth of resources that can help you further improve your website's performance and attract more visitors.
If you want to stay up-to-date with the latest tutorials and tips from BetterStudio, make sure to follow them on Facebook and Twitter. By following their social media channels, you'll be the first to know about any new content they release.
Thank you for taking the time to read this article. If you have any questions or need further assistance with implementing the strategies discussed, please don't hesitate to leave a comment below. We're here to help and provide any guidance you may need.