Trying to find the best list of WordPress plugins for Content Locker? Is it difficult to find quality Content Locker WordPress plugins?
For your convenience, we have compiled a list of the Best Content Locker WordPress plugins with great features. Thus, we have integrated all the WordPress plugins that are speed optimized, well-coded, and feature-rich to help you to improve your WordPress blog website.
The following plugins are all for the Content Locker. There are also plugins for Private Content, Opt-in Locker, Social Locker, and Share Locker.
Best Content Locker Plugins for WordPress 🔒
Add a header to begin generating the table of contents
So let's look at some of the best WordPress plugins for Content Locker in 2022:
Content Locker for WordPress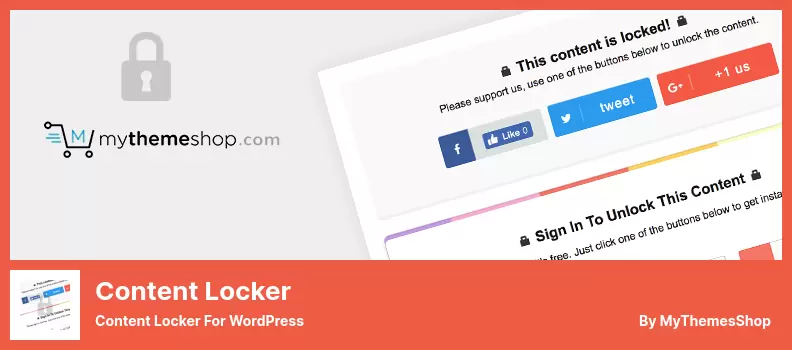 Content Locker is one of the best social medial plugins for WordPress. This plugin works well with any theme and comes with 16 content locker designs.
This plugin will help you to share your content more with other people. As mentioned, the Content Locker plugin works well with any theme. If you have basic information about SEO, you know that conversion rate optimization, bounce rate, and content sharing are the most important parameters in SEO.
The Content Locker plugin does all of these things well, and in addition to other features, it can also increase your website's ranking in search engines.
One of the exciting features of the plugin is that you can save your subscribers list in WordPress if you want.
The premium version of Content Locker allows you to add a social locker to your content. So, you can ask website users to follow you on social media before they can access your content.
The Content Locker plugin has many features, all of which are functional. Like any other plugin, you need to get the premium version to access all the features.
---
💵 The price of Free Lite is higher than that of Pro.
Key Features:
Drive Social Traffic
Increase engagement
Convert Visitors into Leads
Beautiful Design
Works with Any Theme
Lightweight
Collect Emails and Names
Store Subscribers in WordPress
MailChimp & Mailer Lite Integrated
Track Performance of Each Locker
Integrated with Google Analytics
Option to Load Content Using Ajax
Random Reviews:
You can't edit it using HTML or React Providers while it uses a shortcode. However, you can use CSS if you can figure out how to remove everything.

It had a nice promise but unfortunately it doesn't work. In my case, the content is locked but no window are there to propose to like or something. I only tried with the free version and had the same issue as with the social locker plugin.

Don't buy premium, the Facebook like button doesn't work
Opt-in Content Locker for WordPress
Opt-In Content Locker is one of the best WordPress content protection plugins that allows you to lock important content on your website and show that content only to subscribed users.
You can use the shortcode to insert it anywhere in content after installing and activating the plugin. Users can only view your content if they subscribe with their email addresses.
The Opt-In Content Locker plugin supports email service providers such as MailChimp, AWeber, GetResponse, contact, Campaign Monitor, Mad Mimi, Benchmark, Sendy, and MyMail.
---
💵 $17 offers you this exceptional plugin, and you'll also get 12 months of free support.
Key Features:
Lock important content
Remember subscribed visitors
Regular locker mode
Soft locker mode
MailChimp supported
iContact supported
GetResponse supported
Campaign Monitor supported
AWeber supported
Benchmark supported
Random Reviews:
Excellent

Thanks for sharing. Simple

It has helped me generate more than 50 new subscribers per day by combining it with Mailster on my Website, DesignerCandies.net.
Opt-In Locker and Quick Email Confirmation

Opt-In Panda is one of the best WordPress Newsletter plugins that hide content on your site page from users. Users must submit their email address to your mailing list to view your content. As a result, your mailing list of members will increase.
The Opt-In Panda plugin is compatible with email services such as MailChimp, Aweber, and GetResponse. Once users submit their email, you can start a marketing campaign with the plugin.
One of the important features of the Opt-In Panda plugin is having email confirmation features. With this feature, you can make sure that real users are added to your email list. As a result, only users who are interested in your content have provided their email to you and you can build your mailing list on your WordPress site.
So, with the Opt-In Panda plugin, you can be sure that only real users are on your email list, and you will not receive fake emails in your email list.
---
💵 No worries at all. This plugin comes with complete documentation and 365-24-7 customer support. The cost is $26.
Key Features:
SEO Friendly design
4 Types of Lockers
Support Visual Composer
Optimized for Mobile
Fast Loading
Developer Friendly
WordPress Social Locker

With Social Locker, you can create a content locker plugin that increases social shares. Therefore, if your aim is to build an email list using content locking plugins, you should look for another solution.
The Social Locker plugin hides your content behind social share buttons. As a result, your visitor will need to like, share, or tweet before the content becomes available.
You can choose between free and paid versions of the plugin. Still, the free version has some limitations, so most website owners prefer the paid version.
---
💵 Buy this plugin and you'll get 12 months of support.
Key Features:
Engage Traffic
Increase Followers
Eye-catching Styles
100% Responsive
WordPress Social Content Locker Plugin
Super Social Content Locker is another plugin for accessing website content, and many websites use this plugin. The plugin lets users see your website content if they share the content link on social networking platforms.
In the premium version, the Super Social Content Locker plugin allows you to restrict users' access to the vast amount of content on your website. The premium version comes with the MailChimp service and can be used with the plugin on the website and also it support WordPress page builders.
Built-in styles and templates that you can use within your website. These four themes include Basic Slim, Common Grey, Stylish Grey, and Stylish Dark.
---
💵 You can purchase this plugin for $24.
Key Features:
Promote your products by building your own subscriber list
Make your website more popular by allowing your visitors to become members
Force visitors to watch videos before displaying their content to increase your video views
You can engage your audience by offering contests or quizzes such as Pic of the Week to choose the best photo
Random Reviews:
Great support

Although there are a few minor bugs, this is one of the best plugin purchases I have ever made! Author is very responsive. It is amazing what this plugin will be after a few updates. The sky is the limit with the applications.

The plugin works fine when sharing to Facebook and Twitter.
Subscribe to Unlock Opt-In Content Locker
Opt-In Content Locker is another plugin that can be used to lock certain parts of the website content. Users need to subscribe to your site to view all content. As a result, you can easily increase the number of subscribers to your website.
With this plugin, you are just a few seconds away from collecting subscribers from your WordPress website. Opt-In Content Locker integrates with a subscription form on any site is that easy with our plugin.
Opt-In Content Locker has 2 Pre-Designed Subscription Form Templates, and you can use them.
---
💵 The plugin has a Lite and Premium version. The Premium version costs $15, whereas the Lite version costs $0.
Key Features:
Create Unlimited Form with different restrictions
10 Pre-Designed Subscription Form Templates
Lock whole page with Popup Locker
Locker with a fancy animated countdown timer to make it more interactive
Lock content directly from the post page editor
Custom Form Styler Available
Mailchimp and Constant Contact Integration are available
Random Reviews:
This plugin is great, very useful and works perfectly. The support is top, I had an issue with settings and they resolved it very fast!

I think this is a great and useful plugin!!

The plugin works as described and the support is great! I had an installation issue, but they got it resolved in minutes!
WordPress Social Locker
OnePress Social Locker is another popular content locker plugin for WordPress websites.
This plugin is only used to increase content sharing. You will need to use another plugin if you are using content locking to grow your list.
The OnePress Social Locker plugin works by hiding your content behind sharing buttons. Users need to like, share, or tweet before they want to access your content.
Using OnePress Social Locker indeed hides your content from users. But if someone searches for your content in search engines, they can find it. In other words, this plugin is SEO-friendly.
---
💵 Free, progressive plugin created by a powerful author. It is completely FREE.
Key Features:
There are three social media buttons: Facebook Like, Twitter Tweet, and Google +
It's possible to set any URL that you would like to be liked, tweeted, +1ed, etc., through your social lockers
Your locked pages can be optimized with a built-in analytics tool, as well as what you can do to improve your campaigns with different locker placements
An impressive set of styles and effects are included in the plugin that creates interest and attracts the eye
Search bots can still see your locked content by default for better SEO
There are four types of locks: Locking any content manually via shortcodes or options
This Social Locker is fully compatible with Visual Composer
You can access locked content on mobile devices as well as on desktop computers
Loading speed is fast because the plugin is well optimized and doesn't cause your website to load slower
Random Reviews:
You may abandon a plugin by simply stating this

There is no support anymore.

Since December it does not work. As it's a commercial plugin we paid for, an update or at least statements from the developer would be appreciated.
Conclusion
Therefore, these are our picks for the best Content Locker WordPress plugins. Choose a ready plugin and improve your site. These plugins are powerful!
We hope this article helped you discover the best WordPress plugin for the Content Locker site. In addition, you can also check our list of WordPress email marketing plugins that are compatible with the most popular WordPress themes.
Please let me know if you know of any other plugins for the Content Locker in the comments below. Follow us on Facebook and Twitter to get the latest articles!