Searching for the best WordPress plugins for WooCommerce thank you pages?
This article will share the best WordPress WooCommerce Thank You Page plugins. Each of the plugins included here has good support and code, is well designed, is fast, and has a high level of differentiation.
Here is a list of WordPress plugins we put together for WooCommerce Thank You Pages. Below is a stack of the best WordPress plugins that can also be used for WooCommerce Thank You Pages from Elementor, Divi, Custom Thank You Pages, and WooCommerce Thank You Page Customizer. These plugins support the top WordPress themes.
📌 Note: Use an advanced WooCommerce theme that provides the features you need with a beautiful design to improve the appearance and functionality of your store. Also, for choosing advanced plugins for your store, check out our article about top WooCommerce plugins.
We are now going to check out what WordPress WooCommerce Thank You Page plugins are available in 2022:
Power Up Your Thank You Pages By Marketing
The Pluginrepublic WooCommerce Thank You Page plugin allows you to customize your thank you page to display offers after customers complete their purchases.
It is important to remember that a well-written thank you page will increase the likelihood that your customers will make another purchase, and it will also save them time.
There is a possibility that this page will display deals and coupons. By providing your customers with valuable information, such as shipping times, documentation links, and FAQs, with this plugin, you will be able to build customer loyalty and trust.
A plugin such as this can be used to display new products for an upcoming promotion and products similar to those your customers likely purchased, which can increase sales for your website.
The plugin is easy to use, flexible, and suitable for non-programmers and professional developers. Using this plugin, you can define a single global page or multiple pages that appear together in a single web page.
💵 The plugin is user-friendly and can be purchased for $49.
Key Features:
Provides information that is essential for building trust and loyalty
Provides customers with special offers and discounts
Enhances the marketing effectiveness of your Thank You page
By providing FAQs and documentation, support time can be reduced
Provides an incentive for repeat purchases
You can build customer relationships and save yourself time
A Plugin to Customize All WooCommerce Pages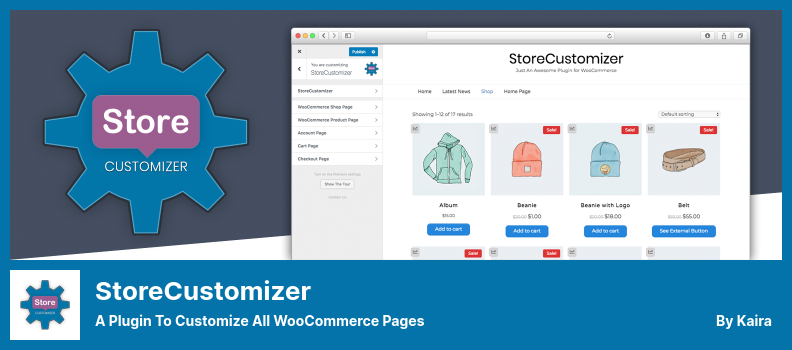 In order to customize all of the pages of your online store, you will need the WooCommerce StoreCustomizer plugin. This plugin is lightweight and provides you with several customization options.
You can use this "Thank You Page" customizer for WooCommerce plugin to create thank-you pages that your visitors will appreciate if you include them on your website.
You should provide a thank you page to your customers after they make a purchase on your site. In these Thank You Pages, you will typically find instructions on how to use advertisements or a form for signing up for newsletters related to the products you are interested in.
There is a wide range of customization options available when creating your thank you page with this plugin. In addition, you can integrate a trending thank you page into your website, which can be customized to appear in the desired location.
💵 Downloading the Lite version is free while downloading the Premium version costs $49.
Key Features:
Provides a variety of intuitive layouts integrated with Elementor for customizing the WooCommerce Thank You Page
Admin users can view product sales statistics.
The default 'Thank You Page' can easily be optimized
There is an option of removing the primary checkout fields
There is an option to set Thank You Pages as the default one
Random Reviews:
It perfectly customizes every aspect of the entire site. It is one of the best plugins I've ever used.

With this plugin, you can make small but significant changes to your store pages without having to edit themes or add additional CSS.
Customize or Redirect to Any Page
The WooCommerce Thank You Page plugin allows you to create post-purchase "thank you pages" for your online store to improve the shopping experience.
With this plugin, social sharing boxes can be displayed on the custom "thank you" pages and upsell products, customer information, and order information.
By using a redirect, you can easily switch from the default "thank you" page to the one you have selected. With this plugin, it is now possible to sell and generate revenue with a greater variety of products in UpSelling.
In this plugin, adding thank you pages to the categories of products and adding payment methods can be accomplished with multiple rules that can be managed and prioritized.
You may customize the thank you screen as necessary to improve the appearance of the order details. There are also options available for changing the font size, weight, and color of the title text and enabling or disabling the order table and customer information.
💵 Purchasing this plugin will cost you $25.
Key Features:
You can set up redirection for any payment method
A general 'thank you page' or redirection can be configured
Provides information about the customer, order details, social media links, or upsells

The products and payment methods of the store can be customized

A customized view of customer information and orders is available
Optimize Your 'Thank You' Page
With the Custom Thank You Pages plugin, you can create beautiful thank you pages based on your clients' purchases. In this plugin, it may be beneficial for you to display these pages to the same customer in the future in order to encourage them to purchase more products from you.
You can customize a Thank You Page for your customers based on the product they purchased so they can continue shopping or visit the site again to complete another transaction.
By using this plugin, you will be able to offer your customers products related to the Upsell strategy during the "Thank You Page" of your site. The best way to ensure that your customers are confident about the product they purchase is to offer more related products on your website.
Even if customers do not purchase such products at that time, they will remember your store the next time they are in need of them.
💵 $49 gives you this plugin plus 12 months of support.
Customize The u0022thank Youu0022 Page Shown to Your Customers
Using the YITH Custom Thank You Page for WooCommerce plugin, you can customize your thank you page for your eCommerce website and create an impressive thanks page for your customers.
The plugin displays a "Thank You page" to the customer after the ordering process has been completed. Furthermore, due to the CSS code added to the Thank You Page, it is possible to customize the page in various ways.
On your website's Thank You page, you can provide customers with information about other related items they may be interested in purchasing in addition to the item they have just purchased. Increasing your sales and revenue with upsells is one way to increase your sales and revenue.
With this plugin, creating multiple Thank You pages and placing them on different product pages will enable you to categorize the products you create on "Thank You" pages.
💵 With all its features and capabilities, it costs $79, and it comes with 12 months of free support if you're unsatisfied.
Key Features:
Your shop and products can benefit from indirect advertising
It is possible to create an unlimited number of thank you pages
There is an option to enable upsells
You can utilize the custom CSS code.
Allows you to insert a feedback form and a newsletter subscription form
Turn One-time Buyers Into Repeat Buyers
Storeapps Custom Thank You Page is a lightweight WordPress plugin that allows you to create unique Thank You Pages for each product available in your store with just a few clicks. The plugin's interface is straightforward, and the configuration process is also simple.
In addition to the standard WooCommerce thank you page, this plugin allows you to create a customized one. Using this plugin, you can create your very own customized Thank You page with custom content and elements.
With this plugin, you can display a thank you message to a customer after they complete a purchase on your website during checkout. Furthermore, according to what your customers have purchased, you can direct them to a different URL after they have made a purchase.
It is possible to select from various redirect configurations enabled on the product's URL to display information about the order. This can also be done on the Thank You Page.
💵 Using this plugin is very simple, and you can purchase it for $39.
Key Features:
Allows custom thank you pages to be created for each product
Allows you to insert a thank you page on multiple sites
A summary of the order can be shown for confirmation
Users can be redirected to any page after checkout
Provides a custom thank you page for all stores
Integrated with other plugins such as WooCommerce Thank You Page Divi
Permits You to Define Global Thank You Page
You can customize your thank you page by using the Thanks Redirect for WooCommerce plugin by your needs. The plugin allows you to create a global thank you page based on your customers' reactions to whether a campaign was successful or unsuccessful.
By using this plugin, you can create a custom thank you page and redirect your visitors to it after their purchase has been completed. It is user-friendly and allows you to do this quickly and easily.
This plugin may be useful for displaying the purpose of your page, which is typically your store's webpage. With the help of a plugin such as this, you will be able to submit feature requests that can be used in the future.
The plugin supports the latest versions of WordPress and WooCommerce, which allows the addition of multiple products at the same time to the cart.
💵 There is a Lite and Pro version, with the Pro version being $14 and the Lite version is free.
Key Features:
POT files allow you to translate into a variety of languages
Provides support for multiple products in a cart
A global thank you page, and product-specific URLs can be set up
Integrated with the WooCommerce donation and subscription system
A customer may be redirected to more than one WordPress site
Random Reviews:
There is now a straightforward and elegant answer to FB retargeting advertising. It is very convenient and easy to use. After-sales support is quick as well.

I was looking for a plugin that would make a redirect for a product. This is precisely what I was looking for!
We're done now, so let's end it
For your website to flourish, you should evaluate your plugins. We have reviewed the best WordPress WooCommerce Thank You Page plugins.
📌 Note: We suggest you check our articles on the best WordPress blog themes and best WordPress plugins for bloggers.
We wish this resource had been insightful.
Please let us know if you have any questions or comments. Just send us a comment. Please, follow our articles on Facebook and Twitter!