Searching for the best & most top-rated WordPress plugins for WooCommerce Shopping Cart?
We have compiled a list of the best WooCommerce Shopping Cart plugins, so you can build a powerful and beautiful store using one of the plugins on this list. With these WordPress plugins, you can select the plugin best suited to your needs. Additionally, these plugins are compatible with all modern WordPress templates.
We chose the best WordPress plugins among the very best for The WooCommerce Shopping Cart. This bundle of WordPress plugins is also related to WooCommerce Cart Icon, WooCommerce Mini Cart, and WooCommerce Checkout.
📌 Recommended: To enhance your store's look and functionality, we recommend that you use an advanced WooCommerce theme that includes both useful features and a nice design. Also, we suggest you see our article about the most useful WooCommerce plugins.
WooCommerce Shopping Cart Plugins: Here are the best ones in 2022:
Allows Store Owners to Enable Quotation Inquiry

The WooCommerce Cart To Quote Plugin is ideal for wholesalers. WooCommerce Wholesalers are often forced to haggle over prices when they enter physical stores because they are often on a tight budget.
The wholesalers in the digital age will receive half as many products as the regular customer, where the WooCommerce shopping cart comes into play. For them, using this WooCommerce shopping cart is the best way to increase their profits.
This plugin gives you the ability to hide the price of your products from your buyers to receive quotes from them via the form included in the plugin.
Your product will remain private if you inform them of its price, which will not make headlines, so you will maintain your privacy. If you decide to negotiate the price, the negotiation will not make the front page.
💵 Get all the perfect features plus free support for 12 months with $27.
Key Features:
You can attach the form that you have made, for example, in an email
You may customize the text that appears on the add to cart button
By hiding the checkout button, the customers send only the quotation form
There is no separate form for quotations
There is the possibility to hide the price in text format for guest users
A guest account and a registered account can both be created
Random Reviews:
Great customer support. Do the job well.

There is fast, reliable support, and the plugin works as expected!

This person is very nice, and the software saved me a lot of time
WooCommerce Product, Mini Cart Widget for Elementor
The TFMiniCart plugin is primarily focused on customizing cart widgets as a WooCommerce shopping cart. It is also one of the best Elementor shopping cart solutions available for WordPress.
This plugin works well with the Elementor theme because it allows you to add products to the cart with a standard cart. Although it is a simple cart, it will enable you to add products at the beginning of the web process.
This plugin allows you to enhance the functionality of the shopping cart and checkout on WordPress by choosing and dragging the appropriate widgets into your Elementor theme.
With this plugin, users will enjoy the convenience of dragging and dropping widgets exactly where they would like them to appear.
You can display products from your inventory in a grid, a carousel, or a card-style format to enable customers to view the items quickly and make them more likely to purchase them.
💵 Enjoy all the modern features of the TFMiniCart plugin for $16/month.
Key Features:
Your products can be presented in different ways
You will find a separate field on the checkout page where you can enter the coupon code
There are options for filtering products
There are view cart and checkout buttons
Multi-language compatibility is supported
Random Reviews:
Using Ecwid for business is a fantastic experience.

Bugs were encountered and certain features were missing.
Create Special Pages Where Customers Can Choose Products
The WooCommerce One Page Checkout plugin offers a significant advantage over the built-in cart with the standard WooCommerce plugin.
The WooCommerce mini cart plugin along with the standard WooCommerce plugin provides minimal functionality.
It is important to note that some of the best WordPress shopping cart plugins have different WooCommerce cart icon and WooCommerce checkout pages, leaving the customer to doubt their purchase.
This plugin can result in an abandoned cart when the client selects the products they wish to buy but decides not to make the payment later.
With this plugin, the WooCommerce plugin is reworked so that the shopping cart and the checkout screen can be seen on the same page, enabling the end-user to shop without waiting long for the loading time to decrease while browsing the internet.
In addition to its modifications to the conventional WooCommerce shopping cart, it also allows you to use the Shortcodes provided by the plugin.
💵 $79. You'll get 1 year of 24-7 support.
Key Features:
The shopping cart contains information concerning the products
It is straightforward to design a pricing table template
Easy addition and removal of products are possible through the shopping cart
The template you prefer may be chosen if you so desire
Text or writing may be added to any promotional or sales material
Offer The Most Relevant Products At The Perfect Time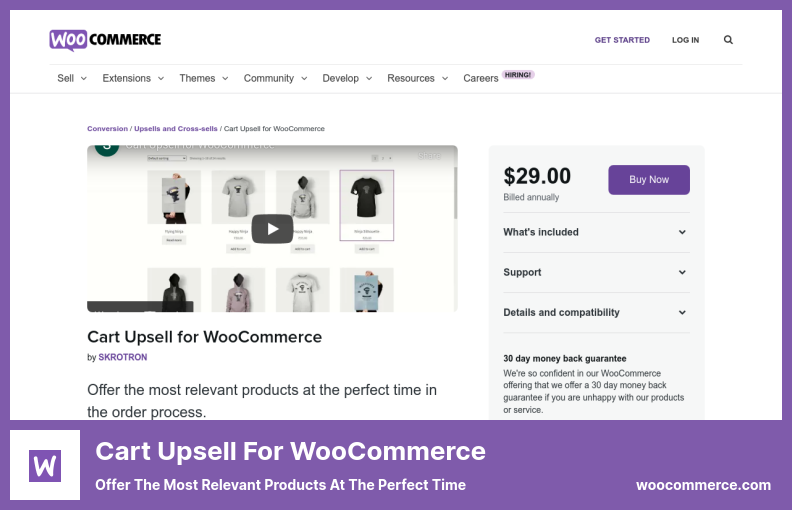 Owners of eCommerce websites that sell large quantities of goods to consumers will benefit most from the Cart Upsell for WooCommerce plugin. Owners of eCommerce websites that sell smaller items to consumers will benefit less.
This plugin will help eCommerce owners who sell packages consisting of a range of products of the same type or subject increase profits and sales by adding an additional product to the box.
Consequently, you can continue to provide your customers with a wide range of choices – each that is related to a product they have already acquired. In doing so, your average order value will also increase, therefore boosting the success of your business.
In addition to the ability to customize the upselling products' information like image, font, and background color, this plugin also includes several other features that make it an essential WordPress plugin.
Unfortunately, like WooCommerce One Page Checkout, there is no free version of this plugin.
💵 The WordPress plugin costs $29 and has 1-year updates and support.
Key Features:
A sale condition can be established in three ways: products, categories, and total quantities
Your shopping cart total will automatically change if you remove an item or add one
It is possible to create content for the Upsell Content module that is fully customizable
By clicking on the coupon icon, coupons can be added to the shopping cart
Add an Online Store to Your WordPress Site
The Ecwid Ecommerce Shopping Cart plugin offers an exceptional widget generator and a cloud-based hosting service that allows it to store all of your payment details and information regarding your online store without upgrading your hosting web system.
This plugin allows you to create a brand-new website or use one you already have to manage digital and physical sales on an existing WordPress site to conduct online and in-person business through your website.
Although you do not receive any benefits from using WooCommerce with your own hosting service, millions of people worldwide trust the plugin.
This plugin can manage your inventory and perform your regular business operations, such as accepting payments from anywhere. The app is free to download on iOS and Android devices.
This plugin automatically adjusts your basket price to include shipping costs, making it more convenient. Unfortunately, suppose Instagram Shopping is not available in your country. In that case, profiles on Instagram will not be approved, nor will product tags be permitted.
💵 While the Premium version of this plugin costs $12/month, the Lite version costs nothing.
Key Features:
You can choose to display an additional image alongside the primary image in your cart
You can identify which ones will suit your shopping cart best by previewing your customizations
The overall text and images in the cart layout are presented in three, four, or five columns
The cart is highly customizable and extremely easy to use
Your shop can be promoted by Facebook Marketplace, Amazon, and Google Shopping, among other channels
The mouse will appear as a button when hovering over an image or if certain features appear at the top or bottom of the image
Random Reviews:
Ecommerce sites are hard to beat. I do pay a subscription and the support alone is worth the dollars. The site looks great and is easy to set up. The Ecwid team is on top of the latest marketing and e-commerce techniques. Get on it… Get Ecwid!

It is a pleasure to conduct business with Ecwid.

Certain bugs, some functionality missing.
a WordPress eCommerce Plugin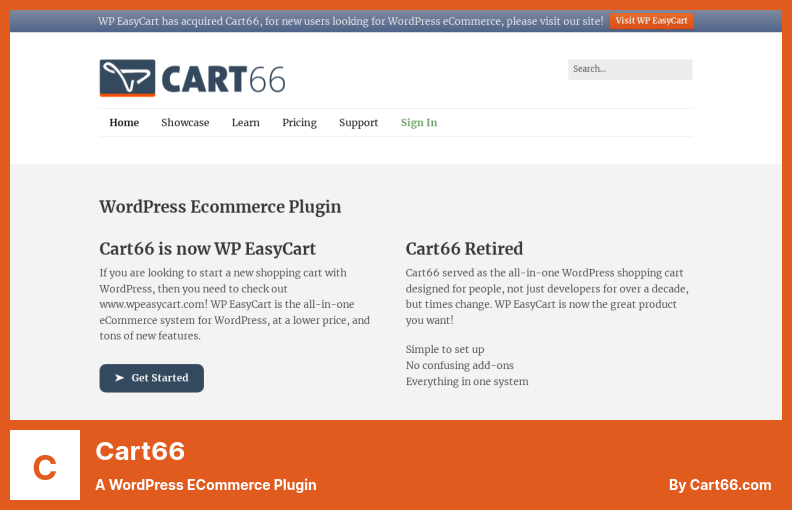 Cart66 for WooCommerce was created to fulfill all your shopping cart requirements, taking into account all the aspects involved in a typical purchase.
It is easy to manage any aspect of the online store management process, including store-level functions or inventory management, via a WordPress shopping cart.
The PCI-compliant payment system is the preferred choice to ensure the highest level of security and convenience when selling physical and digital products.
The plugin offers a wide range of digital products in subscription-based services, digital products, user memberships, maintenance plans, etc.
In particular, the plugin is helpful for entrepreneurs employed in professions such as authors or writers, dieticians, freelancers, charities, non-profit organizations, musicians, photographers, software developers, and software marketers.
Furthermore, it does not require any SSL certificates since it supports almost all WordPress themes and plugins. You will never need to concern yourself with third-party plugins.
💵 The plugin is very easy to use, and you can purchase it for a low price.
Key Features:
Choosing 'Buy Now' will allow you to bypass the functionality for adding items to your cart altogether
You can handle your own payment-related information as a customer at any time
Supports the hundreds of leading payment gateways
The quantity of a product can be specified in either a minimum or maximum amount
You can Utilize drip email marketing to keep track of orders
Extends The Possibilities of WooCommerce
The WooCommerce Cart Share and Save was an exceptionally unique and innovative WordPress plugin. Based on its name, this is a form of the cart which stores products and sends them to social media sites, such as Facebook, Twitter, and Messenger.
By clicking on the 'share' button, a large pop-up window will appear that lists all possible sharing options. The shopping cart can also be shared, saved, and printed in any format you choose when you click the sharing button.
You can share your cart on a social network such as Facebook so that people who follow you there will see your cart and the store from where you purchased your product.
In addition, it will recommend your products and store, which can help you increase revenue by bringing in more customers. WooCommerce is lightweight, quick to load, and allows you to easily add hundreds of products to your shopping cart without having to deal with complicated code.
💵 It will cost you $46 if you want to purchase this plugin. You'll also get 12 months of support and free lifetime updates.
Key Features:
Coupons can also be applied during checkout
Layouts can be highly customized
Carts can be restored after they have been saved
Your cart can be shared with as many social media channels as possible
You can grant access to the cart for future sharing
A product's information is updated whenever it is added to or removed from the cart
Random Reviews:
Great plugin that helps us with client quotes. Also enjoyed our experience with support. Very professional work, that has helped us to solve all problems. Thank you!

It's really great to work with a customer support team that is above and beyond. I had an issue with my Woocommerce theme that they handled and they were very helpful and patient. I appreciate their knowledge and troubleshooting skills.

This is a very useful plugin that can be used to quickly compute and retrieve commercial offers that contain a large number of items.
Here is the end of it all
It is essential to evaluate plugins. We discussed the best WordPress WooCommerce Shopping Cart plugins. Pick one of these plugins. They help you boost your site.
📌 Recommended: By regularly publishing articles on the best WordPress blog themes and best WordPress plugins for bloggers, we receive votes, referrals, and shares from our audience.
We hope these plugins will help you increase customer awareness of your website.
Several points have been discussed here. If you have any questions about any of them, please submit them below. Please show your support for this post by sharing it on Facebook and Twitter.