Have you been struggling to find the right plugin for your WooCommerce store? Are you tired of browsing endlessly and not finding what you need?
Well, look no further! In this article, we will be showcasing the best Elementor add-ons for WooCommerce that will elevate your store's functionality and design.
Elementor is one of the most popular page builders for WordPress, and its add-ons are an excellent way to enhance the features of your website.
This article will provide you with a comprehensive list of the 13 best Elementor add-ons that will help you improve your store's speed, performance, and user experience.
You don't want to miss out on this article, so let's dive in! Here's everything you need to know about the best Elementor add-ons for WooCommerce.
Best WooCommerce Elementor Addons
If you're looking for a way to enhance your WooCommerce store, you're in luck. Our team has done the research and compiled a list of the best Elementor addons specifically for WooCommerce. Take a look and discover the features that can level up your e-commerce game.
Extend Elementor With Creative Elementor Widgets and Extensions
PowerPack Addons for Elementor is an excellent plugin created by IdeaBox Creations, the same developers behind the well-known PowerPack Beaver Builder Addon. With over 70 widgets to choose from, it provides some of the best add-ons for Elementor's page builder.
The plugin features SEO-focused widgets, including two schema widgets – FAQ and How-To – that can help you fix common SEO issues, making it a valuable tool for WooCommerce users looking to improve their website's rankings.
The PowerPack plugin also features widgets that are easy to update and responsive on all devices, ensuring the best user experience on mobile devices and tablets.
This eCommerce-focused plugin allows you to enjoy creating beautiful and functional websites without risking any Elementor and WooCommerce conflicts, making it a perfect addition to your WP form builders, including Caldera Forms, Ninja Forms, Contact Forms 7, and Gravity Forms.
One of the most outstanding features of PowerPack is its ability to help you showcase your business's history using the timeline widget. You may also take advantage of the image slider to showcase your products and gain more traffic. If you're a blogger, the Magazine Slider widget may pique your interest since it's one of the most popular blog layouts today.
For WooCommerce merchants, the Countdown Timer widget allows you to mark a specific period for a sale, making it easy to manage your eCommerce promotions. The PowerPack plugin also includes dual headings, a feature that enhances the appearance of headings, and price plans, enabling you to showcase your services and product pricing tables.
Key Features:
SEO-focused widgets, including schema widgets
Pricing table display using the Price Plans widget
Compatible with various WP form builders.
Timeline widget to showcase your business' history
Countdown Timer widget for sales promotions
Dual headings for enhanced appearance
Build an Online Store That Does Not Look Ordinary Like Most of The Stores Out There
The WooLentor plugin is an easy-to-use WooCommerce plugin that simplifies the process of creating a website for your eCommerce business through WooCommerce.
It doesn't take much time for you, as the store owner, to design your store pages since the templates have already been prepared for your convenience in advance so you will not have to spend much time doing it.
Moreover, the plugin provides ample pre-built import options to kickstart your design process. With the visual builder, you can edit every WooCommerce page to your liking, from my account to the checkout pages.
With the Pro version, you will find more specific WooCommerce templates in comparison to the free version, which is compatible with any WordPress theme. Nevertheless, there are only a few options for pricing.
Key Features:
Display brand logos with a grid or carousel layout
Mark different parts of a product's image to describe it
Promote special offers with customizable banners
Customize product category lists to fit your needs
Display products in a variety of layouts
Display products based on categories in a tabbed format.
Add Stylish Listings of The WooCommerce Products to The Pages Built With Elementor
JetWooBuilder for Elementor is a WooCommerce page builder that provides additional widgets, making it easier to design an eCommerce website without requiring coding skills.
This plugin includes a collection of WooCommerce elements not found in the core Elementor plugin, such as shop pages, star ratings, product reviews, single tabs, and tag lists.
The plugin is designed to satisfy users' demands for designing a professional-looking online store. It offers stunning images that can be used for photomontages and single-page layouts, along with beautiful catalog pages and multiple ratios.
This plugin lets you customize the widgets so your WooCommerce pages look unique and vibrant. It also lets you show WooCommerce categories and tags visually, with plenty of customization options. In a grid or carousel format, you can display product categories and products so customers don't get lost.
The plugin contains various elements for archives and single product pages. To use the plugin, WooCommerce products should be created with prices and thumbnail images and added to a few categories.
To display content in a widget, drag and drop it onto the Elementor-built pages, and the relevant products and categories will automatically be found by the plugin.
Key Features:
Grid and carousel display options for categories and products
Designed for easy use on single product pages and archives.
Customizable content widgets for unique pages
Stunning photomontages and multiple ratios for catalog pages
Visual representation of WooCommerce categories and tags
The Easiest, Most Flexible Way to Display Your Products On Posts and Pages
WooCommerce Blocks By Automattic is the perfect plugin for WordPress website owners that want to enhance their WooCommerce account by providing more options to display products within custom WooCommerce blocks.
This plugin lets you add a shopping cart to your website so you can showcase your stuff in a unique way. There are over 20 blocks in the plugin, and they're all visible in the editor once it's installed. With this plugin, you can add new features and blocks to your WooCommerce store.
In this plugin, you will have the ability to display your products on a grid in a grid based on their category, and you will be able to filter them based on category type, best-selling, and most-rated items.
You can also showcase hand-picked products in a customizable grid with multiple ways to order. The plugin also allows you to add a calculator of shipping rates and a checkout button to your website.
Additionally, the plugin lets you choose if you want your shopping carts to appear in light or dark mode if you want to customize the appearance of your store.
Key Features:
Display top-rated products filtered by category
Hand-picked product grids with multiple ordering options
Display best-selling products in a filterable grid
On-sale product grid also filterable by type
Customizable and pre-built blocks
A calculator of shipping rates and a checkout button.
Apply Watermarks to Your WooCommerce Product Images to Protect Them
YITH WooCommerce Watermark is a fantastic WordPress plugin that allows you to protect your product images by adding a logo or watermark. With this plugin, you can customize WooCommerce product pages and prevent people from copying or using your content without permission.
It is an excellent solution for WordPress users who sell digital products or wish to protect their image rights when published online, such as photos, comic strips, illustrations, etc.
This plugin lets you incorporate your eCommerce logo into your website's photo and title images, which can improve search engine friendliness and gain new customers through search engine results.
Additionally, you can create unlimited text watermarks with any font you desire, adjust the position, size, color, and opacity for each watermark, and decide whether it is applied to all your categories or only a few.
A few of the other features of YITH WooCommerce Watermark include adding multiple watermarks to images, WPML integration, and bulk editing which saves tons of time. Besides the ability to place watermarks anywhere you want, you can also preview them.
Key Features:
A few clicks are needed for bulk editing to save lots of time
Add multiple watermarks to an image
The WPML integration is provided.
Place watermarks wherever you like and preview them comfortably
Protect your product images by adding a logo or watermark
Create unlimited text watermarks with any font you desire.
Enhance Your Elementor Page Building Experience With Creative Elements and Extensions
Essential Addons for Elementor by WPDeveloper is a popular plugin that adds more than 60 new widgets to your Elementor-powered website, divided into seven element categories. It comes in free and paid plans, with the latter providing access to more robust elements, templates, and benefits.
Whether you're a beginner or a professional, this WooCommerce Elementor add-ons plugin offers a great way to build beautiful websites without writing a single line of code. With its highly creative elements, you can quickly and easily create a responsive website that looks stunning.
Aside from using pre-made layouts, you can customize your site even further with third-party add-ons like the Essential Addons for Elementor. This is especially helpful for those who have limited coding skills or are new to web design.
The plugin's widgets provide all the tools you need to design your site, whether it's for content, creative, dynamic, form style, learning, marketing, or social sharing purposes.
With Essential Addons for Elementor, you can enhance your site by incorporating a countdown timer and modern buttons with hover effects to increase click-through rates.
You can also easily create beautiful forms without any coding required, featuring your team members, and animate your text in eight different styles as you design your web pages. Your blog posts and pages will also look unique in four different ways and stunning on a timeline, showcasing your WooCommerce products in a grid format.
The Most Powerful Image Gallery Plugin for WooCommerce
WooThumbs is a plugin from Iconic that enhances the way products are displayed beyond the standard WooCommerce image gallery. It allows you to display product galleries in various ways, including horizontal sliders, vertical sliders, and faded effects.
You can simplify shopping for products by allowing shoppers to pinch and zoom on mobile devices. Plus, shoppers can access all images within the gallery, making it convenient for visually impaired users.
One of the standout features of the plugin is that it allows multiple images per variation to provide a complete picture to customers. To ensure ease of use, mobile and tablet users can navigate through product images with hand gestures.
In addition, with autoplay enabled, any images you choose to cycle at a specific speed will be automatically changed at that speed, leaving shoppers with a better shopping experience.
The plugin is also highly responsive and supports WPML and other tools for translating your content, improving the performance of your WooCommerce store.
With WooThumbs, you can create better product images and galleries by incorporating third-party sources such as YouTube videos, Vimeo videos, and other online video sources.
Key Features:
Simplifies shopping by allowing pinch and zoom on mobile devices
Autoplay can be enabled to cycle images automatically
Highly responsive design improves the performance of your site
Multiple images per variation provide a full picture to customers
Visually impaired users can access all images within the gallery

Supports WPML and other content translation tools.
One of The Most Powerful and Popular Tools in an eCommerce Shop
YITH WooCommerce Wishlist is a powerful premium wishlist plugin for online shopping. It allows customers to create and manage their wishlists, search for products, and share them via social media platforms.
As well as providing fully customizable color schemes and styles, the plugin also provides a convenient feature for redirecting checkout to a separate page on your website.
It can be seen on the wishlist page that a customer can view the items that they have selected, check their availability, and also, directly add the items to their cart by adding them directly to their cart.
The plugin offers an option to enable/disable wishlist features for unlogged-in users, choose a page to display wishlists, add shortcodes, and integrate wishlists into every specific product.
Key Features:
Enable/disable wishlist features for unlogged-in users
Choose a page for displaying wishlists
Manage wishlists, rename, delete, and add items
Add wishlist shortcodes
Integrate wishlists for every specific product.
The Most Powerful & Easy to Use Contact Management (CRM), Email Marketing, Live Chat, Forms & Analytics Plugin
As a powerful CRM tool that is integrated into WooCommerce, HubSpot for WooCommerce provides you with multiple modules as well as a number of pricing plans to help you grow your business.
It is an excellent tool that not only manages and maintains new leads but also nurtures leads and tracks marketing and sales performance. With easy-to-use interfaces, you can customize and scale your CRM model that suits your business's needs and requirements.
In this plugin, you can see who's coming to your site and why. It comes with an analytics dashboard that lets you track your business in real-time, and a list builder that lets you group all your contacts. You can also get engaged and convert visitors using live chat and chatbots.
HubSpot's email marketing campaigns will be boosted with beautiful and responsive email newsletters built into WordPress. However, it is crucial to note that the premium version is relatively expensive, and the free version does not come with telephone support.
Key Features:
Responsive email newsletters for email marketing campaigns.
Real-time business growth tracking with analytics dashboards
Manage and group contacts with the built-in list builder
Engage visitors and convert them into leads
Combines Everything You Need to Fully Customize Your Site S Functionality Into a Single WooCommerce Bundle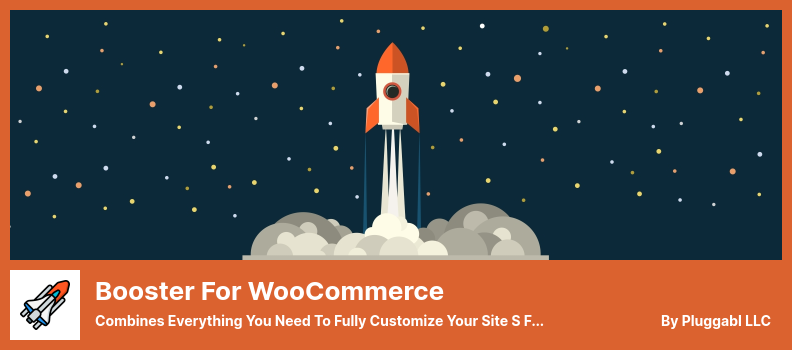 Booster for WooCommerce is a versatile plugin that allows you to use Jetpack's functionality on your WooCommerce store with over one hundred different modifications. It comes with ten customizable modules to help you enhance your checkout process by adding new information and fields.
Investing in the premium version of the plugin will allow you to access all its features and benefits, such as 13 modules for adding new shipping options, customizing addresses, and setting order minimums.
It is also possible to create PDF invoices directly from within the WooCommerce store, although they need to be customized to suit your business, and those invoices can be customized by using shortcodes, which can be added very easily.
The plugin also offers various payment gateways that you can display based on specific criteria and 15 modules that enable you to change currencies, display different currency values for various products, and more.
Booster for WooCommerce is a freemium tool that will help you grow your eCommerce store, generate more sales, and increase your profits. Its robust functionality and custom email system with additional recipients and basic WPML support make it an excellent choice for seamless customer service on the front end.
Key Features:
Thirteen modules for

new shipping options

and order minimums

Customizable checkout process with ten modules
PDF invoicing with easy-to-use shortcodes
Payment gateway options based on specific criteria
Fifteen modules for changing currencies.
Take Credit Card Payments Easily and Directly On Your Store
The WooCommerce Stripe Payment Gateway plugin allows for smooth and secure online transactions by providing your customers with multiple payment options.
The greatest benefit of this payment method, however, is that it permits your customers to pay without leaving your site, so your conversion rate can be increased, which is one of the greatest advantages of this payment method.
Also included in the plugin is a fraud prevention tool such as Stripe Radar, which ensures that all of your transactions are secure and reliable so as to maintain your reputation on the internet.
WooCommerce Stripe Payment Gateway is great for subscription payments as it is compatible with WooCommerce Subscriptions. The plugin also works well on mobile devices and is easily customizable via Stripe Elements.
Key Features:
Subscription payments via WooCommerce Subscriptions
Easy customer payment input with Stripe Elements
Strong Customer Authentication (SCA) feature
Accepts major debit and credit cards and local payment methods.
Fraud prevention with Stripe Radar and 3D Secure
Refund and authorization management from the WooCommerce dashboard
Provides The Integration Between Google Analytics and The WooCommerce Plugin
WooCommerce Google Analytics Integration is a WordPress plugin that links your online store to your Google Analytics account, allowing for basic eCommerce analytics.
The plugin can measure your performance and sales data by product and category in your analytics dashboard, including conversion rates and average order values.
By tracking ad conversions, eCommerce conversions, and user ID tracking, you can maximize sales and revenue generation while also optimizing content and products for your online store.
This plugin is designed to provide detailed insights into your website's traffic and eCommerce events, helping you improve your conversion rate and customer satisfaction.
It's also compatible with Facebook pixels and other custom metrics. If you already have an analytics plugin, this integration will enhance your data even further. Plus, it ensures GDPR compliance and other privacy regulations.
Key Features:
Automatic tracking of

affiliate links
Analyzes user interaction to identify improvements
Monitors all metrics in one place

Easy configuration without coding or

developer assistance

.

Analyzes content to enhance SEO results and customer satisfaction
Provides GDPR compliance and privacy regulation
Allow Your Users to Save Time and Login or Signup Through One of Their Social Profiles.
YITH WooCommerce Social Login is a plugin that enables users to log in to their favorite eCommerce sites using their social media accounts. This feature saves customers the time and effort of filling out a form every time they visit another website.
Moreover, social media sites provide more accurate data than regular websites, which is preferable for online shoppers who are keen on their security and safety.
In addition, it speeds up the purchasing and checkout processes, leading to increased conversion rates, which ultimately increases sales. This feature also reduces pending orders and abandoned carts caused by users who need to log in and manually enter their personal information during the checkout process.
With this plugin, you can link up your site to the social media accounts of your customers to store their information in your database, enabling you to segment and target various potential customers with your marketing programs.
The plugin enables shop owners to change the order of login buttons and allows users to manage links across multiple social media accounts. It is compatible with a variety of WordPress plugins, including WPML.
Additionally, each shop page can display a login button, and users can be redirected to a WooCommerce page or a customized URL. Furthermore, the plugin provides reports on social media profiles with detailed information, facilitating data-driven decision-making for your eCommerce store.
Key Features:
Change the log-in button order
Manage links across multiple social media accounts
Display a login button on each shop page
Detailed information reports on social media profiles
Redirect to WooCommerce page or customized URL
Compatible with various WordPress Plugins.
FAQs
What is WooCommerce?
WordPress is a popular content management system that can be used to conduct business online through the use of the WooCommerce plugin.
What are Elementor addons?
Elementor addons are additional features and functionalities that can be added to the Elementor page builder and used to enhance the design and functionality of a website.
Why are Elementor addons useful for WooCommerce?
Elementor addons can be used to add features and elements specific to online stores, such as product lists, shopping carts, and checkout pages, making it easier to create and customize a WooCommerce site.
Conclusion
To recap what we've discussed in this article, we have gone through the 13 best Elementor addons for WooCommerce, both free and pro versions, covering a range of functionalities that will enable you to take your online store to the next level.
If you want to learn more about WordPress, WooCommerce, and other website-related items, make sure to check out the BetterStudio blog which is full of tutorials, tips, and tricks to help you explore everything and learn more.
Don't forget to follow BetterStudio on Facebook and Twitter to stay up to date with the latest tutorials, tips, and tricks.
Thank you for reading this article and I hope it's been a valuable resource for you. If you have any questions, comments, or feedback on the article, please feel free to leave a comment below and our team will respond to you as soon as possible.