Are you trying to find the best WordPress plugin for PDF Viewer to use on your website?
Do you need a quick answer? We recommend the WP Embedder Pack plugin which has options for viewing PDF documents as well as +40 other types of documents in WordPress and which is compatible with popular WordPress page builders.  
Considering all PDF Viewer WordPress plugin requirements, we have produced this list of WordPress plugins to save your time and money. We have made sure that every plugin you find here works smoothly with the newest WordPress themes.
We accumulated plugins that are ideal for the PDF Viewer. These WordPress plugins are also functional for people searching for WordPress plugins for PDF Embedder, PDF Library, Elementor PDF Viewer, and PDF Generator and are much more relevant.
Let's have a look at some of the best PDF Viewer WordPress plugins in 2022:
Embed PDF Document Without Using Flash Plugin
PDF Viewer is one of the best premium plugins available for viewing or viewing PDF documents in WordPress. It is fully responsive and compatible with most major browsers.
It is one of the best-selling PDF plugins on CodeCanyon. With PDF viewer for WordPress plugins, You will have the ability to add sharing button icons in the toolbar to help users navigate, zoom, print, download, or share PDFs.
With this plugin, you can embed PDF documents on your site without utilizing the Flash plugin and it only depends on JavaScript to work. Furthermore, you can also enable or disable these features according to your needs.
Any PDFs opened on your website will also fit perfectly on mobile screens.
💵 The Lite version is free, but the Pro version costs $40.
Key Features:
A PDF reader with a modern appearance
Being easy to use
No limitation on the number or the size of files
Includes PDF reader color customization option
Lifetime Updates
Including many toolbar items
Display options automatically
Random Reviews:
For now I find it excellent. Very simple. Please do not stop supporting. Good job.

While this plugin is free and basically works, it is difficult to use because you need to copy-paste the code for embedding the PDF plugin. An automatic code placement during attachment of PDF to post or page would solve this problem and earn the plugin 5 stars.
Bring Your Static PDF Content To Vitality.
Flowpaper is one of the best WordPress flipbook plugins that display your PDF files much more beautifully because this plugin looks nice and attractive. The remarkable point is that you can use its advanced appearance for free. If the appearance of a PDF viewer is vital to you, flowpaper is a good choice.
This plugin presents your helpful content to your users in a friendly format. This plugin is constantly and regularly updated.
Note that: you can upload just a file of 15 MB without Flowpaper cloud, which is enough for regular files.
Also, in this plugin, you could embed catalogs utilizing HTML5. You can do customization, which means you can adjust the documents' width, height, or theme.
You can start to use this plugin easily; all you have to do is download the plugin and activate it; use this code whenever you want to post content.
💵 Lite (Free) and Pro ($95) versions are available.
Key Features:
Archives Documents
Including a search option
Assembles document
Collaboration
Converts file type
Controls approval process
Ability to manage content
Ability to Indexing document
Manages applications
Random Reviews:
Sometimes this plugin works great. Other times, it creates a pop-up that says "Can't load this PDF. Make sure the PDF exists at the URL you're loading it from." When yes, the PDF does exist at the URL. Very frustrating. I'll be looking for a different plugin since I can't trust this one to work.

thanks for providing this great plug in!
A Unique Method For Embedding PDF Files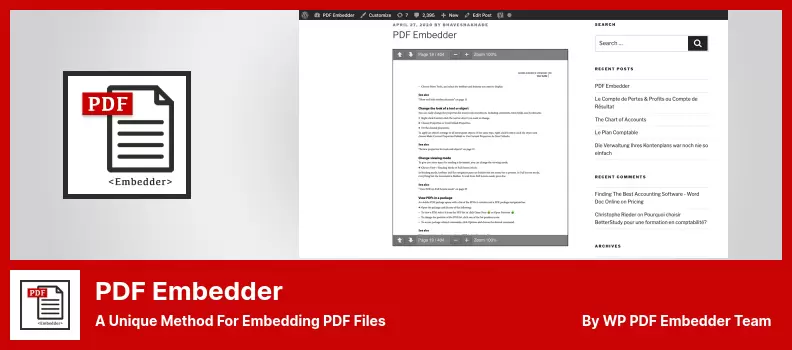 PDF Embedder is the most used plugin to upload and view pdf files on WordPress. The free version of PDF Embedder has a few simple, practical features. The process for embedding a pdf file with the PDF Embedder plugin is simple.
If you use the Classic Editor, click Add Media within the post or page, as with any other media file. Then, select the pdf file you uploaded.
A shortcode will appear within the Editor, precisely generated by PDF Embedder. Just enter it and click on it to choose the file.
Instead, you will find the appropriate PDF Embedder block using the block editor. Just enter it and click on it to choose the file.
On the live page, the user can then scroll through the pages and enlarge/reduce the size of the embedded file.
💵 The plugin is free. There are no fees involved.
Key Features:
Including secure option
Continued scroll among pages
Full-screen mode
Ability to delete brand wp-pdf.com
functional Hyperlinks
controlling digit of downloads and views
Random Reviews:
This plugin is very easy to use and it has great features. I ended up getting the Pro version. It is affordable and well worth it. I use this for client sites a lot. Highly recommend.
Displaying PDF Pages Within Browsers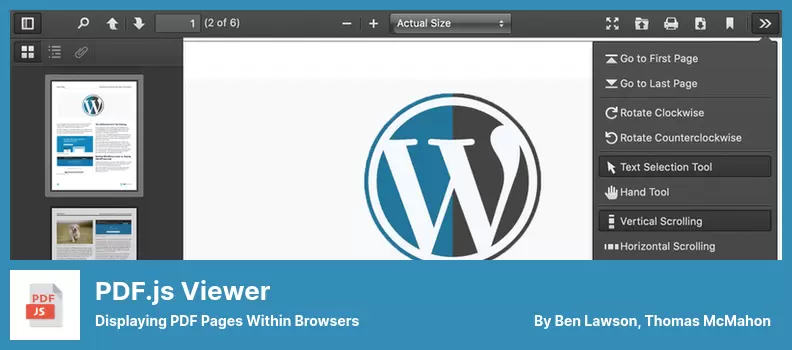 PDF.js Viewer Shortcode is a good option for pleasingly viewing PDFs. In fact, the user side of this plugin definitely competes for the top spot.
It has an elegant gray theme frame and a document outline to jump from page to page. PDF.js is a javascript library for showing pdf pages in browsers. To say that it is entirely free and without any subsequent upsell.
There is also a plugin called Elementor PDF Viewer which is used to integrate two PDF Viewer plugins for WordPress & Elementor page builder themes.
💵 Get all the great features for Free.
Key Features:
Including zoom setting
You can password-protect PDFs
Document outline
Make your site speed up
a large document is not fully displayed until you navigate to specific pages
You can use the editor media button easily
It is one of the few PDF viewers with customizable buttons
Random Reviews:
How do I switch to black theme, I see the old version is black

Very good plugin. But not work in edge. I will buy when work with edge.

Fast render, simple and useful
PDF Embedder Plugin for WordPress
PDF Poster is for you if you want a plugin to handle your basic PDF viewer needs. You can utilize it to embed limitless files on your site.
The PDF viewer also includes a download button, a zoom function, and simple page navigation arrows.
The only disadvantage to this plugin is that it's a little basic compared to the others on this list. That said, if you don't need a lot of features and just want something reliable and low-cost, a PDF Poster is a solid solution.
💵 The premium version of this plugin charges $30, whereas the free version is zero dollars.
Key Features:
Including sidebar toggle menu
Control option for view full-screen button
Ability to Embed And ShortCode generator quickly
You can preset your viewer preferences
Improved performance
Control option for the download button
Random Reviews:
The Plugin works quite good. But the "View Fullscreen" Button in the Lite Versionen is a bit annoying for me.

it's very easy , and very good
Create PDF Files And Print Pages Quickly
PDF & Print by BestWebSoft lets you add a PDF download button to your custom WordPress posts, pages, and post types.
Using this plugin, you will add a website title, custom styles, your own font, and a particular image. This plugin also allows you to run shortcodes when generating PDF files or creating a suitable printer version.
One of the downsides of WordPress PDF & Print by BestWebSoft is exposure to cross-site script vulnerabilities. Because it cannot be user-provided inputs ultimately.
This feature may be used to execute arbitrary script code in the browser of an uninformed user. In this case, the attacker could tamper with the cookie-based authentication and commit other abuses.
Another plugin called WordPress PDF Library Plugin allows you to add a library of downloadable files to your WordPress site.
💵 A free version of this plugin is included, as well as a premium version for $20.
Key Features:
Changing PDF button action
Add buttons via shortcode
Select the position of the buttons in content
Display PDF & Print buttons for certain user roles
Create PDF that fully copies the page
Detailed step-by-step documentation and videos
Ability to add buttons to the widget area
Random Reviews:
Error obtained: There has been a critical error on this website. Learn more about troubleshooting WordPress.

Very handy and useful tool. Thanks!
Export To PDF Tool for WordPress
E2PDF is a clear and straightforward WordPress PDF plugin that allows you to create and edit PDF documents.
This plugin can create dynamic PDF files. You can create PDF documents and files without leaving the site.
Also, with this plugin, you will automatically create PDF forms like WordPress form builders according to your WordPress pages or web forms. This plugin was created in 2013 because of the need to print dynamic PDF documents.
💵 Its free to use, but it costs $20 to upgrade to the Pro version.
Key Features:
Including options for email PDF
Ability to save dynamic PDF to server
Having a Generous Affiliate Program
Including a PDF data injector
Editing PDF forms
Including a PDF document editor
WooCommers themes integration is in progress
Random Reviews:
Is it possible to use data from gravity forms filds in pdf,with a routine format . Like sertificate of educations university

Great add-on to Formidable, definitely useful. But the best part is the support. Please keep it up, and keep improving and working on the plugin 🙂
Top PDF Viewer WordPress Plugins: Summary
We are honored to give you the best information about the best WordPress PDF Viewer plugins. select a ready plugin, then increase your site in the best manner.
We desire this list helps you build improvements to your site and achieve your business goals. If you wish to create a blog and monetize it as much as possible, then you should check the best WordPress blogging themes.
If there is any query, please feel free to share it with us. Please share this content on your Facebook and Twitter with your friends if you are working with it.