Trying to find the best WordPress plugins for affiliate marketing?
These are the best WordPress Affiliate Marketing plugins that will save you time and effort. Each plugin is feature-rich, needs good support, and works with all WordPress themes.
Affiliate Marketing is well supported by the plugins we selected. As well as its plugins for WordPress Affiliate Commission, Amazon Affiliate WordPress Plugin, WordPress Affiliate Link Plugin, WordPress Affiliate Program Plugin, WordPress Affiliate Plugins for Affiliate Marketers, or WordPress Affiliate Manager; these plugins can also be used on WordPress Affiliate Commission websites.
Here are some of our favorite WordPress plugins for Affiliate Marketing in 2022:
The Best WordPress Affiliate Management Plugin
Suppose you are looking for a fully featured affiliate program for your WordPress website. In that case, the AffiliateWP plugin is the best choice.
In addition to allowing you to have an unlimited number of affiliates, this plugin also allows you to create unlimited creatives. This allows you to promote your website's products and services more effectively.
In addition, this WordPress affiliate manager plugin contains a reliable affiliate program and referral tracking system, allowing you to keep track of all referrals to your forms and set up a WordPress affiliate program with pay-per-lead commissions.
This plugin provides detailed affiliate reports to help you grow your affiliate program and increase sales.
This plugin can create a commission structure that meets your business needs. This can include one-time recurring lifetime tiers as well as personalized commissions.
You will also be providing your affiliates with a custom-branded affiliate dashboard that contains all the necessary information for them to be successful.
💵 The plugin comes with all the advanced features for $200.
Key Features:
There are unlimited creatives included
There are detailed affiliate reports available
It is possible to access a customized affiliate dashboard
It is possible to create smart commission rules
A smart fraud detection system is available
An Affiliate Links, Link Branding, Link Tracking & Marketing Plugin
Considering that Pretty Links is one of the best WordPress plugins for affiliate marketers, it is no surprise that it ranks quite high on this list.
Your affiliate links will be easy to remember because of this plugin, resulting in a better impression from your visitors when they visit your website. This plugin makes it easy to link your blog posts to your website in simple steps.
With this plugin, you can shorten links based on your domain name. This plugin creates clean links for your URL, tracking every hit, and identifying which browser was used, which host, and where each hit originated.
There are several benefits to using this plugin, including the ability to clean up affiliate links, track clicks via email, and track Twitter links from their domains.
In order to increase the visibility of their website, people can use this plugin to distribute links on forums and comments on other blogs.
💵 Versions Lite (Free) and Pro ($100) are available.
Random Reviews:
This program does exactly what it is supposed to do and is very easy to use.

The shortener works well for me after experimenting with several others. I would appreciate it if there was a function for short links within a WordPress post.
The Best WordPress Analytics Plugin
With the MonsterInsights plugin, you can access all the statistics and analytics you need to support a successful business enterprise.
Whatever your plans are for monetizing your website, Google Analytics is necessary to track your progress. This plugin allows affiliate marketers to integrate this information into their campaigns easily.
This affiliate WordPress plugin is highly recommended since it provides comprehensive reports on all affiliate campaigns and link tracking.
With this plugin, you can easily add advanced Google Analytics tracking functionality to your website without hiring a developer.
Additionally, this plugin includes a dashboard that displays actionable analytics reports directly on the WordPress dashboard so they can be viewed anytime.
You can customize your dashboard to view only the relevant statistics, allowing you to understand what is working and what is not and what needs improvement.
💵 In the case of the Lite version, it's free, while the Pro version costs $199.
Key Features:
There are publishers' report is available
There is the Tags Tracking feature included
Even non-Google Analytics experts can understand the dashboard
The behavior Report feature is provided
Traffic sources and highest-earning pages are displayed
Random Reviews:
They responded quickly, evaluated my issue, and swiftly took care of it! Thanks a lot!

I reported another Google analytics plugin yesterday; now it's your turn.
The All-in-one Affiliate Program Plugin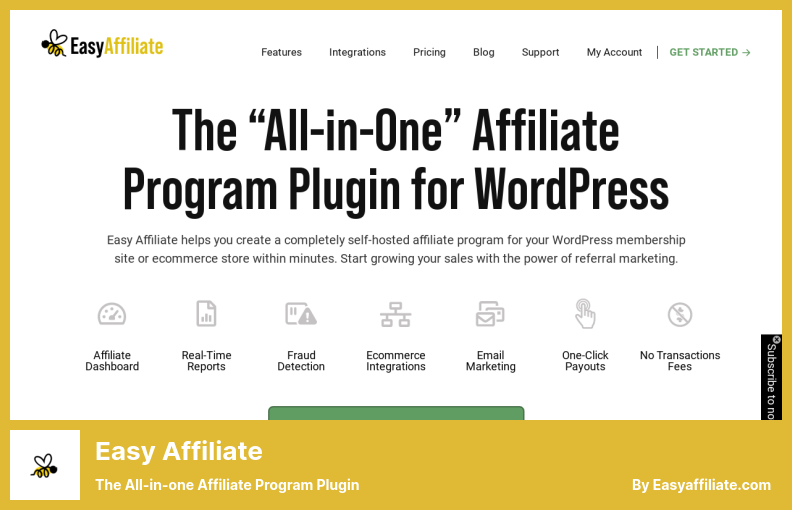 The Easy Affiliate plugin was developed by the same company that produces Pretty Links and MemberPress, so it is an excellent alternative to these plugins. It is one of the best WordPress affiliate program plugins.
Combining these platforms makes it possible to create robust affiliate programs that generate sales and provide easy-to-remember affiliate links in conjunction with referral programs.
This plugin provides affiliates with detailed information about their accounts, including metrics, creative assets, payments, and other information.
This plugin allows you to manage links and banners in a fully featured manner so that your affiliates will always have relevant content for their campaigns.
Using this plugin, you can set multiple commission levels that the user can customize by using Affiliate Commission Override Rules.
With this plugin, you will receive alerts when suspicious affiliate activity is detected, which should be investigated, flagged, and rejected before being paid out.
💵 Buying the plugin for $199 gives you 12 months of support time.
Key Features:
Commissions tracking is possible
There are eCommerce integrations provided
There is a Fraud Detection feature included
Real-Time reports are provided
There is an affiliate dashboard available
An Affiliate Links, Link Branding, Link Tracking & Marketing Plugin
In addition to managing your affiliates, the ThirstyAffiliates plugin offers a powerful affiliate management system. Using this plugin, you can cloak your long links, making them easier to follow and look great. Several great features contribute to the popularity of affiliate plugins.
This WordPress affiliate link plugin allows you to easily add affiliate links to your articles while you are writing them by clicking the Quick Add button at the bottom of the article.
With this plugin, depending on your preference, you can organize your affiliate links hierarchically. You can easily manage your links with this plugin; you only need to edit the destination URL once rather than make changes to hundreds of articles when necessary.
You may also use this plugin on the front-end by uncloaking your links conditionally if your affiliate program does not allow you to redirect your links.
💵 A premium version of the ThirstyAffiliates plugin costs $159, while a free version is also available.
Key Features:
Customizable prefixes are available for link URLs
There is an advanced link picker tool is included
Category slugs can be included in link URLs
There is built-in affiliate link shortening and link cloaking functionality
Tracking and reporting are provided for click statistics
Random Reviews:
The plugin I use to monitor my affiliate links is excellent.

For managing my affiliate accounts, I use Thirsty Affiliates and GeniusLink. Both programs are great—thirsty Affiliates for my WordPress site and GeniusLink for Amazon links in emails and YouTube videos.
a Simplified Ad Management Plugin for WordPress
You can now manage affiliate marketing in WordPress with the AdSanity plugin more intuitively and easily than ever before.
Additionally, this plugin is straightforward to use. It is incredibly lightweight, making it the best choice for a site that needs to load as quickly as possible.
Administrators may also generate customized statistics for selected ads and a specific timeframe via the Ad Management module, allowing them to assess the effectiveness of the ads quickly.
Two options are available for publishing with this plugin – infinite publishing or date-based publication. Administrators can set the beginning and end dates for each advertisement.
Some sites require additional functionality, and this plugin integrates a variety of add-ons to enable you to enhance the core functionality while simultaneously keeping your server happy.
💵 The plugin support team helps you accomplish your dream job, and you can get 12 months of support for only $59.
Key Features:
There is top-notch support provided
Affiliate campaigns and ads can be managed from the WordPress dashboard
Widgets, shortcodes, and template tags let you easily place ads on your site
You can insert affiliate banners into widgets, sidebars, posts, and more
Admins can quickly gain insight into the performance of their ads
An Amazon Associates Affiliate Plugin
With the EasyAzon plugin, you can make money with Amazon; it is one of WordPress's most useful affiliate plugins.
In addition to providing an easy way to add your Amazon affiliate links, this plugin allows you to add them directly to your blog posts without navigating to Amazon's website.
This Amazon affiliate WordPress plugin is compatible with any site participating in the Amazon Associates affiliate program and requires no complex setup.
Whenever you insert an affiliate text link, you can set it to open in a new window and/or give it the Nofollow attribute if you so desire.
The plugin settings page can be used to set site-wide settings, or you may set individual settings for each link if you prefer.
This plugin allows you to generate more WordPress affiliate commissions through your affiliate links by supporting more types of affiliate links.
💵 You can download the Lite version for free, and the Pro version will cost you $49.
Key Features:
Displays product title, image thumbnail, price, and buy button
An add-to-cart feature is available
An Amazon product image can be turned into a clickable affiliate link
It is possible to localize links automatically
A mouse hovering over a product can display a pop-up box
Random Reviews:
The ultimate Amazon affiliate plugin. Make your business grow like crazy using this useful tool.

Thanks for making EasyAzon so easy to use. The Amazon custom links have stopped working on all my sites. I'm so glad I found EasyAzon. Love how easy it is to use. Thanks for updating it regularly.
a Complete Affiliate and Influencer Marketing Solution
Using the Goaffpro Affiliate Marketing plugin, you can drive affiliate traffic from your online store to your affiliates and influencers.
Using this plugin, you can create a custom-branded affiliate portal for your Shopify store in just five minutes.
With the affiliate portal provided by this plugin, a customer may register as an affiliate and become a partner of your business.
Using this plugin, you can earn money by having your customers share your products on social media.
This plugin enables you to reach a larger audience of people who may not be aware of your products; in addition, it enhances your store's visibility by sharing links, which will increase organic traffic.
In addition to monitoring affiliate conversions on desktops and mobile devices, the affiliate portal and admin dashboard provide information regarding affiliate conversions.
💵 The service is free to use, but the upgrade costs $24/month.
Key Features:
A referral link or coupon code can be used to track affiliate orders
The number of affiliate levels can reach up to ten
Affiliate orders are automatically updated and notified to you
PayPal Payouts or any custom payment method can be used to pay affiliates
Affiliates can share the coupon and link on Facebook, Twitter, and Instagram
Random Reviews:
To create an affiliate program for your online shop or eCommerce store, you need GoAffPro.

As an affiliate, I especially like this plugin because it lets me see affiliate dashboards.

Aside from the fact that the plugin is exactly what I was looking for, the company that owns it is beneficial. They answered all my questions and solved any issues I had.
Our final point would be to mention
The best Affiliate Marketing WordPress plugins for WordPress are discussed in this post. Select a plugin and grow your site.
📌 Note: We have published a post on the best WordPress hosting providers that may interest you. We have also posted a post on modern WordPress security plugins for your consideration.
We hope you can create a professional Affiliate Marketing site with this information.
You can keep up with the latest articles by following us on Facebook and Twitter. Please share this post with your friends.