Are you unable to find the best plugin for Pricing Tables?
Throughout this article, we will showcase the best WordPress pricing table plugins to help you choose the right match. The following list of WordPress plugins will assist you in finding something that exactly fits your requirements. In sum, these plugins work seamlessly with all WordPress themes.
We have hand-picked a list of the top Pricing Table plugins to help you select the ideal plugin. These plugins can also be used for Pricing Table with Toggle, Pricing Table with PayPal, and Price Comparison Table.
The following are the checked and rated top WordPress plugins for Pricing Table in 2022:
A Top-Selling Price Comparison Table
ARPrice WordPress plugin is for you if you are interested in a fully customizable pricing table with a wide array of options and features.
Using this pricing table with a toggle option, you will be able to automate price adjustments between a month to month and year to year, add customized ribbons, and change prices automatically.
By using this plugin, your team members can be displayed on your website in a visually appealing manner. Furthermore, it can be used to generate tables for your website in a cost-effective manner.
Using the plugin, PayPal Buy Now buttons may also be displayed directly, and column background images may also be shown.
---
💵 The plugin is available for a price of $27 with 12 months of support.
Key Features:
Many templates for pricing
Animates your pricing tables with effects like swing, fade, slide, etc
Pricing tables for a number of WordPress themes
Comes with an in-built analytics tool
Unlimited color options, rows, and columns
Divi-compatible
Gutenberg editor compatible (like Price Table Block plugin)
A real-time editor that lets you drag and drop
Inbuilt beautiful and responsive templates
Link a column to another web page
Product Pricing Table Plugin for WordPress
There is another WordPress pricing table plugin called WooCommerce Pricing, which you can use to achieve a variety of pre-made design and functionality options exclusively for WooCommerce products.
The WooCommerce edition of this plugin has been designed specifically for those who have installed the WooCommerce plugin on their online store and are looking to integrate it with WooCommerce.
With this tool, you can design custom pricing tables tailored to look exactly as you would like them to on your website. It also provides users with font icons, multi-language capabilities, and multimedia support, allowing users to embed images in the table itself.
It has a flat design with flexible customization options, so you can create an unlimited number of pricing tables for your website. This is a free WordPress plugin that allows you to create a number of pricing tables.
However, despite the numerous advantages this plugin offers, it is not optimized for Gutenberg, and this is a notable disadvantage.
---
💵 The free version is integrated, while the pro version is for a fee.
Key Features:
Display images in columns and icons in lines
Create unlimited packages and plans
A single click to clone an existing table
Configurable colors, font sizes
Five built-in templates
Pricing in any language
Buttons with URL links and text
The drag-and-drop page builder allows you to easily edit the table (as with ARPrice plugin)
Mobile device responsive
A "Recommended" column
Random Reviews:
It's a great component and the customer support is excellent!

I hope the authors know how wonderful the plugin is! It does exactly what it is supposed to do and is simple enough to set up. If you have any questions, the support is fast enough! Keep up the good work!

Their help was excellent and fast!
The WordPress Table Editor Plugin
WP Table Manager WordPress plugin for creating price comparison tables, is a premium tool with which you can show products' pricing in the best way.
Prepackaged themes are available to choose from as well as buttons, layouts, CSS, and design themes that can be customized.
The plugin comes with pre-designed templates for your pricing tables that are already looking fantastic out of the box. Thanks to the spreadsheet management capabilities of the plugin, pricing tables may be easily maintained easily by integration with Google Drive spreadsheets.
The tables may include images, may contain paginated columns, and may have an unlimited number of rows and columns. There is one noticeable drawback to the plugin, which is that there are limited pre-painted colors available.
---
💵 You get 12 months of support with the plugin for the price of $49.
Key Features:
Pixel-perfect responsive tables
Includes an option for creating sortable tables
Comes up with 6 customizable themes
Plugin language translation
Integrates with Microsoft Excel
Table pagination is offered
The ability to create an endless number of tables
Easily integrates with popular page builders such as Elementor
Responsive Pricing Table Plugin for WordPress
Go Pricing WordPress plugin is specially designed for people who look for a modern, feature-rich pricing table on their website. Upon installing this plugin, you will not be required to install anything else, as it contains more than 150 table designs.
Aside from offering the possibility of adjusting the table and fonts, it also features a drag-and-drop feature (as with ARPrice plugin) that allows you to change other elements of the layout.
Webmasters can modify and customize every aspect of the table without having to use any code (although CSS can still be used if desired). This plugin has the advantage of allowing extremely easy addition and editing of pricing tables through its user interface that is easy to use.
It is also important to know that this plugin supports the shortcodes of Paypal, meaning you can make use of the pricing table with PayPal.
---
💵 Plugin plus 12 months of support for $29.
Key Features:
Unlimited color options
Includes animations to make the pricing tables more attractive
A custom CSS module is given
Offers you over 650 Google Fonts
Bulk cloning and deleting
Modern media options
Live preview of the pricing table
Supports famous pages builders like BeaverBuilder
Provides support for all of the popular audio and video sharing platforms
2000+ font icons
WordPress Price Comparison Table Plugin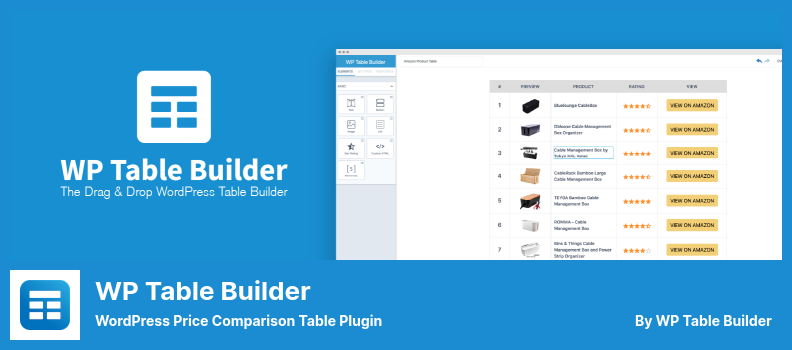 The WP Table Builder WordPress plugin is one of the best WordPress table plugins that provide the best solution for users who are concerned about drag-and-drop capabilities.
Moreover, this tool comes with an embeddable shortcode that can be inserted in any position in the body of a web page or post. Drag and drop techniques can be used to customize the templates. Additionally, you can sort the elements in the order of your choice.
When you purchase a paid plan, the plugin provides a 14-day, no-questions-asked refund policy, ensuring that you will not be disappointed.
An advantage of the plugin is that it highlights specific packages to ensure that users are attracted to them. This is a very convenient feature that makes it both mobile-friendly and visually appealing.
---
💵 $49 for Pro version, free for basic version.
Key Features:
Gutenberg-compatible with a dedicated Gutenberg block
Ability to set empty cells
Use the integral pre-made templates or your own
Offers the ability to import data from CSV
Includes rich multimedia support
Cell management mode with options like add new rows or columns
Ability to import and export tables
All elements are customizable
Configurations for different border colors
Random Reviews:
The plugin ensures that your tables are responsive.

I really like this plugin and it is very useful

If you are a WP pro or a beginner, you will appreciate this FREE tool. Save time and headaches and use WP Tables for your project. It took me about 5 minutes to figure out! I give it five stars!
WordPress Plugin for Pricing Table Creation
Making use of CSS3 Responsive WordPress Compare Pricing Tables, you are able to create pricing tables with many, different predefined colors and templates. With a powerful options panel, pop-ups for active columns, and numerous other features, this is a very powerful tool.
The HTML and CSS codes used to create these tables ensure they are 100% responsive, so no matter the screen size or resolution, they will look good.
The plugin also offers free lifetime updates and customer support, as well as an easy-to-use tool that will allow you to update your pricing information on your website in a matter of minutes.
Using this plugin, users can create a variety of different types of tables by selecting a template from the impressive selection it provides and then customizing it to meet their unique requirements.
---
💵 Buy this premium plugin for $10/W.
Key Features:
On the plugin demo page are a number of possible table configurations
With a live editor, you can see your changes instantly
Quickly transfer your data across tables
The table columns can be marked with ribbons
Compact pricing tables
Choosing a custom font for the table and the ability to 'highlight' a column
Comparisons are easy to create in full width
Unlimited tables, columns, and rows
Add drop-down menus to your tables
Table animations are quick and easy
Pricing Tables WordPress Plugin
Using the Easy Pricing Tables plugin for WordPress, you can easily create custom pricing tables by varying all of the elements such as titles, texts, images, and videos.
Tables can be added to posts, pages, or any other part of your website by using shortcodes. In addition, tables can be customized with ribbons and hover effects.
Using a free account will give you access to some features; upgrading to the premium version will give you access to more features, including Google Analytics, Easy Digital Downloads, and email support.
---
💵 The Premium version charges $29. The Lite version charges $0.
Key Features:
Each object can be colored and have its components changed
The columns can be dragged and dropped, so they can be quickly arranged
Work with any well-coded WordPress theme
When you update a table, all instances of it on your website are updated
Comes up with a custom CSS module
Provides mobile-friendly tables
Integrates with WooCommerce
Supports unlimited websites
Email support is provided
It is possible to add unlimited rows to the pricing table
Random Reviews:
Actually, the free plugin is a complete waste of time.

The plugin does a great job of creating pricing tables.

I haven't encountered any issues with the plugin. It's easy to use and doesn't overload the page. Excellent plugin. I only wish there are more features available in the free plan.
Price Comparison Table Plugin for WordPress
CSS3 Vertical Web Pricing Tables is one of the best options for creating different vertical pricing tables on your WordPress website.
With the plugin, you will be able to choose between a variety of layouts that use rows instead of columns.
In addition, the plugin allows you to choose from ten different color schemes, CSS3 animations, as well as other customization options. Furthermore, you can create pricing tables composed of rows.
All of the tables are fully responsive, so everyone can view them no matter what device they're using. Every column is distinct, and each can be viewed separately.
---
💵 It costs $price. You get 365-24-7 support for one year.
Key Features:
Font-face fonts
Intuitive admin panel
Unlimited features for each single row
Unlimited number of tables and rows
Configurable width
Animated hover states
PSD source included
10 predefined color skins
Shortcode support
Number One WordPress Plugin for Pricing Tables
The Responsive Pricing Table plugin makes sure that any device, no matter how big or small, will be able to see your pricing tables. If you want to create responsive pricing tables for your website, we recommend that you install it.
The number of features you can add to each plugin is entirely up to you, and you can choose which packages you would like to emphasize for greater visibility. The plugin's easy-to-use pricing table editor allows you to create your own pricing tables in WordPress.
Moreover, buttons are customizable in a variety of ways, for example, by adding PayPal or Stripe buttons. As part of the customization process, you have the option to create custom CSS, upload icons, and set a table with the selected plan.
If you upgrade to the premium version, you will also get access to additional features including skins as well as an 'equalizer' to ensure that all columns are set to a consistent height.
---
💵 Version Lite is free. Version Premium has a price.
Key Features:
Removes currency sign
Tables can be previewed live once they're created
For reaching out to different countries, different currency signs are available
Adding a monthly-yearly price toggle
Adds custom button code
Recommendations can be shown as badges
Recurring plans (per month or year) can be shown with special settings
The pricing table provides a shortcode
Random Reviews:
I appreciate your work. Keep up the good work

Although it appears that the free version has potential, it's basically useless if you don't pay for it.

A very flexible plugin that gives you many possibilities to customize your portfolio to your liking. I highly recommend it.
We would like to mention one final point
Choose the right plugin for your website. These plugins are impactful. We reviewed the best WordPress Pricing Table plugins.
This post is meant to help you find the best plugin that matches your qualifications.
You can also visit the following links to find out how the top WordPress blog themes and the top WordPress blog plugins are rated, used, and communicated by our subscribers.
We would like to hear from you which plugin you wish for the most in the comments section below. Tell your friends about it on Facebook and Twitter if you enjoyed the list.